The Alpina AlpinerX began life as an incredibly successful Kickstarter project, raking in over 1.5 million Swiss francs from backers eager to buy a Swiss made hybrid smartwatch with a chunky, tough, outdoorsy design and features like an altimeter, barometer and UV monitor.
As a sign of just how keen backers were, Alpina's initial target had been just 50,000 francs.
Founded in 1883, Geneva-based Alpina is a bona-fide Swiss watchmaker and is currently owned by Frederique Constant, a fellow Swiss firm dipping its toes into the smartwatch waters. This relationship means the AlpinerX has a very similar companion smartphone app to the parent company's smartwatches, like the Hybrid Manufacture.
The AlpinerX is probably better described as an adventure watch than just a hybrid smartwatch. It is unlikely to appear tucked beneath the cuff of your best work shirt, and nor does it feel especially at home in the gym.
But dig out the camping gear, remind yourself how to light a fire with some twigs - and reach for the AlpinerX, a smartwatch itching to join you on your next adventure.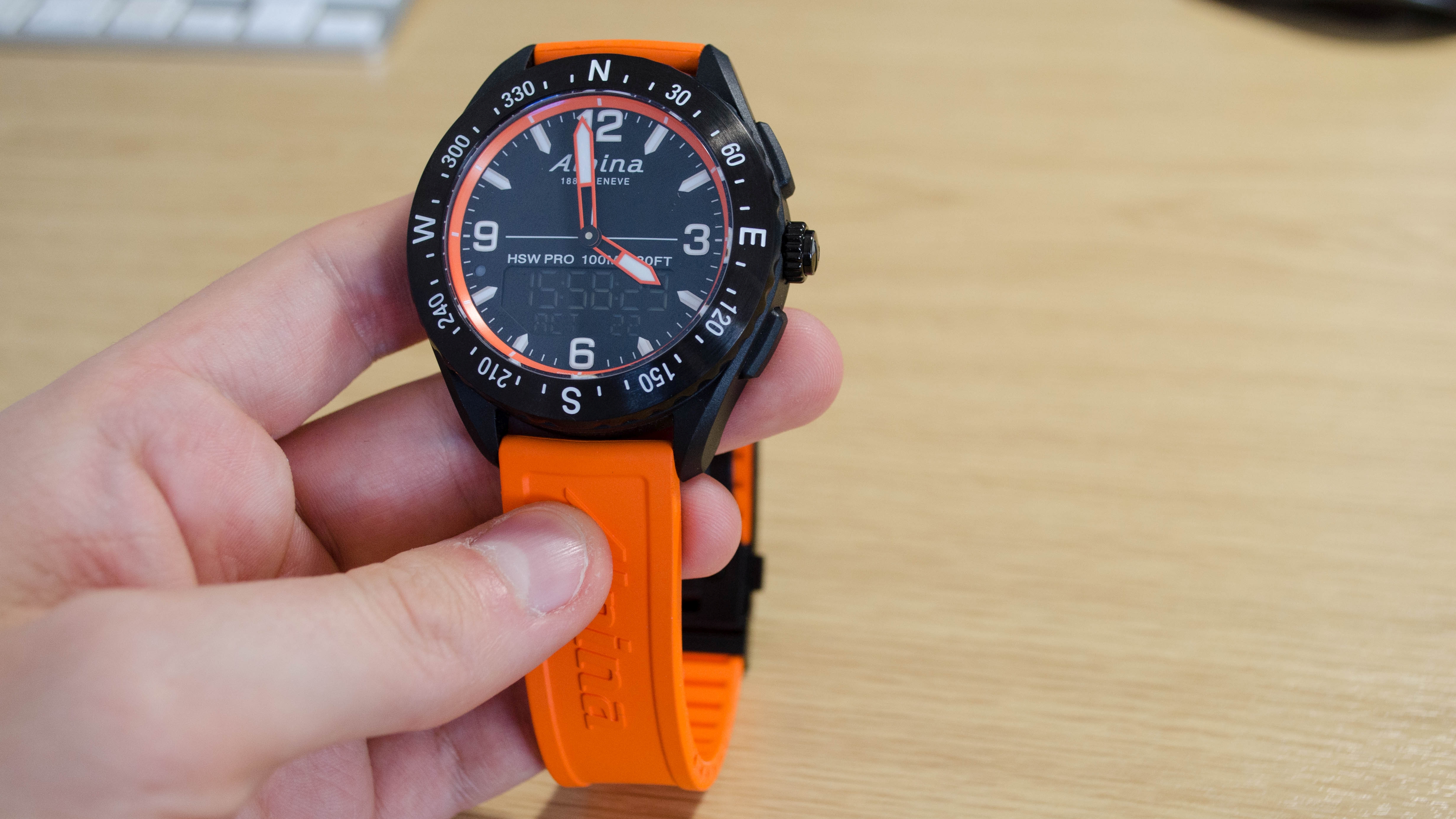 Alpina AlpinerX price and release date
Priced from £795 / $895 / $AU$1,350
On sale now
How much you pay for the Alpina AlpinerX depends on whether you got involved with the Kickstarter project, or are only just now considering your purchase. You see, the earliest backers ordered their AlpinerX for CHF 450 (approximately £355 / $465 / AU$650), but the retail price is now £795 / $895 / $AU$1,350.
Clearly, this is a huge difference and puts the product in two rather different sectors of the watch and smartwatch markets.
That said, we understand why the 'real' price is what it is. This is a Swiss made watch from a reputable century-old brand, one whose parent sells smartwatches with four-figure prices.
There's also a lot going on here; the AlpinerX has a barometer, compass, altimeter, UV sensor and thermometer, plus the usual Bluetooth connection for pairing to your iOS or Android smartphone.
A quick glance at the Casio G-Shock range shows you how similarly outdoorsy semi-smartwatches often stray above the £600 / $800 barrier, and even well into four figures, so the AlpinerX isn't alone in being priced high.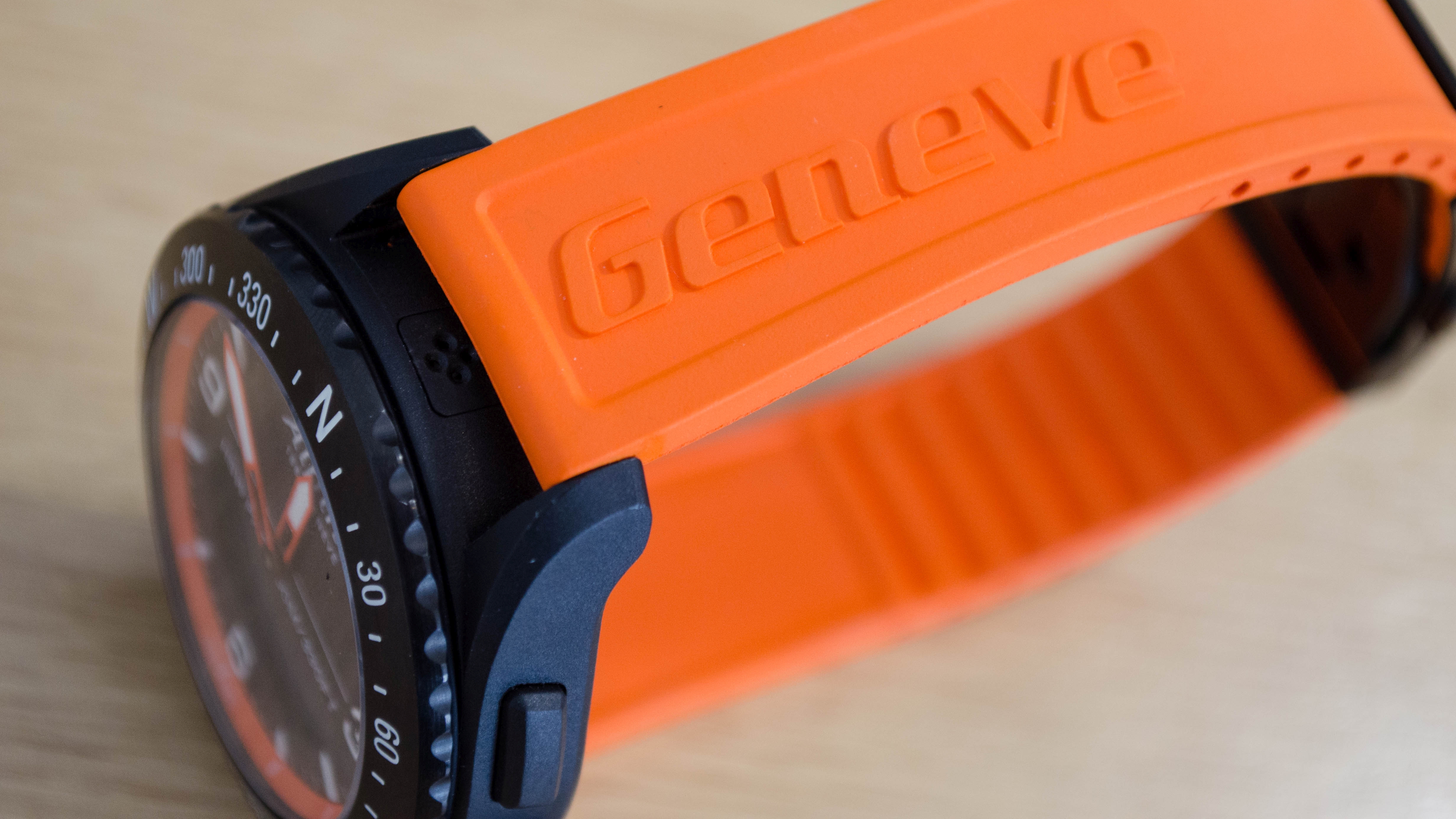 Design and display
Tough outdoor looks
Water resistant to 100 meters / 330 feet
Two-line digital display shows off the smarts
As we have already said, the Alpina AlpinerX - a name which reminds us of the equally tautologous Ferrari LaFerrari, and not in a good way - is a watch born to live outdoors. The tough looks and bright orange strap of our review unit would look completely at home alongside some carabiners, climbing gear and Bear Grylls.
At 45mm wide and 14mm thick, the case is certainly on the large size, but when viewed out of context you'd actually expect it to be even bigger. We have fairly slim wrists, but didn't feel like the AlpinerX was excessively large.
Saying that, we had to swap out the strap for one of our own, as the rubber band is designed to be cut to your size. There's then a few millimeters of adjustability on the deployment clasp to find the perfect fit.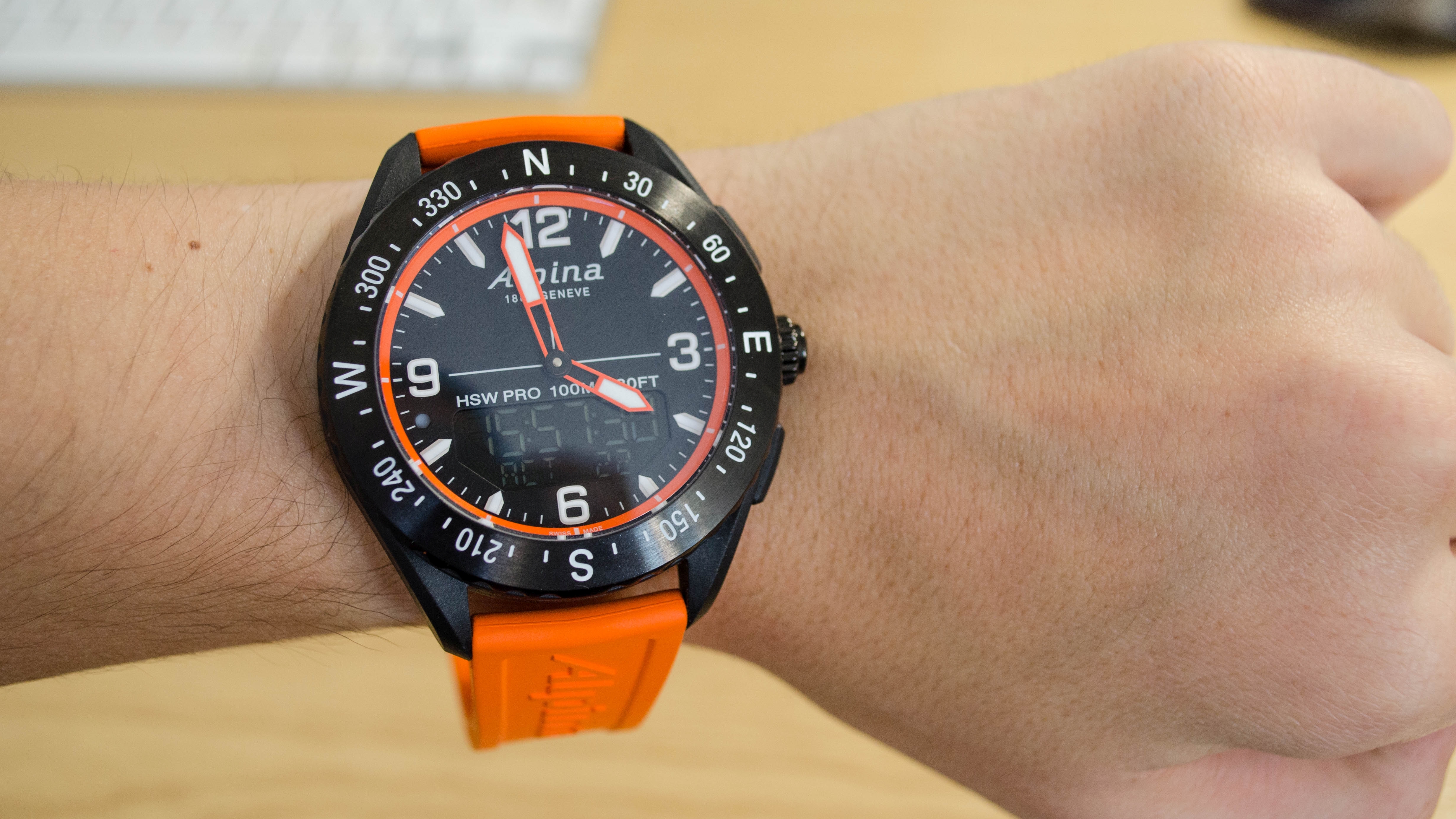 The face is framed by a bi-directional rotating bezel with compass markings to help with navigation, all of which illuminate in low light.
The face itself has numbers at 12, three, six and nine o'clock, hour markers in-between, and a digital display takes up most of the lower half. A pair of physical hands tick their way around the face and are adjustable only via the smartphone app, not by the crown.
This is because the crown is pressed to scroll through and activate the watch's various smart features, some of which are also controlled via two buttons located at two and four o'clock. Pressing the crown causes the hands to swing out of the way, giving you a clear view of the display.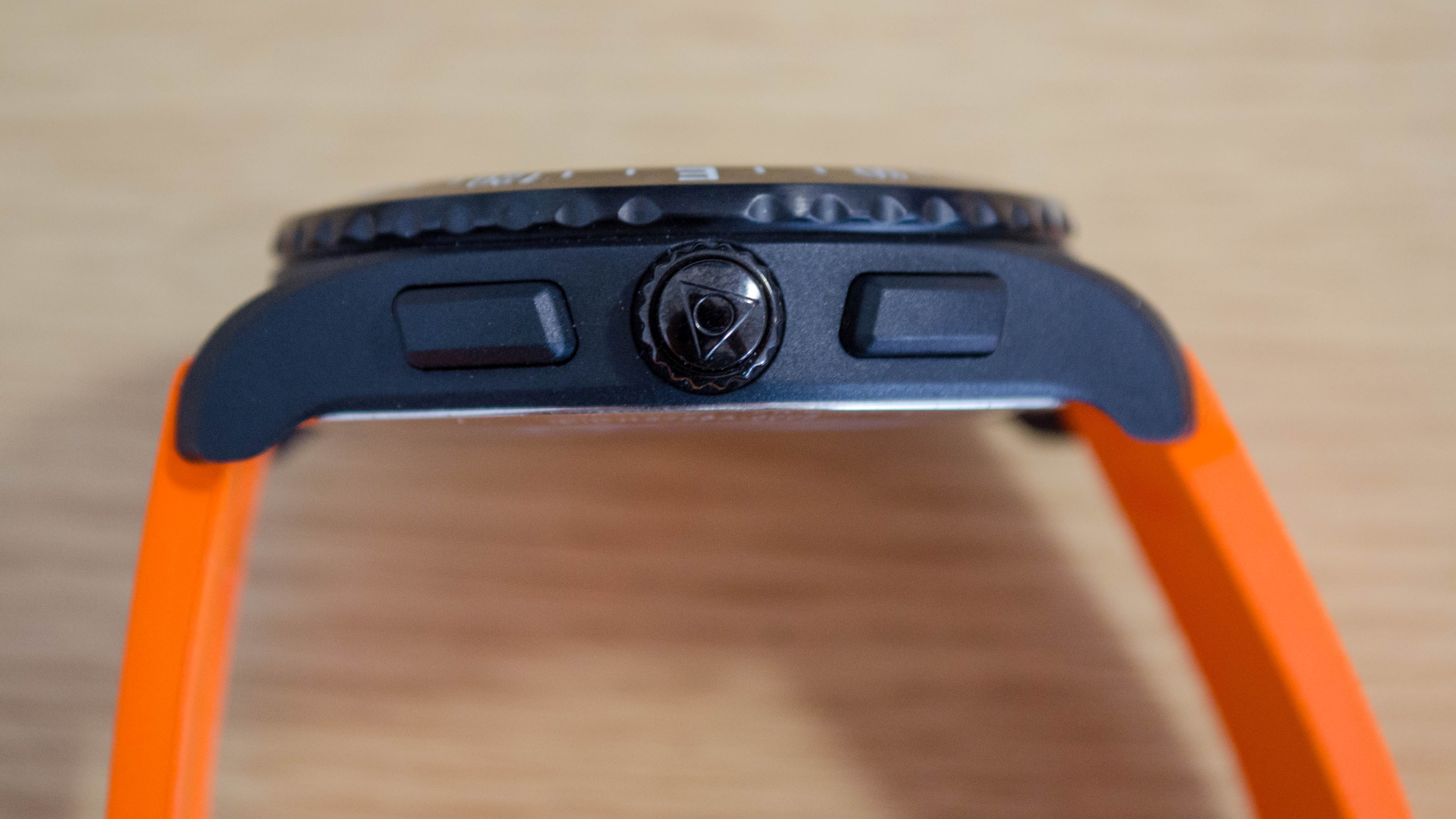 Alpina is offering a wide range of personalization with the AlpinerX. Every component and detail, which is orange on this example, can be made a different color, and in all the company claims there are over 3,000 combinations, so buyers can create something truly unique.
The matte black case has a stealthy, purposeful look to it which we really think suits the outdoor potential of this timepiece, while the stainless steel back includes a neatly engraved mountain range - if any more clues were needed as to the watch's ambitions.
Despite the chunky looks, that fiberglass case means the Alpina AlpinerX is surprisingly light and comfortable to wear. It's unlikely to slip under the cuff of your work shirts, but looks smart in its own way.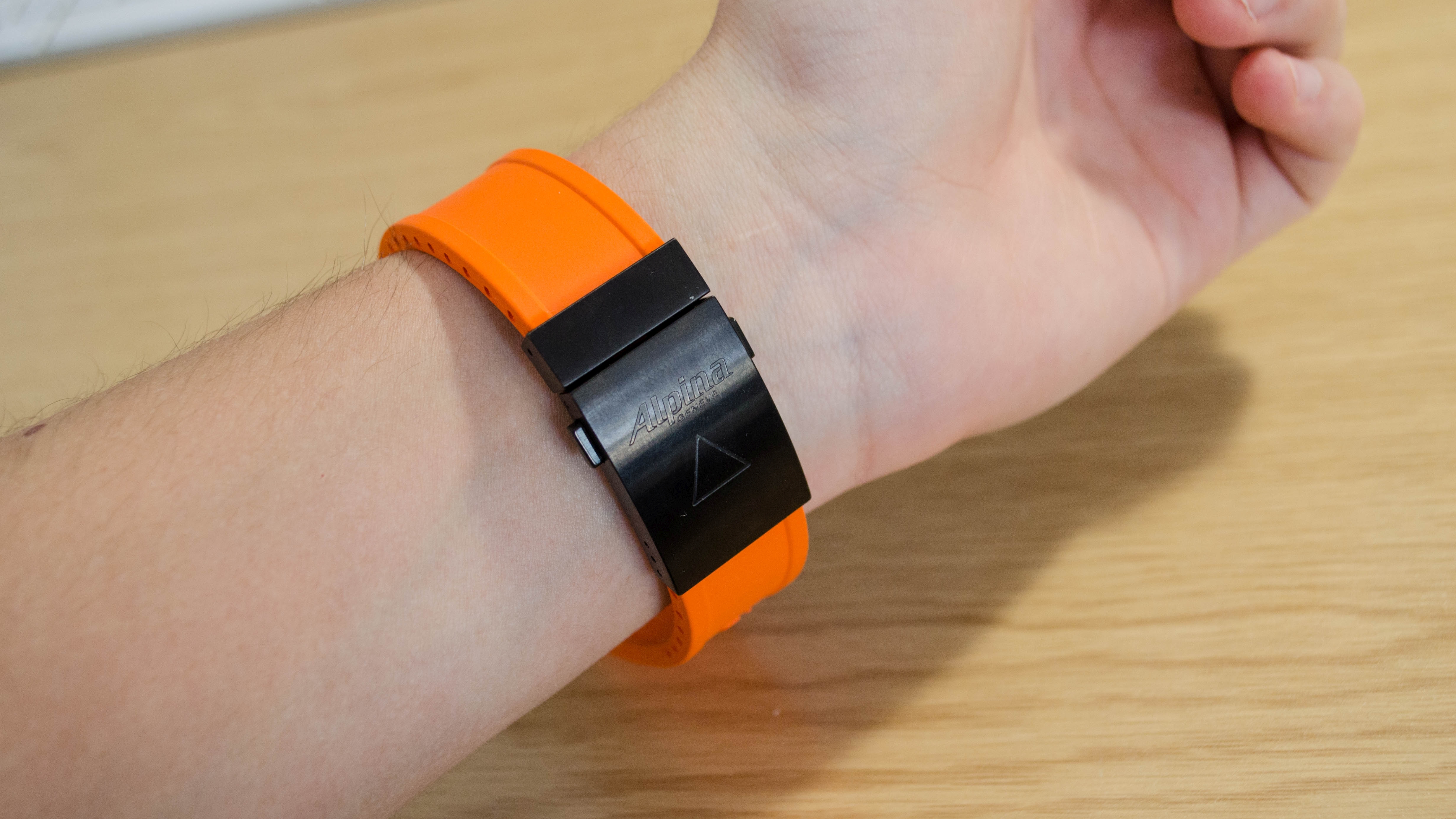 The same can be said for the strap, which feels durable yet comfortable and is unlikely to attract too much dust and dirt, as some rubber bands are guilty of. The metal deployment clasp feels very well-made and locks shut with the reassuring clunk of a heavy car door. If you fancy a change, then the AlpinerX accepts any regular 22mm straps.
The user interface of the AlpinerX's display is split into two lines, with the larger top row displaying data and the smaller second row explaining what that data is, so you know which of the watch's many modes you are currently using.
The display has a backlight which can be set to one of three levels of brightness via the smartphone app, but there is no automatic option.
Specs, features and performance
Barometer, altimeter, compass, UV monitor and thermometer
Watch needs removing to use thermometer accurately
Smartphone app logs data recorded by every sensor
Equipped with an MMT-283-1 movement, the Alpina AlpinerX works in a similar way to other Swiss smartwatches.
Instead of a traditional quartz, wound, or self-winding mechanism, the watch keeps time by connecting to your smartphone; if you travel to a different time zone, the watch will adjust as soon as your phone does. If this fails for whatever reason, the watch hands can be calibrated using the app.
While this is fine, we found it somewhat frustrating that features like a countdown timer with alarm cannot be adjusted on the watch itself. By default, the function offers a five-minute countdown, but to change this you have to dig into the smartphone app, which doesn't have the most intuitive layout.
To change the length of the timer, for example, you open the app, then head to the 'My Watch' section (not the equally vague 'General') then make the change. All this for setting a simple stopwatch feels cumbersome.
Rewinding for a moment, we should say the AlpinerX is easy to set up and pair via Bluetooth to your smartphone. Its connection isn't always the most stable, with the app sometimes saying the watch isn't connected, but a press of the crown fixes this in just a couple of seconds.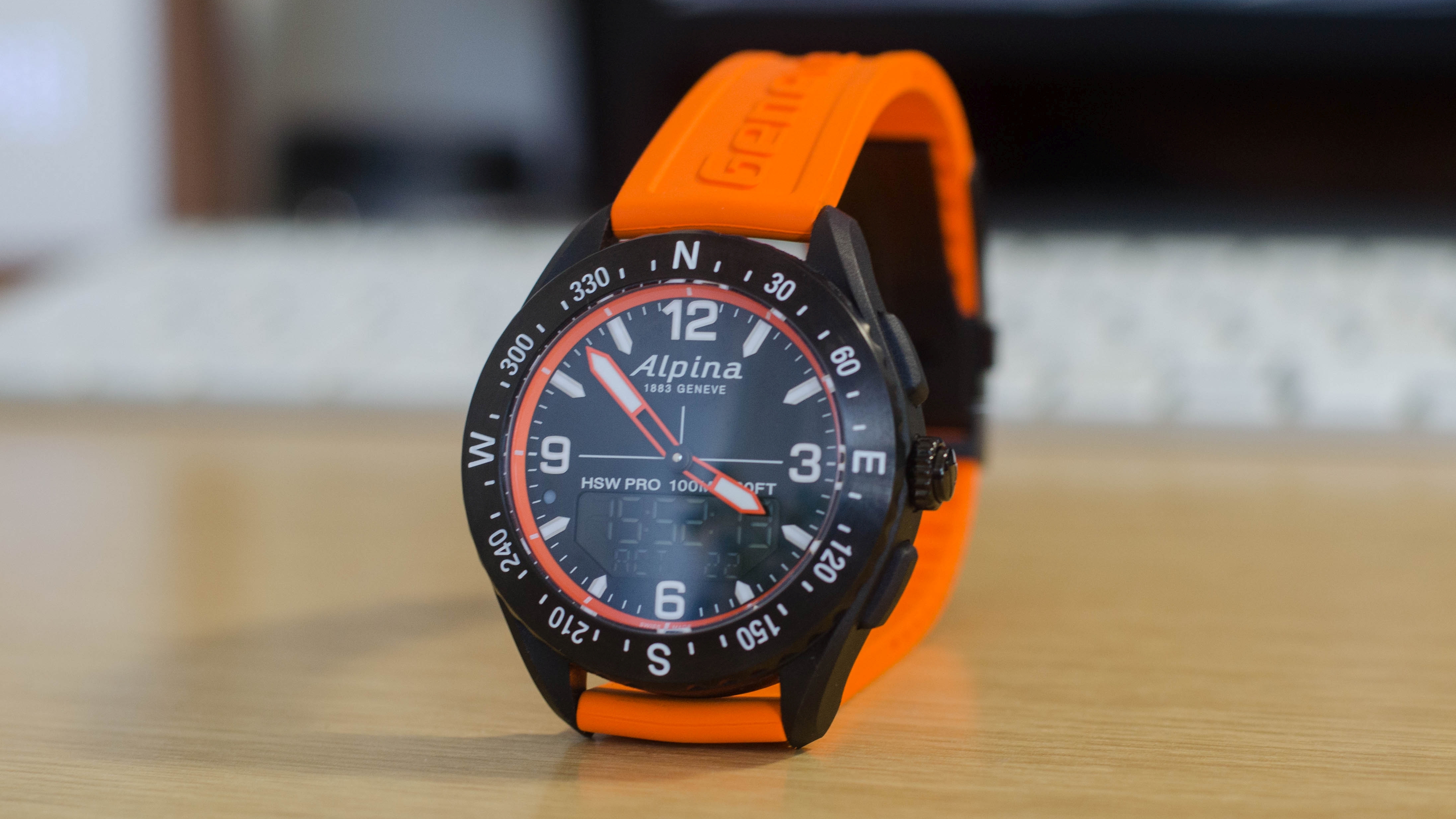 Viewing data collected by each of the sensors is a case of pressing the crown button repeatedly until the reading you want appears on the small display. The order of these can be adjusted in the smartphone app, and any reading you don't require can be hidden.
Readings are displayed quickly, and most will remain on the display until you move to the next one with another press of the crown - however, due to it requiring more battery power, the compass only remains active for a few seconds at a time.
We can see outdoors folk getting some real use from these features, especially as data collected is sent to the phone app, which produces graphs of the elevation changes you encountered on your hike.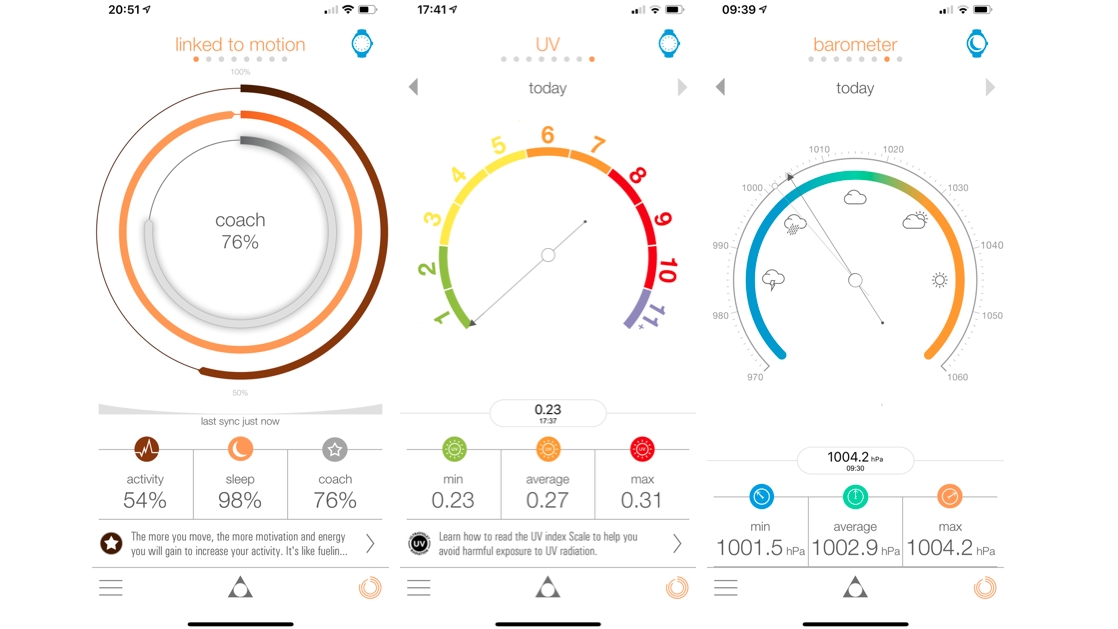 UV light monitoring is also a great inclusion, but as with the barometer readings, a prior understanding of what the readings mean would help novices get the most out of them.
While the numbers themselves are perfectly legible - for UV exposure, for example, or the atmospheric pressure - the name and description for each is heavily abbreviated to fit on the screen.
For example, 'SLP 98' means you slept for 98% of your goal last night, while 'ACT 22' means 22% of your daily activity goal has been completed and 'TMZ' refers to the watch's second time zone. You will eventually remember what everything means, but at first glance it can feel confusing.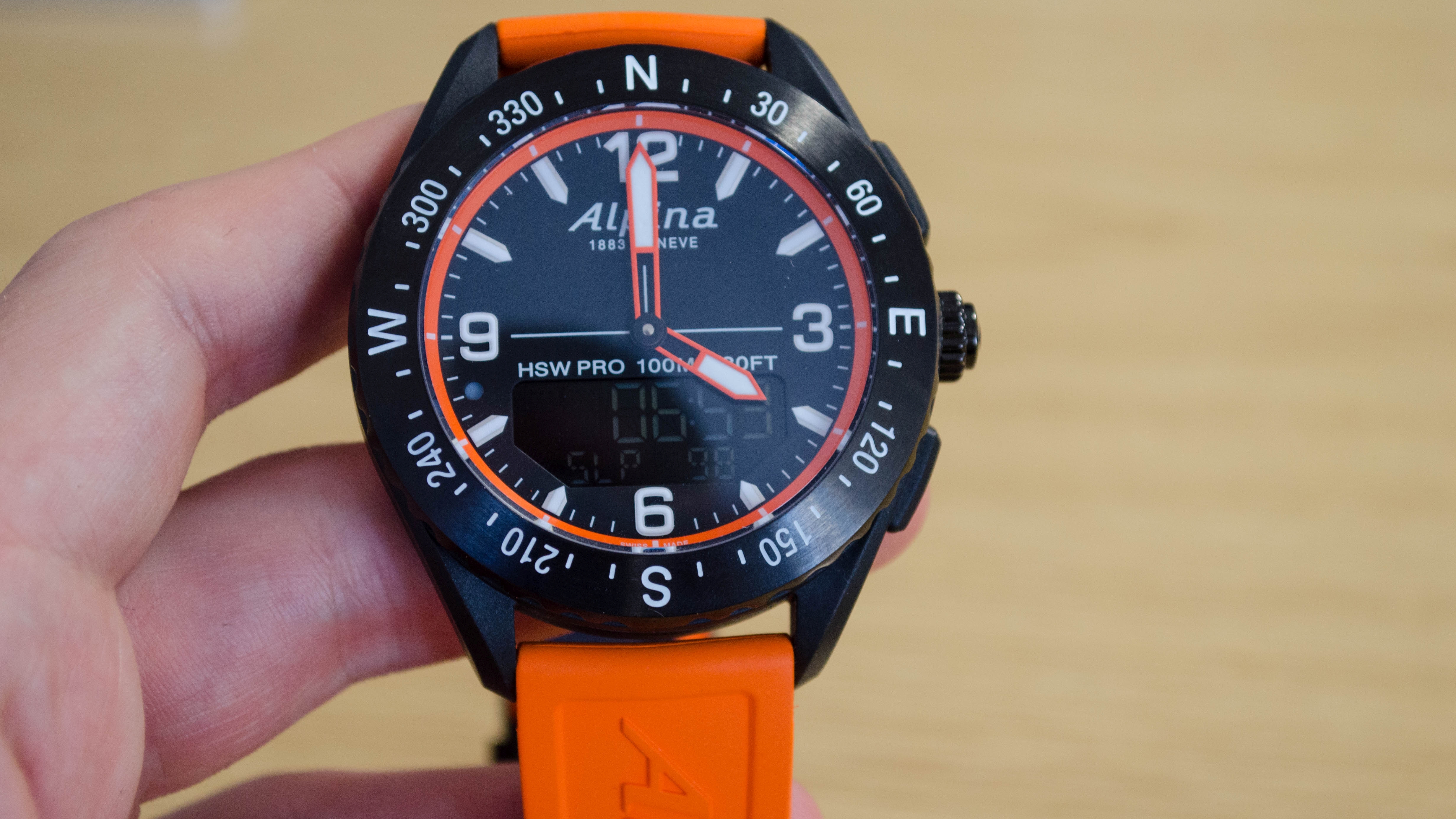 The AlpinerX's small screen can also handle notifications from your phone, such as calls and messages through Facebook, WhatsApp, Instagram, Twitter and email. To notify you of these, the watch beeps and shows '1' on the display, along with an abbreviated description of what's going on.
Again, however, it isn't particularly clear. For example, a WhatsApp message from a contact called Rupert would be displayed as 'WHA RUP', or an email from James would be 'EMA JAM'.
The lack of a vibration motor means you are highly likely to miss these notifications anyway, so we would suggest you switch them off and let the AlpinerX focus on being an adventure watch, not a personal assistant.
The AlpinerX does an admirable job of cramming a lot of sensors and readings into a relatively compact design, and being able to access such a breadth of data right on your wrist will be a real boon to hikers, climbers and other outdoor enthusiasts.
Health and fitness
Sleep tracking with dynamic alarm
Lacking a heart rate monitor
Like almost all hybrid smartwatches, the AlpinerX uses its accelerometer to measure your movement, steps, sleep and exercise.
The companion app logs your steps and sleep each day, and when you select the running tool on the watch itself it tracks your runs, too, showing them on a map and displaying your average speed along the route.
Sleep can be tracked by either wearing the AlpinerX on your wrist, or by placing it on the pillow, although we found the latter to be less accurate. After wearing the watch for a night, the app shows how long you slept in total, but also breaks this down into light sleep, deep sleep and time spent awake.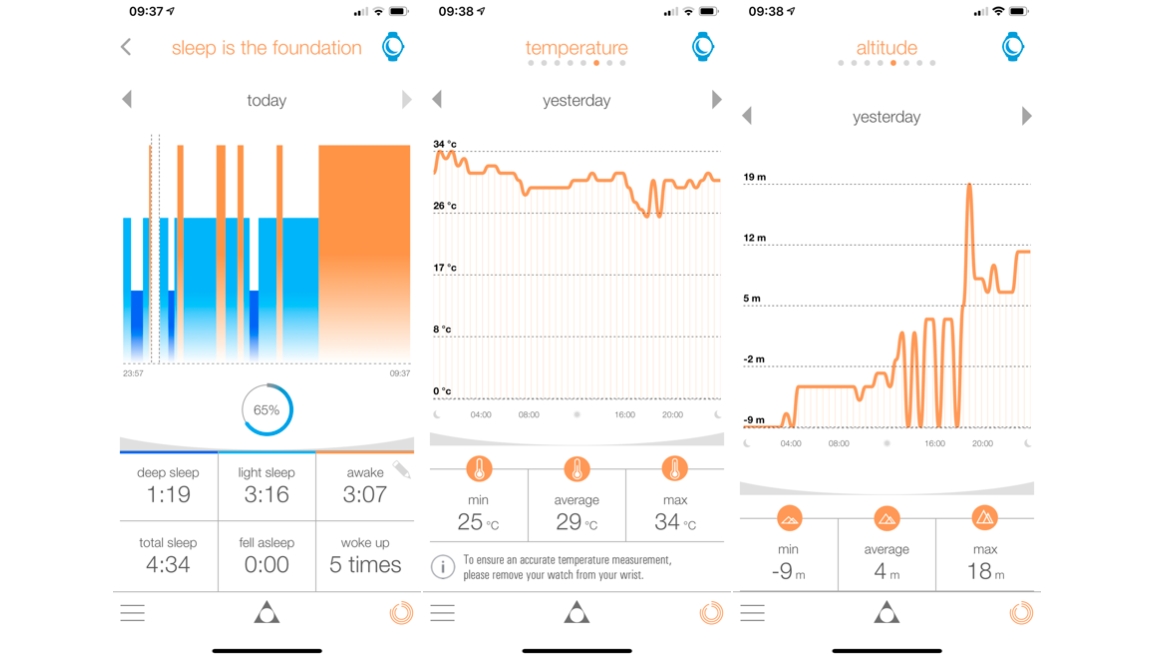 Not everyone will want to wear a watch as large as the AlpinerX to bed every night, but we were surprised at how little its presence disturbed our sleep; the lightweight case must certainly have helped here.
Step and run tracking seemed accurate to us, but the latter requires you keep your phone with you, as the watch does not have GPS, so borrows that of your phone to log its location.
The app is very similar to that used by parent company Frederique Constant, complete with a virtual coach of sorts, which displays messages of encouragement based on what you do.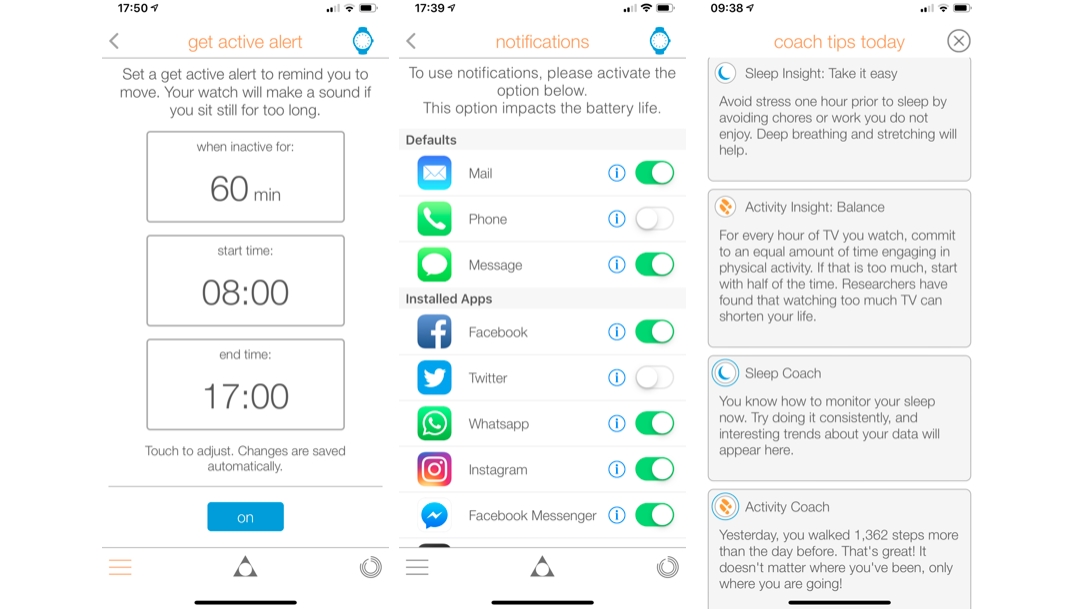 This sounds useful, but the 'coach tips' often just state the obvious and are not particularly helpful. One states: "Avoid stress one hour prior to sleep by avoiding chores or work you do not enjoy. Deep breathing and stretching will help."
We felt the AlpinerX's fitness tracking is about on par with other hybrid watches, but the lack of a heart rate monitor is disappointing when rivals like the newly launched Withings Steel HR Sport track your heart for far less money - albeit with a battery life measured in weeks instead of years.
The outdoors fans this watch is aimed at could well appreciate how it tracks their steps, runs and sleep - on top of everything else it does - but we suspect fitness fanatics will be less likely to part with their cash.
The app feels quite basic and the lack of a heart rate monitor will make the AlpinerX a non-starter for many in search of a fitness device.
Battery life
Alpina claims two years of battery life
Takes a regular non-rechargeable watch battery
Alpina claims the AlpinerX will last for two years on its regular watch battery, but of course this will depend a lot on how you use it. As we alluded to earlier, the compass draws more power than the watch's other features, so regular use will see that two-year claim tumble.
That said, we like how the Alpina AlpinerX manages to offer a wide range of smart features without asking to be recharged every few days, or even monthly.
Alpina has identified a niche in the market with the AlpinerX and filled it with a chunky, outdoor-focused smartwatch which strikes a balance between Swiss tradition and modern technology, and between a feature-packed smartwatch and simpler hybrid.
We love the highly-customizable design, and the hugely successful Kickstarter campaign shows we aren't alone. We also like the lightweight case and how the AlpinerX offers up data which mainstream smartwatches miss out on.
The app logs all of this data faithfully and accurately, but is missing some polish. The coach tips feel half-baked at best, and the visuals lack a certain something. It feels like the graphs the app produces are being created for a scientific study, rather than to provide useful and engaging advice to the wearer.
On the surface, the AlpinerX does a satisfactory job of being an outdoors device, but if you think about it for too long this facade begins to fall.
For example, its compass and bi-directional rotating bezel at first make you think the watch will help guide you to base camp - but it doesn't have GPS, and it is likely connected to your smartphone anyway, which has a compass of its own. And a maps app.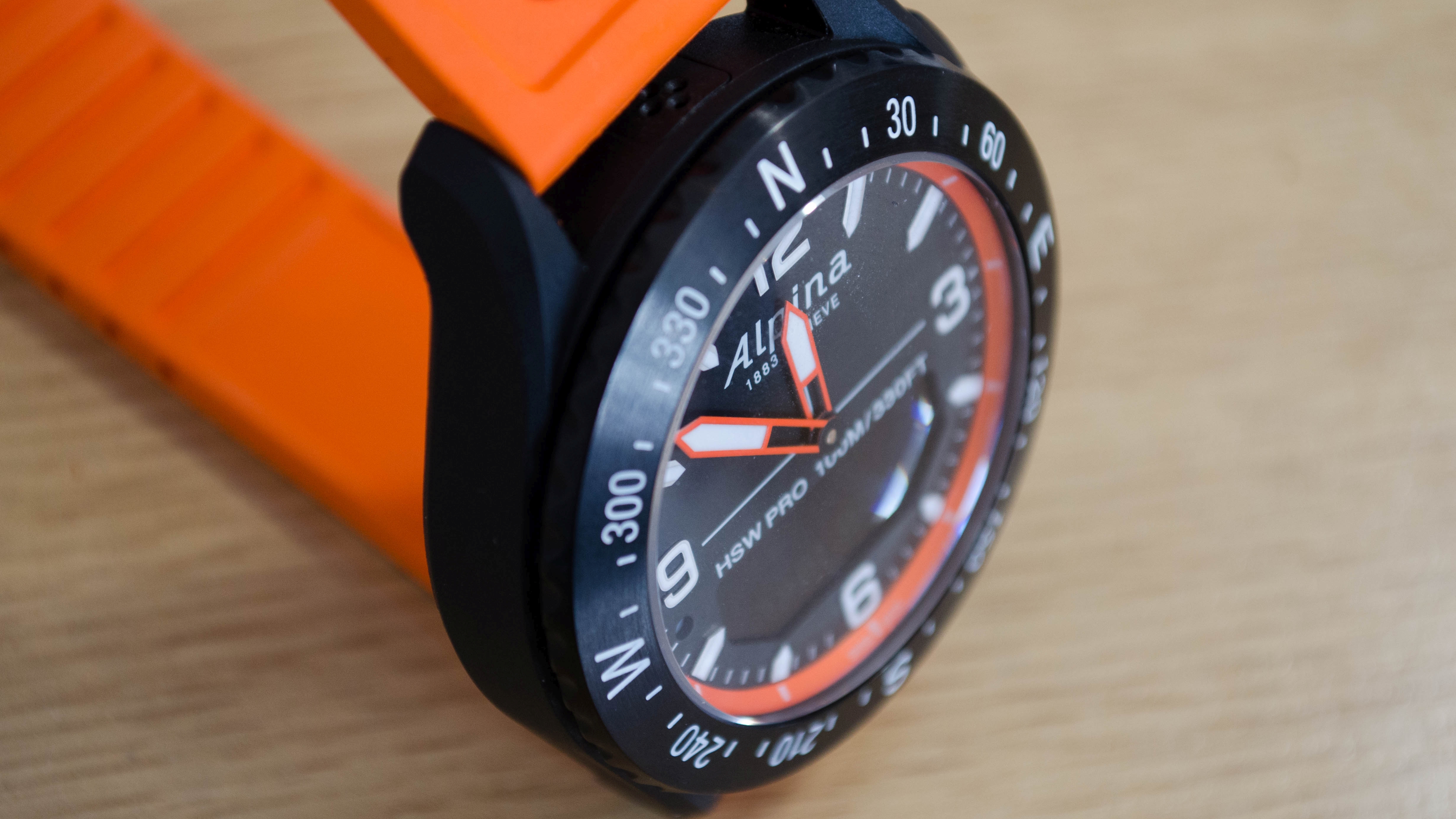 Who's this for?
We can see the Alpina AlpinerX slipping onto the wrists of outdoors-lovers who know how to tie more knots than we've had hot dinners, but appreciate the value of buying into a quality Swiss brand, and want to try out a device with a smattering of smarts.
To the battle-hardened technologist, these smarts don't quite offer the complete package.
But if you are getting into smartwatches for the first time, the AlpinerX offers the same stepping-on point as watches by Frederique Constant, providing simple walking, running and sleep tracking, then garnishing with a large helping of environmental data for lovers of the great outdoors.
Should you buy it?
Answering this question is not easy. In fact, it's much more difficult than it is with more conventionally-designed hybrid smartwatches. Where they take a traditional design and add in features like sleep and movement-tracking, the AlpinerX then goes off in a different direction, serving up a dose of outdoor-specific data and wrapping it in a purposeful body.
If smart, subtle, and conventionally attractive watches are not for you, then the AlpinerX is an interesting left-field option. It is comfortable, practical and will make you look the part on your next hike.
First reviewed: September 2018
from TechRadar - Technology Reviews http://www.techradar.com/reviews/alpina-alpinerx-review