We can expect the forthcoming Huawei Mate 20 Pro to essentially be the Samsung Galaxy Note 9 to the Huawei P20 Pro's Samsung Galaxy S9. It will be an iterative flagship phablet upgrade.
At the opposite end of the range, the Huawei Mate 20 Lite sits just a screen notch above the Huawei P20 Lite. That latter phone was an attempt to supply a stylish flagship form factor at a mid-range price, and the Mate 20 Lite follows suit.
For £379 (around $500, AU$665, though with no word on a launch in the US or Australia), you're getting a sleek phone with a 6.3-inch display and a suite of AI-enhanced dual-camera tricks.
But does it follow its brother by slipping up on the performance and value stakes, or has Huawei managed to back up those good looks with some serious muscle?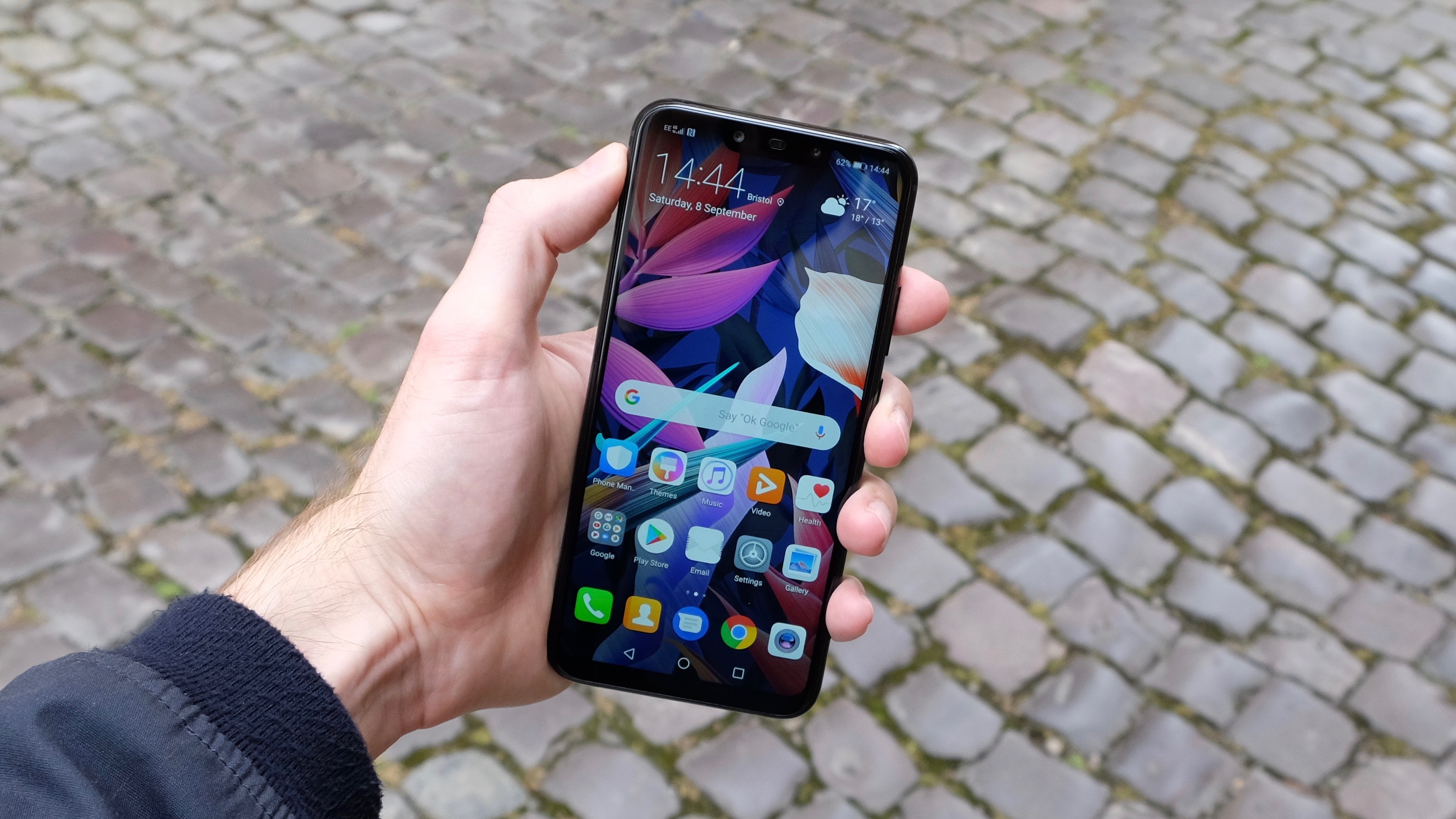 AI camera
AI-powered dual-lens rear camera
Dual-lens camera on the front too
Iffy AR effects
Huawei's big push with the Mate 20 Lite is the fact that it's an "AI powered smartphone" like the full-fat Huawei P20 and Huawei P20 Pro, but with a significantly lower price tag.
Before you start imagining a next-level Alexa-like assistant attending to your every whim, the company's modest AI push mainly operates in conjunction with the camera. We'll get into the nitty-gritty of camera performance in the relevant section, but the AI enhancements are worth focusing on up front.
Opening the camera app and pointing at a subject, the Huawei Mate 20 Lite will read the scene and adjust to the appropriate setting automatically. If it's an overcast day, it will decipher this and inform you that it has made the necessary changes. The same applies if you're indoors, or taking a photo of your dog.
It's tempting to dismiss this is a simple extension of what digital cameras have been doing for years with their auto settings, adjusting your shots according to surrounding conditions. But the way Huawei's system actively reads your environment is pretty impressive. It's not merely a case of responding to some vague light levels.
Another photographic feature that stands out here is the Huawei Mate 20 Lite's front-facing cameras. They're unusually pumped-up, to the tune of a super-sharp 24MP sensor and a 2MP secondary lens for depth information. This is the kind of thing you expect to see on the rear of a phone, not the front.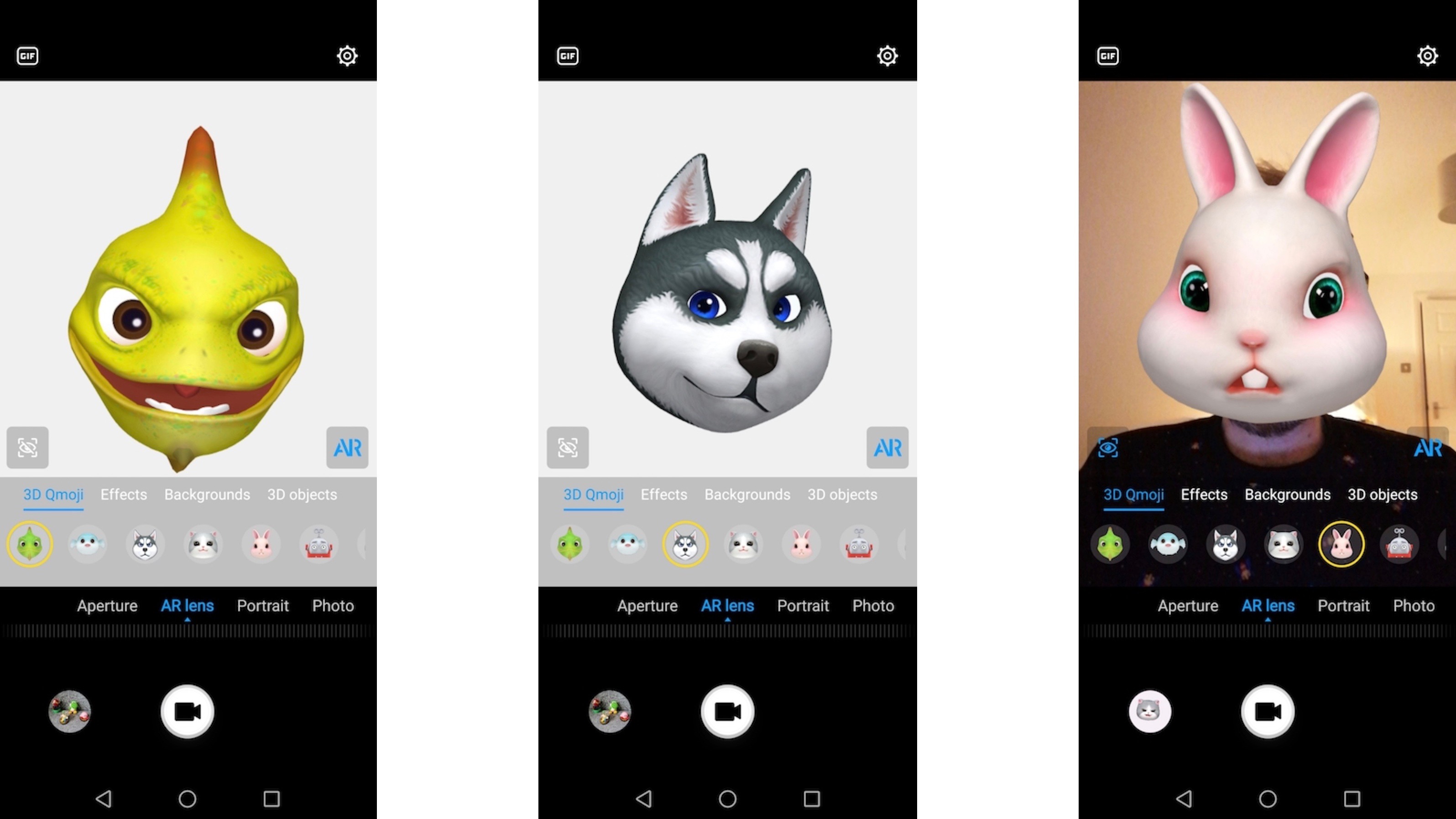 These cameras are put to full use in AR camera mode. Essentially, this is Huawei's response to Apple's Animoji - little animated heads that respond to your facial movements.
Where Apple's approach is largely successful, with the various cartoon heads tracking your facial movements accurately in real time, these are a bit of a mess. There's a noticeable degree of lag, so when you record animated messages they don't sync up, while the level of accuracy in the facial mapping simply isn't up to scratch.
Add in some largely charmless head designs (the default chameleon being the worst offender), and it all amounts to a throw-away gimmick you're unlikely to use much - if at all.
There's also a portrait effect that lets you adjust the type of lighting on your face, if you fancy something a little moodier.
A more practical everyday use of those front-facing cameras is Huawei's face-unlock system. It's almost certainly not as secure as Apple's Face ID, but it is fast and accurate. If you're not a stickler for absolute security, it's a highly intuitive alternative to fingerprint authentication when it comes to unlocking your phone.
Design
Sleek iPhone X-aping design
Big but easy to handle
Huawei has continued the design approach it started with the P20 family, with generally pleasing results. The Mate 20 Lite follows the iPhone X way of thinking, with a curvy metal frame sandwiched between twin glass surfaces.
It's much bigger than the iPhone X, and is more like the new iPhone XS Max. Despite this it's surprisingly easy to wield and lug around.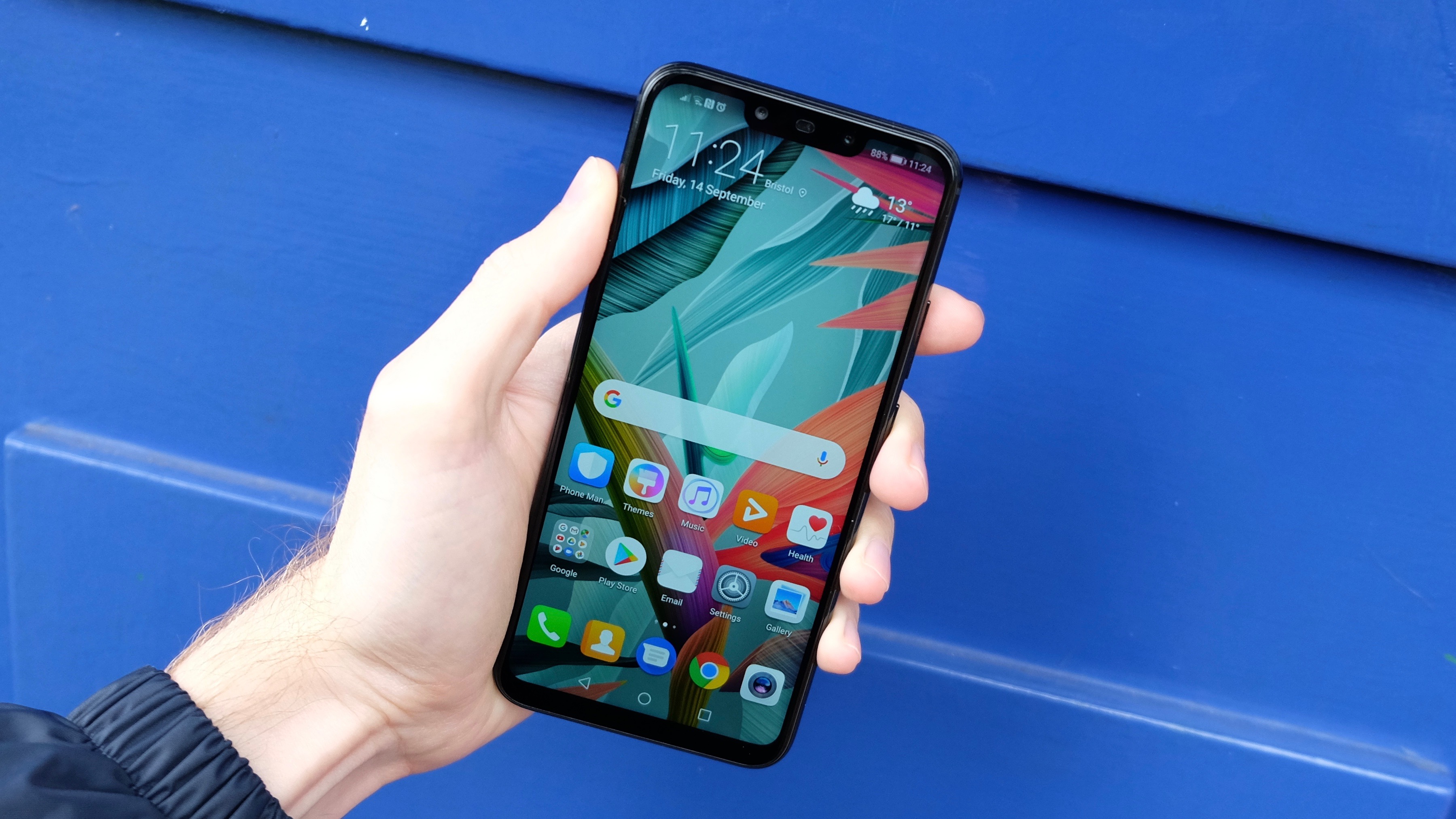 That can be put down to a few reasons. One is the edge-to-edge display, which removes a fair amount of the bezel for an 81% screen-to-body ratio. It still has a chin, but it's pretty inconspicuous.
Another reason the Huawei Mate 20 Lite is so easy to handle is that it's both skinny and relatively light. It's just 7.6mm thick, and while 172g makes it a fair bit heavier than the 145g Huawei P20 Lite, it doesn't really feel that way thanks to its greater surface area.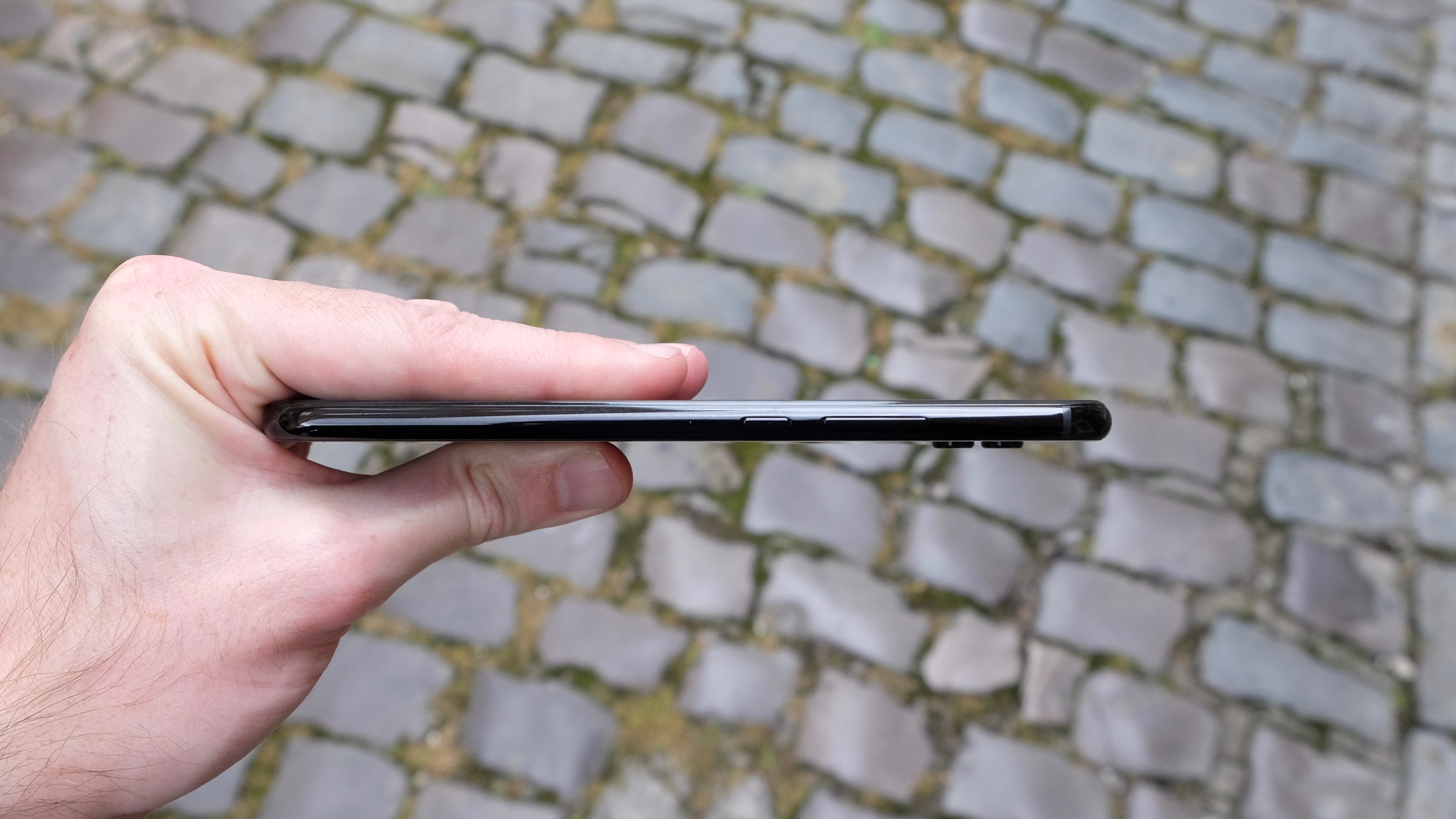 This is a phone you might want to put in a case, though. The screen edges are very exposed and prone to scuffing and chipping, as we discovered when the phone took the lightest of tumbles from literally a few inches off the ground during our photography process.
Of course, most modern phones have a similarly delicate disposition these days, and we don't test every handset's hardiness in this way. But we thought we'd note our experiences anyway.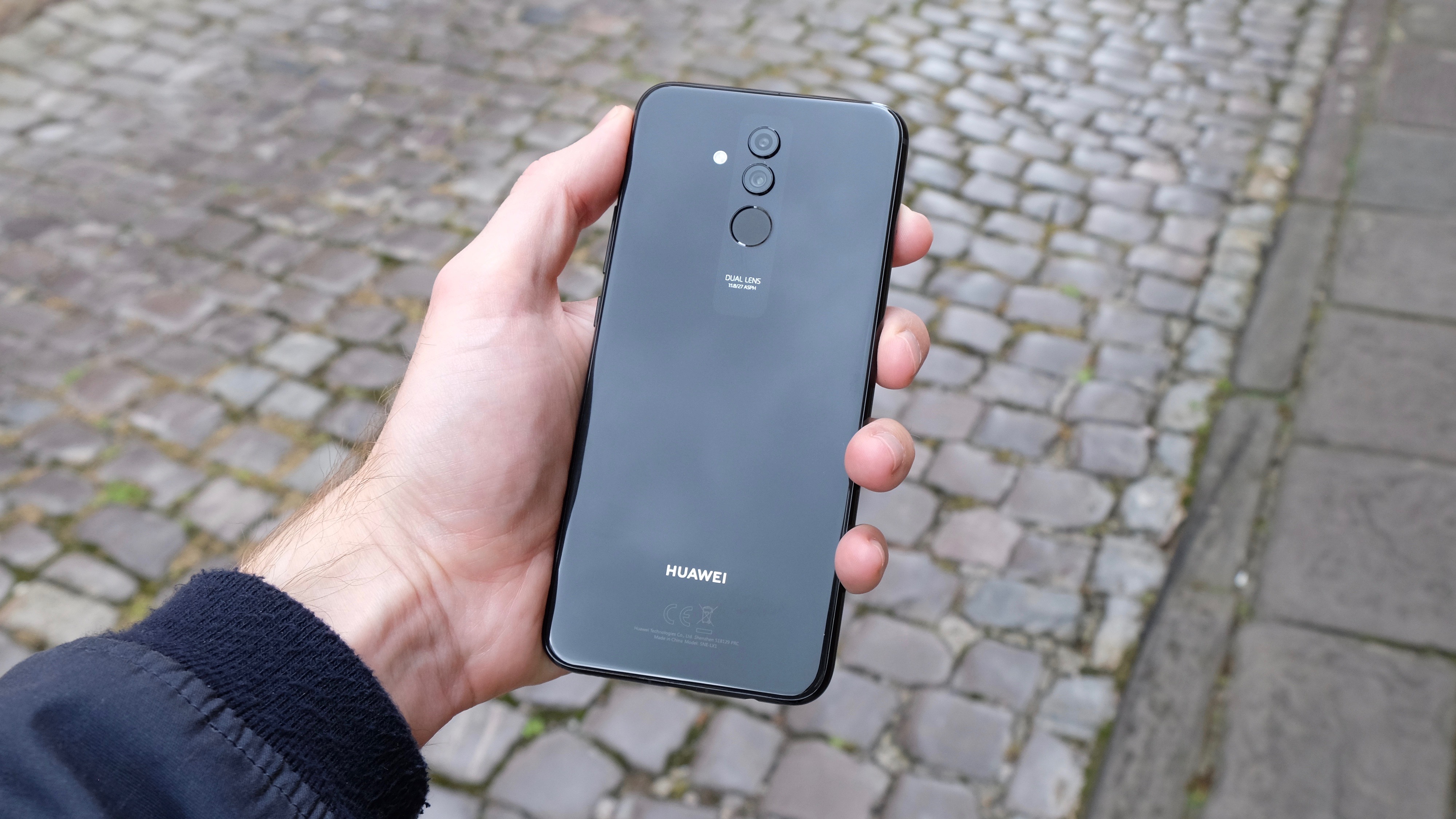 The Mate 20 Lite's power and volume buttons are well positioned, though one of them could use a little texture to differentiate it from the other. We have no qualms about the speedy fingerprint scanner's positioning on the back, though, and it's also nicely recessed to make it even easier to find.
It's good to see both NFC and a headphone jack present and accounted for, too. Neither should be worthy of a mention in this way, but sadly both are these days.
You'd expect USB-C in a phone costing more than £300/$400, and Huawei doesn't disappoint on that front either.
Display
Large and appealing 6.3-inch FHD+ screen
Notch can optionally be hidden
We've mentioned the Huawei Mate 20 Lite display's expansive dimensions, but we haven't touched upon its quality. And that turns out to be one of the more pleasing parts of the package.
This 6.3-inch IPS LCD is very easy on the eye, with vivid yet reasonably accurate colors. It doesn't get eye-searingly bright, but it was plenty bright enough for outdoor usage in our experience.
A resolution of 1080 x 2340 might not sound like much in a 6.3-inch display, but we didn't find ourselves noticing distinct pixels at any point.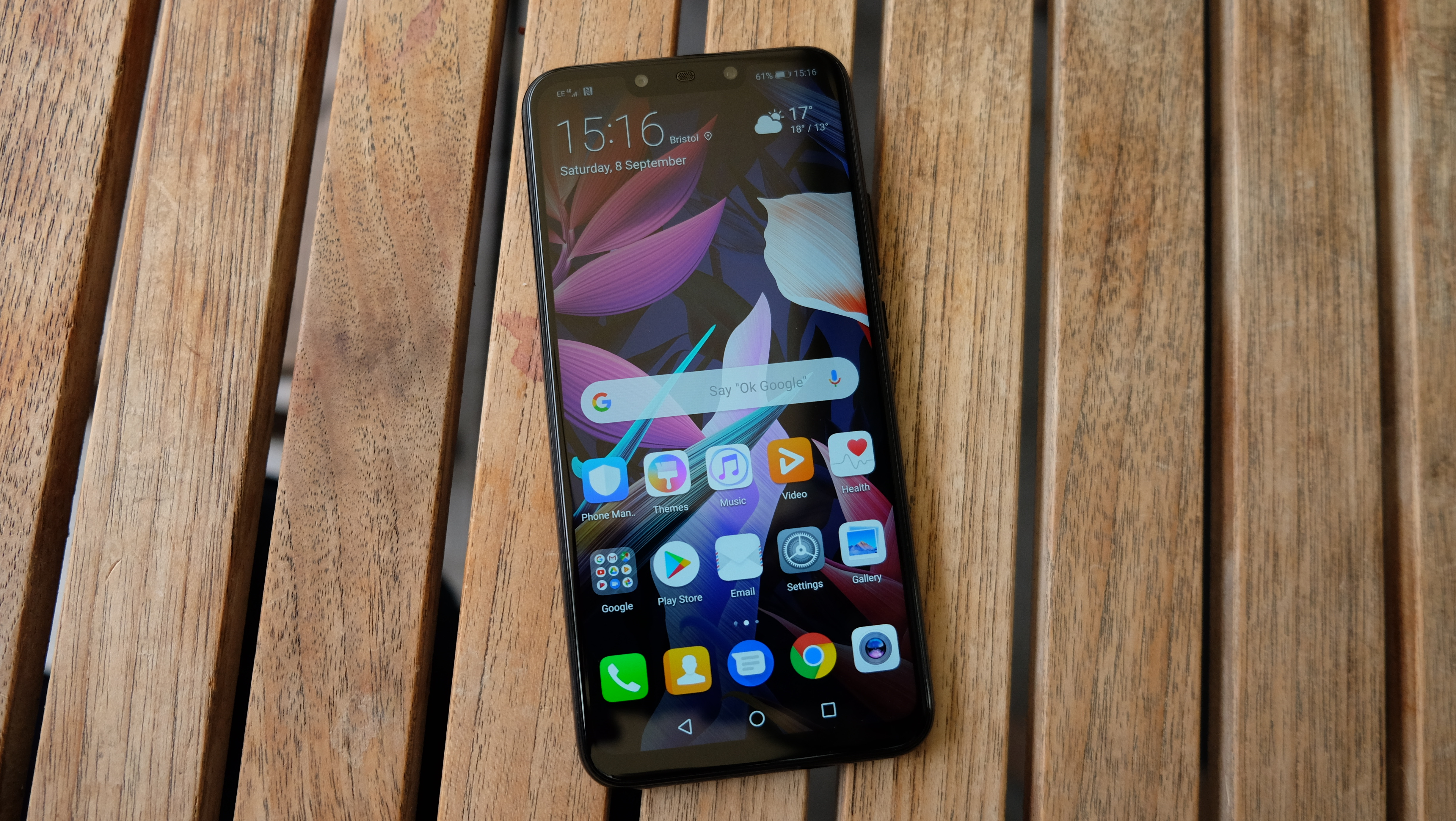 Put it this way: we moved directly from a Sony Xperia XZ2 Premium with its 4K HDR display, and it didn't feel like a massively obvious step down. Let's be clear that it was a big step down by any analytical metric, but in practical day to day use this screen is more than up to the task.
Part of that is down to the fact that the Mate 20 Lite's display dominates the front of the phone, with a stretched out 19.5:9 aspect ratio. Video content and apps still don't really make use of this longer form factor, but games will generally fill out if you select the appropriate option when you first start them up.
If not, the display will round off quite pleasingly below the notch. Thanks to the sheer size of the screen this doesn't feel as restrictive as it does on smaller phones (including the iPhone XS).
Of course, if you opt to hide the notch permanently in the settings menu, you'll get that slightly off-black contrast either side. That's inevitable with a non-OLED display such as this, where you simply can't get the same deep blacks.
Battery life
3,750mAh battery
Solid but unexceptional life
The Huawei Mate 20 Lite packs a larger-than-average battery to accompany its larger-than-average display.
At 3,750mAh, it's a fair bit bigger than the 3,000mAh batteries you tend to get in smaller devices (such as the Huawei P20 Lite). It's the exact same size as the Honor Play, though, which shares a 6.3-inch display.
As with its close cousin, the Huawei Mate 20 Lite will comfortably get you through a full day under most circumstances.
That said, we did find that a particularly heavy gaming session (several successive rounds of PUBG, Guns of Boom and Asphalt 9) and a bunch of photography brought the battery down from a full charge to 28% just 8 hours after being unplugged.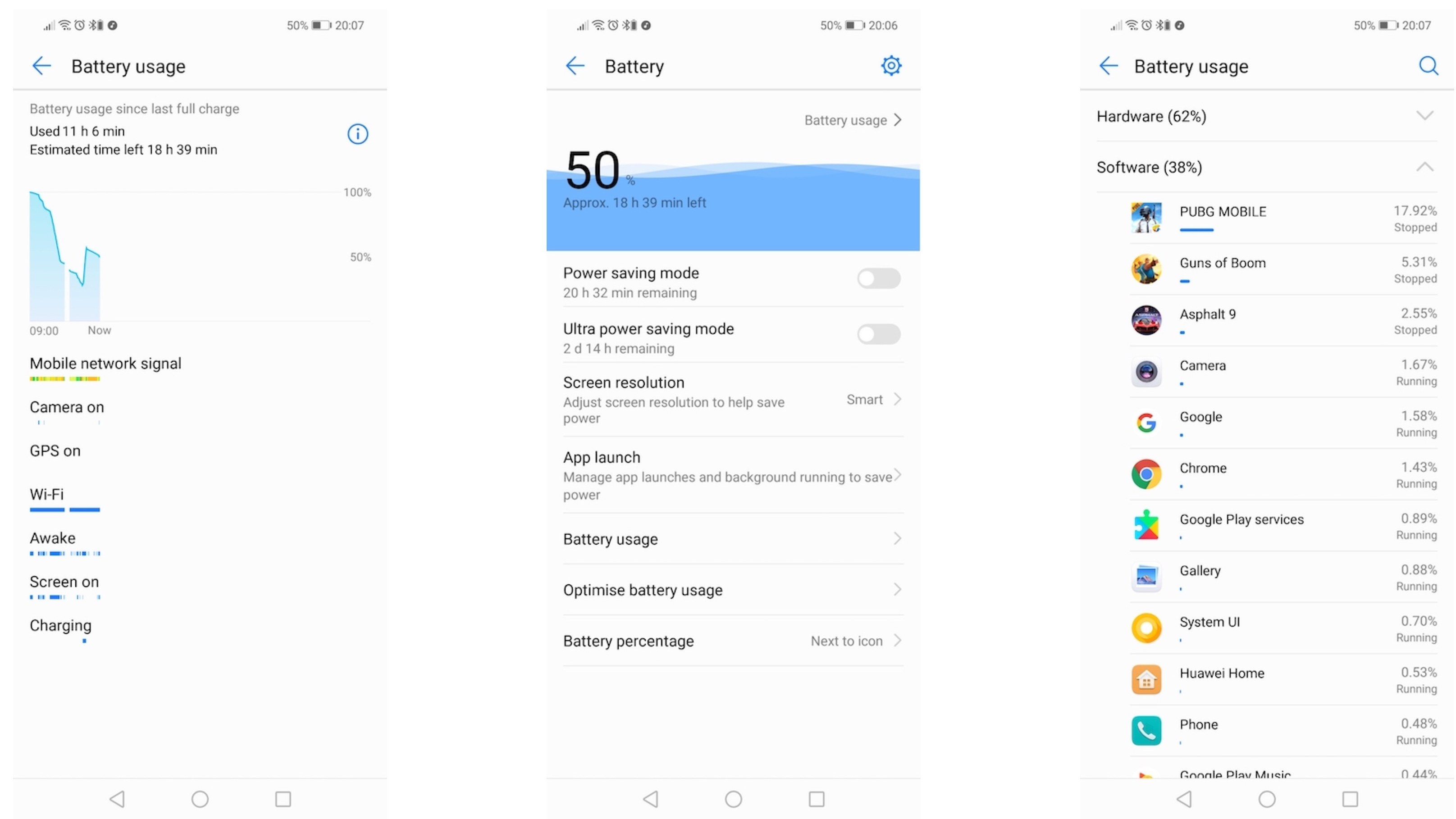 Under our standard battery test of a 90-minute 720p looping video with the screen brightness turned up to full, the Huawei Mate 20 Lite lost 14% of its charge on average.
That isn't exactly spectacular, but it is better than the Honor Play, which lost 20%. It's also better than the aforementioned Huawei P20 Lite on 17%, though it falls short of the Moto Z2 Play on 10%.
When it comes to battery life, the Huawei Mate 20 Lite scores a healthy par overall.
Camera
20MP + 2MP rear camera, f/1.8 lens
24MP + 2MP front camera
Huawei is clearly targeting young selfie takers with the Huawei Mate 20 Lite's dual selfie cams and gimmicky features, as discussed at the beginning of our review.
But it's no slouch when it comes to regular shots, either. The dual-camera setup (a 20MP camera with a 2MP assistant for depth information) might lack the Leica branding of the P20 family, but it still has Huawei's impressive AI algorithms and ever-increasing mastery of photographic principles.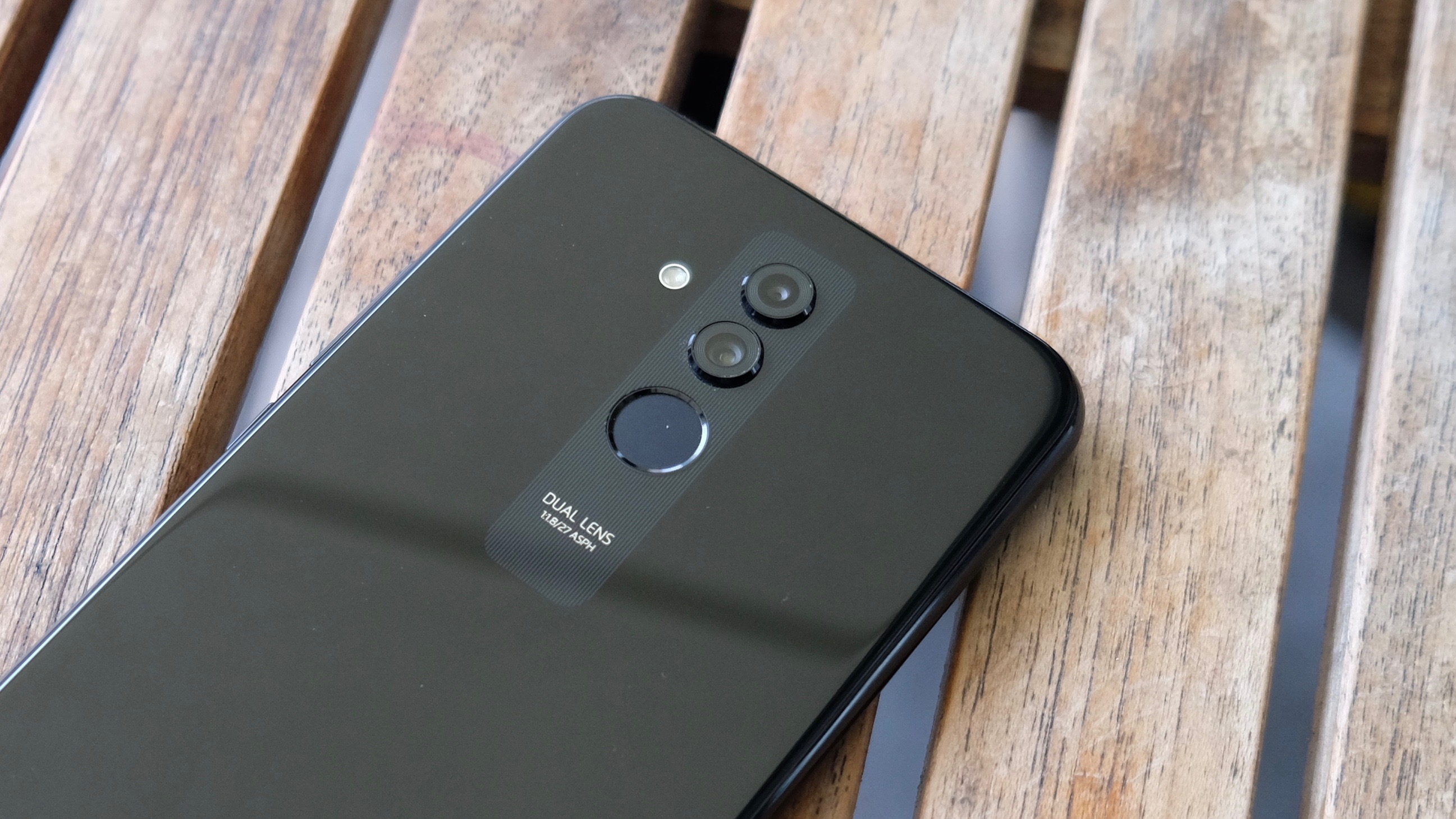 To that end, we were able to get some pretty impressive shots with enough light. Colors popped, exposure was generally balanced, and the shot speeds were nice and snappy.
Those aforementioned AI features particularly seemed to help out on an overcast day, bringing the brightness and tone up to something quite vivid and presentable.
The camera struggles a little in less ideal or indoor lighting, however, with high levels of noise.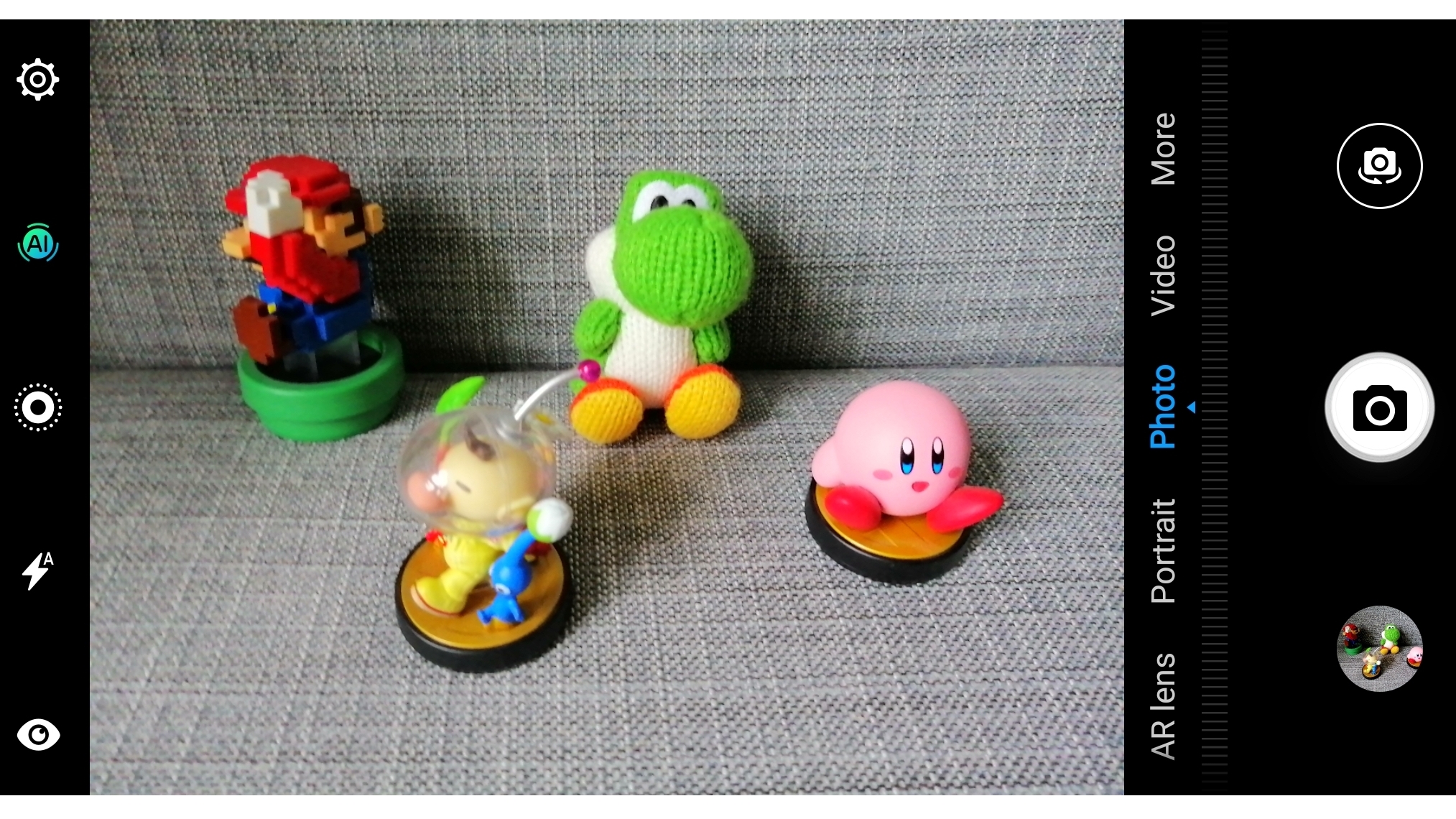 The exaggerated bokeh effect of aperture mode is pretty effective at making the subject pop, but wasn't particularly to our taste. It's too false and too aggressive, though this can be adjusted to anywhere between f/0.95 and f/16 after the fact - a feature that actually preceded Apple's implementation.
Those expecting massive gains to their selfie shots due to that impressive-looking dual-camera setup might be a little disappointed, too. They're not particularly worse than any other smartphone at this price point, but they're not significantly better either - especially in lesser lighting.
The various Portrait mode lighting options (we're back to Apple-riffing again), meanwhile, proved fairly ineffective at improving matters in our experience. They kind of come across as slightly subtler Instagram-like filters.
Camera samples
Interface and reliability
Android 8.1 Oreo is now out of date
EMUI 8.2 is still an acquired taste, to put it mildly
The Huawei Mate 20 Lite runs Android 8.1 Oreo out of the box. That's no longer the newest version, but Huawei has said that Android 9 will be coming via an update.
Of course, the precise version of Google's mobile operating system is a secondary issue here, because you get Huawei's in-your-face EMUI custom interface layered on top. While EMUI has improved considerably over the years, it's safe to say we're still not massive fans.
On the plus side, this is a reasonably fluid and solid take on Android. It's not weighed down with laggy animations or slow transitions, and everything ticks along pretty smoothly.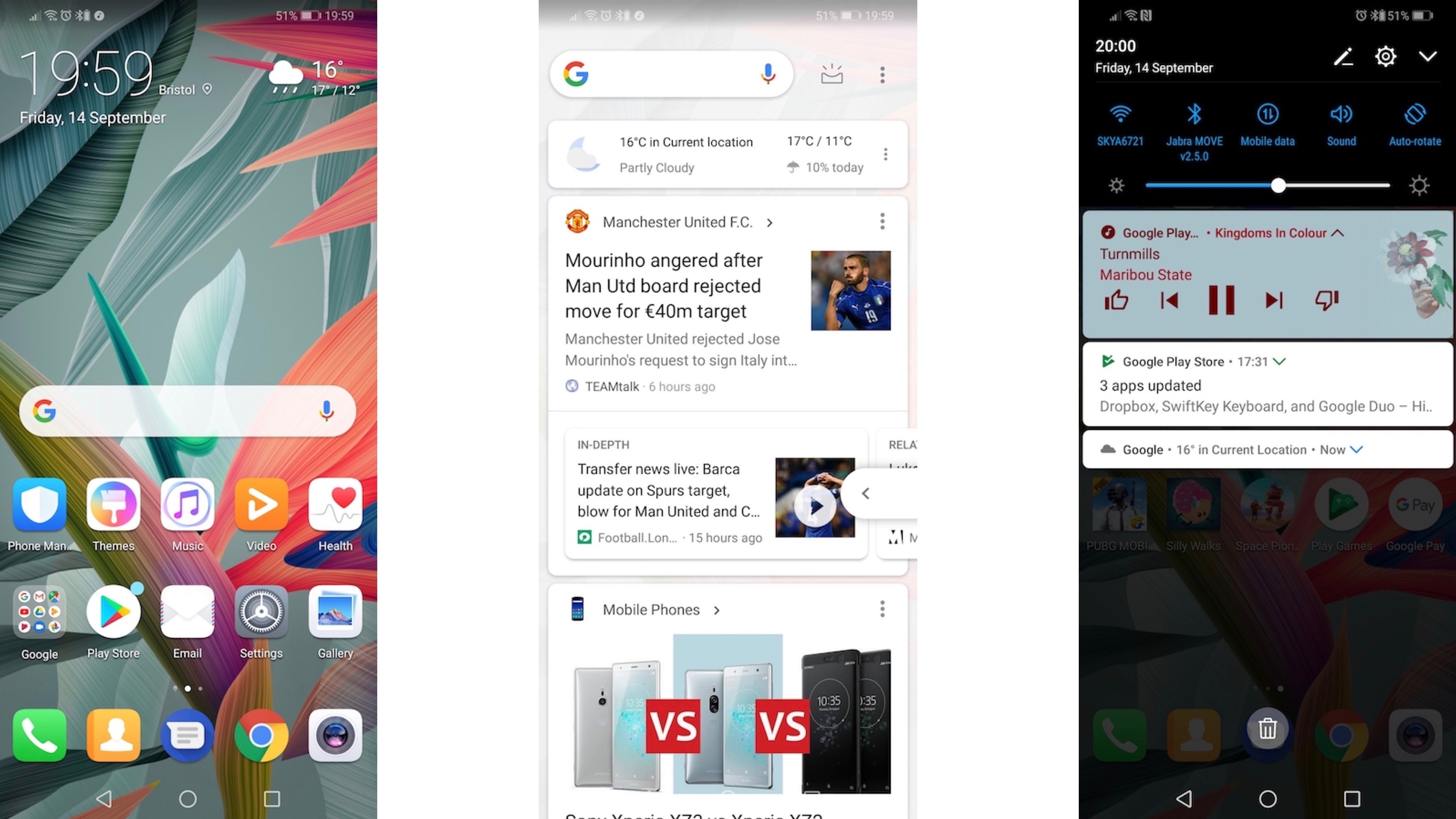 There's no superfluous replacement for Google's feed to the left of the home screen, and Google Assistant is right there under the virtual home key (or waiting to respond to an 'Okay Google' vocal prompt).
Our issue with EMUI is more in the lack of taste and discernment on display. Huawei has remolded the app icons, wallpapers, and menus according to its own instincts, many of which happen to align with Apple's.
There's a distinct whiff of iOS to the icons, the drag-down file search function, and the lack of an app drawer (though an app drawer can be enabled if you'd prefer).
But unlike iOS, it just doesn't hang together in an aesthetically cohesive manner. It all feels gaudy and a little bit cheap.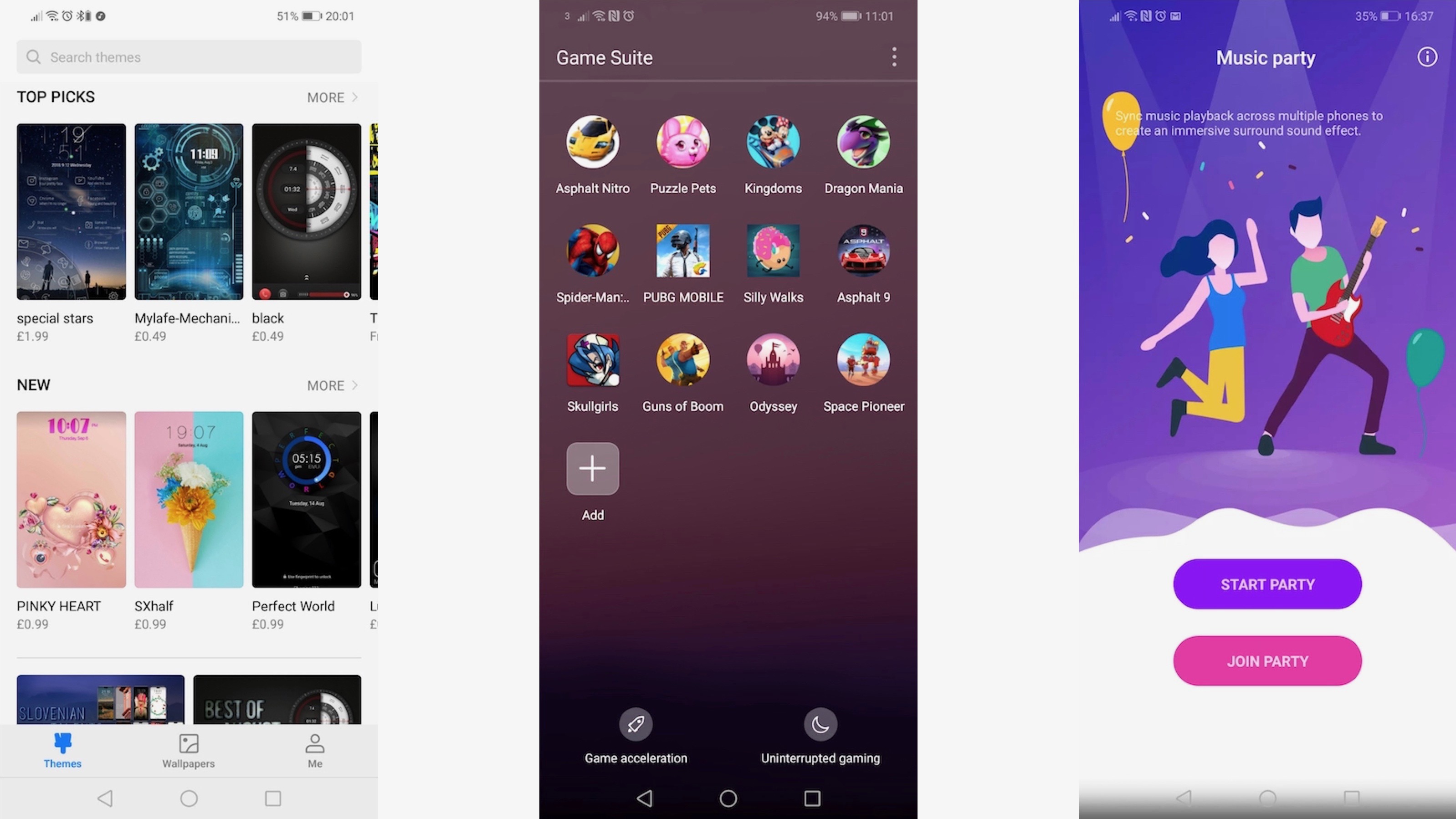 As ever, Huawei has filled the Mate 20 Lite with a whole bunch of its own apps. Many of them seem completely superfluous. You get the Themes app, which lets you customize the look of the phone, including new icons and wallpapers. Having a range of themes at your fingertips is a nice idea, but most of them feel a little naff.
Still, at least Themes has a clear purpose for existing. AppGallery, a third rate alternative to the mighty Google Play Store, really doesn't.
You could argue that Huawei's Calendar, Music, Gallery, Email and Notepad have their own clear function, but none are as good as Google's originals - several of which come pre-installed as confusing duplicates.
Huawei's Party Mode syncs music playback across phones on the same Wi-Fi network, creating a multi-channel surround sound effect. At least, in theory it does. If you're like us, you might struggle to find a group of Huawei-owning friends with whom to test it.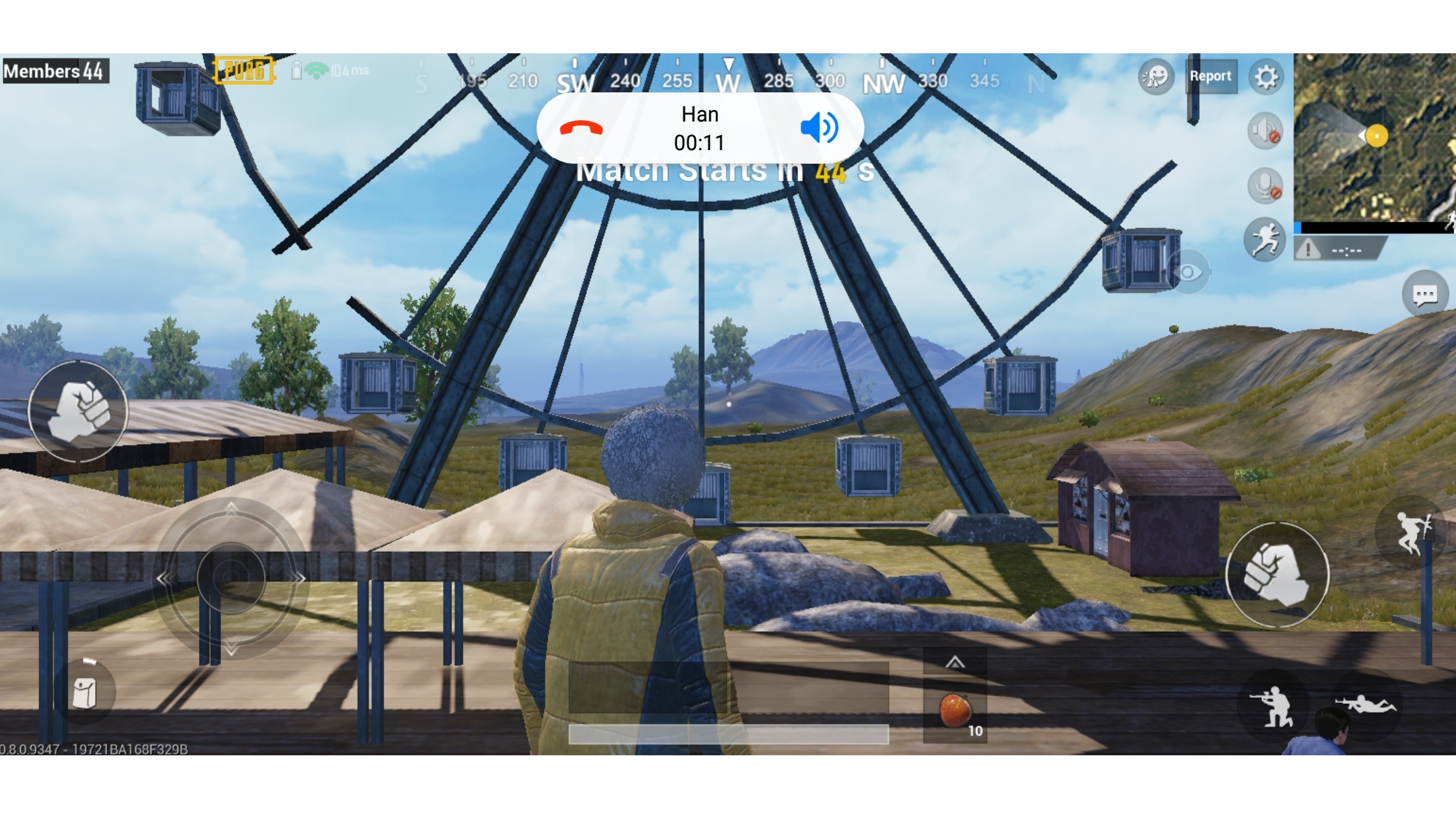 In amongst a bunch of basic tool apps, Game Suite is actually pretty interesting. Add downloaded games to this section, and you'll be able to toggle the Game Acceleration and Uninterrupted Gaming mode.
The former apparently pumps more resources towards these games when they're running (at the expense of battery life) while the latter minimizes disruptions from notifications.
We can't say we really noticed a big difference with performance under the Game Acceleration setting, but the Uninterrupted Gaming feature works nicely. Incoming calls appear as a tiny prompt at the top of the screen, and answering those calls places them on speakerphone while you continue playing.
The best thing that can be said for Huawei's EMUI is that it's fast and customizable, which doesn't always apply to some of its rivals. But it's still a step down from stock Android, any way you cut it.
Movies, music and gaming
Most video media doesn't make used of wider screen
Headphone jack and one underwhelming speaker
64GB of storage and microSD up to 256GB
We're well into the era of the notched smartphone now, with a large portion of new Android phones following the path helpfully popularized by the iPhone X.
One thing that hasn't changed much in that time, however, is the wider approach to video. The vast majority of video content is still shot at 16:9. This leaves whopping great black borders either side of Netflix videos, or else lops some of the content off with a zoom effect.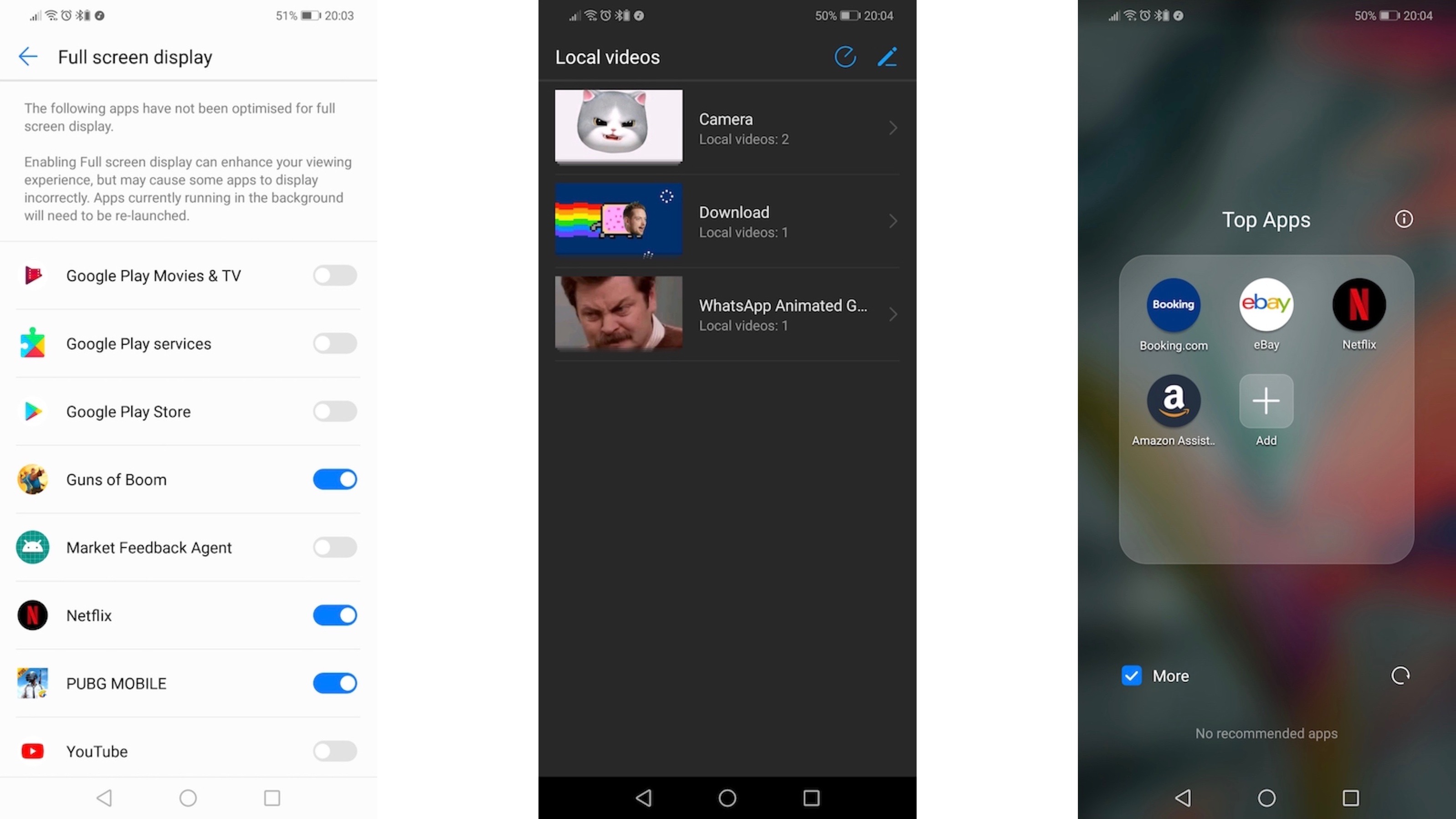 Talking of Netflix, it's curious that Huawei has included it as one of its pre-installed Top Apps when most of its devices don't support Full HD Netflix playback. Watching 720p content on a 6.3-inch screen isn't pretty.
YouTube content works much better here. You can watch it natively (in full 1080p) with black borders, or pinch in to expand the screen to a wider but still notch-free look. We actually prefer this interstitial approach to Apple's fully notched (and thus oddly lopsided) one.
Audio content is well served by the inclusion of a headphone jack, while we found Bluetooth headphones to be easy to connect and stable.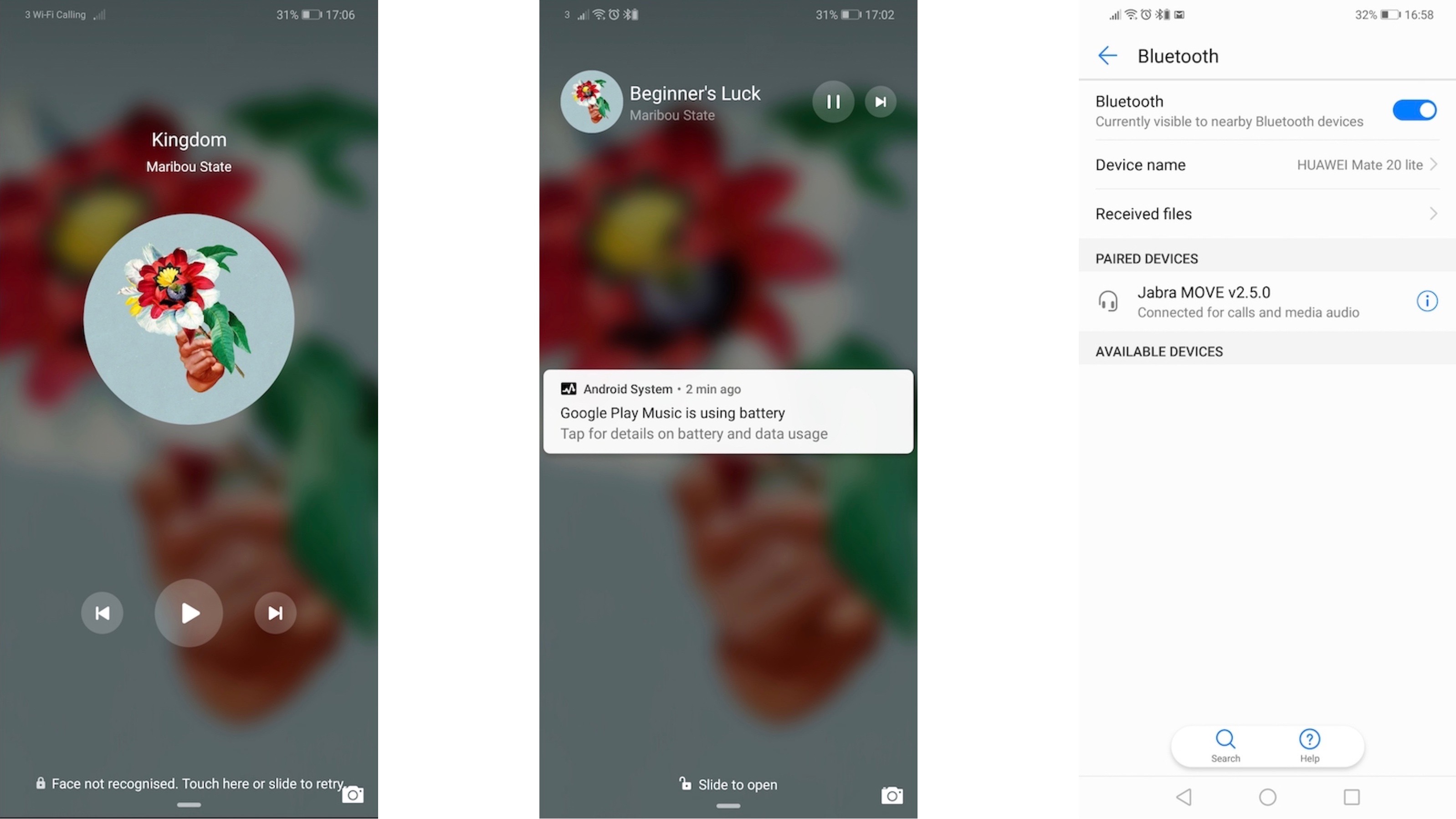 Without such additional gear, the Mate 20 Lite's audio output isn't great. Its single bottom-mounted speaker is pretty weedy, and is also way too easy to block whilst gaming. But then, that's a common complaint south of the flagship line.
When playing music through the included Google Play Music app, we were particular fans of the lock screen widget. It's tasteful, attractive and useful without being obtrusive.
We're less keen about the continuous battery notification that accompanied it, though. Yes, we're aware that the app is 'using battery'. Now go away.
In terms of media storage, you get a decent 64GB as standard. If that's not enough, there's microSD card support for up to 256GB.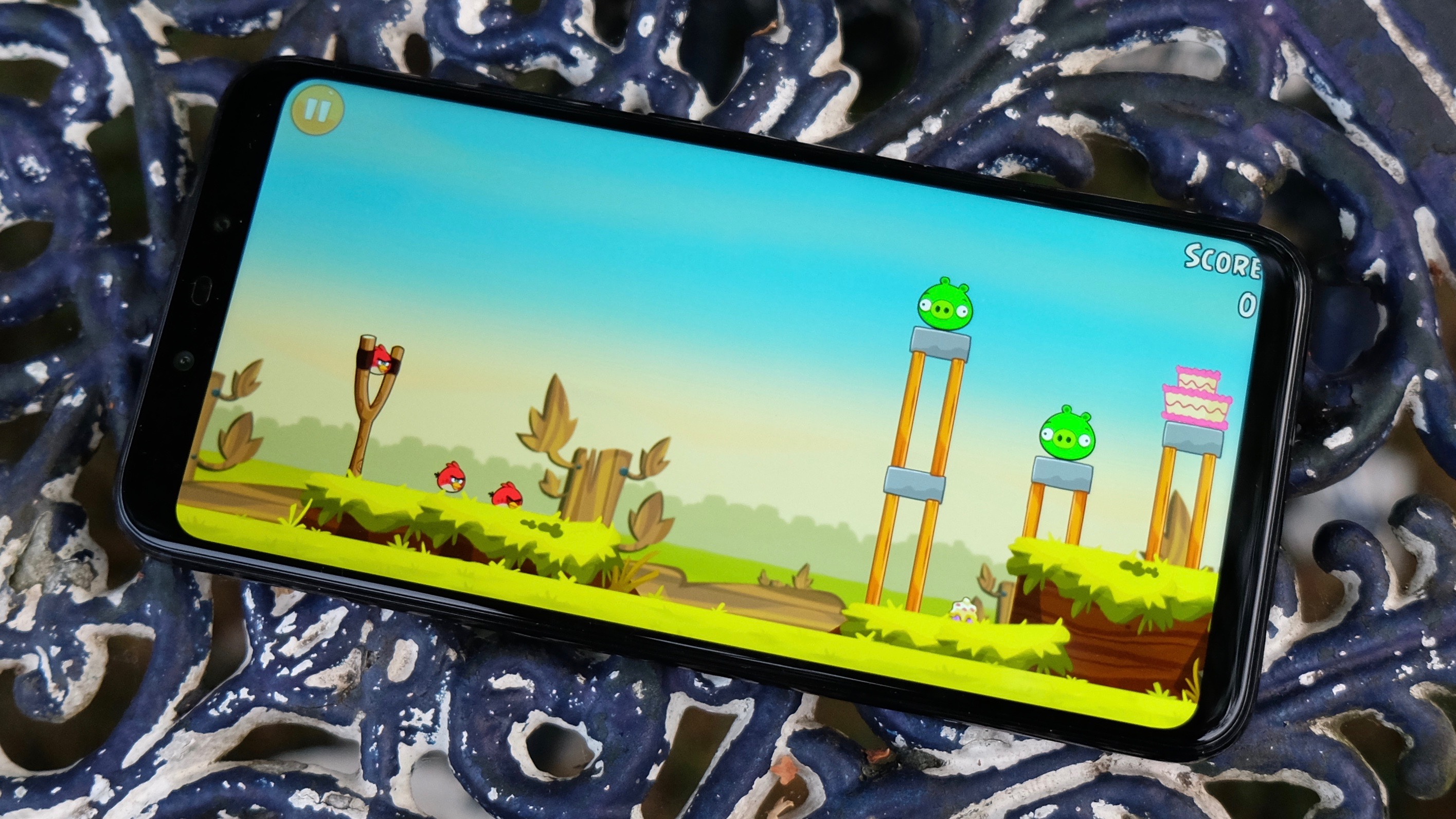 Specs and benchmark performance
Kirin 710 CPU is not spectacular
4GB of RAM proves ample
Huawei has fitted the Mate 20 Lite with a Kirin 710 chipset, which is a mid-range chip from affiliate company HiSilicon.
It's a competent runner, handling general tasks with ease. This is no doubt helped by a decent 4GB of RAM backing it up.
Still, we can't help but be a little disappointed that we didn't get something a little meatier. The Kirin 710 isn't as capable as the Kirin 970 chip that powers the similarly proportioned Honor Play, which actually retails for less.
You'll also find the Kirin 970 in the Huawei Mate 10 Pro, which is now down around the £400/$550 mark itself, and is a much more accomplished device in most other respects.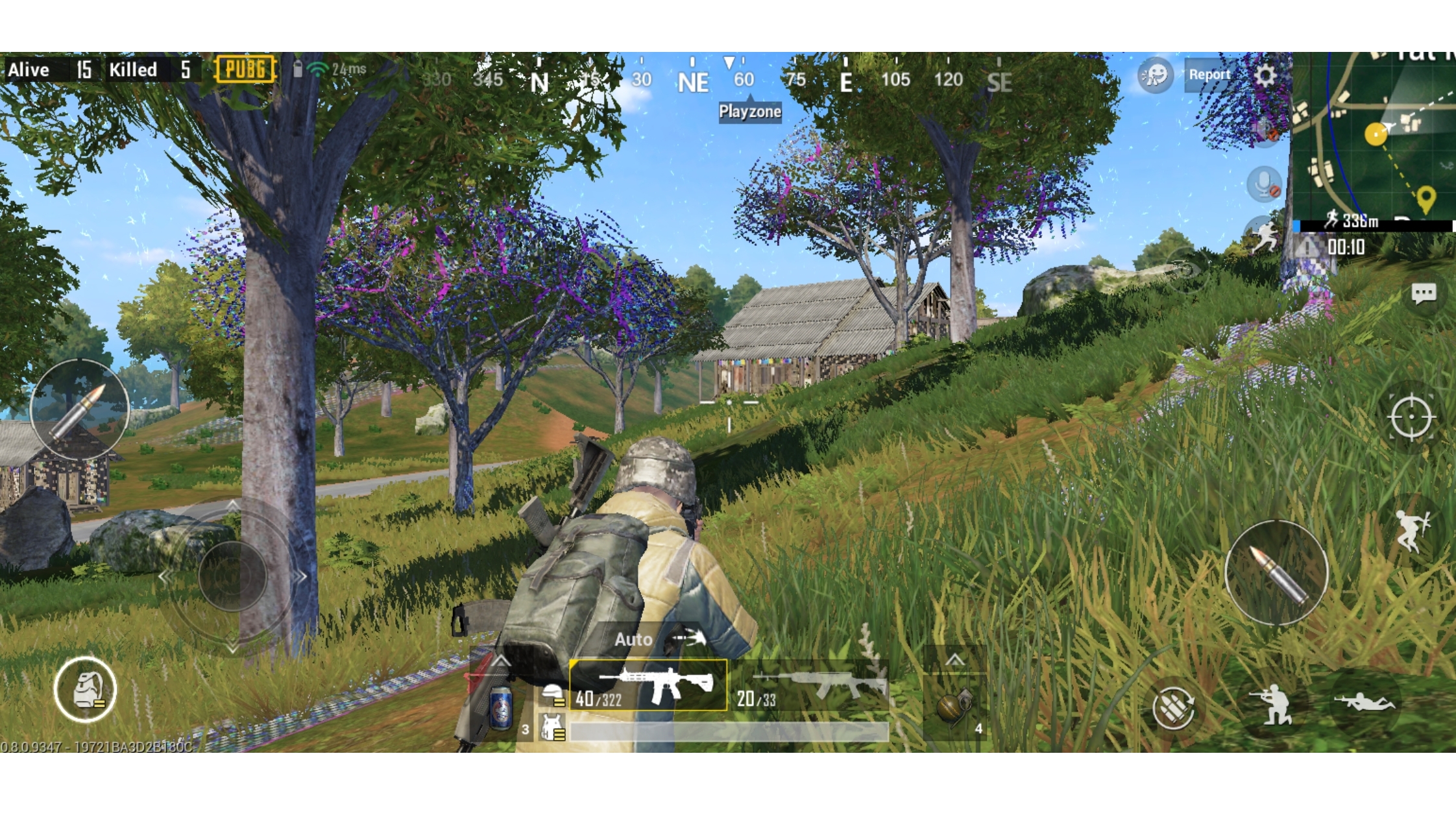 In practical terms, gaming performance is okay. Asphalt 9 ran quite well, even when we cranked it up to High settings - though there was the occasional hitch. Guns of Boom positively flies, though, even with 60fps mode active.
PUBG Mobile complained a little more when we bumped its settings up to High/HD, and we also noticed strange visual artefacts, which would seem to point to the use of that less well supported chip. The Kirin 710 simply doesn't have the level of developer support of, say, the Snapdragon 660 found in the Xiaomi Mi A2 and the Nokia 7 Plus.
In fact, we found that Geekbench 4 wouldn't even install on our test unit, hence the lack of benchmark information.
While everything runs well through the Kirin 710, it's hard to shake the feeling that you're not quite getting the performance you should for the money.
Verdict
The Huawei Mate 20 Lite apes the Huawei P20 Lite in offering an accessible entry point to the company's flagship family. For less than £400 (around $500 / AU$665) you get a premium-looking phablet with a large, attractive display and some novel features.
Huawei has brought its AI photo enhancements down to this mid-ranger, and combined with some decent dual-camera optics the Mate 20 Lite can take some pretty decent shots.
However, the asking price gives you access to an awful lot of the market, and you can generally get more for your money, particularly in terms of performance.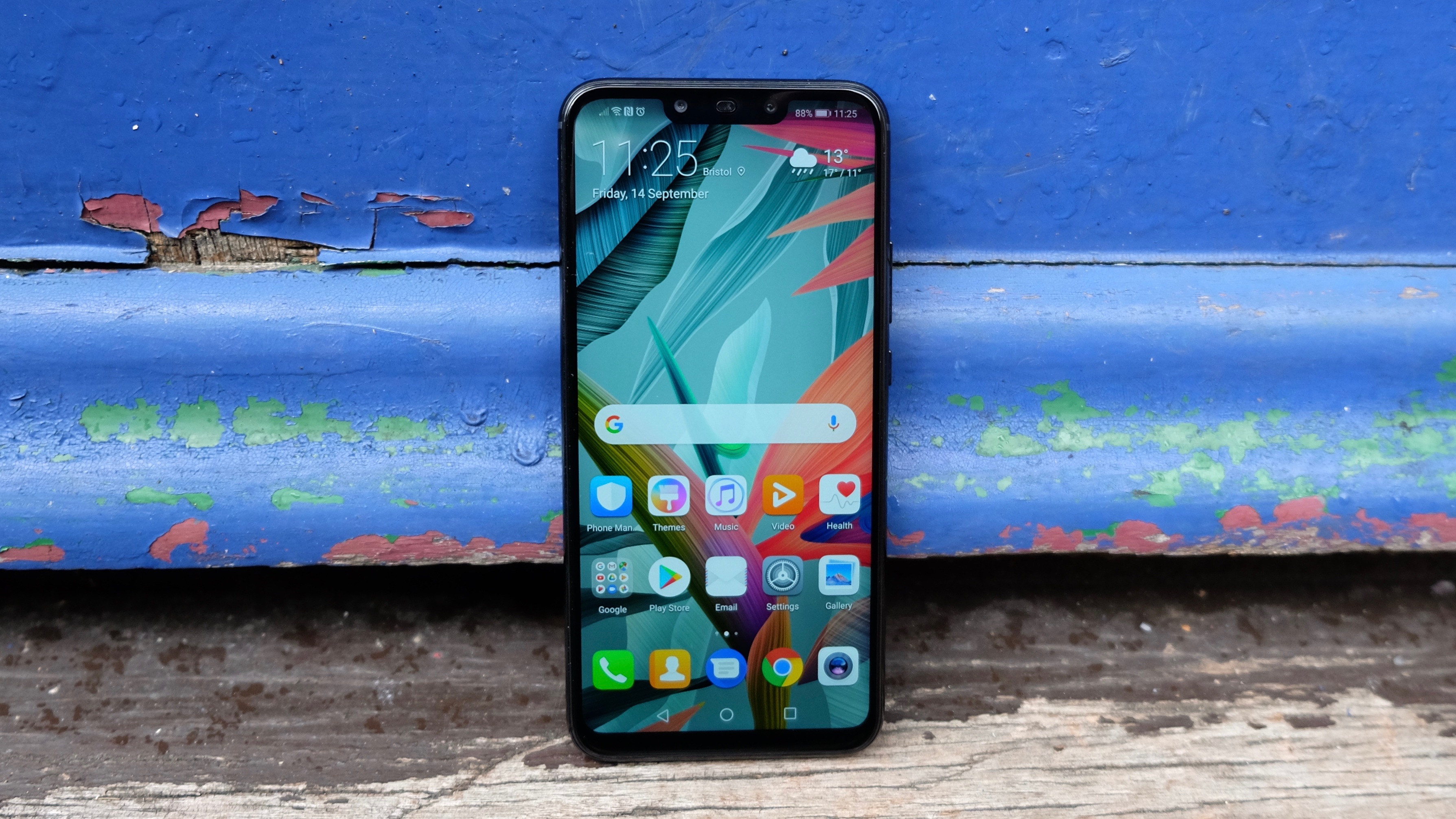 Who's this for?
If you're after a sleek, premium-feeling phablet with a larger than average display and solid camera skills for around half the price of a genuine flagship, the Huawei Mate 20 Lite is worth considering.
It's a stylish mid-range option with the kind of looks and layout that should appeal to those who are fans of the iPhone XS design - but not its eye-watering price tag.
Should you buy it?
The Huawei Mate 20 Lite is a stylish mid-range phablet with a big, bright display and a highly competent camera. However, it lacks the processing punch we'd expect at this price point. It's not slow by any means, but for similar money (and even a little less) you can get near-flagship levels of performance.
Indeed, much of that rivalry comes from within the Huawei stable, whether through its better-value Honor label or last year's more impressive high-end efforts, which have since dropped in price.
The Huawei Mate 20 Lite is a perfectly decent phone, but it simply doesn't look like great value in the current market.
Not sold on the Mate 20 Lite? Consider these alternatives:
Honor Play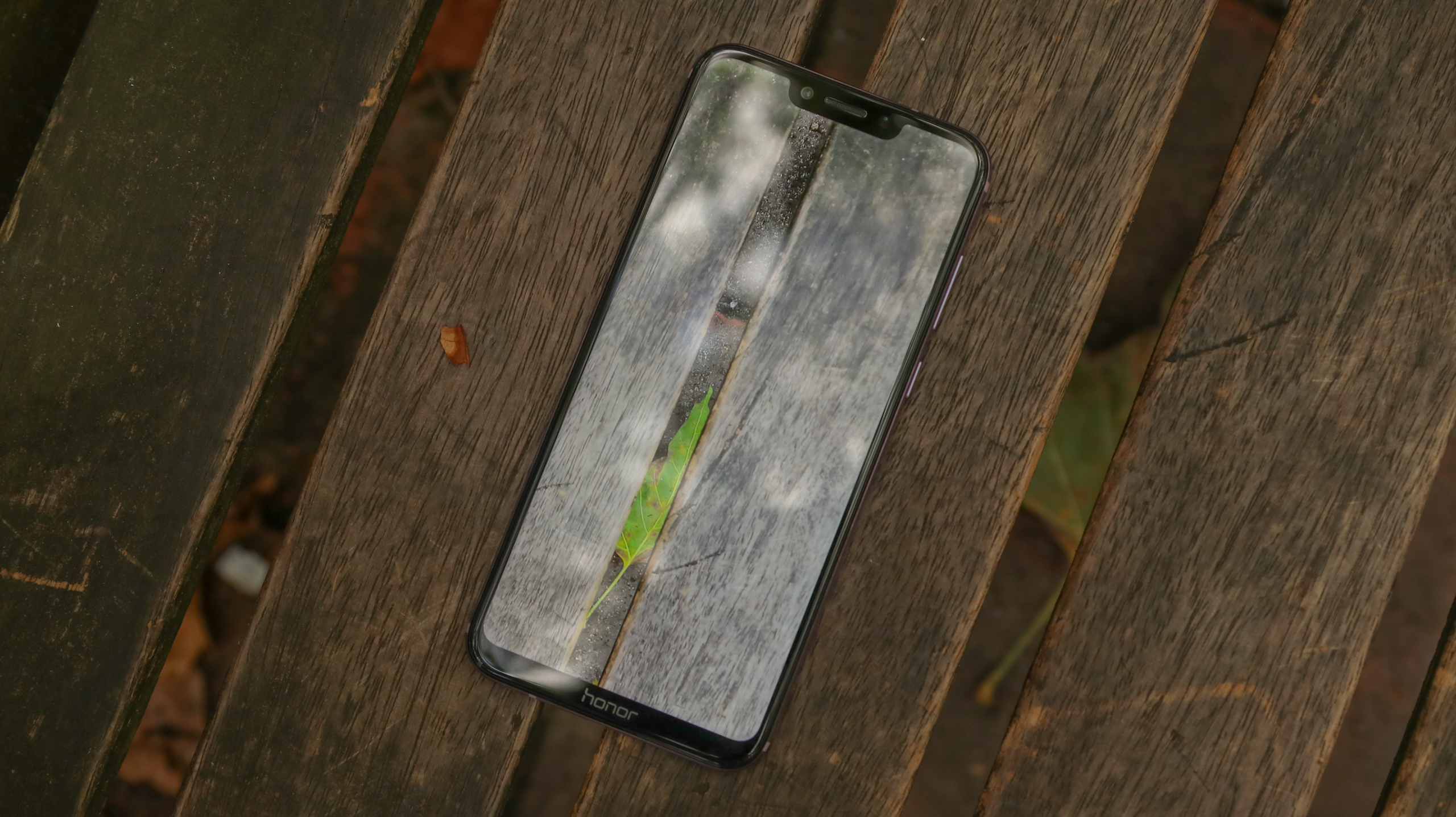 The recent Honor Play offers a similar experience to the Huawei Mate 20 Lite, including a 6.3-inch notched display, a dual-camera setup, and of course Huawei's EMUI interface.
That aforementioned dual-camera isn't as good as the Mate 20 Lite's, but the Honor Play hits back hard in two areas. It has got a much faster chipset, and it comes in £100 (roughly $130/AU$180) cheaper.
It's not the first time we've said this, but Huawei's given itself a bit of a bloody nose with its own Honor sub-brand.
Read our full Honor Play review
Huawei Mate 10 Pro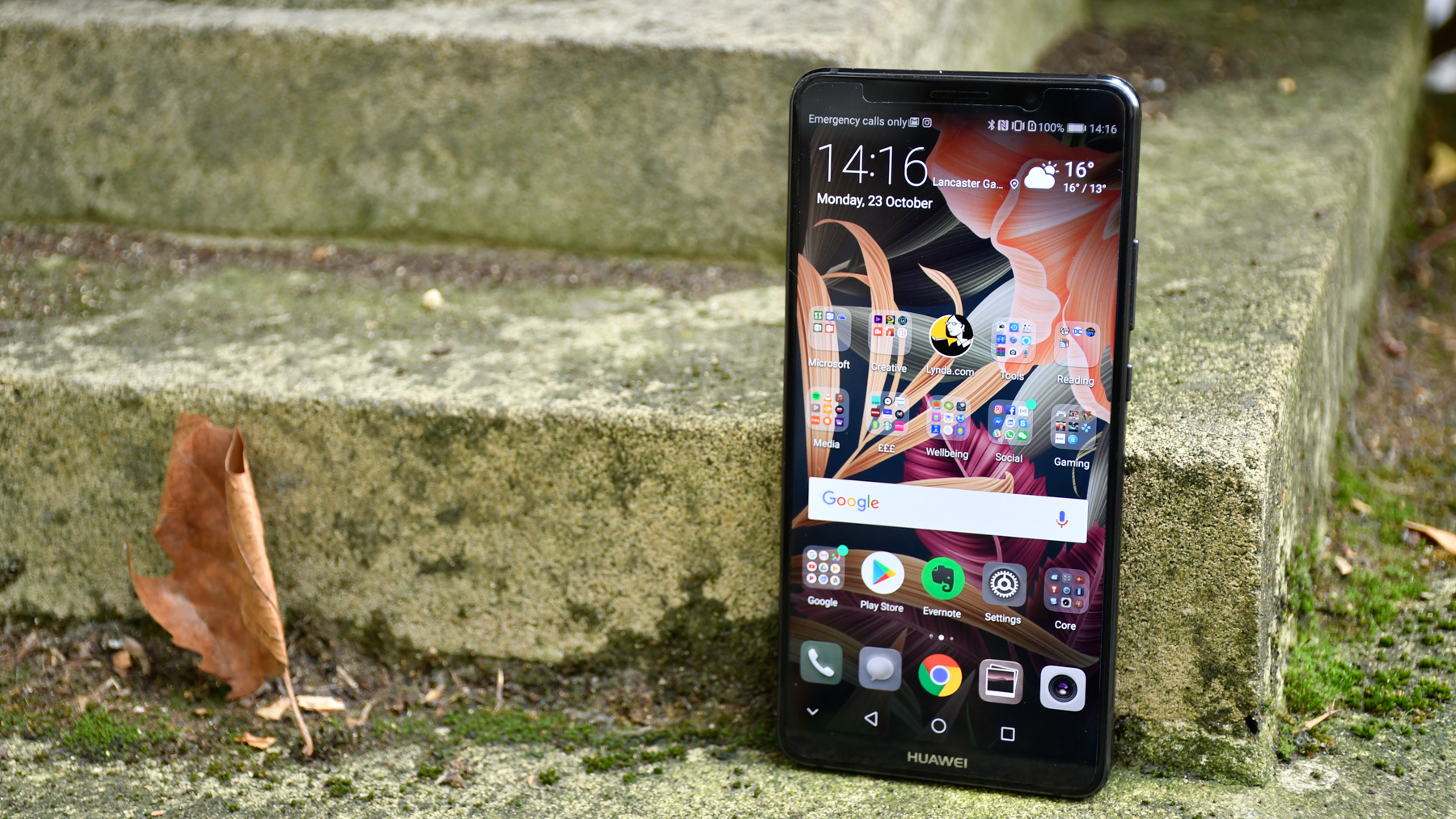 More undermining from within, this time from one of the Huawei Mate 20 Lite's direct predecessors.
The Huawei Mate 10 Pro might be getting on a bit, and it's due for imminent replacement in the Huawei Mate 20 Pro. But a noteworthy side effect is that it's now available for a similar price to the Mate 20 Lite.
With its great camera, performance, and OLED display, it's simply a better phone than the Huawei Mate 20 Lite in virtually every way.
Read our full Huawei Mate 10 Pro review
Nokia 7 Plus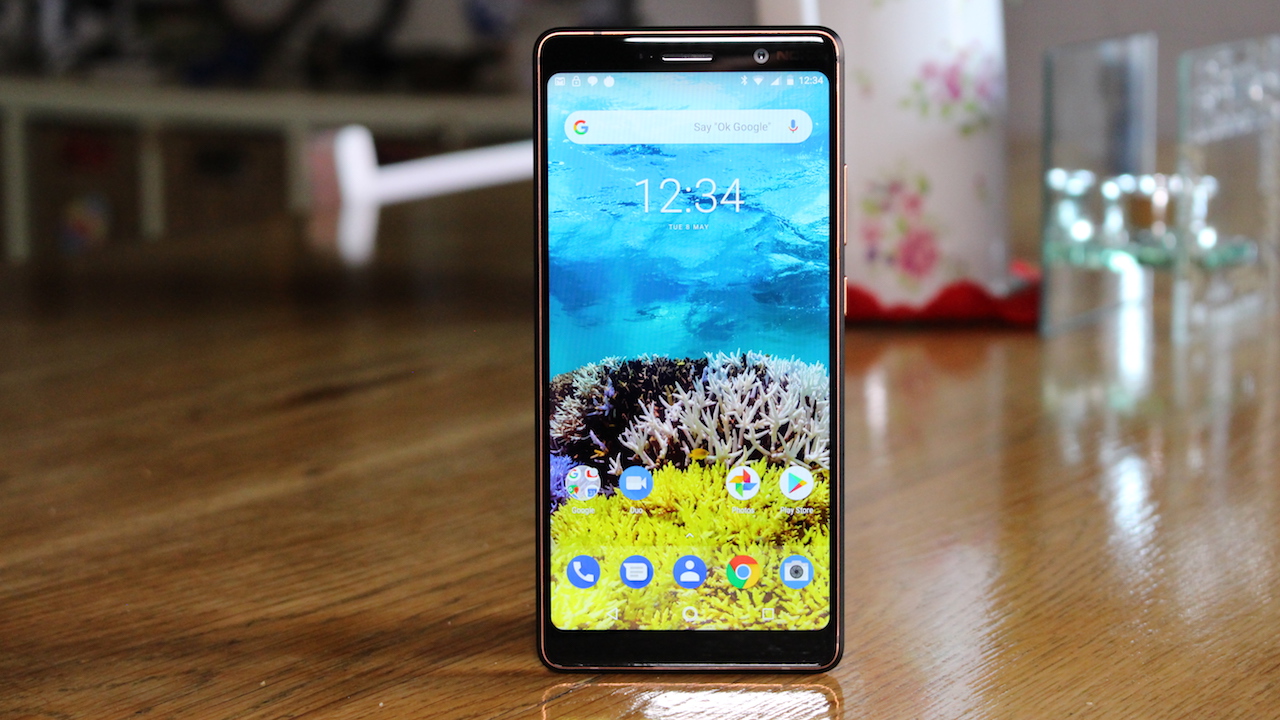 Nokia has produced a real middleweight marvel in the Nokia 7 Plus, with an all-round accomplished package that can currently be grabbed for around £300/AU$600 (roughly $400 but it's not available in the US).
Good battery life, exemplary build quality, and a decent camera make it seriously worthy of consideration if you're after quality in the mid-range.
Compared to the Huawei, the Nokia wins points for its bloat-free pure Android OS and its more mainstream Snapdragon 660 chipset. And of course, it's a good chunk cheaper.
Read our full Nokia 7 Plus review
First reviewed: September 2018
from TechRadar - Technology Reviews http://www.techradar.com/reviews/huawei-mate-20-lite-review