The Motorola Moto E5 is newest entry in the veteran manufacturer's cheapest product line, coming in under £130 (AU$230, around $160) at most retailers and it has a few tricks up its sleeve.
An 18:9 screen with a 720p resolution, a 13MP camera and a 4,000mAh battery all ensure that, for once, this is a budget blower to sit up and take notice of - bearing features aplenty to crow about.
But with a sea of grey imports available to the discerning buyer, and stiff competition from the likes of Nokia, Honor and Huawei, does this new entry in the Moto family do quite enough to earn a recommendation?
Price and availability
Out now in the UK
Costs around £120/AU$230 (roughly $160)
No news on a US launch
In the UK, the Moto E5 is available from many retailers, commonly for around the £120 (AU$230, roughly $160) mark, though others such as GiffGaff are selling the handset for £99 (around $130/AU$180) currently.
There is no confirmation as to whether this device will make its way to US shores, with users there being given the choice between the lesser Moto E5 Play and the larger Moto E5 Plus.
For the price you're paying, short of hitting up the likes of Xiaomi, the specifications and presentation on offer here are something special.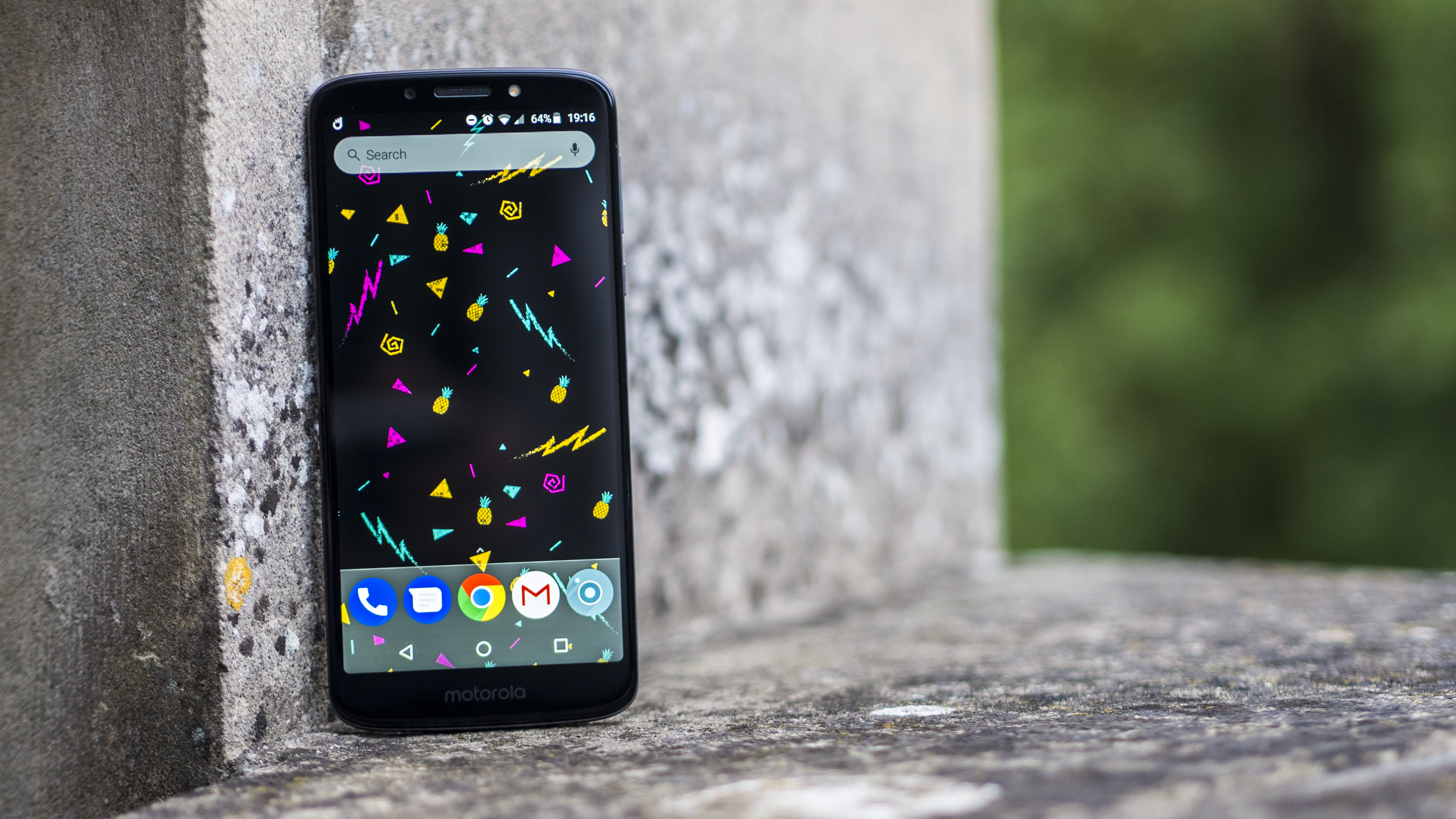 Key features
4,000mAh battery
18:9, 720p, 5.7-inch screen
What typically marks a handset at or around this low a price point is the presence of any features, never mind many. But the Moto E5 offers more than enough to pay attention to.
First among these is the height of the display. Lenovo has gone to great lengths to promote the 5.7-inch, 18:9, 720p 'MaxVision' display. This crams the form factor first made popular by the likes of the Samsung Galaxy S8 into a device barely more expensive than a big night out.
For once, it means that splashing out on a device with a little less name cache doesn't necessarily mean feeling left out when it comes to the latest and greatest trends to sweep the smartphone world.
To add to this, the device comes rocking a 4,000mAh battery. While including a larger cell isn't in itself amazing, particularly when the Moto E5 Plus offers a unit another 25% larger than even this, it is a welcome add-on nonetheless.
When the majority of high-end handsets come with power-hungry chipsets, super-bright screens and ever smaller battery cells, the inclusion of a battery this size offers a great deal of hope for those who value endurance in their day-to-day activities.
The Moto E5 also has a rear-mounted fingerprint scanner and NFC, with the latter allowing you to make full use of Google Pay at participating retailers.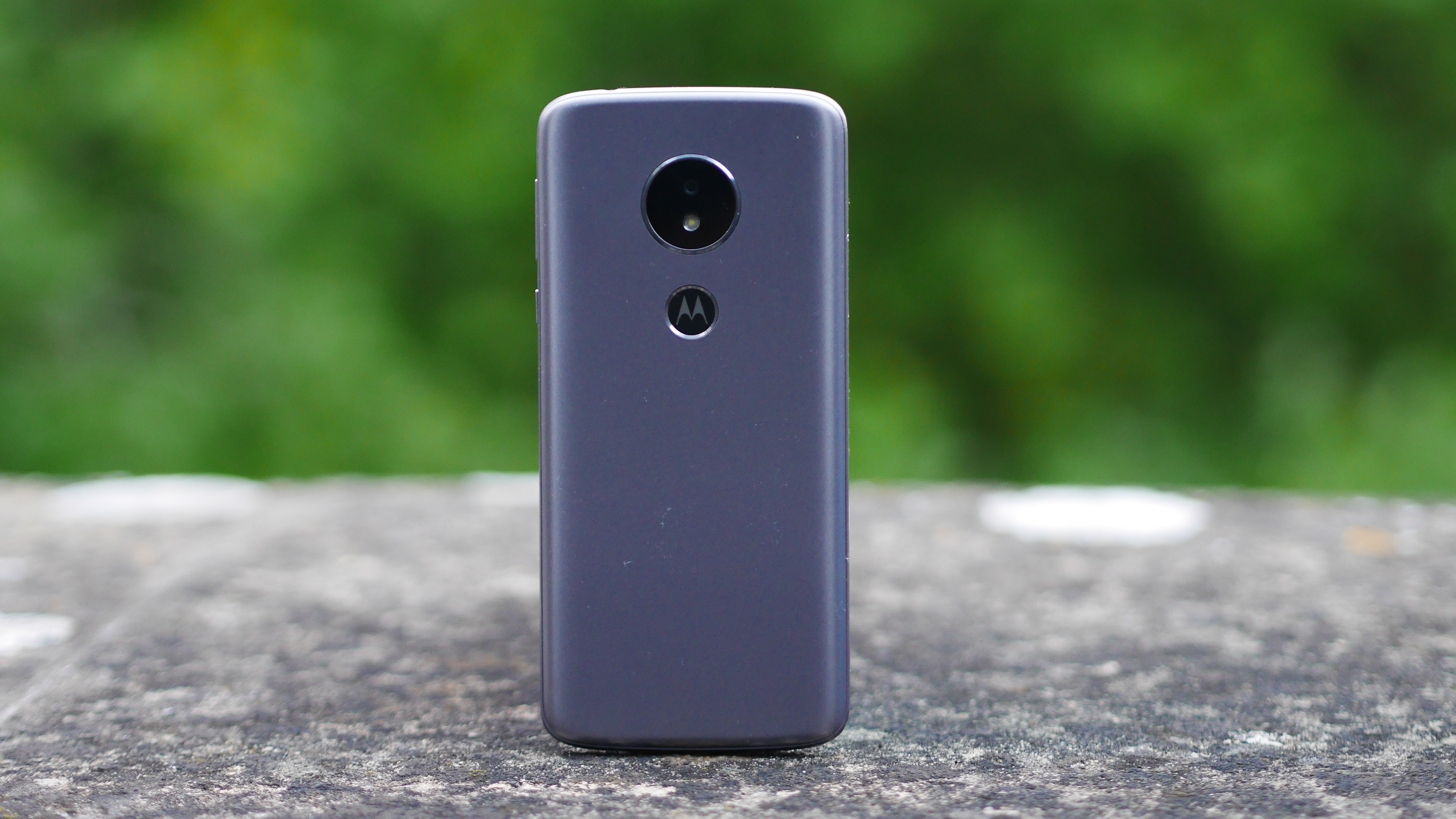 Design
Solid, sturdy design
No real flair
Typically, buying a handset this cheap implies a few sacrifices, mainly in design stakes. Those taking the plunge can usually expect the typical rectangle of glass, maybe a few hints at premium materials (glossy plastic, maybe a glass back) and a weight best described as unbecoming.
Against this, the Moto E5 doesn't quite come across as a device really trying to make a difference, at least from the rear. It is composed of a clean-feeling matte grey polycarbonate and feels positively business-like - this isn't a handset for those looking to express themselves through garish colors.
The only stabs at style are the Motorola logo, complete with a fingerprint scanner (which works quickly and efficiently) and the Oreo-shaped cut-out for the camera. First popularized by the extinct Lumia line, this houses a 13MP snapper and a single-LED flash.
On the top of the device can be found the headphone jack (hooray), the right side houses a volume rocker and a power button, the left side is flush and the bottom hosts a micro USB port for charging and data transfer.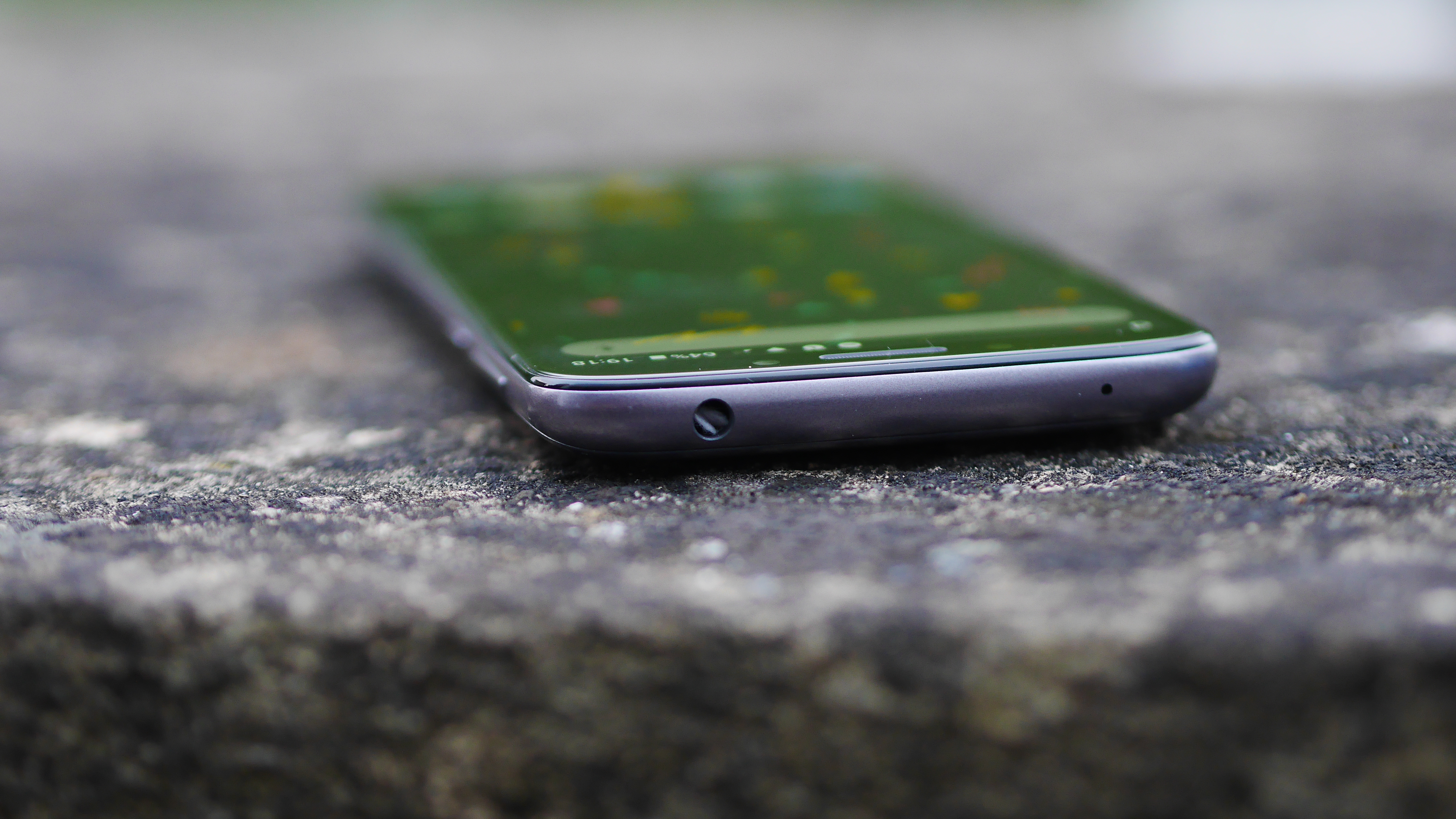 Moving round to the front, this is where the party truly begins. Lenovo has managed to cram a 5.7-inch, 720p 'MaxVision' display into an 18:9 footprint, meaning that the device is easy to hold and use with one hand (even if it is a little tall).
Above the display sits a 5MP selfie camera, a call speaker (which also functions as the main speaker) and a single LED flash for the selfie camera, a nice bonus for those who have a big selfie game.
In all, despite the color being titled 'flash grey', beyond the maxed-out screen for the price, this is a remarkably utilitarian design. It is heavy at 174g, but this is well-balanced and feels earned given the hefty power pack concealed within.
Although not waterproofed, and with an unspecified version of Gorilla Glass included on the screen, the Moto E5 feels as though it could take a few knocks. And for the price, a device like this taking the plunge is far more palatable than a shiny new 512GB iPhone XS.
Screen
5.7-inch 720 x 1440 screen
18:9 aspect ratio
Can look a little washed out and lacking brightness
With an 18:9 aspect ratio, this is a display on the cutting edge of design, and certainly in the budget space.
It is thin where it needs to be in order to allow for one-handed usage, however it also has enough space to give a great viewing experience for video.
At 720 x 1440, the 5.7-inch screen on the Moto E5 doesn't quite break any resolution records, though in day to day usage we didn't find any issues with the sharpness.
It has decent enough color reproduction, though we did find on occasion that things could be a little washed out. Lenovo has made the text a little larger in what may prove to be a boon for the optically challenged, this aids in removing the 'jaggies' in what is a stretched out 720p screen.
Brightness proved to be something of an issue also, at least in the harsh autumnal sun. While indoors it was easy enough to see, when outdoors, especially while using the camera, using the device became a bit of a slog.
While obviously not practical, something like the super bright mode on the LG G7 ThinQ would have been very welcome.
In all, clearly a few corners were cut (literally in some cases, as this display has rounded edges) to have the screen fit the aspect ratio chosen at this price point, and they were mostly worth it.
Though we would have liked to see a little better color reproduction and perhaps more brightness, for the target audience this phone is intended to serve, it is more than enough to satisfy.
Battery life
Long battery life
Fast charger included
With a 4,000mAh cell, and a power sipping chipset, we came with great expectations for the battery life of the Moto E5. And for the most part, the Moto E5 is indeed a battery champ.
A typical day involving unplugging at 6:45am, a 45-minute commute streaming audio over Bluetooth while reading articles online, then checking constant emails and other messages across an eight hour day, followed by the same commute in reverse, we found that 6pm would arrive with the device having roughly 75% battery to spare on average.
This is a very solid showing, and we found in particular that standby time was strong - dropping only 2% across the course of one night.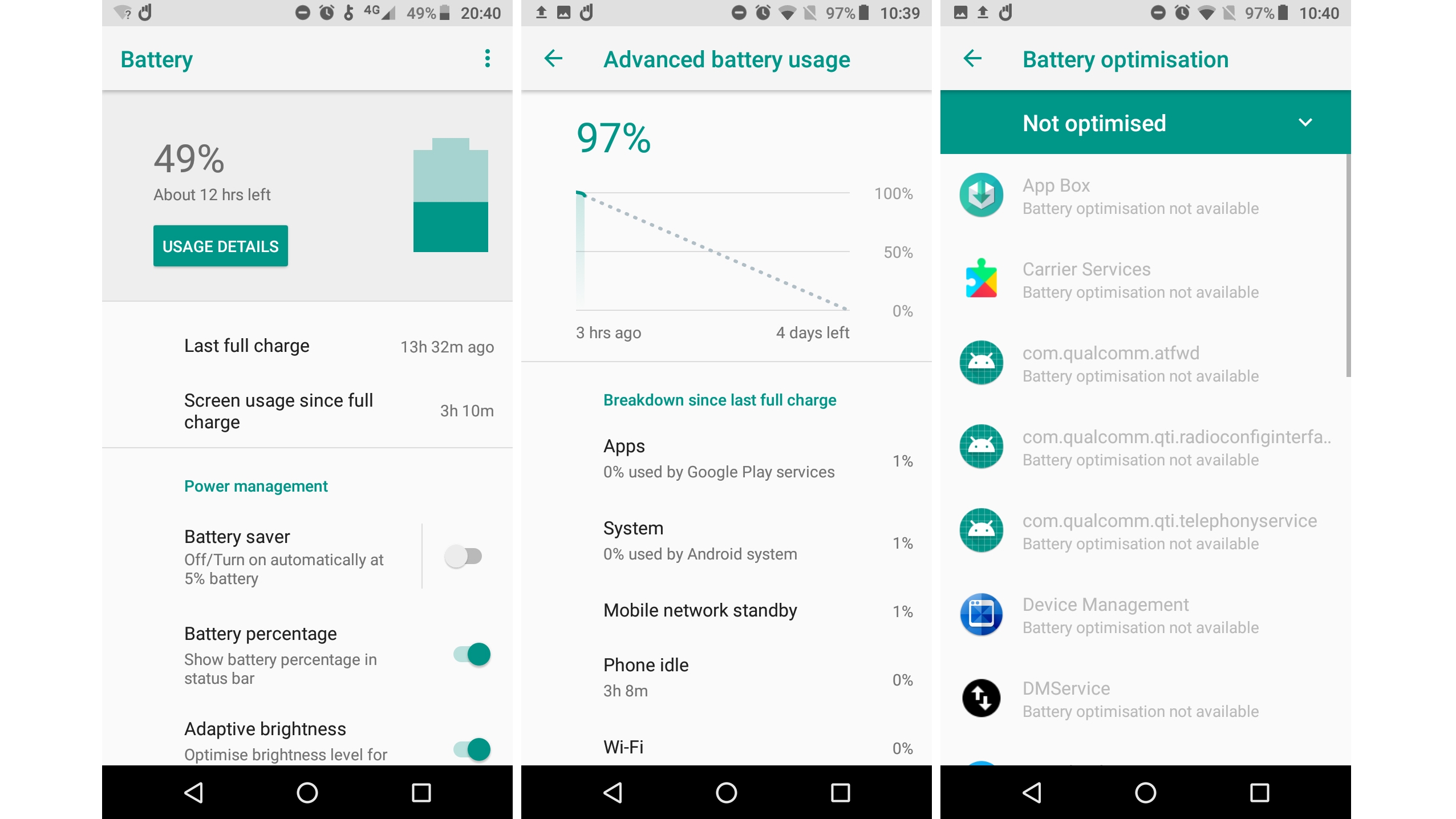 Running the TechRadar battery test (a HD video played at full brightness for 90 minutes), the power on the Moto E5 dropped from 100% to 92%, which is a very competent showing indeed.
Although not packing quite the battery chops of its larger sibling the Moto E5 Plus, the Moto E5 is a strong contender for the throne of battery champ at this level, soundly thrashing much of the competition which can't quite make it through a full day, never mind keeping enough juice to last into a second.
Fast charging is supported, and Lenovo does throw a compatible power brick in to sweeten the deal, though it should be noted that this doesn't provide quite the fastest speeds that the chipset is capable of.
Camera
Simple app
Disappointing images
It has always been the case that a good camera is the linchpin to a good smartphone experience. Yet, as cuts are made to meet a certain price point, quality tends to dive - so is the Moto E5 any different?
Sadly, it isn't. The Moto E5 comes with a 13MP snapper and a single-LED flash on the front as well as the rear, while the selfie camera is 5MP in resolution. Neither offer anything to crow about.
From the rear-facing sensor, colors are muted and washed out, lacking any life or vibrancy. Detail in photos is notable only by its absence, and dynamic range is sorely tested by anything other than perfect lighting.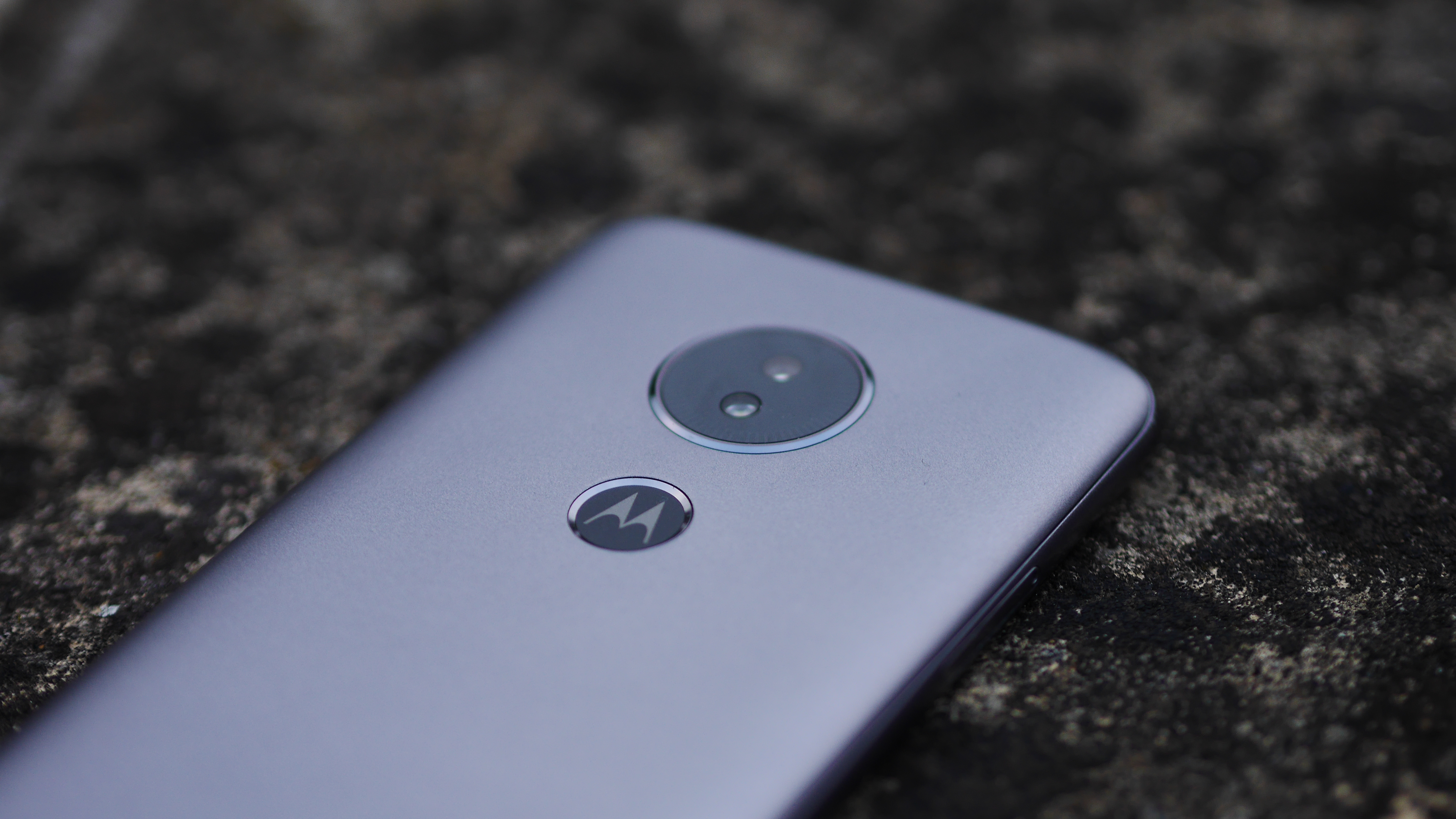 Skin in particular is prone to being overblown, leaving friends and loved ones looking like terrifying waxworks of themselves. This is performance which would have been acceptable from a budget handset in 2013, however in the present this is no longer okay.
As might be expected, the situation only deteriorates as the sun goes down - images taken in this light have a tendency to look as though they have been recreated in watercolor.
The selfie game is only slightly better. Images still lack detail, however this isn't quite so much an issue when one has an ugly mug worth hiding, and colors are fairly represented.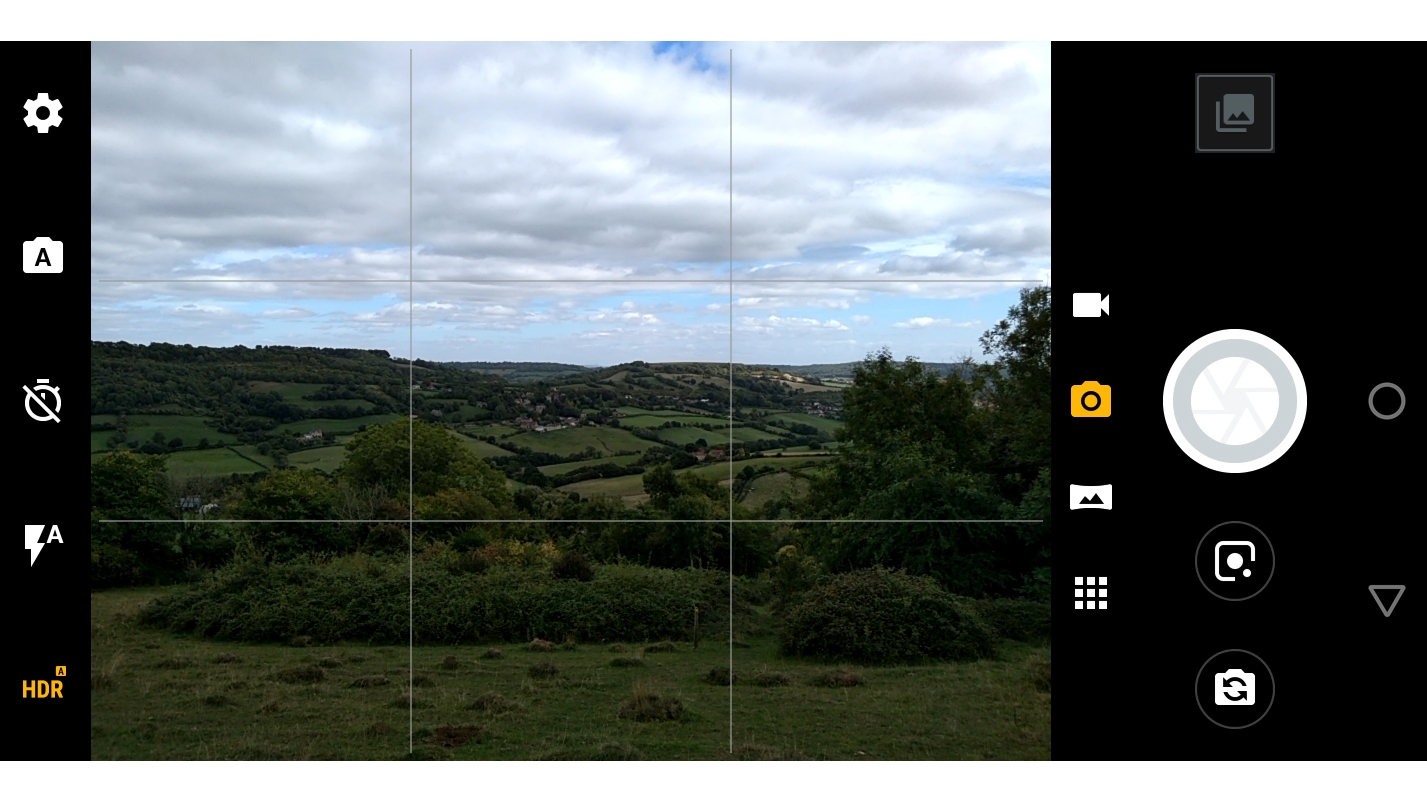 For many people, much of the above will be of little relevance, given that the debate around what makes a 'good' camera is so subjective, what each individual values from each snapper is variable.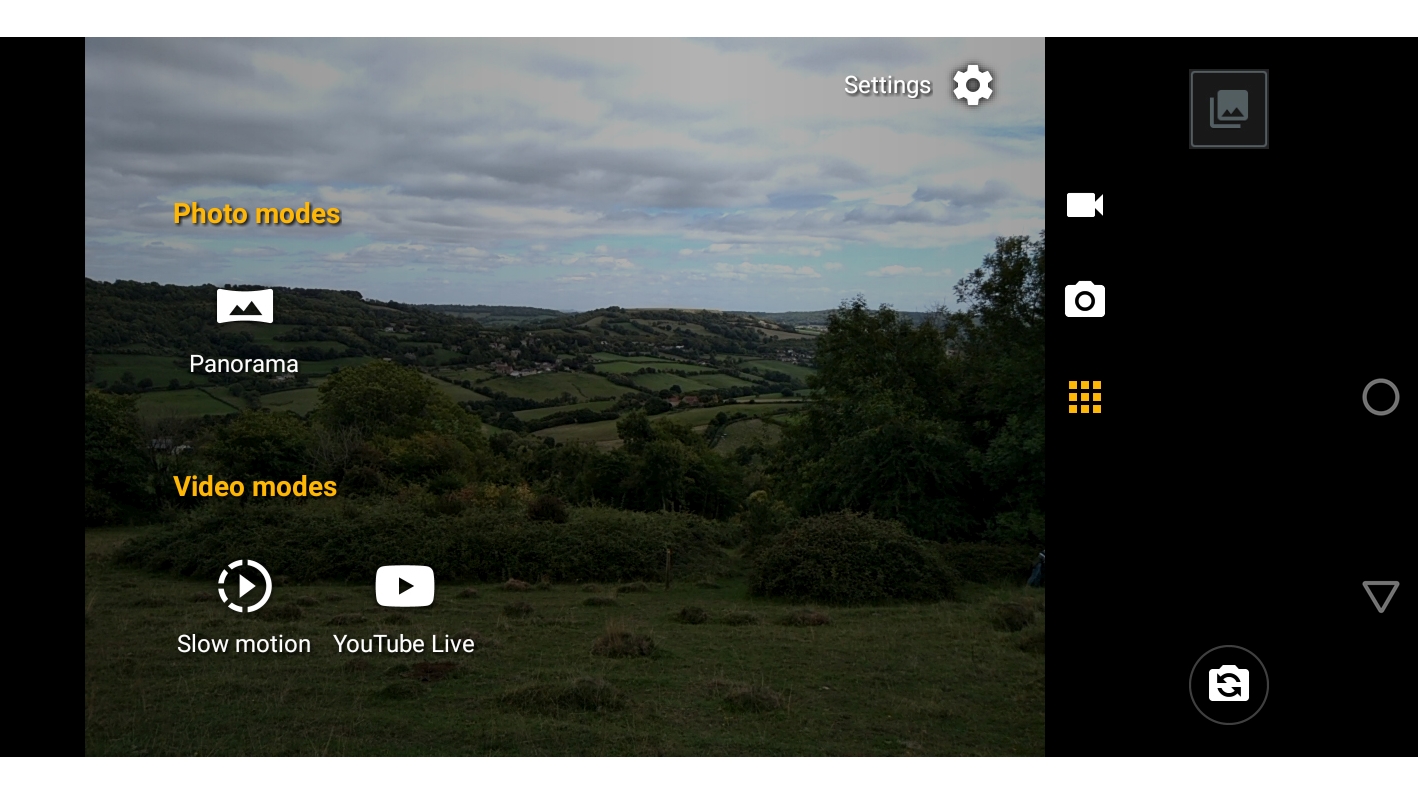 As such, your mileage may vary, however this is mainly a camera to trust with the odd social media shot - not the documentation of special moments for years to come.
Regardless, the camera app is laid out sensibly. Taking the tack set by Google with the Google Pixel 2 there's a capture button, a toggle for the HDR function (which only makes slight improvements, and at the expense of sharpness), the flash, video mode and a wider settings menu.
A stab is made at a manual mode, but this only offers limited control over shutter speed and is mainly for adjusting white balance.
In all, don't buy this device expecting a great photography experience, it simply isn't there.
Camera samples
Interface and reliability
Runs near-stock Android Oreo
May not get Android Pie
Having previously been owned by Google, the Moto line has been typified by a generally restrained approach to Android modification, and that approach holds true here.
This is an almost stock build of Android 8.0 Oreo, running a few 'Moto' customizations. That is to say that there's an 'Assistant' included which can easily be ignored, and that there is a selection of gesture functions to activate various settings - which may come in handy in a pinch but which are hardly essential.
There's an app which offers a night light filter as is standard now on Android, and a 'Help' function which acts as a manual and can put users in touch with a customer service representative.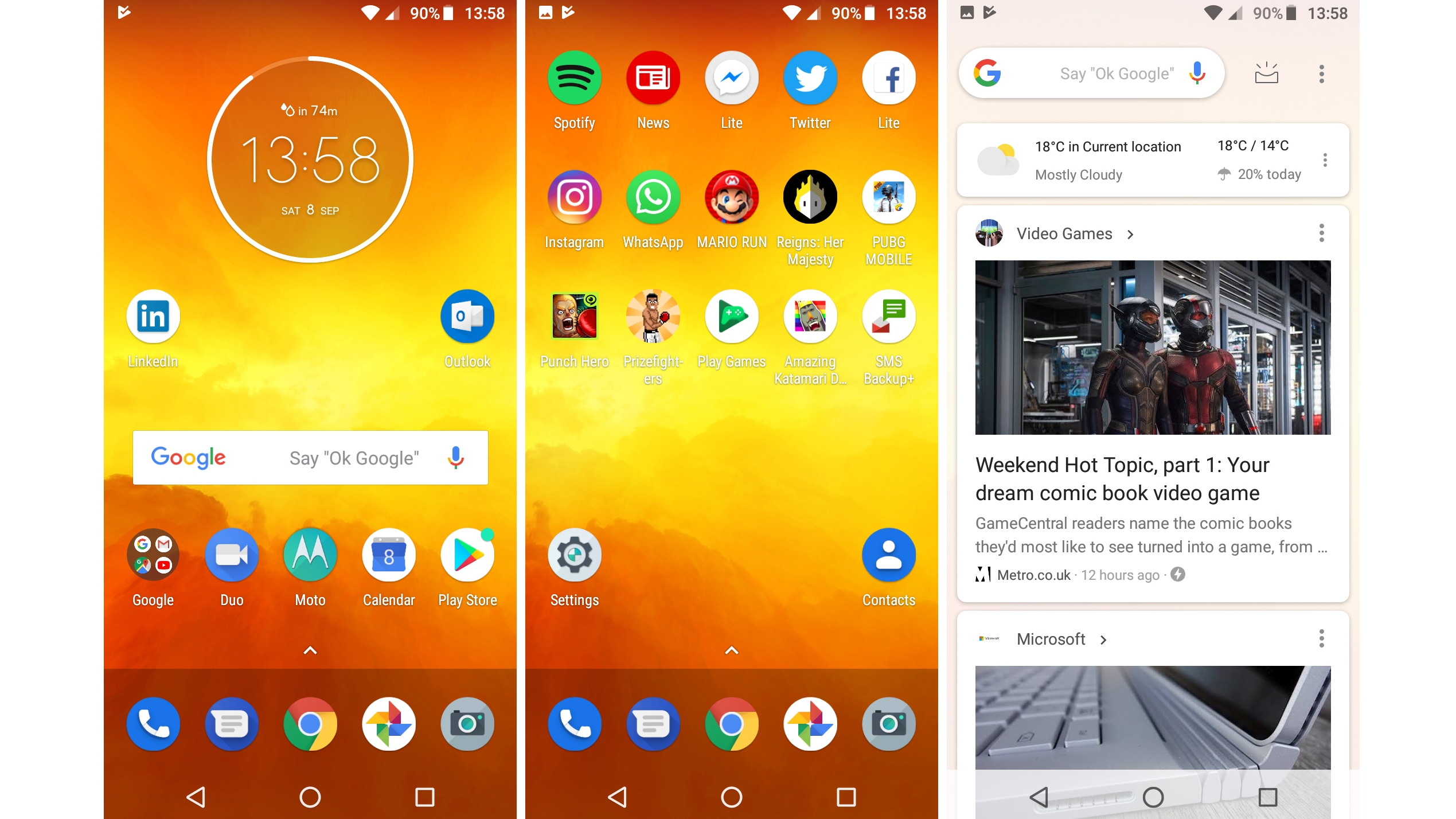 There is also a stab at an always on display, which is useful on occasion. When the device detects movement, i.e when the internal gyroscope is disturbed, a small watch face-like graphic will activate, displaying battery power and the time.
In terms of performance, the Moto E5 is a strong enough performer when it comes to moving around the interface. No phone is overly troubled these days by navigating through an app drawer.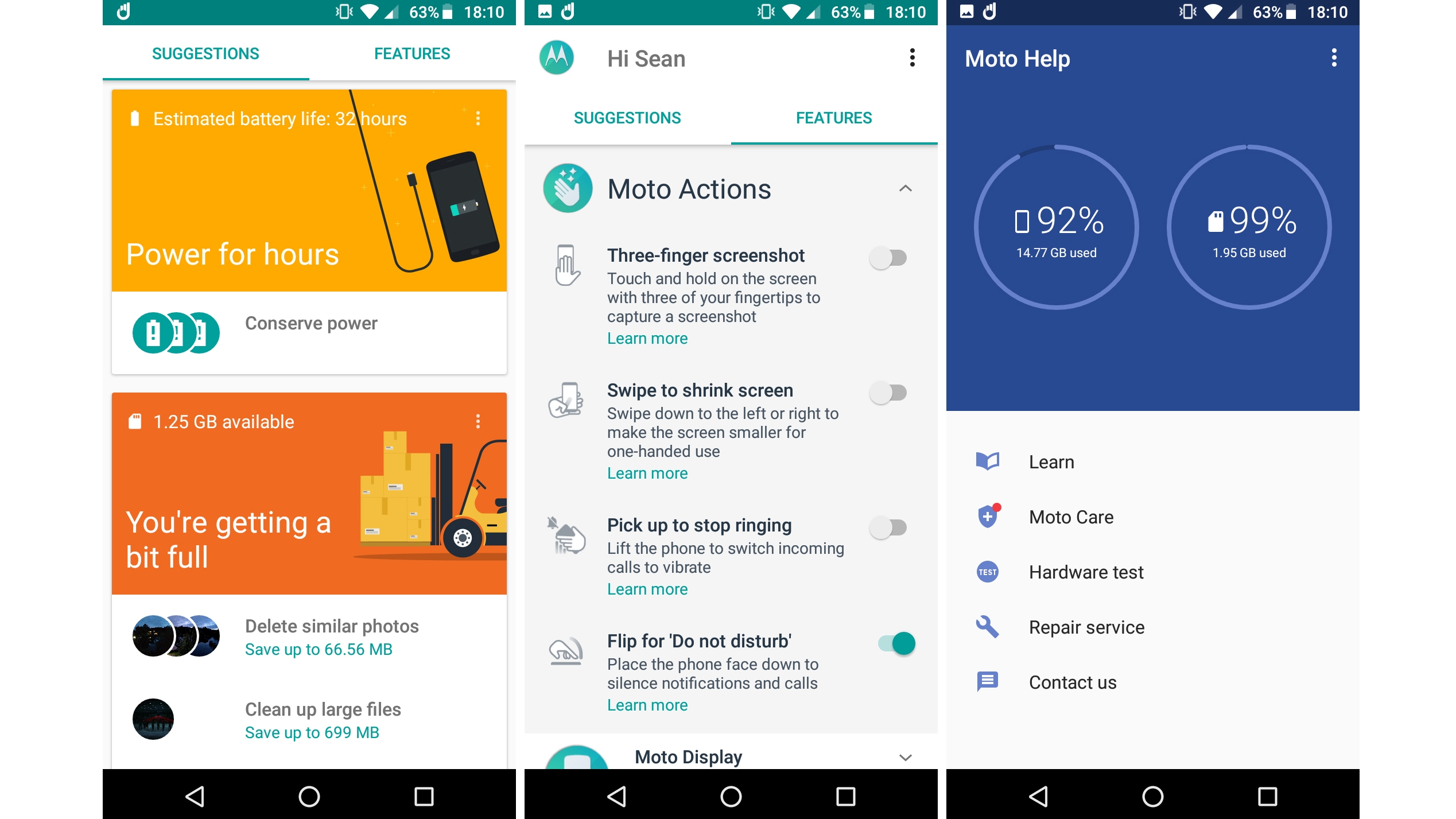 However, the Snapdragon 425 and 2GB of RAM soon make their limits known when partaking in anything more sophisticated than this.
That isn't to say that the phone is slow, however those coming from the likes of an iPhone will notice a definite drop in speed. Apps take longer to wake and taxing games such as PUBG will bring the device to its knees.
A point to note also is that Lenovo has stated that it will likely not offer further software updates to the Moto E5, considerably dampening its future longevity.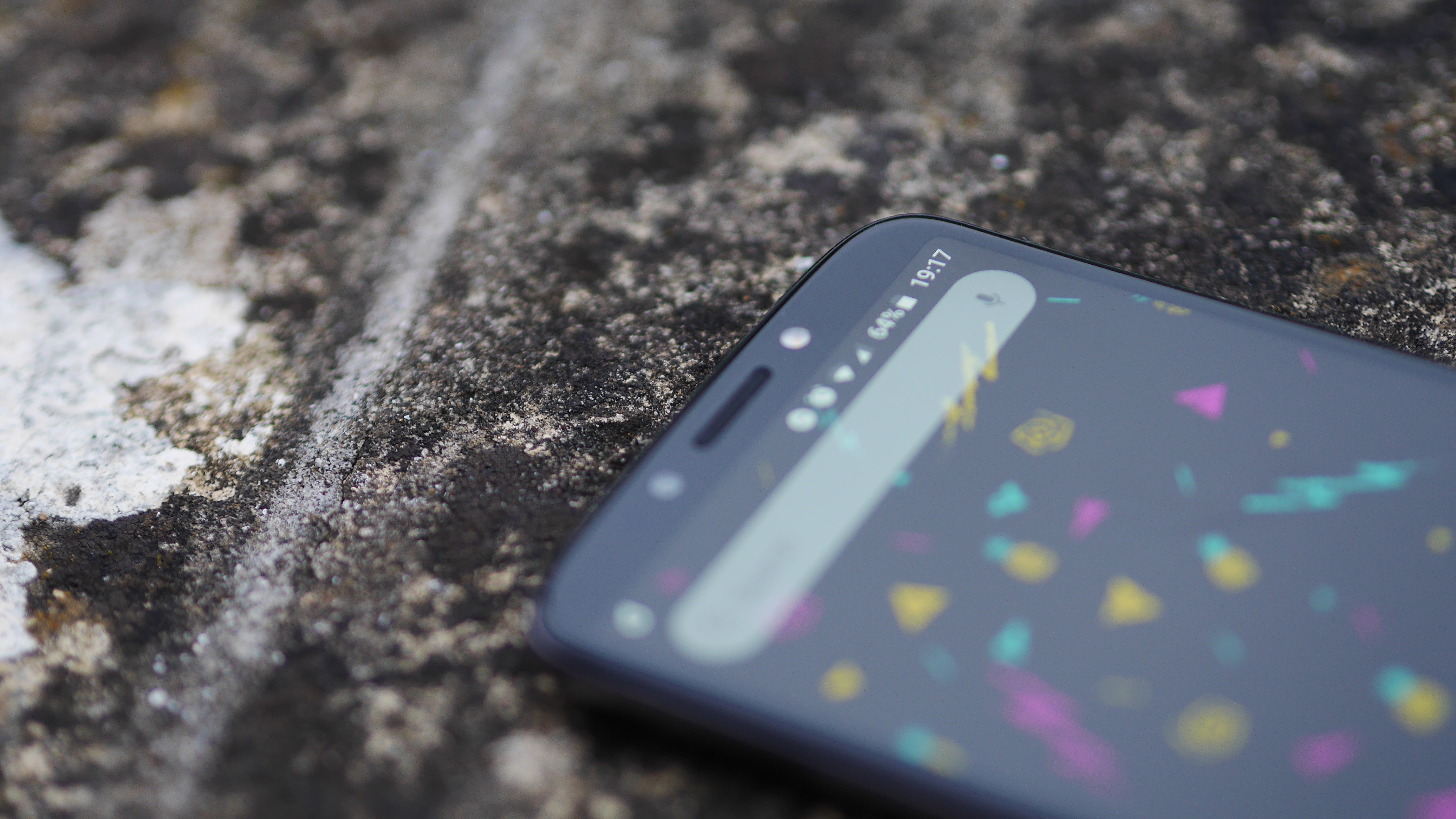 Movies, music and gaming
Decent screen for movies and games
Lacks the power for demanding games
With a 5.7-inch 18:9 screen, the Moto E5 is a strong choice for movie fans. Watching films and playing games is a mostly pleasant experience, though the limited resolution of the screen can be an obstacle in this.
The front-firing speaker, while anaemic, points in the right direction (i.e. towards the face) and so wins points in this regard.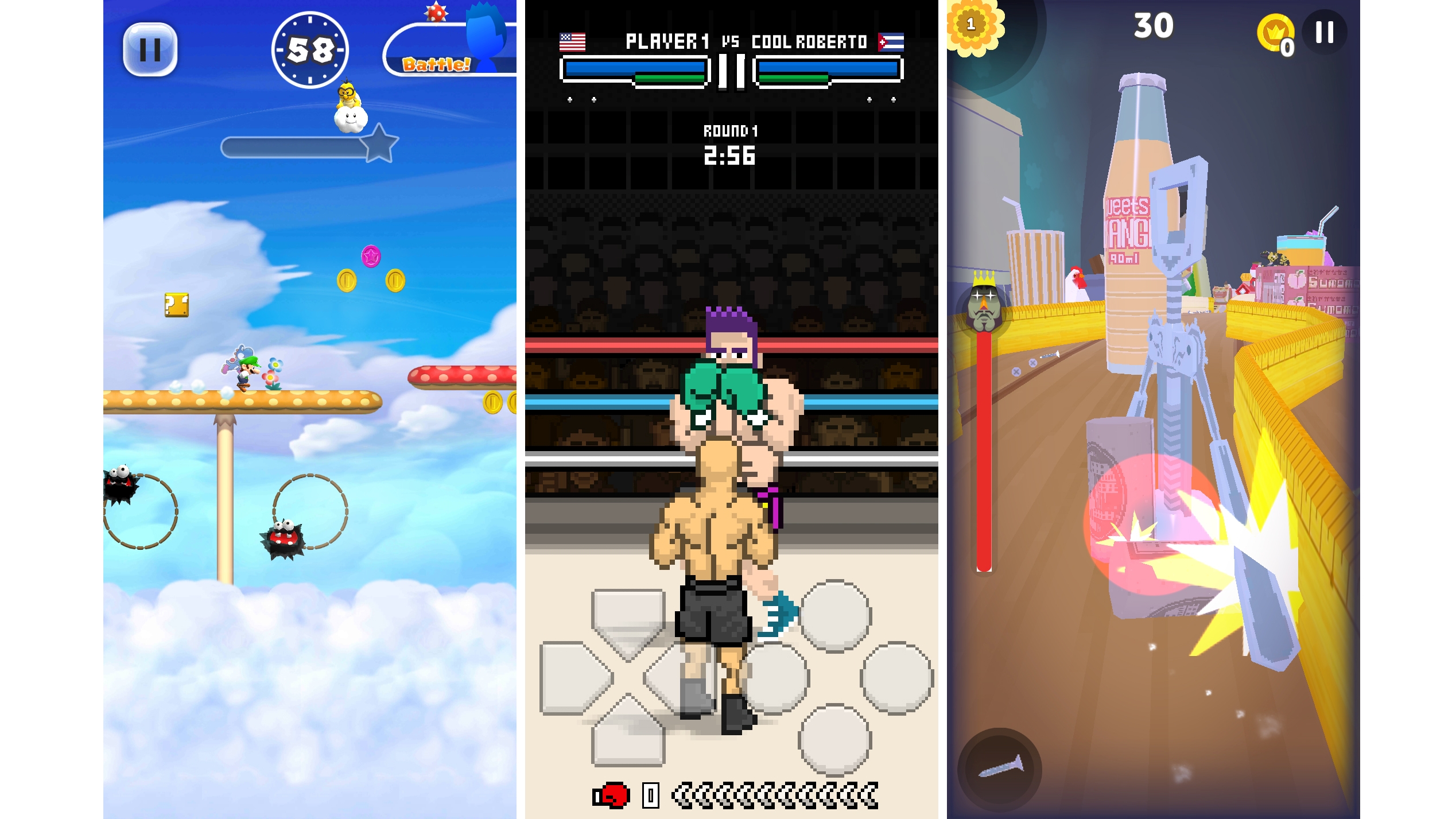 A headphone jack on the top of the Moto E5 also means that serious listening can also take place without subscribing to the dongle life, although no serious claims are made to audio chops.
For the price, there are few better smartphones for watching films or gaming on the go, especially given the stellar battery life.
This is with the proviso that gaming will be of the 2D variety, as the latest 3D fare will cause considerable consternation to the chipset. Despite this, even under load the back of the Moto E5 rarely heats up.
Performance and benchmarks
Runs cool
Slow when running apps
In day-to-day use, beyond waiting a little longer for apps to open and games playing at lower graphical settings, the average user will not notice any difference from devices costing another £50/$50.
However, the combination of chipset and RAM here is not invincible, far from it. Running Geekbench 4, we found that the Moto E5 achieved a single-core score of 646 and a multi core score of 1,771, both of which are relatively poor.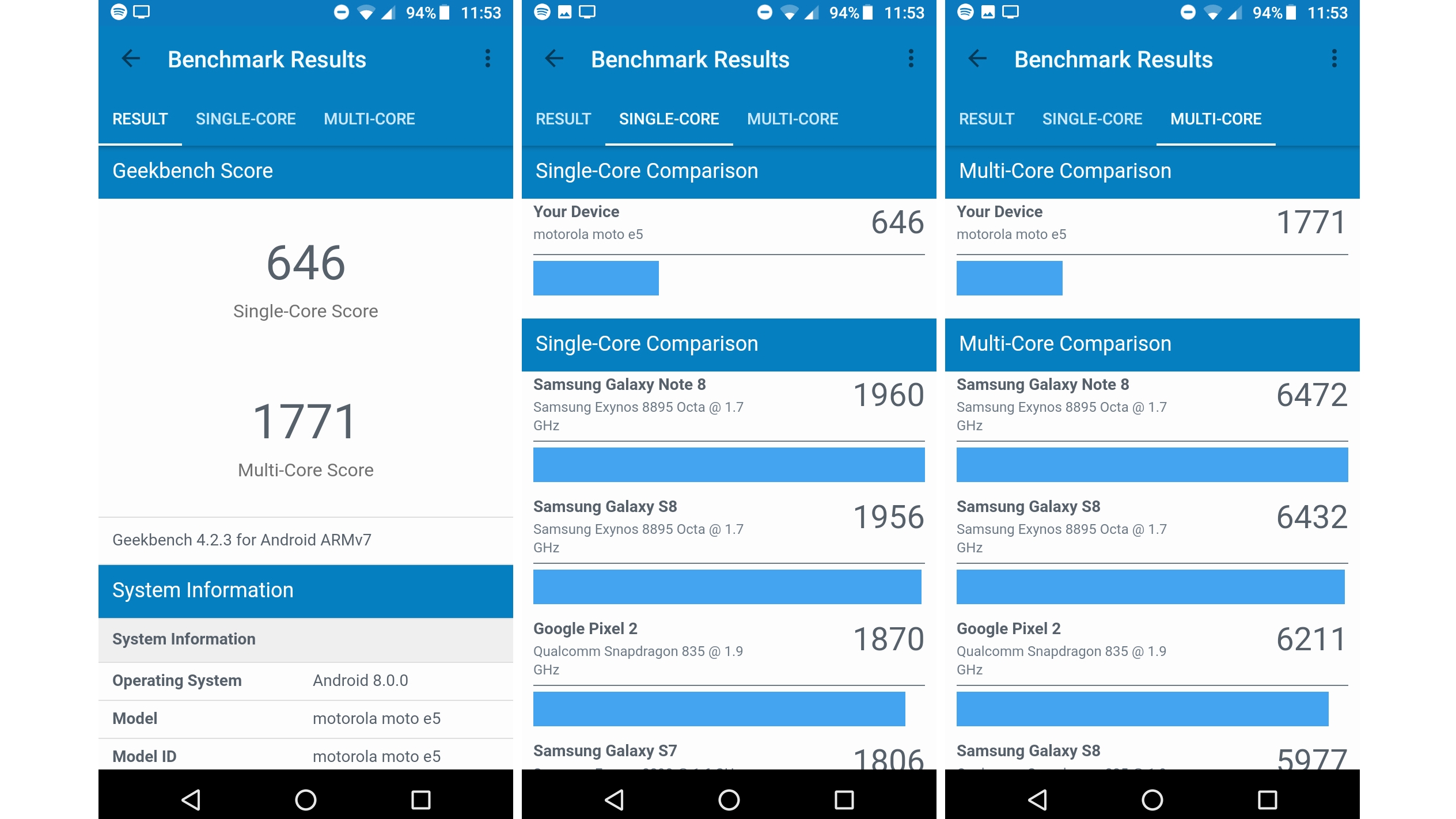 Demanding users will need to look at importing or spending more to achieve more bang for buck in terms of performance, but the general user will find no issue with this handset with everyday use.
The performance of smartphones in this bracket has improved incrementally for years and we are now at such a point that the differences between the top and bottom are becoming ever more opaque.
Verdict
The Moto E5 is, in some ways, an astonishing smartphone. By bringing this screen, battery life and build to this segment of the market it allows for a value for money that would previously have required shopping for grey imports.
That isn't to say that it comes without compromises however. Performance, though never a strong suit of the budget segment as a whole, is poor generally.
Apps take a long time to load, and though screen-on time is good, much of this is spent waiting for the phone itself to catch up. The reported inability of Lenovo to commit to software updates in future is also worrying.
The camera also may prove to be a sacrifice too far for many. It typifies many sensors of this price point in that it lacks detail, produces poor color and that it shouldn't be used as a primary photographic tool.
If you can look past these flaws however, the Moto E5 is a strong sell. For less than the price of a night out for two, it offers a reliable experience that it is realistically very difficult to better.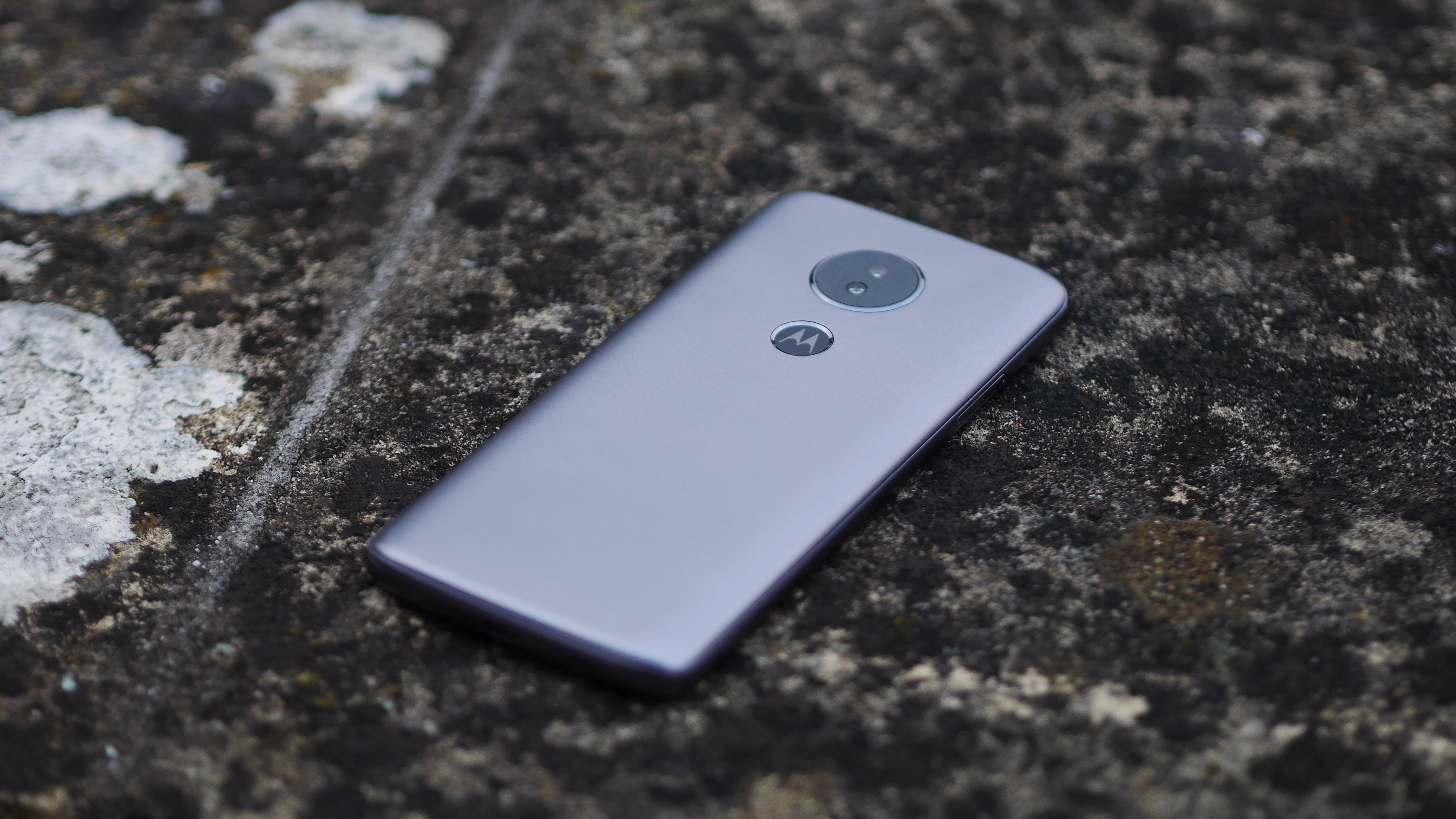 Who's this for?
Anyone looking for a bargain: students looking for a phone to see them through university, a back up phone for those who need it, elderly relatives and schoolchildren.
Should you buy it?
Given its price the Moto E5 may be an impulse purchase or it may be more considered, however beyond the hardcore iPhone crowd and the most demanding of power users, this will suit almost everyone, especially those on a tight budget.
Here are several alternatives you might want to consider:
Honor 7S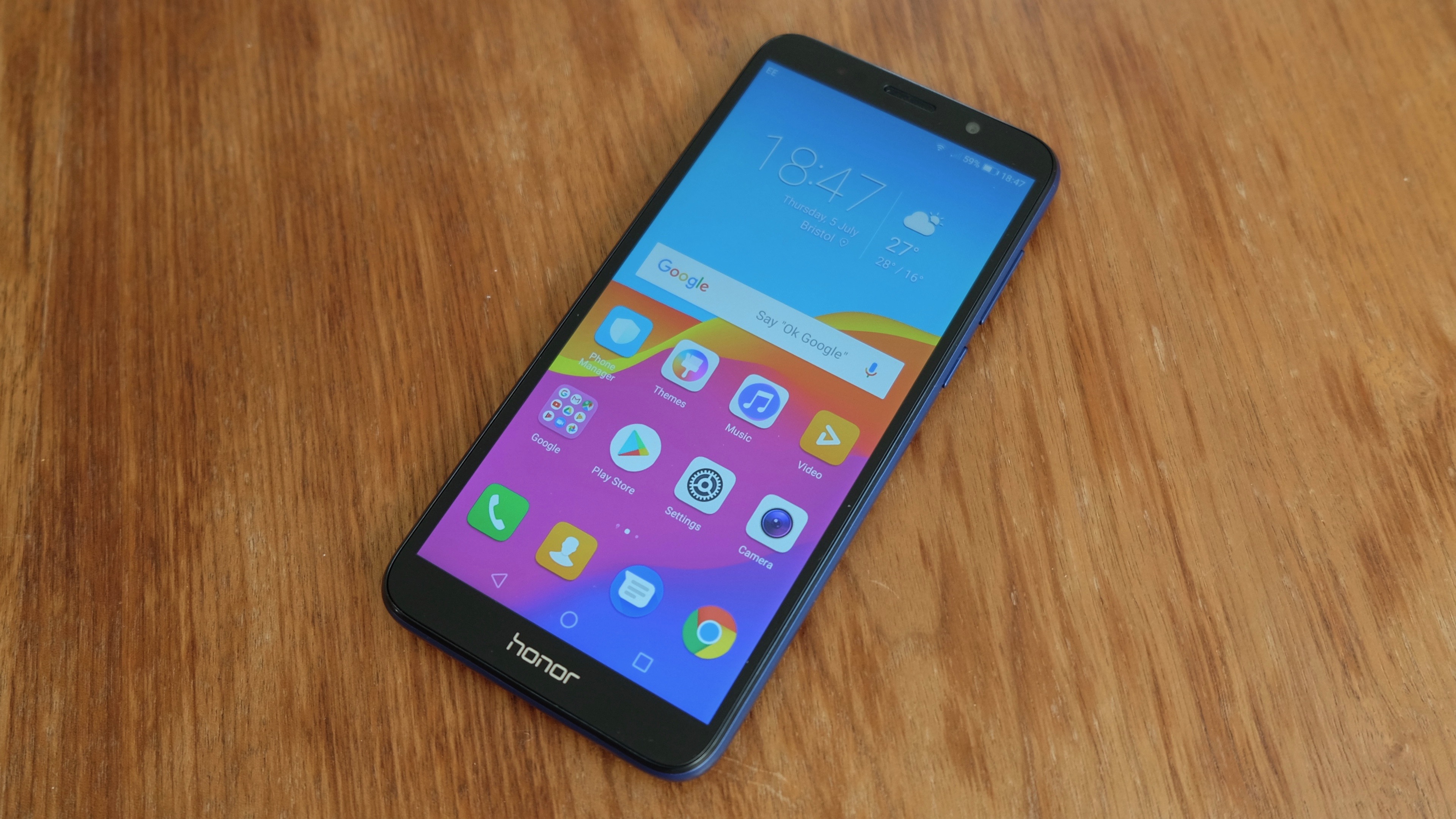 The main competitor at this price point, the Honor 7S is generally available for £100 (around $130 / AU$180).
The screen is a stretched, bright 720p affair which matches the Moto, however a worse camera experience and the presence of EMUI make this a difficult sell over the E5.
Read our full Honor 7S review
Moto E5 Plus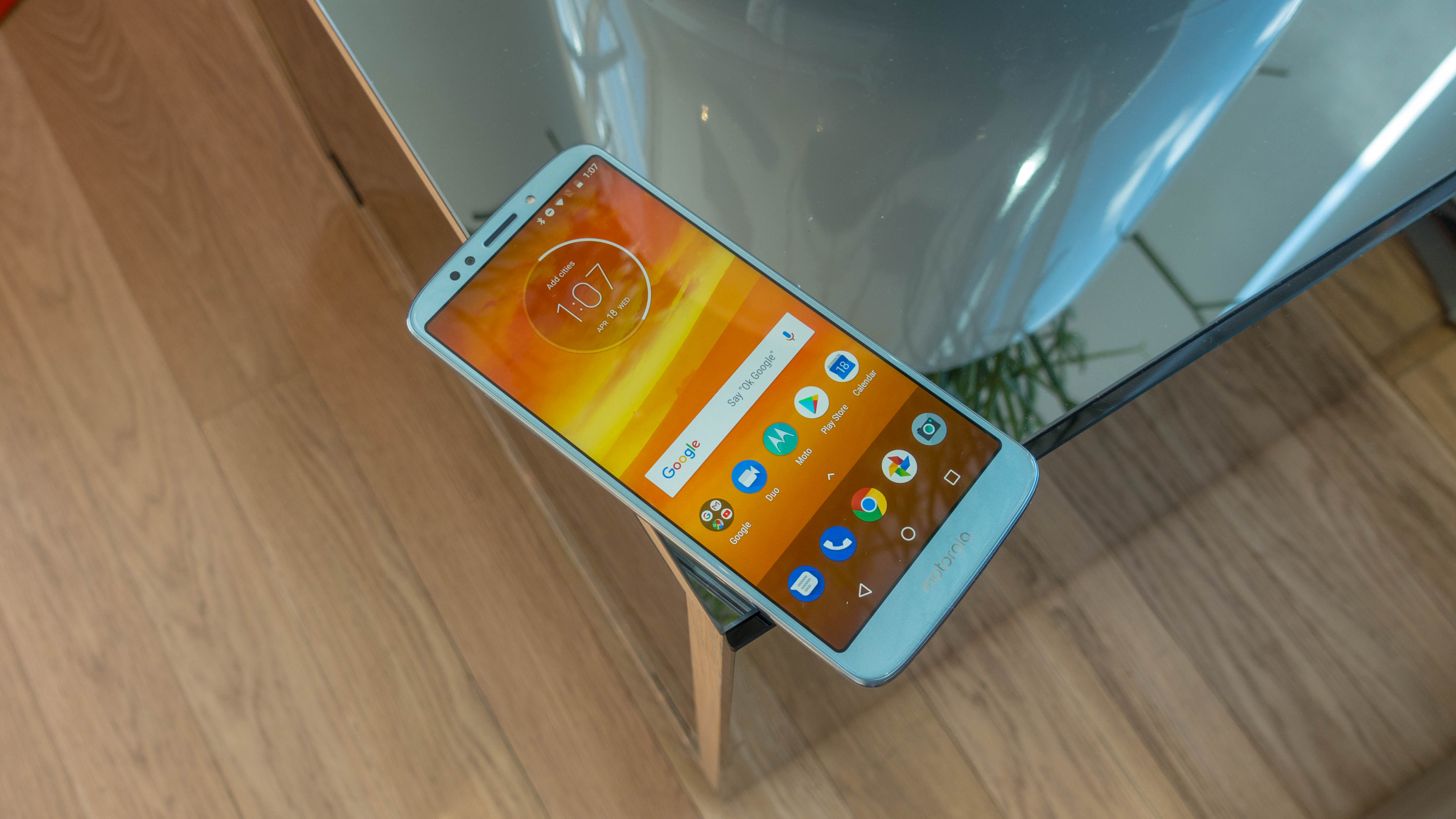 The big brother of the Moto E5 comes with a bigger screen, a bigger body and a battery with even greater capacity - traded off for a slightly higher price.
Like the Moto E5, no further software updates have been promised for this device, limiting its longevity, and unless you need the extra size or battery the smaller device is a stronger pick.
Read our full Moto E5 Plus review
Nokia 3 (2018)
Coming with a storied name behind it, the Nokia 3 (2018) comes offering the same stretched aspect ratio, the same screen resolution and a similarly promising feature set - all for around the same price, making it a strong alternative.
Read our hands on Nokia 3 (2018) review
First reviewed: September 2018
from TechRadar - Technology Reviews http://www.techradar.com/reviews/moto-e5-review