Chromebooks aren't like other laptops. Historically perceived as a direct route to the Google Chrome browser, their functionality was once limited to what you could accomplish on the web. The climate is a bit different now that most Chromebooks are compatible with Android apps via the Google Play Store. In that regard, the Acer Chromebook R11 is no different.
In fact, it's superior to much of its competition as a result of a 360-degree hinge that most Chromebooks have yet to adopt. It doesn't have the most powerful processor or the most RAM, but you can leave those facets to Windows laptops. The Acer Chromebook R11 doesn't need the best specs to flourish, as Chrome OS doesn't require them to experience smooth-as-butter operation.
Taking some influence from the Apple MacBook Air, the Acer Chromebook R11 is visually appealing without going overboard. However, the Acer Chromebook R11, unlike Apple's lineup, is reasonably priced at $329 (£221, AU$455), and should get even more affordable when Black Friday and Cyber Monday deals arrive. If we had to compare it to other Chromebooks in its class, we'd put it on the same level as the rugged $249 (£170, AU$320) Dell Chromebook 11 or the svelte and similarly convertible Asus Chromebook Flip at $249 (£160, AU$337).
And, while you'll be able to rely on the Acer Chromebook R11 for a while, we have to say that you'd likely be better off with a MacBook or one of the best Ultrabooks if you need raw power and flexibility rather than raw value. Otherwise, the Acer Chromebook R11 is a perfect fit for students or anyone whose laptop use doesn't extend much further than Google Docs or casual web browsing.
Despite having been out for a handful of years now, the Acer Chromebook R11 remains one of the best laptops you can buy. Let's review the reasons for that, shall we?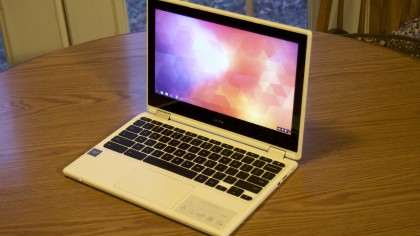 Design
The Acer Chromebook R11 is largely made up of a thin, white plastic chassis with a matte finish. Where that design differs, however, is on the lid of the machine, which features a textured white metal panel that looks and feels great.
In fact, that texture extends throughout the entirety of the Chromebook R11's exterior, giving the laptop a nice grippy feeling while carrying it around. It's a minor flourish, but the diamond-weave texture gives what could be a boring white slab a bit of panache. The R11 is far from what I'd consider sexy, but it's not boring either.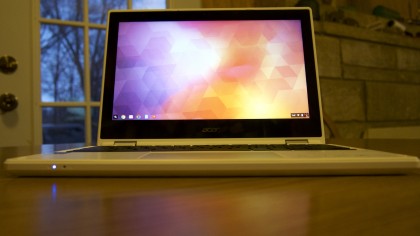 Despite being a largely plastic affair, the R11 feels surprisingly sturdy in the hands, with little to no give whatsoever. The only complaint worth noting here is the R11's white exterior, which proved to be pretty adept at picking up various smudges seemingly at random. Truthfully, this is something you'll run into with any piece of white tech, but that textured finish may be helping to pick things up.
On the top of the Chromebook R11, you'll find the aforementioned metal panel adorned with both Acer and Chrome logos, and that's it. On the other side of the panel lies the 11.6-inch, 1,366 x 768 resolution, touch-enabled display, with a shiny Acer logo just below. On the base of the R11 sits a slightly recessed keyboard with a set of slightly-textured chiclet keys. Further below that is a relatively wide trackpad with ample palm rests.
One of the big benefits of the Chromebook R11 is its size and weight. The R11 weighs just 2.76 pounds (1.25kg), with a relatively small frame of 11.57 x 8.03 x 0.76 inches (29 x 20.3 x 1.9cm) (W x D x H). This comes in slightly smaller than the competing Dell Chromebook 11 with its 2.91 pound 11.69 x 8.57 x 0.83 inch frame. Acer's offering even compares well to the slightly smaller Asus Chromebook Flip, which weighs 1.96 pounds (0.88kg) and measures 10.6 x 7.2 x 0.6 inches.
As for ports, the Acer Chromebook R11 features one USB 2.0 and one USB 3.0 port, each occupying separate sides. There's also a full-size HDMI port with HDCP support, a headphone jack, and an SD card slot for transferring files and photos.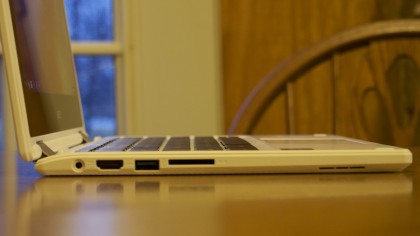 Specs
In terms of specs, the Chromebook R11 falls right in line with the rest of the Chromebook market. Powering the machine is a 1.6GHz quad-core Intel Celeron N3150 processor, along with either 2 or 4GB of RAM. Inside, there's also 32GB of storage, which may seem small, but it's important to remember you're unlikely to be storing a ton of files on the machine itself. It's also worth mentioning that, for the time being, you'll score 100GB of free Google Drive storage when purchasing the R11, so you'll have plenty of space to store things in the cloud.
For comparison, the Acer Chromebook R11 does one-up some of the competition. The Dell Chromebook 11, for example, matches the R11 with 4GB of RAM, but falls short with 16GB of storage and the less-capable 2.6GHz dual-core Intel Celeron N2840 processor (clock speed isn't everything!). Similarly, the R11 outclasses the convertible Asus Chromebook Flip in terms of RAM and storage, with the latter sporting 2GB of memory and 16GB of internal storage.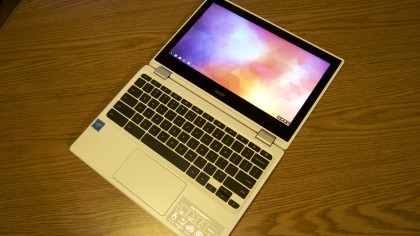 Here's the Acer Chromebook R11 configuration sent to techradar:
Processor: 1.6GHz quad-core Intel Celeron N3150 (quad-core, 3MB cache, up to 2.08GHz with Turbo Boost)
Graphics: Integrated Intel HD Graphics
Memory: 4GB DDR3L
Storage: 32GB
Screen: 11.6 HD, 1,366 x 768 touchscreen, LED-backlit IPS
Camera: 720p webcam
Wireless: 802.11ac (B/G/N) dual-band WiFi, Bluetooth 4.0
Ports: 1x USB 2.0, 1x USB 3.0, 1x HDMI with HDCP, 1x 3.5mm headphone jack, 1x SD card slot
Weight: 2.76lbs
Size: 11.57 x 8.03 x 0.76 inches (W x D x H)
Performance
In my testing, including writing this review with a dozen tabs open, the Acer Chromebook R11 performed admirably, albeit with a few minor hiccups. The combination of the Intel Celeron N3150 processor and 4GB of RAM kept things surprisingly fluid even when typing in a Google Doc with a couple of YouTube videos silently streaming and pumping jams through Google Play Music.
I did notice some minor hiccups in performance with the R11, however. Occasionally, Google Docs seemed to struggle with keeping up with my typing. The lag was infrequent and typically worked itself out in a second or so, but it broke my train of thought several times in writing this review.
Similarly, while switching between the dozen or so tabs I had running was generally fine, opening a new tab and loading something like Facebook or YouTube took a little more patience than I'm used to.
Of course, I'm coming from a fully decked-out MacBook Pro as my daily driver, so my base of comparison is a little skewed. My guess is that this simply comes down to RAM usage: I managed to stay under the 4GB cap with a large number of open tabs while streaming music and video, but only just barely. It's highly unlikely that any real world use is going to involve streaming several videos and music at the same time, so this bodes well for the 4GB R11, but it's a bit concerning for buyers who opt for 2GB of RAM.
Benchmarks
Here's how the Acer Chromebook R11 performed in our suite of benchmark tests:
Octane: 8,113
Mozilla Kraken: 4,789
Sunspider: 704
In the Octane test, which measures the JavaScript engine performance on any set of given hardware, the Acer Chromebook R11's score of 8,113 outperformed the Asus Chromebook Flip, which came in at 6,795 (higher is better).
Similarly, Mozilla's Kraken test, which also measures the speed and performance of the JavaScript engine on a given device, showed Acer's R11 ahead of the Flip, with scores of 4,789 and 5,447, respectively (lower is better).
In the final Sunspider test, Asus' Chromebook Flip does manage to come out ahead by a smidge with a score of 686 compared to the Acer's 704 (lower is better).
Gabe Carey has also contributed to this review
As far as the display is concerned, it would have be nice to see a higher resolution panel than the 1,366 x 768 display in the R11. That being said, this is by no means out of the ordinary for this segment of the market, and the screen on Acer's convertible is pretty good at what it does.
Screen and media
In editing documents and doing some general web browsing, I found the display to be up to the job. Brightness wasn't an issue in the slightest and viewing angles are superb thanks to the in-plane switching (IPS) technology. Likewise, media looked pretty good and motion was fairly crisp in the several movie trailers I burned through. My only complaint here is the contrast level, which while it wasn't horrible, it wasn't amazing either. I wouldn't necessarily recommend doing any hardcore image editing on the R11, but it should work just fine for writing, browsing the web and kicking back for some YouTube binging.
One shining star of the media experience of the R11 is its speaker output. Simply put, audio on the Chromebook R11 is crisp and clear, and this baby can get loud. When volume was maxed out, I didn't notice much, if any, breakup, and this thing could definitely fill a small room with sound. Bass output is lacking, of course, but that's par for the course with most laptop speakers. For the price, audio output shines on the R11.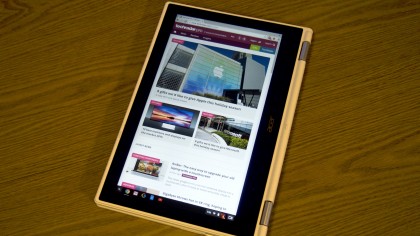 Getting touchy
The Chromebook R11's ability to be used in standard laptop mode, as a tablet, or in tent mode means you're going to be putting that touch panel to use at some point. And overall, touch input with Chrome OS is a bit of a mixed bag. Since you're letting Chrome do most of the work with a non-touch optimized web, hitting touch targets can be difficult sometimes, which means some may not want to leverage the R11 as a complete tablet replacement.
That being said, the R11 performs pretty well overall with what it's given to work with on the OS side of things. Tent mode is great for propping the R11 up as a small, easily portable display, and I even used it to stream some Netflix while preparing dinner.
As a tablet, using touch with web apps is a little frustrating, but serviceable. The R11 is obviously thicker and heavier than your typical tablet, and it's odd feeling your hand press into the keyboard and trackpad (they're inactive in tablet mode) with the display flipped back. One area I could see tablet mode being particularly handy, however, is using it as a sort of notepad in portrait orientation.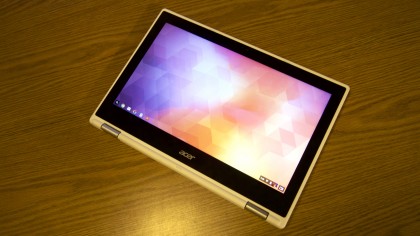 Tap-tap-tapping away
Coming from using a MacBook Pro on a daily basis, I initially didn't care for the keyboard on the Chromebook R11 because of its softer action. However, the more I used it, the more I came to like it. The spacing between keys could stand to be just a smidge wider, but tapping feels nice and I found myself back up to normal typing speed fairly quickly. I also became a big fan of the texturing work on the keys. There's something nice about having a tad more grip to keep you grounded while fingers go flying.
But as much as I came to love the keyboard, I grew to despise the trackpad. When pressing down, there's a distinct mushy feeling before it clicks, and the amount of pressure needed to initiate a click doesn't feel consistent from press to press. Acer also touts the fact that the Chromebook R11 features a "click anywhere" trackpad, but with the vastly different levels of pressure needed to initiate a click, most will find themselves defaulting to the bottom corner every time.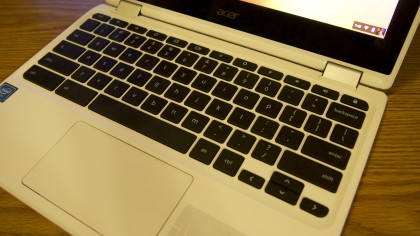 Battery life
Acer claims battery life of right around ten hours for the Chromebook R11, and I found this to be pretty close to true. This is great for those looking for something that can last all day, particularly in the education market where Chromebooks now dominate the landscape.
I did most of my testing with the screen brightness set around 50-60%, and I found the Chromebook R11 to last just over nine hours between general web browsing, watching the occasional video, and knocking out some writing. Given the generally accepted efficiency of Chrome OS, this isn't all that surprising, but it's a great stat nonetheless. For comparison's sake, we found both Dell's Chromebook 11 and Asus' Chromebook Flip to last just over eight hours in similar testing.
All told, if you're looking to live inside of Google's world of all things Chrome, Acer's Chromebook R11 represents a compelling little laptop. There are certainly more powerful Windows and Mac laptops in this size range on the market, but as far as Chromebooks are concerned, the R11's combination of performance and features are a good deal.
We liked
The Acer Chromebook R11 certainly isn't looking to turn heads, but its design is a minimalist's dream without being too bland. The textured finish on the outside combined with a build that feels pretty solid make the laptop feel great in the hands. Sure, there are sexier laptops on the market, and it's no competition for the all-metal MacBooks out there, but it's not lacking its own little charm.
The laptop's battery life is also right up there with the best of them, leaping slightly ahead of much of its Chromebook competition. Add in great performance for most basic tasks, along with a bright screen that works well enough for the occasional video stream, and the R11 not only feels good in the hands, but feels great to use as well (despite the occasional hiccup). Oh, and did I mention those bright crispy speakers?
Finally, the keyboard on this little guy grew on me quite a bit. Despite my initial skepticism, I found that once I adjusted from my daily driver, the textured keys felt great as I flew around the keyboard.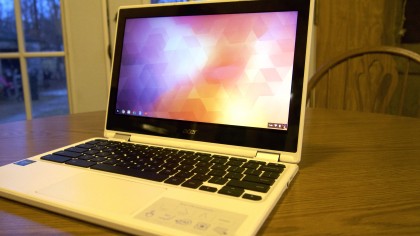 We disliked
One major pain point with the Chromebook R11 is the trackpad. I just can't get over the mushy feeling and inconsistency in the required pressure to initiate a click. I can't even count how many times I either misclicked something or pressed the trackpad without registering a click at all. I simply didn't have the same ease acclimating myself with the trackpad as I did with the keyboard.
Although it's not unusual at this price point, let alone in the Chromebook sphere, it would have been great to see a higher resolution tagging along inside the Chromebook R11. Even if it's just moving on up to a base 1080p, the difference would have worked wonders for making the display that much crispier.
Final verdict
If you're in the market for a small Chromebook, it's hard to argue with Acer's R11. The price certainly hits a sweet spot, and the laptop is a great machine for getting a bit of work done, kicking back for some tunes, and occasionally breaking it out as a tablet replacement. It may not be quite as stylish as the Asus Chromebook Flip, or as rugged as the Dell Chromebook 11, it sits firmly in the middle.
One thing that will take some deep consideration, however, is whether Chrome OS is the right operating system for you. As I mentioned in the introduction, Chrome OS is singularly focused on a web experience, which comes at the cost of power and versatility. And as useful as the hybrid nature of the Chromebook R11 is, using touch with Chrome OS is still a mixed bag. This isn't a knock on the R11 at all; these are issues for Google to tackle, after all.
Still, Acer's Chromebook R11 is a solid buy if you're in the market for something that will last a full day without breaking a sweat, perform adequately under pressure and otherwise serve up a great web browsing experience.
from TechRadar - Technology Reviews http://www.techradar.com/reviews/pc-mac/laptops-portable-pcs/acer-chromebook-r11-1311770/review