If you haven't jumped onto the smart TV bandwagon just yet, ands would still like to access quality content from streaming platforms, Amazon Fire TV could be the perfect solution.
While the Fire had been lacking 4K and HDR content in the past, the 2017 refresh has made the Fire TV an all-singing, all dancing 4K TV HDR streamer.
Earlier Amazon Fire TV devices have been an incredibly popular way of streaming content to people's TVs thanks to their plug-and-play simplicity, as well as broad support for various channels and media platforms.
[Update: Amazon Fire has teamed up with IMDB for a new ad-supported channel, which will be free for Fire users, similar to what's already on offer from the likes of Hulu and Roku.]
Its popularity compared to the competing Google Chromecast could be due to the fact that Google denies its users access to the Amazon Prime Video service, with the Amazon Fire TV is far more generous with allowing access to competing services, including Netflix, Spotify, and more.
The Amazon Fire TV (2017) comes in a completely redesigned body that's compact enough to hide behind your TV, ditching the bulkier designs of previous models. This makes the Amazon Fire TV (2017) a discrete box of media tricks that can sit unobtrusively in your home while it entertains the family.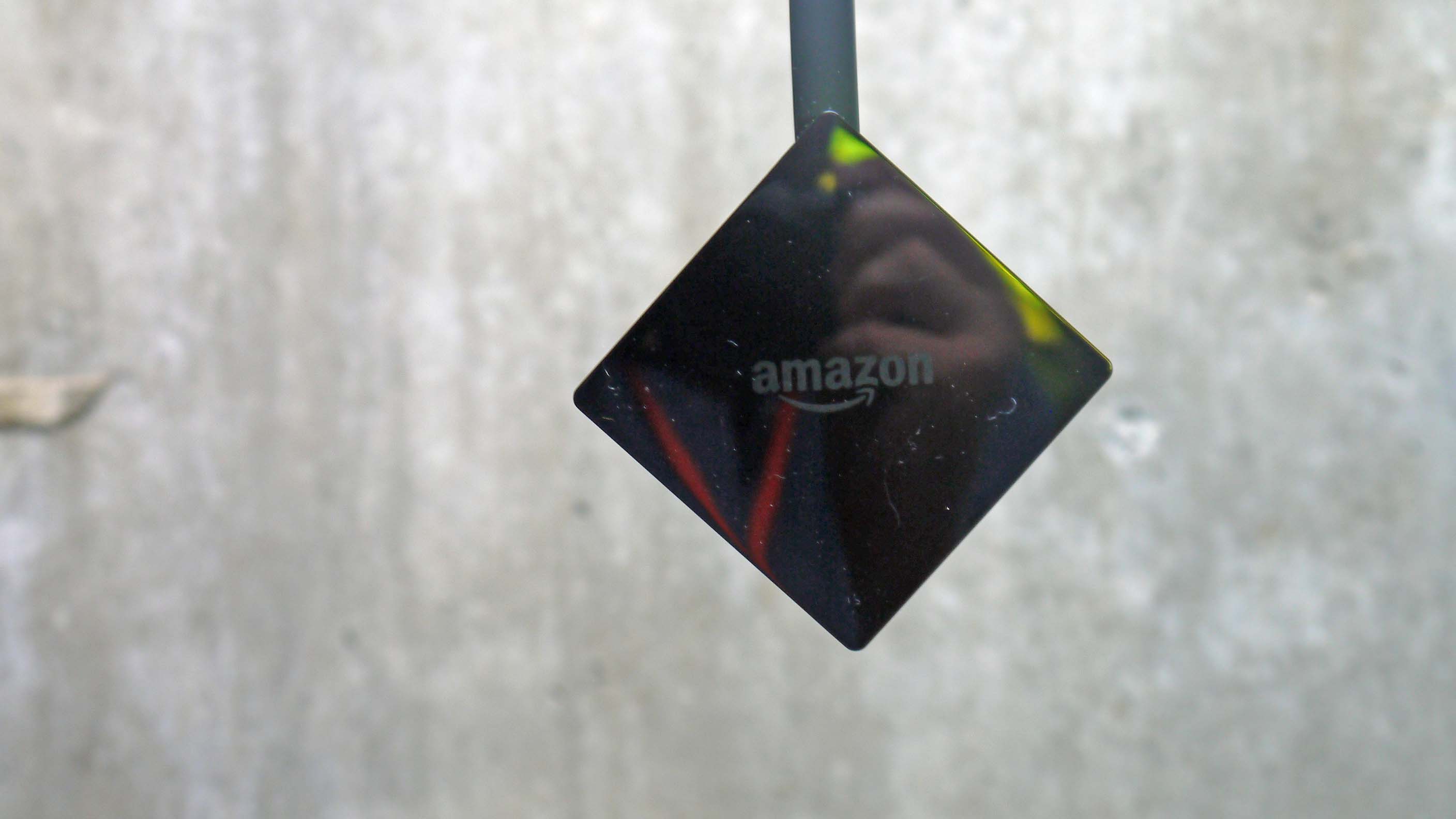 [Update: Need a device that can stream video AND act as the centre of your smart home? Do you live in the US? If so, you might want to check out the all-new $119 Amazon Fire TV Cube that has Alexa built in. Not only can it stream the latest TV shows and movies from Amazon's video streaming service, but it can answer requests and interact with all of your IoT devices, too. Read all about the Amazon Fire TV Cube.]
Price and release date
Available from October 25, 2017
Price £69.99/$69.99/around AU$90
Cheaper than the Chromecast Ultra
[Update: Prime members can get an exclusive discount on the Amazon Fire TV, which is reduced to $39.99, representing a saving of $30. There are also savings to be made on the Amazon Kindle, Kindle Paperwhite, Fire 7 Tablet, and more.]
The Amazon Fire TV (2017) retails for a price of $69.99 (£69.99 / AU$69).
This is over twice the price of the latest version of the Google Chromecast, which costs £30/$30/AU$55, although the Chromecast does not come with a remote control, cannot access Amazon Prime Video and does not support 4K or HDR. This is the device you should maybe consider if you only have a 1080p TV, and don't subscribe to Amazon Prime Video.
The new Chromecast Ultra is more comparable feature-wise, though it still does not include a remote or access to Amazon Prime content. It does support 4K and HDR though, and costs £69/$69/around AU$90, which makes the Amazon Fire TV (2017) price seem much more reasonable.
In fact, due to the cheaper price, similar compact design, 4K and HDR support and additional services and remote control – not to mention an easy-to-navigate user interface – the Amazon Fire TV (2017) does an incredibly good job of challenging the Google Chromecast Ultra to justify its price tag. Looking at the devices side-by-side, it's not much of a competition, with the Amazon Fire TV (2017) easily beating the Chromecast Ultra.
[Update: Need a device that can stream video AND act as the centre of your smart home? Do you live in the US? If so, you might want to check out the all-new $119 Amazon Fire TV Cube that has Alexa built in. Not only can it stream the latest TV shows and movies from Amazon's video streaming service, but it can answer requests and interact with all of your IoT devices, too. Read all about the Amazon Fire TV Cube.]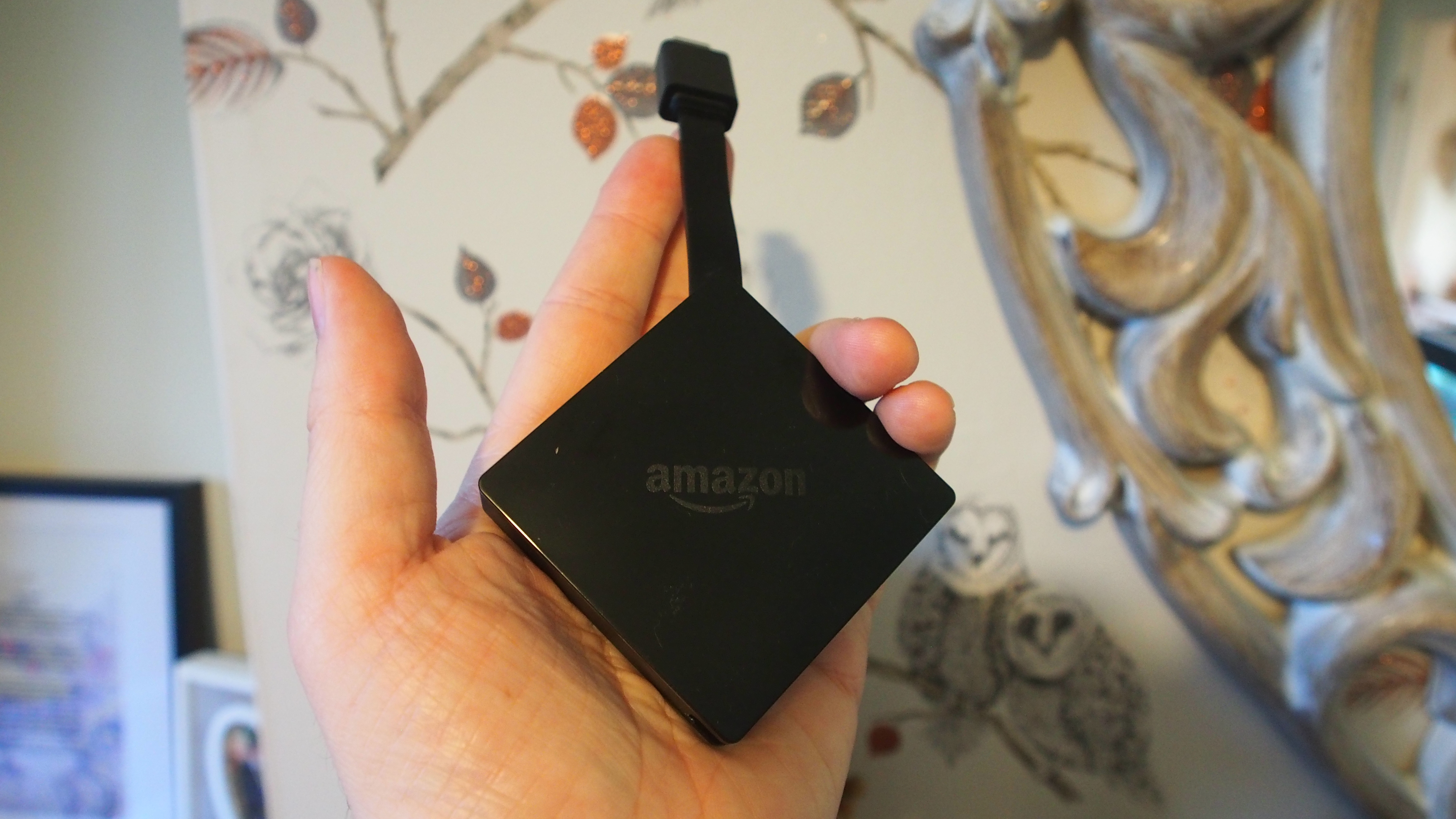 Design
Smaller design
Easy to install
Simple remote
The design of the Amazon Fire TV (2017) is what really sets it apart from the earlier model. It's been redesigned as a dongle that plugs directly into your TV's HDMI port, and hangs from it.
The previous version was a bit of a chunky black box that you'd need to place near the TV. While it wasn't exactly an eye sore, the new version can be tucked away completely, so you wouldn't really know it was there.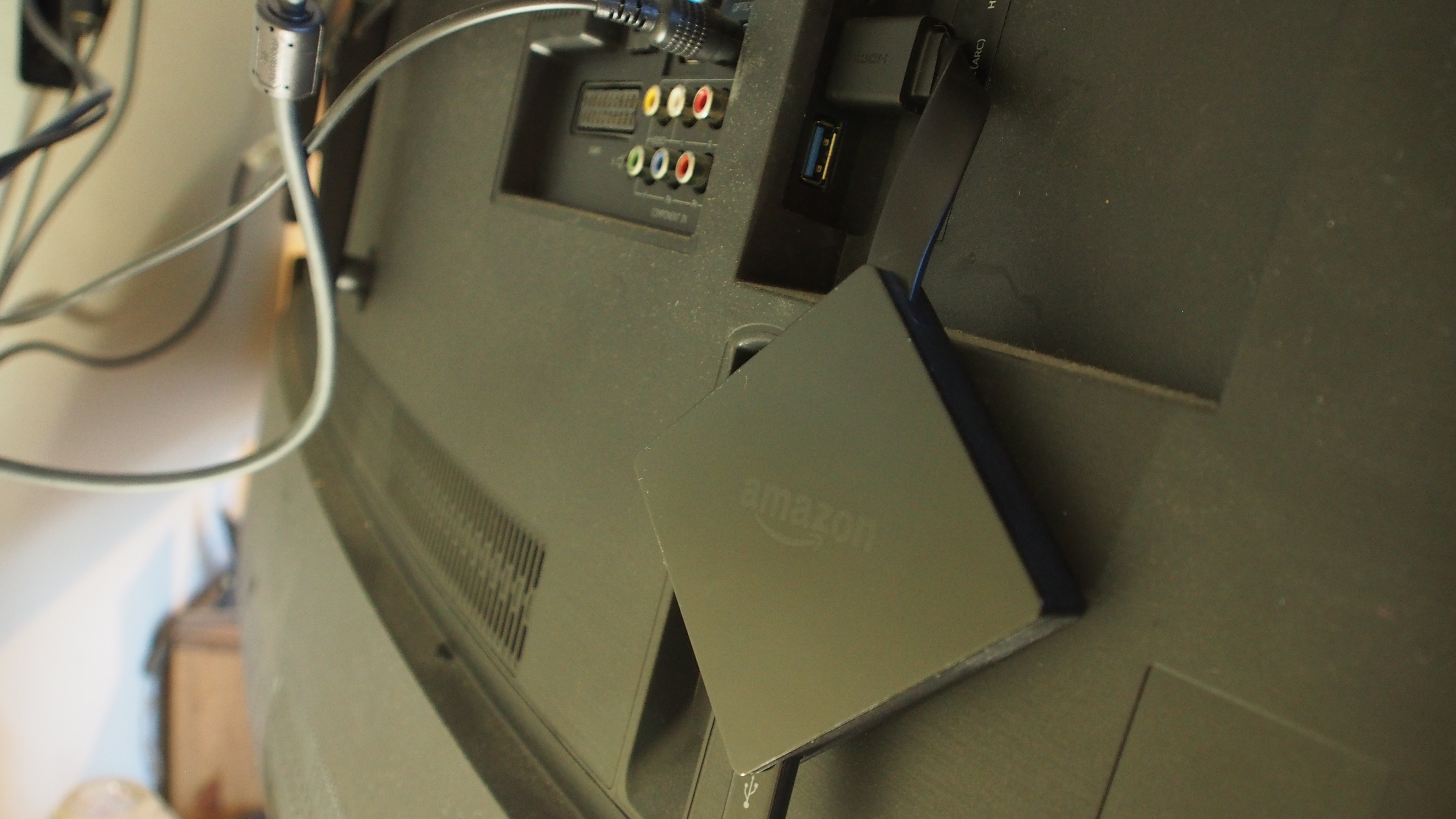 Unlike the Fire TV Stick, Amazon's smaller (and less feature-rich) dongle, the Amazon Fire TV (2017) requires a separate power connection, which does mean you'll have an additional cable hanging from your TV. Unfortunate, but not the end of the world, and understandable considering the power required to display 4K HDR content.
At 65.0 mm x 65.0 mm x 15.0 mm, the compact design of the Amazon Fire TV (2017) is subtle enough that it doesn't stick out, even if it is on the display. Weighing just 87.1g also means it can hang from a HDMI port without putting pressure on the physical port. The attached HDMI connector is a flat, bendable, wire that gives you a bit more flexibility when plugging the Fire TV into a TV, especially one that's pushed back against a wall.
The 802.11ac Wi-Fi antennae is contained inside the body, so there's no ugly protrusions, and as long as you have a decent dual-band router with wireless AC support, that should be good enough for streaming 4K and HDR content. If you have a weak wireless signal, or an older router, you can buy an additional Ethernet adaptor for a wired connection.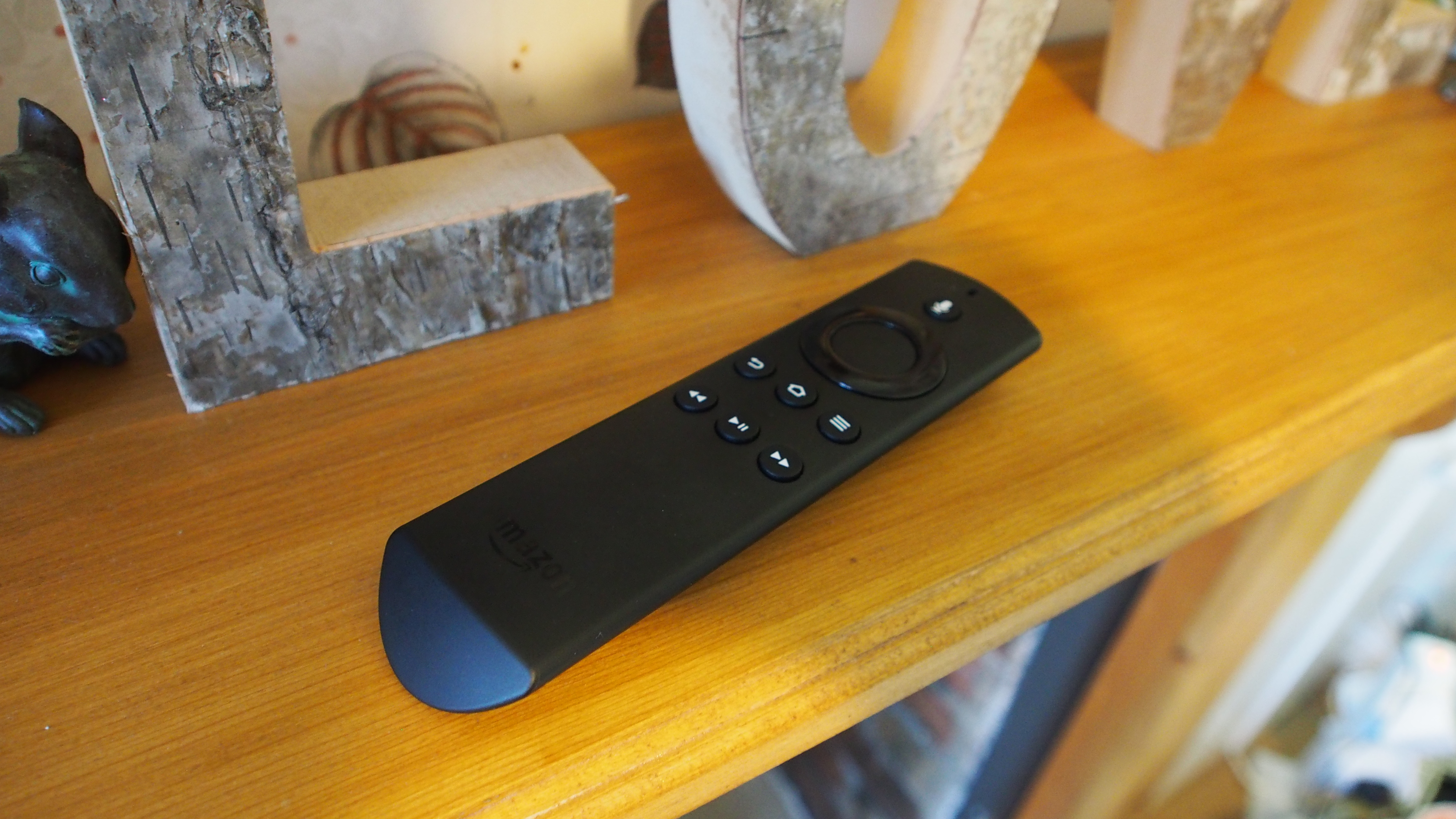 The design of the included remote control hasn't changed, but to be honest it didn't really need to, as it has an elegantly simple design that lets you scroll through the interface with ease – something that the Chromecast doesn't offer.
You can also use a free app to use your phone as a remote, or use Alexa voice commands to control playback. This is a big plus for anyone who has welcomed Amazon's virtual assistant via the Amazon Echo range of smart speakers.
Overall we were very impressed with the new design of the Amazon Fire TV (2017), rivalling the Chromecast in the petite size and looks department, while offering more power and features.
Amazon has done a great job shrinking the size of the Amazon Fire TV (2017) without sacrificing power or features, and they should be commended for it.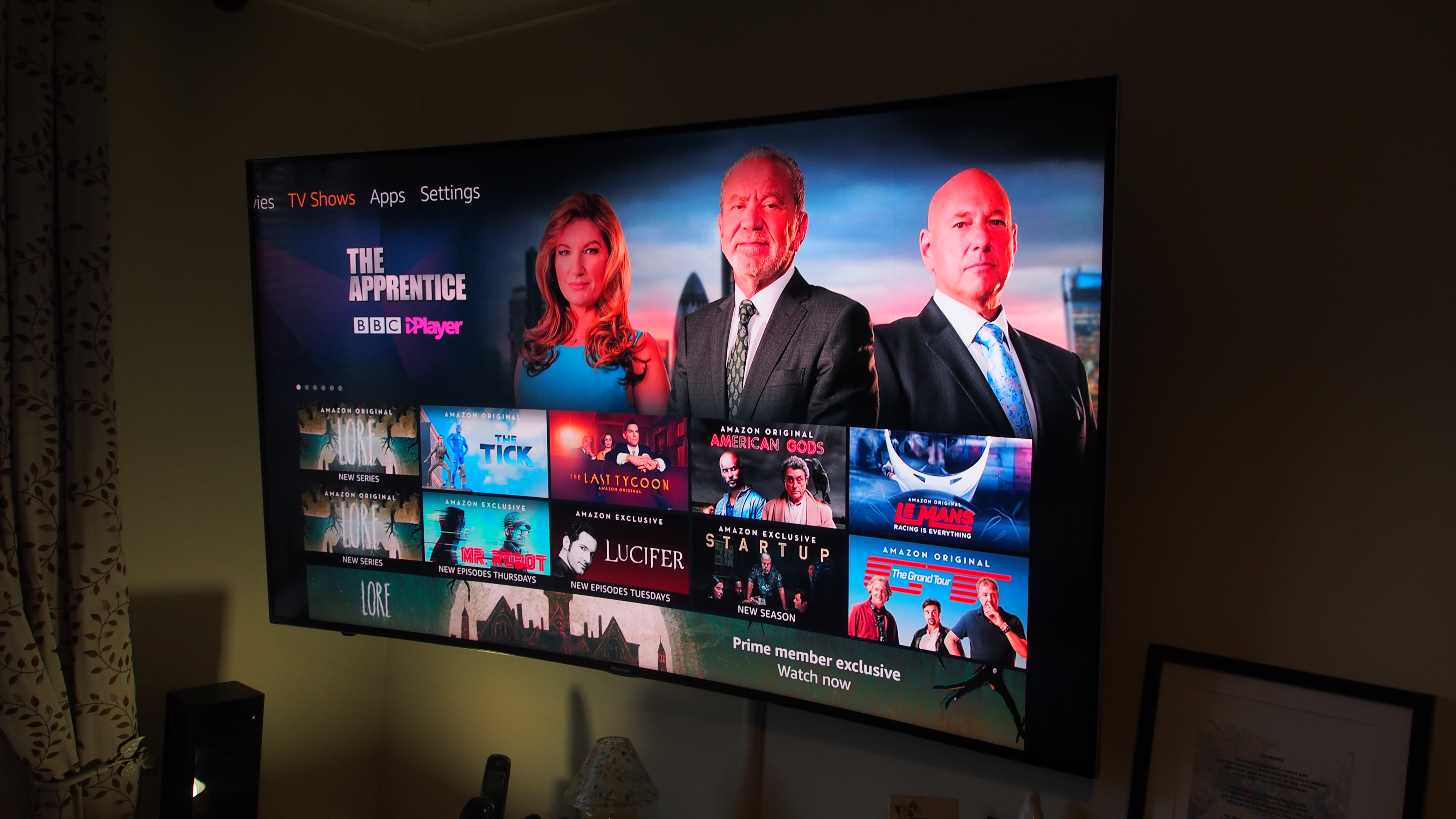 Interface
The interface is clear and easy to use, and thanks to the boosted hardware inside the Fire TV (2017), it feels smooth when in use as well.
Everything is laid out clearly, and having a user interface marks it above the Chromecast, which needs you to launch apps from your phone.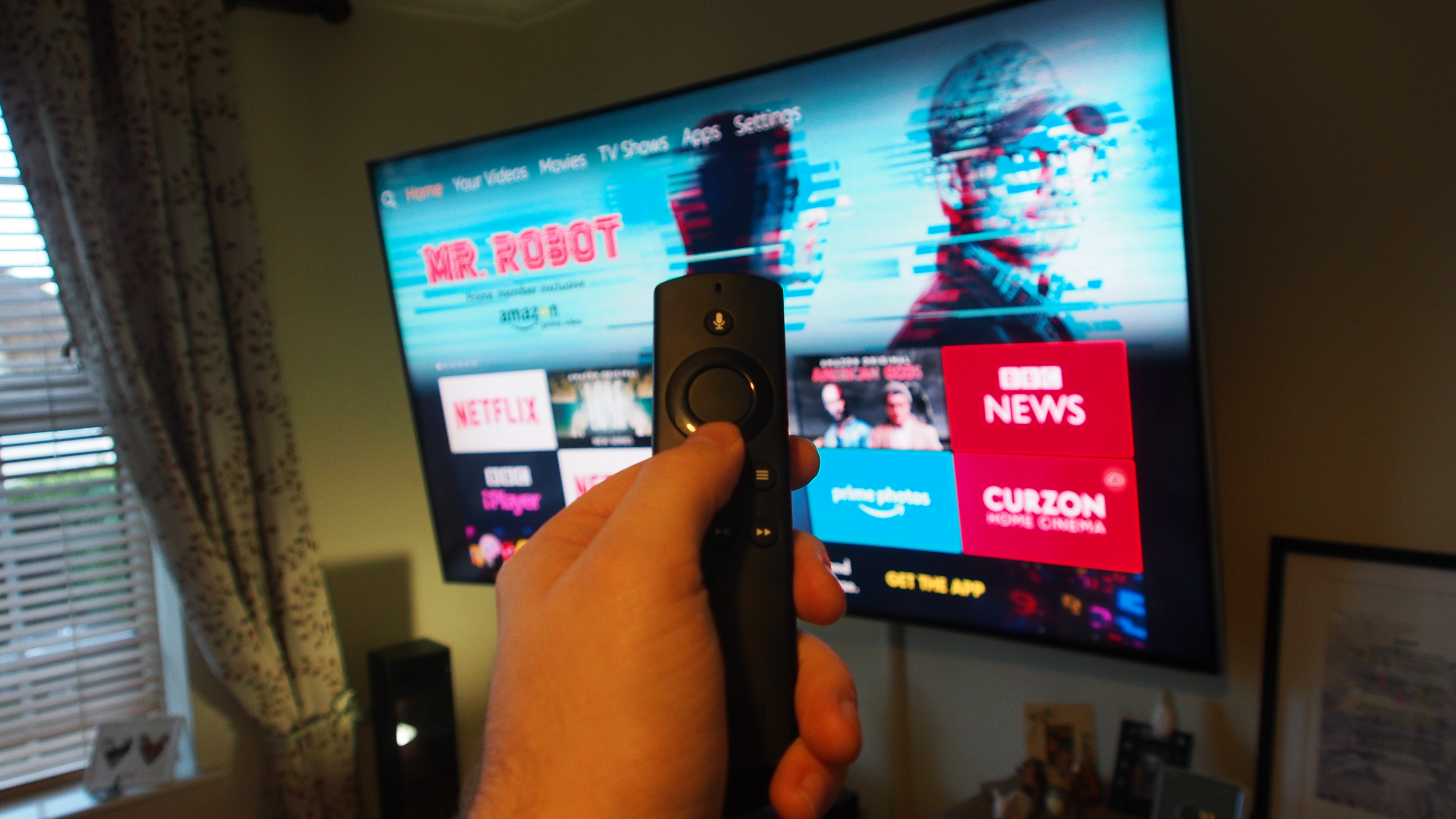 The interface works in a similar way to the Apple TV, which is much more expensive. The Amazon Fire TV (2017) offers content from a range of services in a clear and attractive manner.
As we mentioned earlier on in this review, the Amazon Fire TV (2017) instantly has a head start over its Chromecast competitor by offering Amazon Prime Video access.
For a subscription (included if you have an Amazon Prime account) you can stream from a selection of TV shows and movies, like Netflix, and Amazon also has a great stable of original programs such as American Gods, Transparent and The Grand Tour – all series you'd miss out on if you just had a Chromecast.
Unlike Netflix, you can also rent or buy other, more recent, movies and TV shows for an additional fee.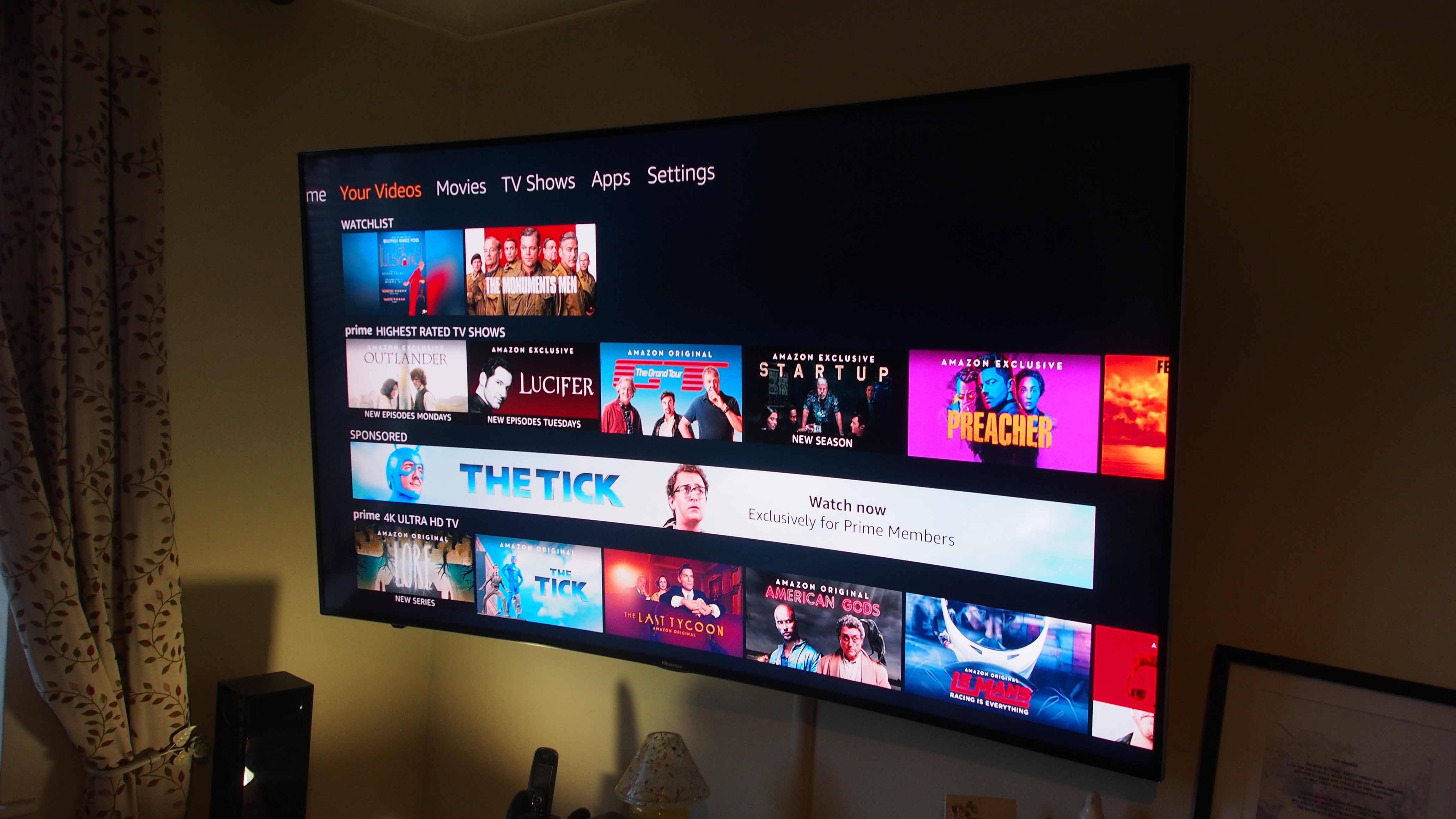 There's not a huge amount of 4K and HDR content out there at the moment, and even less with Dolby Atmos soundtracks, so you may be dismayed at first. However, we'll hopefully see an increase in content as the years progress.
Netflix also has a nice range of 4K HDR content, though it's still not huge, and it is mostly relegated to its own original TV shows. If you subscribe to both services, then you should have enough 4K HDR content to keep you happy – though your Dolby Atmos sound system may go unused for the time being.
The Amazon Fire TV (2017) also supports 4K HDR through its YouTube app, which is another source of content.
Meanwhile Apple is going through the process of upgrading content bought through iTunes to 4K HDR for free, which gives the Apple TV a potential boost in terms of quantity of 4K HDR content.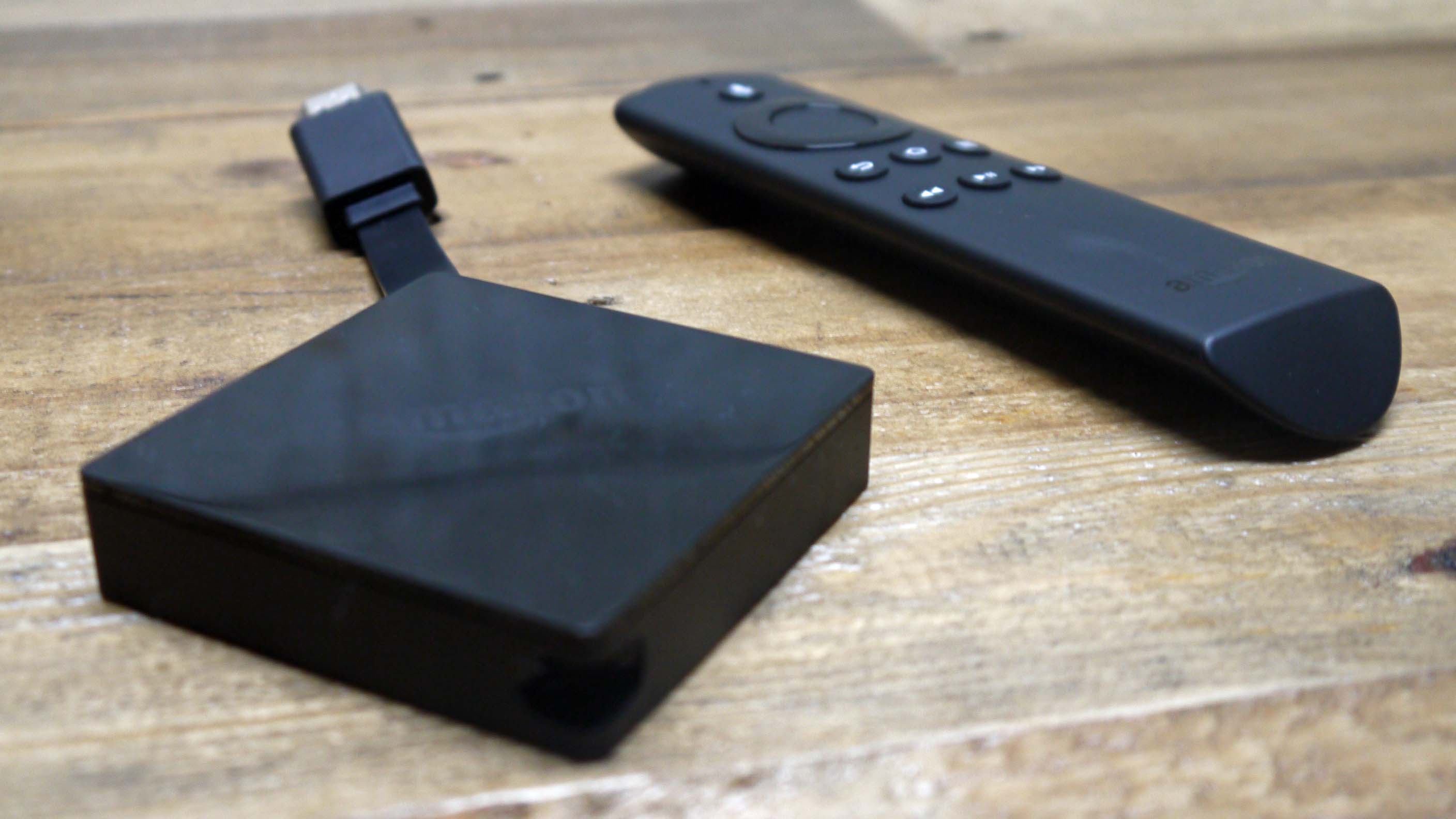 Performance
Responsive interface
Content looks great
Apart from the all-new design, the inclusion of HDR (High Dynamic Range) is the biggest new feature of the Amazon Fire TV (2017). High dynamic range allows for more pronounced contrast levels between light and dark, and results in more natural and life-like colors.
An increasing number of content providers, including Amazon and Netflix, offer popular shows (such as Daredevil) in HDR, and with the Amazon Fire TV (2017) supporting HDR10, you can now experience these shows if you have a compatible TV.
Naturally, we do, and we tried out a broad range of HDR-compatible shows from both Netflix and Amazon, and the results were impressive. Even if you have a HDR-enabled smart 4K TV, the Amazon and Netflix apps may not have been updated to support HDR, so this is an excellent device to have to make sure you are making the most out of your TV. Of course, if your TV doesn't support HDR, then you won't be able to see the benefit.
For HDR set owners, though, the difference is clear, with dark scenes in particular benefiting from more natural colors and an increased level of detail. The Amazon Fire TV (2017) is also able to stream 4K videos at 60fps, adding to the Amazon Fire TV (2017)'s media playing credentials and leading to smooth playback that looks excellent in motion.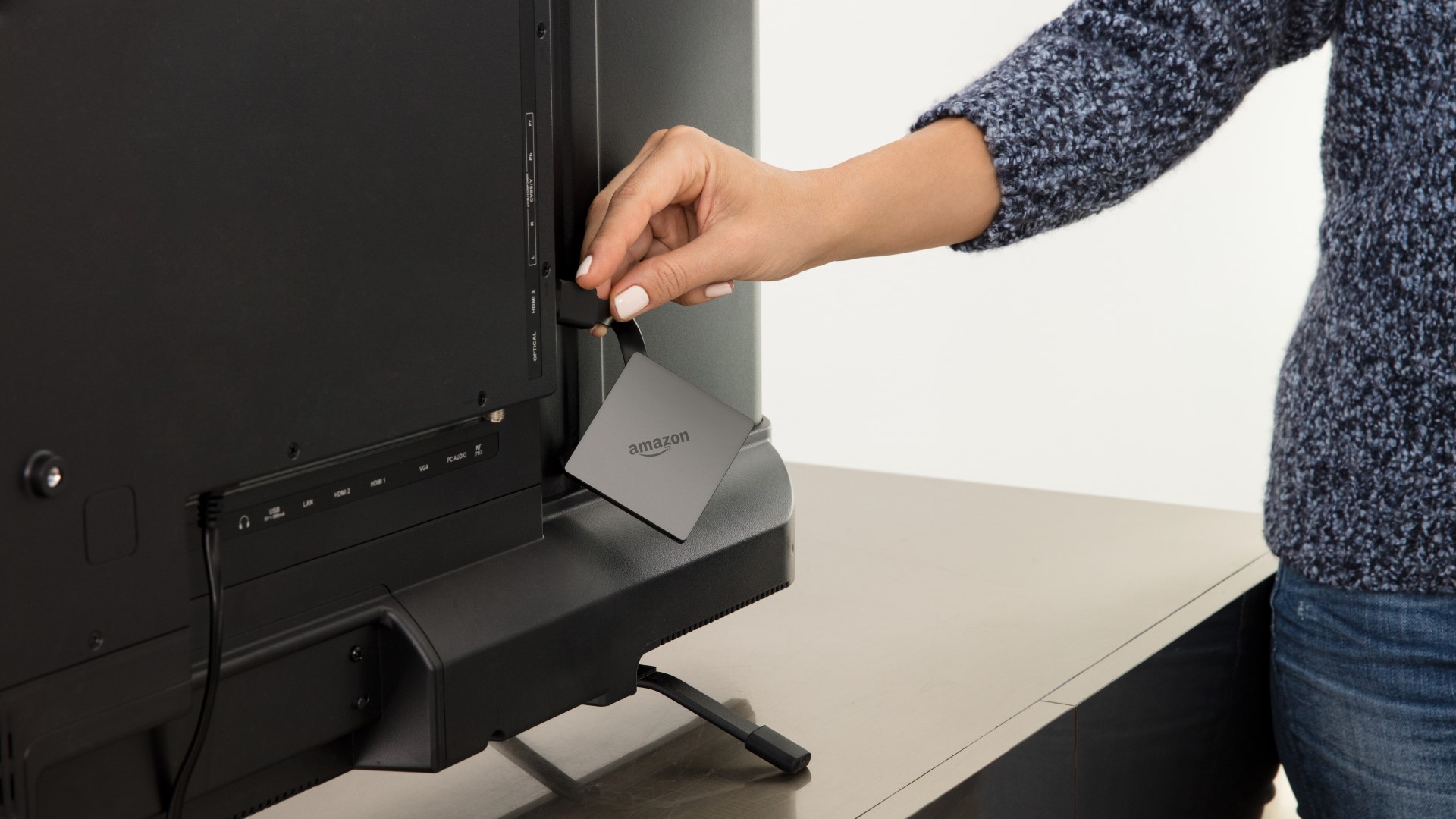 However, while the Amazon Fire TV (2017) supports HDR10, it does not support the higher quality Dolby Vision. While this may not be a problem for many, if you're a true cinephile with a high-end TV system, the lack of Dolby Vision is a real shame. For the time being, its omission is acceptable given the relatively low adoption of the format. But with the latest Apple TV supporting Dolby Vision, it's a missed opportunity to fully future-proof Amazon's device.
On the audio side of things, Amazon Fire TV (2017) now supports Dolby Atmos audio. This is 3D dimensional sound that goes above and beyond (quite literally) 5.1 surround sound, as it utilises ceiling speakers (or up firing speakers that bounce sound off your ceiling) to add another level off immersive audio, with sounds coming from above.
Dolby Atmos will be another niche interest, as there's not much content at the moment, and you need an Atmos-compatible AV system as well as additional speakers (or an Atmos-enabled soundbar), to enjoy Atmos soundtracks. If you do have that setup, then the Amazon Fire TV (2017) becomes an even more attractive proposition, and home cinema fanatics will appreciate Amazon's embrace of this emerging technology.
Of course, streaming 4K HDR video at 60 frames per second and with a surround sound audio track puts a lot of pressure on your network, but we used the Amazon Fire TV (2017) in the same room as our Wi-Fi router and found it streamed pretty well, though there were a few instances of stuttering.
Put a few walls and floors between the Amazon Fire TV (2017) and your router and you may find it struggling with such high demands. We tried it on another TV in another room and it still performed well, though we need to note that this second TV was 1080p only, so the streaming demands were less intensive.
The router we tested the Fire TV with was a pretty recent one, but if you have an older router, or one that came free with your ISP, then you may find streaming at full 4K with HDR is a struggle. In our tests it would occasionally drop to 1080p if the load got too much, but most of the time it was fine.
As we mentioned in our hands-on review of the Amazon Fire TV (2017), voice control via Alexa has been hugely improved since its (rather half-hearted, in our view) debut with the previous model.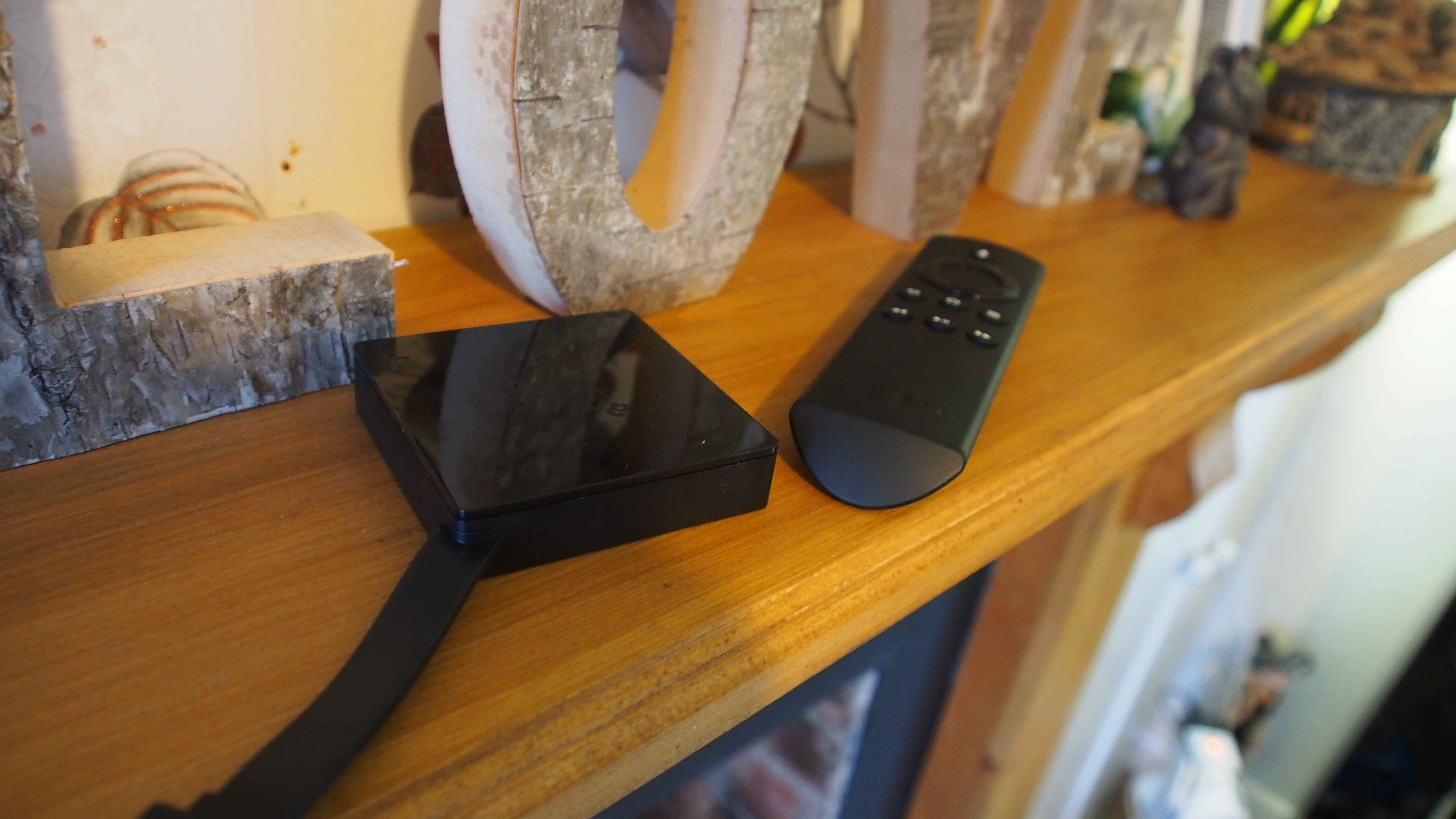 You still need to use the remote control (or a nearby Echo unit) to talk to Alexa, but thanks to close collaboration with platforms such as Netflix, Hulu, NBC and Showtime, you can now use your voice to load certain services, or search for specific programs, films and more, and the Amazon Fire TV (2017) will load up the correct service.
As owners (and fans of) the Amazon Echo, we're pros at talking to Alexa and getting it to do our bidding, and the improved voice control of the new Amazon Fire TV was responsive and generally felt natural.
However, some of the issues people have when using Alexa, such as it getting confused and returning inaccurate results, or performing the wrong task if it mishears you, is still present here. A few times it confused movies or TV shows with similar sounding ones. Hopefully Amazon will continue to improve Alexa's accuracy, and when it did work well, it was a joy to use.
What is disappointing is that the included remote does not feature volume control buttons. This can prove very annoying when loud scenes in a movie start blaring out of the speakers, and you need to quickly turn down the volume. Shouting at Alexa over the din doesn't work, so you need to keep your TV's remote control handy.
You can use all-in-one remote controls with Bluetooth, such as Logitech's Harmony range, but that means you're missing out on Alexa voice control, unless you have a nearby Amazon Echo.
As we mentioned in our hands-on, going through channels is quick and responsive. We went from CNN to Showtime in under two seconds, again just using our voice. This is because Amazon has put a 1.5Ghz quad-core processor into the device with 2GB of memory and 8GB of on-board storage. There's 40% more power in the new Fire TV which is impressive given its smaller size.
We liked
The new and improved design is certainly a step up from previous Amazon Fire TVs, and it now means it can be easily hidden away out of sight. HDR support is also welcome, and makes this latest version relatively future-proof, as does Dolby Atmost support.
Alexa voice control is improving, though not quite accurate enough to make you want to ditch the remote control altogether.
We didn't like
The lack of volume control on the remote is also an annoying oversight.
While Dolby Atmos support is welcome, there's no content available at the moment to take advantage of it. A lack of Dolby Vision also stops it being the ultimate home theater add-on for enthusiasts.
Final verdict
As Amazon's recent revamp of its Echo line demonstrates, the online giant is getting a good hang of building attractive – and feature-packed – devices, and the Fire TV (2017) continues that streak with a hugely improved design that shrinks the overall size, and makes it easier to to install behind your TV, without sacrificing features or power.
HDR support is another welcome addition, and the Fire TV (2017) manages 4K HDR content well, though its performance will depend a lot on the strength of your Wi-Fi network – unless you invest in an Ethernet adapter.
Less successful is the Dolby Atmos support – we'd really like to see more (or any) content support this, and the simplified remote can end up being frustrating to use.
However, those minor niggles aside, the Fire TV (2017) is a fantastic update, and as a cheaper alternative to its closest rival, the Chromecast Ultra, it brings more content and better features, so if you're wondering which of the two to have, we'd enthusiastically recommend this year's Fire TV.
If you are already on the Amazon train with a Prime account and plenty of Echo units dotted around the house, then the Amazon Fire TV (2017) will slot into your home with ease.
from TechRadar - Technology Reviews http://www.techradar.com/reviews/amazon-fire-tv-2017-review