Bose has a long history of producing high quality wireless speakers, and with the launch of its latest, the Bose Speaker 500, the company shows no signs of slowing down. We had the chance to see the new speaker in person at Bose's swanky flagship London store - here are our first impressions.
Price and availability
The Bose Speaker 500 is available to buy now from the Bose website, its stores, and other licensed retailers for the princely sum of $399.95 (£399.95 / around AU$550) - more expensive that the Google Home and Sonos One combined.
So what do you get for your money? The main thing that sets the Bose Speaker 500 apart from its competitors is its utilization of Bose's pioneering audio technology, meaning that it's a smart speaker for audiophiles with a lot of money to spare.
Whether you feel this is good value for money really depends on how much you're willing to pay for first-rate sound quality - if you envision using a smart speaker mainly to use inbuilt voice assistants to answer queries and manage your day, you're probably better off purchasing a first party speaker from Amazon, Google, or Apple.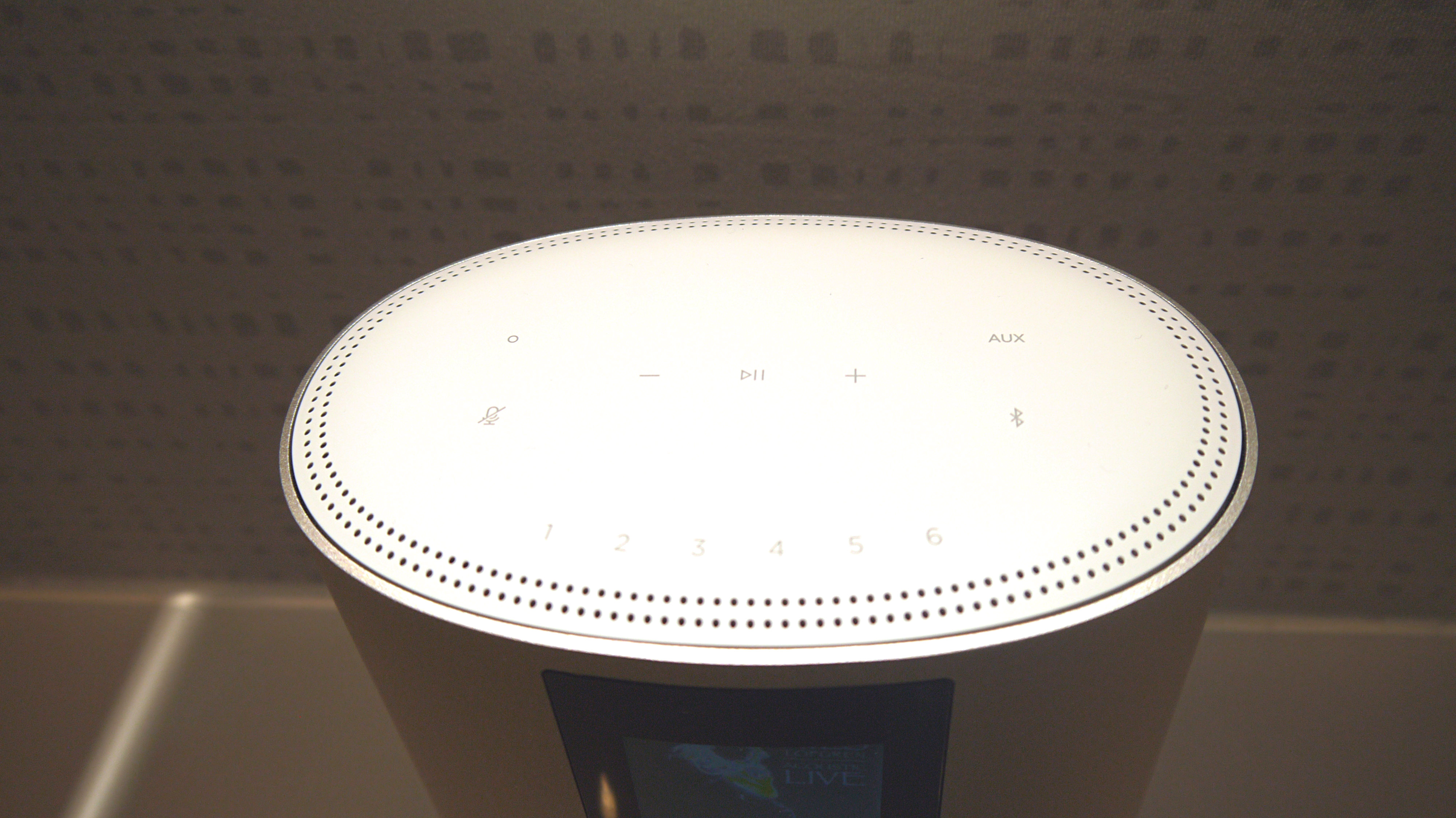 Design
All in all, the Speaker 500 looks very impressive, with a seamless elliptical shape and an anodized aluminum casing that reflects the light in your room beautifully. On the front of the speaker is a small full color screen that displays album artwork as you play music - the screen also has auto-dimming so you won't be blinded when you're using it in low light conditions.
The speaker's grille is precision drilled for both audio accuracy and a high quality finish, and overall, it looks really attractive. Although the Speaker 500 has been optimized for voice control, there are buttons for basic functionality on the top of the speaker, as well as six preset buttons that you can program to play your favorite playlist, radio station, or album after one touch.
You can store presets using the Bose app, although next year Bose says it will be updating the speaker to allow you to create presets using your voice. The speaker also features a light bar, which glows as you interact with Alexa, and also changes color depending on the type of audio input you are using to play your music (for example, blue for Bluetooth).
It's really aesthetically pleasing, and looks good enough to be a design focal point in the home without clashing with your style of decor.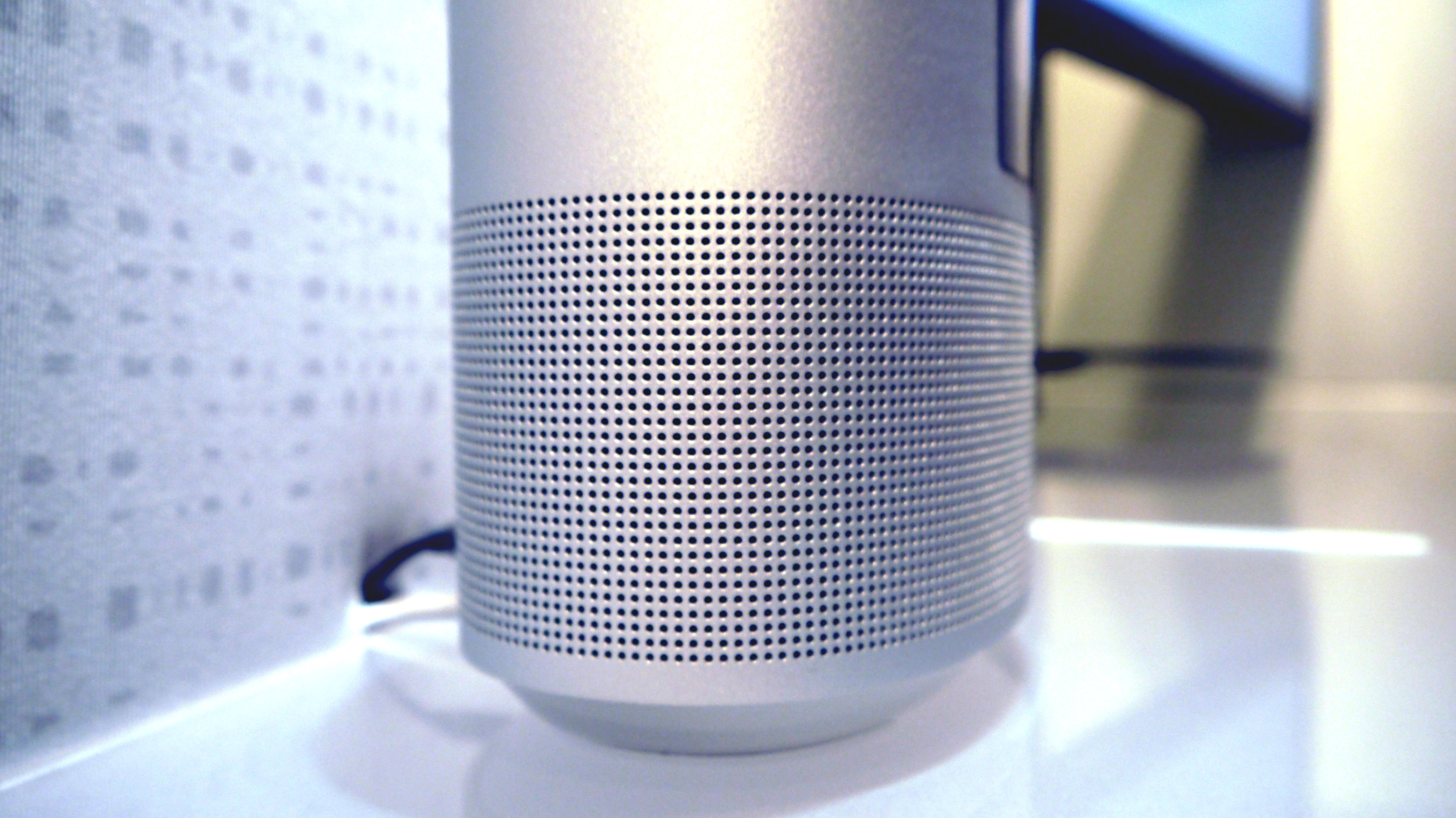 Features and performance
One of the main selling points of the Speaker 500 is its utilization of the company's proprietary mic technology, which allows the speaker to pick up commands even when music is playing loudly - it contains an eight microphone array designed for near and far field listening.
We found the microphones were really adept at picking up our voices from quite far away, so you can comfortably interact with the speaker from the other side of the room. Right now, the Speaker 500 only supports Alexa, but Bose plans to update the new range to support Google Assistant in early 2019.
If you have a lot of different Alexa-enabled devices in your home, you don't have to worry about all of them going off at once when you make a command - only the closest speaker to you will respond.
Now onto the audio - the Speaker 500 sounds really impressive. Bose claims it has the "widest soundstage of any smart speaker available today", and while we don't know for sure if that's the case at this hands-on stage, it certainly packs a sonic punch.
This is partly thanks to it's two custom drivers that point left and right - this means you get true stereo separation without needing to buy a second speaker (which could justify the price if you're a true audiophile).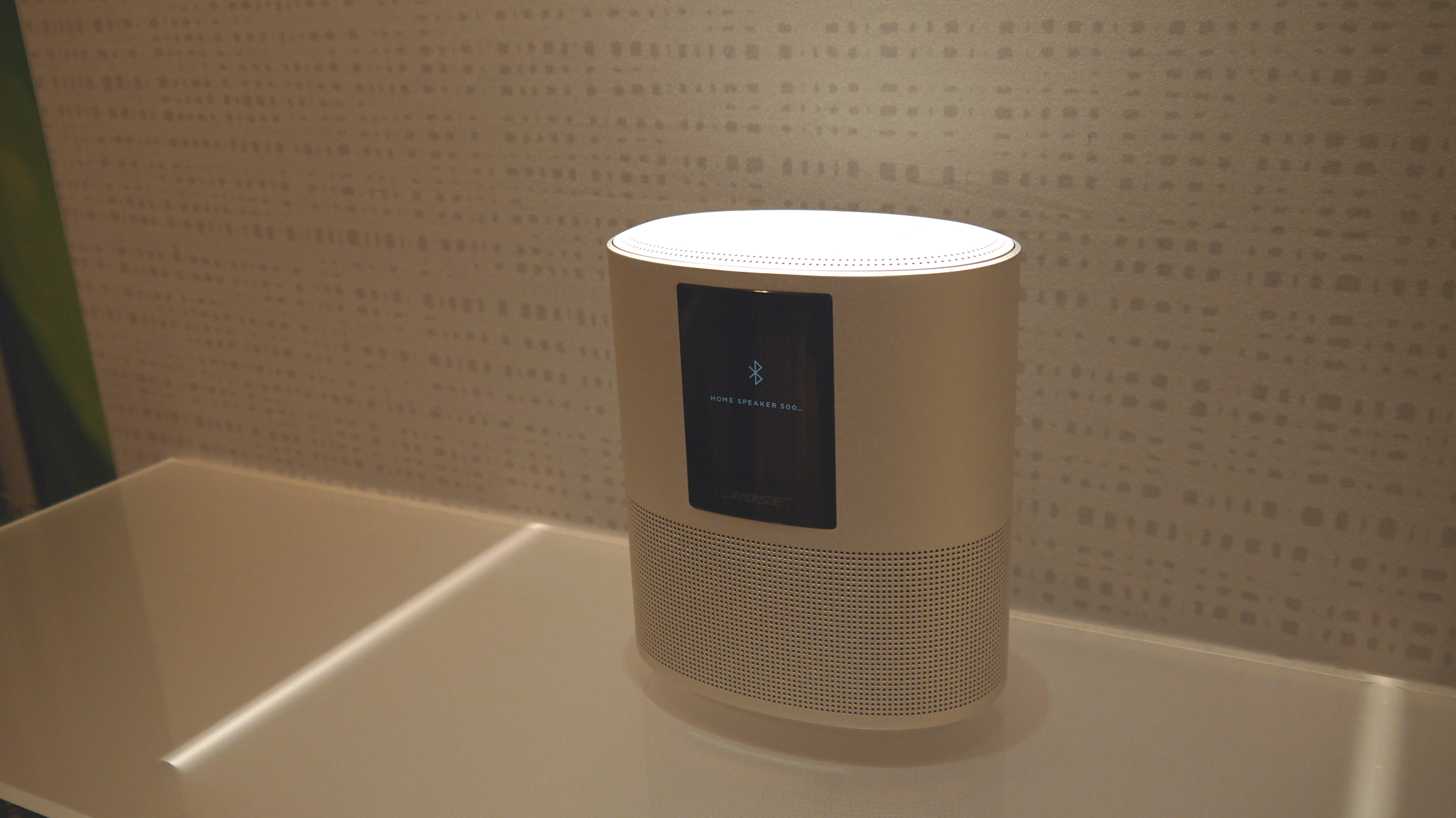 We heard some studio and live recorded music, and the separation was really apparent on panned elements of the tracks, creating a really immersive listening experience. We felt the sound was very well balanced, with crystal clear high frequencies in the guitars, smooth mids in the vocals, and bass frequencies that felt warm and powerful.
It feels as if the Speaker 500 will best lend itself to acoustic and pop music thanks to that timbral warmth - unfortunately we didn't get the opportunity to try out anything really bassy, but we liked what we've heard so far.
There are a few options in terms of connecting your smartphone to the speaker - you can opt for Bluetooth, WiFi, or AUX inputs, and with Apple's Airplay 2 coming in 2019, you'll have even more choice.
You can also choose between a number of different music services, including Spotify - although this can only be controlled via the smartphone app (Bose says that voice control for Spotify should be with us in a software update in the next month). Unfortunately it doesn't support Apple Music, but you can still use the service when you connect to the speaker via Bluetooth.
Early verdict
Thanks to the high price, you'd have to be a real audiophile to want to part ways with nearly $400 for the Speaker 500 - after all, if you're not sold on Bose's sonic technology, it would make far more sense to purchase the Apple HomePod or Amazon Echo Show for example.
However, if audio is your thing, you're probably going to love this speaker. With all-encompassing bass, and crystalline highs, the Speaker 500 is room-filling and extremely powerful for its size.
The luxurious yet unobtrusive design means it would look great in most homes - it's just a shame its so expensive and therefore won't be accessible to those on a tighter budget. That being said, Bose has a reputation for delivering fantastic audio quality, and that quality comes at a price – we'll let you know if it's money well spent when we take the Bose Speaker 500 into our test labs for a full review soon.
from TechRadar - Technology Reviews http://www.techradar.com/reviews/bose-speaker-500