UPDATE: Foxtel has revised Foxtel Now's packages and pricing tiers, significantly changing the overall experience and cost. The Foxtel Now review has been revised to reflect these changes. Details below.
Foxtel, Australia's premier pay TV service, has launched a number of streaming apps in recent years. First, it arrived on Xbox as a way for people to tune in aside from their primary set-top box. Eventually, that same functionality made its way over to the Telstra TV. Next came Foxtel Go, an app for iOS and Android devices that allowed existing customers to catch-up with their favourite shows on the go. Foxtel Play launched soon after, offering Foxtel subscribers their first delivery of the full TV service via the internet.
For the most part, customers would need to have an existing Foxtel cable subscription (unless they were on a separate Foxtel Play subscription). That meant getting Foxtel service guys out to your house to install a Foxtel box (installation and hardware fee included), paying a costly monthly subscription fee, and in the case of all but the most expensive Foxtel package (which goes for $99 per month), being on at least a 12-month contract. That's a lot of money and effort on your part if all you want to do is watch Game of Thrones in Australia legally.
Thankfully, that isn't the case with Foxtel Now – a simple streaming service that does not require a traditional pay TV subscription or additional hoop jumping. The new service provides a Netflix-style, streaming-only Foxtel package that lets you watch all of the service's catch-up content, as well as its live TV streams. All you have to do is sign up online, download the app, login, and away you go. So now that Now is here, is this the Foxtel streaming service we've all been waiting for?
Now quite expensive
Just like on its existing cable TV service, Foxtel wants its customers to tailor their Foxtel Now experience around what they're actually interested in watching, and it offers a variety of packages (split into Starter Packs and Premium Packs) that include content from a number of different channels. These are subscribed to on a month-to-month basis, so you can cancel at any time, and there's also a free two-week trial period on offer.
When it launched, customers were able to get up and running on the Foxtel Now service for as little as $10 per month. However, Foxtel Now's pricing tiers have changed, meaning you'll now need to spend a minimum of $25 per month for the now compulsory Pop and Lifestyle packs.
Remember the Doco and Kids packages? Though they were once the least-expensive options at $10 each per month, the individual packs have now been scrapped entirely. At present, the only way to get Kids and Doco content back is to shell out a whopping $104 per month for the All Packs bundle.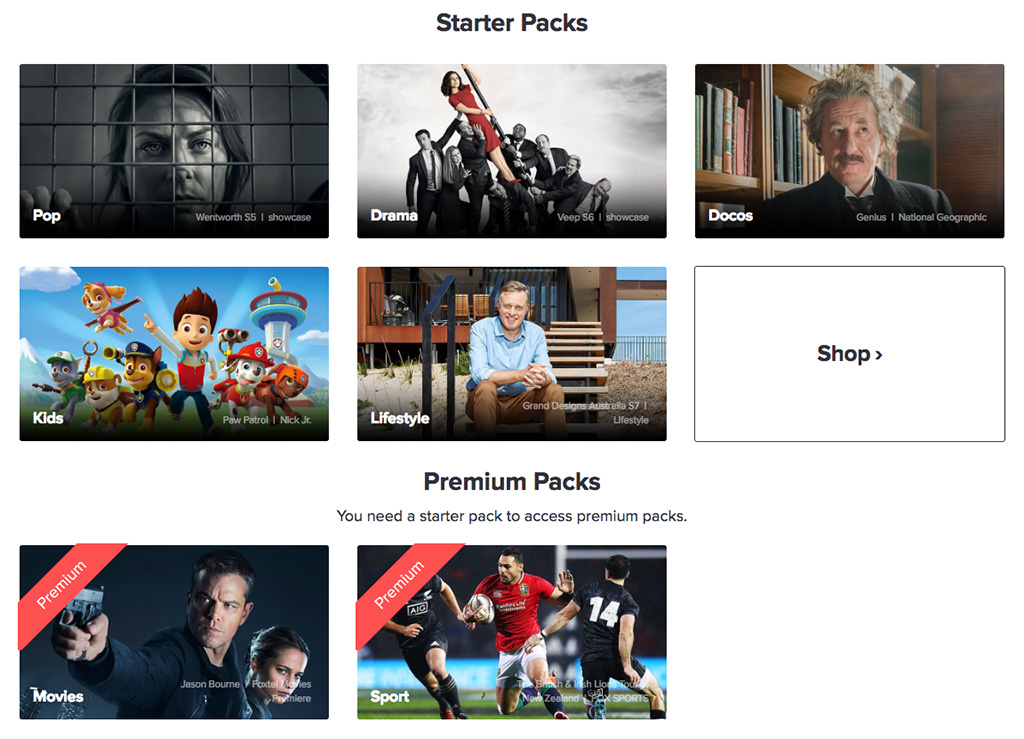 The Drama pack is thankfully still around and continues to be priced at $15 per month, and while the premium Movies ($20 per month) and Sports ($29 per month) packs are still the same price as they were before, the minimum cost to access them is now much more expensive thanks to that initial $25 you have to spend on the Pop and Lifestyle packs — the minimum cost for Movies is now $45 per month, while Sports access will cost you at least $54 per month.
Having to sign up for specific packages for certain shows (some of which appear in multiple packages) is bound to cause some confusion for Foxtel newbies, especially those accustomed to paying a flat monthly fee for everything that Netflix or Stan have to offer.
However, Foxtel could be onto something with this approach. For instance, the way the packages are set out suggests that there are two types of Game of Thrones fans – those that want to compliment their time in Westeros with hard hitting dramas like The Sopranos and Wentworth, and other that love geeky favourites like Supergirl and Fear the Walking Dead. It actually makes a fair amount of sense, although it does mean customers with more eclectic tastes will be forced to sign up for both the Drama and Pop packages.
Compatible devices
With the service having only just launched, the number of devices that can stream Foxtel Now is understandably limited at present. It's actually in a similar position to the streaming service Stan when it first launched, although Foxtel Now does thankfully have a few more devices in its arsenal.
As you'd expect, Foxtel has focused on iOS and Android device compatibility to start with, allowing users to cast shows or movies to their televisions using a Chromecast or Chromecast Ultra. PC and Mac users can also stream Foxtel Now in a Google Chrome browser window, though the only way to currently get a Netflix-equivalent native Foxtel Now experience on your television, including the ability to browse shows on your TV screen with a TV remote, is on the Telstra TV box or via the new PlayStation 4 app.
Foxtel has promised to expand device compatibility to support more game consoles and smart TVs in the near future, but for the time being, your only other option for streaming to your TV is via the Foxtel Play app. You're probably better off going with Foxtel Now and finding a cheap Chromecast deal.
Perhaps the easiest way to get Foxtel Now up and running, is to purchase a Foxtel Now Box. This Android TV-based streaming box will boot directly into the service, allowing you to stream all of your favourite shows within seconds of booting it up.
All you have to do is hook it up to your television via HDMI, connect it to your home network, login, and you're ready to go.
User experience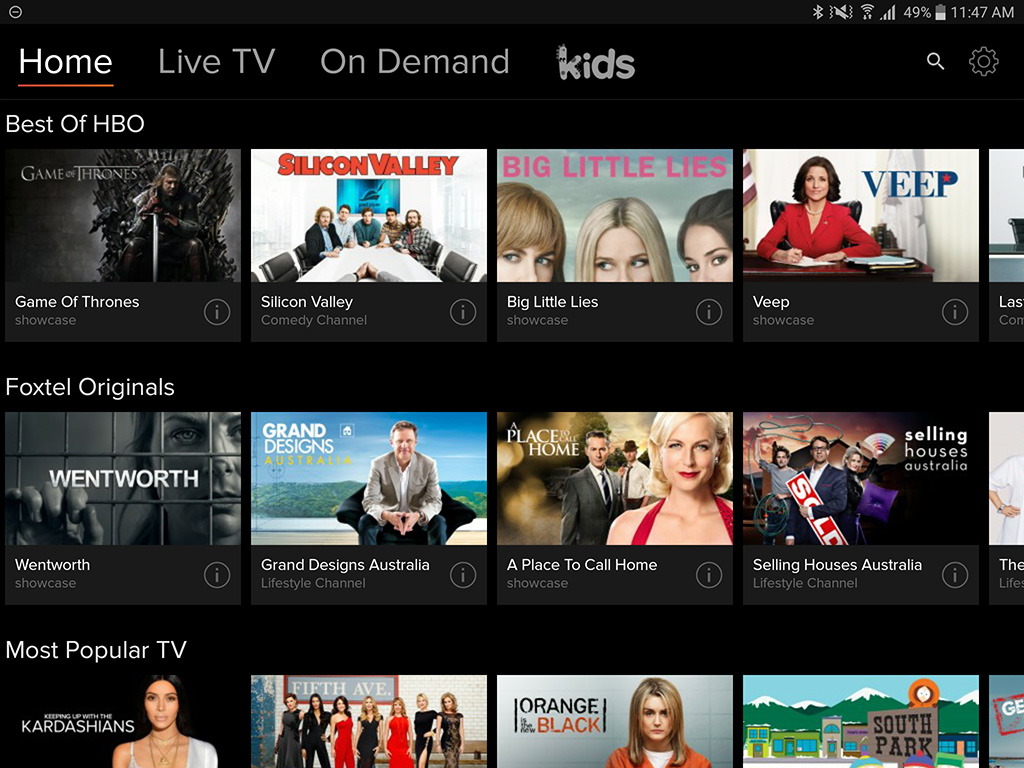 Now that we're all quite accustomed to streaming shows and movies on a daily basis, there are things that we've come to expect from a streaming service's user interface.
The app is spread across four tabs: Home, Live TV, On Demand and Kids. Like Netflix, titled are listed horizontally in themed rows, only here, the rows include things like Best of HBO, Foxtel Originals, Best of Lifestyle and Trending TV. Towards the bottom of the Home page, you'll find an On Now row that's made up of live TV shows that happen to be on at that moment, complete with a progress bar. For a more complete look at the titles offered by Foxtel Now, the On Demand tab splits TV Shows, Movies, Sports and channels into a number of subgenres.
While Foxtel has a done a decent job of approximating the typical streaming experience with the Foxtel Now app, it does lack some really basic things that give Netflix and Stan the edge in terms of usability.
For starters, you can't create a list of favourites like you can on competing services. If you're browsing Foxtel Now's offerings and spot something you might want to watch later, you'd better make a mental note of it (or a physical one with a pen and paper), because there are no queues to add it to here.
There's also so much going on in the app, with its multiple tabs, genres, channels and Live TV sections, that the act of navigating around it can be a little confusing (and perhaps somewhat intimidating for less tech-savvy people).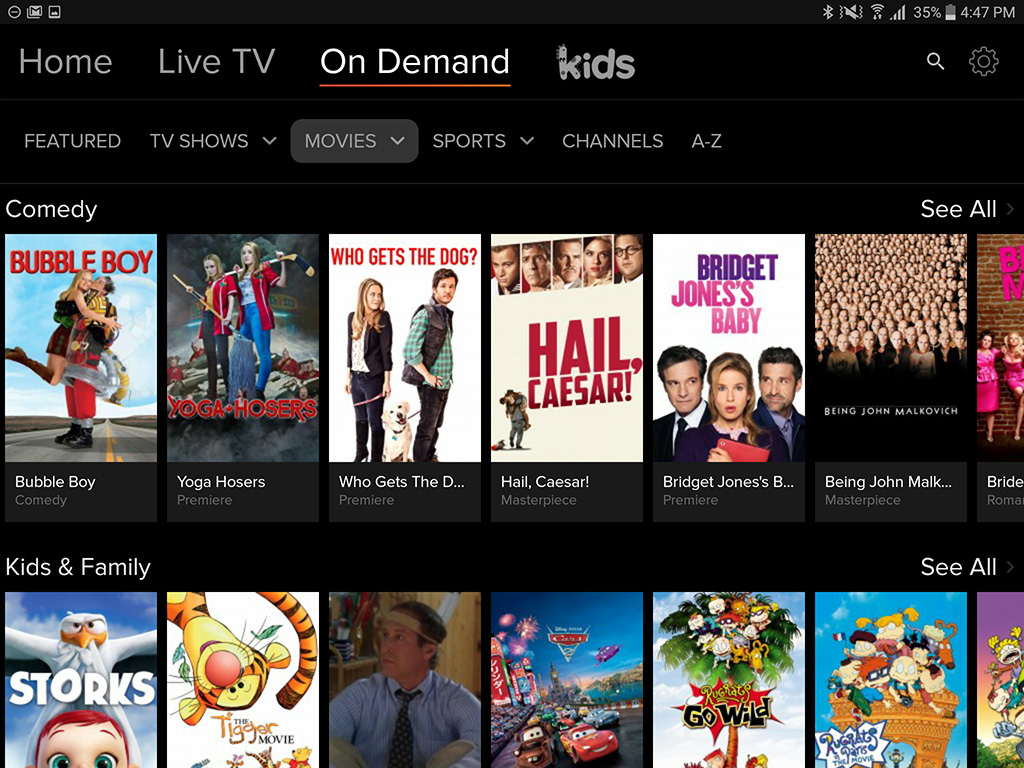 Which leads us to our next issue: the act of casting from a smart device just isn't ideal for binge-watching. On the iOS and Android app, the show you're watching will not automatically continue onto the next episode once it's finished. Instead, the app will kick you back out to the Foxtel Now 'Home' menu. From here, you'll have to make your way back to the show's page and find the next episode, which is somewhat clumsy, to say the least.
Thankfully, this is not the case with the Telstra TV and PS4 versions of the app. Here, a countdown to the next episode will appear at the end of the episode you've just watched – just like with Netflix and Stan. We really hope this makes its way to the iOS and Android versions of Foxtel Now.
It's also worth noting that the app does not feature an option to only allow streaming on a Wi-Fi connection. Under 'Data Usage Settings', you're only given the option to select Auto or Low quality settings.
Subtitle options were nowhere to be seen at launch, but you can now activate them in Google Chrome and Safari browsers, iOS devices and tablets (they'll work via AirPlay) and on the Foxtel Now Box. At present, we haven't found any subtitle or closed caption options on the Android version of the Foxtel Now app.
We would've also liked for offline viewing to be included, though its omission is a little more understandable, given that the app is relatively new.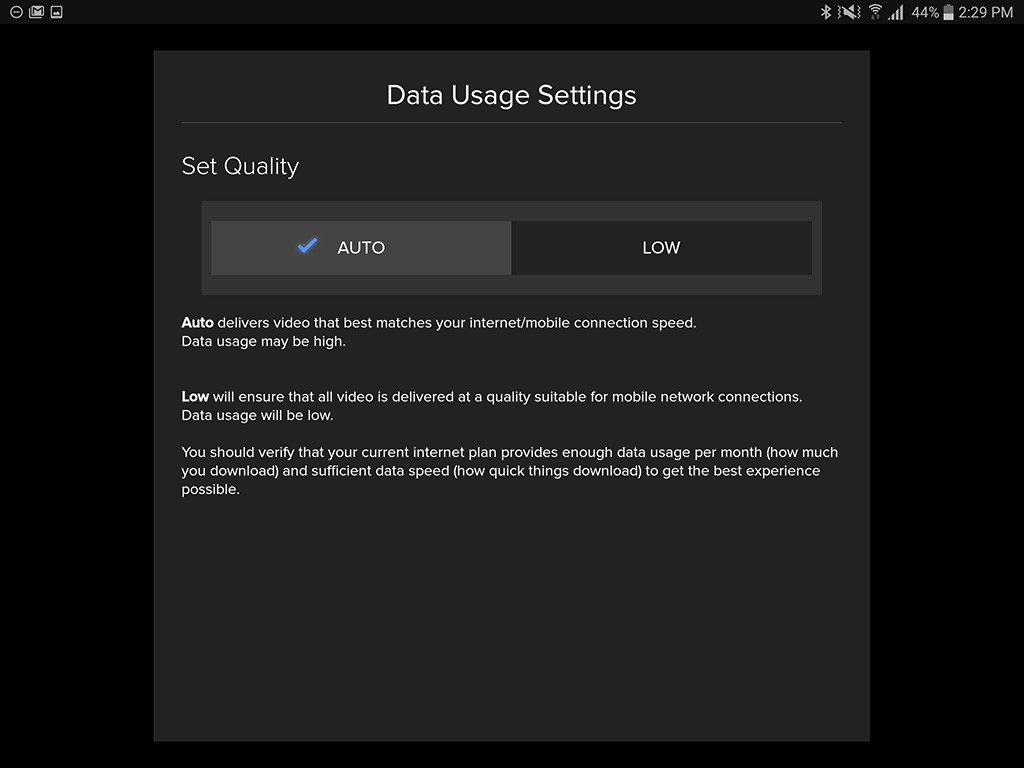 Streaming quality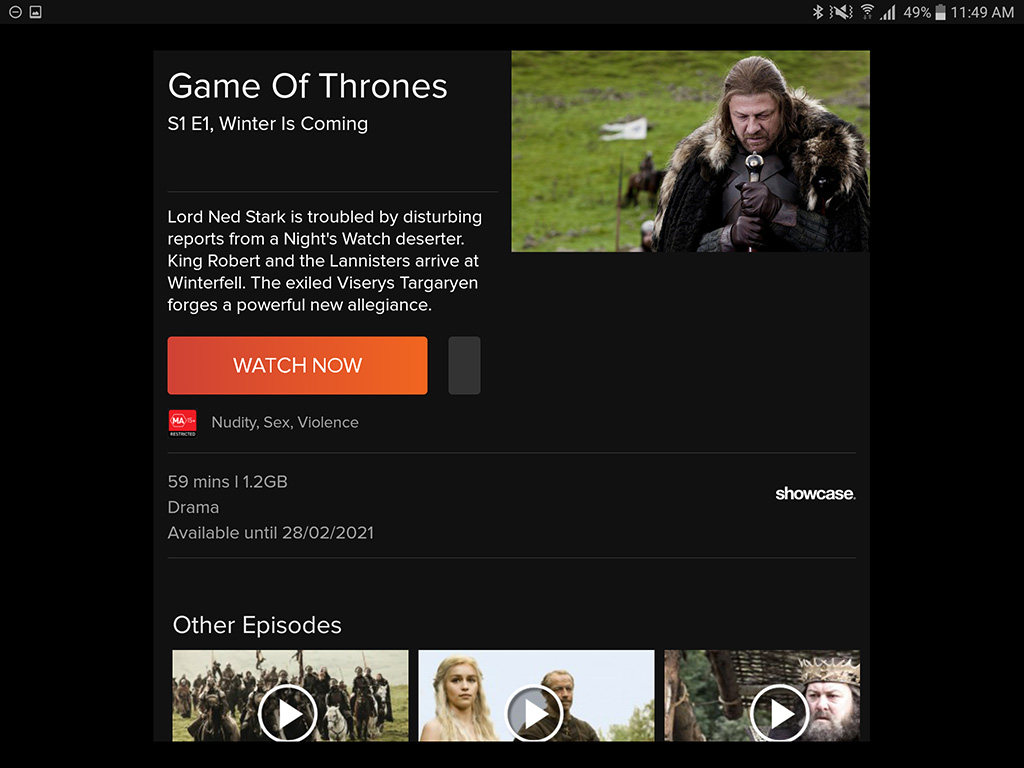 In terms of video quality, Foxtel Now is a mixed bag. Streams generally start out fuzzy and clear up as they go along, however, not every show is available at the service's HD resolution. Even new shows, like The Comedy Channel's @midnight, stream in what appears to be standard definition, despite being shot in HD. Thankfully, high-profile dramas like Game of Thrones and Westworld do at least stream in high definition.
Resolution is not the only issue with Foxtel Now's video quality, however. There are times where the colours appear incredibly over-saturated, taking on an almost fluorescent appearance.
While viewing a recent Barcelona soccer match, the colours managed to reach eye-scorching levels of vibrancy – the pitch was so bright, this reviewer's entire living room turned green (and this was during daylight hours). Barça's red and blue jerseys also showed significant colour bleeding, losing all sense of colour definition in the process. A viewing of the Jason Statham action flick Mechanic: Resurrection yielded similar results, with one sun-kissed scene looking bright red and completely blown-out.
On top of this, streams also exhibited some choppiness during panning shots, something that was most noticeable while watching sports.
While there are certainly some issues with video quality, we're pleased to say that streams always started very quickly and not a single instance of buffering was ever experienced during our testing period.
Are you content with its content?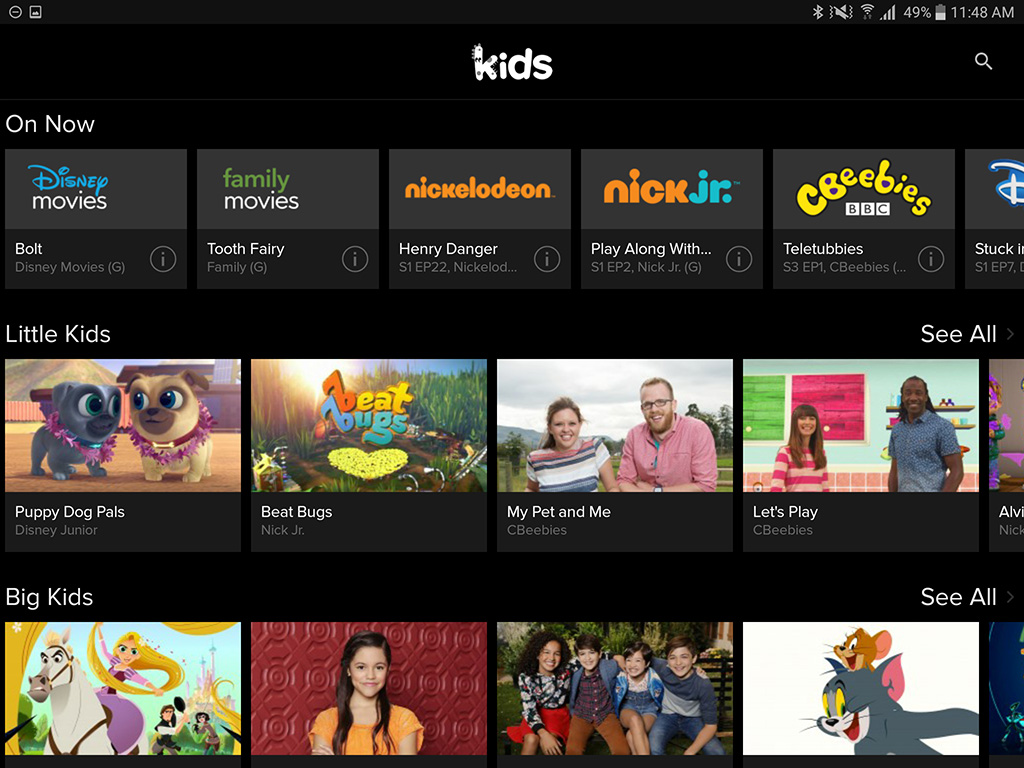 If you're willing to pay for all of the packages on offer, then Foxtel Now's library becomes vast and magnificent, with a lineup of shows and movies that wipes the floor with the competition. On top of that, you also have the option of watching live sporting events – something that neither Stan or Netflix has dared to partake in.
Australian HBO fans finally have a service that offers the channel's premium shows like Game of Thrones, Westworld, Silicon Valley, Last Week Tonight with John Oliver, Veep, Girls, The Night Of, Sex and the City, The Wire, Curb Your Enthusiasm, True Blood and much more.
Undoubtedly one of Foxtel Now's biggest selling points is that current HBO shows will be fast-tracked to the service, allowing Aussie viewers a way to legally stream them shortly after they've aired. Sounds great, right? Unfortunately, shows didn't arrive quite fast enough for our liking. Not only that, but the hugely-anticipated arrival of Game of Thrones season 7 managed to crash the entire system, leaving many customers unable to watch the premiere at all – not quite the smooth launch Foxtel was hoping for.
On a Monday evening, we patiently waited for the latest episode of Silicon Valley to arrive on the service. By 11pm that evening, the app was still showing the previous week's episode as the latest, despite the show having already aired on Foxtel a few hours earlier.
While we can only speculate as to how promptly new Game of Thrones episodes will arrive on the service (given that the show is currently in-between seasons), if it's as late as it was for Silicon Valley, we think many subscribers will be up in arms.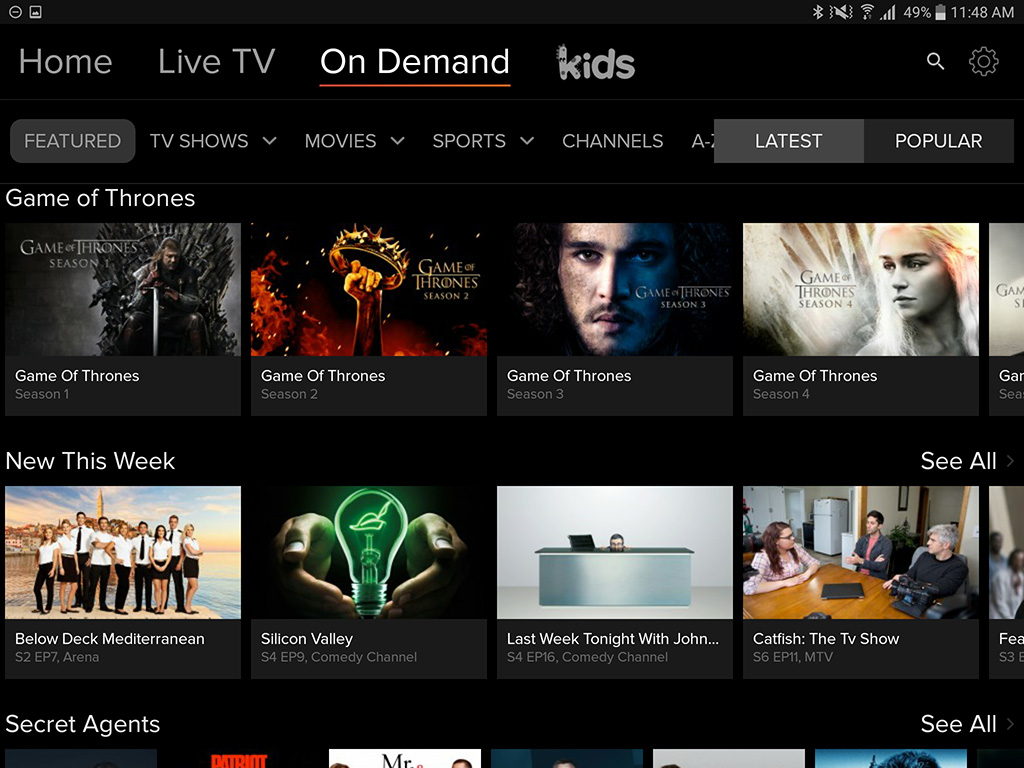 When it comes to movies, Foxtel Now's selection is enormous, with a number of big and fairly recent releases available to stream. Films like Suicide Squad, Star Trek Beyond, The Legend of Tarzan, Bridget Jones's Baby and Jason Bourne are only a few taps away, while the service also offers a number of classics and fan favourites, such as Heat, Aladdin, Apocalypse Now, Starship Troopers and much, much more.
Kids also have a dedicated section, with a number of family-friendly movies and TV shows available to stream, including a Disney Movies live-TV channel that plays wall-to-wall Disney and Pixar classics.
Sports fans will be more than happy with the huge selection of shows and matches available to stream... well, so long as they're into NRL, AFL, racing, Union, soccer, boxing and/or wrestling. Of course, the joy of watching sports is not in streaming old games but witnessing them as they happen, and thankfully, Foxtel Now's Live TV section has you amply covered in that regard.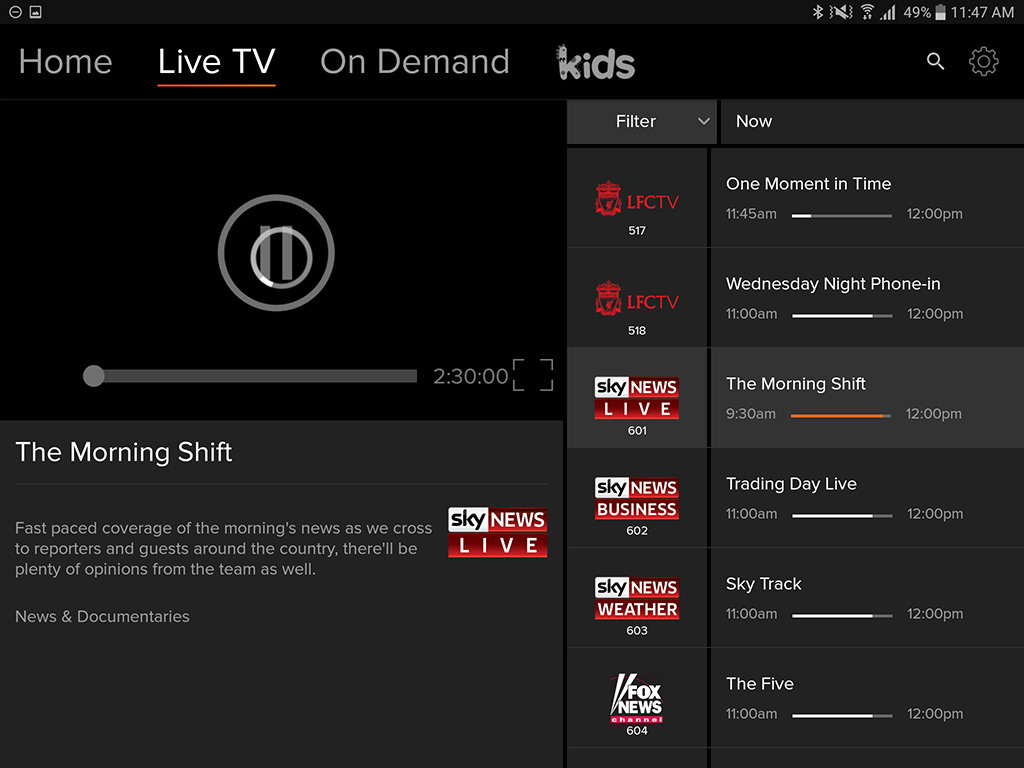 Verdict
After what felt like an eternity, an online-only version of Foxtel has finally arrived with Foxtel Now. It's undoubtedly the easiest way to get access to Foxtel's enormous library of TV shows, movies and sports channels. While it should satisfy a large chunk of its target audience, there's still a long way to go before Foxtel Now catches up to the likes of Netflix and Stan in terms of polish and functionality.
We liked
Foxtel Now's huge library of TV shows and movies puts the other streaming services to shame.
We also love that the app offers live-TV and sports coverage, something that its competitors have yet to even consider in any meaningful way.
Streams were always exceptionally fast to start and never once showed signs of buffering.
Best of all, we love that we no longer have to go through the whole pay TV installation or contract-signing process.
We disliked
Streams varied in quality during our testing period, with some shows looking low-res and others looking incredibly over-saturated. We also noticed some choppiness during streams.
We also don't understand why certain content (even stuff shot in HD) doesn't display in HD on the app — though we'd have to put that down to the quality of the materials provided to Foxtel from certain broadcasters.
The app also feels light on features and options, with a complete lack of subtitles for the hearing impaired, no way to create lists or mark shows and movies as favourites, no individual user profiles and no offline viewing. Also, the app settings themselves are underdeveloped, with no option to restrict playback to Wi-Fi networks only, for example.
Finally, it was disappointing to see that certain fast-tracked shows didn't appear on the service as promptly as we'd have liked. That can be seen as a deal-breaker for some, given how eager many Aussie fans are to immediately pirate and watch their favourite TV shows.
Final verdict
There's plenty that Foxtel Now does very well, and there are some things it definitely needs to work on. As a starting point, the app is quite impressive, given the complexity of what it's trying to achieve. However, there are number of improvements that we'd like to see it implement in order to bring it up to the standard of its competitors. But if you've always wanted Foxtel but felt that signing up would be too much of a hassle, Foxtel Now should alleviate that worry entirely.
from TechRadar - Technology Reviews http://www.techradar.com/reviews/foxtel-now