Garmin's range-topping Fenix series has moved on. Now in its fifth incarnation, the Fenix range has three new watches in its line up, with the 5 Plus sitting alongside the Fenix 5S Plus and the Fenix 5X Plus. They're still big, still bold but now they're even more brilliantly well featured, bringing smartwatch skills to the mix.
They're also still hugely expensive, with price tags that range from £599/$799.99/AU$1149 right up to £999/$1099.99/AU$1599. That's serious money but then these are serious performance and adventure tools.
There's plenty to love about the latest upgrade. From trail running to open water swimming, the sport-specific tracking smarts are comprehensive, and there are advanced training and performance features to suit serious amateurs and professionals alike.
And when you throw in everyday activity tracking, smartwatch skills, Garmin Pay, music, solid sleep tracking and even stress monitoring, you get a watch that might – we say might very cautiously here – justify the price tag.
To find out, we put the middle sized, 47mm Garmin Fenix 5 Plus sapphire crystal titanium to the test.
Garmin Fenix 5 Plus release date and price
Out now in the UK, US and AU
Ranges from £599/$799.99/AU$1149 to £999/$1099.99/AU$1599
The Garmin Fenix 5 Plus is out now in the UK, US and Australia, but it's not cheap. Price-wise it ranges from £599 / $799.99 / AU$1149 to £999 / $1099.99 / AU$1599.
The differences in price are based on a combination of the size you pick, the materials used and whether or not you want its Pulse Ox Acclimation feature.
Design and specs
Big but suitable to wear all day
Available in three different sizes
Full color screen and 10ATM water resistance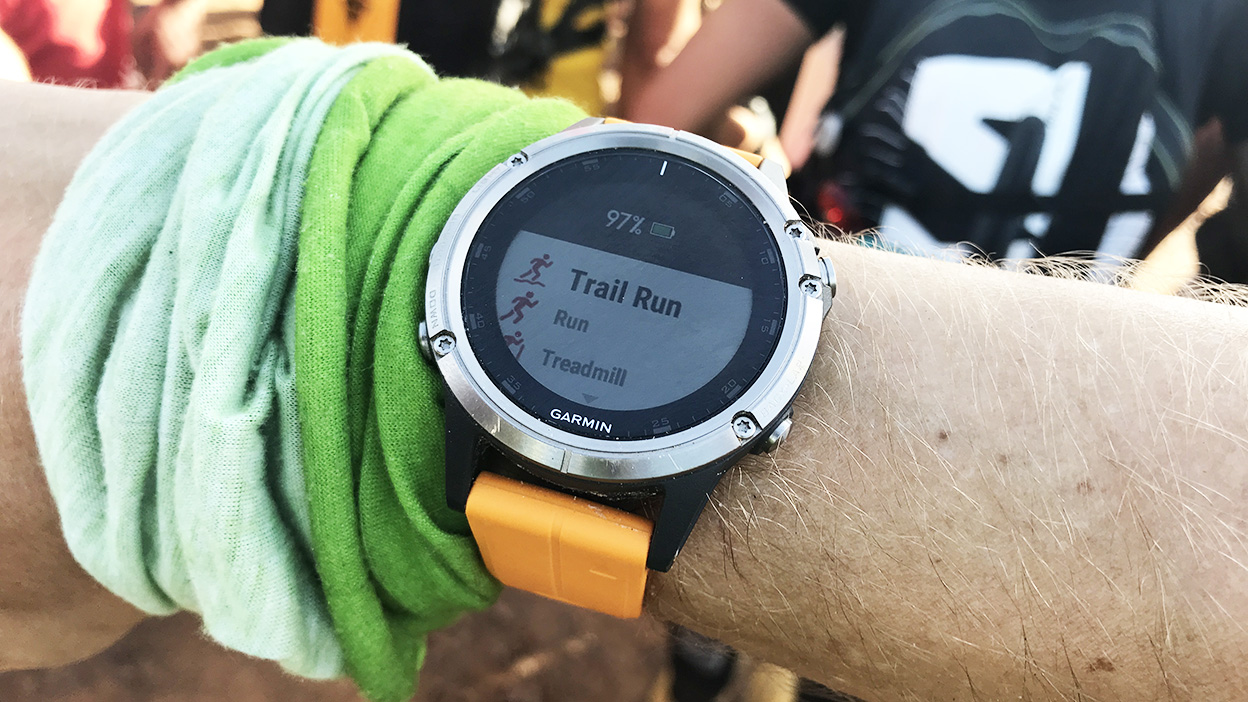 The Garmin Fenix 5 Plus is a rugged watch for the rugged user, the kind of person who's just as at home in a canoe as they are in the desert or flinging themselves off a mountain.
Multisport adventure watches like this aren't often that pretty to look at. If the Garmin Forerunner watches are like having a sleek sports car parked in your driveway, the hard-wearing Fenix range has been much more like parking a tank there.
However, the Fenix 5 Plus shows just how far Garmin has come on the design front. It's still clearly a chunk of watch but at the same time, you've got something you can wear all day with smart clothes, without feeling like you're making a statement about how SAS you are. In short, it's a very nice looking and sophisticated – if a bit big – piece of kit.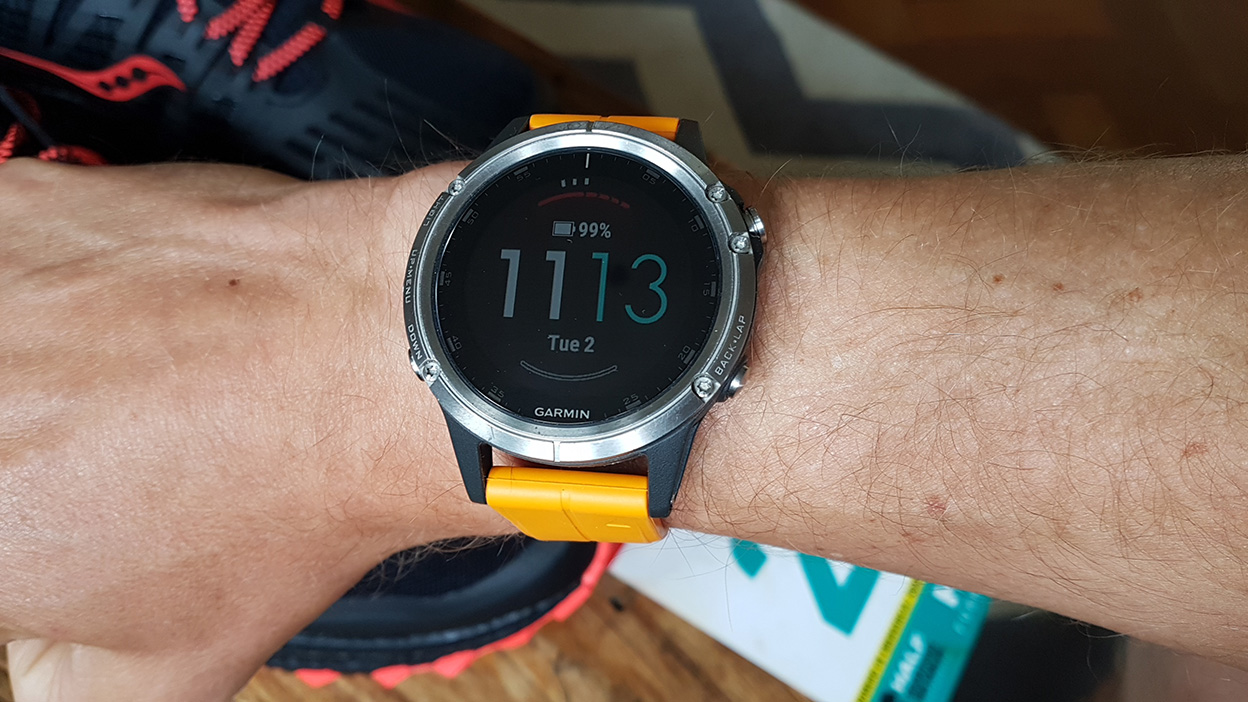 We tested the 47mm Garmin Fenix 5 Plus sapphire crystal titanium with Solar Flare Orange Band, which has more than a touch of the Hugo Boss about its overall appearance.
There are, however, various models to choose from. The 42mm Fenix 5S Plus, the 47mm Fenix 5 Plus and the 51mm Fenix 5X Plus.
The standard Fenix 5 Plus weighs in at 86g – that's 5g heavier than the Suunto 9 – unless you pay a premium for the 10g lighter, 76g titanium version.
On the average-sized wrist of our male tester the 47mm felt proportionate and manageable, though the smaller-wristed will almost certainly prefer the 42mm and even that might be a bit bulky for some.
We liked the fact the 47mm was a little smaller than the Suunto 9 and though there's slightly less screen real estate, you don't really notice the difference when you're mid-activity.
There's a sapphire crystal edition in all three sizes with a scratch-resistant sapphire lens designed to take all the knocks and bumps. We put this through a thorough examination out among the rocks and sand of the Half Marathon des Sables in Fuerteventura, and the screen came back in perfect health, though the titanium bezel did pick up a few minor scratches.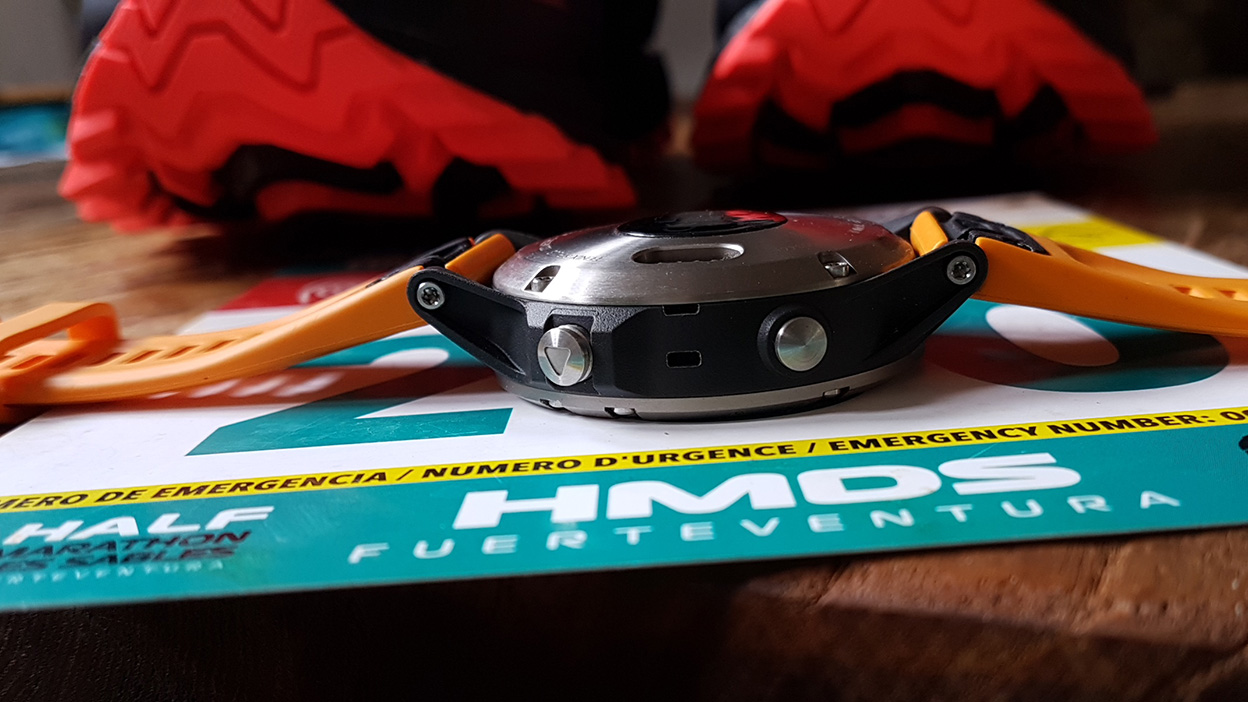 On cheaper versions those bezels come in stainless steel rather than titanium and you can choose a silver or a matt black finish. On the 47mm and 51mm watches the bezels are punctuated nicely by five screws that add a decent bit of detailing that you don't get on the 42mm.
The 47 x 47 x 15.8mm watch face is smaller than the Suunto 9, with the display sitting inside a small border and taking up 30.4mm.
There's room for four stats on screen at any one time in various customizable layouts, though we felt three stats was enough, anything more and things started to get a little cramped and lack hierarchy. That's still plenty though.
The screen is a full-color transflective Garmin Chroma Display with LED backlighting and even in incredibly bright sunshine in the desert sands of Fuerteventura we found it easy to read. We also used it on a night stage for running in the dark using a head torch without any problem at all.
The clarity isn't as sharp as you'll find on something like the Apple Watch 4 but the only time this becomes a real issue is using some of the mapping features. And then again, the Apple Watch 4 won't take the hard knocks this will.
There's no touchscreen here like you get with Suunto's flagship watch, instead the Fenix is controlled using five side buttons that are nicely responsive and easy enough to find on the move. Is it missed? It's very much a subjective thing but touchscreen controls aren't that easy to use when you're bouldering up a cliff side or speeding down a mountain trail, so we weren't that bothered.
We would have liked to be able to swipe the maps to make more of the Fenix's new full-color topographic routable navigation but otherwise we weren't that fussed. Some people might prefer to have the option for navigating post activity. If that's you, this will irk you.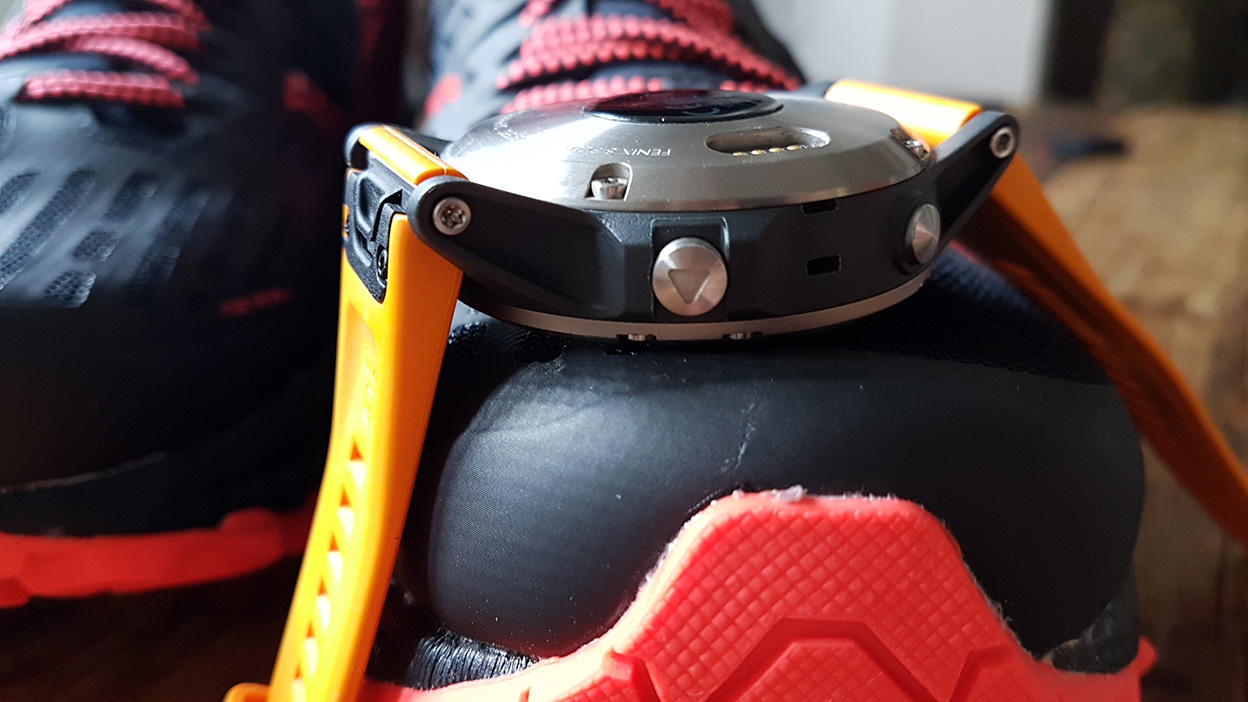 The silicone straps range for wrist sizes from 163-249mm and you can choose from silicone, leather and metal. It's stupidly simple to switch the straps, with probably the best clip mechanism we've seen on a sports watch.
The silicone strap we tested was perfectly comfortable for long periods (we ran the long stage of the Half Marathon des Sables for 11 hours with no trouble).
Flip the Fenix over and there's the standard Garmin Elevate-powered optical heart rate sensor with three green LEDs sitting in the center of the domed metallic back.
The sensor bump – yes that is the technical term – protrudes far less than on the Suunto 9 or the Polar Vantage V, but because of the dome there's still good contact with the skin without any discomfort on longer runs. Yes it leaves a little mark, but so do all optical heart rate sensors.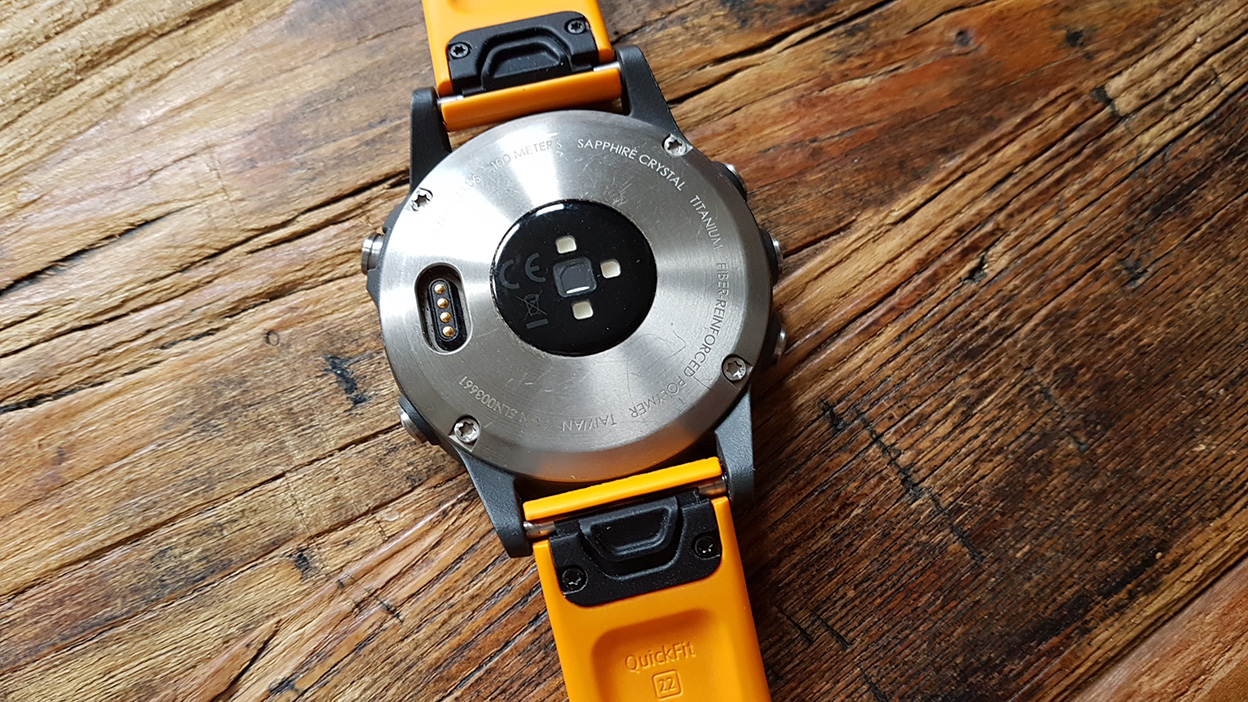 Next to the optical sensor you have the Garmin charge dock, a four-pin affair that clips firm when you put it on charge and comes with a cable that's less bulky than some.
When it comes to sensors, on the navigation front, the Fenix 5 Plus packs a three-axis compass, gyroscope and barometric altimeter as well as multi-satellite (GPS, GLONASS and Galileo) capability to track in more challenging environments than GPS alone. More on the accuracy later.
There's also an accelerometer for tracking indoor running and activities, such as strength training, plus a thermometer, handy if you're pushing extremes.
There's 16GB of memory for your music and workout history, though with the auto-sync over Wi-Fi and Bluetooth syncing if that's patchy, you're unlikely to push the limits.
For the swimmers, triathletes and water sports enthusiasts, the Fenix is water-resistant to 10ATM, so pool and open water swimming are covered but diving to any great depths however is not recommended.
Features and tracking
Can track a wide range of sports
Also offers sleep, stress and step tracking
Can provide a fitness age estimate
Fenix watches are about as comprehensive as it comes. Running, swimming, cycling and of course triathlon are central to the feature set, and those are each superbly well catered for, but you can also throw in hiking, climbing, mountain biking, skiing, snowboarding, cross-country skiing, stand-up paddleboarding, rowing, kayaking and even golf.
Outside of those moments where you're indulging your particular sport passion, there's sleep tracking, stress monitoring, general activity tracking, including steps, move alerts, flights climbed and fitness age estimate (ours said we had the fitness age of an 'excellent 20-year-old').
But the Fenix really comes to life when you get moving.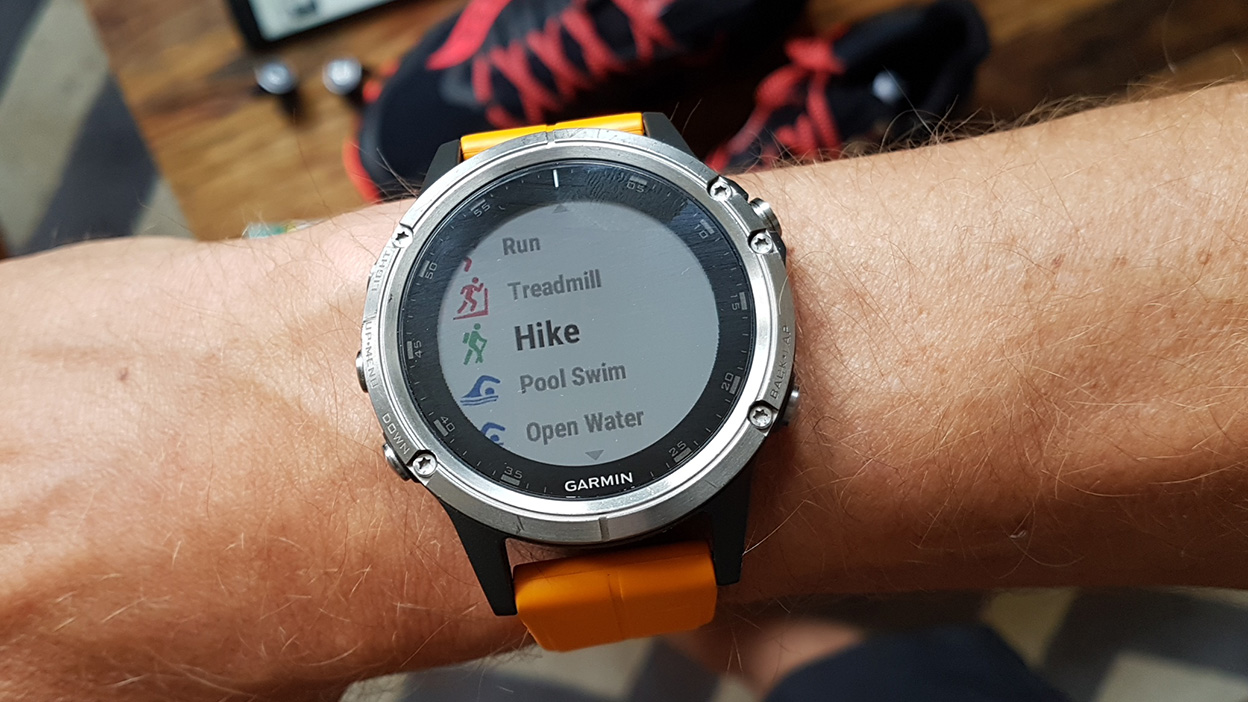 Running, trail running and hiking
Customizable sport modes
Power isn't tracked from the wrist
Pulse Ox Acclimation available on 5X Plus
Road, trail and treadmill running are all served with their own sport modes and one thing we love about the Fenix was how incredibly easy it is to tweak the stats that display on the watch during your session, from the watch itself.
It takes seconds to rejig the layout of each screen, to select the number of stats (1-4) and what those are from pace, speed, heart rate, ascent, vertical speed, power and many, many more. You can also create your own sport modes to shortcut the need to fiddle pre-race.
All the usual run stuff is there with distance, pace, speed etc. When it came to GPS accuracy as we mentioned earlier the Fenix 5 Plus supports GPS, GLONASS and Galileo and we found it to be very reliable.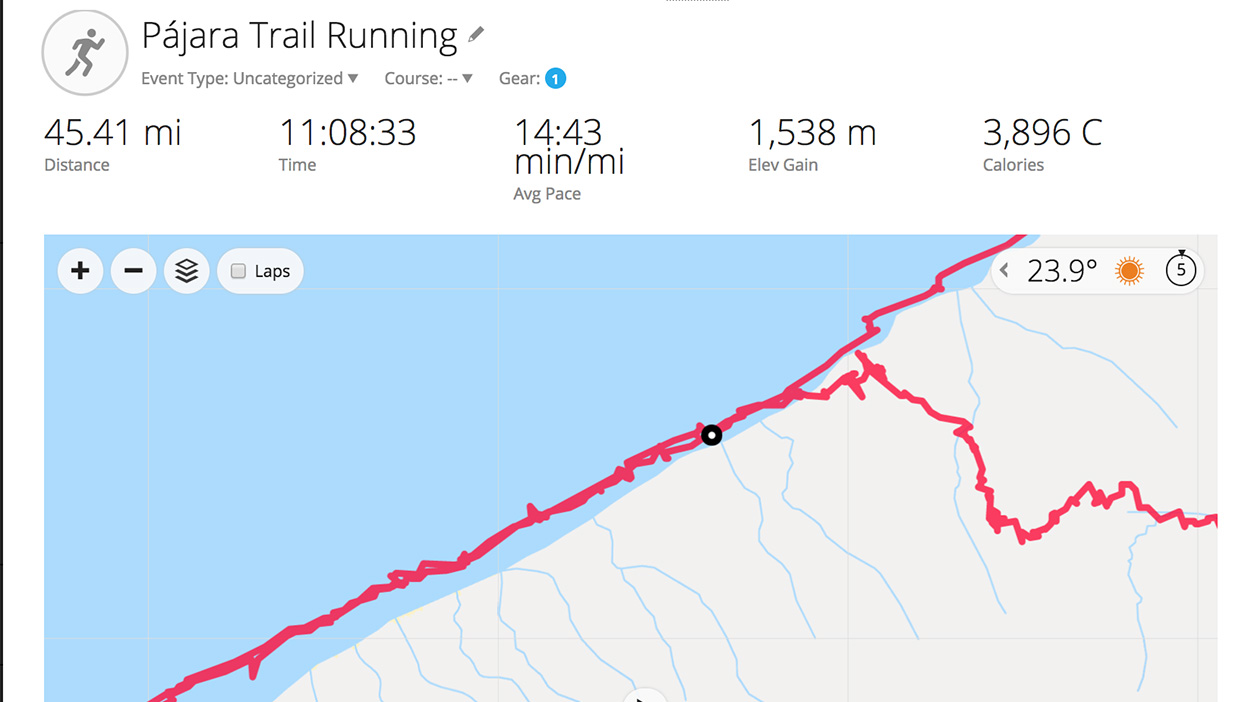 We did have some wild moments in UltraTrac mode, as you can see from the picture above, where our watch struggled with a stage of the Half Marathon des Sables that took in open beaches and windy trails. We were told that was 66km but our Garmin registered 73km.
Cadence is also tracked by the watch but perhaps one disappointment is just how many of the other running dynamics require an extra accessory such as a HRM Run chest strap or the Garmin Running Dynamics Footpod.
Things like ground contact time, vertical oscillation, stride length and power – all those form efficiency metrics that we're starting to see – need another device.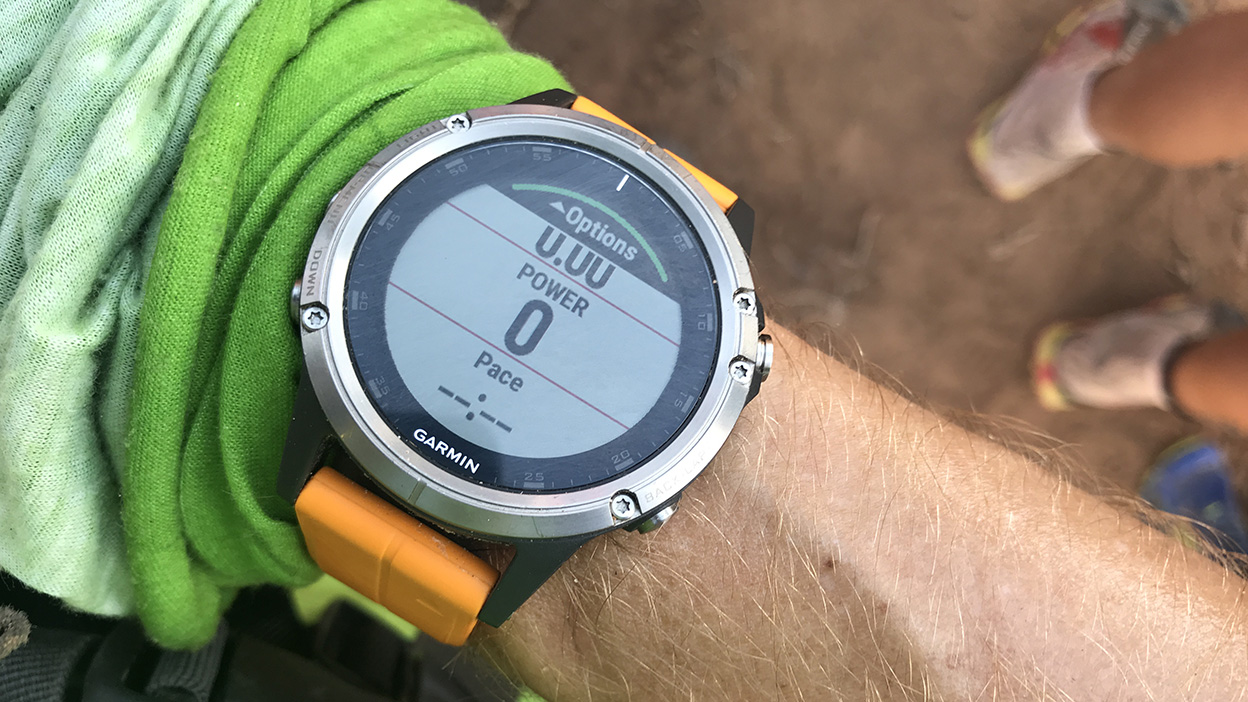 For top dollar you'd expect the Fenix to cover all bases but unlike the newly launched Polar Vantage V, power isn't tracked from the wrist. The metric is supported but you'll need to pair a third-party power sensors such as Stryd or to use Garmin's own Running Dynamics pod or HRM Tri, HRM Run Sensors.
To get power metrics to display for some you will need to download a special app from the Garmin Connect app store. It's a bit of a faff but only needs to be done once.
One thing trail runners will love is the fact that in trail running and hiking mode, the watch automatically picks up when you move from running or hiking flat to climbing. The screen scrolls to your ascent stats without the touch of a button, it's a small thing but a nice touch when you're losing a lung hurting up a mountain trail.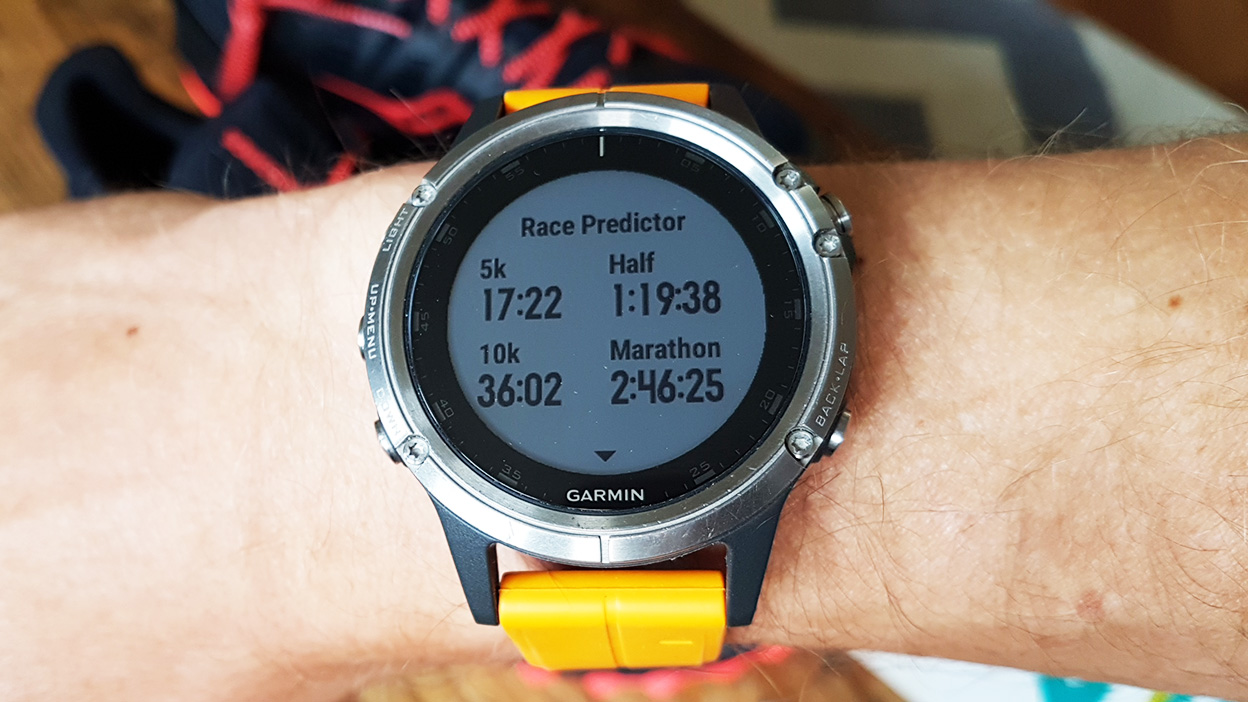 The Fenix 5 Plus also comes with Garmin's Race Predictor feature that will use your recent run performances to estimate your race times for distances from 5km to the marathon.
These can be wild though. Our tester's predictions came back with 17:22 (5km), 36:02 (10km), 1:19:38 (half) and a 2:46:25 (marathon). While the half and 10k might be plausible the marathon time would represent an 11-minute personal best and that feels a little sharp.
The range-topping Fenix 5X Plus (51mm) watches feature Garmin's new Pulse Ox Acclimation feature. This shows blood oxygen saturation levels to help monitor how you're adjusting to higher altitudes. As we tested the Fenix 5 Plus we didn't get to sample this but it's an interesting feature for anyone hiking the Himalayas or getting high.
Swimming
Good accuracy
Can track numerous metrics
In keeping with the Fenix heritage, this is a very capable pool and open water swimming watch with a rich feature set.
In addition to the standard swim metrics (lengths, distance, pace, stroke count/rate, calories) you get auto stroke detection, SWOLF swim efficiency scoring and drill logging. Heart rate is possible though not via the optical sensor, you'll need a HRM Tri or HRM Swim chest strap for that.
You'll need to input pool lengths but that's easy to do and the lapping accuracy thereafter is spot on. As is the stroke detection. It picked up nicely when we shifted between a front crawl and a breast stroke.
Cycling
Routable cycling-specific street maps
Will need accessories to get the most from it
Road cycling, indoor cycling and mountain biking are all catered for. To get the most out of the Fenix 5 Plus, you're likely to need some accessories though. It plays nice with Garmin's Varia Vision heads up glasses attachment, the Vector power meters and compatible third-party ANT+-enabled power meters.
Functional Threshold Power (FTP) is also logged provided you have the right accessory. As are speed and cadence.
Another feature of note for the two wheelers are the routable cycling-specific street maps that will help you ride and navigate and hopefully stay on routes that work for the wheels you're on.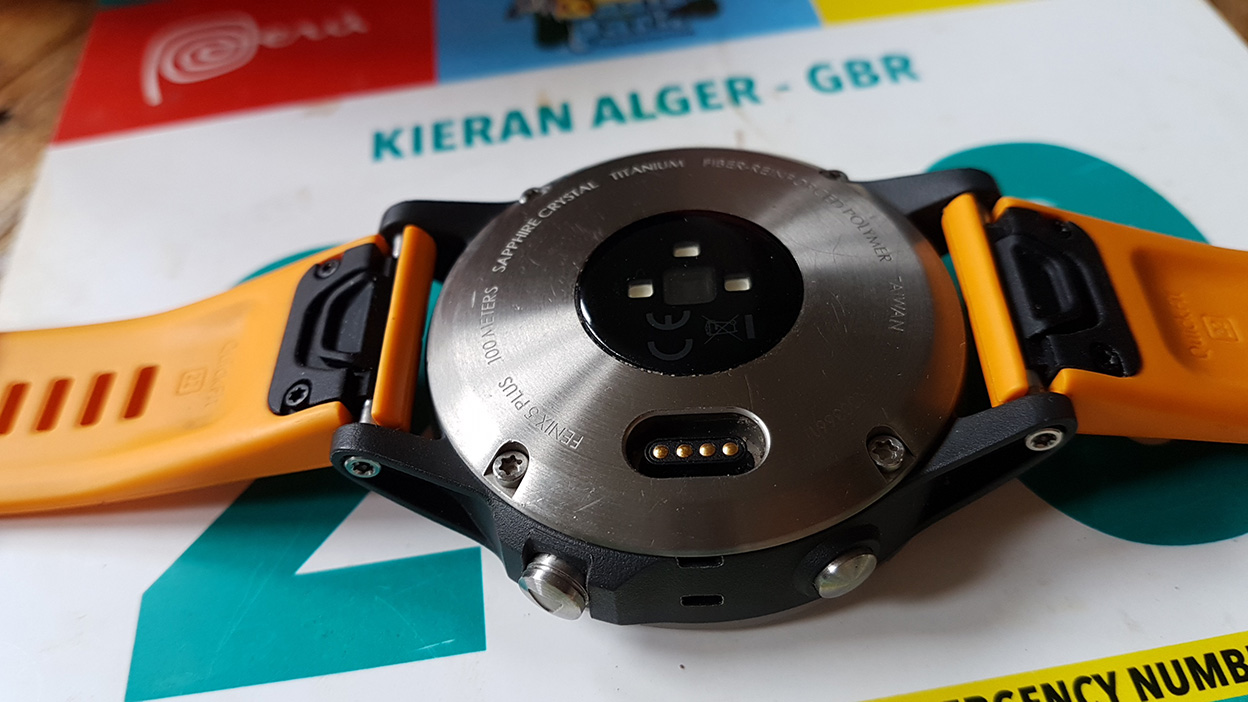 Strength Training Mode
Can easily log your drills and rest
Includes an auto tracking mode that works fairly well
Most watches tend to ignore the bit of training that happens when you head into the gym, but strength and conditioning is such an integral part of any serious training plan that this has always seemed a huge gap.
Granted they'll track your heart rate during your squats and deadlifts, but few devices have bothered to attempt to track reps, sets and weight. The Fenix 5 Plus has.
Fire up strength training sport mode and you can fairly easily log your drills as you do them and track your rest. There's also an auto set mode that's currently in beta and this attempts to track you reps and rests without any buttons being pressed.
In our tests the Fenix found some drills easier to track than others, for example squats were logged perfectly whereas bicep curls often counted one or two over. It also struggled to always spot when you'd stopped for rest rather than maybe switching between arms or legs.
This isn't an easy thing to do and we're impressed that Garmin had a go. With a bit of evolution this could turn into an extremely useful tool and could finally pave the way for guided strength training plans as part of those overall schedules, rather than a calendar box that simply says 'Strength and conditioning'.
Recovery and training insights
Continuous heart rate tracking
Training Load tells you how hard you're working
Offers recovery time recommendations
If you're a competitive amateur or serious pro, tracking what you do while you're getting a sweat on is only half the battle. Rest, recovery and managing your training schedule for optimum results and minimal injury risk is a huge deal.
As with the Polar Vantage V, Garmin offers fantastic support here. For a start it tracks your heart rate continuously and provides a nice graph of your BPM from the last four hours, noting your high and low.
Dig deeper with the tap of a button and you get your average resting heart rate (RHR) over the week. Really useful for spotting an unusually elevated RHR, a sign it might be smart to take a rest day.
As with the Apple Watch 4, there's also the option to have an alert fire if the Fenix spots abnormal heart rate activity.
Training Status tracks your training history to tell you whether you're hitting the mark with your efforts. At a glance you can see your fitness progression – whether Productive, Maintaining or Detraining – and training load along with the overall status.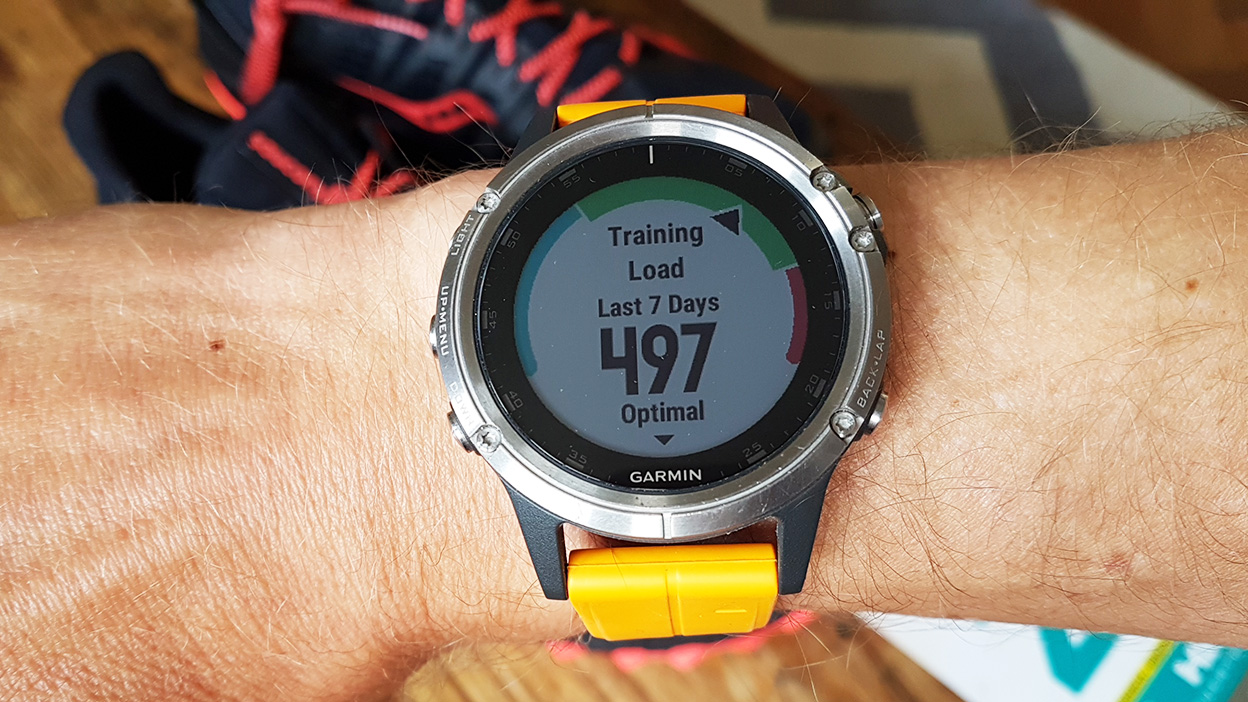 Tap one deeper and the Training Load screen converts all your training toil into a number that represents your total impact from the past 7 days and then also tells you if this is optimal or you're at risk of overreaching.
To support this there's a handy speedometer style indicator that moves from blue to red to show you when you're closing in on doing too much, or you've been taking it too easy.
You also get recovery time recommendations in hours. These can be slightly confusing because a 20 hour recovery time doesn't mean don't train for 20 hours, that's just how long it will take your body to fully recover from your most recent session.
What is useful though is a piece of qualifying text that tells you what action to take, for example, train as usual or consider a rest.
There's a VO2 Max estimate too. We're only mentioning this so we can include the fact ours came in at 59, which according to Garmin is superior. And that's 100% accurate.
Music
Space for up to 500 songs
Control your phone's music from your wrist
Better streaming support is coming
As with the Garmin Forerunner 645 Music, the Fenix 5 Plus offers phone-free music with enough storage for up to 500 songs or lots of podcasts. You can stream these direct from the watch to your Bluetooth headphones.
To get music onto your watch you'll need to load it using the Garmin Express desktop tool. It's pretty easy to do but we'd love to be able to also do it from our phone.
You can also use the watch to control music on a paired smartphone. Though the supported partners are seemingly limited. Rumors of Deezer making its way onto the watch don't appear to have come true and when we asked Garmin if it was supported they couldn't tell us either way.
Spotify has also been announced for the Fenix 5 Plus, and you can download the app to the watch at some stage soon. We'll be sure to update this review when we've tried it out properly.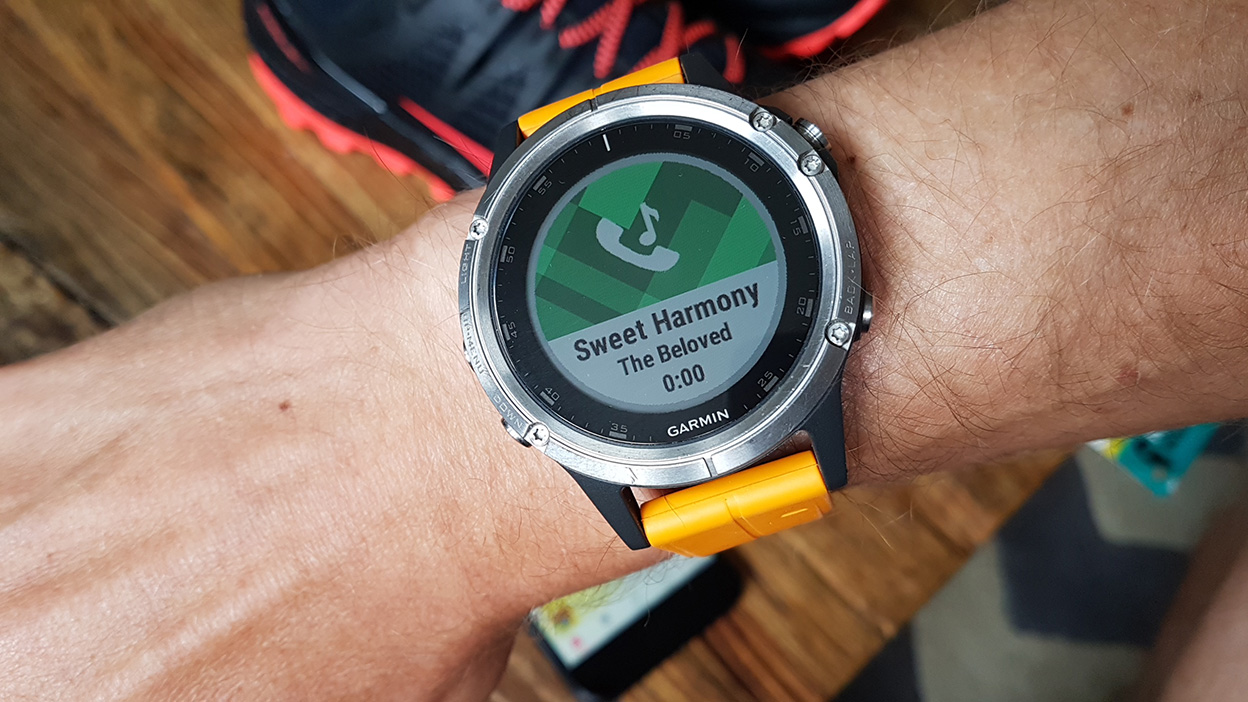 Garmin Pay
Allows for contactless payments
Limited supported banks outside the US
Being able to step out of your house and go for a run, ride or whatever without carrying phone, cash and keys is something we've wanted for a long time and Garmin Pay brings this a step closer on the company's devices.
In theory it will provide simple contactless payments for that bottle of water or post ride coffee, but the reality is that it's probably more useful in the US rather than the UK and Australia due to the limited number of banks who are signed up in those countries.
We didn't get to test it because our HSBC account, for example, wasn't supported at the time of testing. If you want to see if your bank is supported, you can do so here.
Smart notifications
Can get alerts for a variety of things
You can't customize when you get them
Another feature that's fast becoming a staple on Garmin's running watches, you can pair your Fenix with your smartphone and get pestered by incoming alerts for all your WhatsApp messages, Instagram alerts, emails and phone calls.
The main problem we have with this is you can't customize which alerts come through on the watch. It's either everything on, everything off, or you'll need to fiddle with your alert settings for each app on the phone.
So, for example, you can't just say 'Give me WhatsApp messages only while I trail run.' The end result is the interruptions are likely to drive you to switch this off.
The app, web tools and syncing
Powerful, customizable app and tools
Easy syncing over Bluetooth or Wi-Fi
The Fenix 5 Plus syncs automatically with Garmin Connect over Wi-Fi the moment you step back through your front door. Though you can also pair it with your smartphone and send your workout via Bluetooth, which is handy if you're out on a multi-day adventure a long way from home.
In our tests syncing was relatively fast (under a minute to transfer our latest workout) and reliable.
The Garmin Connect app and web tools will no doubt continue to divide opinion but from a design and ease-of-use perspective it has come on leaps and bounds in the space of a few years.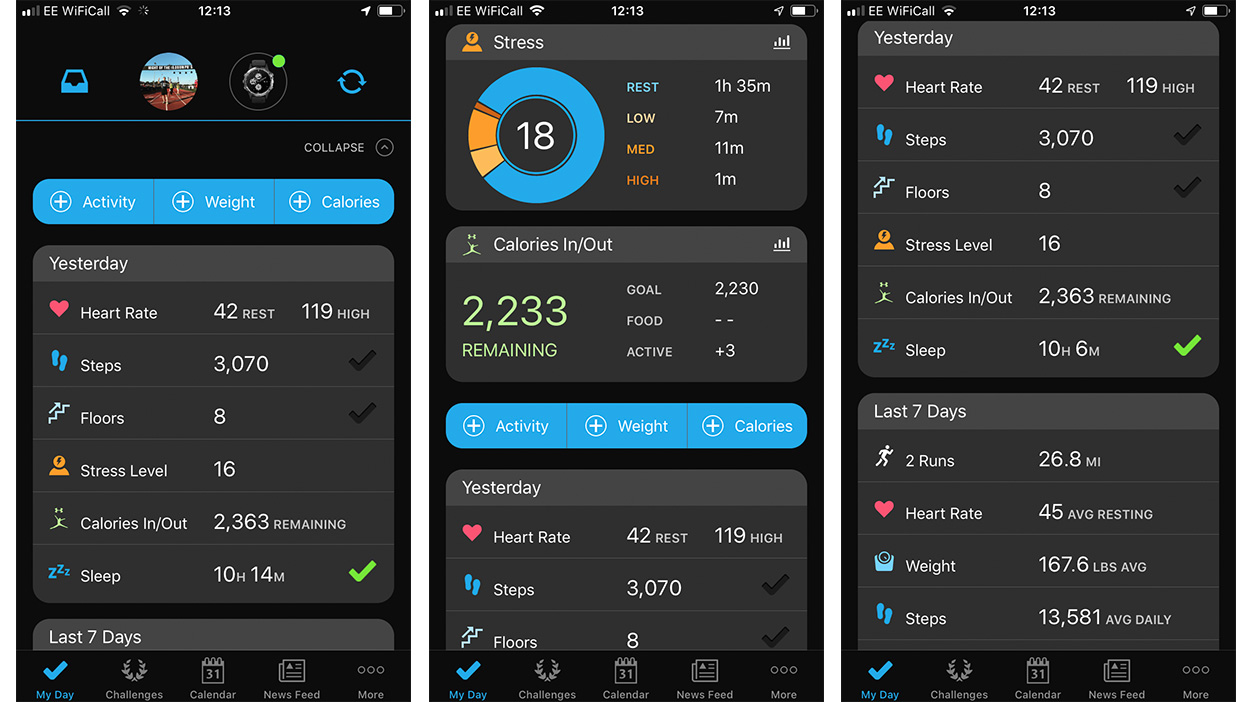 The customizable day view now comes with a set of graphs and charts to show everything that's been going on in your world. It's comprehensive if occasionally overwhelming with heart rate (resting and high), steps, floors climbed, your stress levels and how long you've spent in a rest, low, medium or high state of Aaaaaargh.
You can also see your sleep broken down into deep, light, REM and awake. And finally there's an overview of yesterday's stats in full, including any workouts.
If you want to dive even deeper into the stats, create goal-based training programs and the like, you can do all that too.
We could easily do a full review of Garmin Connect in its own right but it's safe to say that what's on offer here on the web and in the Android and iOS apps is easily one of the best partner tools you'll find with a sports watch. It's certainly better than Suunto's offering and on par with Polar Flow.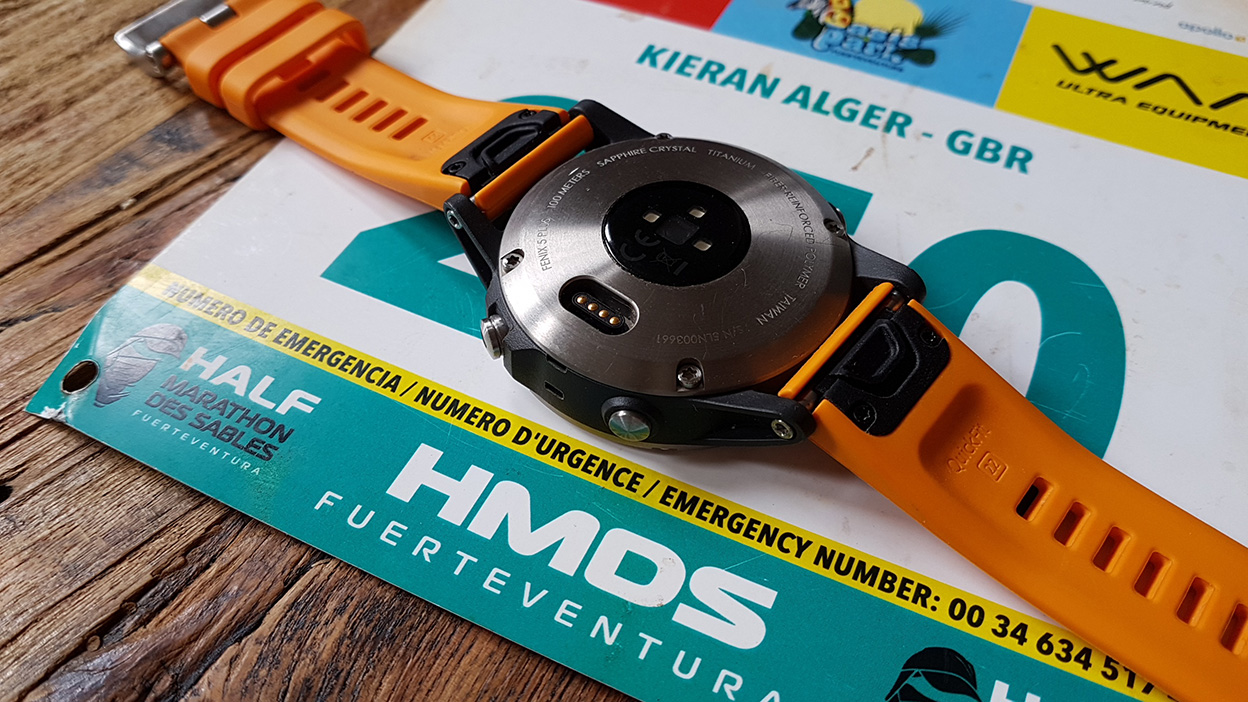 Battery life
Lasted 6 days, including 17 hours of running with GPS
Battery life is worse than its predecessor
When it comes to battery life the Garmin Fenix 5 Plus can't match the 120-hour boasts of the Suunto 9. In fact the 5 Plus doesn't even match its non-Plus predecessor.
The official numbers suggest you'll get up to 12 days in smartwatch mode and 8 hours in GPS mode with music.
Without music and with the right settings tweaked you should be able to extend this up to 18 hours in GPS mode (that's down from 24 on the non-Plus) and up to 42 hours (down from 60) in UltraTrac mode, though with lower fidelity GPS.
To put this battery life to the test, we took the Fenix 5 Plus to the 4-day multi-stage ultra-marathon, the Half Marathon des Sables in Fuerteventura.
During the event it coped with 17 hours of running with GPS in UltraTrac mode, plus four days of general usage, though we'd switched off all the smart notifications and the wrist heart rate, and it only needed charging again after six days in total.
There's still enough juice there for most activities, provided you're smart with your settings, but for some people the cut back in battery will be an issue, particularly when competitor devices are pushing for more life not less.
Garmin knows what it is doing when it comes to making running watches, and the Fenix 5 Plus is one of the best examples of that.
We've tried out the watch in some of the most extreme circumstances we could, but the fact is this is a device that can handle almost all the adventures you're looking to throw it into.
It's not built for everyone though; and that high price is sure to put some people off. If not, you may want to also consider the Fenix 5X Plus and Fenix 5S Plus as well as the rest of the Garmin watch range.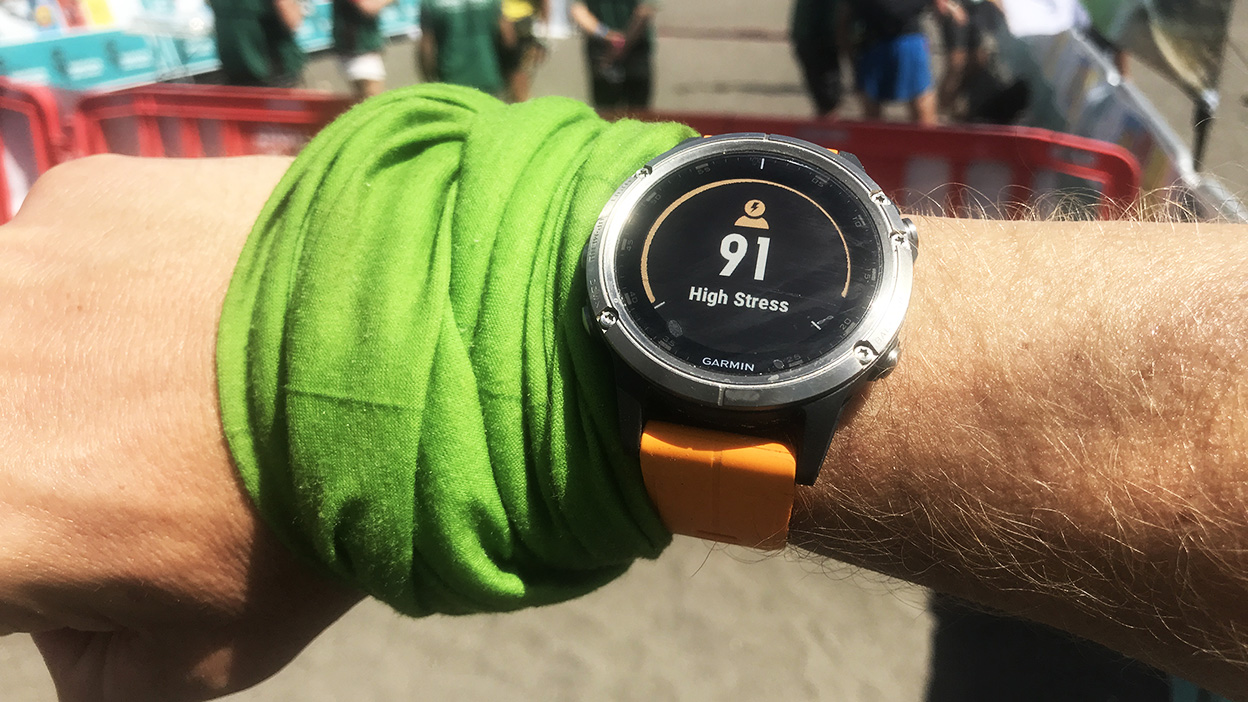 Who's this for?
This is a serious multi and adventure sports watch for people who are very serious about performance.
However, unless money is no object or you're someone who swims, bikes, runs, hikes and is seriously committed to outdoor adventure, we'd be hard pressed to recommend you shelling out for the Fenix 5 Plus. Buying this if you're just running around your city would be a waste of your money and this watch's skills.
Should you buy it?
We're torn on this one. We really like this watch because it's packed with features, it wears well, the battery life is just about ample enough and Garmin Connect is improving all the time, but it's really hard to ignore that hefty price tag. Particularly when you can pick up a Suunto 9 for less than the cheapest Fenix 5 Plus model.
Ok, so you've then got to grapple with Suunto's often frustrating usability and an app that's nowhere near as good as Connect, but you're getting a significant saving.
Is there a compromise? Maybe shooting for the cheapest end of the Fenix range could be a smart option, but before you do, ask yourself some hard questions about how serious you are about your multisport. If you're really just a runner who swims once a month there might be a better option.
First reviewed: October 2018
from TechRadar - Technology Reviews http://www.techradar.com/reviews/garmin-fenix-5-plus-review