Garmin is best known for its high-end running watches and sports-specific devices, like the Approach S10 GPS watch, which is built for golf. The brand's wearables do a great job at tracking fitness, as well as analyzing that data so wannabe athletes know when they should be resting or pushing harder.
But you don't need to be training for a marathon or raking in an eye-watering salary to get your hands on some Garmin smarts. Its Vivosport, Vivofit and Vivosmart ranges provide a more affordable selection of trackers that still focus on fitness, but give users an everyday option instead.
The latest entry to the Vivosmart line is the Garmin Vivosmart 4. It's a slimline wearable that's swim-friendly and comes loaded with fitness and well-being features that are designed to help you become more active, healthier and less prone to stress and burnout.
It does this through its range of sensors and features, including a Pulse Ox sensor that estimates blood oxygen saturation, an optical heart rate sensor, stress tracking, and guided breathing, plus Body Battery energy monitoring, which helps you figure out when you're primed to be active or when you may need to rest.
We tried it out for two weeks to see whether it really delivers on its bold promises to keep us all active, rested and stress-free.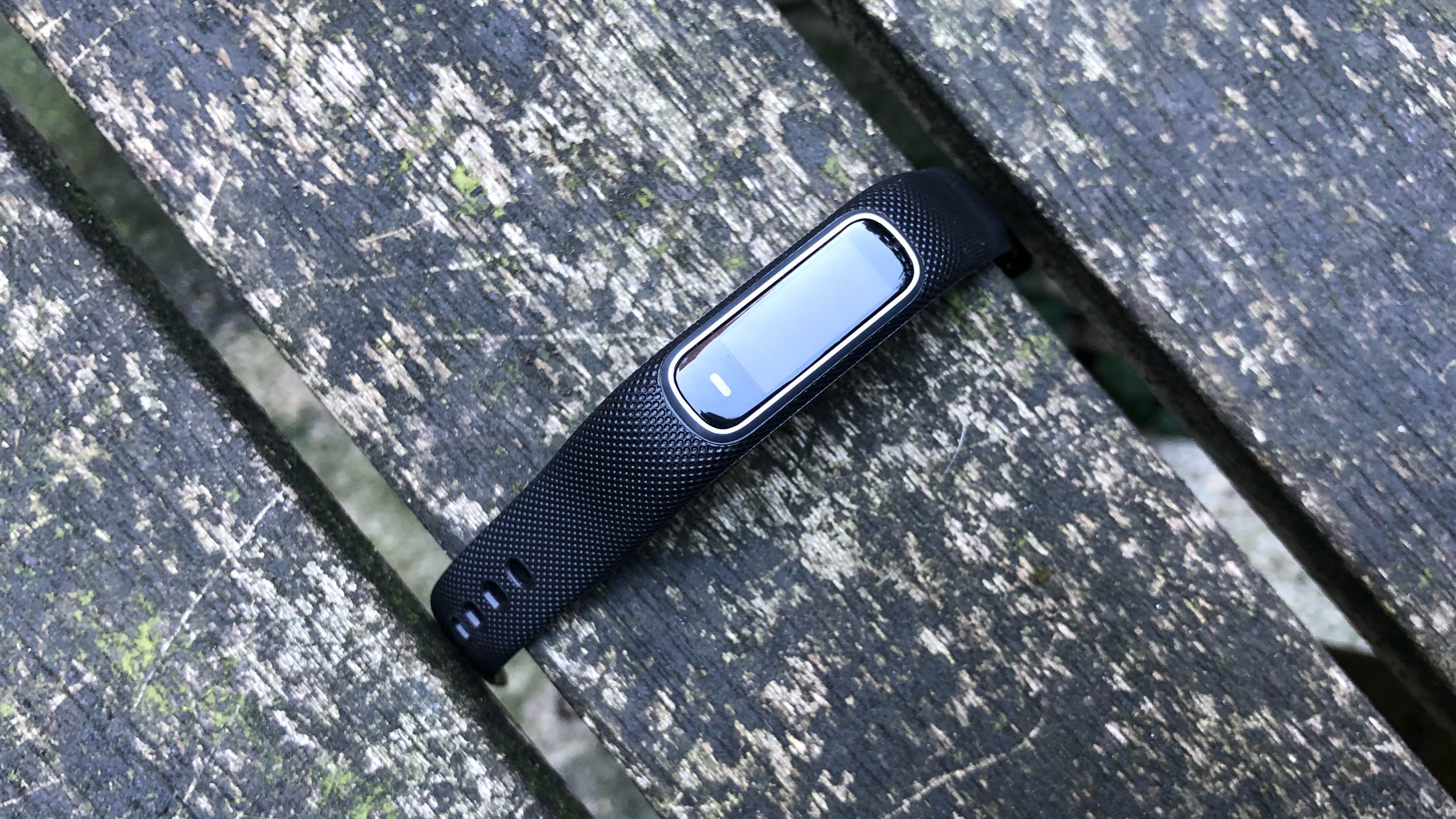 Garmin Vivosmart 4 price and release date
Launched in September 2018
The Garmin Vivosmart 4 costs $129.99 (£119.99, AU$199)
The Vivosmart 4 was launched at IFA 2018 at the beginning of September 2018. It then hit most markets towards the back-end of the month.
At $129.99 (£119.99, AU$199) it's one of Garmin's cheaper activity trackers and the latest addition to the Vivosmart line.
The only more affordable option from Garmin right now is the Vivofit 4, which we rated highly in our review for its incredible battery life and color screen. But that was much more basic that the Vivosmart 4, lacking both the optical heart rate tracking and Pulse Ox sensor that the new device offers.
The wearables currently on the market that the Vivosmart 4 will likely be up against include the Fitbit Alta, which has a similarly slim form factor, but the Vivosmart 4 shares more features with the Fitbit Charge 3 and at £129.99 / $149.95 / AU$229.95 that's a very similar price point too.
All in all the Garmin Vivosmart 4 may not be a budget tracker, but considering it covers all the features you'd need, it's packed with some newer sensors and it has the Garmin seal of approval, this is reasonably priced and worth the money.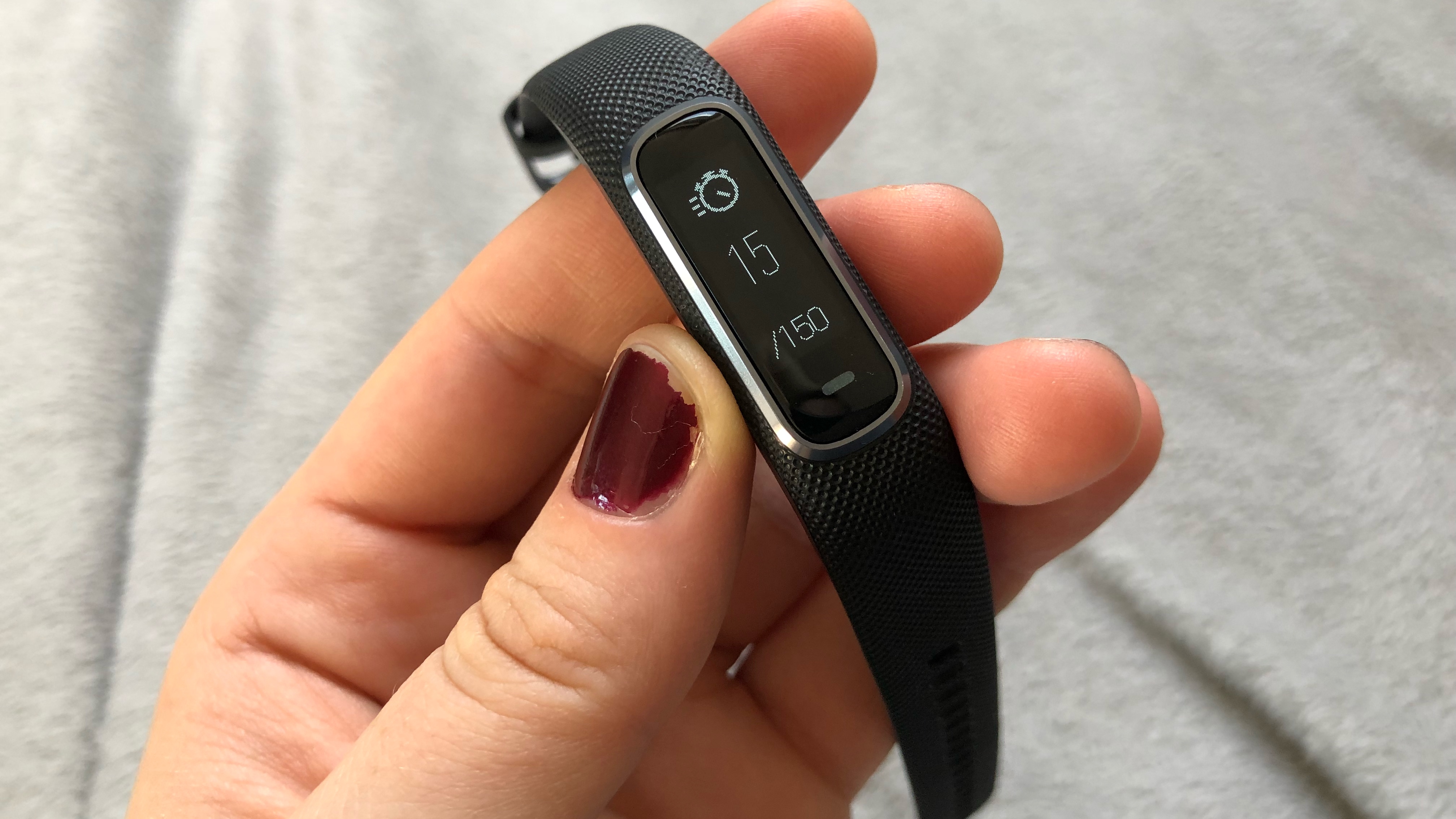 Design
Super slim design
Comfortable silicone strap
Screen is sometimes too small
Activity trackers are no longer chunky and just built for the gym. The Vivosmart 4 is a slim fitness tracker that would suit most people for 24/7 wear, especially if you opt for one of the more subtle colors.
It has an aluminum bezel around the screen and metal accents, which come in a range of colors. There's berry with a gold bezel, powder grey with a rose gold bezel, azure blue with a silver bezel and black with a slate bezel.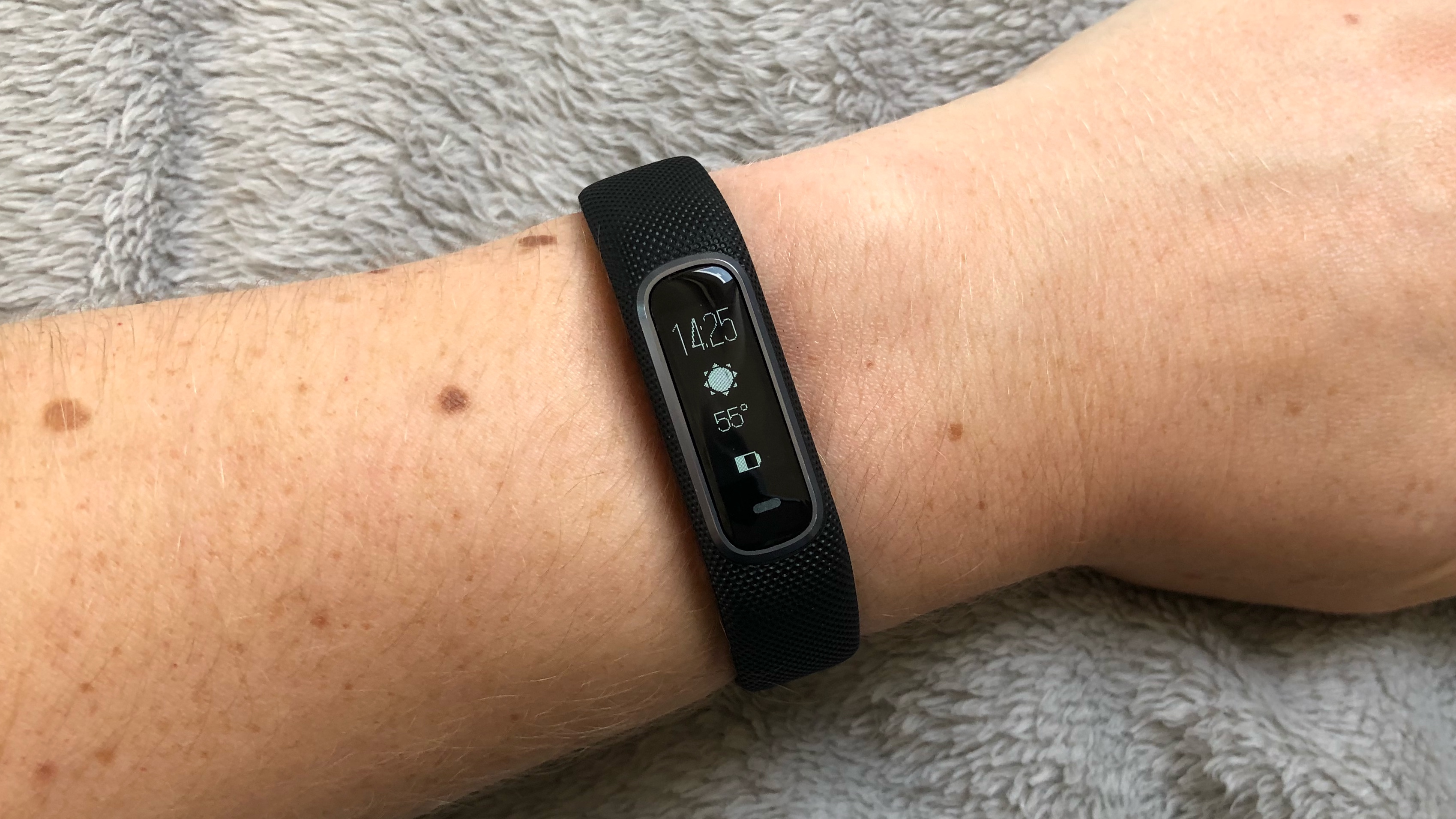 It's worth mentioning that the silicone strap is built in to the device, which means you do need to spend some time working out which color you really want because you won't get to switch it out later.
Unlike a lot of similar-sized trackers, there's a traditional watch buckle to keep the silicone strap in place rather than a push-in stud and this is very good news. The push-in fastenings aren't always reliable, especially during a workout.
It also seemingly makes the strap more comfortable. Silicone straps sometimes irritate our wrists, but this one didn't cause any problems, even when worn all day, all night and for the best part of a week before taking it off to charge.
The Vivosmart 4 comes in two sizes, there's small/medium, which is 16.5g and designed to fit wrists with a circumference of 122-188mm. The large option is 17.1g and is for those with a wrist circumference of 148-215mm.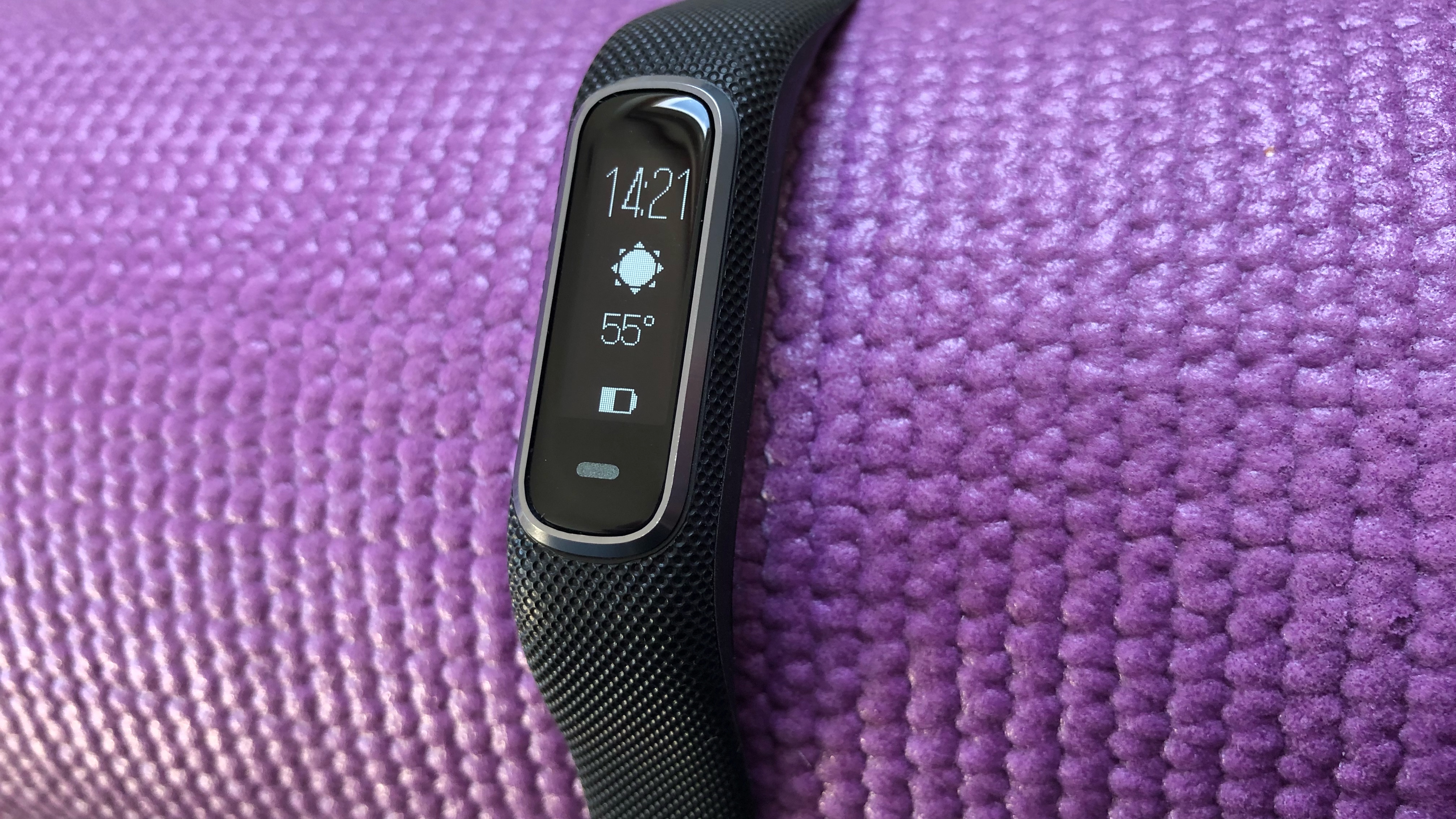 The 6.6mm x 17.7mm OLED display has a 48 x 128 pixel resolution and it's bright, with an auto-adjust feature that dims down to ambient light levels, meaning you can read it in all kinds of lighting environments.
One of the biggest downsides of the Vivosmart 4 is the fact the screen is so small. Sure this is necessary for the device to take on a slim form factor, so we can't complain too much. But it does take a while to adjust to seeing text half cut off, icons in menus rather than words, and make sense of how to navigate through the interface.
The Vivosmart 4 has 5ATM waterproofing, which means you can wear it in the shower and take it for a swim. We found it worked well at the pool, but the smaller screen felt even more difficult to see and interact with when wet.
On the rear of the device there's an optical heart rate sensor, which sits flush against the skin and doesn't leak too much light out during the night when it's tracking your resting heart rate (RHR) as you sleep.
Fitness
Can track a whole range of activities
Has a reasonable automatic tracking feature
No GPS
The Garmin Vivosmart 4 can be worn as an everyday tracker, but the sensors inside are capable of keeping tabs on all kinds of things, including your fitness, lots of activities, your heart rate, all-day stress tracking, VO2 max and the Body Battery energy monitor.
There are a range of activities to choose from in the Vivosmart 4's fitness menu, including walks, runs, strength training, yoga, pool swims and a few others.
At the very least, the device will time your exercise, but it will also collect more data depending on what you're doing. So if you're strength training, it will also track your exercises, reps and sets, along with your work and rest times.
In our testing we found the strength training feature mostly worked well, it missed a rep here and there, but it saves taking a notebook to the gym.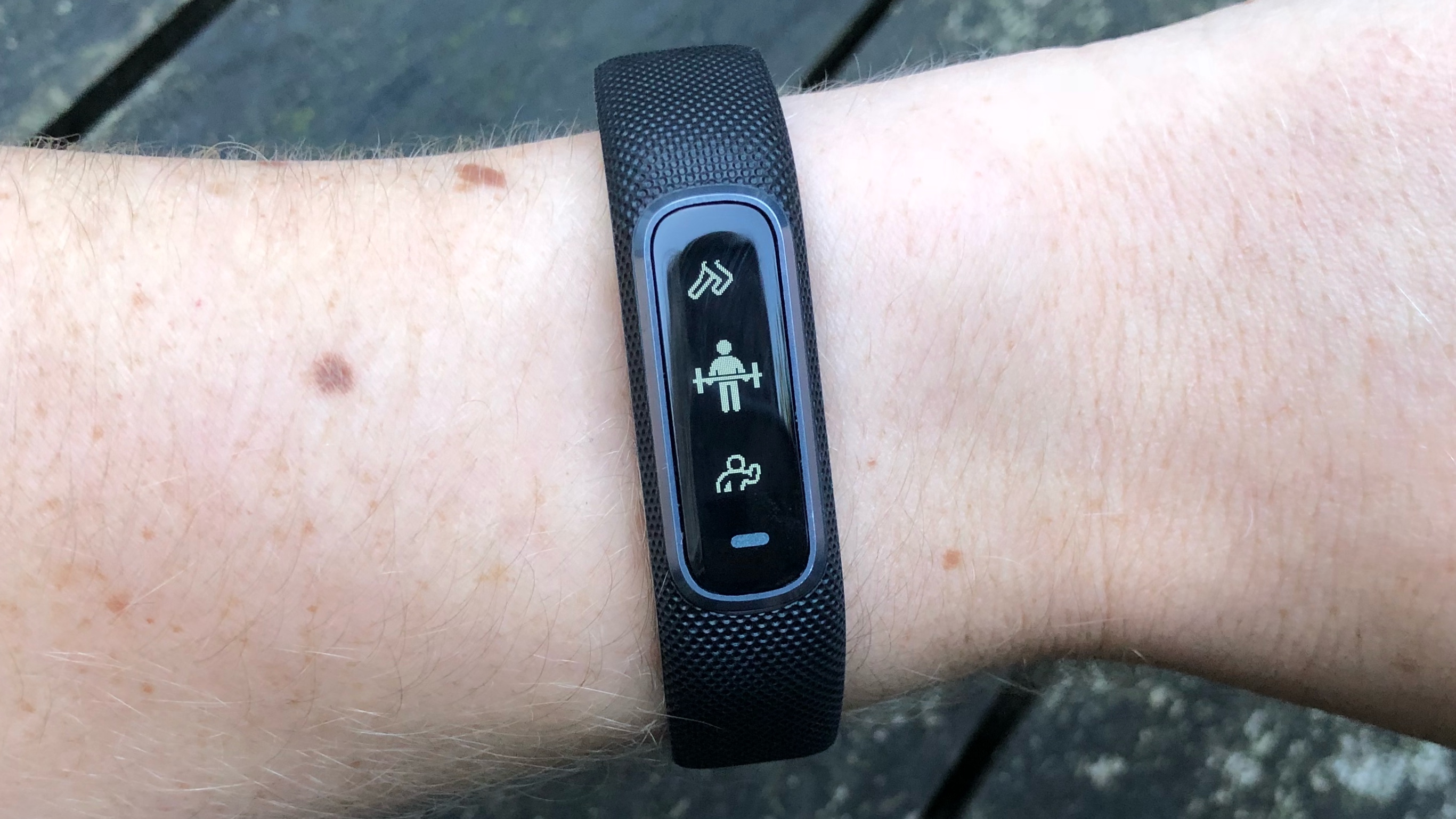 If you forget to start the timer, the Vivosmart 4 can automatically begin tracking some workouts, including swimming, walking, cycling and elliptical training.
It was exceptionally good at tracking walking and swimming, but registered elliptical training as walking once too, so although the automatic tracking does work, it won't always be spot on.
If you're an outdoor runner, hiker or cyclist you'll be disappointed as there's no on-board GPS. If you're really dedicated to one of those activities, it might make more sense to shop around Garmin's higher-end or more targeted trackers instead. This one is for casual users, it's multi-purpose and it prefers to be indoors.
Heart rate
Includes a VO2 max estimate and fitness age
Heart rate data seems accurate
Fitness tracking is made much more detailed with the optical heart rate sensor. The device will keep tabs on your heart rate for all of the activities it times, and we found this to be very accurate. Unlike a lot of more affordable trackers that tend to lose heart rate data when it reaches top intensities, the Vivosmart 4 stayed consistent.
Of course if tracking heart rate is extremely important to your health or training, it might make sense to opt for a more high-end Garmin device, but for everyone else the HR tracking is very good.
But the heart rate sensor isn't just useful for fitness. The Vivosmart 4 combines heart rate data with a VO2 max estimate to give you an idea of your fitness level and age.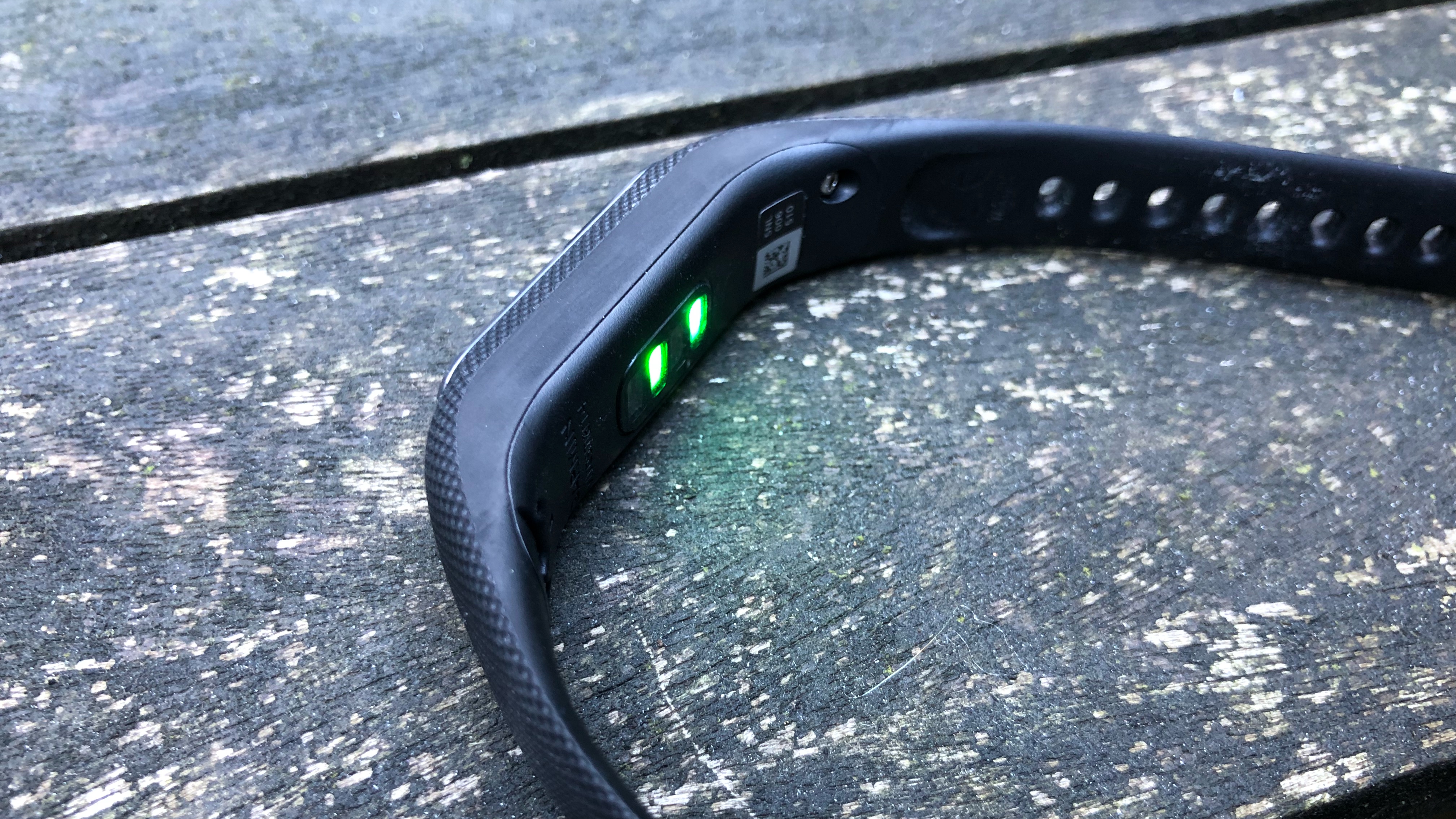 This is likely to be pleasing for some (we're 31 and have the fitness of "an excellent 20-year-old", go us!) and a bit disappointing for others, but either way it's a nice measurement to have the opportunity to change and improve over time.
You can also opt-in to have the device notify you if your heart rate unexpectedly rises above a certain threshold, which you can set. If you stay inactive for more than 10 minutes and your heart rate skyrockets above that threshold the whole time, you'll be alerted.
Although this is a bit more simple in comparison to the Apple Watch 4's latest heart rate features, it's a big step in the right direction for giving consumers more visibility and insight into metrics you'd have had to visit a doctor to find out in the past.
Body Battery
Handily tells you how worn down you are
Doesn't give enough insight about what to do with your score
Body Battery is a proprietary metric from Garmin that's essentially a measure of how wiped out you are each day. It uses data including your heart rate variability (HRV), sleep quality, stress levels and activity to figure out a number between 0 and 100.
The idea is if it's dwindling you should take it easy, rest and do what you can to reduce stress. The higher it is the more you can push yourself, work out and generally be active and busy.
This is really handy for physical as well as mental health so you don't burn out. It also works to show you patterns throughout your week, so you can see trends over time and maybe figure out why you have fluctuations in your energy levels.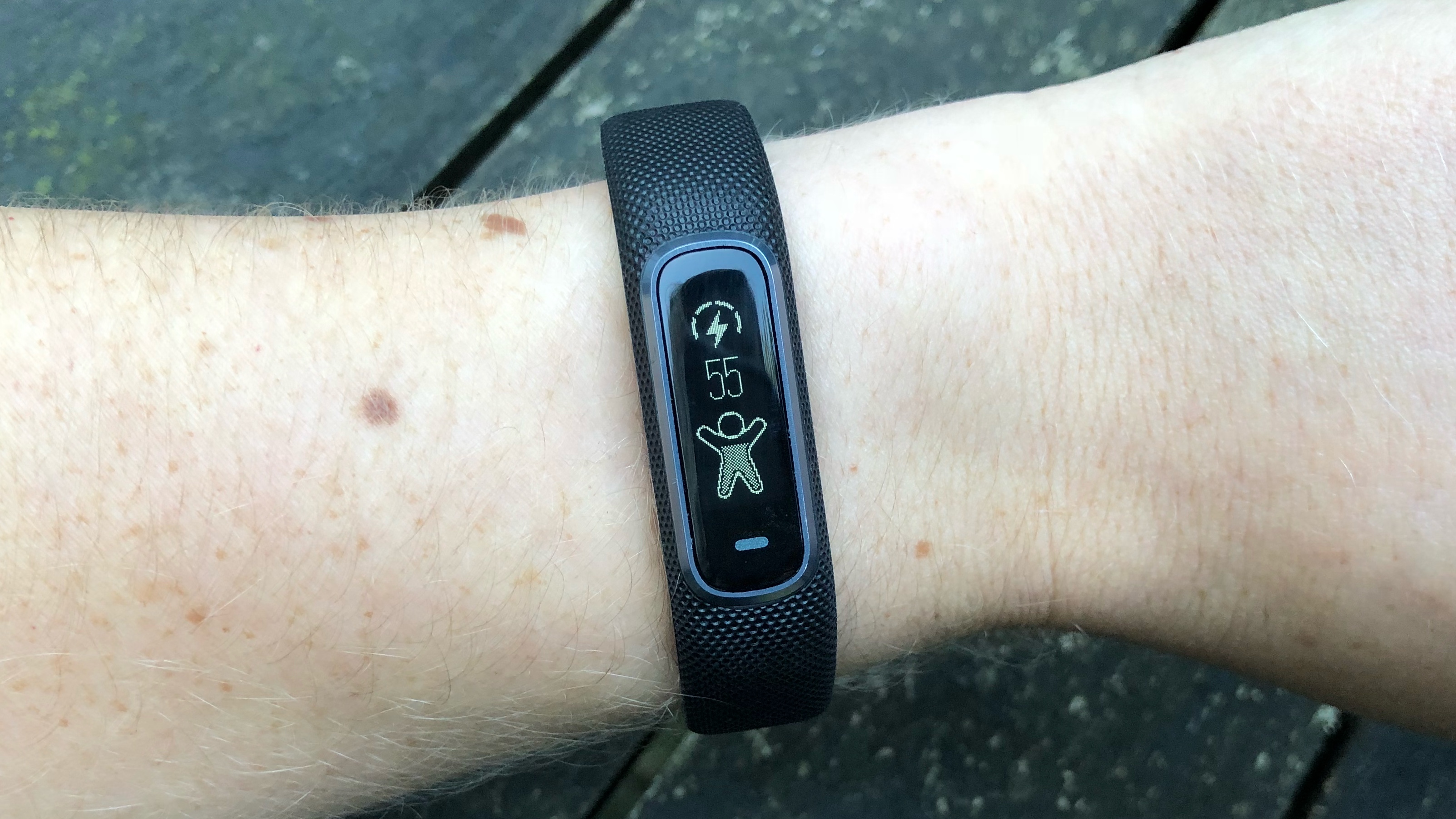 It becomes fun to try and increase your battery, which can change throughout the day. It's difficult to find the balance at first. The more you work out the better you'll feel, but overdo it and that battery will drain. Sit down a lot and it might add back up, but won't be contributing to it over time.
Although it's a great addition, it would be good to get a few more specific tips and suggestions. Right now you need to go and look at what might be causing a low battery rather than the app offering up suggestions and actions to take next.
Sleep tracking
Detailed, accurate sleep tracking
Can track sleep stages, blood oxygen, VO2 max and SpO2
Thanks to the Vivosmart 4's sensors, sleep tracking is accurate and highly detailed. It can monitor REM sleep and track blood oxygen saturation levels during the night with the Pulse Ox2 sensor.
Throughout a series of graphs it can differentiate between light, deep and REM stages of sleep, along with movement throughout the night.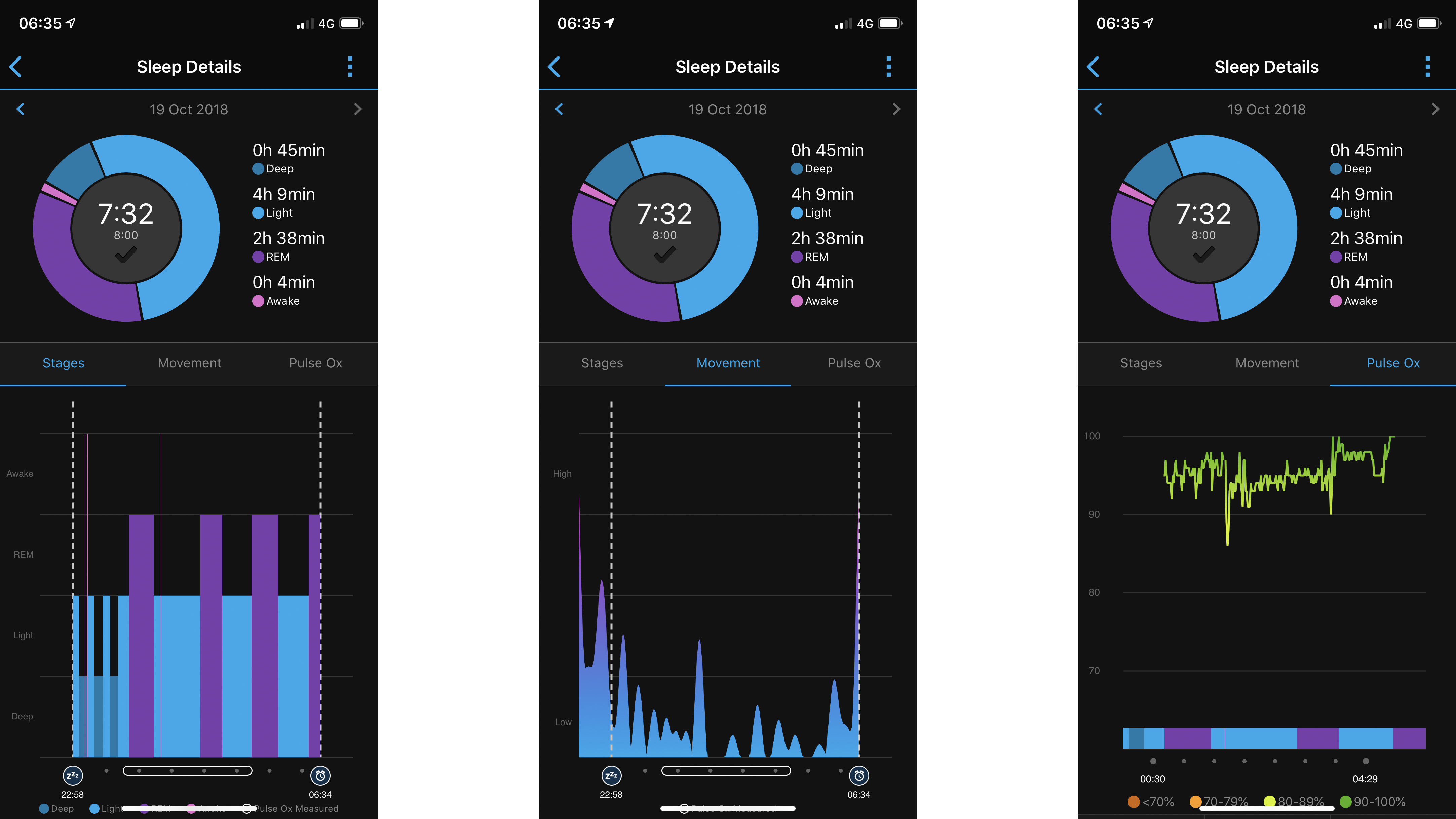 The Vivosmart 4 has a pulse oximeter, which can keep tabs on your VO2 max, your SpO2 and your level of blood oxygenation. This is interesting, even if you're not given much info about what it means. It's probably much more valuable if you have a condition that requires that kind of tracking, such as sleep apnea.
Stress
Can monitor your stress levels
Includes a guided breathing exercise
The Garmin Vivosmart 4 uses your heart rate data to track your stress levels throughout the day and tells you whether your day has been calm, balanced or too stressed.
There's also a 'Relax Reminder' feature, which you can turn on in the Garmin Connect app. This will send you an alert when your stress levels are elevated and ask if you want to take a moment to breathe. If you do it will give you a simple, guided breathing exercise.
As with all stress tracking tools, this worked wonders sometimes. Other times it made us stressed to realize we were stressed.
Battery life
Lasts up to a week
We got 5 days out of it with everything on
Charges quickly
Garmin promises the Vivosmart 4 can keep going for up to 7 days, but that's without the Pulse Ox sleep tracking switched on.
We had everything on and found it lasted just over 5, which is really great considering we walked everywhere with it, used notifications and worked out most of those days too.
Charging is fast, just over an hour powered us through those 5 days. This is one area where it really shines and if you're not sure whether to choose this or a more advanced smartwatch, battery may be the determining factor.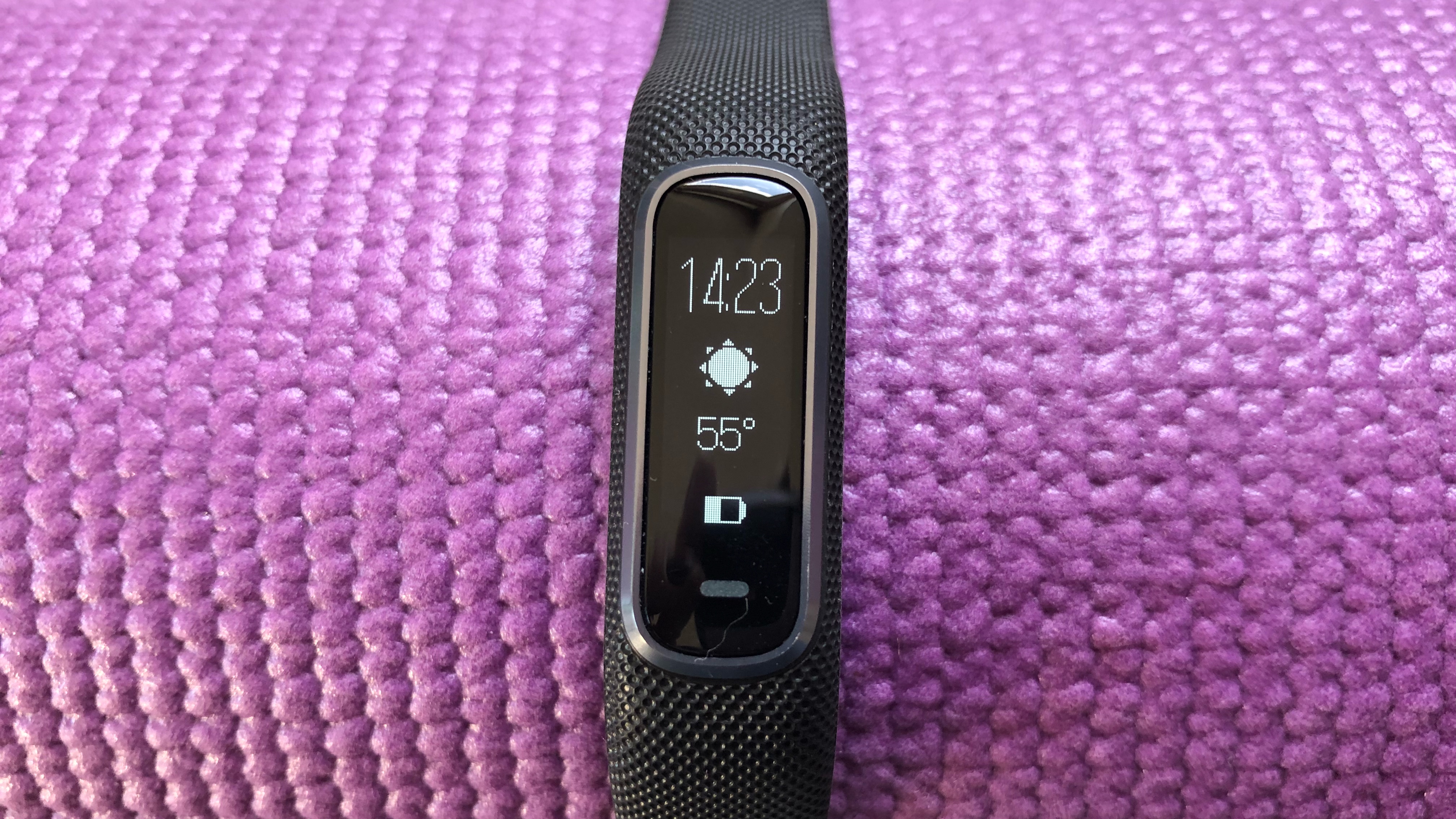 Notifications
Customizable phone notifications
Sometimes text cuts off and is unreadable
You can get vibration alerts for all notifications, including calls, text messages and apps, which you can customize within the app so you won't see anything you'd rather not have on your wrist.
You can often view the first line of the notification and a little icon to indicate if it's an email, message or alert from an app.
In this way you're mostly being notified about a notification rather than being able to read it fully and this worked better for some notifications than others. For example, email showed an envelope, who it was from and a subject line, which was handy.
If you've got an Android device, you can reply with preset messages to texts, but on iOS you can't. Although this doesn't seem like a big pain point as it's tricky to do it via the screen.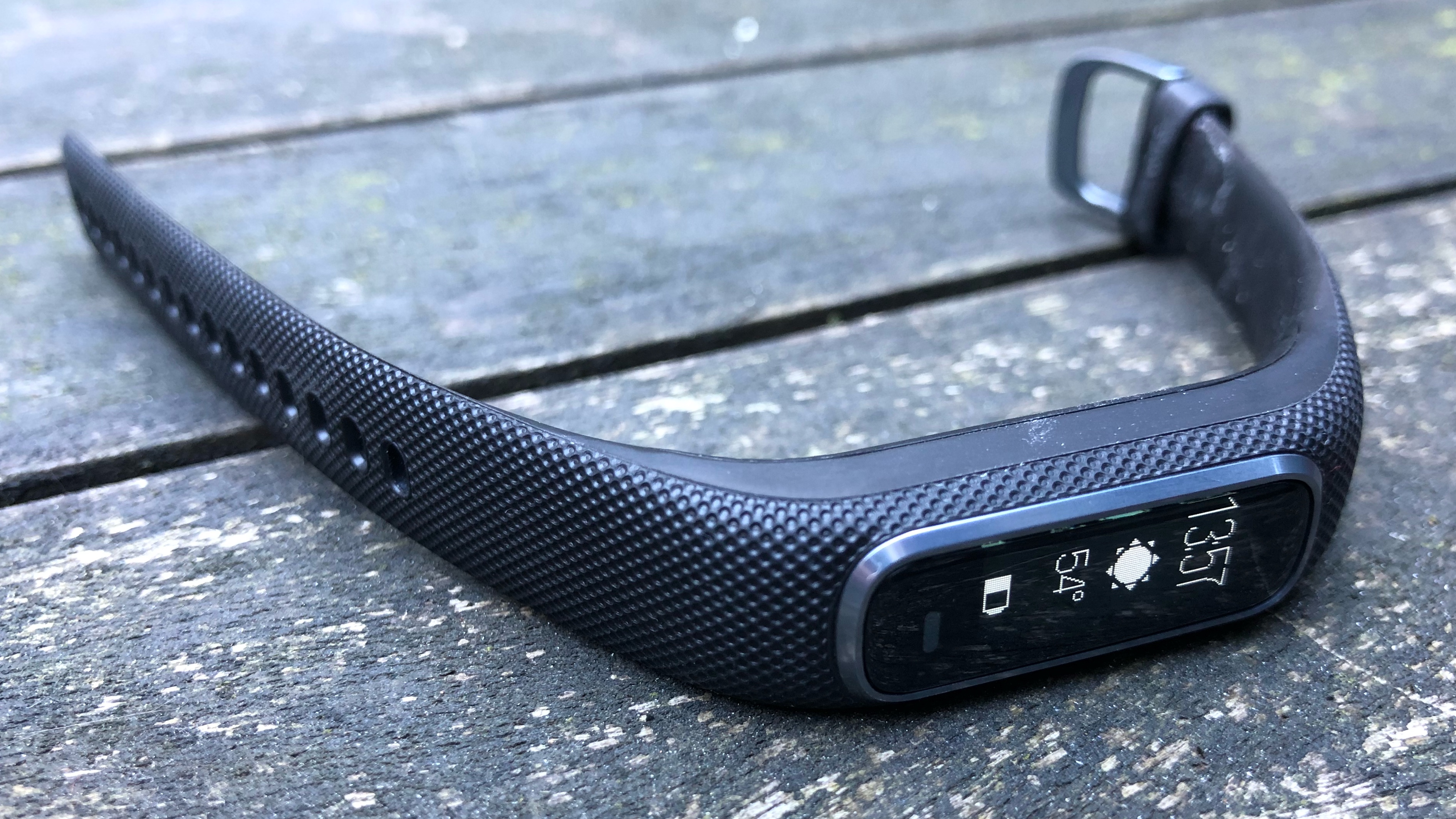 Interface
Screen can be a bit unresponsive
Interface is generally intuitive
The screen isn't always as responsive as we'd have liked it to be, which is one of the biggest bugbears with the tracker. It was never completely unresponsive, it just took more than two taps to activate the screen a lot of the time and sometimes the lift to switch on feature for telling the time didn't work at first either.
When you're navigating through the bright OLED touchscreen, it does also take some patience to learn how to work it, what everything means and where the different menus are. But it is mostly intuitive and should only take you a day or two to get your head around.
There's a sensor at the bottom that isn't a physical button, but acts like one, giving you a little buzz of haptic feedback when you push it. The function of this 'button' changes, but mostly takes you back to the home screen and time, which is handy when you get a bit lost in the menus.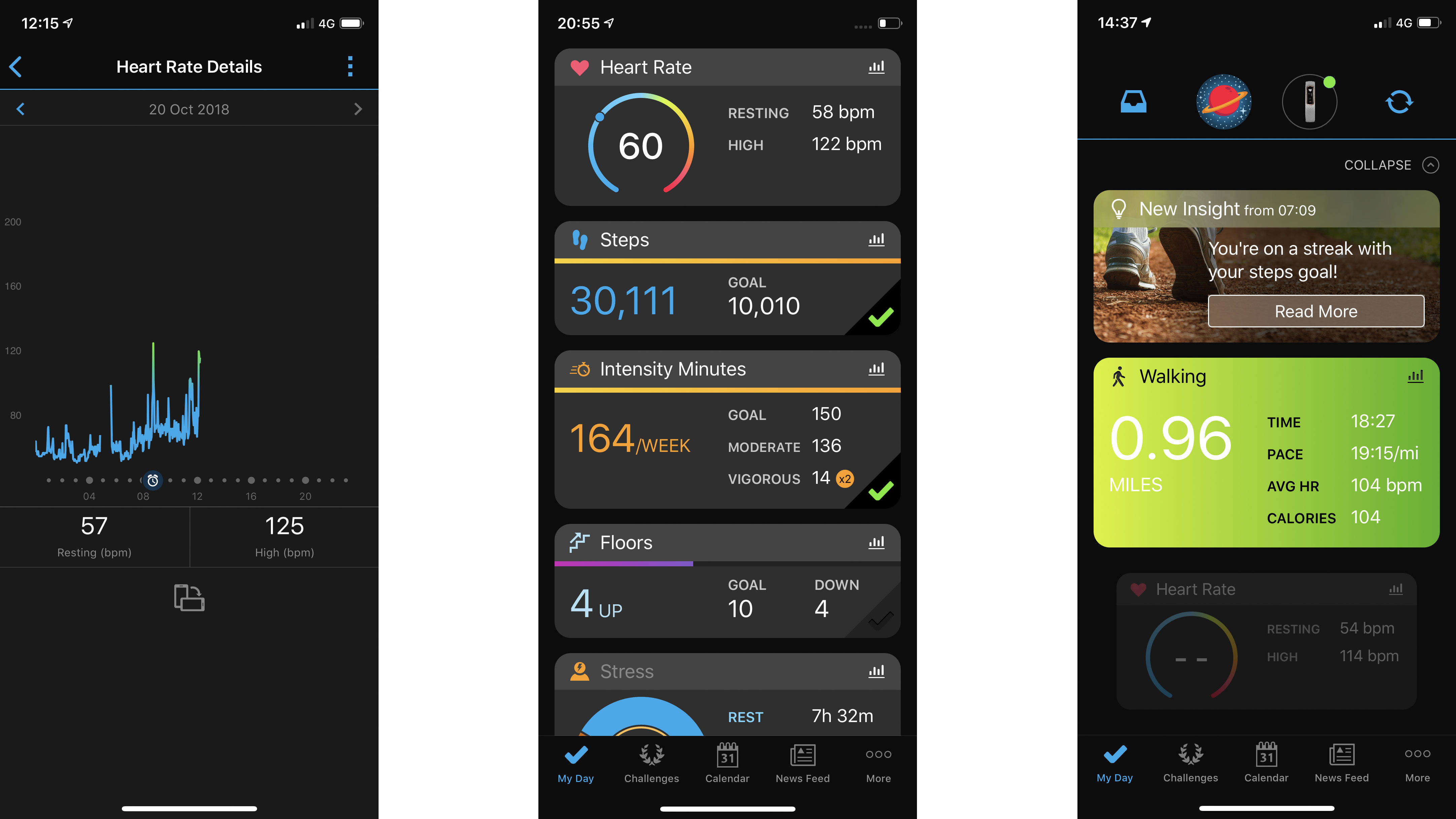 App
Easy to see progress at a glance
Lots of information is available and generally easy to grasp
The Garmin Connect app is one of our favorites. It's simple to understand because the home screen features a set of cards displaying key pieces of information. Glance at the home screen and see which sections you've received a green tick for, or tap on one of the areas to see the data in much more detail.
The app is great for when you don't need to know much other than how you slept, but if you want to really dive into how you've been doing the charts, colors and bold text ensure that making sense of pretty detailed data is as user-friendly as possible.
Verdict
On paper the Garmin Vivosmart 4 tracks a lot of the same things other activity trackers do.
But thanks to the added Pulse Ox sensor, stress features, heart rate tracking and Body Battery, it feels like you can actually learn and do much more with the data, and focus on well-being and safeguarding against burnout rather than just tracking your fitness.
Although tracking of everything is excellent and easy-to-read, from fitness to Body Battery to blood oxygen levels, there isn't enough insight or personalization for the layperson just yet.
You really have to know what you're looking for from a heart rate or pulse perspective, which is probably fine for most Garmin users, but if this device is meant to be for a wider, more consumer-friendly audience it might need some added insights and personalization soon.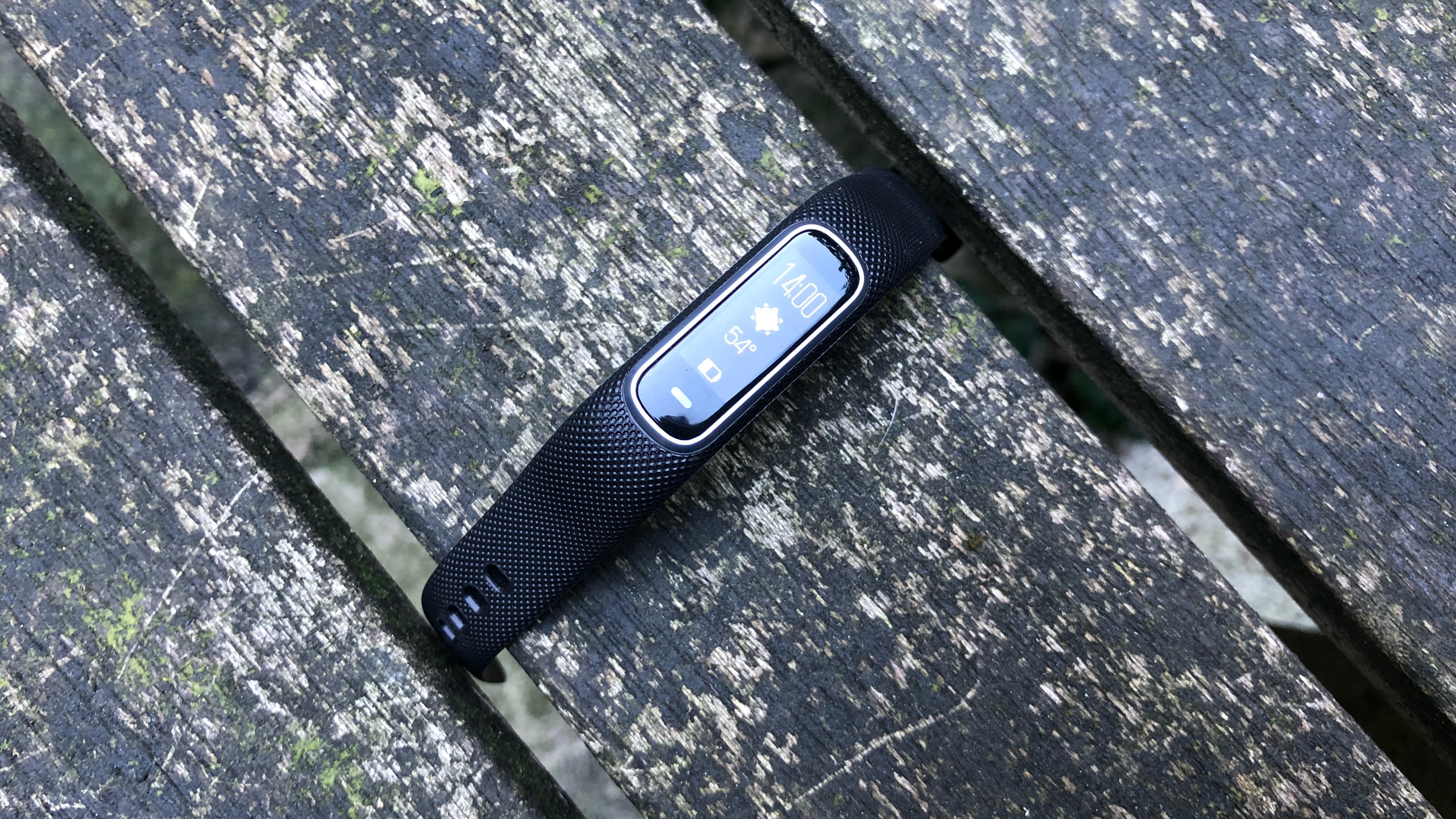 Its design is great, slim and subtle. Its small screen is necessary to keep the form factor small, but could be too small for some people. We certainly found it irritating to use at times, especially when it got wet in the pool.
Those tempted by a big, bold smartwatch screen should definitely look elsewhere because this couldn't be further from the bright, crisp screens of the current crop of Wear OS watches.
Overall it's great to see Garmin further push its more affordable, everyday wear devices to bring a wide audience way more insights. We really liked the added sensors, being presented with well-being info and checking in on the Body Battery feature, which genuinely helped us to change our routine for the better.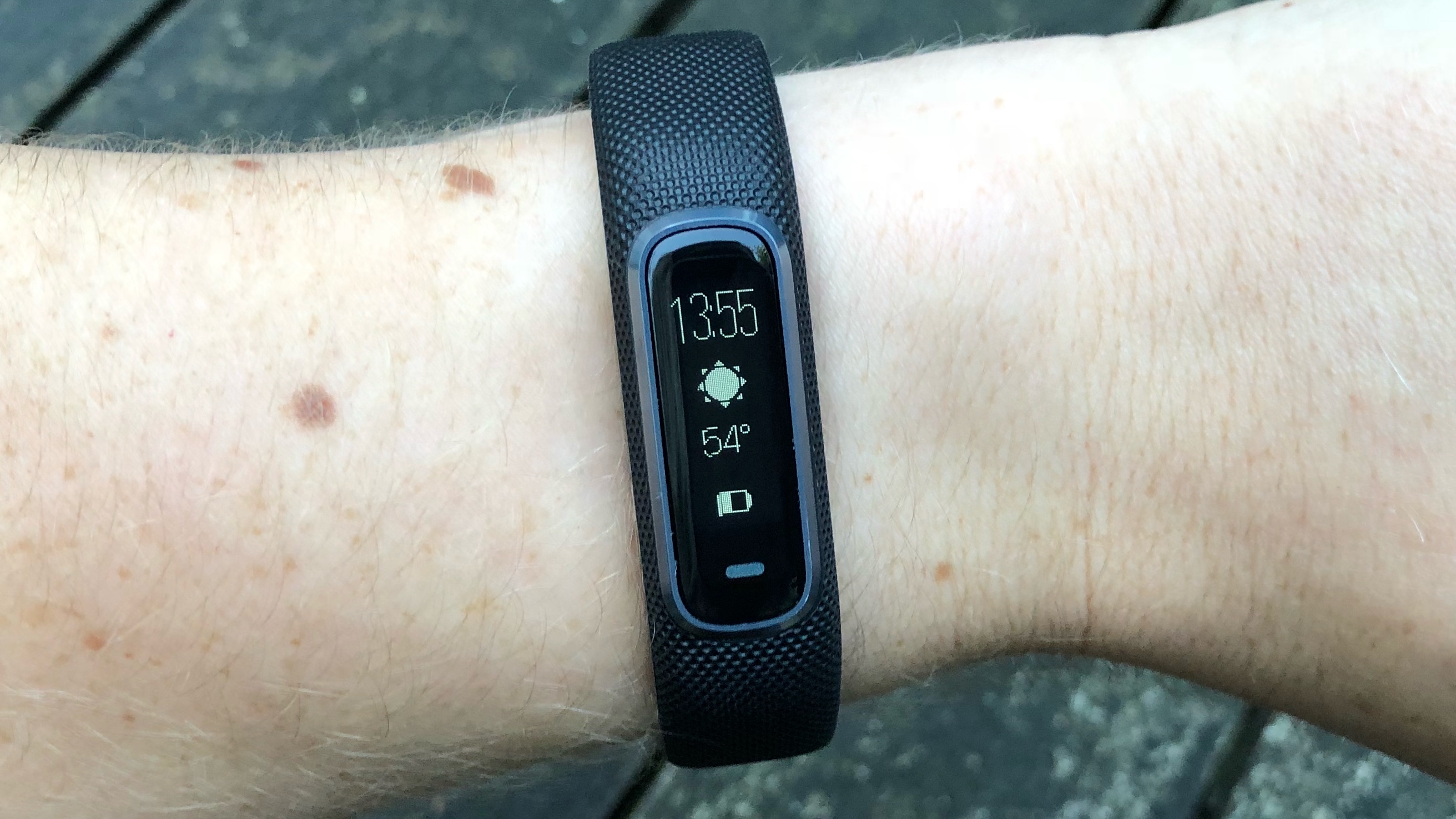 Who's this for?
Although it has mass appeal with its slim form factor and easy-to-use app, we imagine it will most appeal to those who work out regularly, but aren't serious about training hard or collecting data with pinpoint accuracy.
Instead it's for those who exercise and those who want to learn more about not just their fitness levels, but their overall well-being. If you're drawn to the bright screens and fancy apps on offer from smartwatches, this one won't be for you.
But if you want a subtle design that will see you through from the pool to the pub and tell you how your body is doing every lap, length and step of the way, this might be your new favorite tracker. Just be prepared to do some reading around heart rate and blood oxygen levels.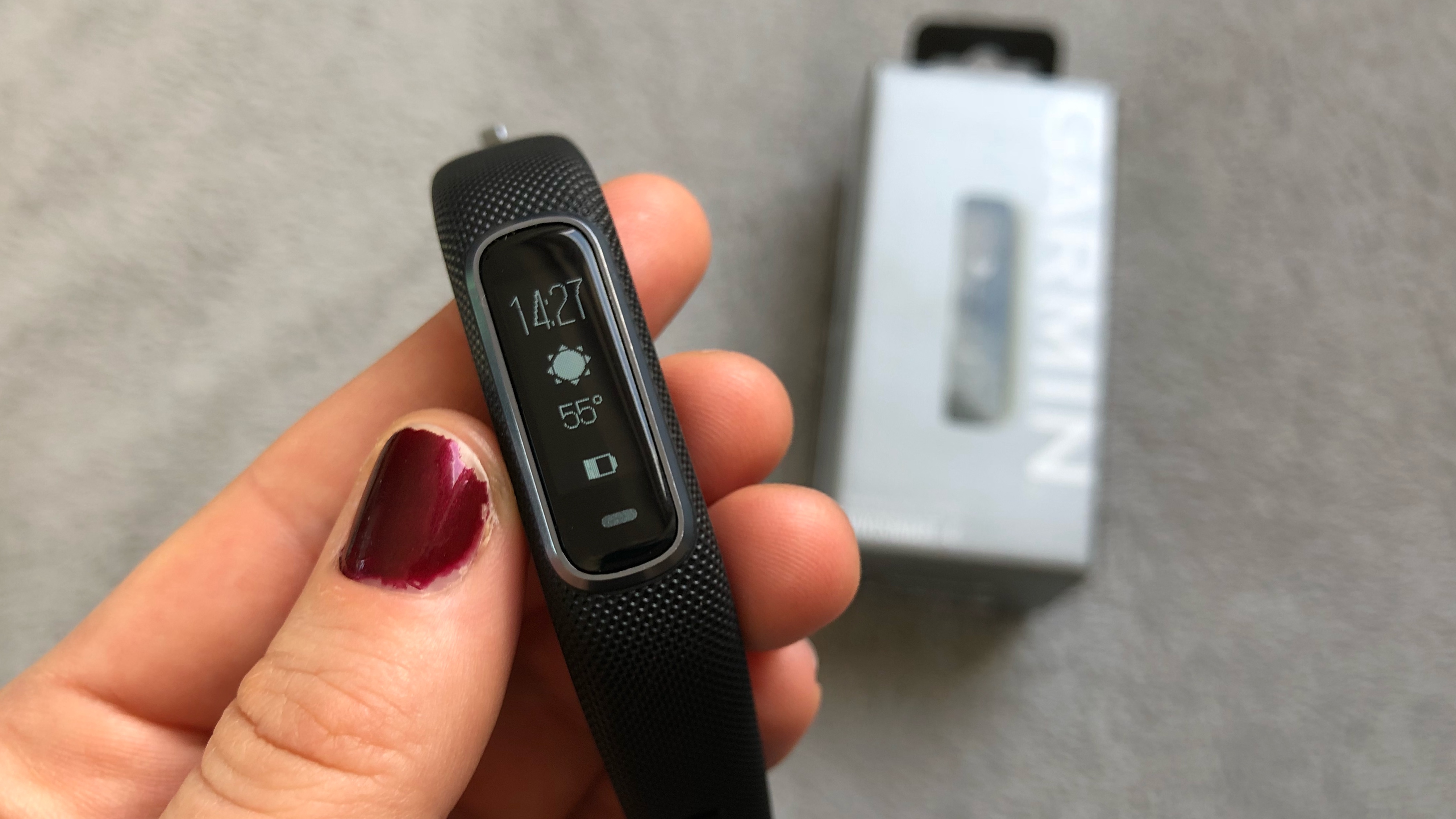 Should you buy it?
If you want apps, a big screen, lots of functionality and NFC payments, go with a smartwatch. If you're not sure whether you even want a tracker, opt for one of the super affordable options instead to try them on for size.
However, if you're looking for a slim and capable tracker that will keep tabs on your fitness, as well as your overall health, this is well worth the money and isn't likely to break the bank to give you those valuable insights.
First reviewed: October 2018
Competition
If you're not sold by the Garmin Vivosmart 4, check out one of these trackers that offer similar functionality but are made for a slightly different person.
Fitbit Alta HR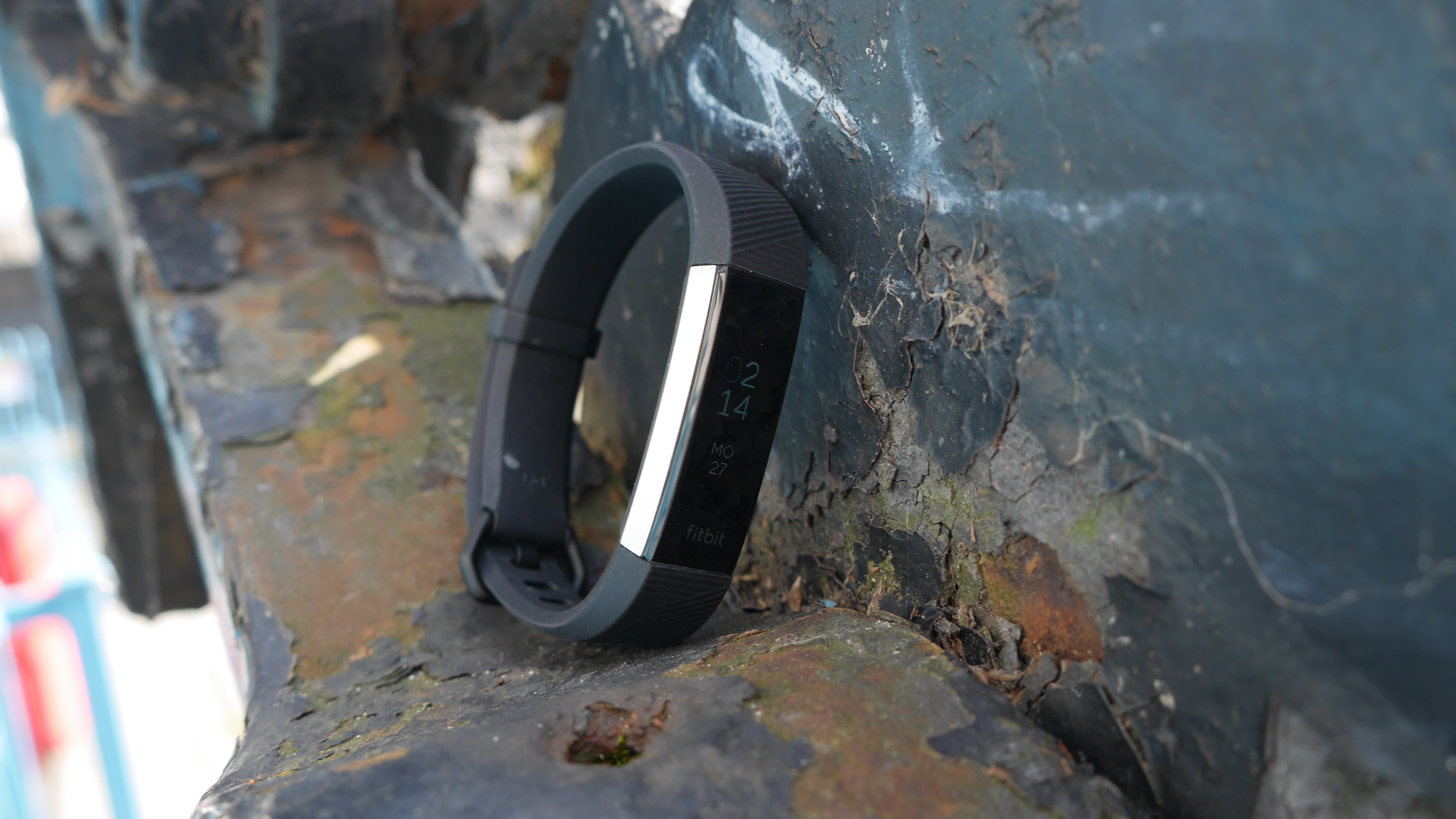 The Fitbit Alta HR looks similar to the Vivosmart 4. It has a slim design, small screen and packs a lot of fitness tracking tech into its small frame. Like the Vivosmart 4 it also keeps tabs on fitness, heart rate and provides excellent sleep insights.
It's also worth mentioning the newly-released Fitbit Charge 3, which we haven't had a chance to fully review yet, but which could also be a solid competitor.
It's a step up from the design of the Vivosmart 4 and Alta HR in some ways given that it has a larger, easier to read screen, but that comes with a chunkier look.
Read our full Fitbit Alta HR review
Huawei Band 2 Pro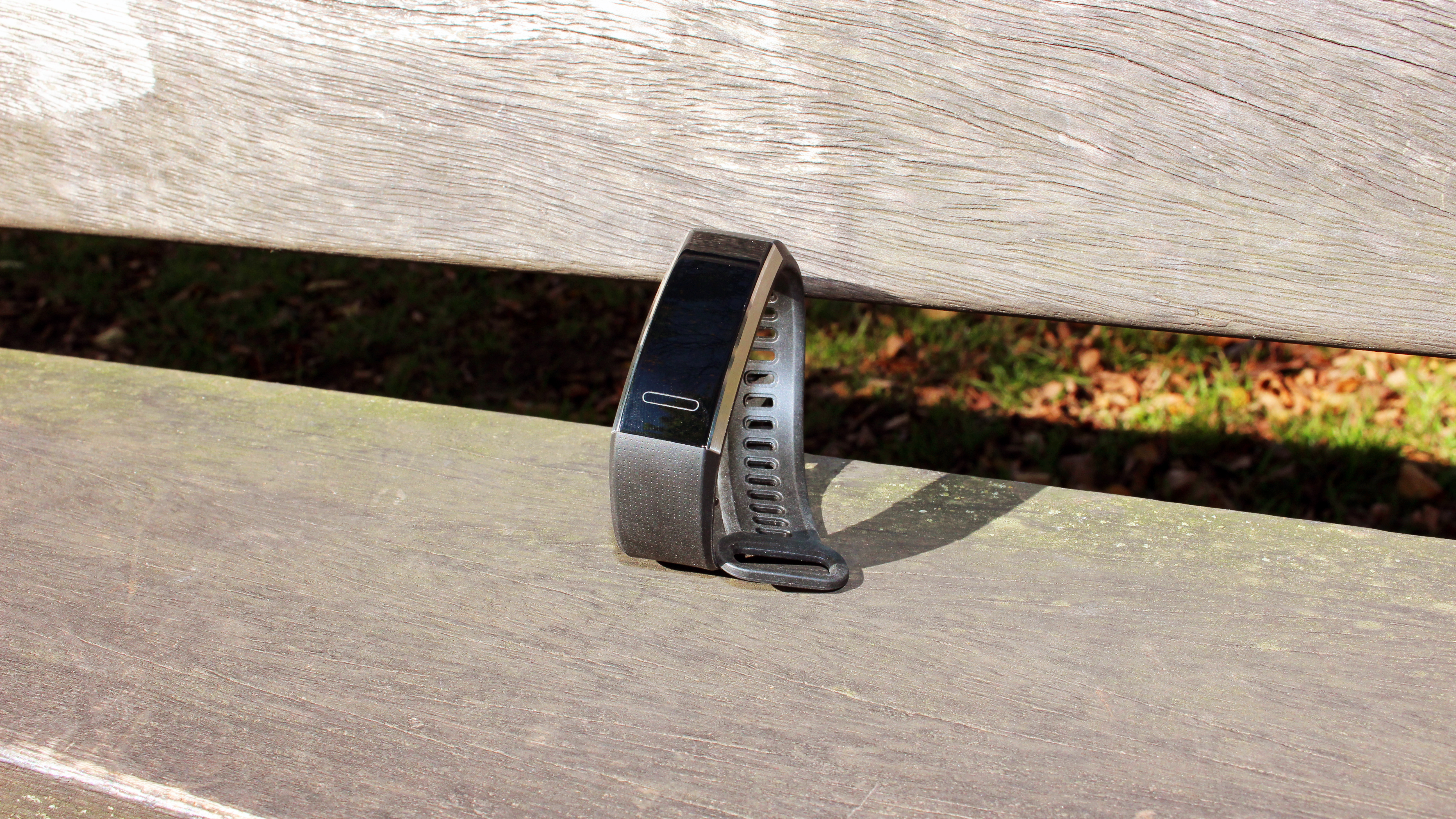 This sleek-looking wearable has a lot packed into its slim frame, including heart rate monitoring, VO2 max, GPS, step and sleep tracking and a seriously impressive battery life.
The slim screen makes it subtle and it goes with everything, but like the Vivosmart 4 it's not always easy to read. It's an entry-level device because the stats aren't always super accurate, but it's great for those who are taking their first steps into fitness tracking.
Read our full Huawei Band 2 Pro review
Xiaomi Mi Band 3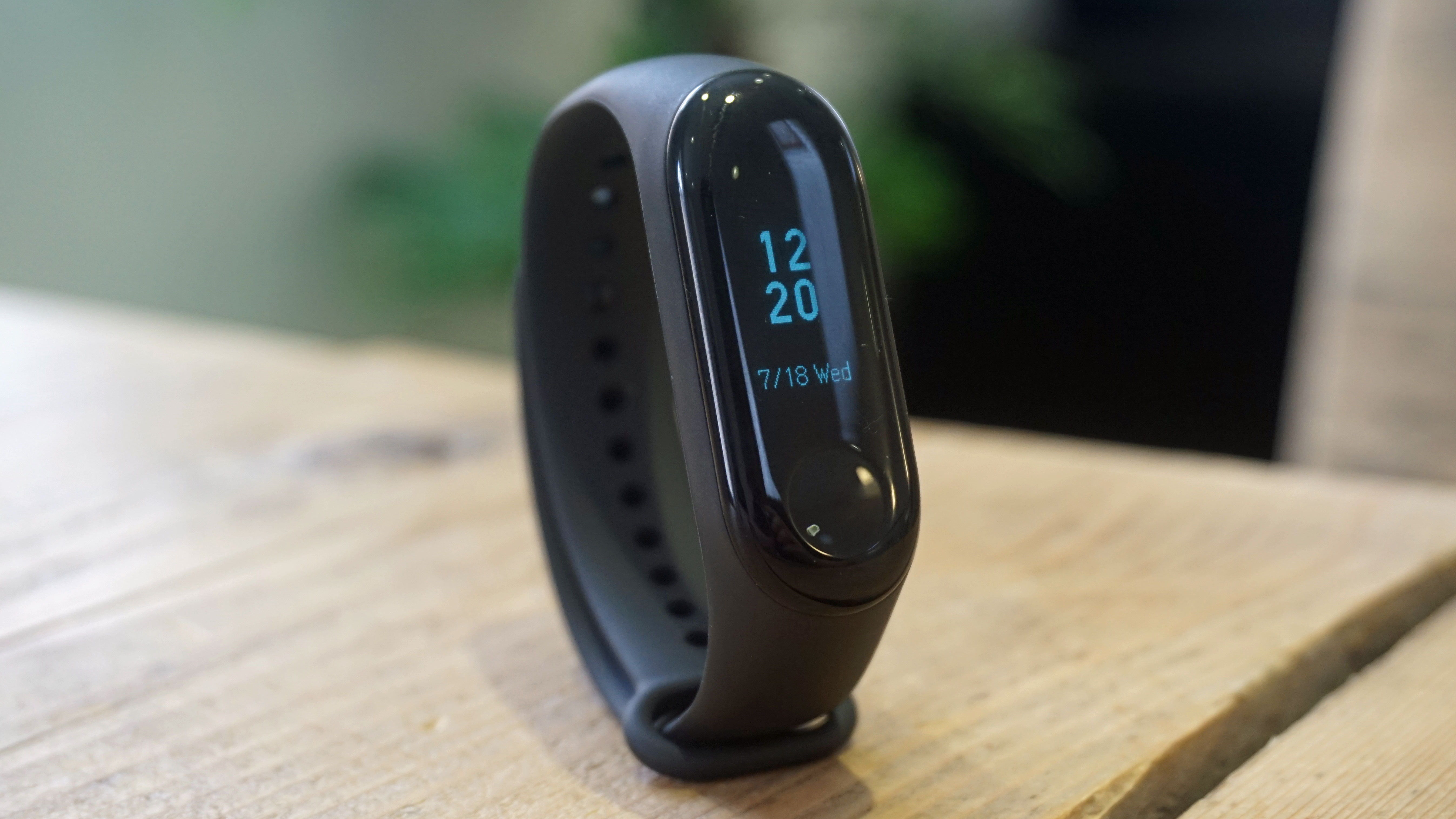 One of the most affordable trackers available at the moment, the Xiaomi Mi Band 3 is great value for money as it can track your activity, steps and sleep and has a built-in heart rate monitor. It also lasts around a month on a single charge.
The main thing it's lacking is GPS, so you won't be able to track running or cycling without your phone. The design is rather simplistic too with a screen that doesn't always look great in certain light. But if you've got a small budget or aren't sure whether fitness tracking is for you, it's a no-brainer.
Read our full Xiaomi Mi Band 3 review
from TechRadar - Technology Reviews http://www.techradar.com/reviews/garmin-vivosmart-4-review