The Honor 8X is the kind of phone you might buy if you want one that looks new, with all the latest design cues, but don't want to spend a huge amount of money.
That the front is almost all screen is the Honor 8X's star feature. Switch it on, in late 2018 at least, and it looks similar to an AED 1,500-plus phone.
Other parts of the design are less flash, of course, and there are a few little compromises to the hardware. However, most issues are trifling things you get used to quickly, like the use of a micro USB port instead of a USB-C.
The Honor 8X costs AED 999 / SAR 999, and it's worth every penny. It's available in most retailers, and if you're in the market for a budget-friendly phone that can pull off some serious tricks, then this is the perfect choice for you.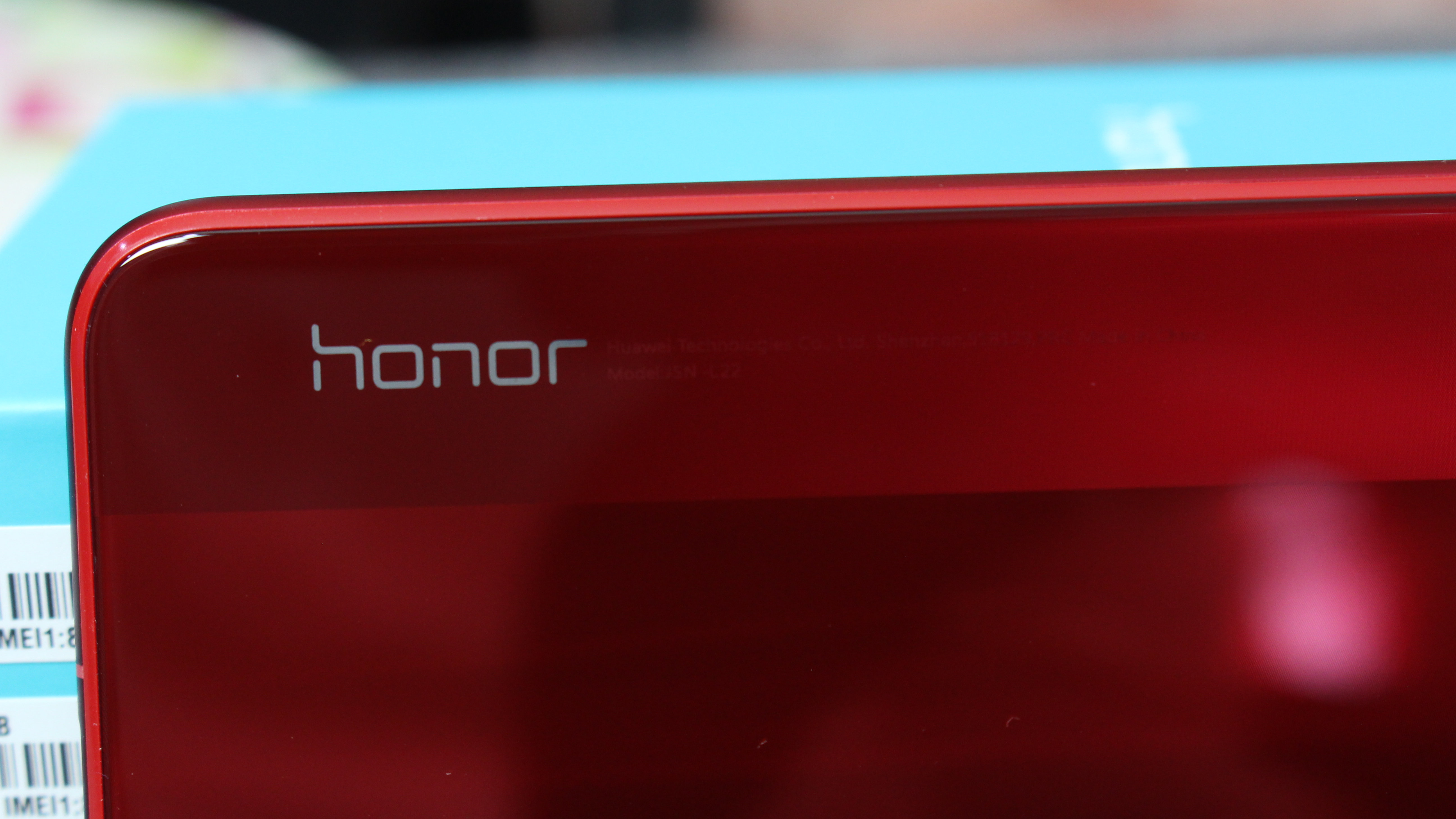 Key features
All-screen front, glass back and metal frame
Good 1080 x 2340 screen
Mid-range CPU is biggest sign that this isn't a flagship
This phone offers great value for money. Arguing against that idea is a tricky prospect.
The Honor 8X has a glass back and metal sides, extremely slim surrounds and fairly slimline notch. These factors combine to make the 8X look like a phone several price classes above.
It also has a very good Full HD-grade screen, a 20MP and 2MP dual-lens rear camera and a 16MP front camera. Again, they sound high-end for the price.
So where are the tells that this is a much more affordable mobile? The Honor 8X has a mid-range CPU that could do with a faster graphics chipset, its secondary rear camera is weak, and the charging socket is a micro USB rather than a USB-C. It doesn't take good night photos unless you use the AI Night mode either.
Given the amount you save compared to an ultra-high-end phone, this seems a fair trade.
Design
Metal and glass design
micro USB charging
Very high screen-to-body ratio
The Honor 8X looks similar to some of the most expensive phones in the world, but is a quarter the price. This is not just the point of the phone, it sums up the entire Honor strategy at present. You get more for your money than other recognizable brands.
Very high screen-to-body ratio is the particular look the Honor 8X not just emulates, but achieves. When we first turned the phone on, we were slightly shocked. No model to date has offered such an all-screen look at this price.
Its front-on appearance really is quite similar to an iPhone XR or OnePlus 6.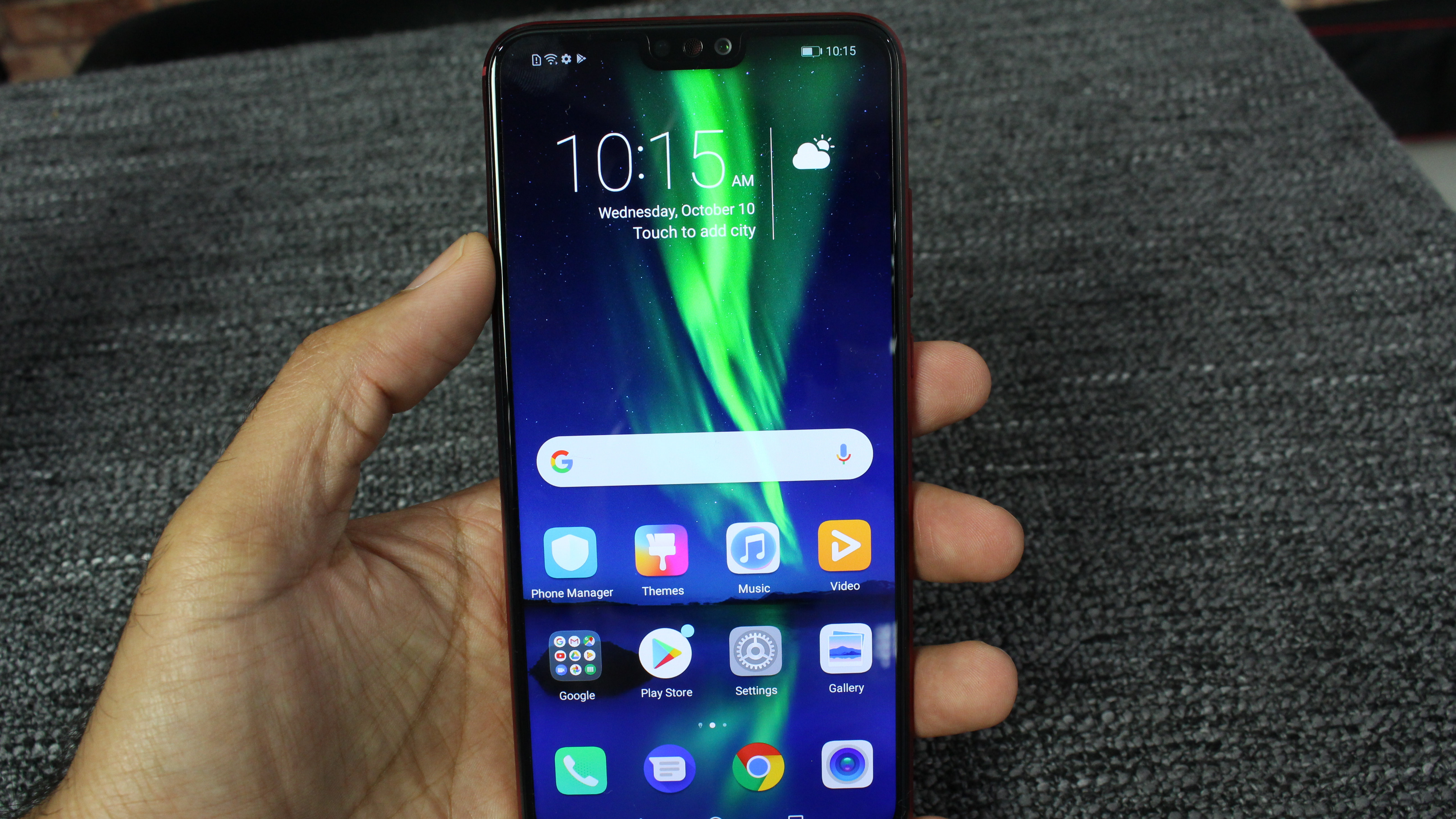 The Honor 8X's build is comparable with these more expensive models too. Plates of glass make up the front and back, and the sides are a matte-finish aluminum. There are just a few slight signs this isn't really in the same class as a phone that's in the AED 1,500-2000 range.
Slim borders of plastic sit between the metal and glass parts, and the finish of the back is quite gorgeous - at least on the red and blue models. The shimmering effect is noticeable from almost any angle, and really makes the phone look much more premium than it is.
The Honor 8X does feel less dense and expensive than the iPhone XS. Considering the radical price difference, if this was not the case it would seem odd.
Honor's use of a micro USB port instead of a USB-C is the one hardware niggle that sticks out. Value-packed as the Honor 8X is, this price band is USB-C territory in 2018.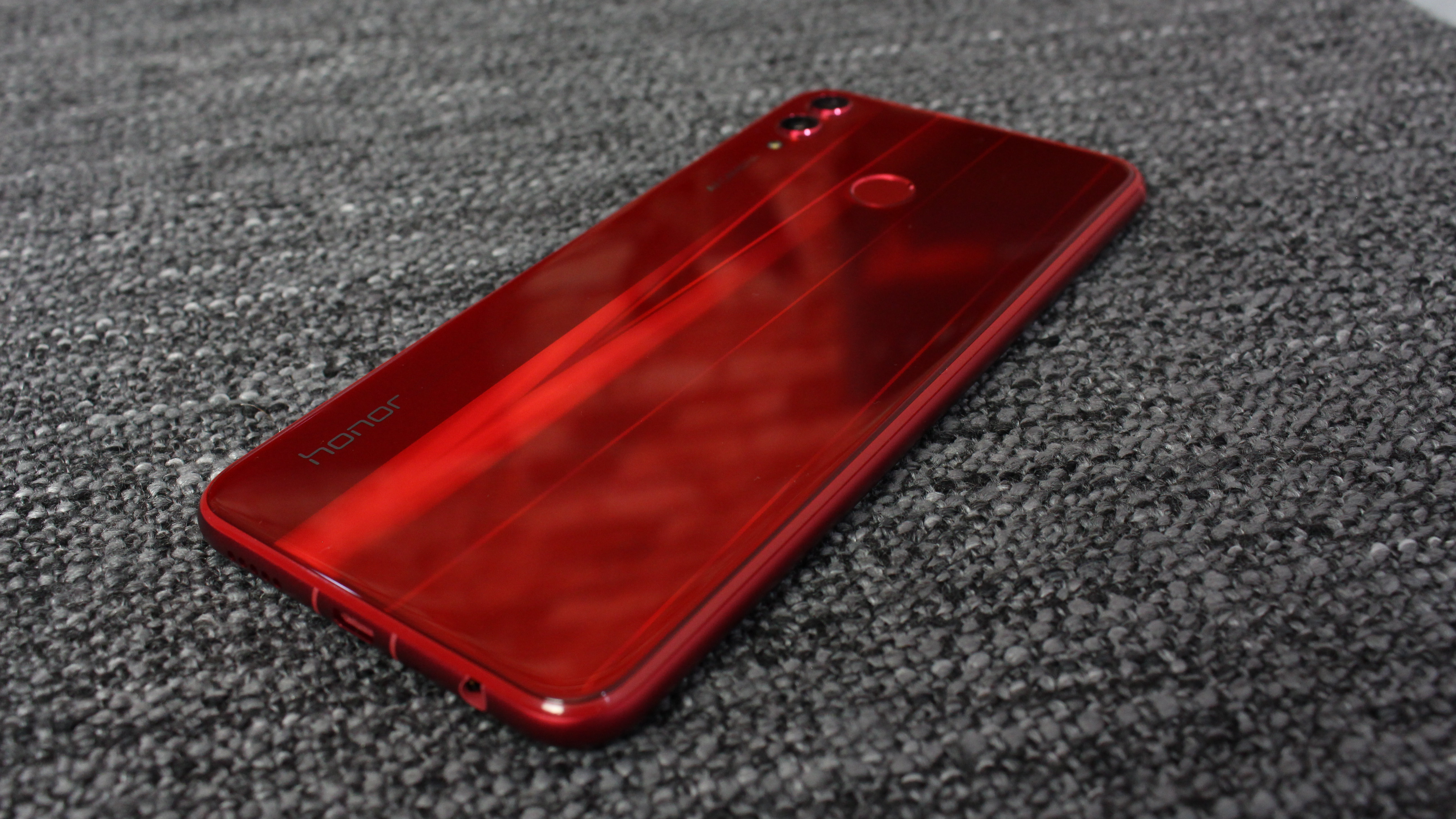 There's no official water resistance either, but the Honor 8X is not without extras. The rear fingerprint scanner is very fast and reliable, and 64GB of storage is great at the price. There are spaces for an extra nanoSIM card and microSD card in the SIM tray too, earning it a few extra tech nerd points.
The ultra-slim screen surrounds also make the Honor 8X pleasant to use and hold for a phone with a 6.5-inch screen. This is not just for enthusiasts and those with big hands. Like just about every Honor phone, it's slim too at 7.8mm thick.
The factory-applied screen protector is a nice additional touch, although within a few days one part had started to lift off the surface.
Approach the Honor 8X with an ultra-critical eye and you can tell this is not an ultra-premium mobile. Build is a small step below the OnePlus 6 too. However, as is so often the case, Honor has done a brilliant job of making a phone comparable to one double the price.
Screen
6.5-inch 19.5:9 LCD screen, 1080 x 2340 pixels
Notch, which can be hidden
Customizable color profile
The Honor 8X has a large, very tall 6.5-inch 19.5:9 LCD screen with a fairly narrow notch. Notch-haters can block off the top area with a black bar too.
Fresh out of the box the Honor 8X uses a slightly unruly 'vivid' color mode, one not quite as tasteful as that of more expensive phones. Some tones look more sickly than vivid, but switch to 'normal' color mode and you have one of the very best displays you'll find in a phone for under AED 1,000.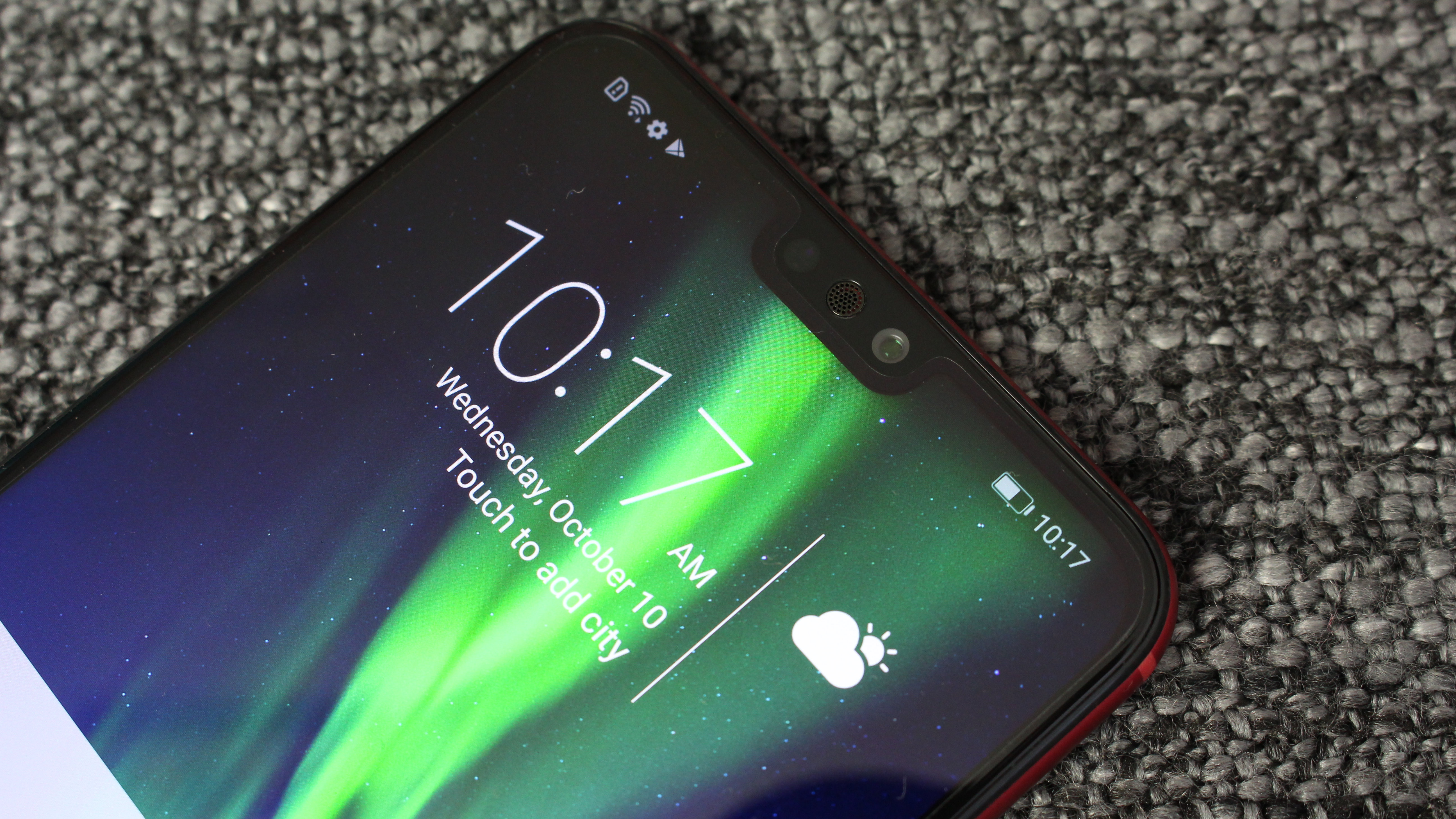 Color looks accurate enough and well saturated, and as the Honor 8X has an ultra-long Full HD-grade resolution, with 1080 x 2340 pixels, it's sharp too. It is sharper than the iPhone XR: amusing when you compare their prices.
The sheer size of the display makes the Honor 8X seem a true enthusiast phone, well-suited to gaming, video streaming and reading long articles or even books.
Top brightness is not as high as that of the phones Honor references with the 8X, phones over AED 1,500. However, it is legible on bright days so covers the essentials for a mid-range model.
Battery life
3,750mAh battery
micro USB charging
The Honor 8X has a 3,750mAh battery, which doesn't seem huge for a phone with a 6.5-inch screen. However, like a lot of recent Huawei and Honor phones, its real-world stamina is well above average.
Intense power management may be the cause, but the Honor 8X does not pull any far-too-invasive moves like closing Spotify or Podcast Addict as you listen to music or a podcast. Other Huawei and Honor phones do this.
With a very heavy day of use, including several hours of audio streaming, a couple of hours of intermittent browsing and about 30 minutes of YouTube streams, the Honor 8X still made it to 11pm. Just.
It lasts far longer than the iPhone XS. Among its Android peers the Honor 8X isn't a class leader, but it is very solid.
We earned similar quality results from our standard video playback drain test. 90 minutes of 720p video playback at maximum brightness takes 13% off the battery.
This is great for a sub-AED 1,000 phone, but some of Honor's sister brand Huawei's phones lose as little as 8% in the same test.
The Honor 8X uses a micro USB port for charging. It's one of the few parts that seems dated.
There is fast charging. The charger offers variable voltage. It's not the fastest we've tried, but we're still very glad we're not left with a basic charger plug.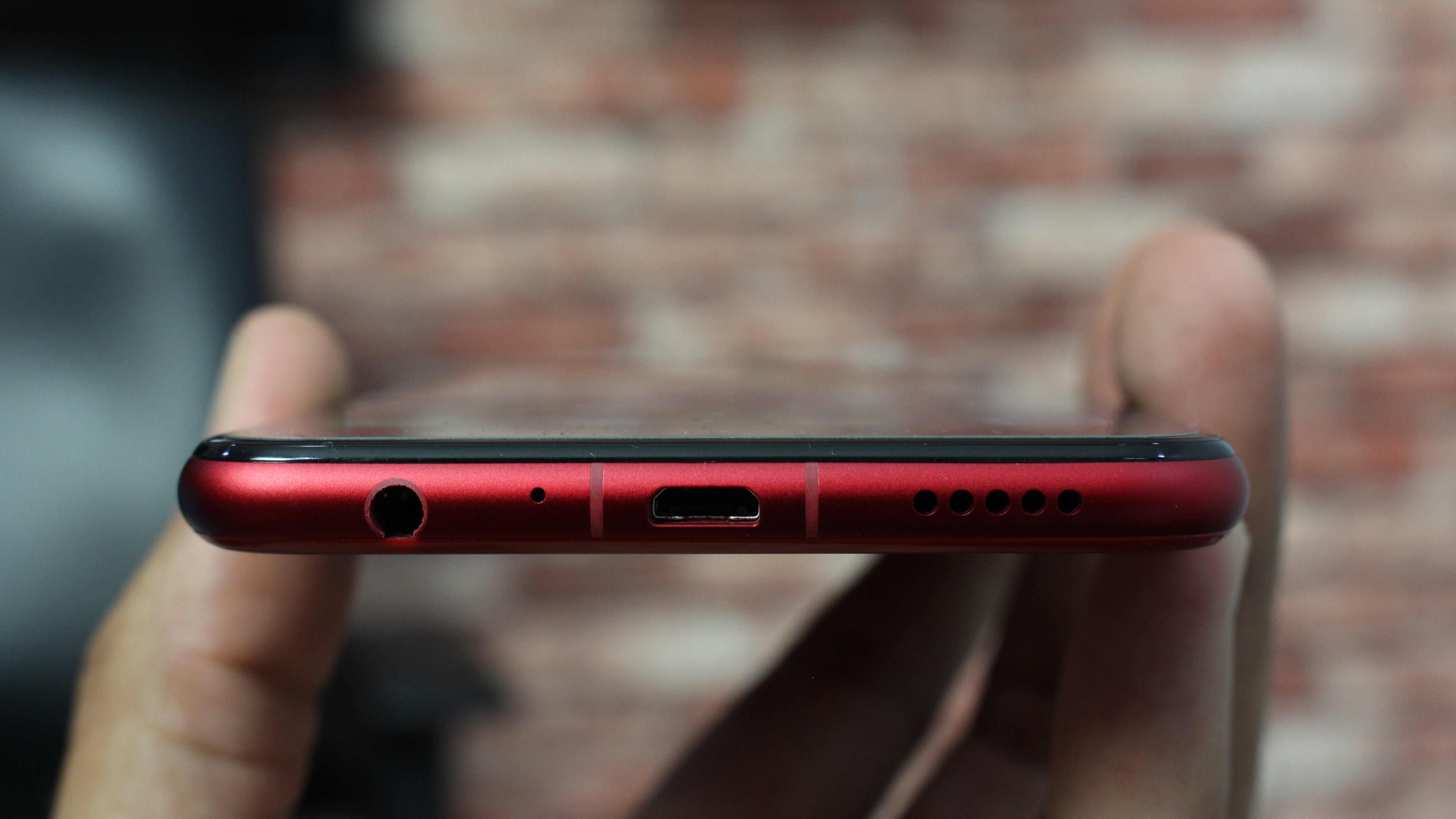 Camera
Dual rear 20MP/2MP cameras
AI-assisted photography including specialist Night mode
16MP front camera
The Honor 8X's camera seems, on the surface, almost as well-spec'd as that of top-end Huawei and Honor phones.
It has the celebrated ultra-low light mode of the Huawei P20 Pro, a dual-lens system for synthetic wide aperture (background blur) shots, and an AI mode. This recognizes the scene to aid processing, with the aim of producing punchier pics.
As you might guess, most of these are a little less effective, a little cut back, compared to the versions in the priciest Honor/Huawei models. However, the Honor 8X instantly feels like a feature-rich camera phone.
The first little issue we noticed was the Honor 8X's shooting speed. It's not an instant snapper, with slight shutter lag. As it's less pronounced than the Moto G6 series' own lag, it's not a major problem though.
General image quality from the main 20MP sensor with f/1.8 is very good too. Daylight shots are sharp and detailed, with good pixel level integrity for a high-res sensor and some very solid dynamic range post auto-optimization. It handles mixed lighting levels well.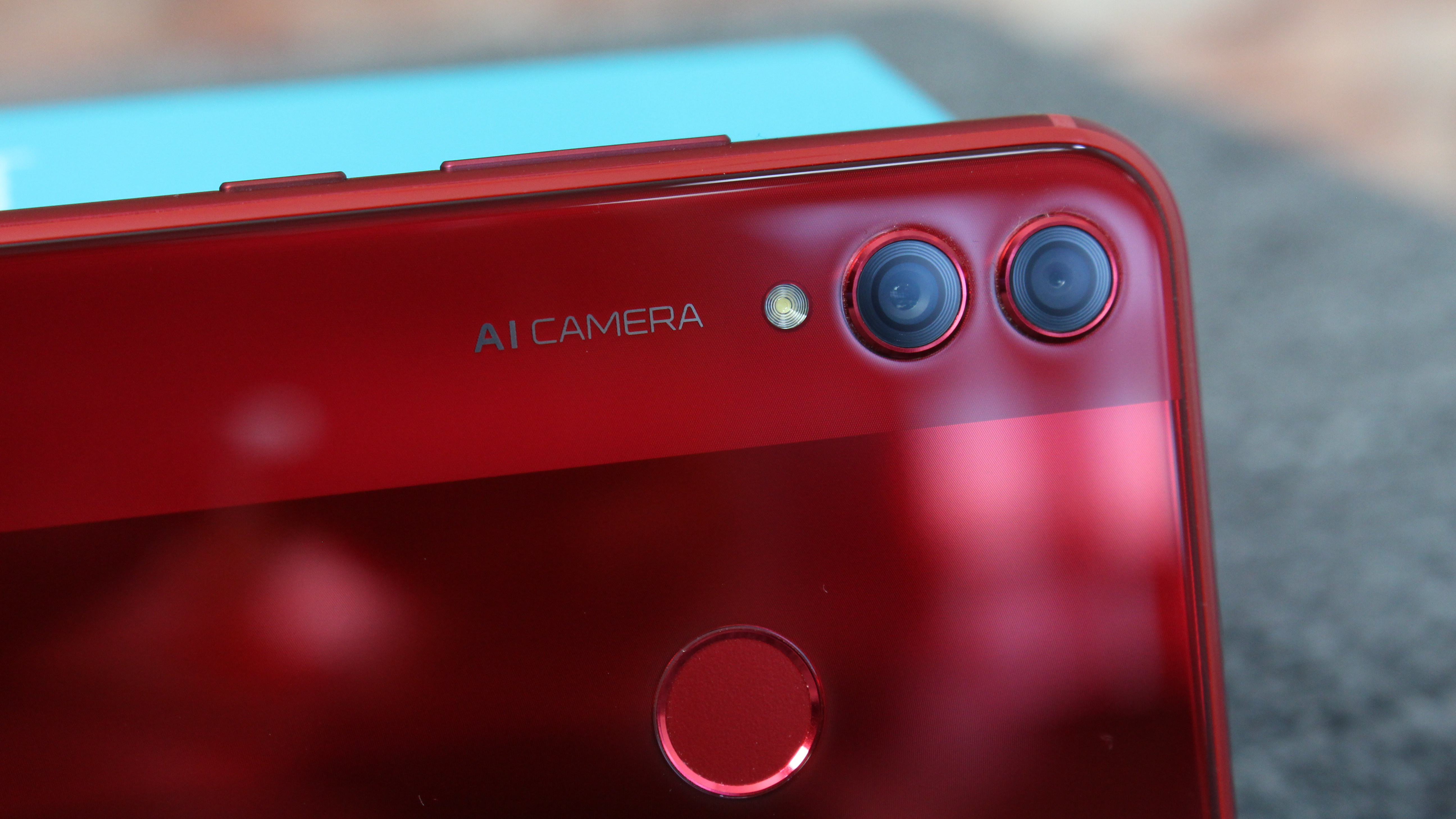 Up close everything looks a little less natural than through a top-end 12MP camera paired with intelligent processing. But that it exactly what we expected from the Honor 8X. It's great considering the cost.
For the most natural shots, you'll want to avoid using the 'AI' mode too much. This jacks up saturation in blue skies, glass and food for a larger-than-life look. Sometimes the results are very punchy, but using standard shooting and fiddling with filters and saturation afterwards leaves more room for creativity.
Still, if you're short on time and rich in social networking followers, maybe the Honor 8X's AI mode will be right up your street.
The aperture mode, which blurs out the background to make your shots look as if they were taken with a large-lens camera rather than a phone, has the most obvious cut backs. This uses the secondary rear camera to create a 3D depth map of a scene, to decide which parts should be blurred.
As that second camera only has a crude 2MP sensor, aperture mode makes more mistakes than the iPhone XS's or Huawei P20 Pro's. Bits that shouldn't be blurred sometimes are. However, the results are much better than what you see when shooting, and you can get some dynamic-looking results.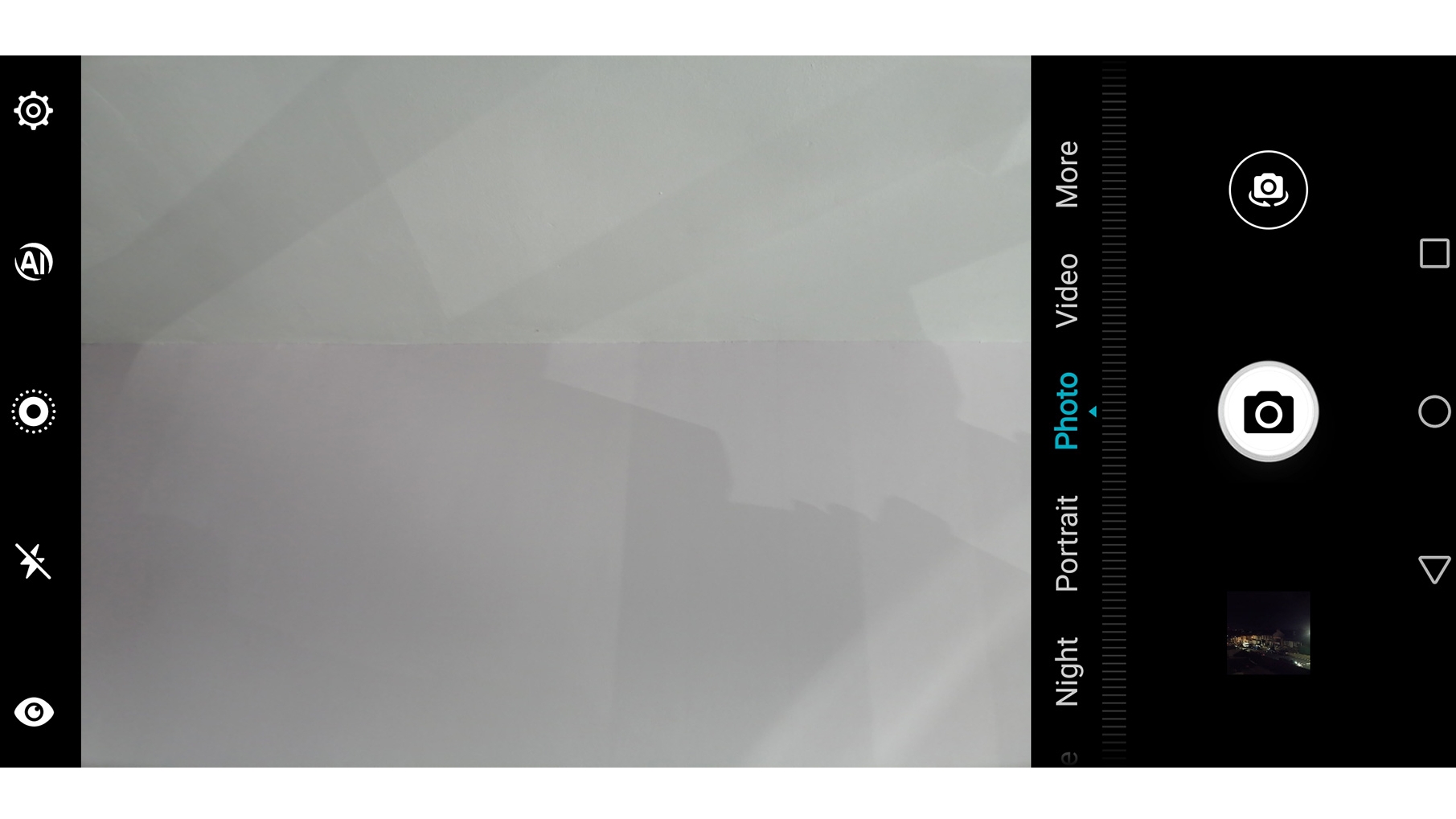 The ultra-low light mode is the most interesting part here, though. Just like almost every phone at the price, the Honor 8X's normal low light or night photos are nothing special. They are noisy and confused-looking, lacking the sharpness of a truly strong high-end phone camera.
Use the dedicated night mode and sharpness increases radically. This stitches together a series of different shots. It takes 5-7 seconds, you need to stay reasonably still, and it won't work well with moving subjects. But you really can use it handheld and you end up with some of the best low light photos seen in a phone at the price.
Video capture is limited, however. Despite all those pixels on tap, the Honor 8X caps out at 1080p, 60 frames per second. The front camera can manage 1080p at 30 frames per second. There's no 4K shooting, which is available on the Motorola One. That front camera has a 16MP sensor. Honor, as is often the case, puts more of an emphasis on selfies than some.
As ever, there's also a Beauty mode that smooths out your skin texture for a more flattering look. Most of the time these modes are adjacent to Photoshopping your selfies. And this one is too.
However, as the processing over sharpens images with the beauty slider set to zero, you might want to up it a few notches to avoid pores standing out like poppy seeds on a loaf of bread.
Camera samples
Software
Android 8.1 with EMUI
Good performance
Quite a lot of pre-installs
The Honor 8X runs Android 8.1 and Huawei's EMUI, also seen in every Honor phone. EMUI has many long-standing detractors. Today it is arguably one of the better custom interfaces, though.
It's far less stripped-back than Pixel UI, the new pure form of Android, but is fairly visually coherent and offers a lot of customization. The first one to juggle: do you want an apps page or not? EMUI does not have one as standard, just home screens, but you can reinstate this Android staple in the Settings menu.
This apps menu is a little different from the norm too. It's a single vertical scroll, and has an alphabet shortcut on the right hand-side, letting you zip through a very large app collection in no time.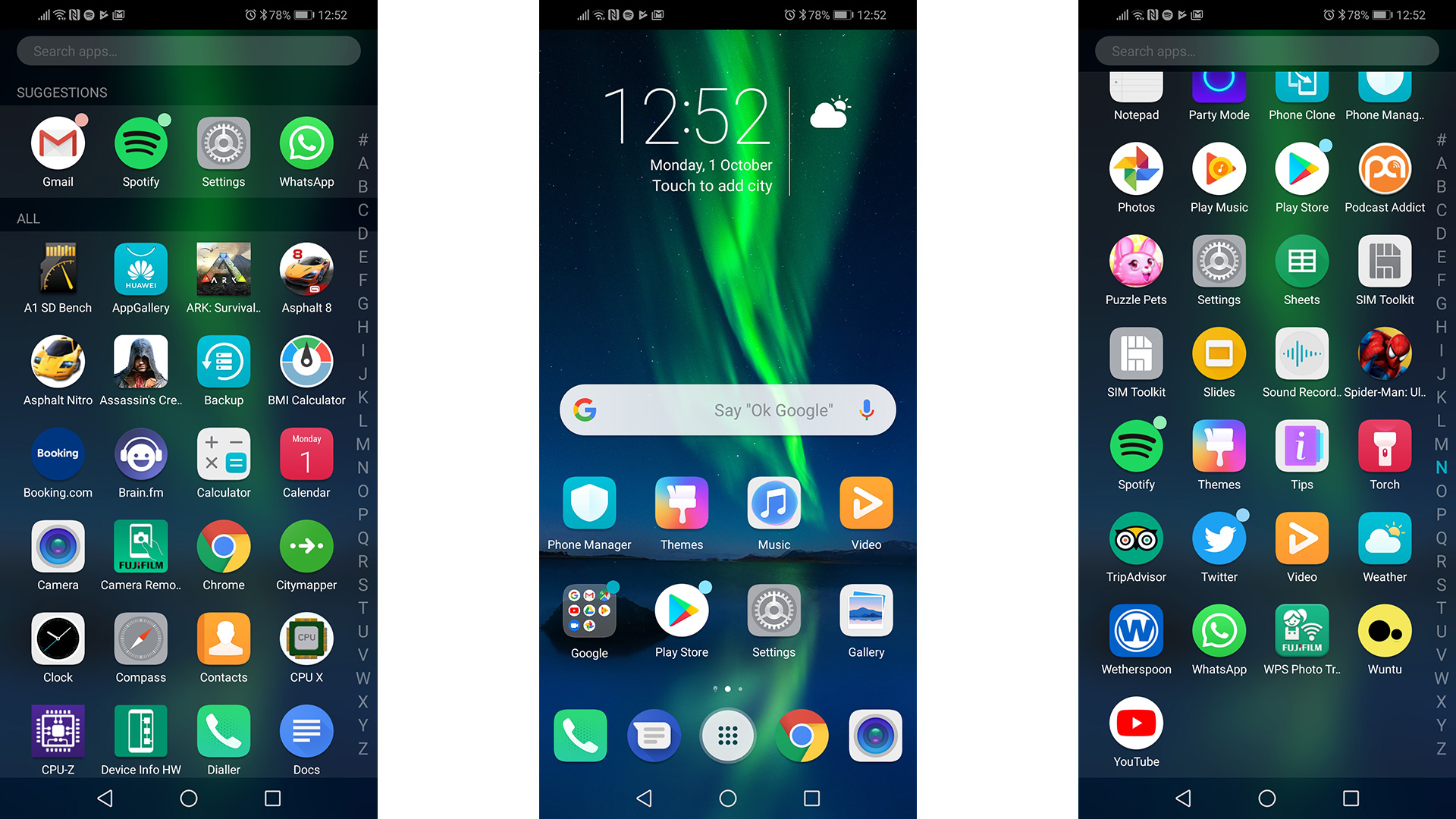 You can also choose the number of app rows and columns on home screens, fiddle with transition animations and use themes. As is often the case, you may be best off leaving the standard theme in place and just picking a wallpaper, as many custom themes lower the tone with questionable icons and fonts. But tastes vary.
As ever, Honor packs the 8X with quite a few extra apps. Some are unwanted, like a selection of games that were only popular years ago. Others are less offensive, such as the wide variety of utilities: a compass, torch app, phone manager and digital manual. They can stay.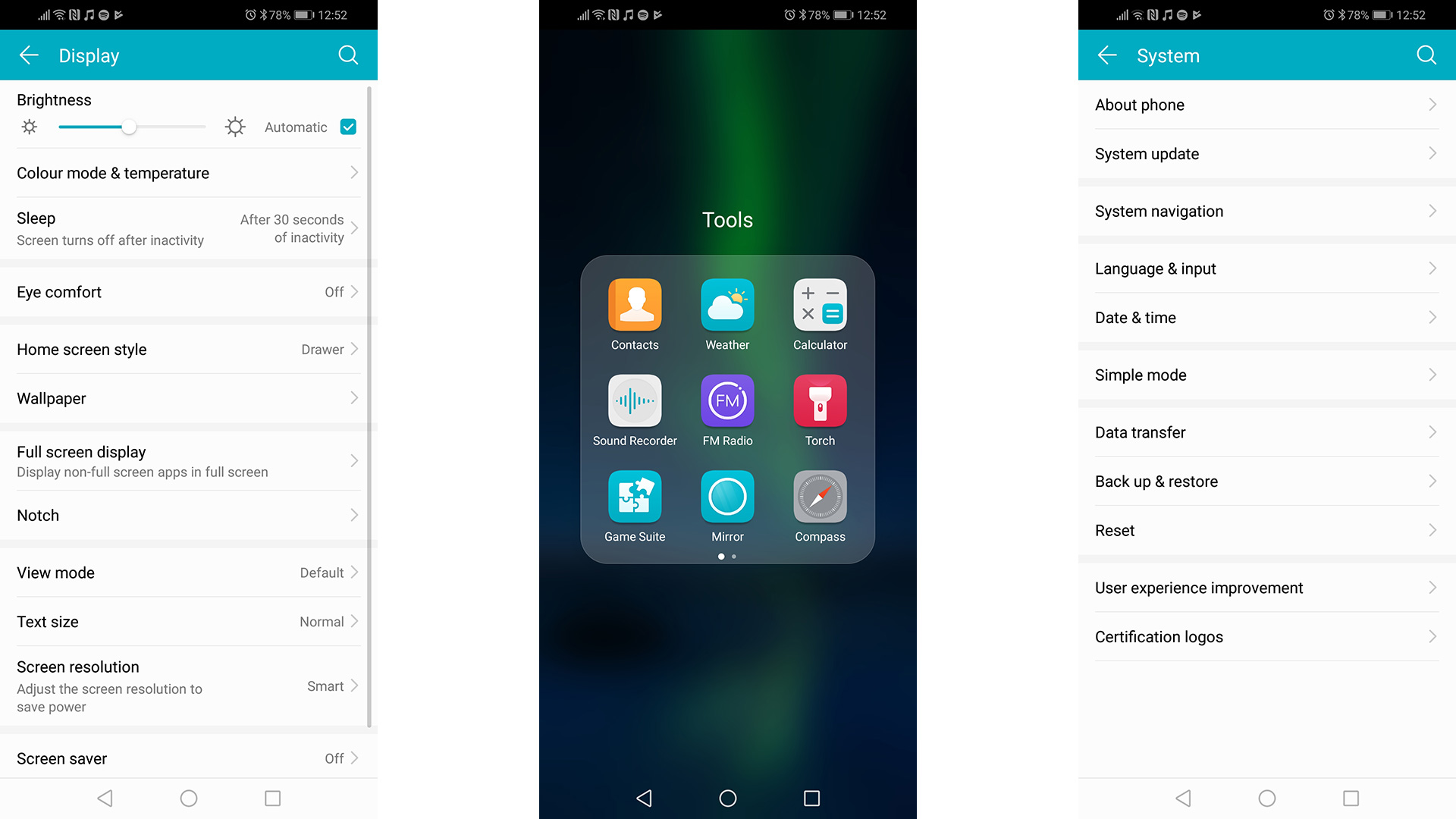 The most unusual extras are quite silly, in classic Honor/Huawei form. Party Mode lets you share tunes with other Honor phone users by creating a Wi-Fi hotspot. All the phones then play the same tune through their onboard speakers.
Karaoke Mode lets you monitor your singing through headphones, using the phone's own mic. It's not quite the style of karaoke we recognize but the Honor 8X doesn't ram this feature down your throat, so, fine. We probably won't use it, but it doesn't make the 8X worse.
Most important, the Honor 8X and its EMUI software feels great. It's quick, smooth and responsive, with none of the lag and load waits you get with some phones in the price class below.
Games and video
Display is great for video
Not the very best option for gaming
Reasonable quality, but mono, speaker
A big screen makes the Honor 8X an obvious choice for gamers, but Honor actually offers something stronger, the Honor Play. That phone has a more powerful chipset, which performs better when dealing with very demanding 3D games like Ark: Survival Evolved that you might otherwise play on a PS4 or PC.
Ark, for example, only runs well at medium settings. With the resolution maxed and visual quality at 'Epic', the game is more-or-less unplayable.
Take a look at the Honor Play's specs and you instantly see why it handles games better. Its Kirin 970 CPU has a 12-core Mali-G72 graphics chipset. The Kirin 710 of the Honor 8X has a quad-core Mali-G51. It's not even close.
The performance difference is largely meaningless when you stream video, though. This is a great phone for video, as the screen is big and vibrant enough to make the idea of watching a whole movie on the thing feasible. Well, if you're traveling rather than sitting in your living room, anyway.
A local storage video player app is included too, although there's nothing special about it.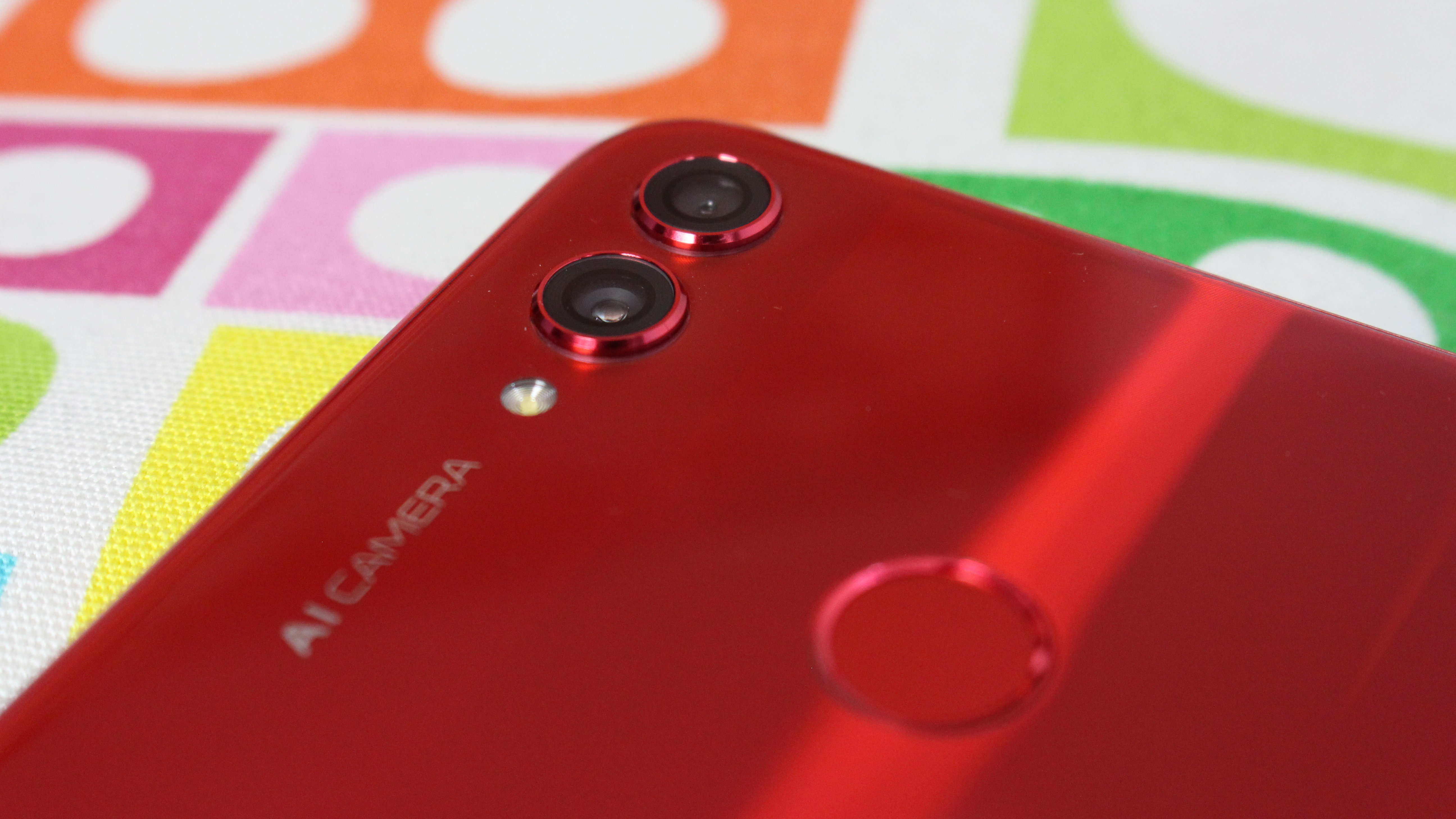 Sound quality is fair, but not stellar. The integrated speaker is reasonably loud, and not too thin-sounding, but there's just one driver on the bottom edge. There's no stereo sound here.
We're glad Honor kept the 3.5mm headphone port, though, so you won't feel the need to upgrade to a wireless pair if you haven't already.
Performance and benchmarks
Octa-core Kirin 710 chipset
4GB of RAM
Good but not class-leading power
How powerful is the Kirin 710, then? Despite landing well below the only fractionally more expensive Honor Play, the Honor 8X is still one of the more powerful phones at the price.
The Kirin 710 has eight main CPU cores, four Cortex-A73s and four Cortex-A53s. Those higher-power Cortex-A73 cores mean the Honor 8X easily outperforms the Moto G6 Plus, perhaps its most compelling rival.
In Geekbench 4 the phone scores 5552 points, which is far higher than the G6 Plus's score of 4,167. The Honor 8X has 4GB of RAM too, matching the Moto.
This RAM isn't the ultra-fast dual channel stuff you'll see in today's top-end phones, but does match the performance level of flagships of a couple of years ago.
Verdict
The Honor 8X is a great summation of what the Honor brand is about. It offers phones that look and feel more expensive than they are.
This particular model focuses on the front-on look. Extremely slim screen borders and a display notch aren't yet expected in a phone of the price. And yet we get them.
There are some compromises in the hardware, like a weak secondary rear camera, micro USB connection and mid-range chipset. Even with these considered, though, the Honor 8X is an appealing buy.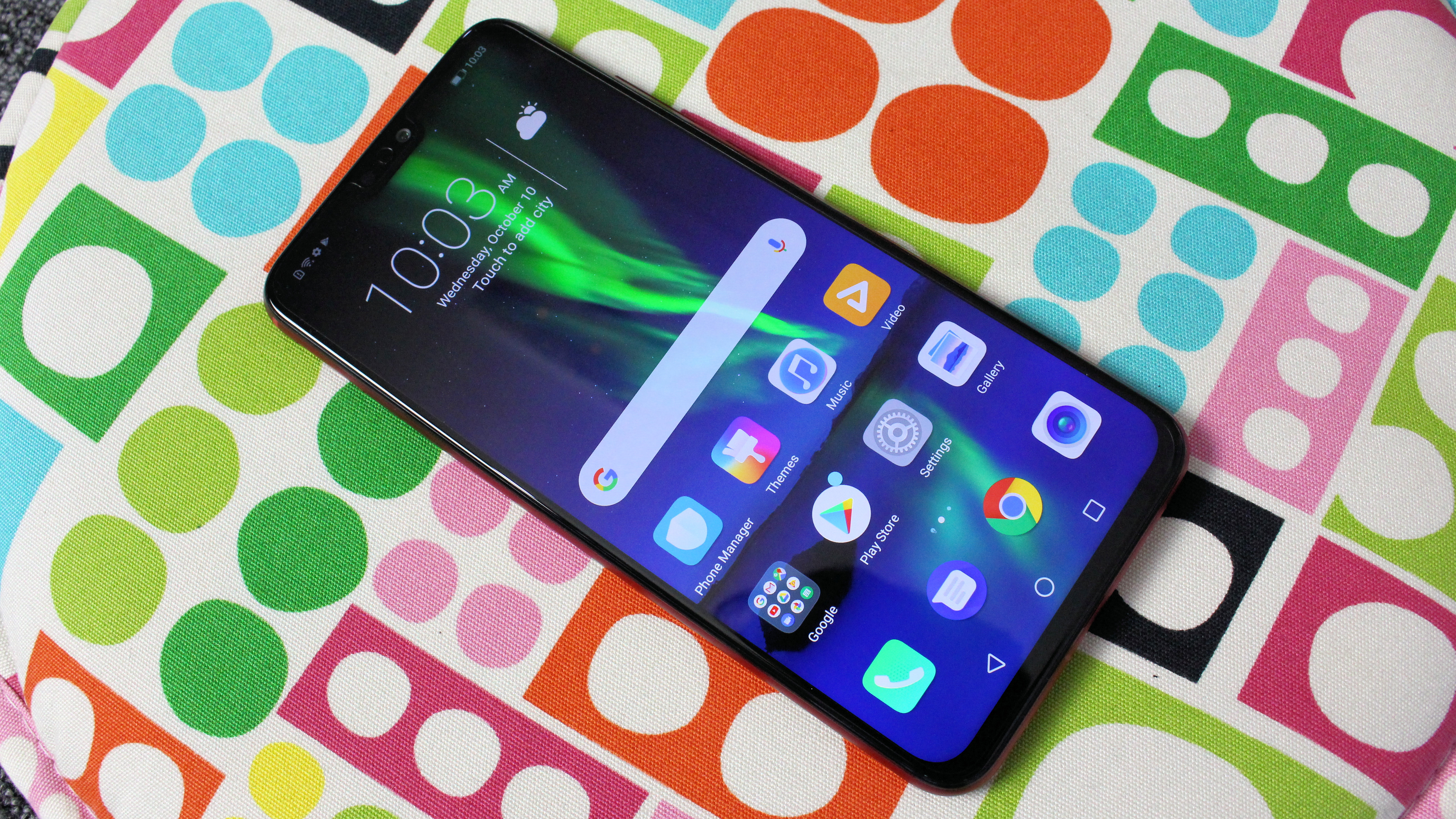 Who's this for?
The Honor 8X is for those who expect a lot of tech for every dirham, dollar or dime they spend on a phone. If you care about substance, and even style, but don't care about the cred of the brand of the phone in your pocket, Honor phones are a perfect fit.
Should you buy it?
Excellent value, a great day-to-day experience and a few little high-end touches that are missing from most at the price make the Honor 8X extremely easy to recommend.
The Honor Play is still a better bet for big mobile gaming fans thanks to its significantly better graphics chipset. But that phone has a slightly less trendy aluminum shell.
As long as you don't wince at the sight of Huawei's custom software, the only off-putting parts are the extras it lacks: USB-C, stereo speakers and a higher-end secondary rear camera.
First reviewed: October 2018
Not sold? Consider one of these alternatives:
Honor Play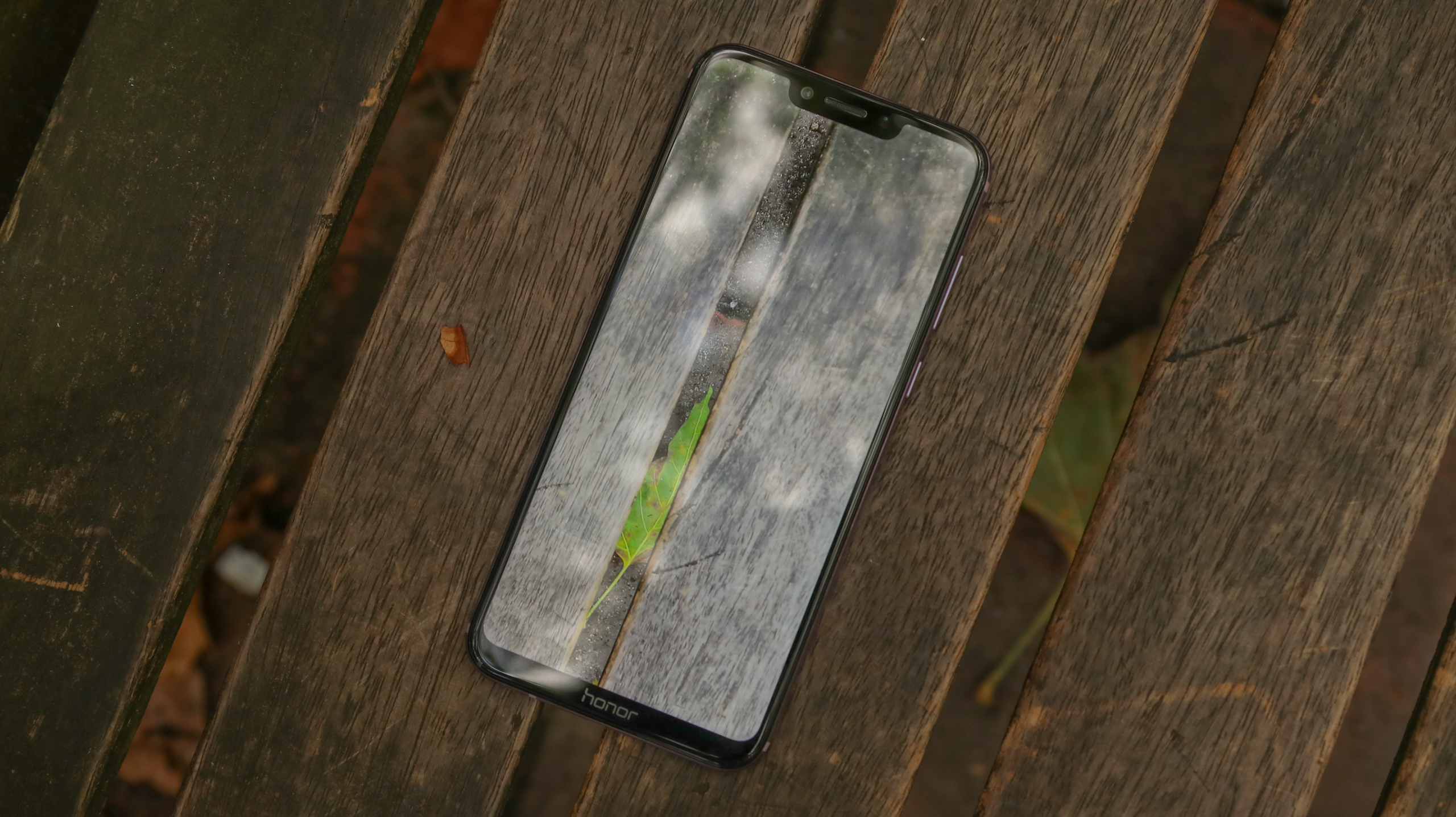 You can consider this the gamer's alternative to the Honor 8X. It has a more powerful Kirin 970 chipset, which has a much punchier GPU. It's demonstrably better for demanding games.
However, the 8X has a better camera setup and a more dynamic design. It has a glass back instead of a metal one, and even higher screen-to-surface ratio.
Read our full Honor Play review
Moto G6 Plus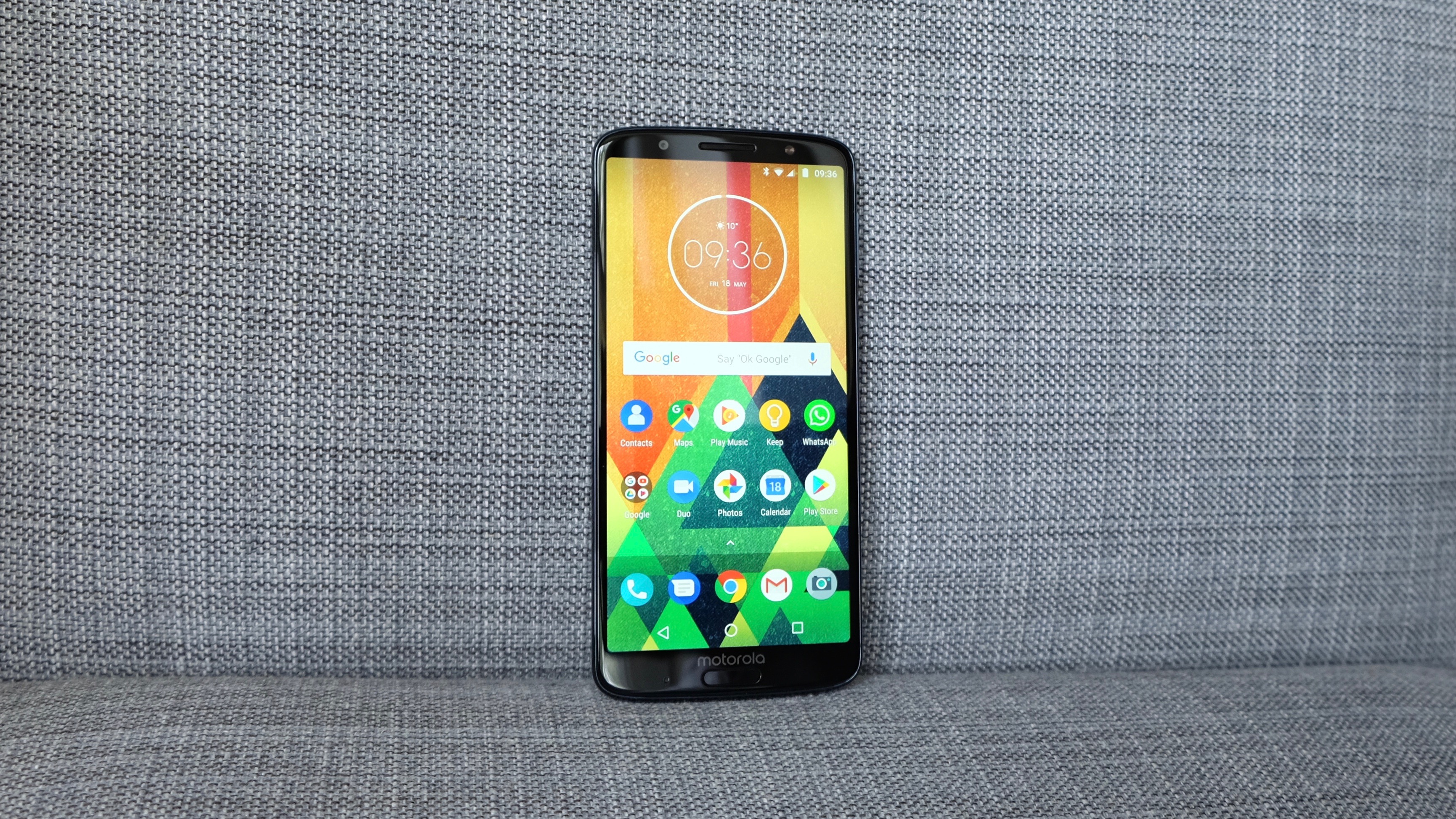 A slightly earlier option in the budget phone world, the Moto G6 Plus does not have a notch or ultra-slim screen borders. However, it is a fundamentally pleasant phone, with a more recognizable curved glass rear, front fingerprint scanner and solid Snapdragon 630 chipset.
Read our full Moto G6 Plus review
Motorola One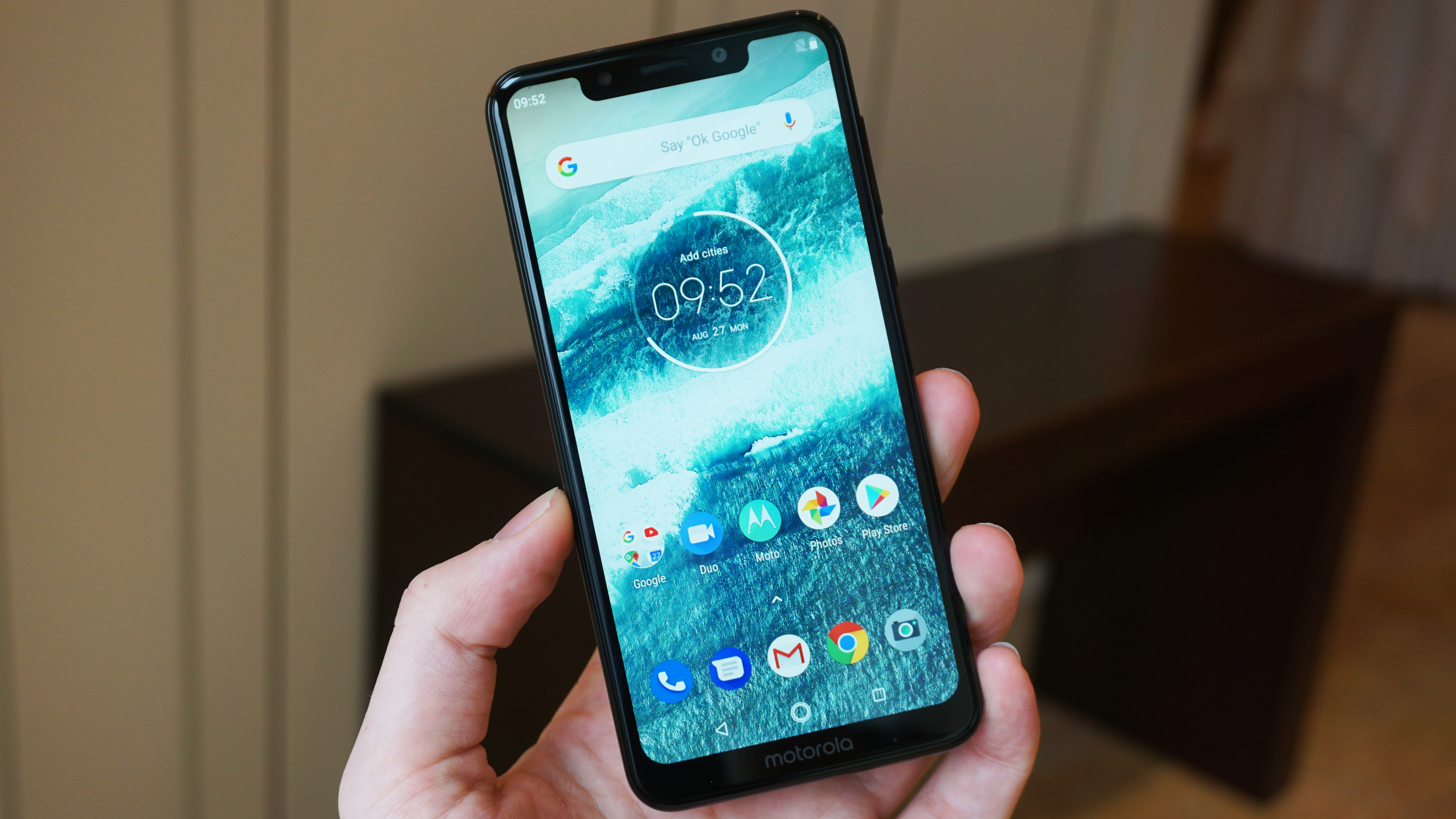 The closest non-Honor rival to the Honor 8X is the Motorola One. It has a smaller screen with far fewer pixels and a less capable camera. In the sheer value stakes, the Honor 8X has this one in the bag.
However, there are still compelling reasons to choose the One. It uses ultra-clean Android One software, and many will find its smaller size easier to live with.
Read our hands on Motorola One review
from TechRadar - Technology Reviews http://www.techradar.com/reviews/honor-8x-review