The iPad Pro 12.9 is a computer for a new generation of users who don't know what a computer is, according to Apple's newest iPad commercial; to everyone else it's a supercharged tablet, especially for those looking to replace their aging laptop with a traditional 13-inch screen.
Apple's lofty marketing pitch is no longer an unreasonable one in 2018. The iOS 12 update makes trading in a dated computer for an iPad Pro more feasible for a lot of people thanks to its tablet-focused features, and the latest iPad Pro 12.9 is one of the best ways to experience Apple's software refresh.
There's a lot of newness to like here. Compared to the iPad Pro 12.9 (2015), it has a brighter, more colorful, and extra-anti-reflecting 12.9-inch touchscreen. This display – by far the best we've seen in a tablet – is your touchscreen Mac, essentially. In case you're wondering how Apple is competing with the Microsoft Surface Pro and countless touch-friendly Windows laptops, this is it.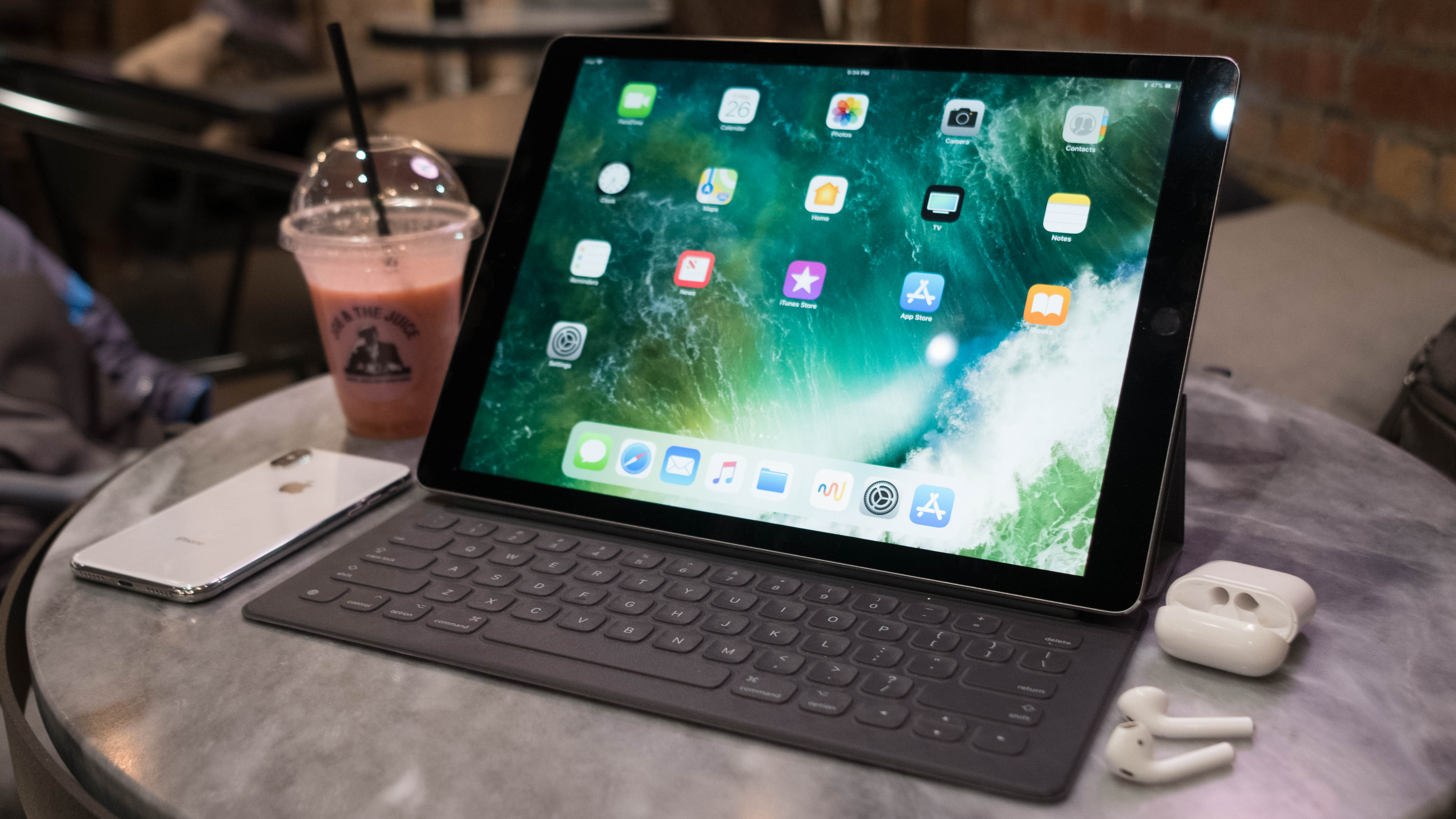 Inside both this iPad Pro 12.9 (2017) and the smaller, simultaneously launched iPad 10.5, is a faster A10X chipset with enough of Apple's processing grunt to match most laptops. It has a hexa-core CPU and 12-core GPU, which simply means you won't have any problem with the new multitasking experience once you update to iOS 12. The Apple Pencil, Smart Keyboard Cover and, on the 12.9-inch version, a beefy 10 hours of battery life with fast-charging capabilities round-out Apple's powerful mobile suite.
That large, color-rich screen and benchmark-setting horsepower come at a cost, of course. The new iPad Pro 12.9 is incredibly expensive, more so than any other iPad – it's almost two and a half times as much as the entry-level iPad 9.7 (2017), which we love. The Apple Pencil and Smart Keyboard Cover are additional purchases, too. We also found the 12.9-inch iPad Pro unwieldy at times compared to the iPad 10.5, which sports slightly smaller bezels along its sides. You may be envious of its tighter dimensions.
Everything else about the new iPad Pro feels good, even if it doesn't appear that Apple has made a lot of changes until you dive into it and start touching the Apple Pencil to the latency-reduced touchscreen. Its performance is stellar, and the App Store remains the best reason to own an iOS device over an Android. It's just a better tablet ecosystem.
Price and release date
The second-gen iPad Pro 12.9 released on June 13, 2017 as the priciest iPad on sale, costing $799 (£769, AU$1,199) for the 64GB model. The price goes up from there: $949 (£919, AU$1,419) for the 256GB model, and $1,149 (£1,119, AU$1,719) for the maxed-out 512GB version.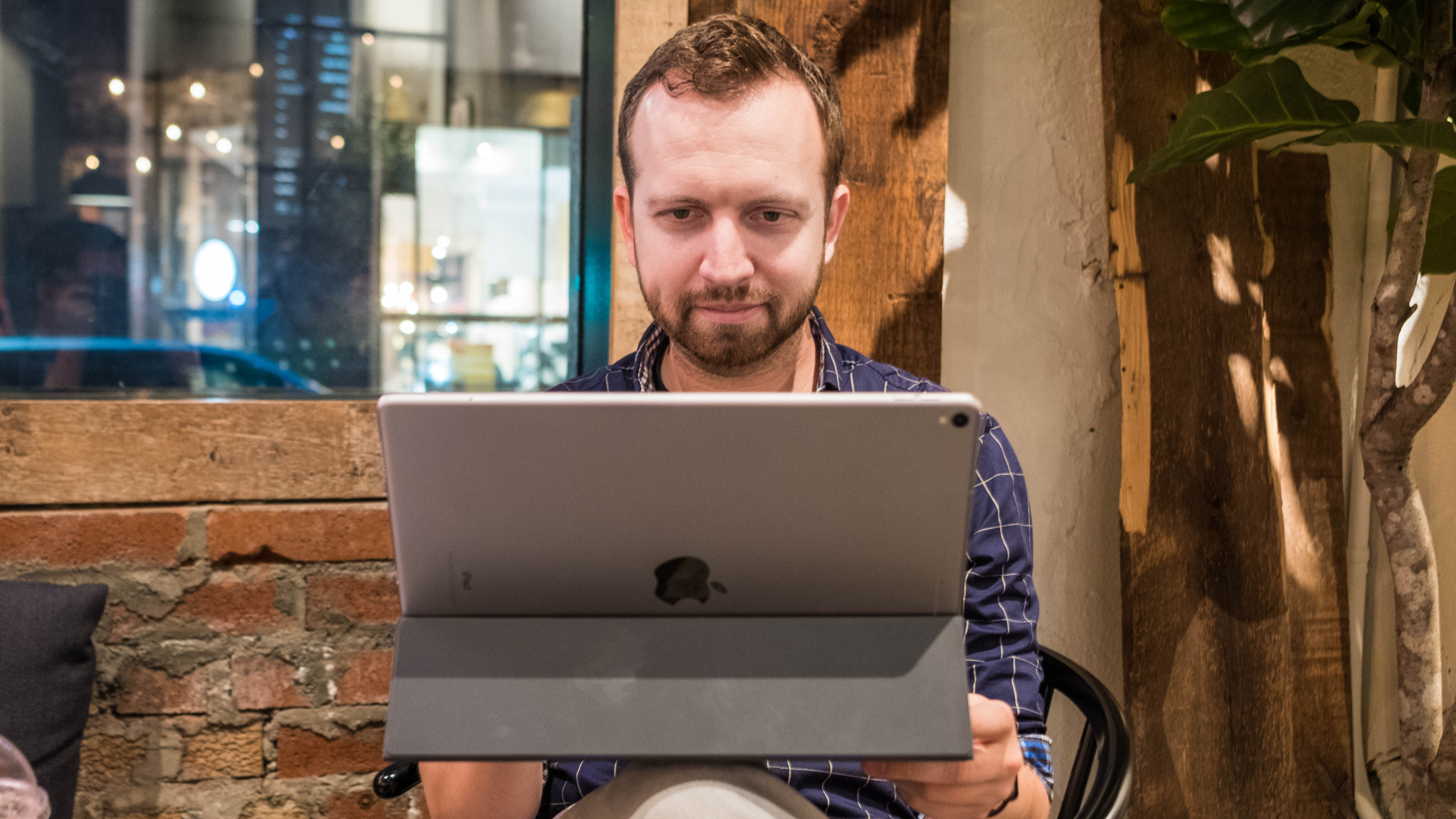 Apple doubled the internal storage configurations of the first-gen iPad Pro 12.9 without adding to the price, but you're still going to be paying for those desirable Apple accessories: the Apple Pencil costs $99 (£99, AU$145), and 12.9-inch Smart Keyboard Folio, which we recommend for productivity, is another $169 (about £169, AU$245). And the Wi-Fi + Cellular iPad Pro 12.9 is even more expensive, starting at $1,079 (£899, AU$1,399).
That's still cheaper than a MacBook, but not by much. The MacBook Air, still on sale, starts at $999 (about £949, AU$1,499). It doesn't have that beautiful Retina display, the tablet sleek form factor, or the Apple Pencil compatibility you get with an iPad Pro. It does, however, run macOS High Sierra and comes with a keyboard you can more easily rest on your lap – if you don't mind dated hardware and design. Apple's computing future seems to belong to the iPad.
Too rich for your blood? Want a significantly cheaper iPad without several Pro-level features? The new iPad 2018 launched earlier this year and it brings Apple Pencil support to a much cheaper iPad at the 9.7-inch screen size. And if you want something even newer, Apple is poised to launch the iPad Pro 2018, with rumors pointing to a bezel-reduced display and TrueDepth camera (and no notch).
Display
The iPad Pro 12.9-inch display is the Big Gulp of iPad screens – it sometimes seems ridiculously large, but you're happy to indulge anyway. And indulge you will, in brighter, more fluid multimedia with amped-up vibrant colors compared to any prior iPad, even if you may not notice the differences outside of a side-by-side comparison other than to say "This looks really good."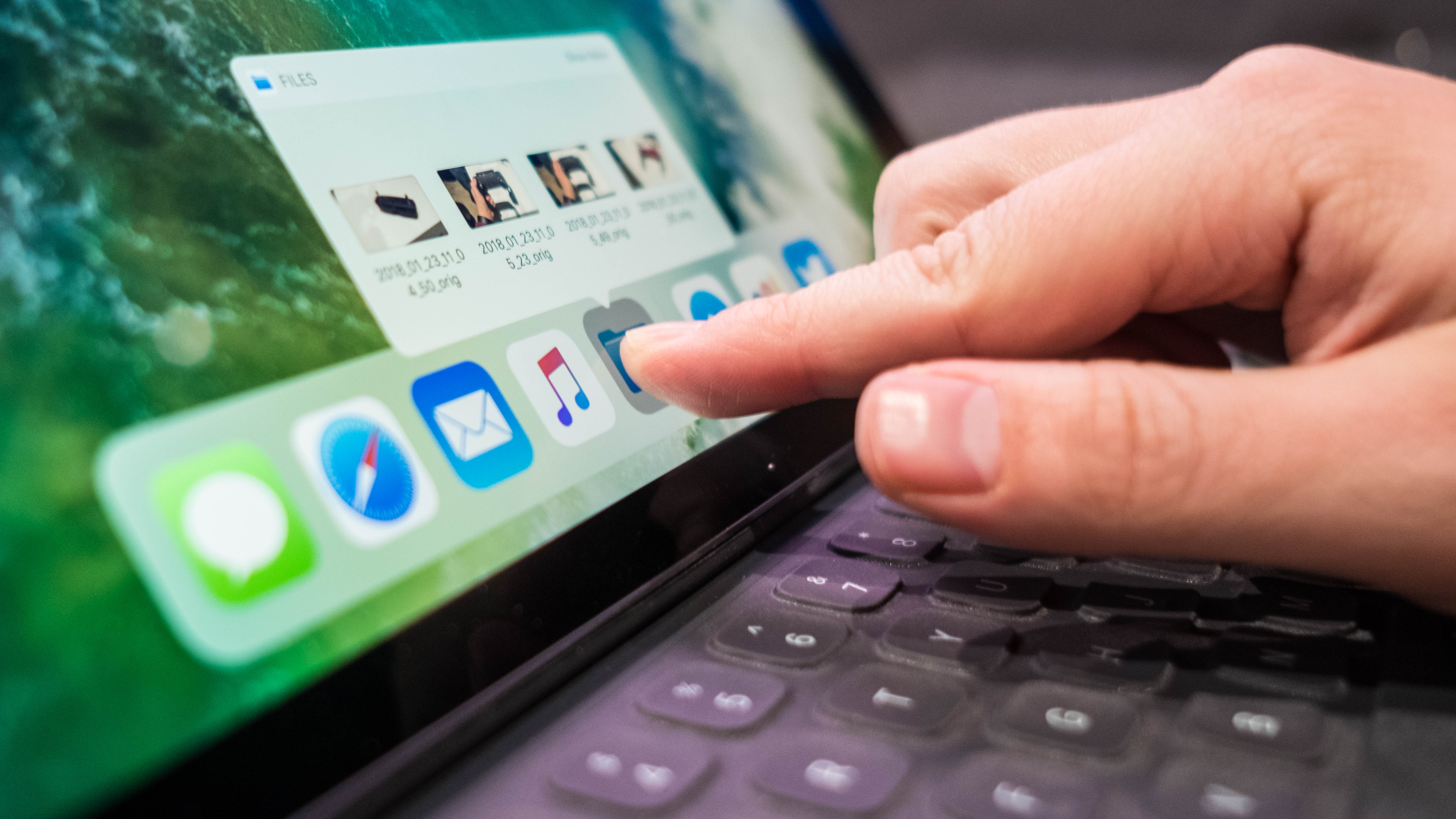 Yes, on the spec sheet it has the same 2732 x 2048 resolution as the iPad Pro we got two years ago. But what's new is how smoothly everything moves, how colorful it all looks, and how much brighter it can get, not how many pixels you're never going to count.
Here's what matters: the new iPad Pro is noticeably more responsive, whether you're speedily shifting through iOS 11's multitasking menus or drawing with the Apple Pencil. The screen exhibits less latency thanks to what Apple calls ProMotion technology, offering faster refresh rates of up to 120Hz. The trick here is that the screen refresh rates are variable to match the content, adjusting automatically to preserve battery life. It keeps up with you when it has to, and intelligently slows down when it's not needed.
If you look closely enough at the iPad Pro 12.9 and the first-gen version you'll notice other differences, like a wider color gamut and fully laminated screen (the first model didn't have this display feature). You also get the debut of Apple's True Tone display at the 12.9-inch size, which helps the screen to match the lighting environment around you.
Design
The laptop-rivaling 12.9-inch screen is the reason you're buying this extra-large iPad Pro over the flagship 10.5-inch version. It's the best way to multitask and see 'the whole picture' on an Apple device outside of the Mac family.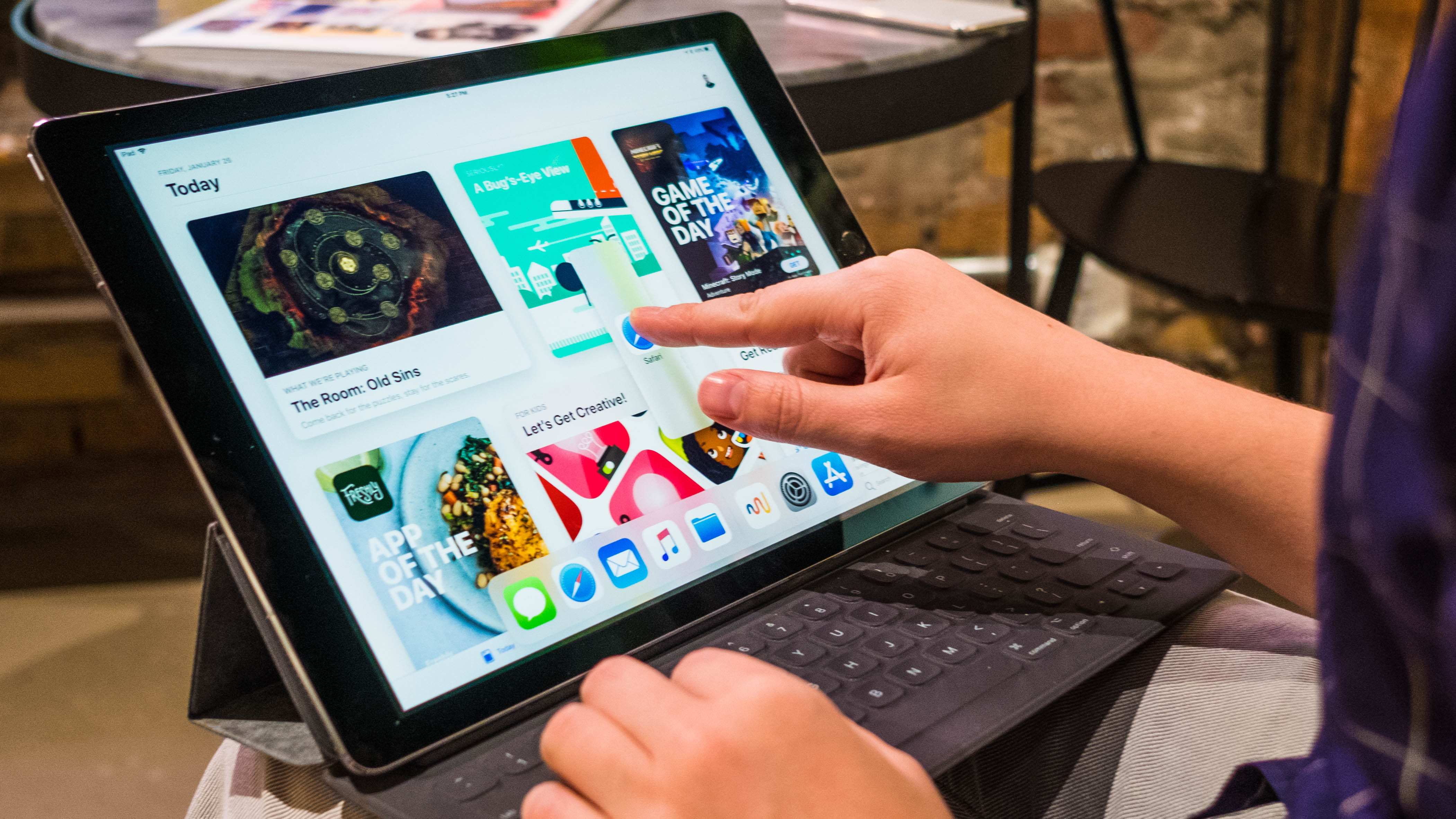 Multitasking between documents, spreadsheets, and emails on the iPad Pro 12.9 leads to the realization that everything is right in front of you, with less need to scroll compared to every other tablet you've used. "Wait, I can see all of the cells in this spreadsheet at once?" That's a great feeling. As much as the new iPhone X all-screen display is a nice jump in size, scrolling through Numbers can be a pain, and we never had that feeling with this big iPad.
When it comes to doing meaningful tasks, there's no tablet better than the iPad Pro 12.9 thanks to its large-screen real estate. It's a joy to have, and a handful to hold. It's portable, sure, but it's what we'd call the tablet equivalent of a gaming laptop. Constantly toting it outside of the home or office can be a little taxing at times.
It's 6.9mm thin and weighs 677g (1.49 pounds), so it's slim and light on its own. But we found that with the Smart Keyboard Cover attached, unfurling the keyboard isn't as easy as with the 10.5-inch iPad Pro and its smaller keyboard cover – there's an extra flap to the foldable fabric keyboard at this size. There's also still no place to put the Apple Pencil, so hold onto that stylus – remember, it's expensive.
You can buy the official iPad Pro leather sleeve, which has a slot for the Pencil, but with both the iPad and pencil bed width added the tablet is too big for many compact laptop bags (yet our 13-inch MacBook Pro fits in the same sling bags). It's not very portable. Worse, fitting the iPad Pro with its Smart Keyboard Cover attached into this leather sleeve is too snug. You'll need two hands and muscle to slip it all in and out of the sleeve. The iPad is built to be mobile, and this flies in the face of what we want. You just can't completely win at these dimensions.
What the iPad Pro 12.9 design could have used were the shrinking bezels of the iPad Pro 10.5 – and then some. New iPad Pro 2018 rumors point to an iPhone X-like tablet design, without a home button, in an effort to increase screen real estate. iOS 12 gave us the biggest hint of this yet, with iPhone X-matching gestures for Control Center (swipe down from the top right side) and return to home (quickly swipe up from the bottom).
We're in favor of that gesture unification across the iPhone X and iPads, but an actual new iPad Pro for 2018 is likely several months away. And when it happens, hopefully we'll see more colors at the iPad Pro 12.9 size. We're limited to silver, space gray and gold – rose gold remains exclusive to the 10.5-inch size for now.
Apple Pencil
The Apple Pencil has been improved without actually changing. There's now more reason to carry it around than when the first iPad Pro launched alongside the stylus in 2015.
New apps support Apple's Bluetooth-enabled stylus, and you're probably doodling a little more than you expected. Popular photo and messaging apps like Snapchat, Instagram, and Facebook Messenger encourage you to mark up pictures for fun, and iOS 11 recently bestowed upon us instant markup powers as soon as we take a screenshot.
Core apps with newfound Apple Pencil capabilities make the biggest difference in iOS 11. Instant Markup lets you draw on PDFs and photos without opening up a series of separate apps behind nested menus (how was this not a thing before?), while Instant Notes give you better access to jotting down quick thoughts with a double-tap of the lock screen – no need to waste time with that fingerprint sensor or passcode. We also like how your text in Notes cleverly moves out of the way of drawings. Everything is better thought-out in iOS 11.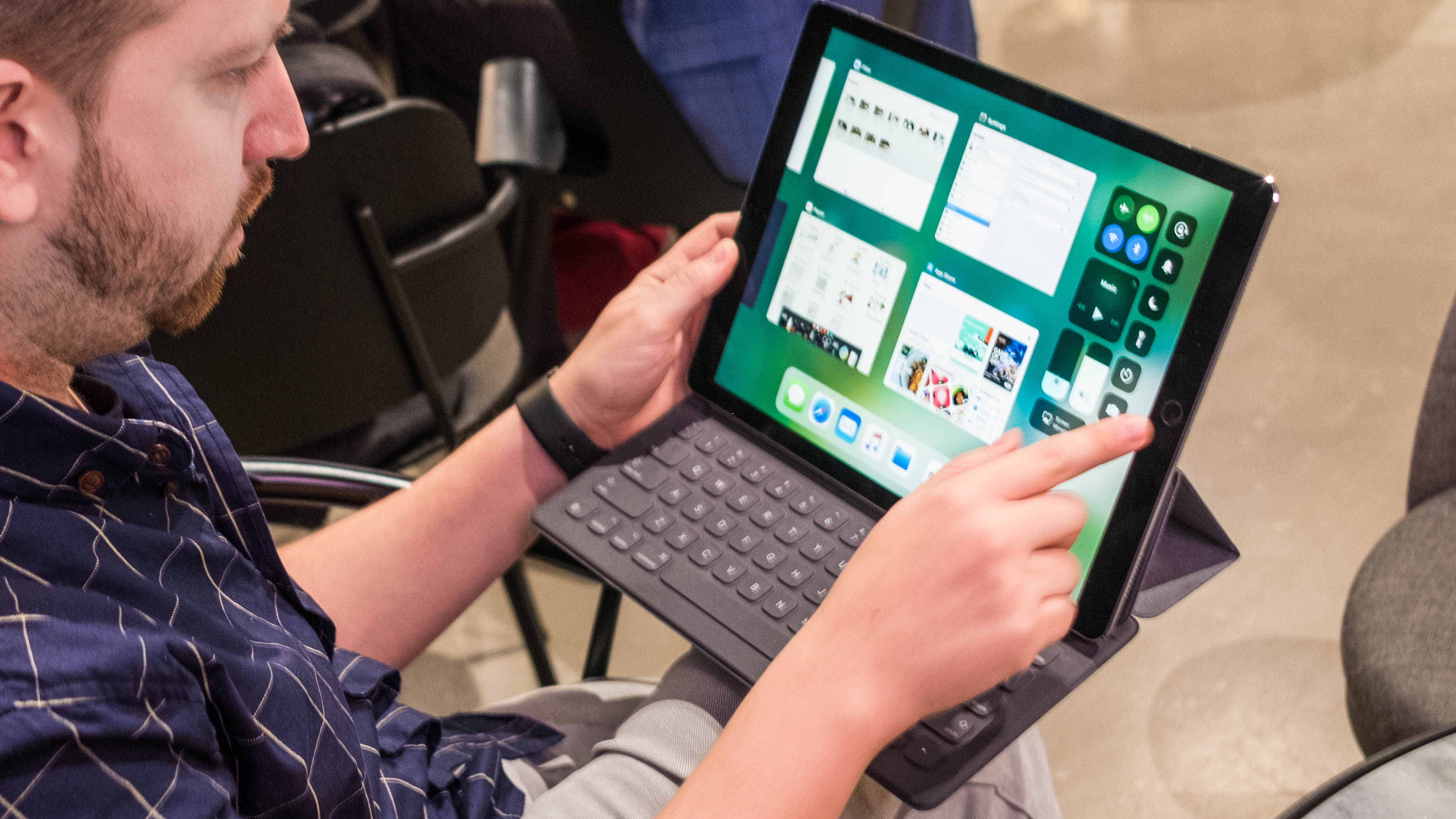 It doesn't hurt that the same Apple Pencil now offers lower latency thanks to the new iPad Pro 12.9's more responsive ProMotion screen. There's just 20 milliseconds of lag, with this combo edging out the Microsoft Surface Pro 2017 and Surface Pen by just a single millisecond.
It's another minor difference that, like the screen fluidity and increased color spectrum, the average person may not notice at first, but they'll know it feels better.
We did run into issues pairing an older, dormant Apple Pencil with the new iPad Pro 12.9, even though they are compatible. Researching the iPad problem, we noticed other users in online forums have experienced Bluetooth pairing issues, which sometimes ended up meaning a dead Apple Pencil; the reports often indicate that Apple replaced the Pencil, even when out of warranty. Pairing a new Apple Pencil with the iPad Pro worked in our case.
iOS 11 and apps
Apple puts a lot of thought into tablet software updates every two years, with iOS 9 and now iOS 11 bringing with them a number of new iPad powers. Besides the Instant Markup and Instant Notes, iOS 11 treats users to an app dock, new multitasking mechanics, and a revamped Control Center.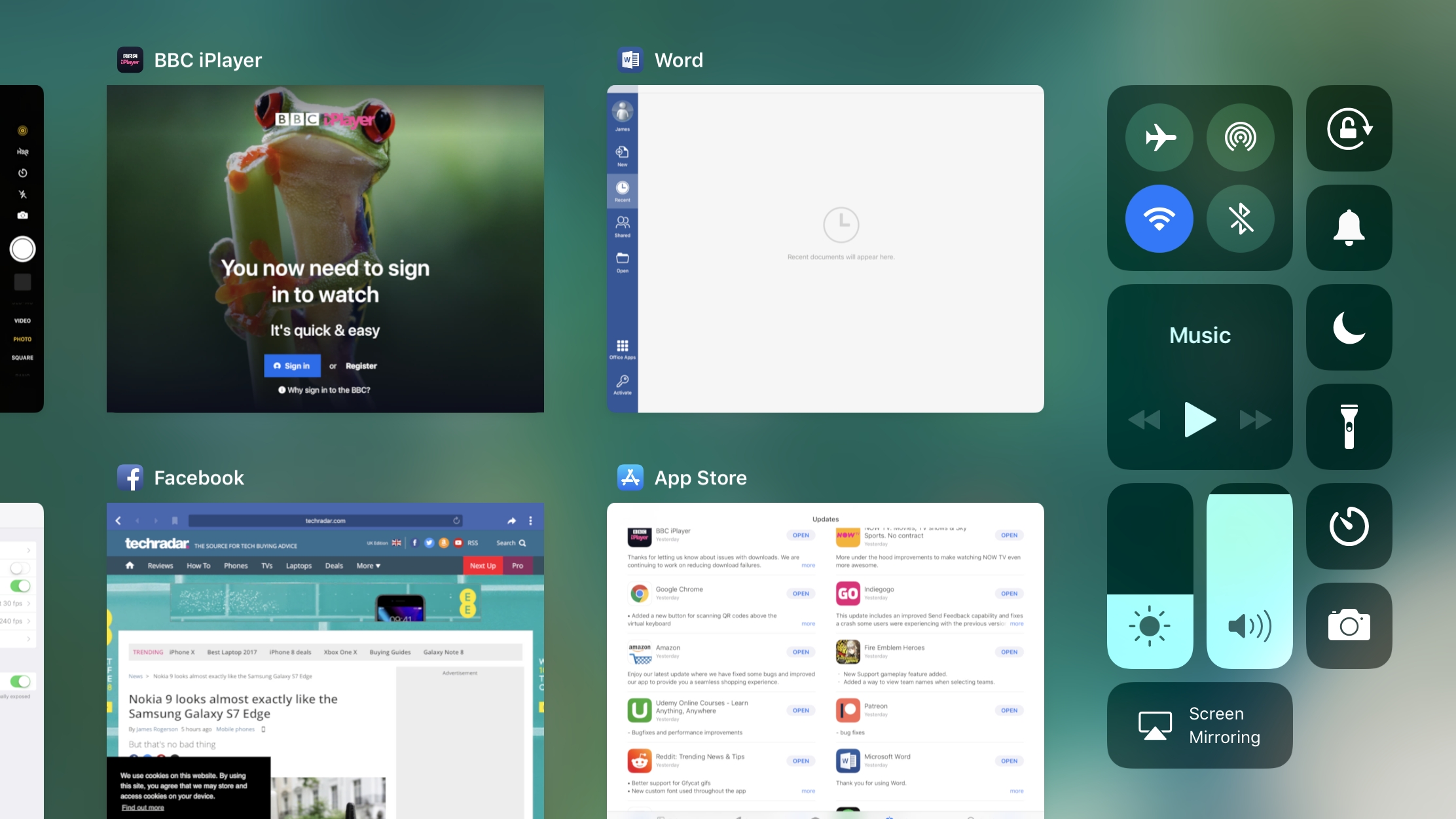 The new app dock lets you reserve a handy row of your favorite apps along the bottom of the home screen as normal – up to 15 apps on the iPad Pro 12.9. New is the fact that you can pull up this hidden dock while in any app, so you don't have to return to the home screen to quickly switch between apps. It's very much like the macOS dock or Windows 10 system tray.
More multitasking perks come into play when you drag a docked app onto the screen. It'll open a second app in a pop-up window that hovers above the currently open app. You can use both apps, or plant the floating app to the right or left side of the main app. True side-by-side window multitasking happens in Split View, which is exclusive to the iPad Pro, iPad 9.7, iPad Air 2 and iPad mini 4. It's easier to properly work in two apps at once in this mode. You can also add one more hovering Slide Out menu for a third app open, although this gets complicated even on the big 12.9-inch screen.
Control Center is very different on an iPad when you upgrade to iOS 11. You still swipe up from the bottom (dragging your finger up the screen further than when you trigger the app dock with the same gesture), but the quick settings are now all right-aligned, while a multitasking grid appears on the left side. Everything you want on this vast multi-touch screen is at your fingertips, and while it takes time to get used to these fundamental Control Center changes, it's easier than dealing with these controls split up over three menus and a fanned-out multitasking screen.

The final iOS 11 perk for iPad worth highlighting in detail is the improved on-screen keyboard. We still recommend buying Apple's pairing-free Smart Keyboard Cover accessory. But it's now faster than before to type on the virtual keyboard in pure tablet mode thanks to the ability to flick forward on keys to access secondary keys like numbers and symbols. This is much faster than switching between two keyboard layers.
The iOS 11 software suite is rounded out by changes like the new Files cloud storage system, which we found handy but haven't totally entrusted with all of our files (that'll take time), Messages in iCloud to store and better sync for texts (debuted in iOS 11.3 beta), Apple Pay Cash for peer-to-peer payments via Messages (iOS 11.2), a redesigned App Store, and Siri sounding more human and coming up with smarter answers.
The iPad Pro 12.9 is as big as a computer and, thanks to iOS 11, it acts more like a computer operating system. That's evident from the new dock and multitasking features. You're still going to work faster with even more dynamic windows, and with a mouse or touchpad, but this is leaps and bounds better than when the iPad Pro first launched onto the scene trying to make the same "this is a computer" statement.
More revamping will come with new iOS 12 feature, including iPhone X-style gestures to initiate Control Center (swipe down from the top right), return to the home screen (quickly swipe up), and slide across open apps (swipe up and scroll right or left). This makes a lot of sense for anyone who wants an iPhone X, as it unifies Apple's gestures seen on its flagship smartphone. You'll just have to wait a couple of months for the final software or download the iOS 12 beta.
Specs and performance
Apple continues to market the iPad Pro as more powerful than most laptops, and fact-checking that claim we found it to be accurate in both lab tests and, more importantly, real-world experiences. It has a lot to do with the fact that Apple has squeezed a hexacore CPU and 12-core GPU into the 64-bit A10X Fusion chipset. The Pro's computer-like-prowess is further evidenced by the option to buy a 512GB model, the highest capacity in an iOS device so far.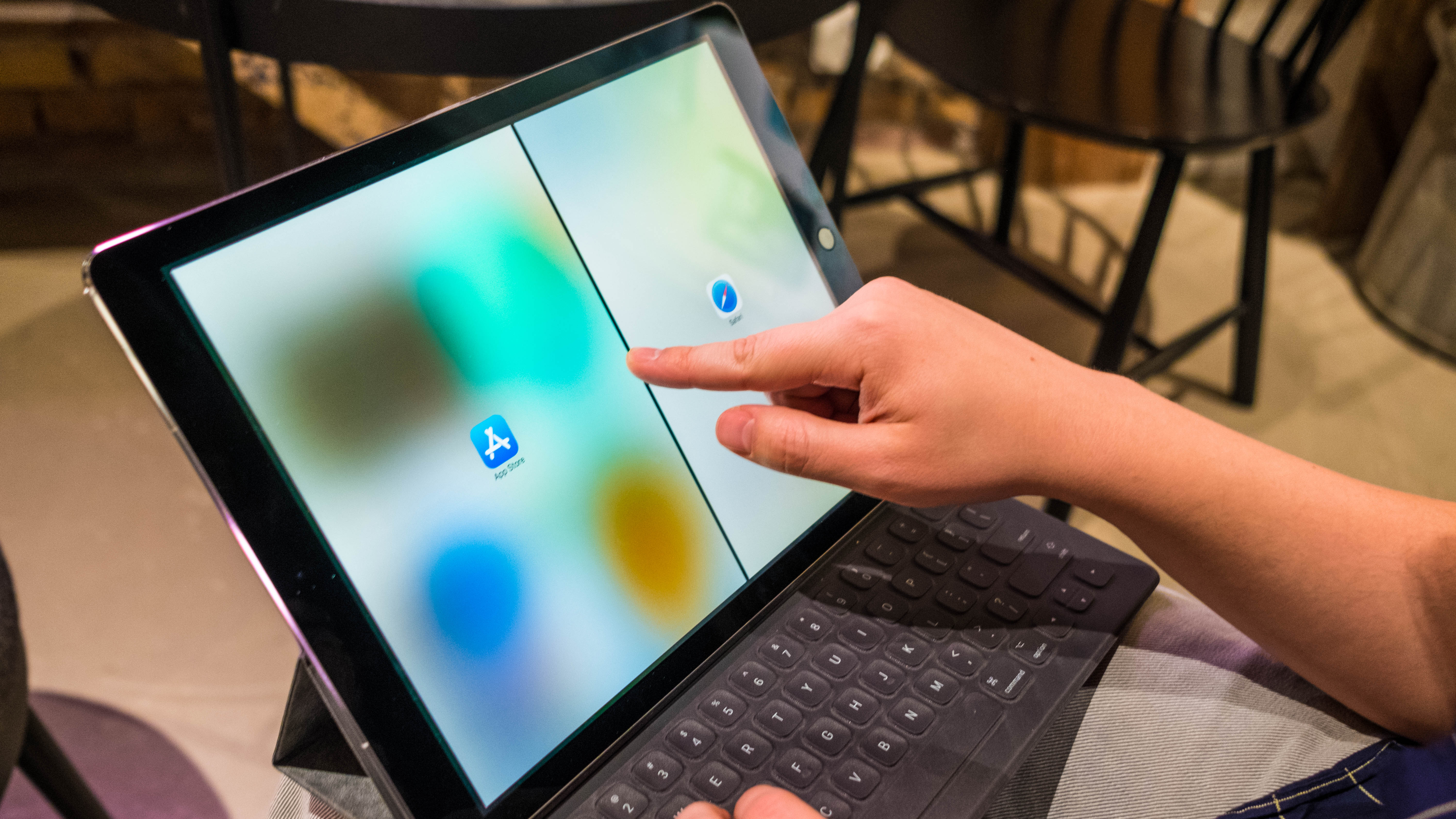 The A10X Fusion is a souped-up version of the chip found in the iPhone 7 and iPhone 7 Plus, and it was able to keep pace with our multitasking thumbs' slicing and dicing of spreadsheet menus, akin to the world's most tepid game of Fruit Ninja. That said, we weren't finding too much slowdown in the old iPad Pro 12.9 and iPad pro 9.7 either, even though they lacked the noticeable ProMotion speed boost.
Lab tests gave us a multicore score of 9,343, consistent with many laptops we test. The price seems high until you realize that the raw computing power of the new iPad Pro models matches that of a computer.
Camera
In an effort to look less ridiculous in 2018 one thing you shouldn't be doing is taking photos and videos with an giant iPad, but since you've probably given up on all your other New Year's resolutions we might as well tell you about the camera on the new iPad Pro 12.9.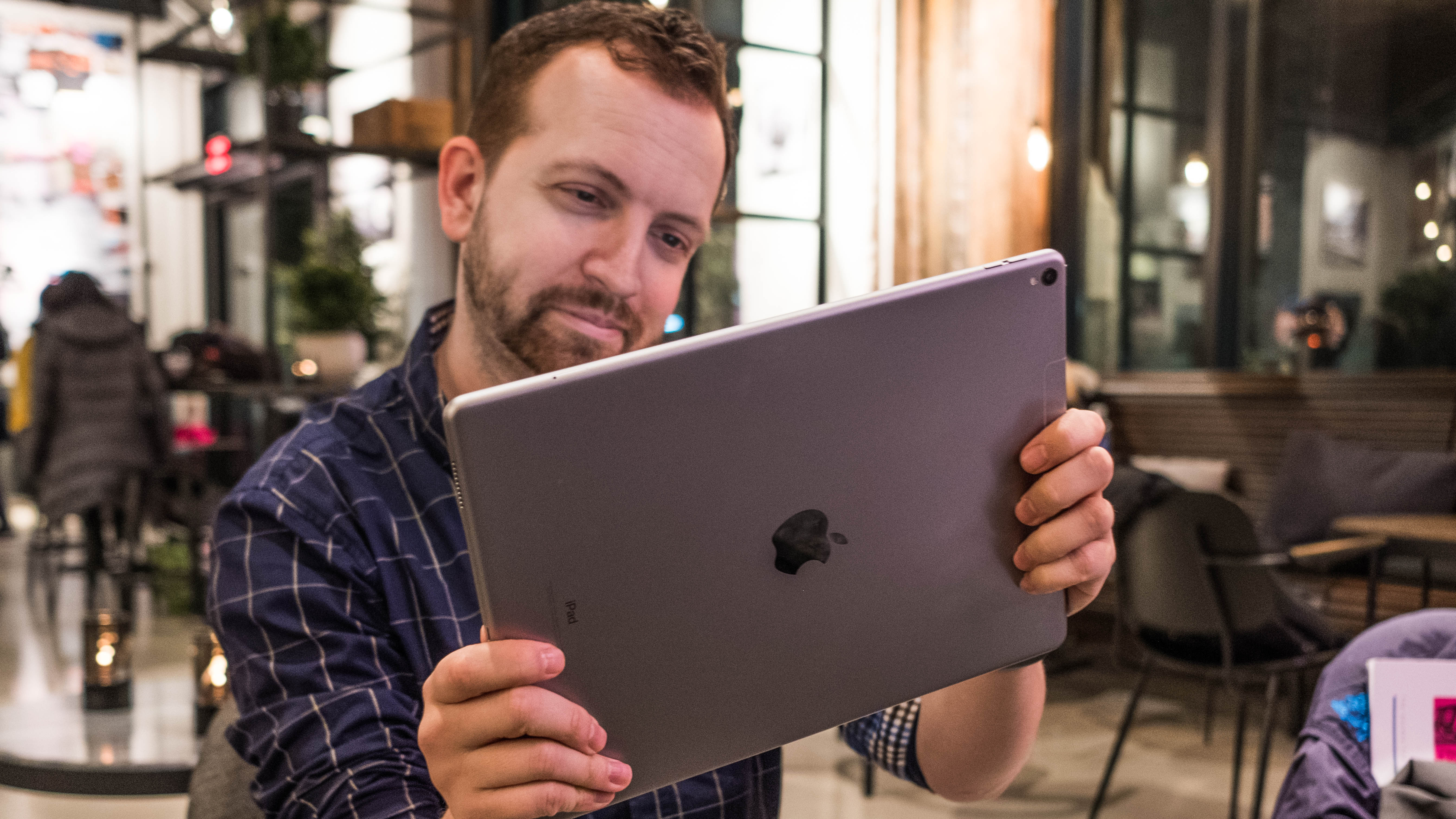 It uses the same 12MP and f/1.8 aperture rear camera and 7MP FaceTime f/2.2 front-facing camera as the iPhone 7. The photos look just as good as they do on the iPhone, and the expansive 12.9-inch display acts as a better viewfinder, and ideal way for editing photos in Adobe Lightroom.
You can shoot video at 4K resolution with the rear camera, and 1080p with the front-facing one. However, even though this is a plus-sized iPad Pro there's no optical image stabilization, and you won't find a dual-lens camera on any iPad just yet.
We found the camera most useful for taking reference photos rather than for portrait shots (the iPhone's new Portrait mode isn't an option on the iPad yet, by the way). iOS 11 goes as far as to include a nifty Document Scanner, which automatically crops and adjusts paper documents as if they just went through a heavy-duty scanner. Being able to then seamlessly mark them up with an Apple Pencil is a one-two productivity punch, and these are the sorts of features that make owning a tablet useful over a phone or computer.
Battery life
The iPad Pro 12.9 is rated for 10 hours of battery life thanks to its 10,875mAh battery capacity, and that's exactly what we got in day-to-day use. In fact, we were able to stream (at medium brightness over Wi-Fi) an entire television series (10 episodes at 45 minutes per episode) without burning through more than 75% of the battery. We decided against binging through part of Season 2 with the remaining battery.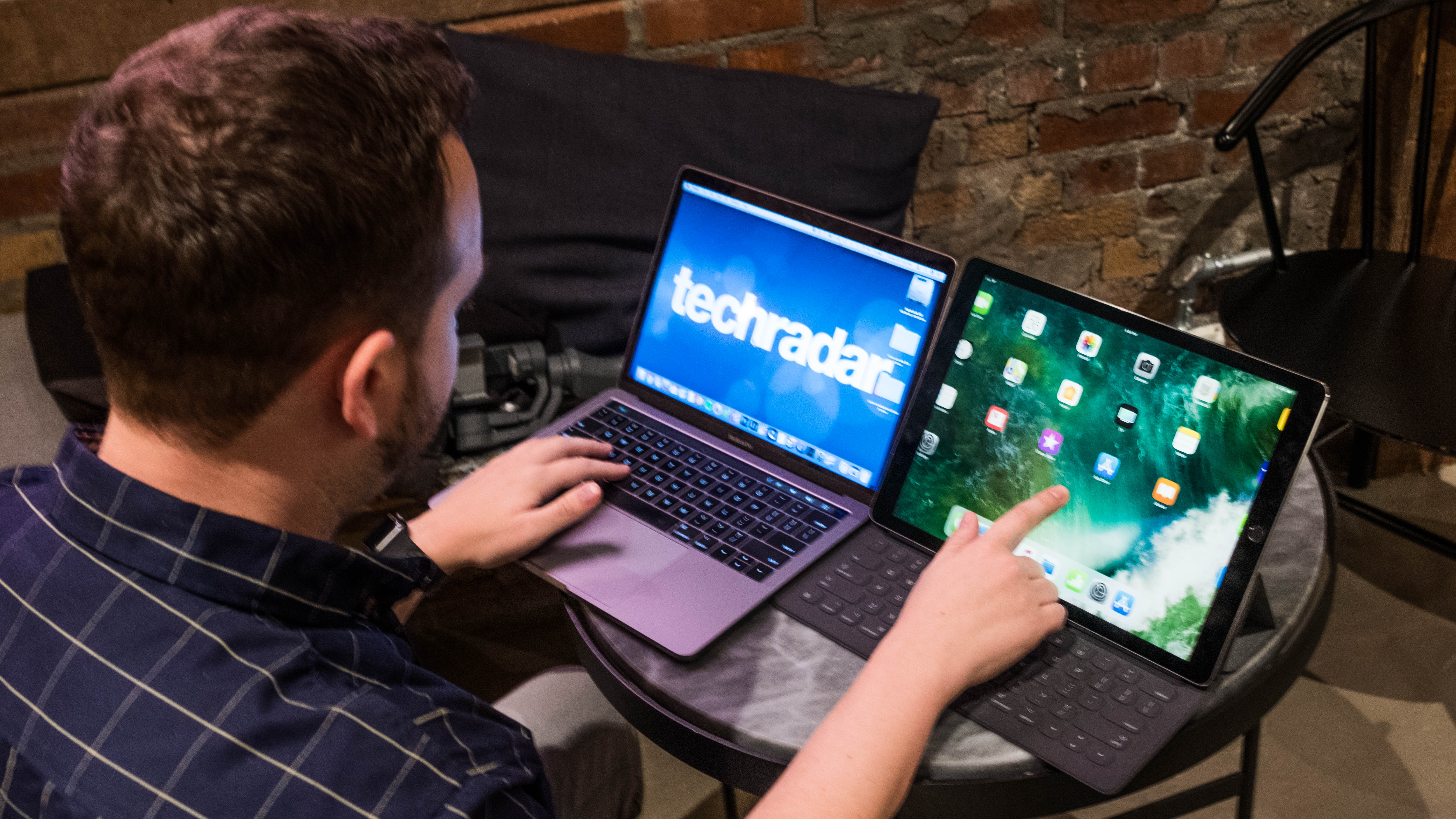 Our lab tests backed this experience up, even with the screen radiating closer to its full 600 nits: watching a 90-minute looped HD video at full brightness caused the battery to lose just 21%. The iPad Pro 12.9 lasted longer than both our MacBook and MacBook Pro, though our tasks weren't as intense on an iPad, so you should take that into account.
One of the best features of the iPad Pro 12.9 from two years ago returns here: the ability to fast-charge using a USB-to-Lightning cable and a USB-C wall charger. Even better: if you buy Apple's 29W USB-C adapter through its store or, as we did, use an existing USB-C MacBook Pro charger with the USB-C-to-Lightning cable. Using the same charger for our MacBook Pro and iPad Pro is the type of dream scenario we'd like to see more of from Apple.
Final Verdict
The iPad Pro 12.9 is the tablet equivalent of a gaming laptop. It's incredibly powerful, undeniably fast, and a visual treat every time you turn on the screen. It's big to carry around, and expensive, and, also like a gaming laptop, it can replace your regular computer that hasn't aged very well.
And it is a computer for a lot of people we know, and we can say that today thanks to iOS 11. The iPad Pro 12.9 running the iOS 11 update combines new multitasking and Apple Pencil powers with the best-looking large multi-touch display we've ever tested. It's enough to make you want to start drawing diagrams in apps like Notes or Paper. iOS 12 should make the performance smoother in a few months, too.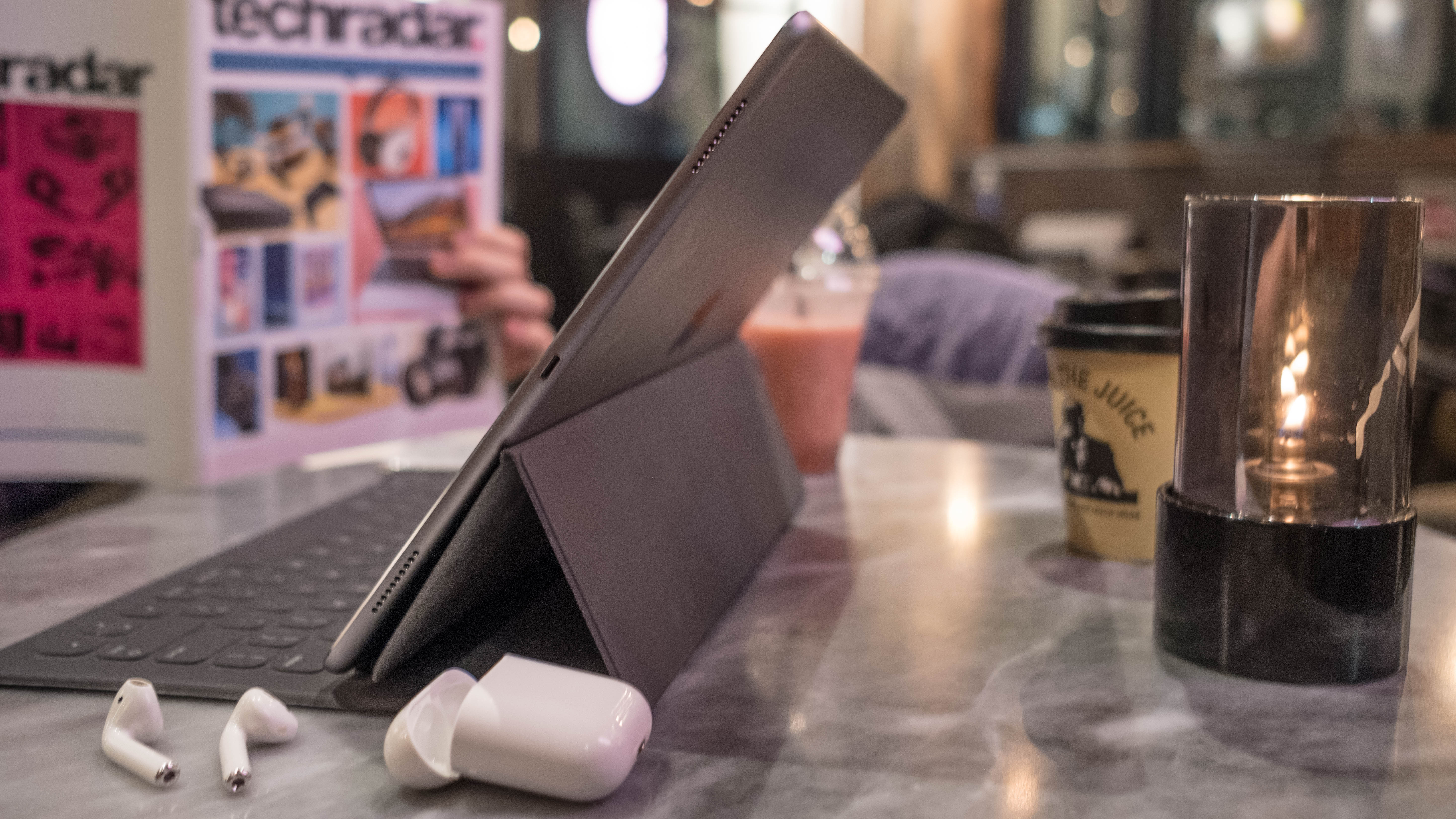 What you're not going to love is the iPad Pro 12.9 price. With this slate starting at $799 / £769 / AU$1,199), you're really have to keep in mind that this is good value for its raw computing power – it matches or surpasses many of the best laptops in our tests, including the Microsoft Surface Laptop. It's a fact that's hard to hold onto when the "most people" who would consider this iPad Pro enough of a computer for their needs are likely on a tighter technology budget. And everyone with a bigger budget will likely spring for a laptop without productivity limits.
Your buying decision, then, comes down to three important questions. Can you afford an iPad that costs almost as much as an entry-level MacBook Air? Are you going to use the Apple Pencil and multitasking software that make this iPad so different from the non-Pro iPad 9.7? Can you easily carry this giant tablet around with you? Yes, yes and yes? Then this is a big-screen luxury gadget that's fit for your multimedia and productivity needs in a thin and light format, if you can live within the (slightly expanded) confines of iOS 11.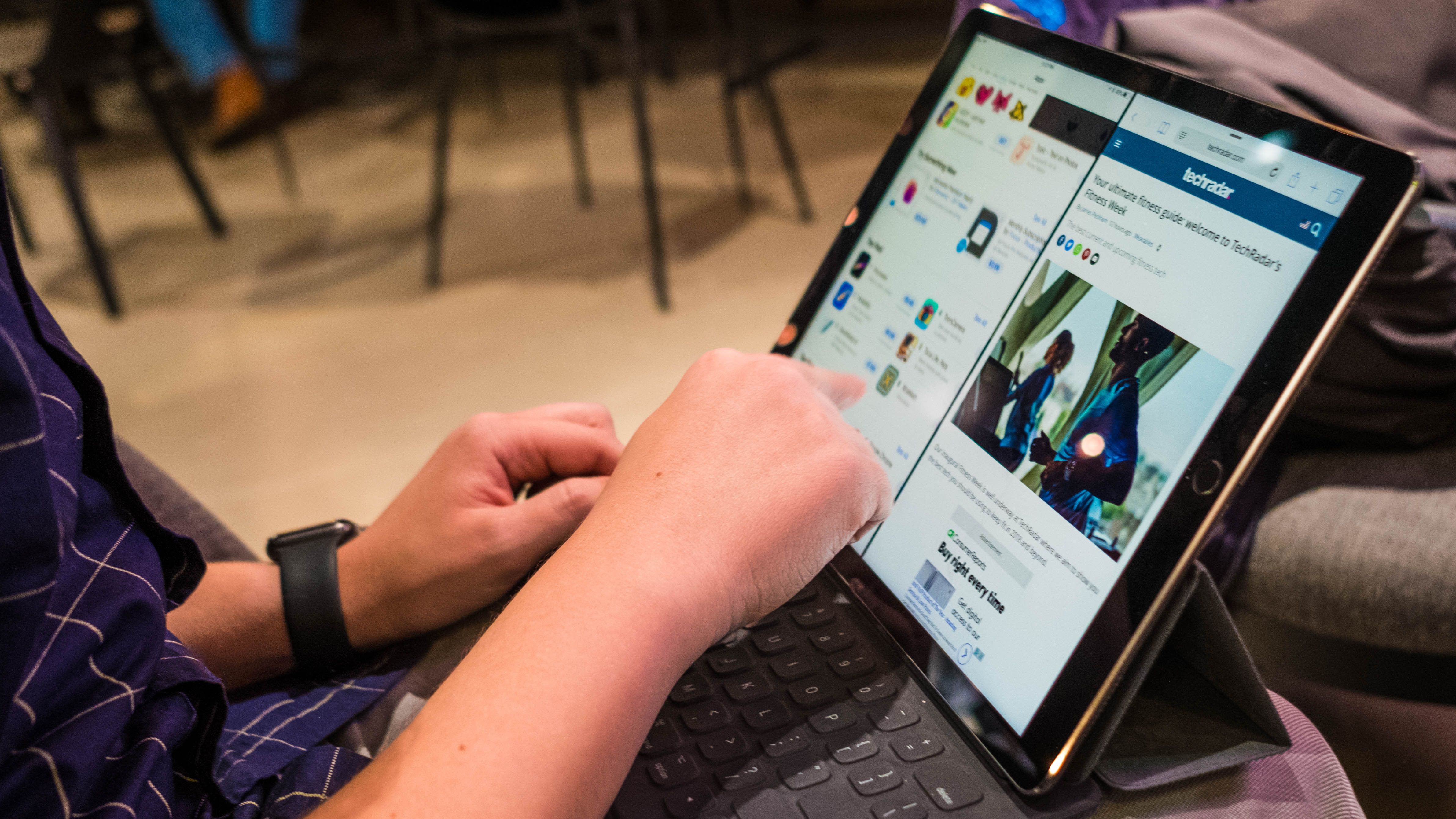 Who's it for?
What's interesting about Apple's biggest tablet for power users is that it's expensive, yet it's not quite a laptop. So you have to care enough about productivity and efficiency that you're willing to spend top dollar on the most expensive iPad out there, but not so much that you have to go the extra mile and buy a MacBook. Who is that person, really? The iPad Pro 12.9 may be a tough sell compared to the more affordable, more manageable iPad Pro 10.5.
It has iPad Pro-exclusive perks you can't get on a laptop, of course: the incredibly precise Apple Pencil, a fantastically responsive and bright Retina display that you can't buy into with the entry-level MacBook Air level (Apple's premium laptop display is saved for the costlier 12-inch MacBook), and an enviably thin and light design.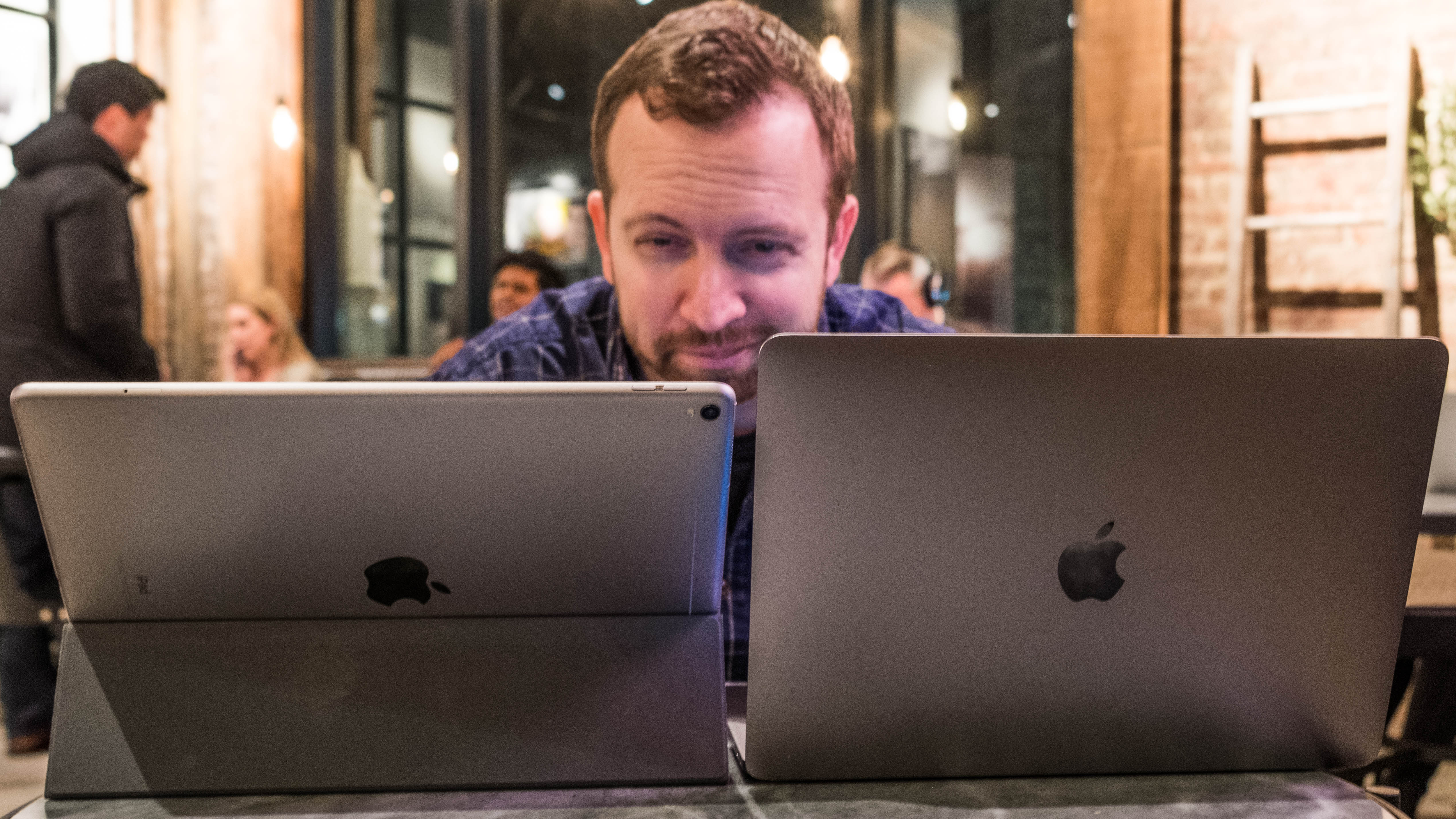 Should I buy it?
It's very easy to love the iPad Pro 12.9 for its expansive size, and to also wish it was smaller. That wish may come true months down the line with the iPad Pro 2018, but there are no guarantees, and you're probably looking to buy a 2-in-1 laptop alternative right now. So yes, buy this if you have a desire for Apple's largest and most powerful new iPad.
It's great for indulging in video, making presentations, and multitasking with multiple app windows. It'll cost you money, and space in your bag, but it's the best big tablet you can buy if you think the iPad Pro 10.5 is too small.
from TechRadar - Technology Reviews http://www.techradar.com/reviews/ipad-pro-2-129