The Lenovo Miix 510, like the best Windows tablets, isn't going anywhere anytime soon. There's a wide range of devices with detachable keyboards that use Windows 10 as a tablet and desktop OS – even Microsoft has a couple.
And, while the Surface Pro 2017 is Microsoft's latest, the Lenovo Miix 510 is closer to the Acer Swift Alpha 12 or the Surface Pro 4.
The Lenovo Miix 510 follows the Miix 700 (yeah, we know), and it features a 7th-generation Kaby Lake processor, 8GB of RAM and a 256GB SSD. There are cheaper options out there, but trust us – this is the model to get.
The Lenovo Miix 510's design revolves around two watchband-style hinges that let you have more flexibility and control than the Surface Pro when it comes to the angle of the kickstand – and subsequently, the display. The included keyboard cover – something even the more expensive Surface Pro doesn't have – is a nice touch, too.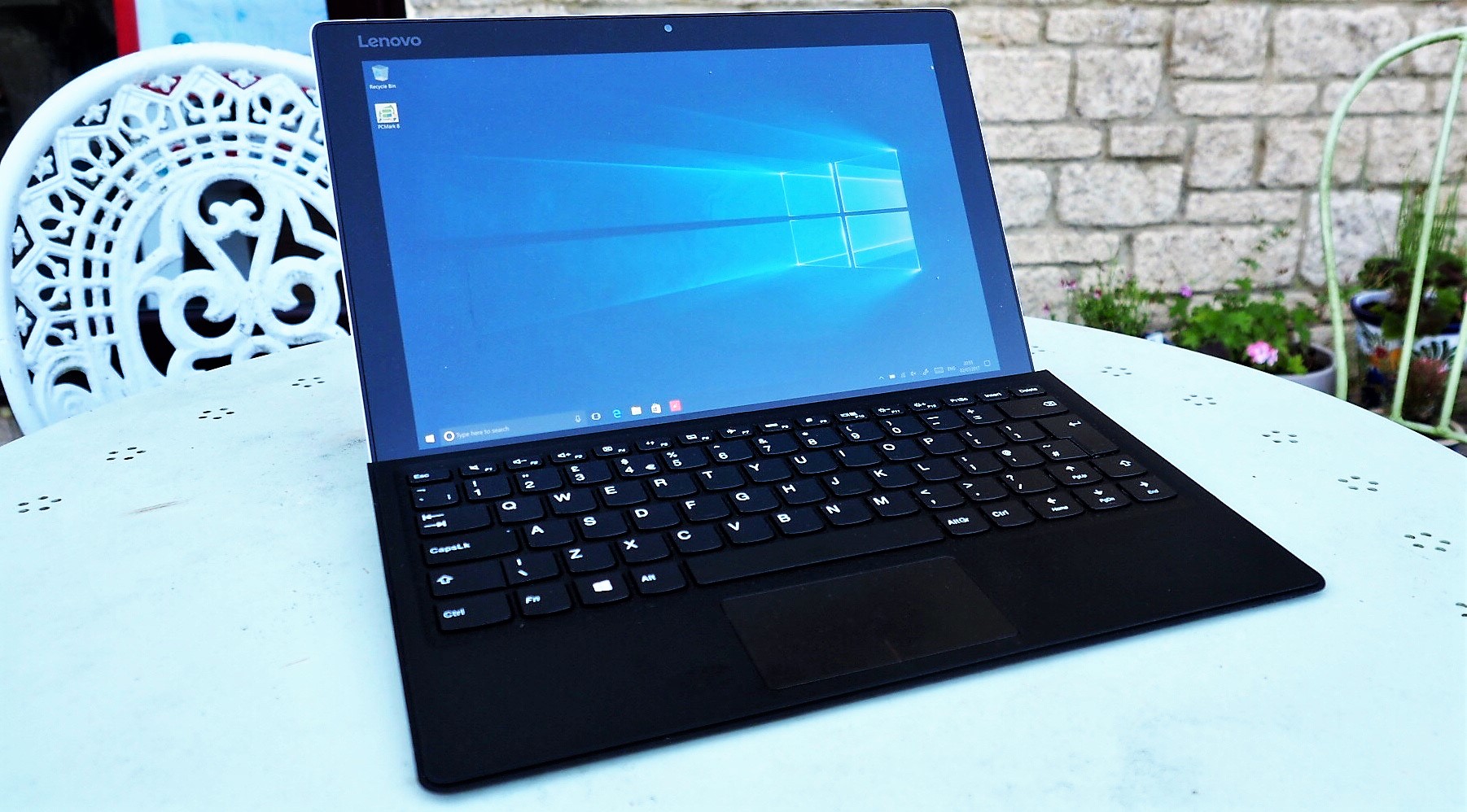 Similar to previous Miix tablets, the latest comes with an active pen, too. Styluses have a lot more functionality these days, thanks to the Windows Ink feature in Windows 10, and they're an essential add-on for any tablet that wants to be taken seriously. However, Lenovo's Stylus doesn't attach to the device via a magnet, though there is a pen loop on the included slipcase.
Price and availability
There's an Intel Core i3 variant of this device for $599 (£750, AU$600) which has half the amount of memory and storage as well.
The Core i3 version of the Lenovo Miix 510 will be more than fine for most people, but if you're looking at any kind of photo or video editing, we'd recommend the Core i5. At the time of writing, you're looking at $669 (£849, AU$750) for this device.
The Surface Pro 4 has come down in price, but the equivalent model is still more expensive at $729/£899, so you're paying a significant premium when you consider that the Surface Pro doesn't include the Type Cover keyboard.
Depending on where you look, the Acer Switch Alpha 12 is around the same price, with Acer recently announcing a new version.
Now, the Lenovo Miix 510 has been discontinued by Lenovo, but you can still find plenty of great deals on the refurbished model. And, when Black Friday 2018 rolls around next month, we're sure there will be a ton of deals on the Lenovo Miix 510.
Design
The Lenovo Miix 510 isn't going to blow your mind, but it's still a well designed tablet hard drive. It looks distinctive, and those watch band-style hinges give it a certain something. The detachable keyboard with optional backlight also doubles as a protective faux leather folio case, which is quite effective, and feels good while it's at it. It's a more premium feeling and mature accessory than Microsoft's Surface Pro 4 Type cover, which isn't included for free – unlike the Lenovo Miix 510's
The side controls – especially the power button - are a little plasticky, but it's a minor complaint.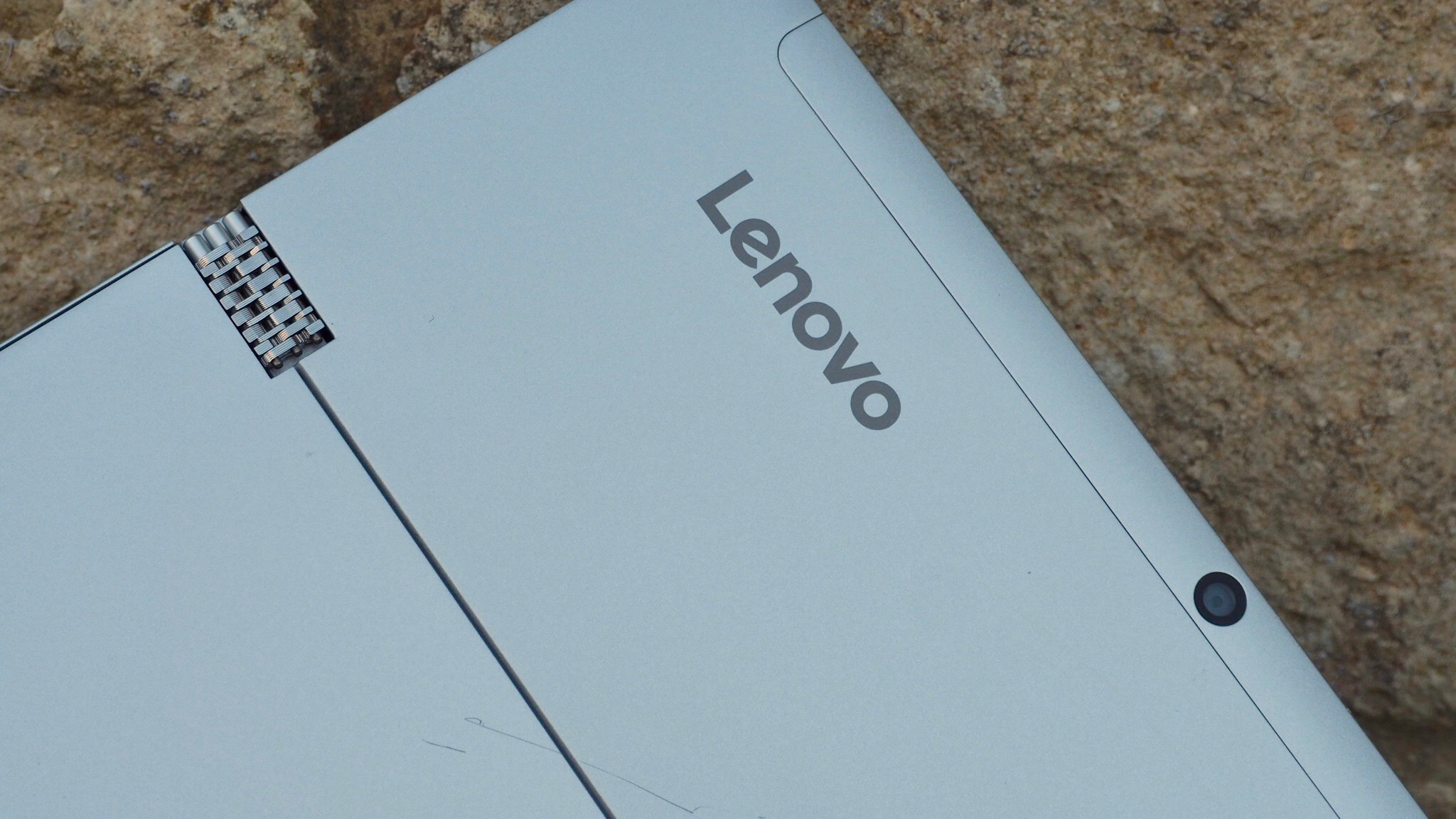 Without the keyboard cover, the Miix 510 weighs just shy of 900g. That's OK to hold in one hand, leaving the other free to draw or write on the display. This means you're going to want to brace it against something or put it on a flat surface before too long.
The Lenovo keyboard cover sports Lenovo's AccuType-style keys, which are slightly curved along the bottom edge. They're sufficient in size but don't possess quite as much travel as the Surface Pro 4 cover, and this doesn't make for a great experience when you have a lot of words to type.
The biggest problem is that we found the keyboard flexes a bit. And if you're a hard typist in any way (which device makers seem to be catering less and less for) then the keyboard bounces rather angrily. Light typing is always preferable, but we think you almost need to be a little too delicate here.
Elsewhere the Lenovo Miix 510's bezels seem quite wide, but they're not too much and they don't make the device seem chunky. Quite the opposite, the Lenovo Miix 510 looks sleek and professional. Naturally, you'd expect this with a device priced like the Miix 510, but there's no disappointment here.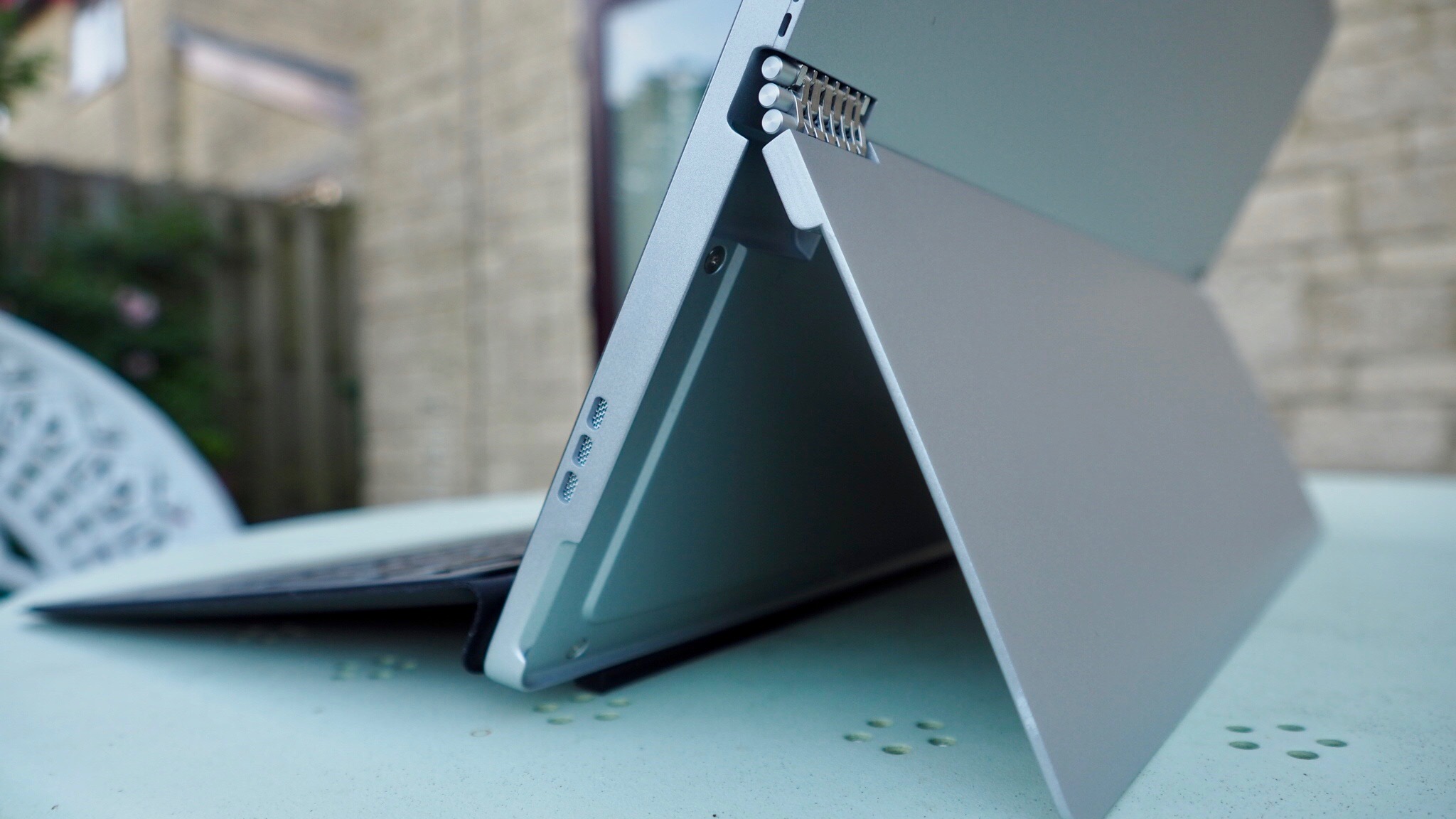 Display
There's a lot to like about the display here – blacks are black and colors are vibrant.
Viewing angles are also really rather excellent and this is a big benefit for anybody looking to use this 2-in-1 for collaborative work. What is a bit more of a problem is the resolution, which sticks with Full HD.
Mind you, when we say it's a problem we actually mean it's an issue comparing like-for-like with other tablets.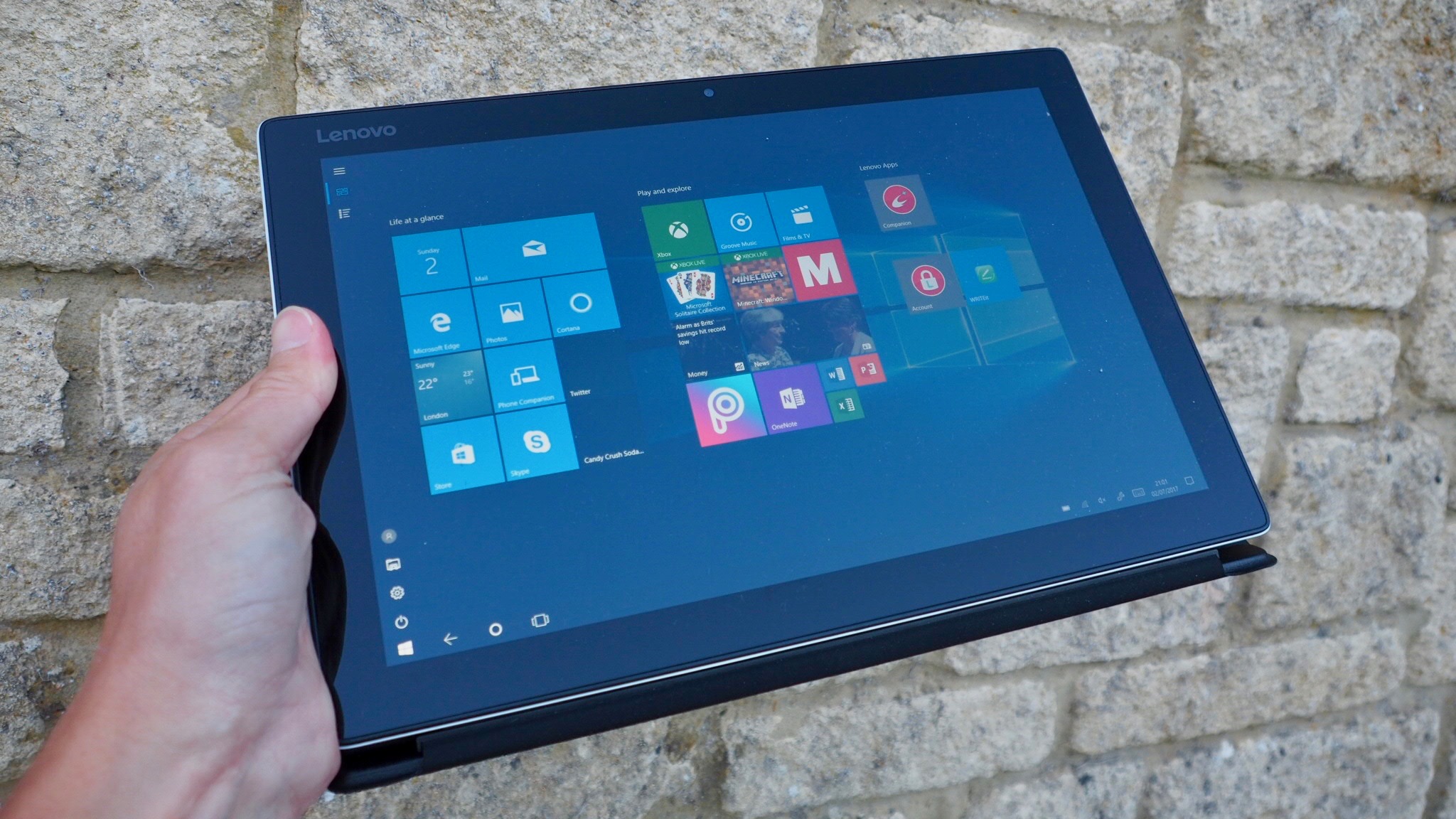 Both the Surface Pro 4 and Acer Switch 12 feature 2,160 x 1,440 resolutions. In use, it's not a problem using Full HD on the Miix 510. It depends on how determined you are to have best-in-class specs in every department.
Because we're looking at the Intel Core i5 variant of the Miix 510 here, performance isn't really an issue. There's plenty of 'everyday' power on offer.
Naturally, you're not talking about gaming performance, but between the fast PCIe SSD and the processor, there was no issue with any kind of everyday tasks we tried.
Plus there's plenty to like in terms of entertainment performance and we found the Miix 510 genuinely likeable for watching movies on with the kickstand.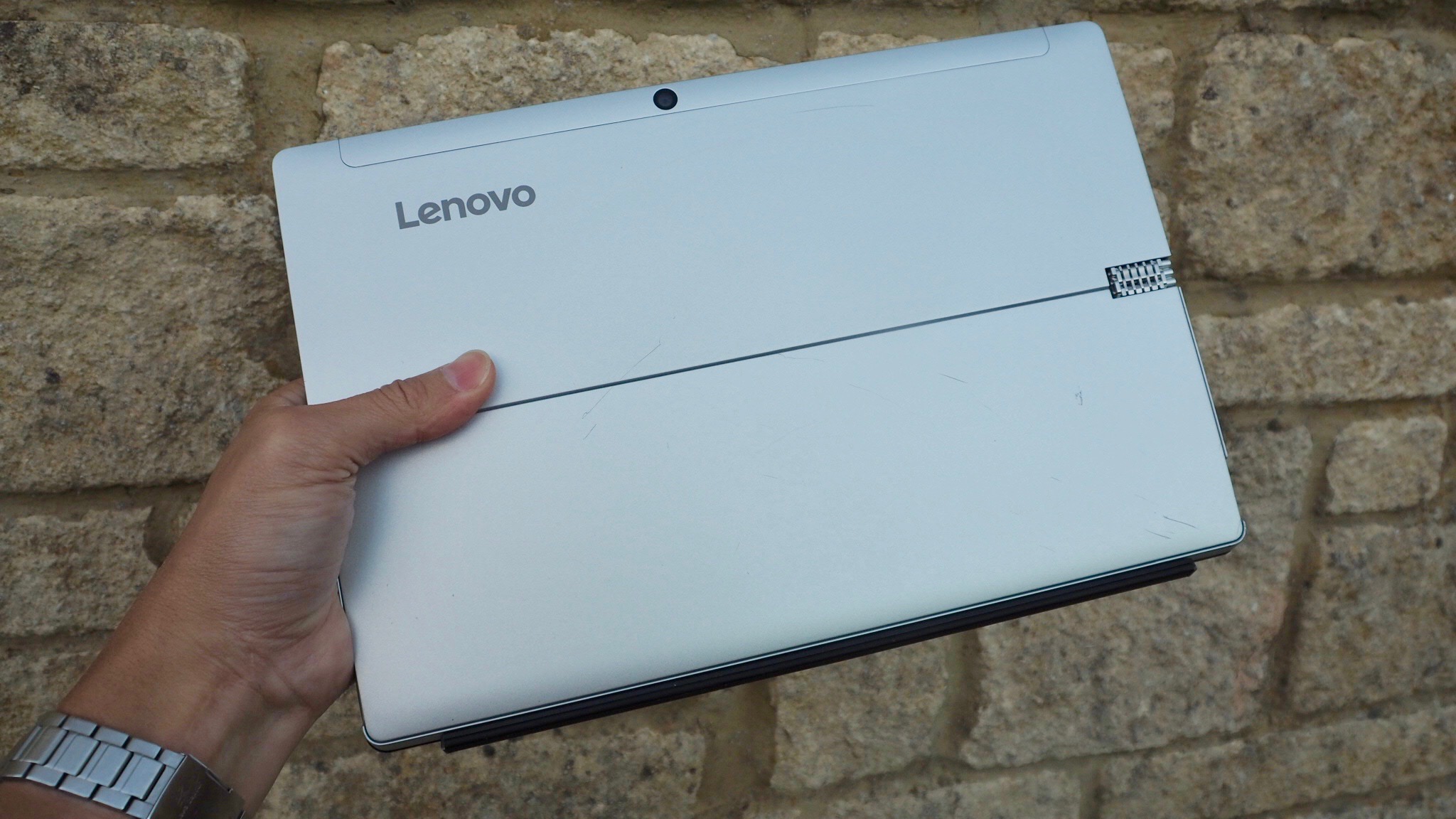 Talking of the kickstand, it's an effective bit of industrial design from Lenovo. The ability to be able to poise the device at almost any angle is a real boon. Elsewhere, the edges of the device are covered by the usual fan and speaker grilles plus ports, but everything is integrated nicely, with power, USB-C and USB 3.0 on one side and power, volume and 3.5mm headphone jack on the other.
It's incredible that the USB 3.0 port now looks weirdly large in comparison to every other cable connector.
Writing detection is responsive enough to jot down notes swiftly, and the pen itself is slim enough to remain comfortable for long periods.
Performance
In our benchmark tests, the Miix 510 was, well, mixed. Performance was good, the multi-core Geekbench test and 3D Mark scores are understandably comparable to other similarly powered competitors.
However, battery life on the Lenovo Miix 510 fell short compared to other Windows tablets, namely the Surface Pro 4 and Acer Aspire Switch Alpha 12 that we've mentioned earlier. The Surface Pro 4's battery life was 35 minutes longer on our looped TechRadar video playback test. Meanwhile, the Pro 4 lasted for 18 minutes longer on the harsh PCMark 8 battery test.
It's refreshing to see USB-C included with the Lenovo Miix 510 – the manufacturer has provided plenty of options here with legacy USB support, too, but we'd prefer to see a USB-C charger rather than the round-ended standard charger included with the Miix 510. Next time. It's a nice, light and compact power, brick, however, so it won't weigh you down. Still, in a world where Microsoft continues to pretend USB-C doesn't exist, this is a definite benefit for the device. Microsoft thinks people aren't ready for USB-C, but Apple doesn't seem to have any problems convincing its users.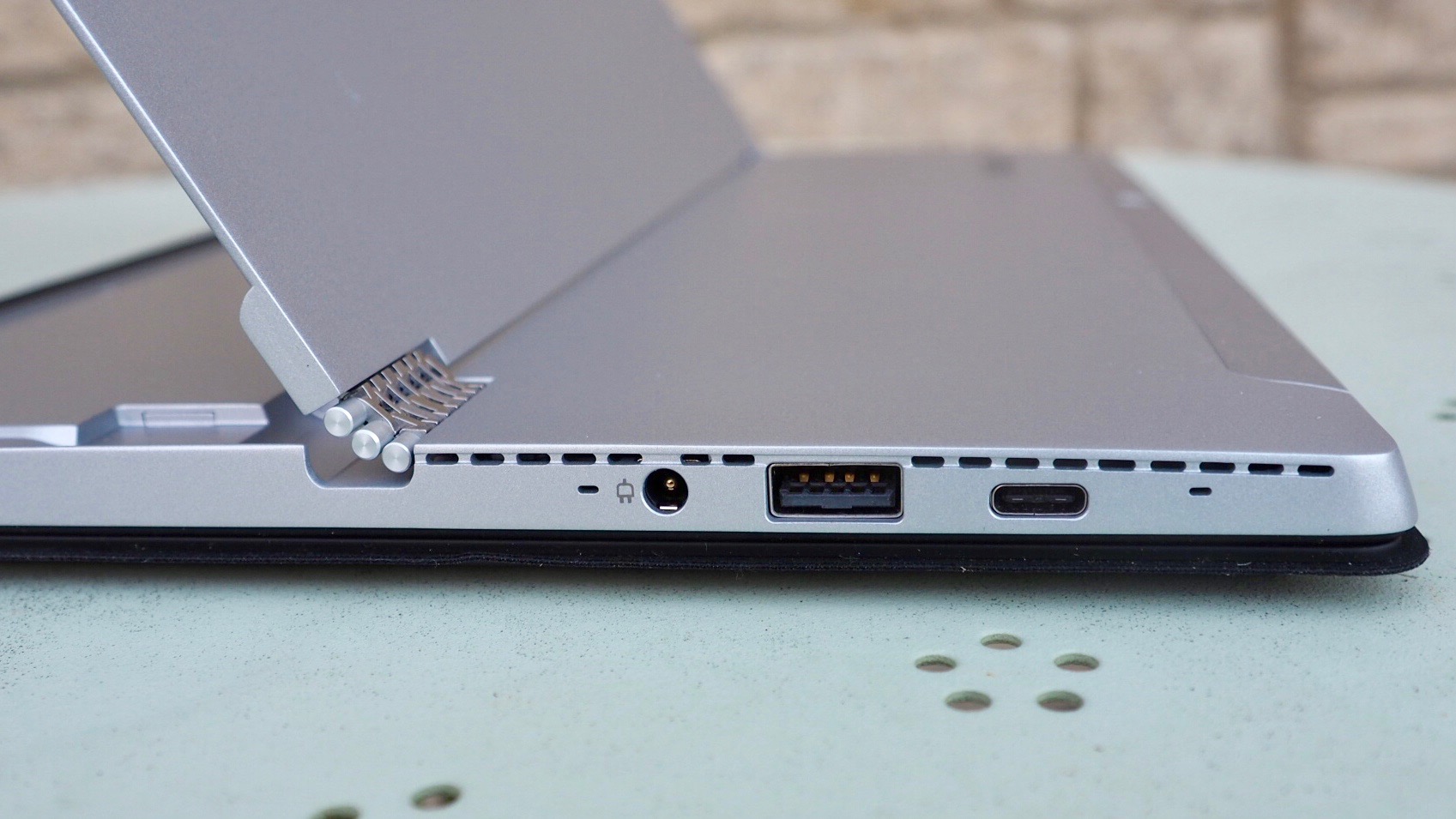 Lenovo hasn't included a microSD port here though; surprising in our book but not a deal-breaker. As you'd expect, you get a 2 megapixel front camera for video calling, as well as a decent if uninspiring 5 megapixel unit on the back. Dual-microphones cancel out background noise and we had no problem with being understood on calls.
In terms of audio playback, it's fine for everyday YouTube viewing, but you'll want to hook it up to a Bluetooth audio system (there is a headphone jack, too) for any movies or music.
We liked
There's a lot to love about the Lenovo Miix 510. Firstly, there's the fact this is a powerful device. The Lenovo Miix 510 has no issue dealing with the everyday and is very pleasant to live with, hook up to a secondary monitor or use on the move – the usual tablet/keyboard caveats apply, such as it really needing to be used on a flat surface, but the kickstand does work well for that.
We also appreciate Lenovo's nod to USB-C, while the appearance of the thing is generally likeable.
We disliked
The display isn't as high resolution as some, even if it is great quality – whether that will bug you is a matter of personal preference.
However, it's the battery life that really grates, especially when competitors have similarly specified innards and better displays. We really would have expected more here.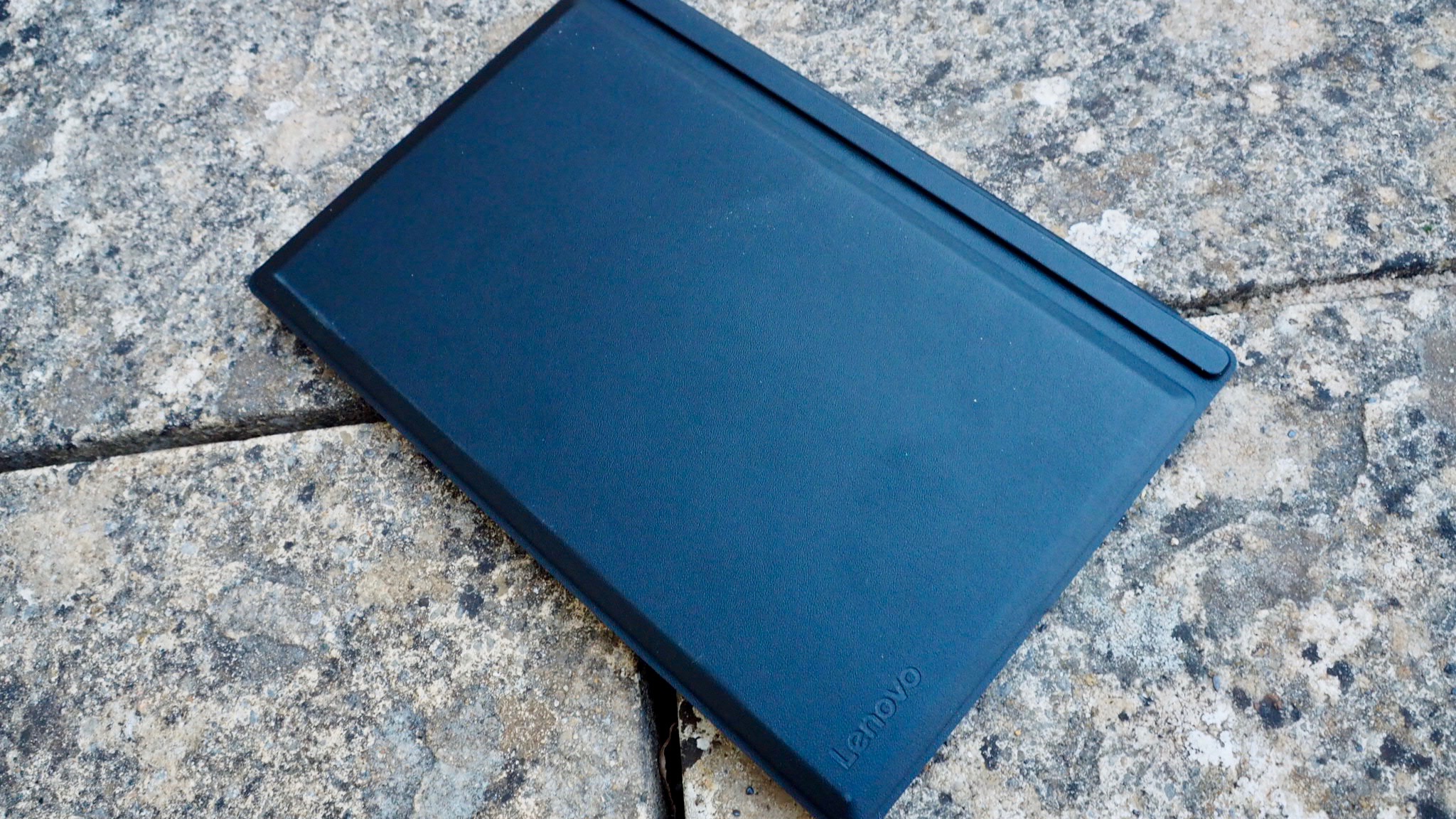 Final verdict
So despite a compelling spec sheet and generally likeable appearance, the Miix 510 remains a little hard to unequivocally recommend.
That's because of the competitors that loom above and beside it, not least Surface Pro 4. It's the battery life that really lets it down.
But if it's price that's your main motivator, you'll find the Miix 510 a fantastic alternative choice.
from TechRadar - Technology Reviews http://www.techradar.com/reviews/lenovo-miix-510-review