The LG V40 ThinQ is the first phone to squeeze an outrageous five cameras into a single device to give you more shooting options – even if you think you already have enough photo choices. This also happens to be the perfect metaphor for LG's ambitions in a smartphone market dominated by Apple, Samsung, Huawei and a few others.
Luckily, the LG V40 has a few camera tricks to keep it from being an also-ran Android phone, unlike this year's unsurprising, risk-averse LG G7 ThinQ. It captures larger pixels and combines a regular, telephoto, and a super-wide-angle camera in a rear three-camera array. There's also a normal and wide-angle camera pair on the front for selfies and group selfies respectively.
You're getting five different perspectives from the LG V40 cameras, and several unique modes. Triple Shot simultaneously snaps pictures from all three rear cameras, so you don't have to worry about which lens is best for a particular shot. Cine Shot allows you to create six-second cinemagraphs to partially animate still photos. And Cine Video, first seen on the LG V30, is back to make it easier to fluidly zoom in anywhere, not just the dead center of the camera screen.
The LG V40 has a lot of cameras, and plenty of ways to put them to good use, even if we aren't going to crown it the best camera phone of all time. It does prioritize faces nicely compared to its competition, but too often it blows out backgrounds, even with HDR mode enabled. We tested it against the Samsung Galaxy Note 9, iPhone XS Max, and Google Pixel 2 XL.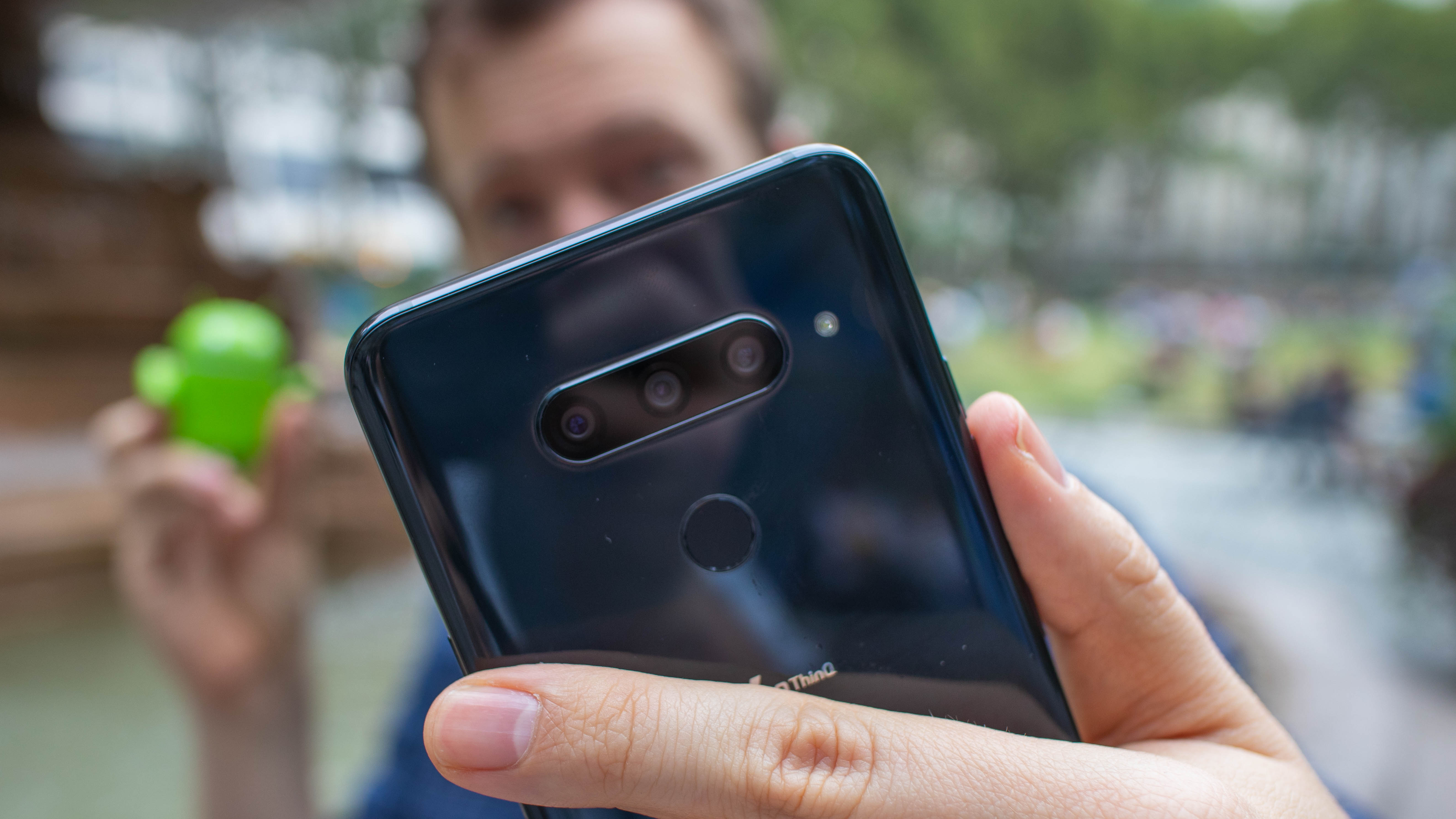 Playback, and all multimedia, look great on LG's expansive, color-rich 6.4-inch OLED screen with HDR10 compatibility. You won't mind the small notch cut out at the top, and you can black-out the display 'ears' flanking the notch if you're really against this trendy design quirk. It's also among the fastest Android phones we've tested thanks to the Snapdragon 845 chipset and 6GB of RAM, and it's one of the few that has a headphone jack, a powerful speaker, and a microSD card slot.
The LG V40 is noticeably lighter than its large-screen smartphone competition, and yet it doesn't feel cheap in the hand. It's the weight of a sizable plastic phone, with all the benefits (and risks, in terms of potential dings and scratches) of a premium, all-glass design. There's some nice polish here, even if the black version we tested is inescapably a fingerprint magnet.
Unfortunately, LG has also gone lighter in the battery department and heavier on the price than we were hoping. You're going to barely get all-day battery life from this handset, and yet you'll pay nearly as much for it as for an iPhone XS or Samsung Galaxy S9 Plus; for a little more money you can get a bigger battery in an only slightly heavier phone, which seems like a fair trade-off.
The LG V40 camera is a lot of fun to play with thanks to its telephoto and super-wide-angle cameras, but better image quality can be had from other smartphones. Like the LG G7 ThinQ, the LG V40 will be a more interesting proposition once it gets discounted than it is at launch. Neat camera tricks only get you so far.
Release date and price
The official LG V40 release date is Thursday, October 18, with pre-orders opening today October 3 in the US. This schedule may differ in other regions, and depend on your local carrier. But wherever you are, LG risks having its thunder stolen by the imminent Google Pixel 3 and Google Pixel 3 XL launch on October 9.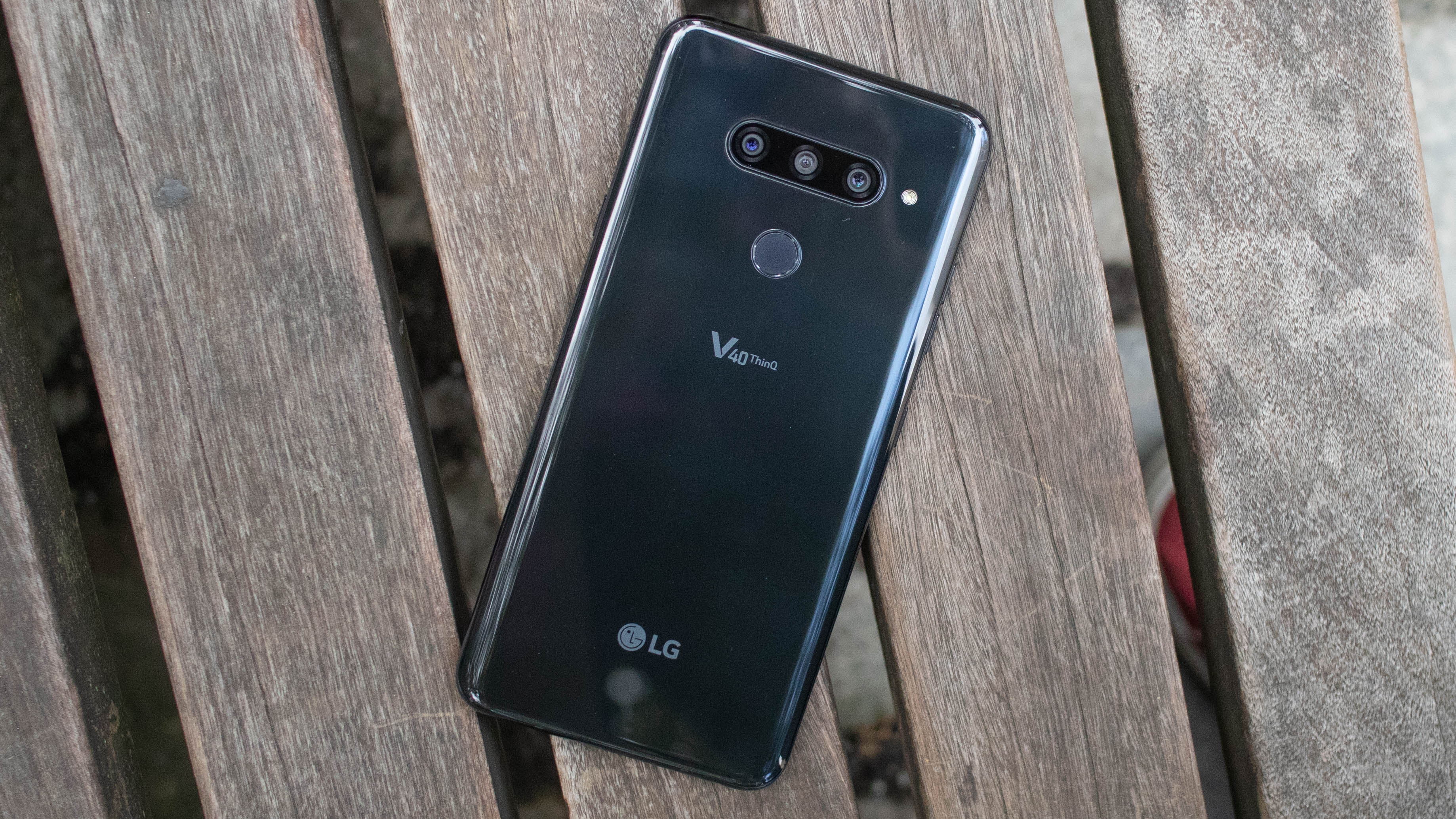 The V40 is more expensive than it should be, really, costing anywhere from $900 to $980 in the US. The T-Mobile version costs a median $920, while Verizon has it for $980. We're waiting on the confirmed UK price, and to see how much it costs in other regions.
In the US, we can already tell you that it costs more than the similarly sized Samsung Galaxy S9 Plus ($840), but less than the iPhone XS ($1,000) and iPhone XS Max ($1,100).
Design and display
The LG V40 design takes cues from the iPhone XS Max and the Galaxy S9 Plus, almost as if this was a 'What if Apple and Samsung merged' concept video.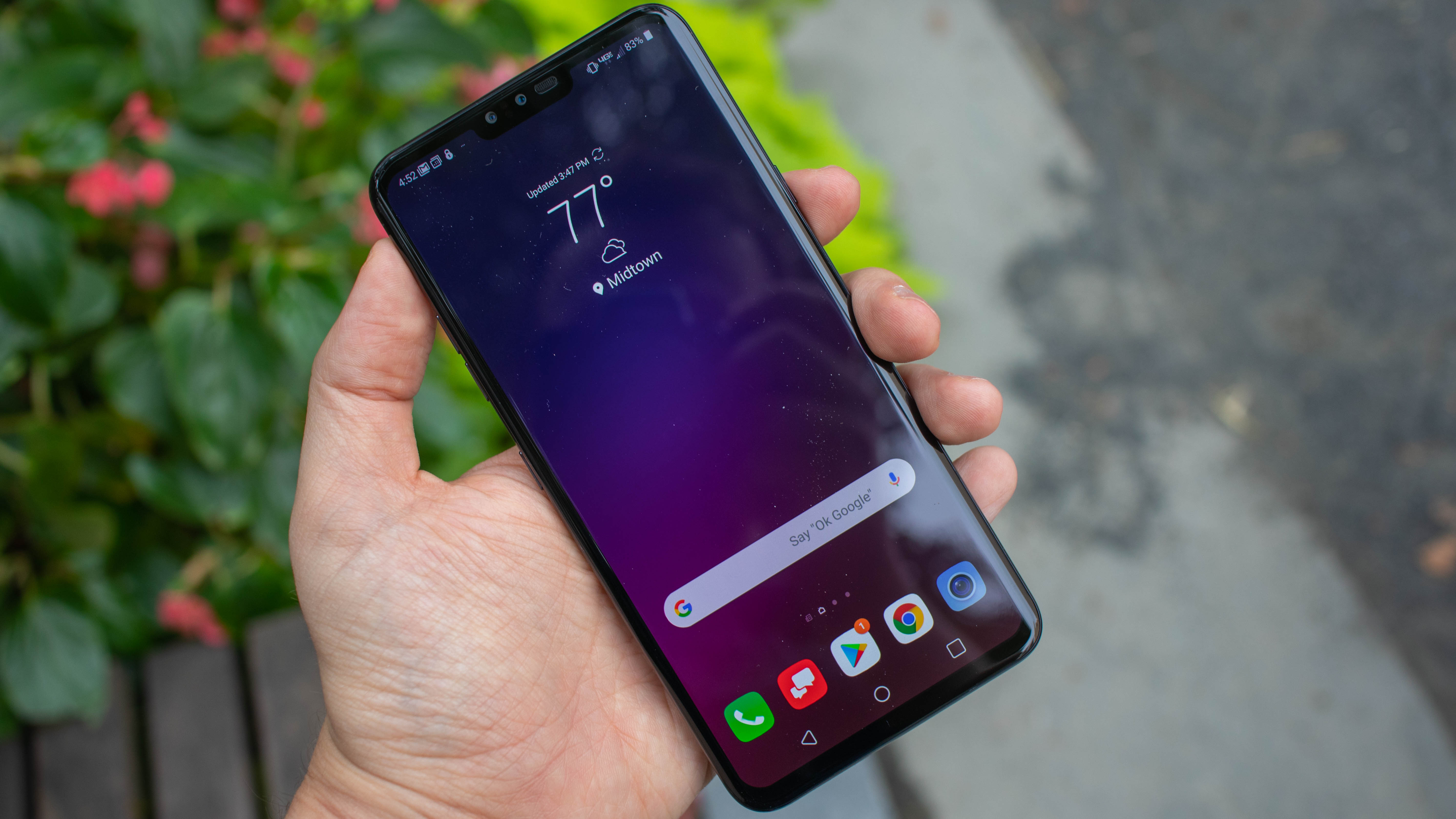 It has a reduced-bezel virtually all-screen 6.4-inch OLED screen on the front with that small notch cut-out at the top, making its face look like an iPhone X and every Android clone since. The notch is easy to ignore, with enough room to fit the two front-facing cameras and a smaller earpiece speaker. There is slightly more bezel around the sides and chin than on an iPhone, but you'll only see the difference in a side-by-side comparison.
The subtly curved glass of the LG V40's front and back meet at a metal frame, echoing the Samsung Galaxy Note 9 look, albeit without the curved screen, which remains flat and doesn't follow the subtle front glass curve to slip over the sides.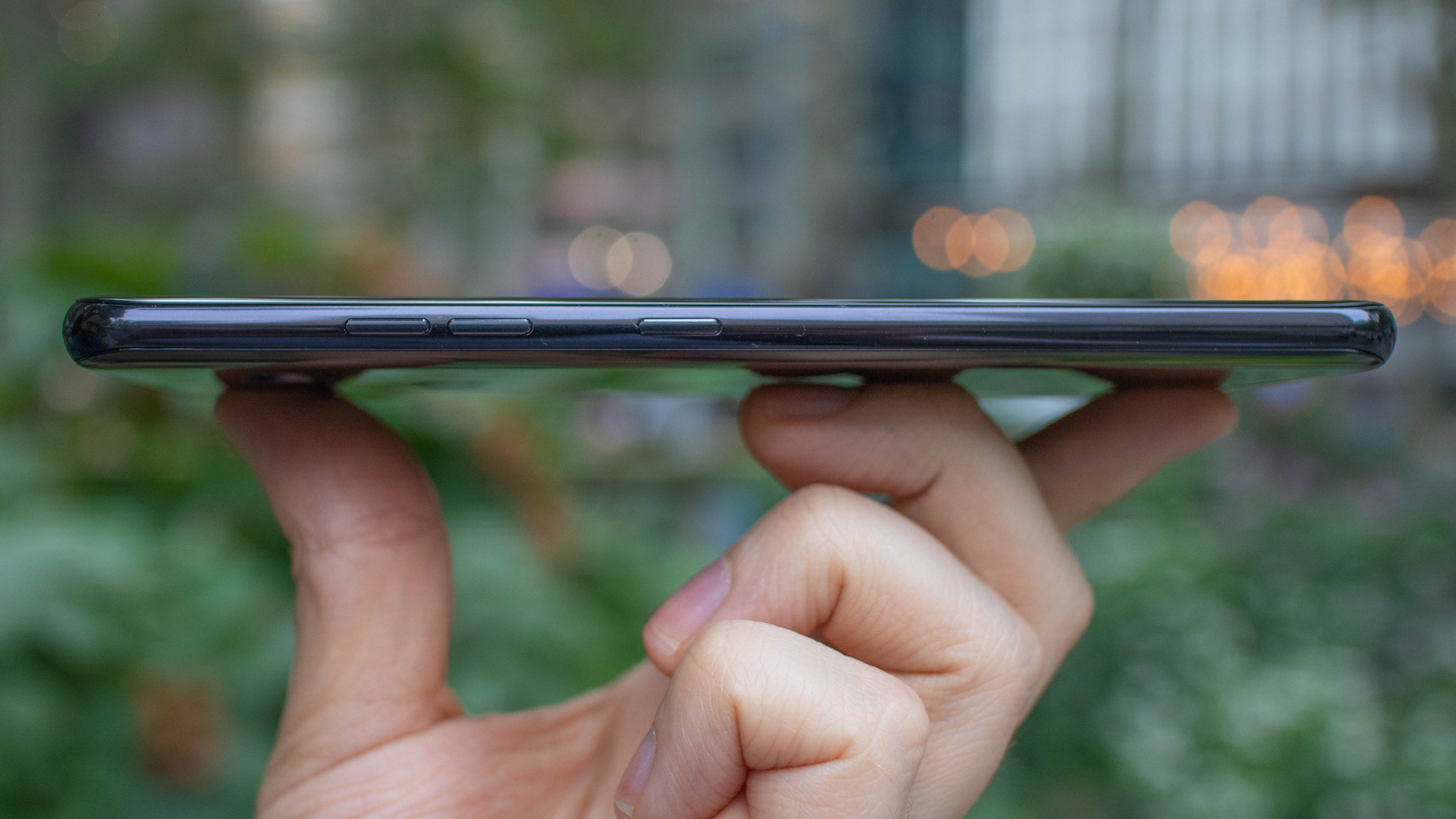 Distinguishing features include the triple-lens camera on the back, the two small cameras on the front, and the fact that all of this weighs just 168g. It's noticeably lighter than the Samsung Galaxy Note 9 (201g) and the iPhone XS Max (208g).
The LG V40 is your flagship smartphone on a diet, and that's an admirable feature, although its lack of heft is clearly a factor in its poor battery performance later on in the review. LG's design team somehow keeps winning out over the specs department when it comes to the 'size and weight vs battery life' argument.
LG V40 colors include Aurora Black and Moroccan Blue in the West, though there are additional colors like red and gray available in other countries. The Aurora Black version we tested is shiny as a mirror – and equally fond of your fingerprints. You'll muddy this phone up in just a few seconds without an LG V40 case.
The power button returns to the right side of the phone – a switch from the LG V30 and other V series phones before it, which had the rear fingerprint sensor button pulling double duty as a power button and a form of authentication. Now the rear sensor is just a pad for unlocking the phone, and the new clicky side power button is dedicated to sleep/wake.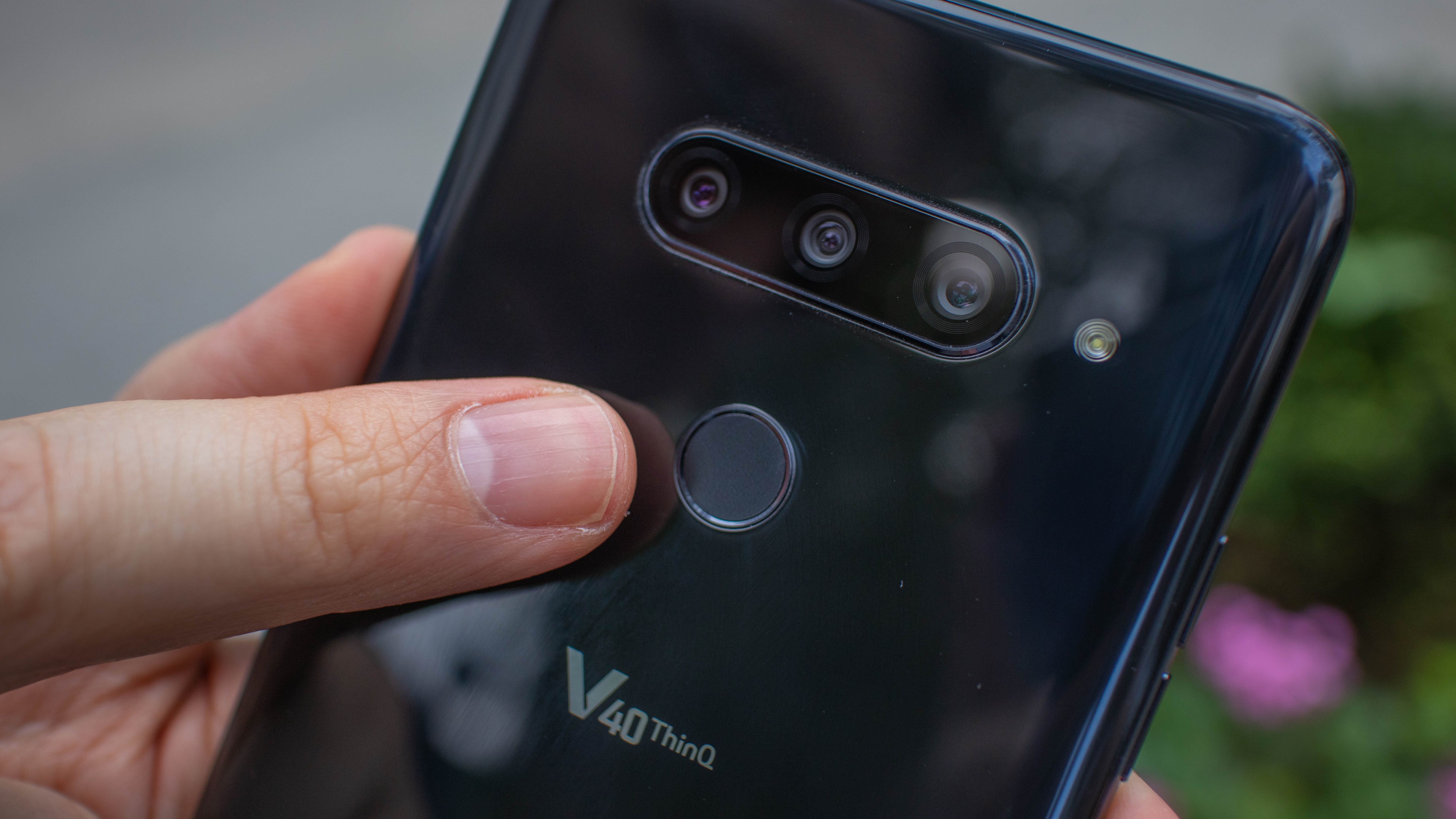 Also new to the V series is the dedicated Google Assistant button, matching what we saw on the LG G7. This summons Google's AI voice assistant, which is smarter Samsung's terrible Bixby AI. But you're still bound to accidentally hit the button, mistaking it for the volume-down key that sits right above it. The Google Pixel 2 and HTC phones have the right idea, with the less problematic squeeze-the-lower-body mechanic for calling up Google Assistant in a pinch.
The LG V40 has just one speaker, but we found it gets plenty loud thanks to its Boombox Speaker concept. We saw this with the G7, too – inside, the entire back of the phone is dedicated to a resonance chamber. You'll also find a 32-bit Hi-Fi Quad DAC and DTS:X 3D Surround Sound, continuing the V series tradition of offering some of the best audio on a phone when you're using it with headphones.
Five cameras
The LG V40 is ready to take your photo – five times over. Its ludicrous five cameras are actually really helpful, and the star feature of this smartphone. They're the key reason to consider the V40 over other handsets, so let's break all of them down.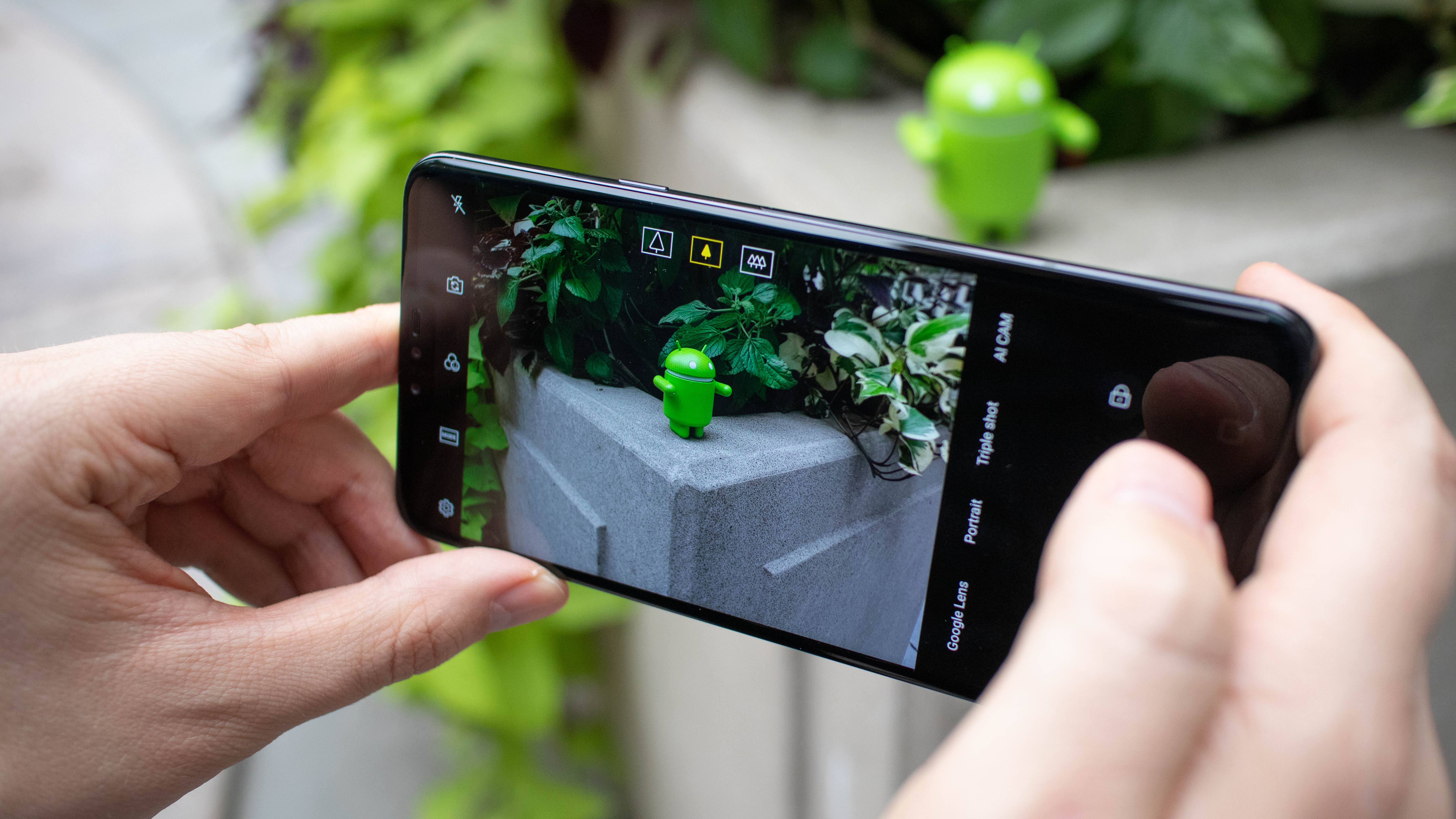 Primary rear camera
The best photos come from the 12MP standard camera, which captures what's in front of you with a typical 78-degree field of view. An iPhone has a slightly tighter FOV of 73 degrees, but Android phones tend favor squeezing in more content as opposed to Apple's more intimate approach.
This lens has a fast f/1.5 aperture to pull in more light, and the size of the pixels, or photosites, on the sensor is larger than is typical at 1.4 microns, improving the light-gathering capabilities of the sensor; combined, these two features offer improved performance in low-light situations. LG's Super Bright Camera tech is also here, offering a mode that amps up the brightness in dark environments, but cuts the normal resolution.
LG says its camera prioritizes people's faces in backlit situations, which is exactly what we saw in photos when putting it up against the likes of Samsung and Apple phones. This is why we saw more blown-out backgrounds from LG's camera, even with HDR mode enabled. Yes, it can take multi-frame photos that combine four frames into a single image, but LG's camera favors single-frame photos whenever possible to reduce motion blur.
While it did a good job at highlighting faces in the foreground, everything behind those face exhibit weak HDR, resulting in more blown out backgrounds. There's also aggressive use of contrast here, with photos skewing toward deeper reds and yellows compared to the fierce competition. With the Pixel 3 and Pixel 3 XL around the corner, you may want to wait to see what Google has to offer given the excellent cameras on its previous phones.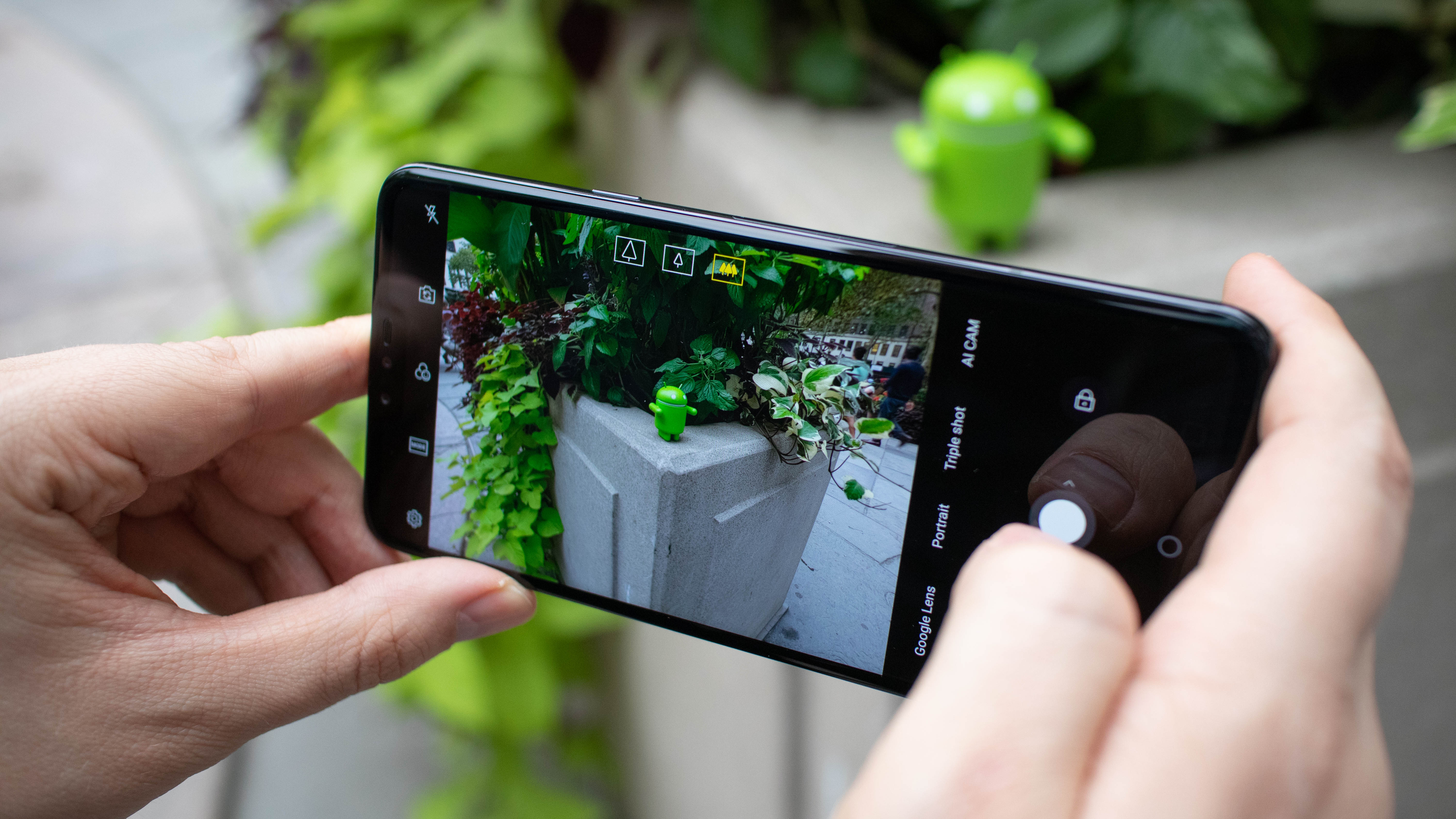 Super-wide rear camera
The LG V40 is ready to capture everything that's in front of you with its super-wide rear camera that has a 107-degree FOV. It's not as dramatic as the 120-degree FOV on the original LG V10, but that's in order to reduce barrel distortion at the edges.
The resulting 16MP photos from this f/1.8 lens give you better context of scenes. You won't have to back up… back up… back up some more in order to take the shot you want, or resort to stitching together a panoramic photo. The wide-angle effect works, but we did notice blurry and soft edges in the corners of most photos we took. You're not getting OIS on this super-wide camera, and it's noticeable, and that can sometimes render the otherwise cool effect moot.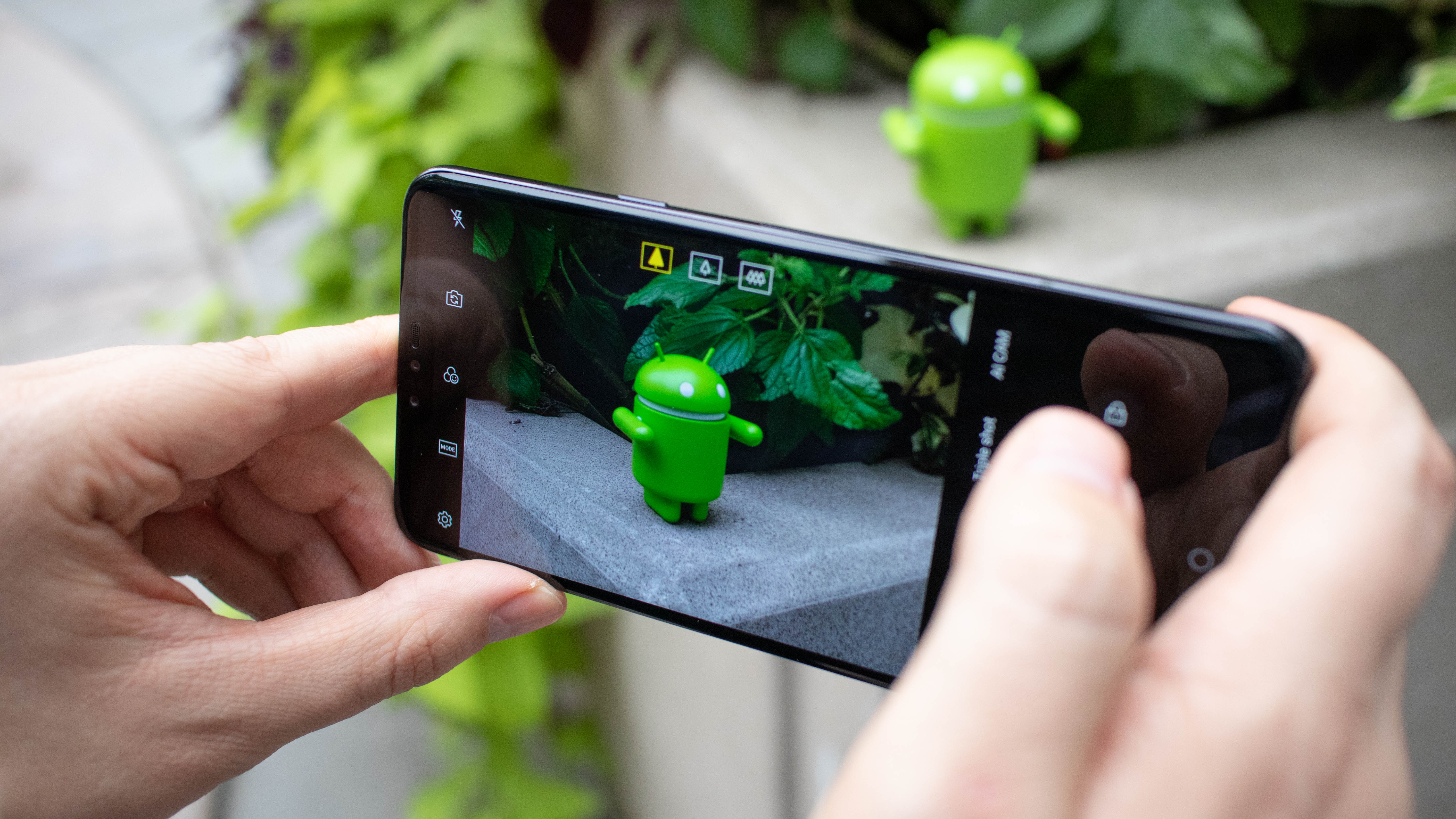 Telephoto rear camera
New to the LG V series (or any LG phone) is a telephoto lens, the optically zoomed-in camera idea we've seen from Apple, Samsung, and others. You're able to get twice as close to subjects without distortion when digitally zoomed in. The problem is that almost every telephoto picture we took was blurry and unfocused.
The 12MP photos from this f/2.4 telephoto lens offer a tighter 45-degree FOV. Truthfully, 2x optical zoom isn't as dramatically close as you'd expect (that's true of Apple's and Samsung's telephoto lenses, too), and we found that focusing on subjects could be a hit-or-miss affair. We appreciated the effect – but the Huawei P20 Pro goes a bit further with its 3x optical zoom, and that seems like the next step for LG and others.
Primary front-facing camera
The LG V40 has an upgraded 8MP front-facing camera, and that's good news for anyone who tried the LG V30 selfie camera and found it to be complete garbage.
This f/1.9 lens with an 80-degree FOV is capable of taking portrait photos, and while it's not our favorite among selfie shooters, it's a huge step in the right direction for LG. Just be sure to turn beauty mode off.
Wide front-facing camera
It's back. The wide front-facing camera from the original LG V10 – our favorite feature – gets new life in the LG V40, although things have changed a bit in 2018 as a result of feedback from users. This 5MP f/2.2 lens is limited to a 90-degree FOV, which is wider than the standard selfie camera but far tighter than the 120-degree FOV on the LG V10 wide front-facing camera.
It's an effort to reduce barrel distortion in your selfies, but it does limit the cool effect of capturing epic group selfies, with everyone in the frame and everything that's behind you. The human eye has a roughly 120-degree FOV, but we did see barrel distortion at the edges of LG V10 photos, and the LG has chosen to play to safe with the V40's FOV compromise.
Triple Lens, Portrait, Cine Shot, and Cine Video
The LG V40 has an AI camera that does a fairly good job as guessing your subject (flower, city, person, and so forth) and adjusting the finer settings (white balance and brightness) accordingly. But for some reason, it's in a secondary menu on the camera where it's easy to miss.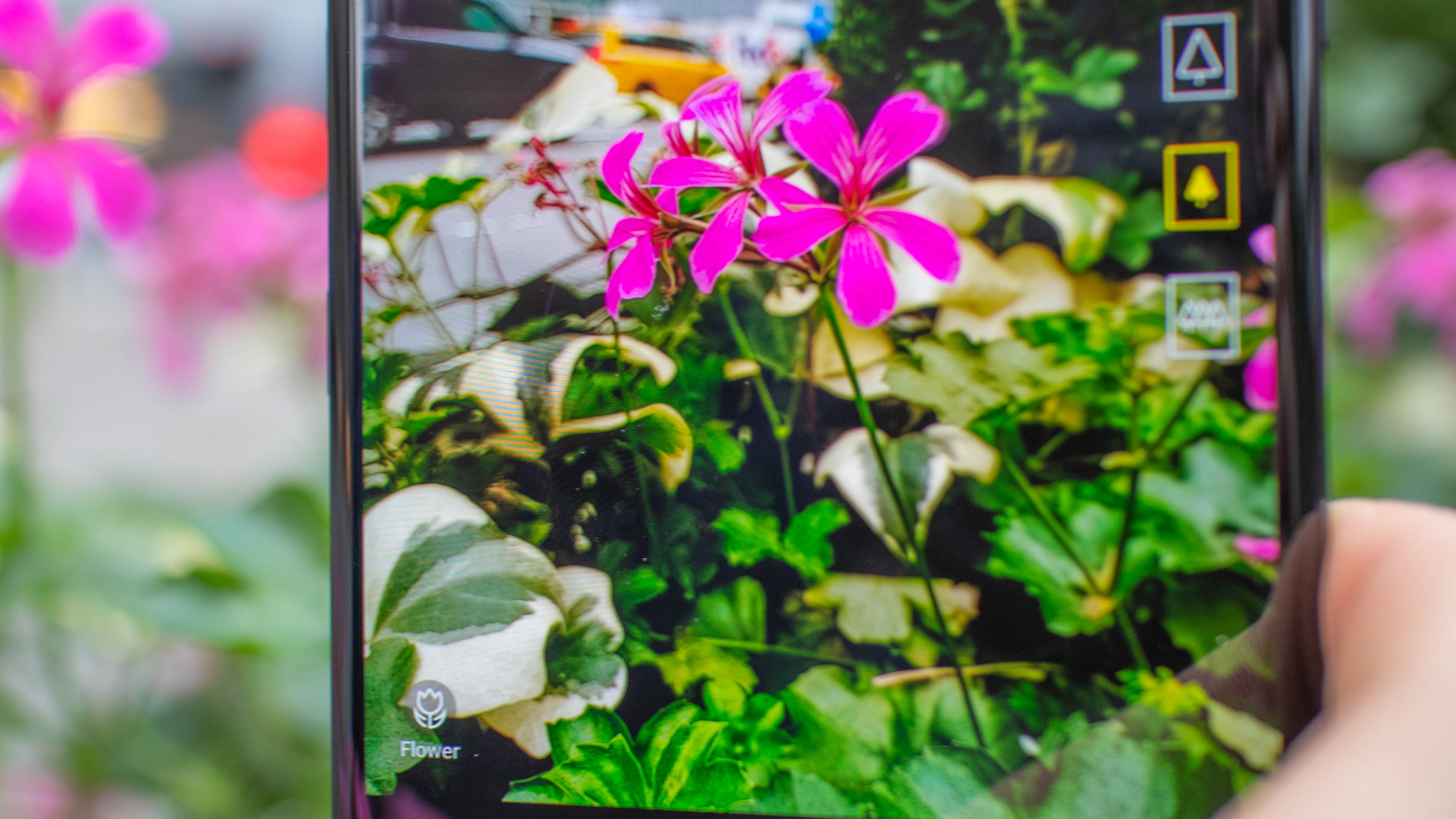 The true standout default camera modes are Triple Lens, Portrait, Cine Shot and Cine Video.
Triple Lens takes all photos from all three rear cameras (in a row, one after another). It's a great way to capture a moment without worrying about which camera would be best. You'll want to keep your camera still for the four seconds it takes to cycle through all three cameras since two of the three rear cameras lack OIS.
Portrait photos did an okay job for us on the LG V40. There's a healthy amount of blur in the background, though you'll notice the blur drop into foreground subjects, especially around their hair. Our biggest issue here is that we found more blown out backgrounds in this mode.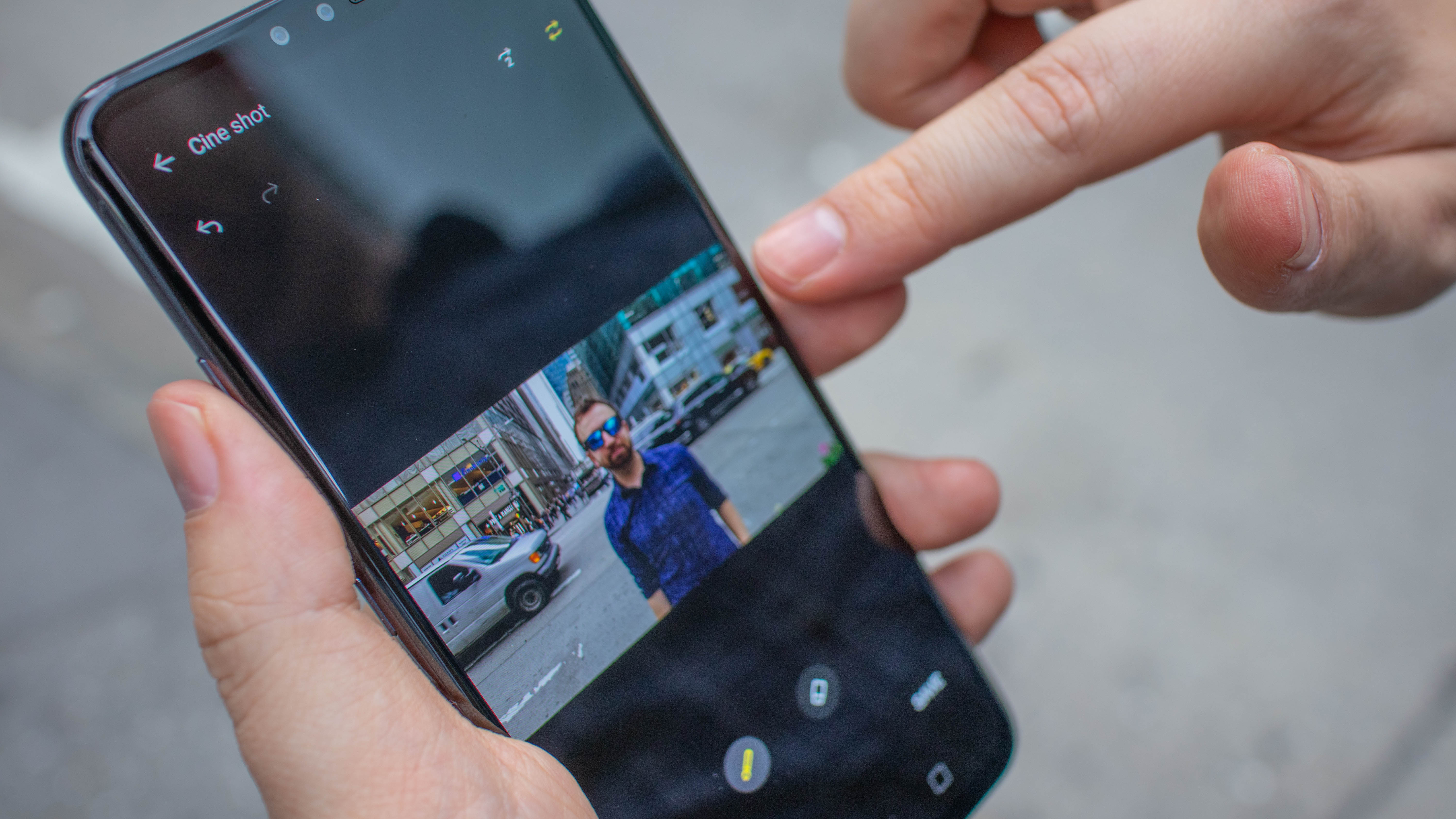 Cine Shot is a fun cinemagraph mode that allows you to create partially animated photos from the default camera. It does this by capturing six-second MP4 video, presents you with a frozen image, and enables you to paint over what portions you want to see stay in motion. We tested it using a record player that's still in motion and against yellow taxi cabs in New York City. Being able to zoom in to paint over what should be animated is helpful (the Moto Z3 Play and Moto Z3 don't allow this), but we were disappointed that you can't redo the paint job or switch between loop and bounce animations after you save the cinemagraph. This also means that you can't import old videos to get cinemagraph treatment. There are Google Play Store apps that do have the same functionality.
Cine Video returns with an even easier way to fluidly zoom into video anywhere, not just the dead center of the screen. There's a new tap-to-zoom function in which you just point to the area of the screen you want to zoom into. Don't worry, we also found that tapping and using the slider bar still works to zoom into our color-rich 4K UHD video.
Specs and performance
The LG V40 is fast enough to compete with the Samsung Galaxy Note 9 and the rest of the top Android phones, with the latest Qualcomm Snapdragon system-on-a-chip.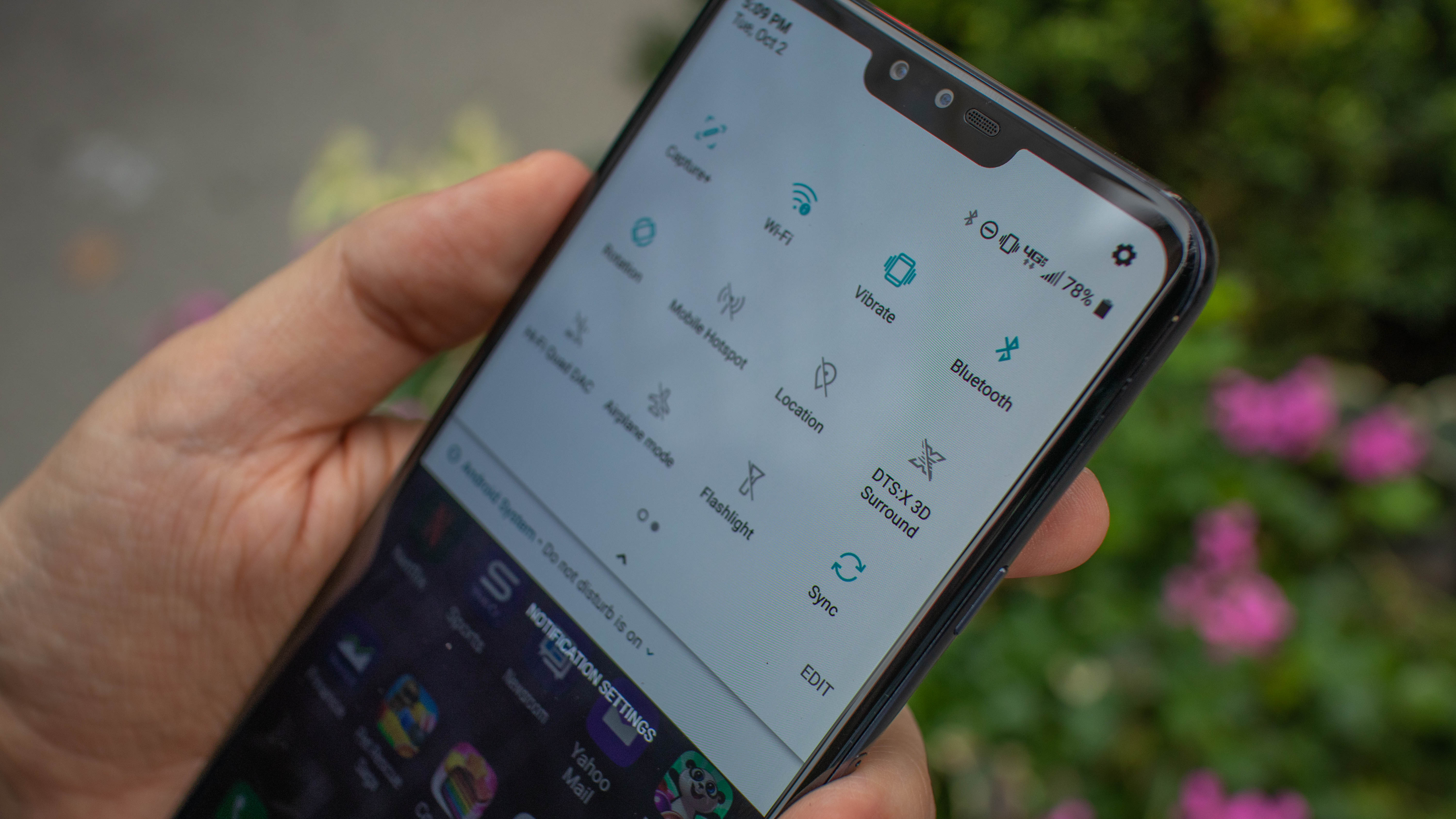 It has the Snapdragon 845 chipset and 6GB of RAM, which delivered snappy performance in our real-life tests. We weren't left wanting, and it's fast to boot up (just 15 seconds, including time to wait for the Verizon logo to vanish). It was the same story in our lab tests, with the V40 returning a Geekbench multi-core score of 8,787, finishing just behind the Note 9 and OnePlus 6. It's a respectable performance.
We don't have quite as much respect for the 64GB of internal storage. Yes, there's a microSD card slot here for expanding on that, but Samsung offers double the storage space for a slightly higher price. We like almost everything about the LG V40 specs under the hood, yet value for money here isn't as good as it could be.
Android Oreo and apps
The LG V40 launches at an awkward time in terms of the software it's running. Google launched the Android 9.0 Pie update in late August, and this phone is running Android 8.1 Oreo. LG has promised faster updates among its Android phones, though it's unable to offer a timeline for the jump to Android Pie.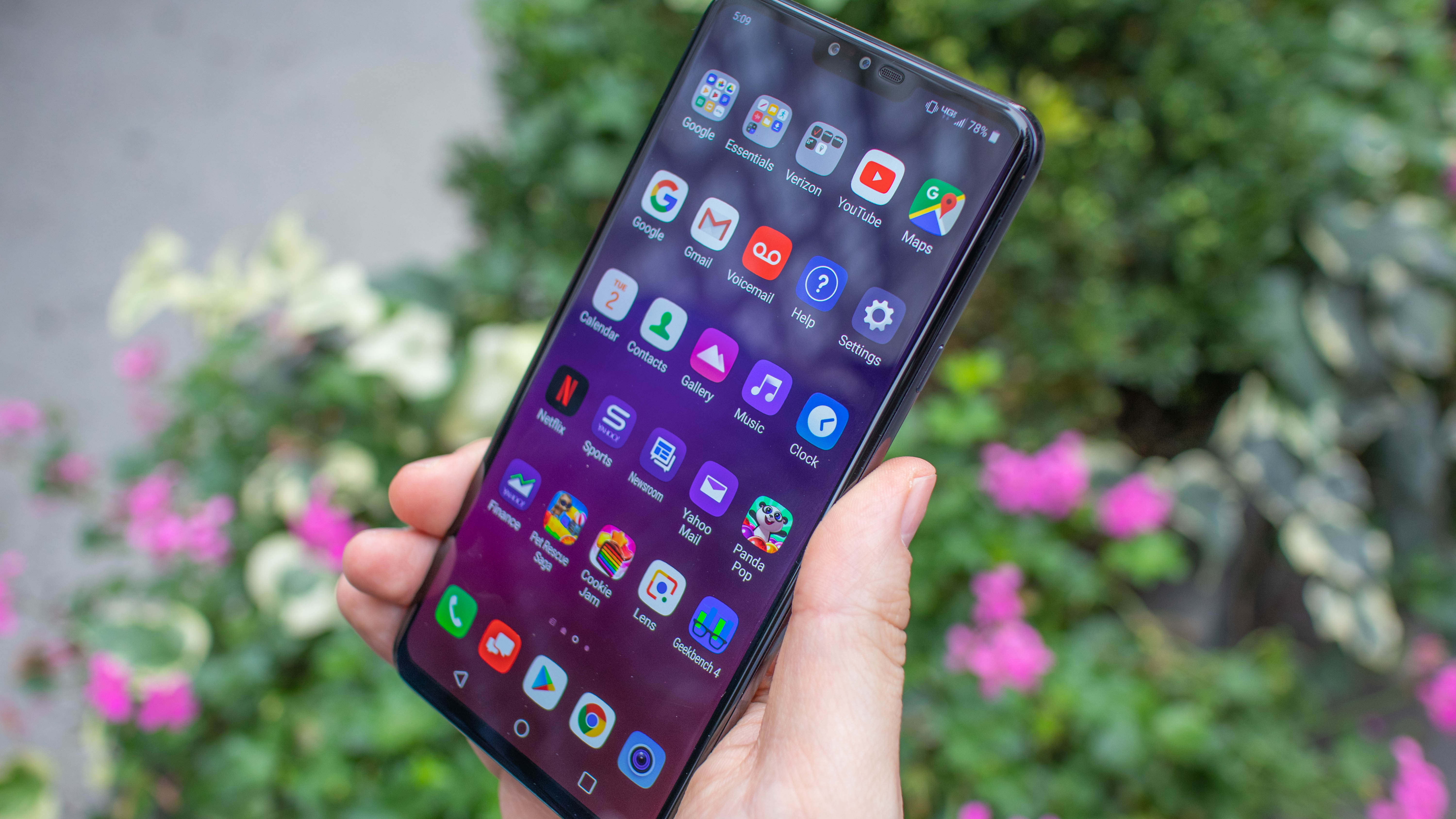 What's here is actually okay. The V40 interface already compensates for the notch cut out (a design feature that the Android Pie software make room for), using the space between the notch and side bezels as a 'Second Screen,' as LG calls it. It's where notification icons reside, though it's far from the novel second screen idea we got on the original LG V10 and the LG V20.
Pre-installed apps will very between carriers, but our Verizon review unit included annoying, although easy-to-delete games meant for little kids who like intoxicatingly bright colors: Panda Pop, Pet Rescue Saga, and Cookie Jam. LG relies heavily on Google apps (which is good), but has a few of its own: QuickMemo+, Messaging, LG Health, HD Audio Recorder, File Manager, Downloads, and Calculator. You won't find too many duplicates between Google, LG and your carrier.
Battery life
The LG V40 has a disappointing small battery capacity of 3,300mAh, a trade-off of it being a thin and light phone. The Samsung Galaxy Note 9 pushes the capacity to 4,000mAh and has a much higher peak brightness, so LG clearly made big concessions in favor of design.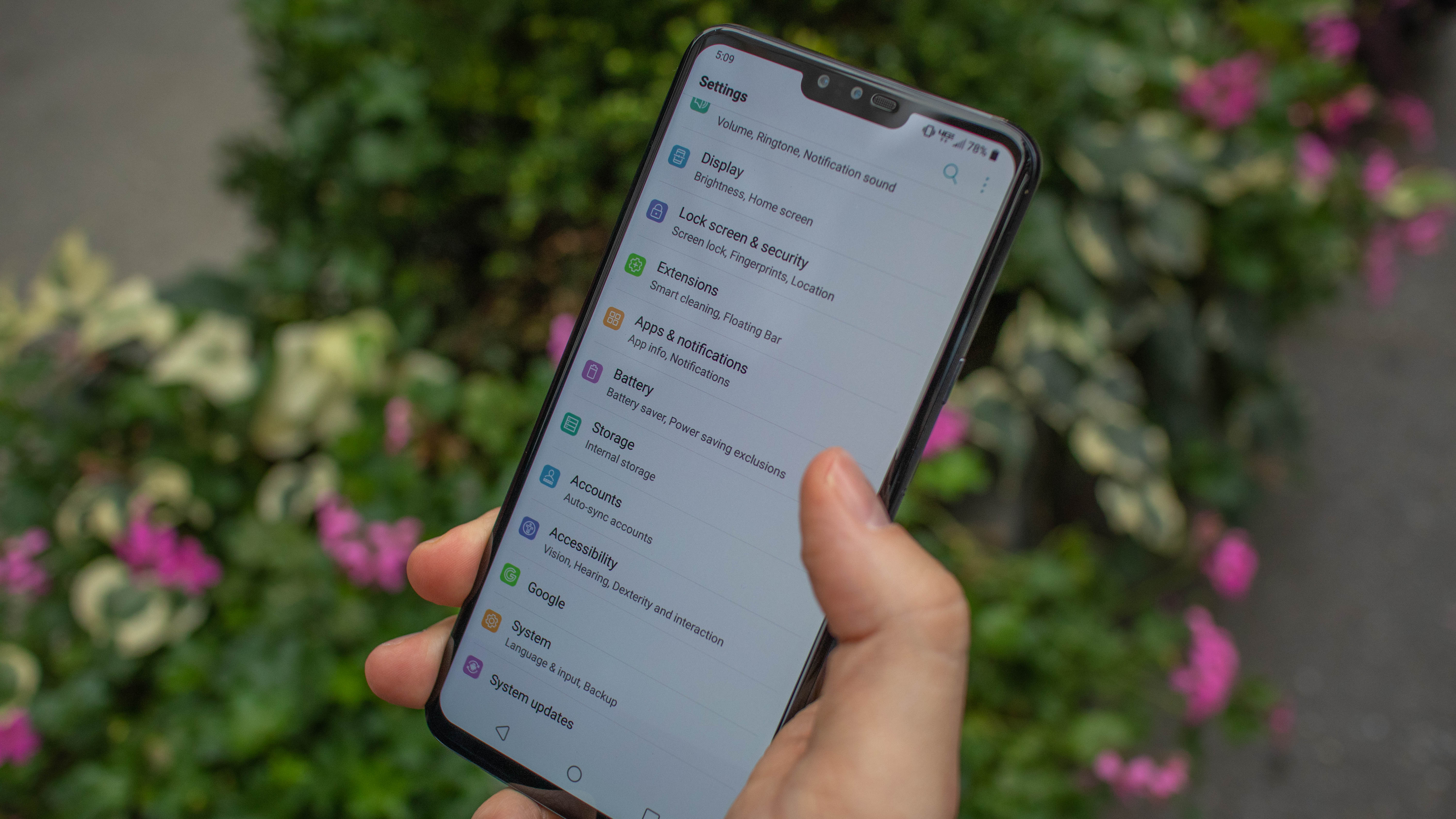 You're still going to eke out all-day battery life from this phone, but it won't be pretty. By the end of a full day of heavy use, we were scrambling for a charger. Luckily, this phone does charge quickly enough with support for Qualcomm Quick Charge 3.0 and fast wireless charging.
What's interesting is that the screen brightness peaks at 600 nits, while the LG G7 with its LCD screen has a special Super Bright Mode for outdoor use of up to 1,000 nits (temporarily for up to three minutes). Samsung's AMOLED screen can do the same thing. You're not going to drain that much power here due to the limited brightness on the LG V40. It could be worse.
Verdict and competition
The LG V40 is not only the first phone with five cameras, it's the best smartphone that LG has ever made. Having a super-wide-angle lens and a telephoto lens flank a regular 12MP camera means you don't have to choose between a Samsung phone with optically zoomed-in shots and an LG phone with all-encompassing wide photos. It's the first to offer the best of both worlds, and it shoots wide selfies on the front camera, too, an asset for group shots.
It's also happens to be the lightest flagship smartphone we've ever held at this size. It's hard to believe that the LG V40 has a 6.4-inch OLED screen and an all-glass design. It looks like an iPhone XS Max, sure, but weighs considerably less.
There are drawbacks to such a light phone, of course. The battery is the biggest compromise, with a 3,300mAh capacity that's weaker than necessary and pales in comparison to the Galaxy Note 9 that has a healthy 4,000mAh battery size. The brightness of the LG V30 is also tamped down, likely in an effort to control battery life.
You're going to have a lot of fun with the five cameras and all of the modes, like Cine Shot (cinemagraph), Cine Video, and Triple Shot. But, shot-for-shot, this isn't the best camera phone we've ever tested. It's beaten by the Google Pixel 2 and Google Pixel 2 XL, the iPhone XS and iPhone XS Max, and all three Samsung flagships in 2018. The V40 prioritizes faces nicely in some shots, but its HDR isn't enough to quit blowing out the background in photos with moderate backlighting.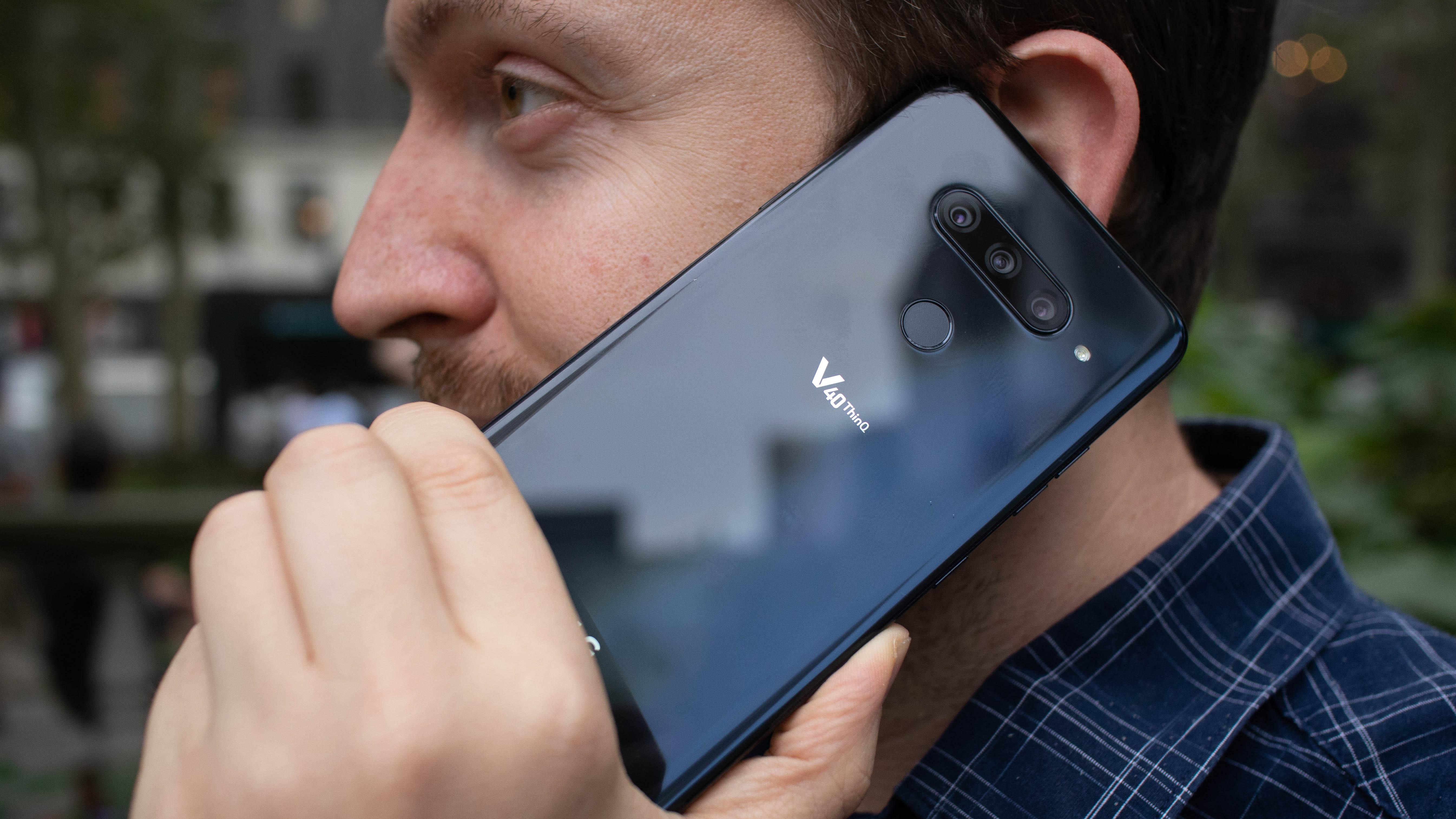 Should I buy it?
The LG V40 is a little too expensive at launch – at least in the US – to consider buying over the competition. It's a good phone worth considering at a discount, but there are several other options out there that are a better value for your money. The Samsung Galaxy S9, for example, gives you more battery life and slightly a better camera, albeit without the wide camera lenses.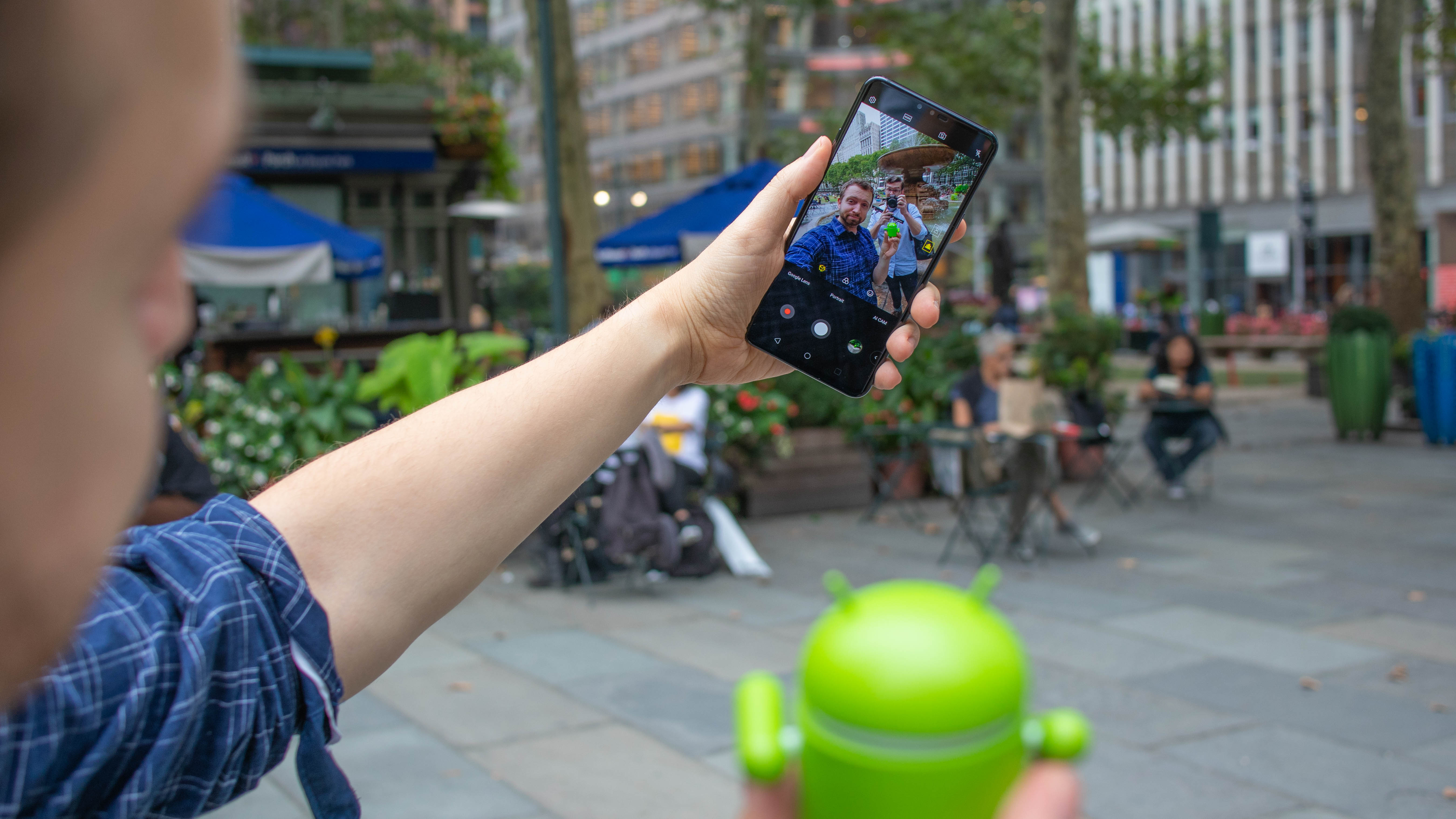 Who's it for?
The five camera make the LG V40 ideal for someone who likes to experiment with photography and capture those wide selfies without having to resort to a selfie stick. This phone excels at 4K video, too, with tools like Cine Video that aren't replicated anywhere else. The problem is that you'll find that the Google Pixel 2 XL offers better photos for a cheaper price, if you're willing to forgo LG's superior default camera tools.
Competition
Samsung Galaxy Note 9
The Galaxy Note 9 has a 6.4-inch display that matches the LG V40, but Samsung's screen has a refined curve along the sides, no notch cut out, and a slightly better 12MP camera. You'll have to forgo the wide selfies on the front and back with the Note 9, but both phones offer a 2x optically zoomed telephoto lens. The biggest benefit may be the S Pen stylus, something that LG hasn't used in its flagship phones, despite the ever-increasing screen size. Yes, Samsung charges a bit more for its phone, but you'll get 128GB of internal storage here, doubling what LG offers.
iPhone XS Max
The iPhone XS Max is Apple's latest and greatest smartphone, with a fantastic camera that gives you very different (more true-to-life) photo and video compared to the LG V40. In side-by-side comparisons, we found the new iPhone to have warmer tones and better HDR. iOS 12 doesn't have nearly as much customization as the V40 and other Android phones and it's more expensive than even LG's higher-than-expected asking price.
from TechRadar - Technology Reviews http://www.techradar.com/reviews/lg-v40-thinq