With big brand gaming laptops like Asus and Alienware typically comes an equally hefty price tag. But that doesn't necessarily get you better performance. After all, an Nvidia GeForce GTX 1060 mobile graphics chip will only output so many frames in games, no matter what laptop it's in.
Enter, therefore, the new Medion Erazer X7859. As a middle-market brand, dare we say it, the Medion's job is to deliver the same key core components and similar performance as the usual premium suspects. But for less cash.
A prime comparator here would be the Asus ROG Strix Scar II GL704GM. That's a dead ringer for the Medion Erazer in most key regards. It offers the same Intel Core i7-8750H CPU, the same Nvidia GeForce GTX 1060 graphics, and it's finished off by with a superficially similar 17.3-inch 1080p display. But, the Medion does it all for as much as £400 cheaper. Impressive.
Price and availability
The Medion Erazer X7859 in our test spec clocks in at £1,299. That's an aggressive price point given the overall feature set.
It's also the Erazer's primary proposition - sheer bang for your buck is what it offers above all else. For the record, it's not currently available in the US or Australia.
Design
With the Medion Erazer X7859's aggressive pricing in mind, something probably has to give. For starters, that includes the laptop's basic design. The chassis feels solid and free from obvious flexing, but by the standards of the very best, it's a relatively crude design. Notable, for instance, are the wide screen bezels where the current vogue is for slimness and sleekness.
The immediate impact of that involves the Erazer's overall proportions. Bigger bezels make for a larger footprint. However, that may not be a primary concern given the gaming laptop remit.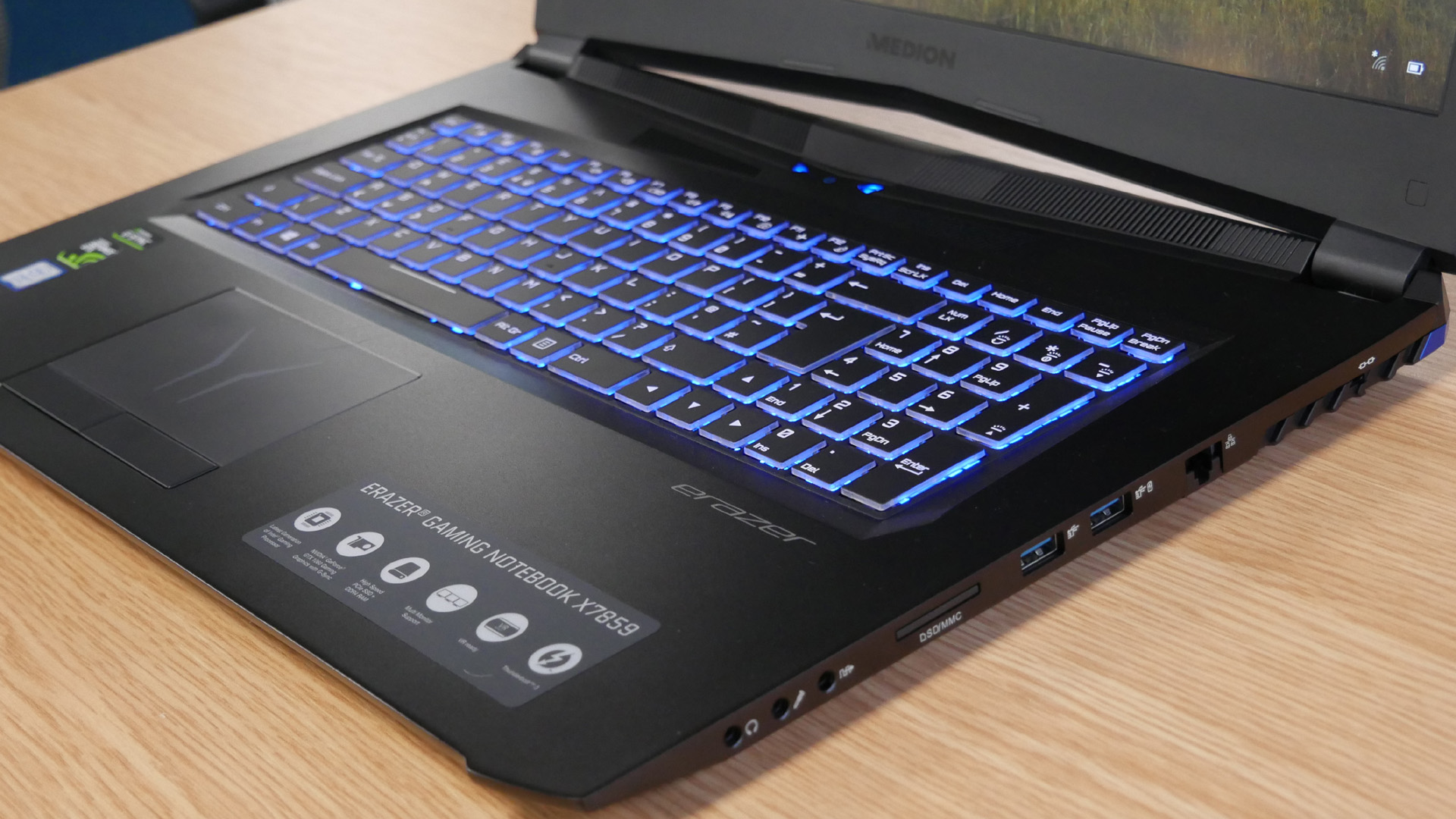 Nobody will be expecting Ultrabook levels of portability from a 17.3-inch gaming laptop, that's for sure. But what you might miss is that sense of quality and premium build quality that comes with a more expensive laptop. The Medion Erazer X7859 is cheap for what you get in terms of its cores specs and features, but £1,299 is still a lot of money to fork out for a laptop.
Of course, the Erazer's fairly beefy proportions would be easier to accept if this was very much a top-rung performer. But the GTX 1060 graphics is more of a mid-range 3D gaming chip and one that can easily be housed in a smaller chassis.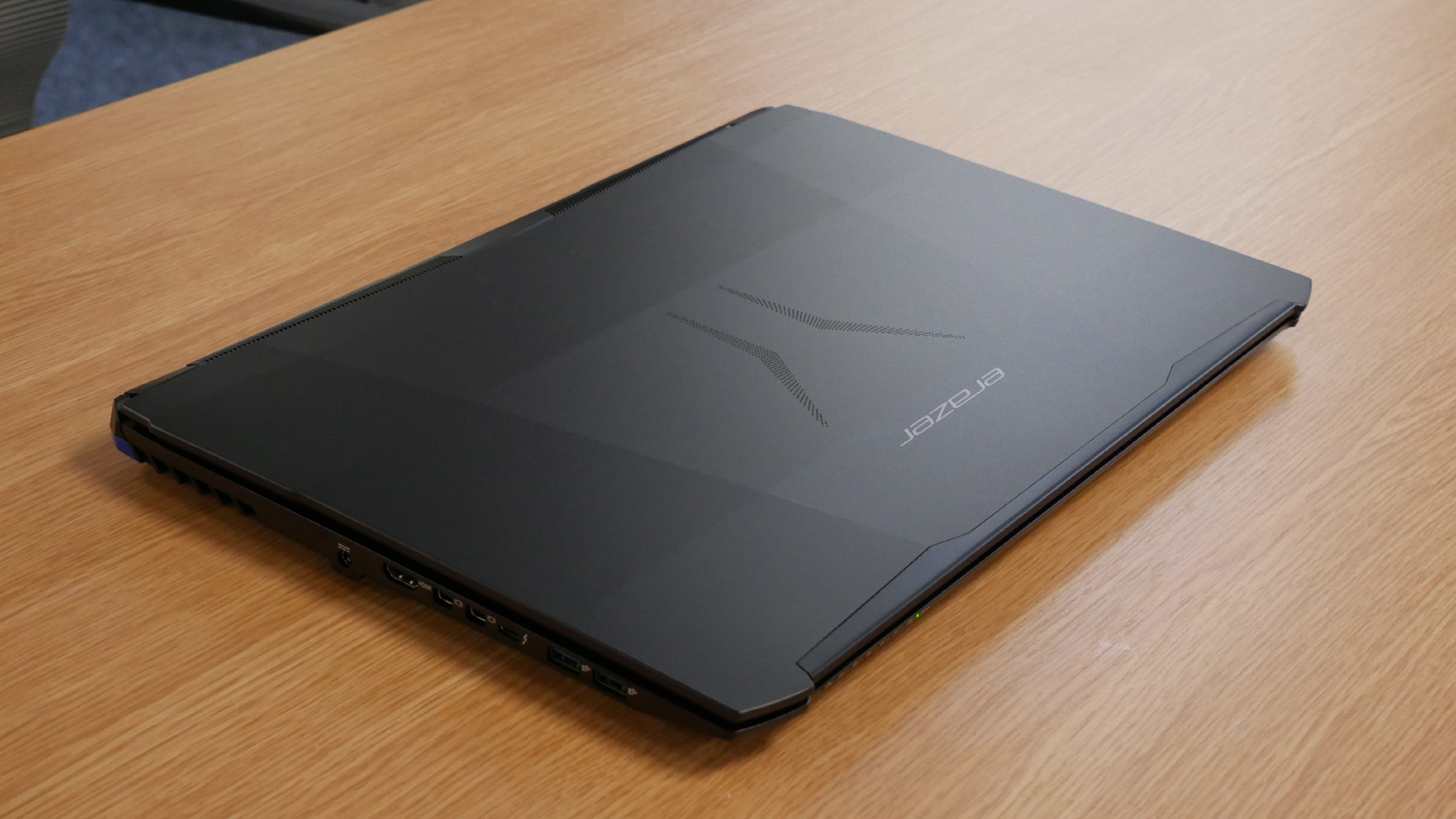 Connectivity and keyboard
When it comes to connectivity, the Medion Erazer X7859 definitely delivers on its desktop-replacement remit. You get four USB 3.1 ports, a USB-C port plus no fewer than a pair of DisplayPort sockets, plus an HMDI connector for good measure.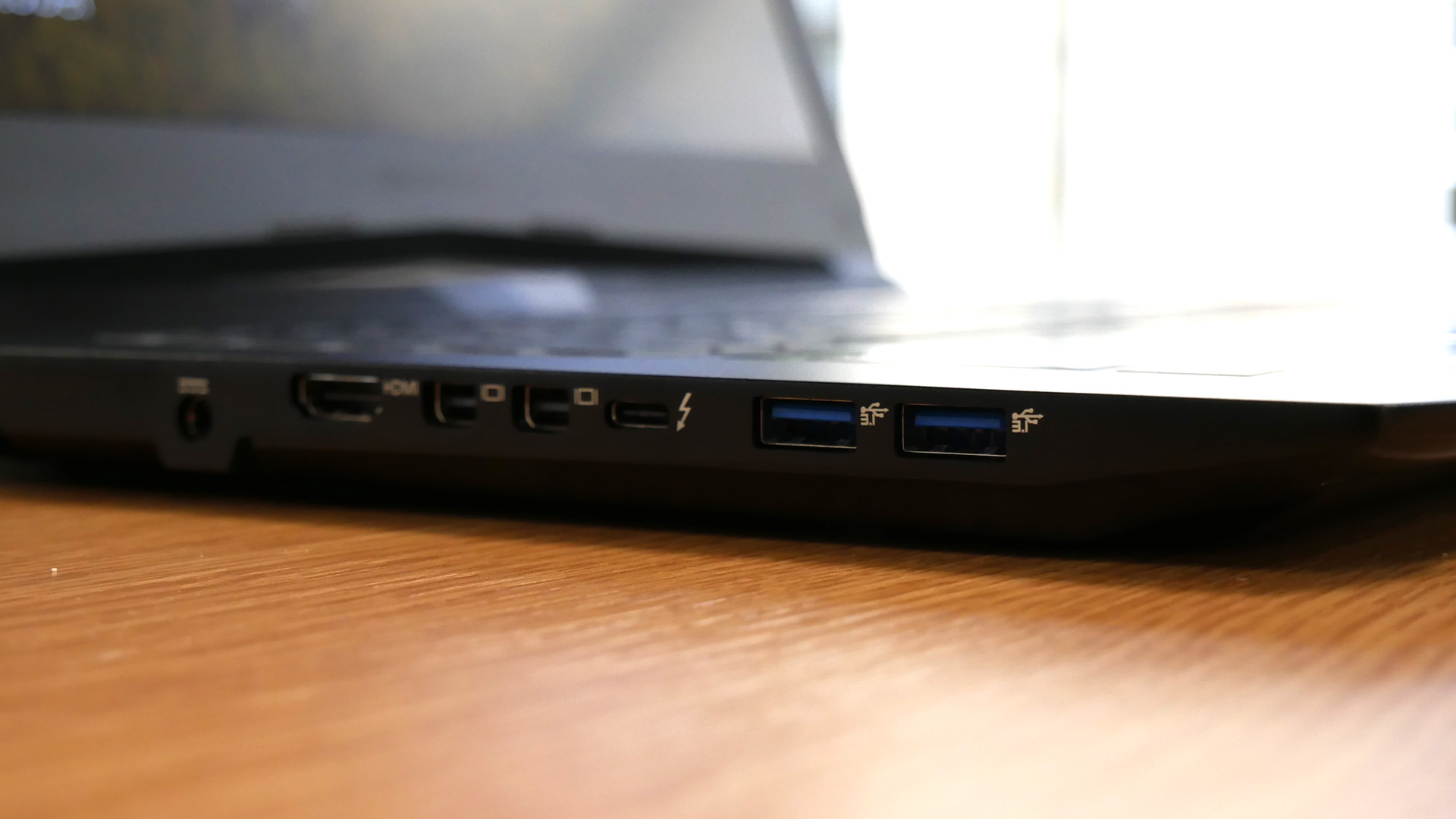 The keyboard is another plus. Apart from feeling solid under finger, the 17.2-inch screen proportions allow for a generous backlit layout complete with dedicated function keys and a full number pad.
The built-in speakers, meanwhile crank out a bit more volume than your average ultraportable, to be sure, but you'll still want to plug in dedicated speakers for really good sound.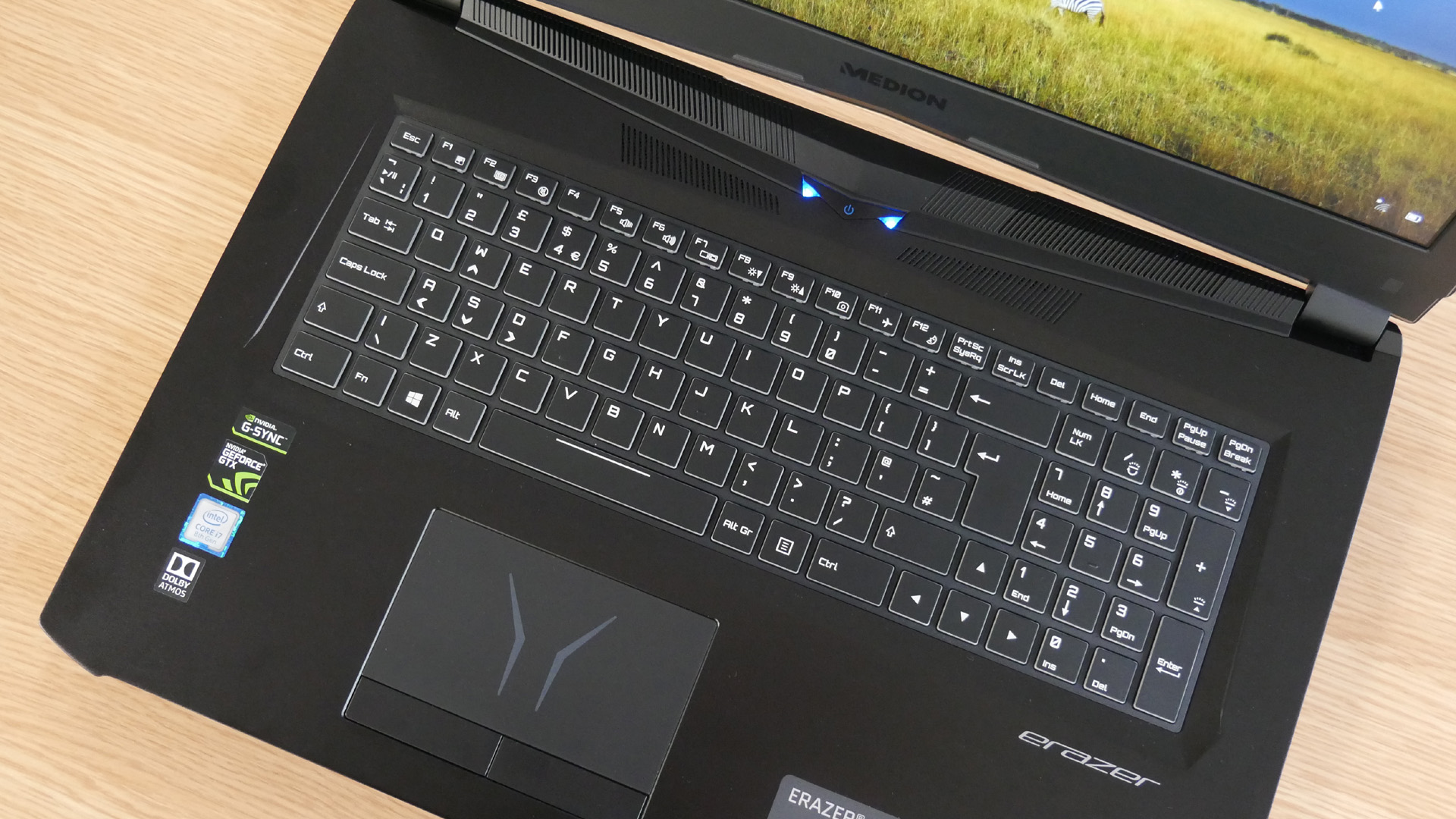 Another highlight is the 17.3-inch LCD panel. It's limited to 1080p resolution or 1,920 by 1,080 pixels. But that makes for a good fit with the graphics chip when it comes to frame rates, more on which in a moment.
Medion doesn't quote the panel type, but it looks to us like a decent quality IPS panel. Certainly, it's bright, vibrant and has very good viewing angles and strong contrast. Gone, thankfully, are the days when a laptop like this made do with a cheap TN LCD panel.
What of that most momentous of metrics, gaming performance? In short, the Erazer X7859 doesn't deliver any surprises. For the most part, that's a good thing. You could pay a lot more for another laptop equipped with the Nvidia GeForce GTX 1060 graphics chipset, including the aforementioned Asus ROG Strix Scar II, and not be rewarded with any additional performance.
More specifically, thanks to that Nvidia graphics and the ample performance of the quad-core Intel CPU, this laptop will output pretty playable frame rates in the latest games at the screen's native 1080p resolution and the highest game detail settings.
However, as our benchmarks show, that's only just the case. So, 41 frames per second in Total War: Warhammer 2 and 54fps in Middle Earth: Shadow of War makes for a decent experience. But you don't really have any frames to spare. It's likely within a year or so there will be more demanding game titles that may be beyond this laptop's capability to render smoothly at the highest settings.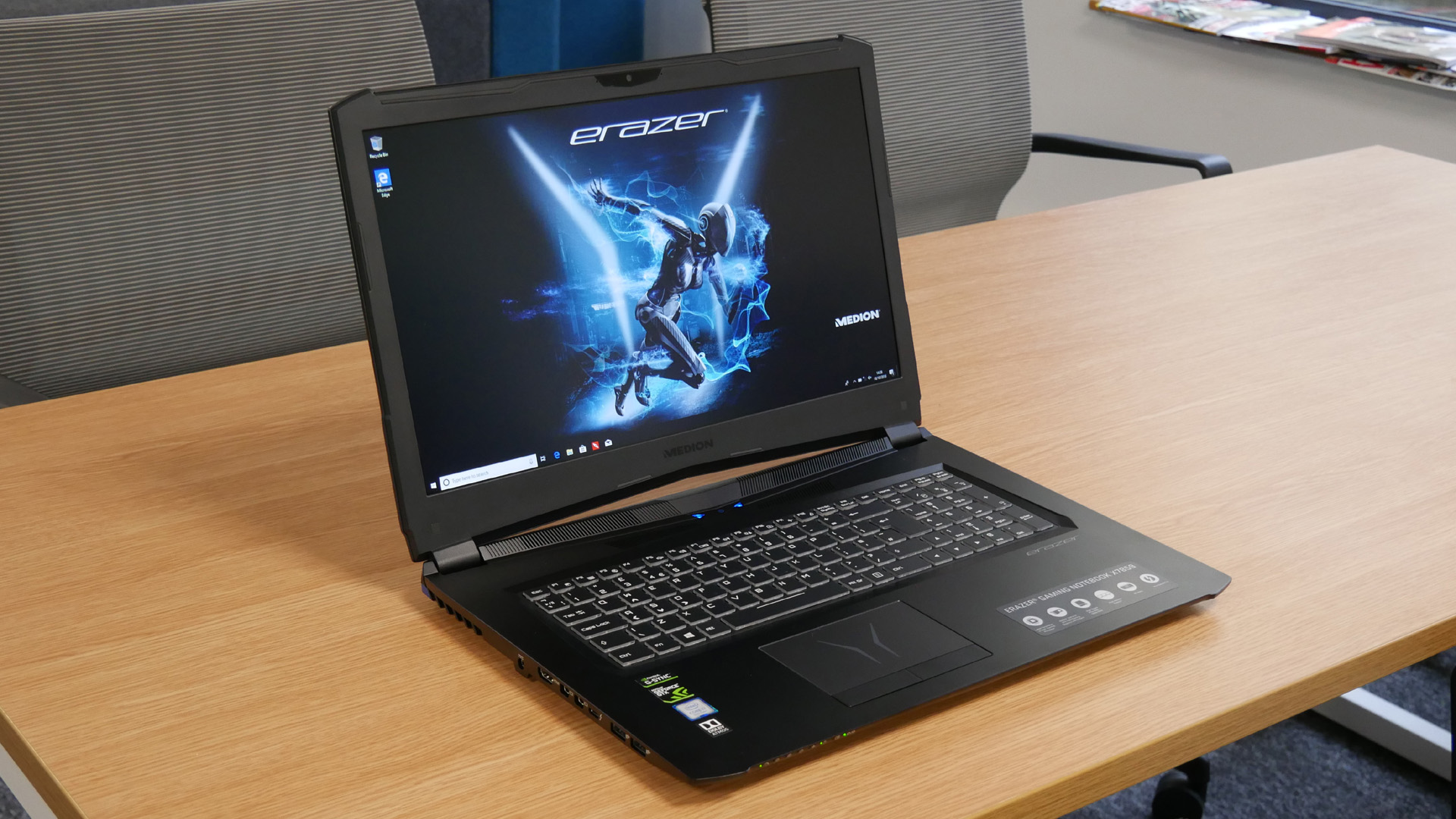 With that in mind, it's perhaps no great loss that this laptop is limited to 75Hz screen refresh, as a 144Hz refresh would be largely redundant, in modern games at least. The graphics chip simply can't crank out enough frames.
That said, overall system performance is strong. The primary M.2 SSD, for instance, is capable of around 1.5GB/s of data transfer for both reads and writes and this is certainly a snappy feeling laptop.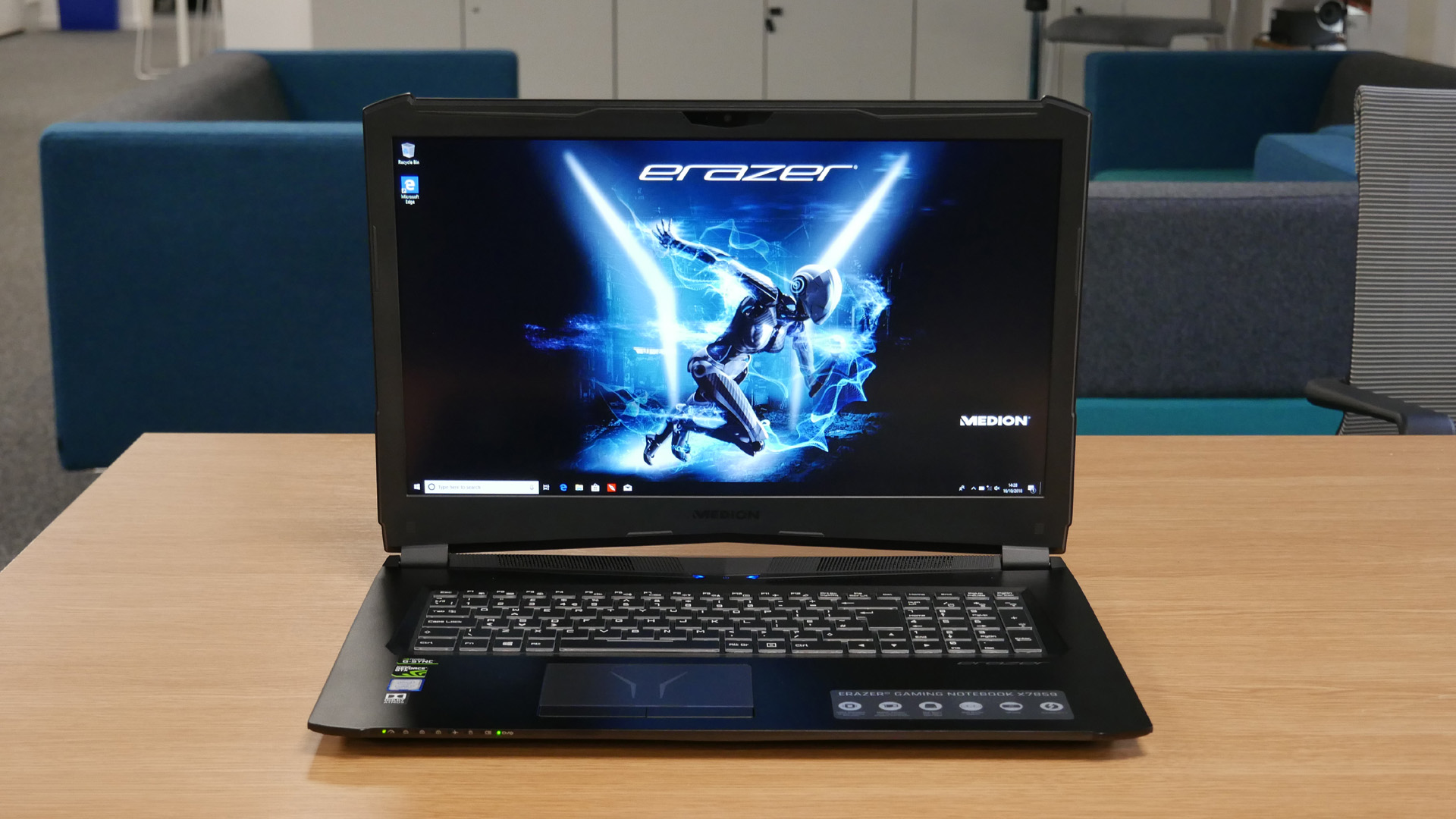 Verdict
The Medion Erazer X7859 trades primarily on a bang-for buck basis. Keep that in mind and your expectations in check and you won't be disappointed. It delivers very much the same gaming performance as similarly specified but more expensive laptops from superficially snazzier brands.
It also has a really nice 17.3-inch LCD panel. As a pure gaming machine, therefore, there's little reason to pay more. As an all-round portable PC, however, the aggressive price does mean a few compromises.
This is not a terribly portable PC nor one that will delight by virtue of its design or perceived quality. Battery life that will really only get you through one feature-length movie, doesn't exactly sweeten the deal, even if it's somewhat inevitable for this class of laptop.
All told, the Medion Erazer X7859 largely delivers on what it sets out the achieve. It's a solid laptop that gets you a nice screen plus good gaming performance at a great price point.
from TechRadar - Technology Reviews http://www.techradar.com/reviews/medion-erazer-x7859