Before Microsoft introduced the Surface Pro (2017) last year, the company explicitly said that there was no such thing as a 'Surface Pro 5.' Why? Essentially, a future Surface Pro would get a number again when it brought forth "an experiential change that makes a huge difference in product line."
Now, the company has leapfrogged the '5' moniker entirely in launching the Surface Pro 6. By that logic, you wouldn't be out of line to expect a massive sea change – or at least one or two of the changes that have been requested for years.
While the Surface Pro 6 is inarguably the most powerful and longest-lasting (when it comes to battery life) Surface tablet yet, we have a hard time accepting that it's worthy of the number. Aside from those marked improvements in performance, and a shiny new color scheme, nothing else about the Surface Pro has changed year over year … not even the USB 3.0 port. So, where does that leave prospective buyers?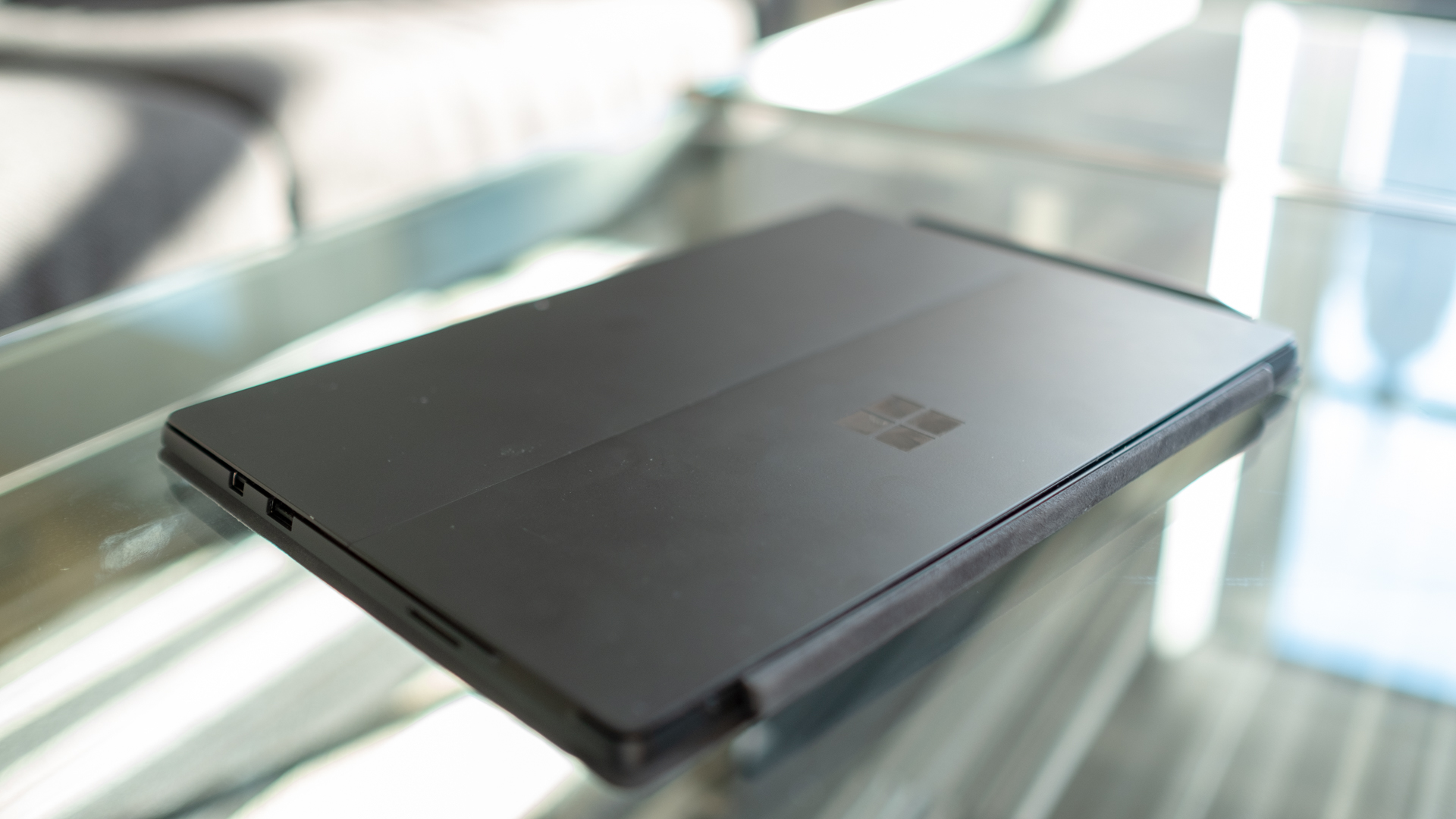 Price and availability
The starting price for Microsoft's Surface Pro 6 comes in at $899 (AU$1,349, about £690), which is directly in line with pricing for the Surface Pro 2017. The tablet is available for purchase right now in the US, UK and Australia.
The version you see configured to the right would cost you a cool $1,199 (about £900, AU$1,670) on account of the upgraded storage from 128GB on the base model to 256GB on the version we've reviewed. That's quite a price hike for another 128GB of space.
From there, the tablet can be configured with an Intel Core i7 processor, up to 16GB of memory and as much as 1TB of SSD space. If you want the most souped-up version of this tablet, that'll cost you a whopping $2,299 (about £1,700, AU$3,200).
Remember, as with previous Surface Pro devices, none of these prices include the $99 (£99, AU$139) Surface Pen nor the $159 (£149, AU$249) Type Cover and that, sadly, probably will never change.
Comparatively, the 12.9-inch iPad Pro calls for a slightly lower $799 (£769, AU$1,199), which gets you a 2,732 x 2,048-pixel display powered by Apple's A10X processor and with 64GB of flash storage. However, that too doesn't include a keyboard or stylus, which call for another $169 (about £170, AU$245) and $99 (£99, AU$145), respectively, if you buy them from Apple.
On paper, the Surface Pro 6 remains the better value in that you're getting more of a full computer for only about 100 bucks (or quid) more. However, it's definitely a closer race than it's ever been.
Then, there's the brand-new Pixel Slate, which Google wants $599 (about £450, AU$850) for to start with, which is excellent in comparison on paper. However, the company wants another $199 (about £150, AU$280) for its keyboard cover accessory, which is not so excellent, especially considering how both the iPad Pro and Surface Pro 6 dwarf it in terms of power.
Design and display
Save for the gorgeous-looking, lovely-feeling, new black color scheme, just about nothing has changed about the Surface Pro design from the 2017 model to today's Pro 6. The tablet measures just 0.33 inches thin and weighs a mere 1.7 pounds – again, the same as last year's model.
The tablet has all of the same ports and wireless connectivity options as before, not to mention the exact same Type Cover. The latter is a good thing, as there is very little – if anything – that needs fixing there. The Type Cover remains the most impressive accessory of its kind that we've tested.
However, we have to admit that we're seriously let down by the absence of USB-C this time around, and it's not even about any perceived benefits of the platform. Microsoft has been gating faster data transfers and wider docking capabilities behind its Surface Connect port for years, forcing folks who want that speed and expansion to pick up one of its $199 (about £150, AU$280) Surface Dock accessories.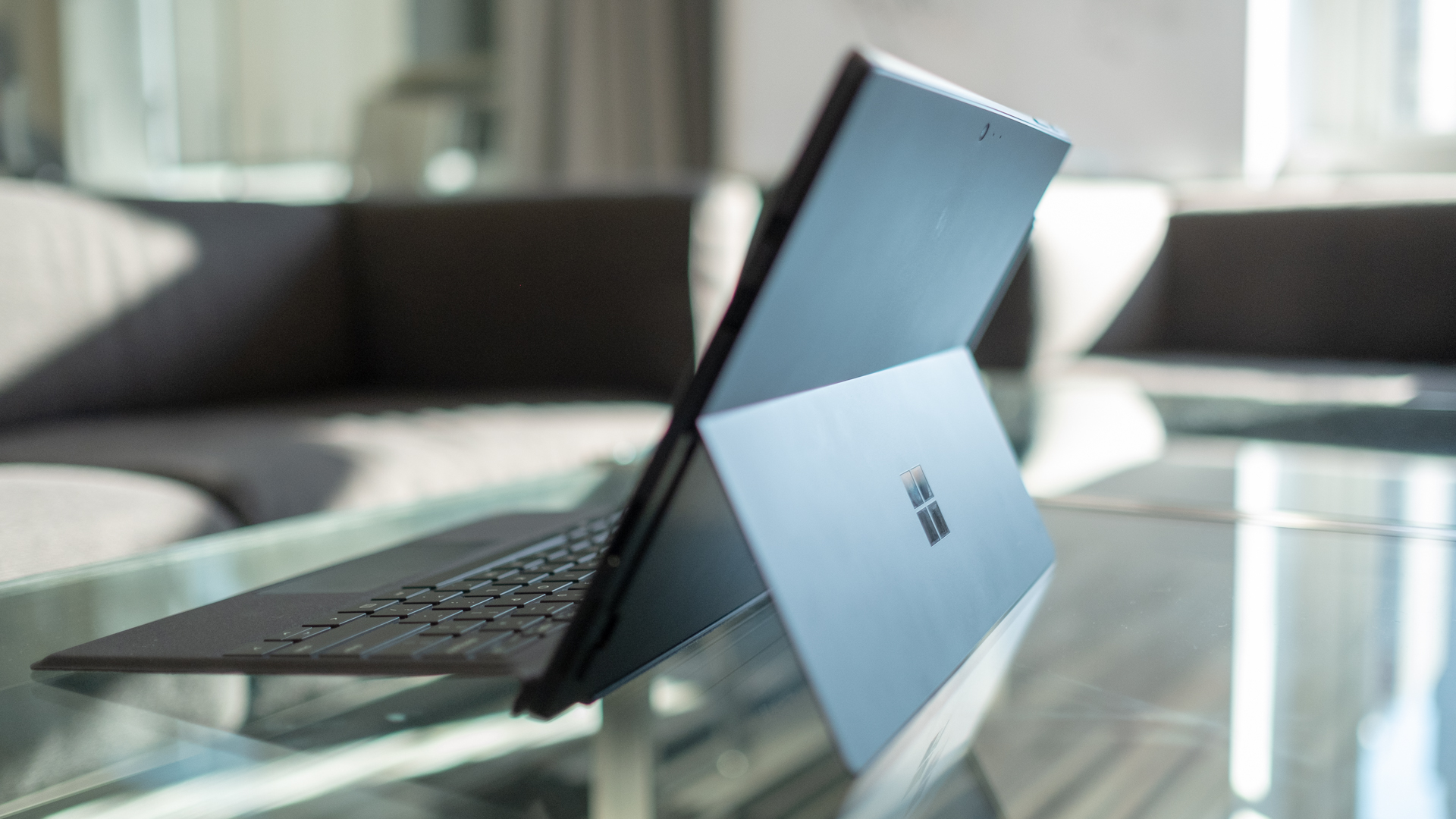 Not even the included USB 3.0 is up to the latest standard, USB 3.1, which is twice as fast at transferring data than the former. This is no longer acceptable: it's now costing consumers even more money than is necessary to unlock the full versatility of a device that Microsoft says can serve as their one and only computer.
On a slightly more positive note, the display is moderately improved in one area but otherwise unchanged. The Surface Pro 6 display now has a stronger contrast ratio of 1,500:1 compared to the previous model's 1,300:1 figure.
This should be a boon to both content creators and consumers alike, with deeper blacks than ever and even brighter colors that certainly makes movies more impressive, and possibly makes media editing easier and more accurate for content creators.
It should come as no surprise that this year's Surface Pro is more powerful and capable than the last. Much of that comes through the introduction of quad-core processing, thanks to Intel's 8th generation Kaby Lake Refresh processors released earlier this year.
Of course, visual performance doesn't increase much, if at all, in the Surface Pro 6 over the previous model, with the same graphics subsystem as before in this specification.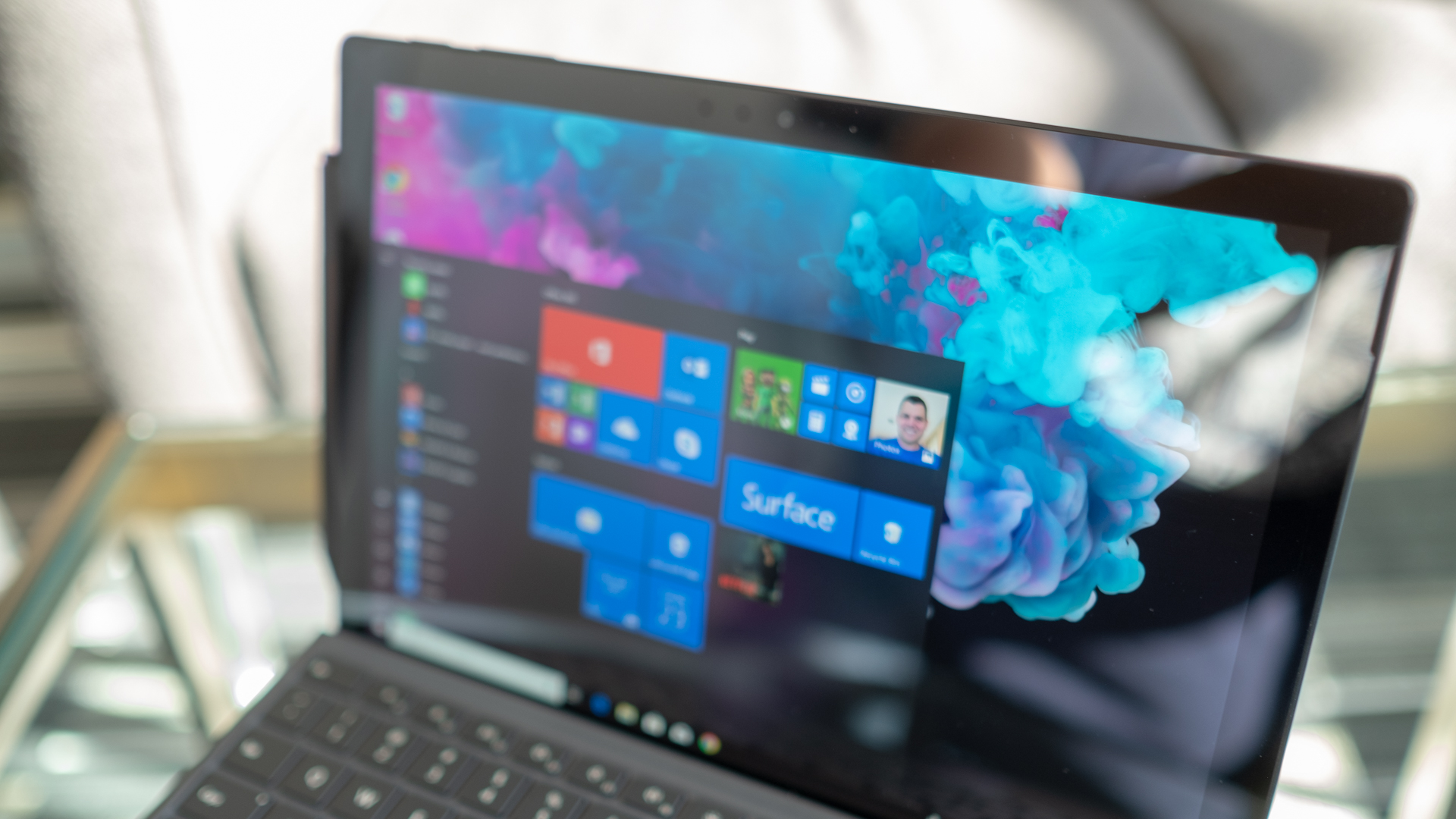 However, we've recorded some impressive gains in battery life as well as multi-core performance, which should obviously see better longevity out of the tablet as well as faster video encoding and other CPU-intensive tasks.
Generally speaking, the Surface Pro 6 power profile is ideal for students and creative professionals. You'll even get some decent mileage out of this laptop when playing more casual games, like Hearthstone or Candy Crush. Just don't expect the tablet to churn through complex media renderings and encodings or complicated spreadsheet functions with reams of data.
Comparatively speaking, the iPad Pro 12.9 with Apple's A10X Fusion processor achieved a score of 9,343 points in the multi-core Geekbench 4 processor test. This was competitive with laptop processors last year, but much has happened since. However, this may only be the case for a little while longer, with an iPad Pro 2018 model said to be incoming.
Granted, the iPad Pro and Surface Pro will forever be a bit of an apples to orange comparison given how the two are built on entirely different operating systems with different levels of overhead on their respective processors. With no true multitasking or open-ended app management on iPad Pro, it will always have less overhead but also less versatility than the Surface Pro.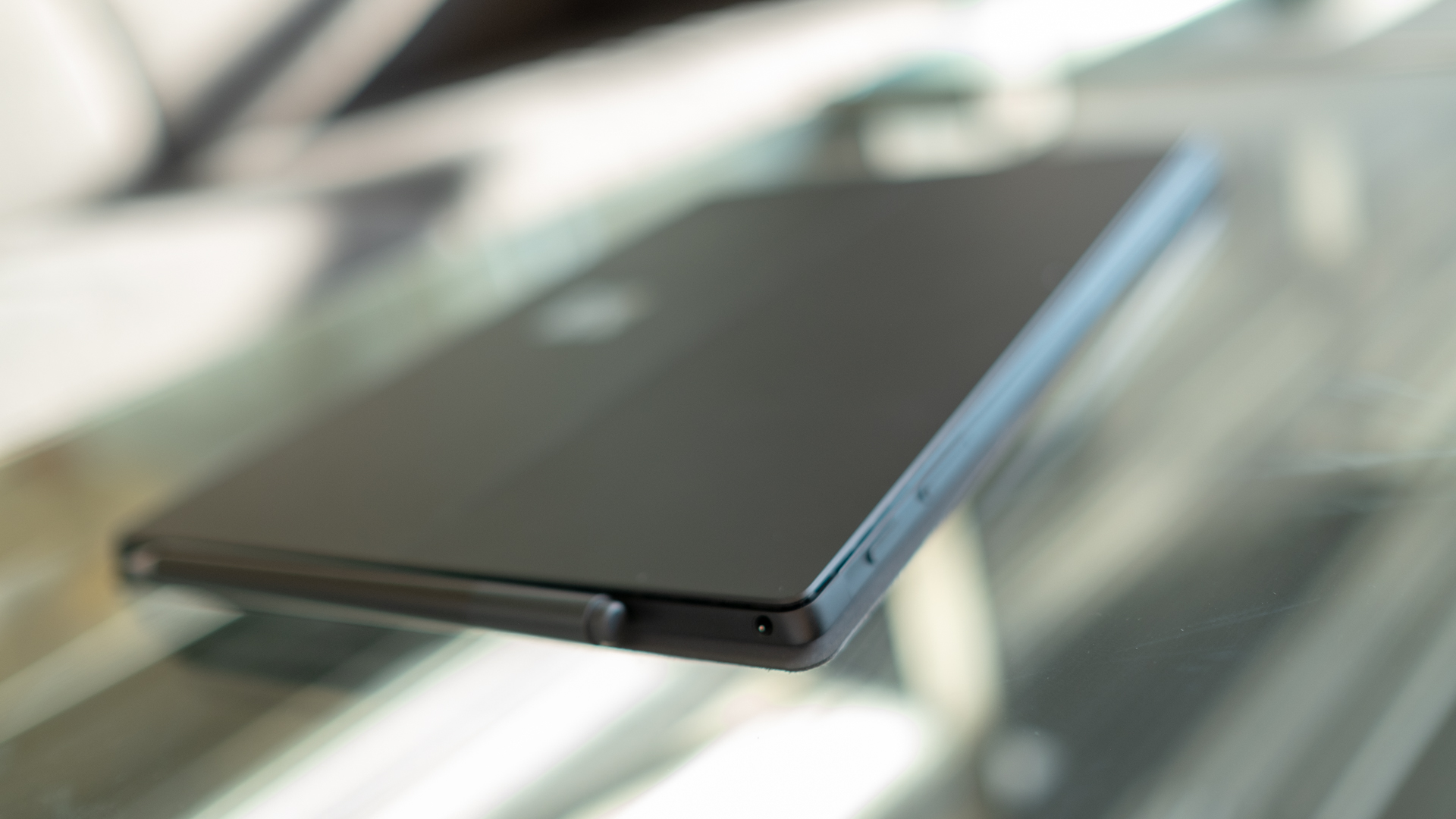 Battery life
Microsoft has gone and somehow beefed up the lasting power of Surface Pro 6 by a considerable margin, particularly when it comes to video playback. Battery life through simulated general use, represented by the PCMark 8 test, remains essentially the same as before.
However, we've witnessed a gain of one hour and 47 minutes – nearly a two-hour increase – in our video rundown test on Surface Pro 6. That's seriously impressive. Between the two figures, you should see a considerable increase in time away from the outlet from last year's model.
Now, we've witnessed the iPad Pro 12.9 reach its rated 10 hours of battery life on a regular basis, especially in video playback but also general use. So, the Surface Pro 6 isn't quite up to par still, which is to be expected. The version of iOS on the iPad Pro was expressly designed and developed for the device, whereas Windows 10 was designed for countless devices and therefore has no way of being quite as optimized.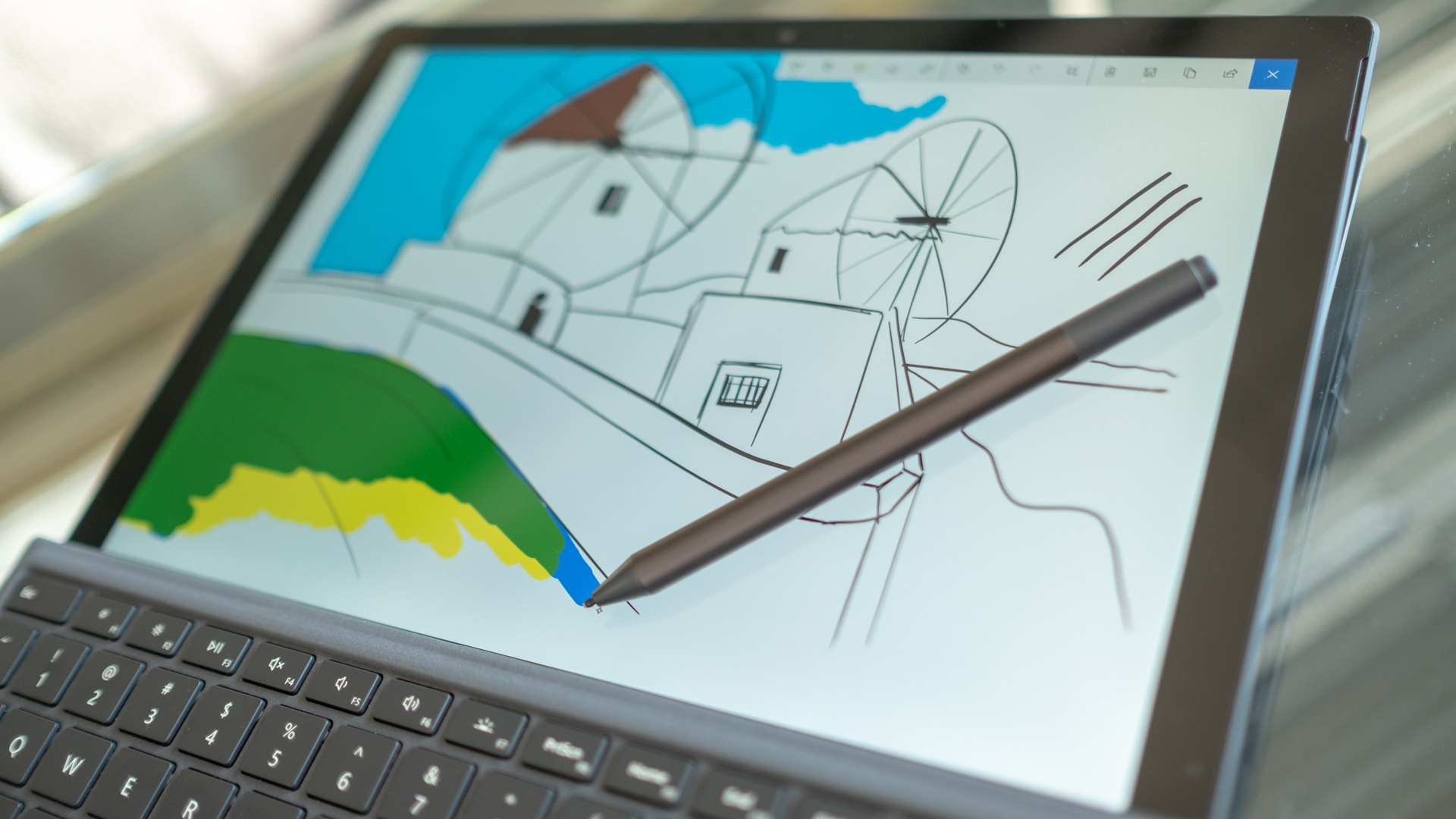 Software and features
Like the Surface Laptop 2, the Surface Pro 6 doesn't have many unique pieces of software and features to speak of, which is a bit of a double-edged sword. The good? There's no bloatware on this device at all, as it comes directly from Microsoft.
What's also good is the Windows Hello facial recognition, which uses the tablet's infrared camera next to its webcam, and is plenty fast and accurate. We can barely open the tablet from its Type Cover before we're already logged into Windows 10.
The bad? There is basically nothing else in the way of unique software and features. If it's on this tablet, you can basically get it on any other Windows 10 tablet.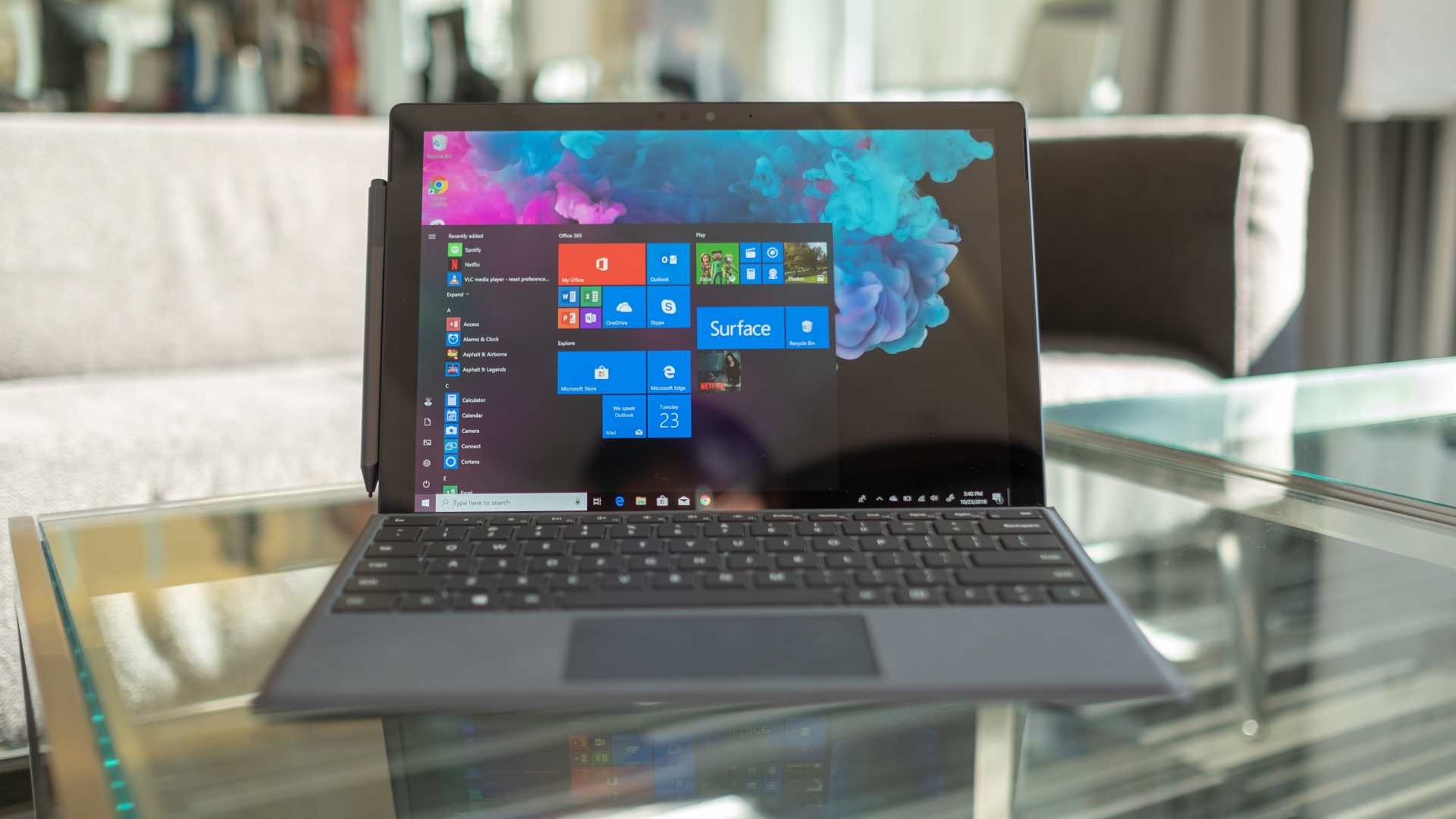 Final verdict
The Surface Pro 6 is, of course, Microsoft's best tablet yet, but we're honestly left wondering why this one was given a number considering it improves on fewer aspects of the device than last year's. Microsoft hard-lined against giving last year's model a '5' at the end of its name, essentially saying it wasn't worthy of the moniker.
Now, even fewer improvements and unique features have been introduced, and it skips the '5' entirely. In almost any other case, this would just be marketing blather, but because of Microsoft's previous, on-the-record statements, it's difficult to ignore.
To be worthy of a number, much less skipping one in the sequence entirely, we would have expected some drastic improvements to the design: an even sharper screen, maybe; hardwired connections that are up-to-date and not proprietary, perhaps; even a drastic pricing move that includes every essential accessory in the box would have sufficed.
Instead, the Surface Pro 6 is faster, longer lasting and now comes in a sleek, new black shell … and that's about it. This is certainly a better product than last year, but only barely so for it to be worthy of being numbered '6' much less '5'. If you already own a Surface Pro 2017, we'd say that this upgrade isn't worth the cost. Otherwise, it's still the best Windows tablet.
from TechRadar - Technology Reviews http://www.techradar.com/reviews/microsoft-surface-pro-6