Back in its time, the Nvidia GeForce GTX 970 was universally praised as the best value of the Maxwell generation. With a beefy 1,664 CUDA cores and a final boost clock of 1,178 MHz, this 4GB (or 3.5GB, really) card was fully capable of powering pretty much every AAA game under the sun – at 1080p that is – and still very much is.
However, the GTX 1070 is its successor, and the Pascal follow-up has taken the crown from its value-oriented precursor. So, what's new?
Well, there's an additional 256 CUDA cores this time round, a higher boost clock running up to 1683 MHz (1797 MHz on the MSI Variant we have in OC Mode) and an additional 4GB of GDDR5 VRAM.
Of course, it's running off of Pascal's mighty 16nm FinFET manufacturing node, enabling 6.5 TFLOPS of overall performance, or thereabouts. That's close enough to a Titan X in spec, but for half the price.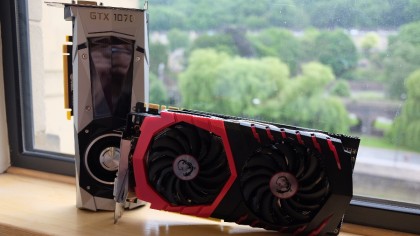 If you take a look back at our first review of the GTX 1080 that launched at the beginning of this June, you'll know our biggest complaint was with the price. The Founder's Edition looks fantastic and really does wonders to reinvigorate the now ageing metallic cooler we first saw with the launch of the GTX 680 way back in the day.
The problem with Founder's Edition cards is that you end up paying an absolute premium for the sake of what? A few weeks early access and a slightly worse cooler? Color us not convinced. Unfortunately the story rings true again with the GTX 1070.
UK-based retailer Overclockers will be selling the Founder's Edition version at £410 (around $584 or AUS$792). There is a reason to be optimistic, however, as partner cards will be coming in at a far lower price.
MSI's Aero Cooler for instance, with a default blower style cooler is priced at £380 (around $541 or AUS$734), while an aftermarket Twin Frozr will set you back 10 pounds (around $14/AUS$19) more.
However, now that the Nvidia GeForce RTX 2070 is here, Nvidia GeForce GTX 1070 prices are falling – with the MSI Gaming X card included. And, we fully expect a ton of Black Friday and Cyber Monday deals to further slash the prices on this last-gen midrange card.
X marks the spot
The GTX 1070 variant we have here is non-other than MSI's top of the line Gaming X that comes with a fully custom PCB, improved fan design, LED lighting and stock overclock as standard. And, a meaty one at that. Thanks to MSI's Afterburner software, you have access to three different modes: Silent, Gaming and OC mode.
I'm a little confused as to why these exist, as once buried in your case you'll barely hear this thing. Especially coupled with its 0dB fan technology keeping the fans entirely subdued until post 60 degree temps hit the core.
The extra megahertz on that core clock will net you a good 20% improvement to frame rates in-game. Now, we know that doesn't sound like a lot, but as far as minimum frame rates go, the higher they are the smoother your overall experience will be.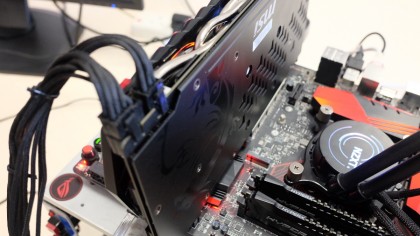 So, what makes this monster different from the GTX 1080 we reviewed a few weeks prior? Well, basically, just a few less CUDA cores,a lower base clock and a departure from the 10GHz memory of GDDR5X. That being said, GDDR5 is still a strong competitive VRAM memory spec, so it's hardly like you're going to be losing out to a huge degree, especially at 1080p and 1440p.
The overall aesthetic design of MSI's new Gaming X 1070 is clean. It's a nice reiteration on the last generation, but there are still a few things that bug us here – not least the inclusion of RGB LEDs on a card that's predominantly black and red, as realistically you just can't change the color on that from anything other than white, red or off. But other than that it's a fairly nice update.
The GTX 1070 is, by far, Nvidia's king of 1440p gaming. The 8GB of VRAM (all intact), the Titan X level of performance, the price point. It's all there for high-end, 1440p gaming.
I'm not talking entry point and low average frame rates here, we're on about the upper echelon of those frame barriers; 120Hz plus – the sweet spot – and it certainly doesn't disappoint. Take a quick look at PCMark's Fire Strike Extreme, and you'll notice a 3,200 point deficit between the GTX 970 and this monster, and an even more impressive 2,200 points of difference between the 1070 and last generation's now-nearly-defunct GTX 980.
Benchmarks
Here are the benchmarks we achieved with the MSI GeForce GTX 1070 Gaming X running at stock (test system was an Intel Core i7-6700K, 16GB of HyperX Savage DDR4 @ 2400 MT/s on an MSI Z170A Gaming M7 motherboard, with games tested on highest preset with AA at maximum settings – average frame rates given):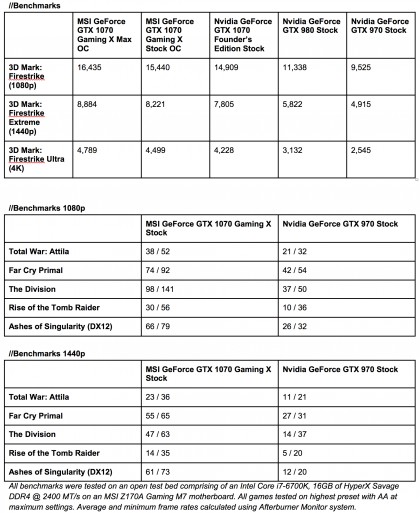 A quick look in Far Cry Primal at 1440p saw the GTX 1070 munch up a monstrous 65 frames per second (fps) on average, as opposed to last generation's GTX 970 attaining a measly 31 fps.
That's with everything ramped up to ultra, AA on max, and with the high-resolution texture packs included. As for your everyday games, and more mainstream titles, 144 fps is nothing short of guaranteed. In World of Warcraft, we enjoyed an impressive 165 fps at 1440p, with all the settings ramped up in a raid environment.
Performance isn't everything
With the launch of Pascal, Nvidia also introduced us to some rather dishy new software components in the form of Ansel and VRWorks Audio. Ansel in short is an in-engine in-game screenshot utility that takes you out of the game as a floating head.
In short, you can pause the game float your camera around until you're in the correct position, adjust the lighting, and up the resolution to take your perfect screenshot. All the way up to 61,440 x 34,560.
That's 1,064 times larger than 1080p – no biggy, right?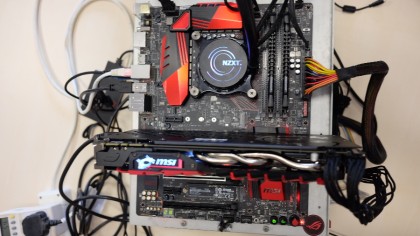 On top of that, for those with the fancy VR headsets you can also take full 360 degree screenshots, making this a great way of blagging to your friends how fantastical a system you've got. And then there's VRWorks Audio, a re-imagining of 3D audio primed and ready for the latest generation of VR games going forward.
Cool under pressure
As far as temperatures go on the GTX 1070, you can expect to see that Celsius reading under load hit 81 degrees similar to the GTX 1080, rocking all the way up to 90 if you really let GPU Boost have all the fun. Nothing new here.
With MSI's Gaming X, we saw temperatures stick steady at around 60 degrees under load. And once I tuned in our own overclock (far beyond the factory overclock settings), at most we only ever saw 70 degrees. Pretty impressive, then.
This is all thanks to MSI's new and improved TORX 2.0 fan tech, which, according to the military grade company, ensures that this edition of the Twin Frozr produces 22% more air pressure than it's last generation of GPUs. It's something that really shows, too.
Coupled with that 0dB fan technology we mentioned earlier and using this aftermarket variant, even though it was a little pricier than the Founder's Edition was a solid choice, especially for what you get.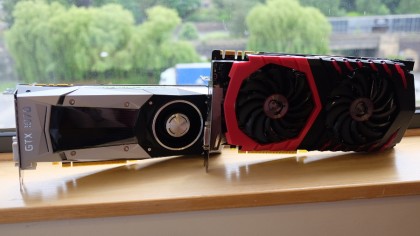 Overclocking experience
Although MSI's GTX 1070 Gaming X does come pre-overclocked, there's always bound to be a little extra leeway when it comes to really getting the most out of your GPU. In this case, we decided to see just how far we could push the GTX 1070's cores.
With my final overclock, we managed to achieve an additional 130MHz on the core clock and 400MHz on the memory, bringing it up nicely to a final boost clock of 2,076MHz, and 8,910MHz on the memory.
Temperatures still remained sub-70 degrees under load in Firestrike, and those final scores increased from 15,440 on the Gaming X's OC setting, to 16,435. Just under 1,000 points – that's 1,500 points more than a stock reference GTX 1070. In game we saw average frame rates increase from 65 fps in Far Cry Primal up to 71 fps. Hey, who can argue with (sort of) free performance?
The GTX 1070 is an astronomical card, especially for the pricing at the low end. Although a little pricier than the GTX 970 of last generation, this beauty is capable of plowing through almost all AAA titles at 1440p without a sweat.
We liked
The performance for price is fantastic, especially on the AIB partners. At 1440p, it absolutely dominates, and the inclusion of DisplayPort 1.4 is a god send for future proofing. 4K monitors at 120Hz, anyone?
We disliked
We're still stuck behind that Founder's Edition price point. All that for the sake of early access, and for what you get in comparison to the aftermarket competition, it's just not enough in my eyes to stick a flashy cooler on it, bump up the price, limit accessibility and call it a day. Otherwise, this is a powerful GPU on a fantastic card.
Final verdict
Couple that with its insane overclocking potential and thoroughly well-developed cooler design from partnering manufacturers, and you're onto a winner. The only thing that could potentially make this card better were if the price would drop – if even a fraction. And, with AMD's Polaris RX 480 right around the corner, that might be something we're likely to see soon, as team Red starts snapping up the middle ground once more.
from TechRadar - Technology Reviews http://www.techradar.com/reviews/pc-mac/pc-components/graphics-cards/msi-geforce-gtx-1070-gaming-x-1323106/review