Nomu has been making rugged handsets in Shenzhen since 2007 and lists almost every country you can think of as a market. The US and UK, are conspicuous by their absence from the list, but there's nothing to stop you importing Nomu's products from Hong Kong.
The Nomu S50 Pro is the brand's latest and most tempting tough phone. It looks the part in high visibility orange livery and a polycarbonate and aluminium body and it is packed with features that will appeal to anyone who works outside or gives their phone a tough time.
Currently selling for US$250 (around £191, or AU$354), the Nomu S50 Pro joins the surprisingly vibrant budget rugged smartphone category. It has been designed from the ground up to withstand water, dust and drops, so it's tougher than any old phone in a protective case. In addition to the 18:9 5.75-inch display, the Nomu S50 Pro offers a dual SIM card slot, cameras front and rear, a USB-C port for rapid data transfer and fast charging and a fingerprint reader.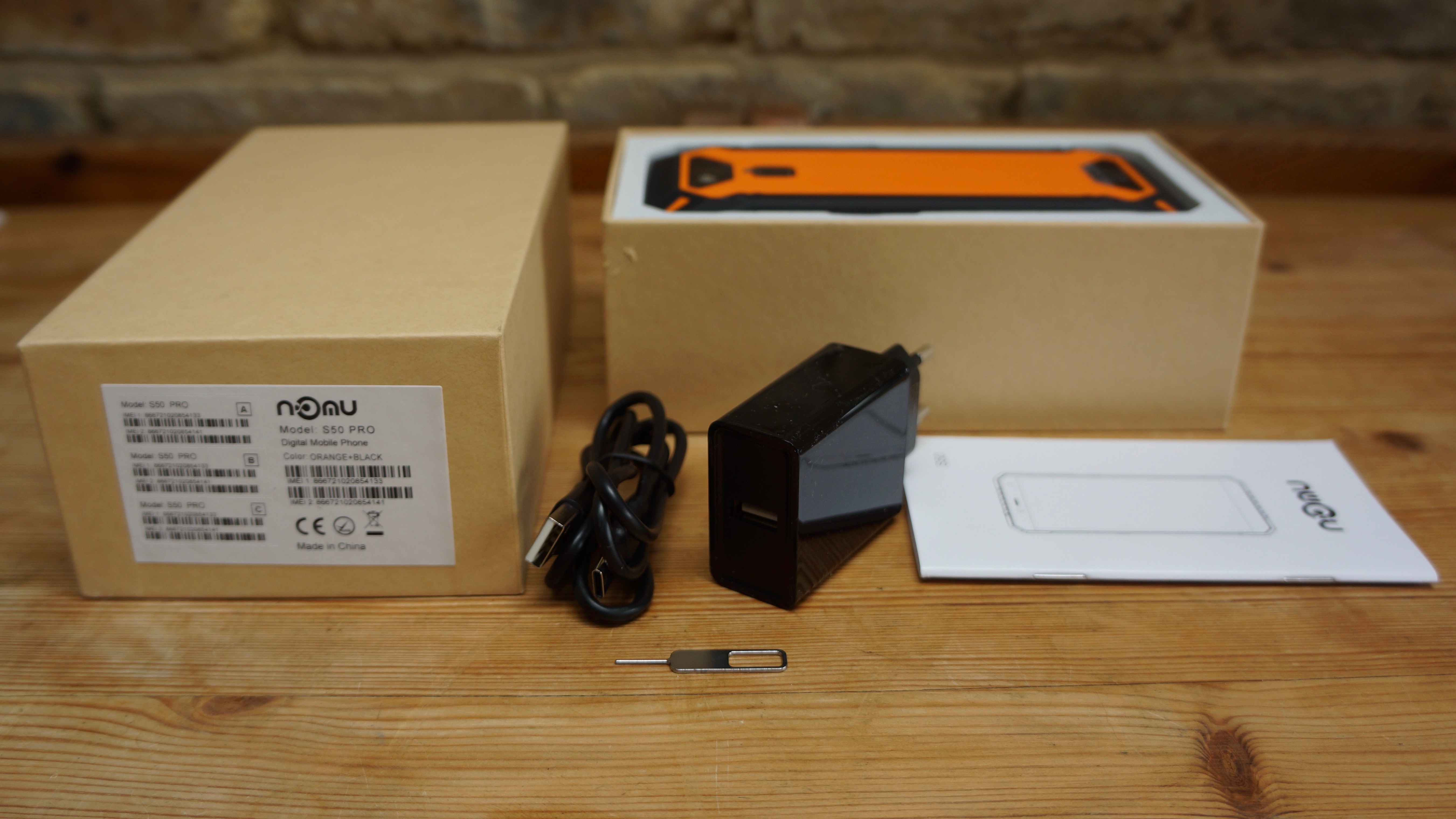 Design
To become a rugged IP-69 phone, means putting on a certain amount of bulk to keep the internal components free of dust and moisture and to protect the precious screen from damage. The Nomu S50 Pro does this using an aluminium body that is further protected by a polycarbonate shell, which adds less bulk than the equivalent removable phone case and being designed from the ground up to resist the knocks, makes it inherently stronger.
A lip of orange plastic surrounds the Gorilla glass, which is just enough to stop the screen making contact with the surface when you place it face down on the ground. It feels less bulky than the Blackview BV5800 Pro, but also a little less well protected.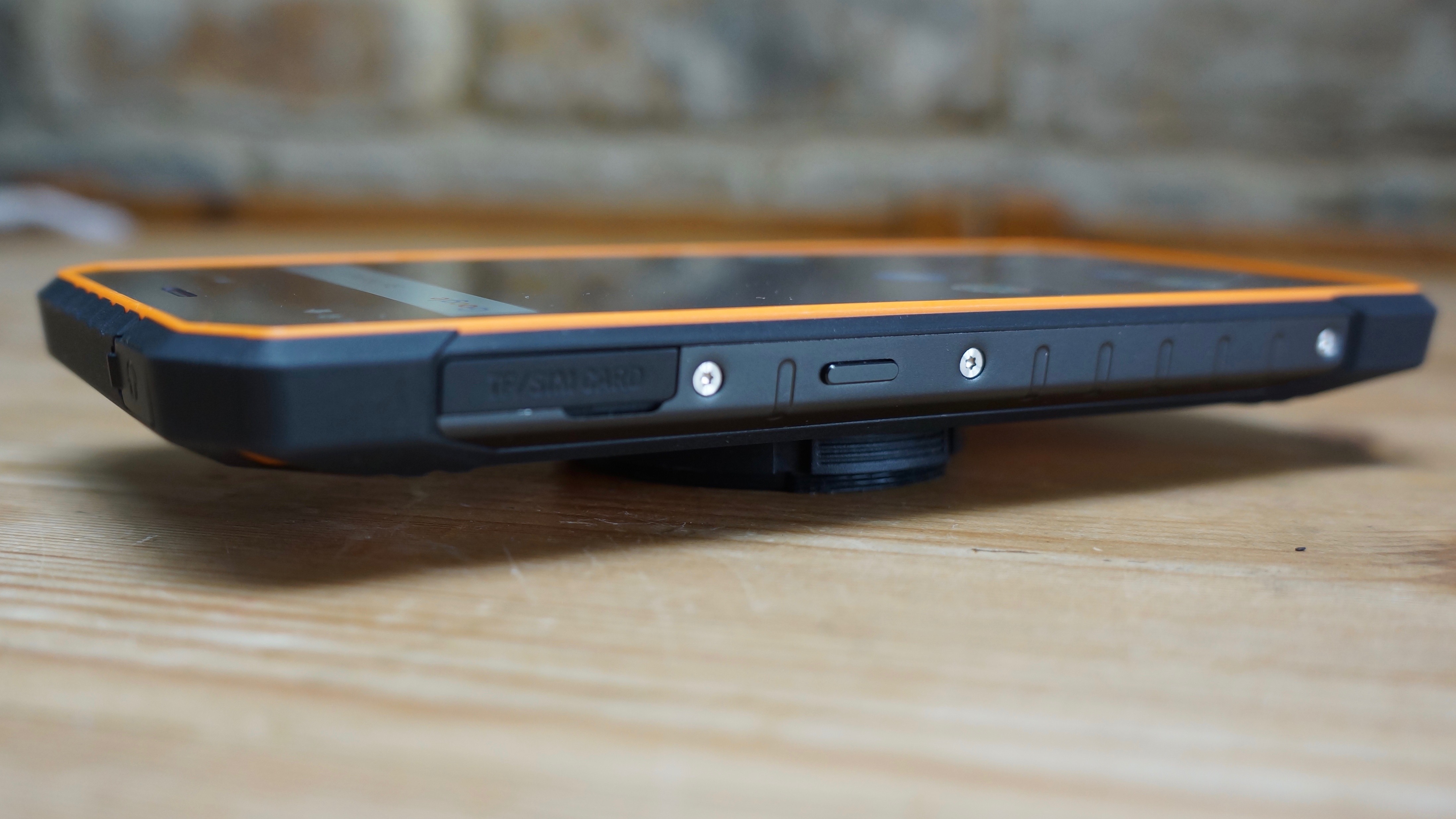 The three physical buttons, power, volume rocker and function button, are all metal and six metal engineering screws around the edge of the phone, hold the metal side panels in place. Rubber seals cover the three ports which hide the USB-C and headphone sockets and the dual SIM slot. This SIM tray can also hold a microSD card but in that case, there's only room for one SIM card.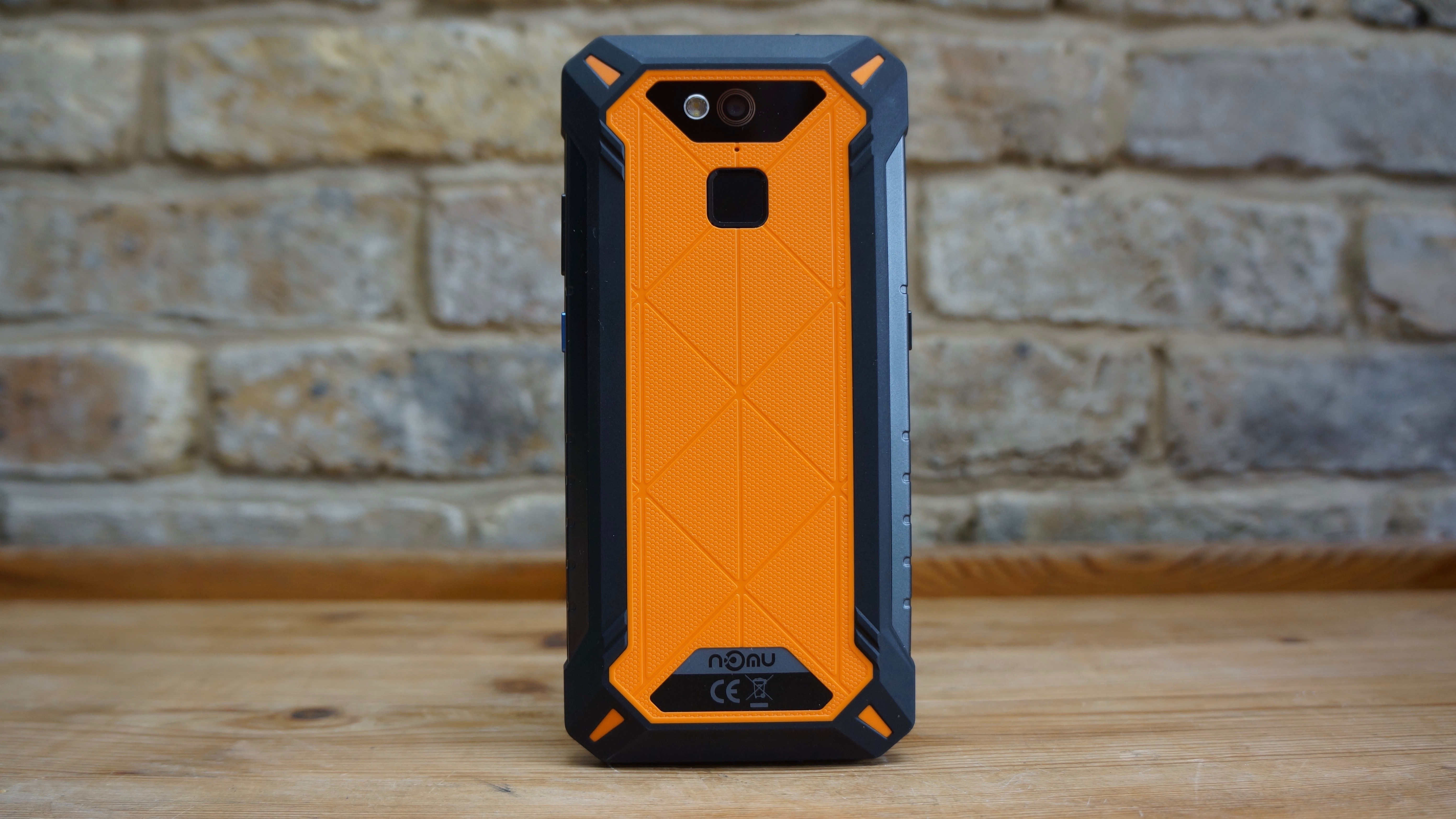 A tiny microphone and speaker are located at the bottom of the handset and the back camera, torch and fingerprint reader are recessed in the textured rear panel.
The Nomu S50 Pro looks rugged without looking ridiculous and comes in a choice of plain black, or high-visibility orange, as seen here.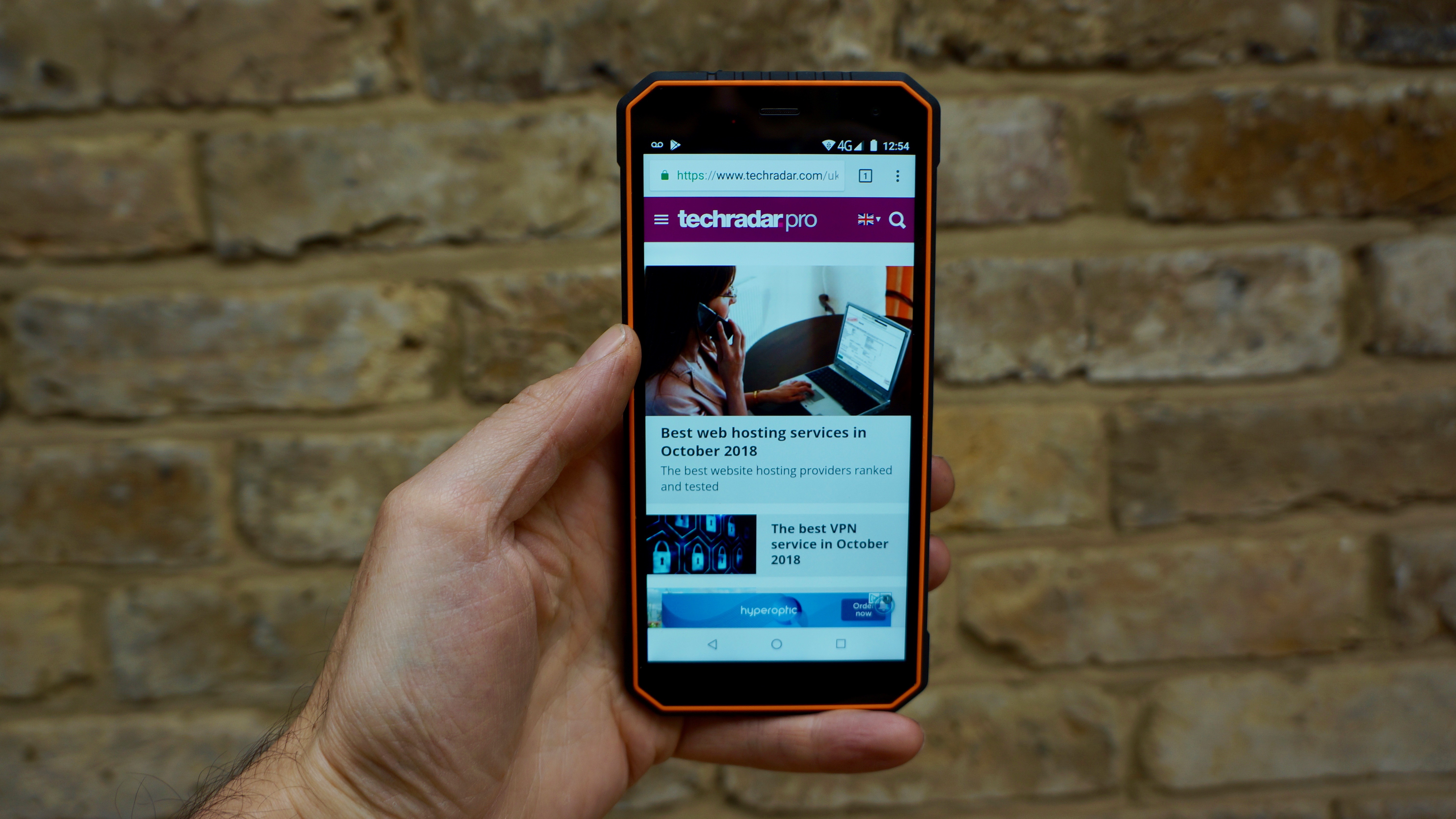 Specifications and features
We've seen a raft of budget rugged phones shipping from China recently and they tend to slot into one of two price points, either around $200 (£150), or $250 (£200). In each category, their specifications are broadly the same. Most of them go for the increasingly popular 18:9 aspect ratio display, which we think is a good choice because you can wrap a gloved hand around it more easily than a 16:9 screen.
The resolution here is not Full HD, but 1,140 x 720 is good enough and the 5.72-inch touchscreen is both bright and sensitive to gesture control.
The Nomu S50 Pro is slightly disappointing in that it is based around the same ARM processor as the $200 (£150) Poptel P10 and its bench test results lag behind the $280 (£215) Doogee S70 with its faster Helio P23 CPU. At 4GB, it has less RAM than the Doogee too.
In all other respects, it keeps up with the other $250 (£200) rivals with a USB-C port for rapid battery recharging and data transfer, dual SIM card slots, a microSD slot and a fingerprint reader. Sadly, it doesn't offer wireless charging, which we found particularly useful with the Ulefone Armor 5 and Doggee S70.
The battery is fairly large and with 5,000mAh, you can expect to use it heavily all day and night without it running flat. Both the front and back cameras have reasonably large sensors for detailed photography and video calls and naturally, it is running the latest version of Android 8.1 Oreo.
In use
It is always liberating to use a phone that you don't mind throwing around and the Nomu S50 Pro feels like it can take the knocks without picking up scratches. The screen and rear camera still looks too vulnerable to drop from any real height, but it is rugged enough for general outdoor clumsiness and it is certainly waterproof.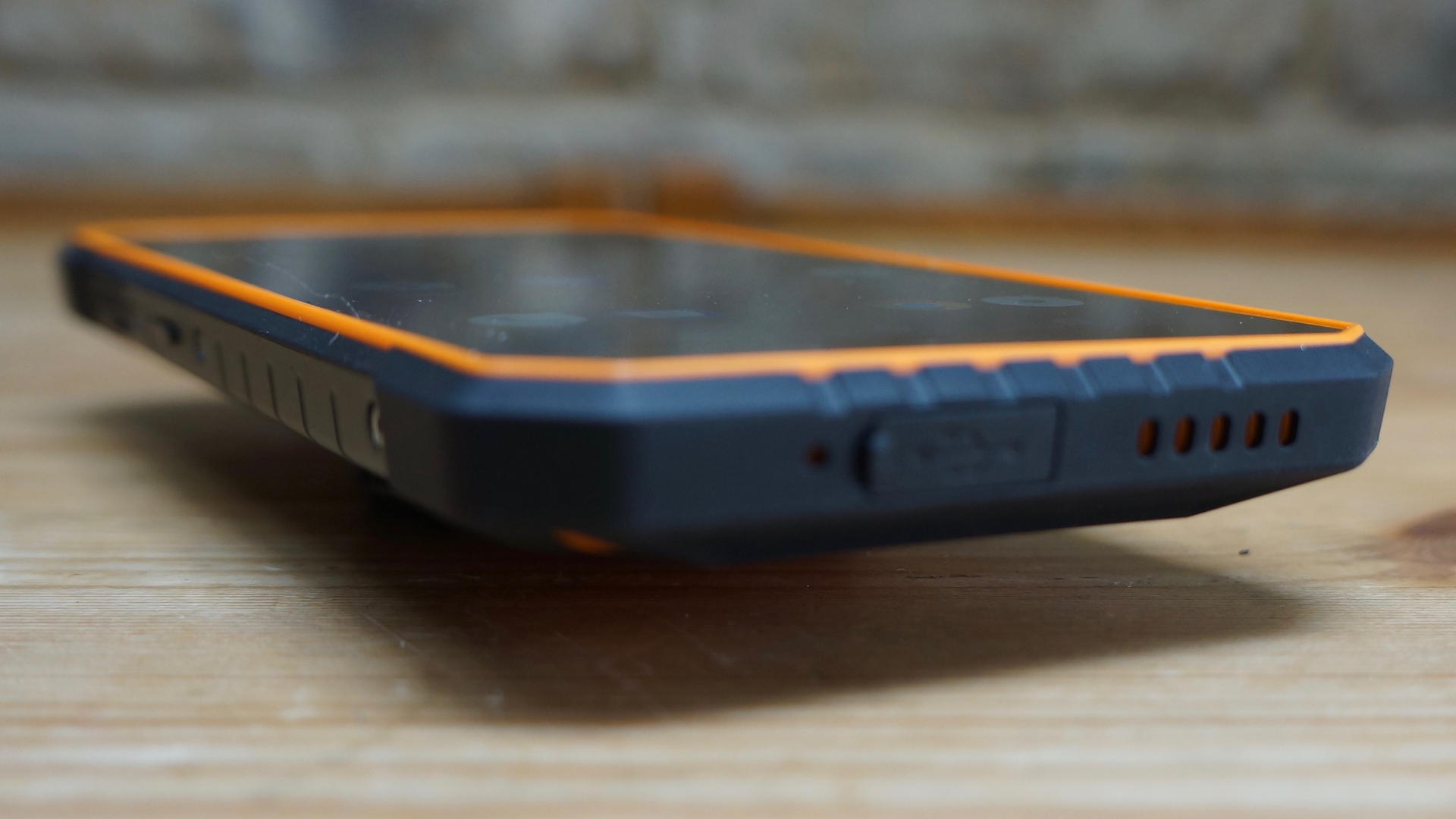 The fingerprint reader works reliably and Android Oreo fires up quite quickly. The Nomu skin doesn't look great, so you might want to personalise the home and lock screens yourself. The 5Ah battery lasts for a full day and half of busy use charges quickly through the USB-C port, but it's frustrating that wireless charging is not an option.
The function button on the side of the phone gives you a really useful shortcut to the camera app. One press takes you to the rear camera and a long press switches it to the front camera. It would have been great if a double press released the shutter and actually took a photo, but unfortunately you have to use the touchscreen for that, which is annoying if you are wearing gloves, or wer hoping to take a shot with one hand.
The biggest issue we had with the Nomu S50 Pro was its call quality. Every call we made sounded tinny and compressed through the internal speaker and also sounded terrible at the other end, which suggests the microphone is also weak. You can make yourself understood, but voices just don't sound as clear as every other handset seems to manage.
Final verdict
The good news is, if you are looking for a budget rugged handset with a big battery, big screen and dual SIM slots you have plenty of choice. The bad news is that you will have to look further than the Nomu S50 Pro for the best example. It is perfectly fine as a robust phone that runs Android Oreo without a hitch and it ticks most of the boxes in our list of essential outdoor features.
The function button that takes you to the camera app is useful and the battery lasts very well, but call quality is not great and that, after all, is the most important function of a phone. It is also slightly more expensive than the rest of its similarly specified rivals and we can't see any reason to justify it. In short, it is an adequate outdoor handset that does the job, but not quite as well as the competition.
from TechRadar - Technology Reviews http://www.techradar.com/reviews/nomu-s50-pro