For a brand to launch two flagship phones a year is a lot, and it doesn't always work. There's often not enough new tech to make for a meaningful upgrade, and bringing a new device to market every six months can cause fatigue for even the keenest phone fan.
OnePlus has been following the two phones per year schedule since the 3T in 2016, although it's never committed to making it's T series of devices a regular thing.
OnePlus says it'll only make T devices when technology has progressed enough and it's imperative to improve on a handset before the next generation… and the OnePlus 6T is the embodiment of that rationale, as it feels like a genuine step up from the OnePlus 6, which launched earlier this year
Don't get us wrong: we loved the OnePlus 6. It scored a 4.5 star in TechRadar's review, in which we praised it for clean software, lots of power and a premium glass design. The OnePlus 6T is just consistently better in almost every respect.
There aren't any eye-catching, must-have new features, but this is more than a stepping stone on the way to the OnePlus 7.
OnePlus 6T release date and price
You'll be able to pre-order the OnePlus 6T very soon and you'll be able to buy it from the official website starting on November 6. We'll update this review when we know a little more about the exact release date in different countries.
The OnePlus 6T price is set to start at $549 / £499 for the 6GB of RAM and 128GB of storage in the Mirror Black color. The same storage and color but with 8GB of RAM will cost you$579 / £529.
Midnight Black versions of the phone have 8GB of RAM and cost £529 / $579 or $629 / £579 depending on whether you go for the 128GB or 256GB versions.
In the US, T-Mobile is the exclusive carrier if you don't want to buy it outright. In the UK, it's a touch easier to buy the OnePlus 6T as it's going to be available through O2, EE and Vodafone as well as from Amazon, Carphone Warehouse and John Lewis.
We don't currently have pricing or release date information for Australia, but we hope to update this review with the latest information soon.
Design
OnePlus has embellished its design credentials a good deal in the last couple of iterations of its flagship phone, and the OnePlus 6 felt like the culmination of lots of hard work – a great-looking device that didn't skimp on some of the essentials, as older phones in the series did.
The OnePlus 6T isn't much different to that – in fact, there are only a few changes – but those changes are worthwhile, and well implemented.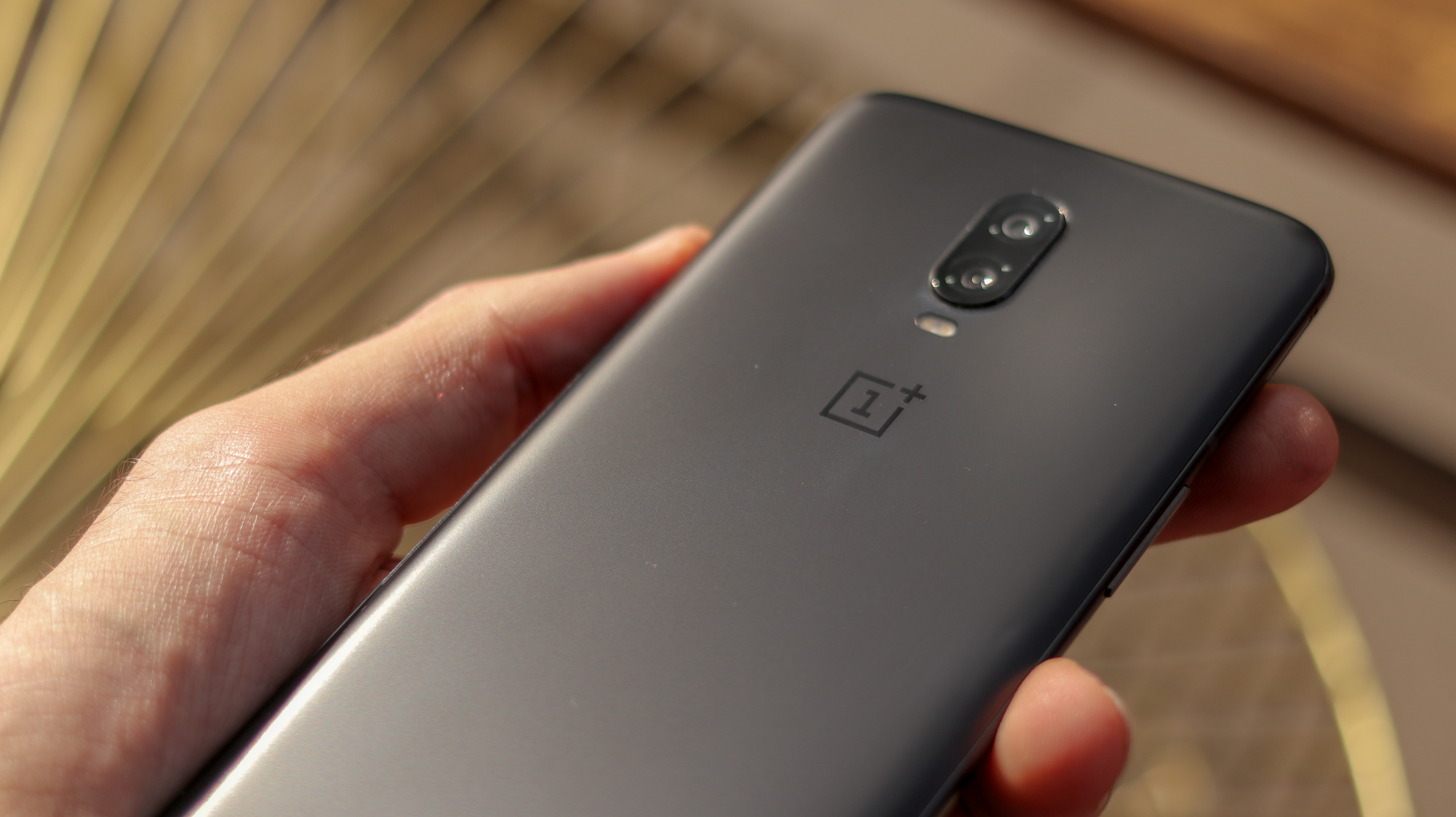 The body is glass on both the front and back of the device, and you've got the choice of two colors: mirror black or midnight black. That's right: you can have any color you like as long as it's black, as Henry Ford famously said – although in fairness to OnePlus the reflective choice does look quite different to the matte version.
We would expect OnePlus to introduce further colors along the line too. We may see red and white versions, as with previous generations of OnePlus devices, but so far there's no news on extra shades.
The phone feels comfortable to hold, and it's easy enough to grip – with dimensions of 157.5 x 74.8 x 8.2mm it's not a large device.
The rear of the phone is relatively clear, as the fingerprint scanner has moved – more about that in the display section below – so now you've just got the two-sensor camera and a small flash below it. Otherwise the back of the phone is empty, which contributes to that comfortable feel in the hand.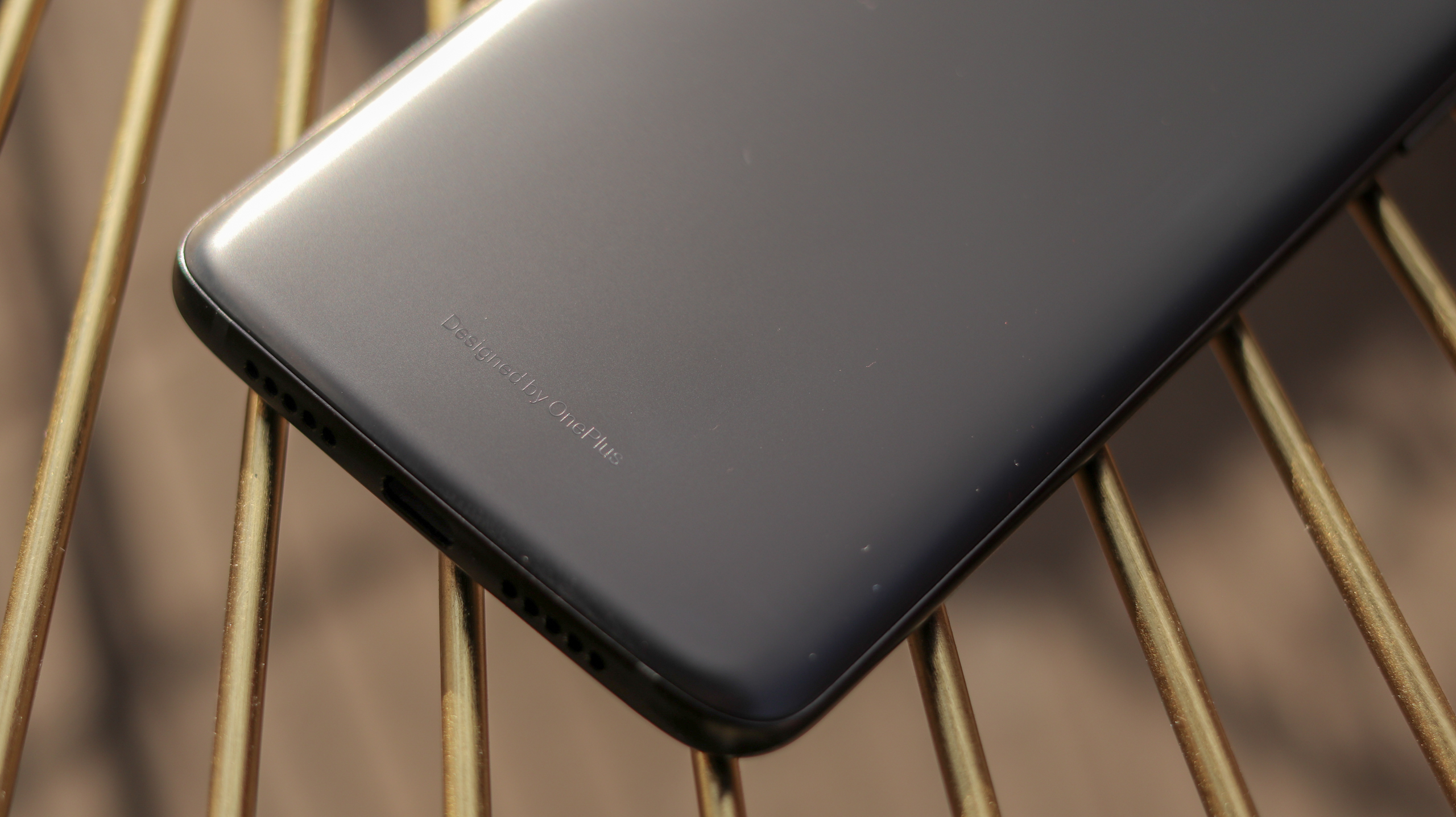 On the right-hand edge of the phone is a power on button, which is one of your options for waking the device – the other is a double tap on the screen - and above that is the signature OnePlus slider that allows you to mute your phone with a quick flick.
This is something you also get on iPhone devices, but not many Android alternatives have it, and it's something we find particularly useful when we want to quickly mute our device.
On the left-hand edge of the device is the volume rocker, which is easy to reach. On the bottom of the phone is the USB-C port, flanked by two speakers for stereo audio.
One of the big talking points surrounding this phone concerns something you won't find on the bottom of the device – OnePlus has dropped the 3.5mm headphone jack, a decision that has upset a lot of OnePlus fans who want a physical way to plug in their headphones.
Instead, OnePlus includes a 3.5mm to USB-C adapter in the box so you can still plug in your wired headphones, while it also encourages you to use Bluetooth headphones as an alternative. We don't see this as such a big problem these days – after all, several other brands have already axed the jack – but it's something that's likely to put off some fans of the brand.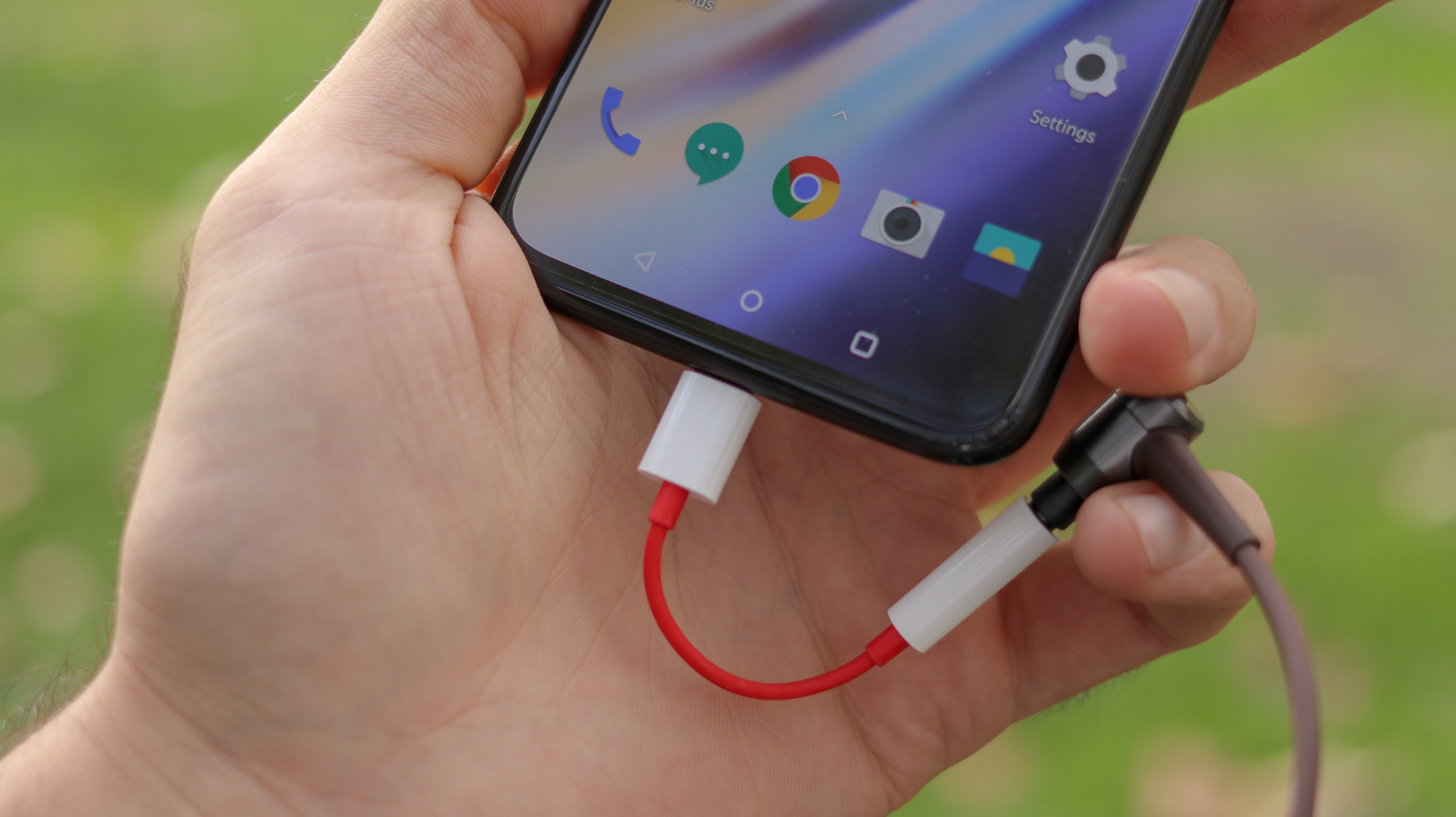 It's an especially odd decision considering the company has been making much of the fact that it's included the headphone jack on every device while rival companies have dropped it. If you already own Bluetooth headphones it's unlikely you'll find this a problem, but it's not going to sit well with everyone.
Display
The display is where lots has changed from the OnePlus 6 – that was the first OnePlus phone to lose most of its bezel and adopt a notch at the top of the display.
It's a similar affair here, but now the notch has been shrunk down to what's referred to as a teardrop design. It takes up relatively little space, meaning there's more screen at the top left and right of the device.
The display is a 6.41-inch AMOLED screen, but as the body of the phone isn't as large relative to the screen size it doesn't feel like a big-screen phone when it's in your hand. It's 19:5:9 aspect ratio, so it's a longer screen than on some other phones.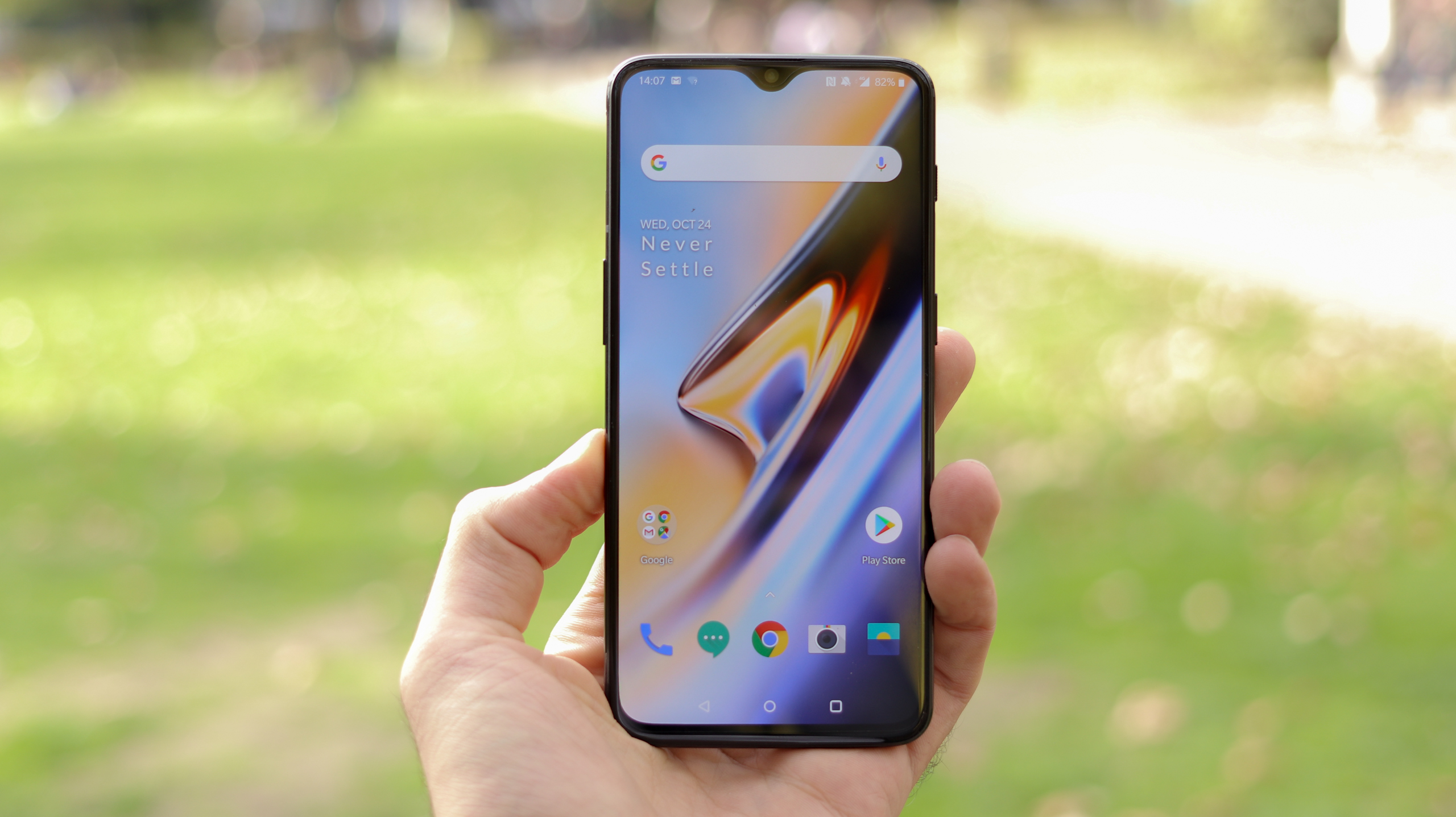 On paper it's an 86% screen to body ratio – that isn't as high as some of the alternatives on the market, but it's not something you're likely to notice in day to day use.
The resolution is 2340 x 1080, with 402 pixels per inch, and the picture quality is gorgeous. The AMOLED technology makes the colors pop, and we're big fans of the picture quality you can get from a relatively low-resolution device in 2018.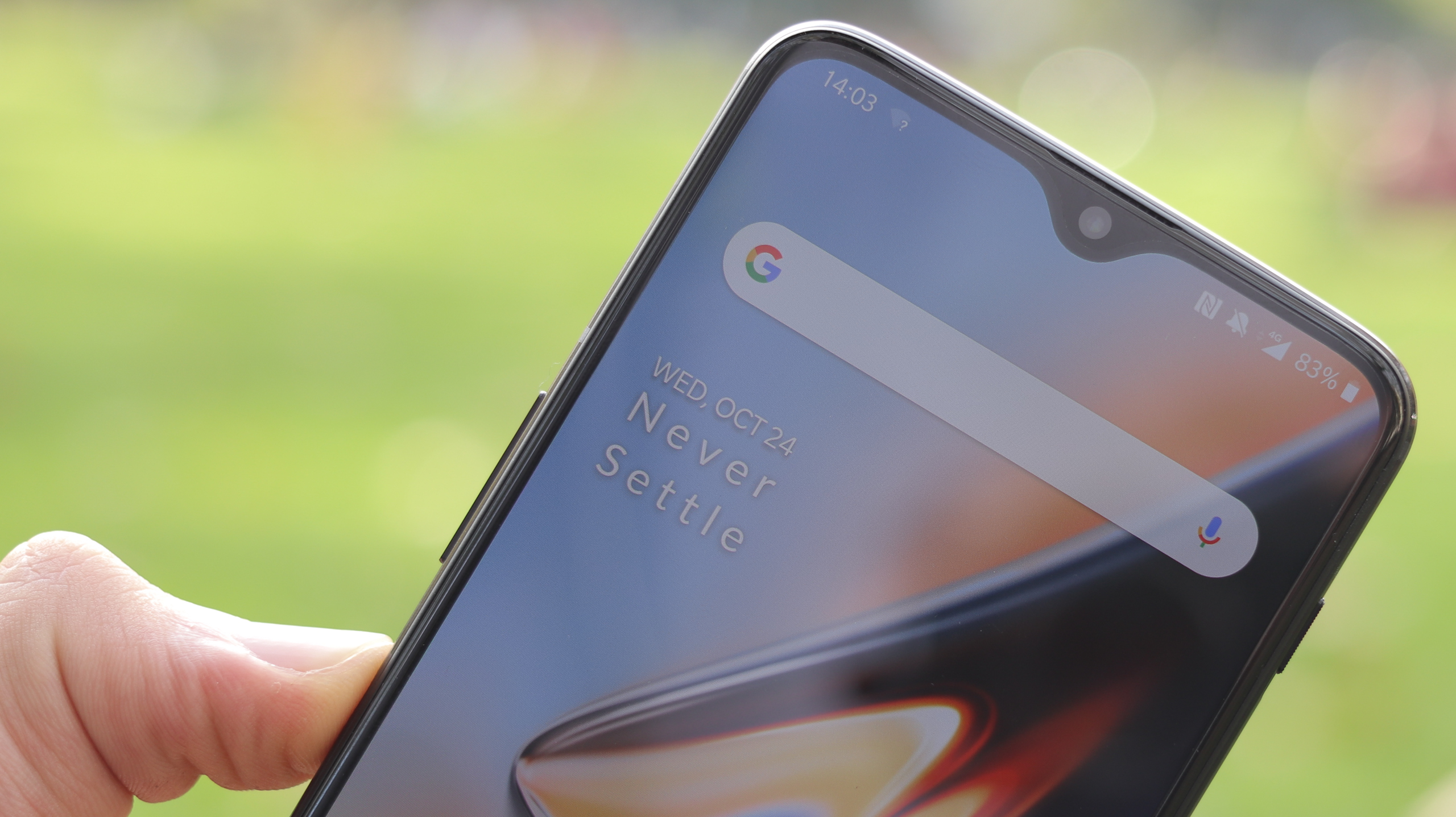 Perhaps the biggest upgrade of all is how you unlock the OnePlus 6T, and that's by using the fingerprint sensor that's now embedded in the screen.
This is a new technology that we're starting to see on more and more smartphones, including the Oppo Find X, Vivo Nex, Huawei Mate 20 Pro. It's something Samsung is experimenting with too, and it means a fingerprint scanner can go on the front of your phone, where it's easier to hit, without taking up space that could be used for more screen.
It took us a while to get used to unlocking the device by holding our finger on the display, but once we did get used to it we found it to be secure, fast, and a joy to use.
We did have the odd issue where it didn't immediately register our fingerprint, and we do find the scanner on the Huawei Mate 20 Pro to be a tiny bit faster; however, the vast majority of the time it worked well enough, and we were perfectly happy to use it to unlock the phone.
You can also have Face Unlock enabled at the same time, and when you're using both technologies the response time is near-instantaneous response, with one of the methods allowing you to unlock your device quickly and easily.
Battery life
We don't know for certain, but the reason OnePlus has done away with the 3.5mm headphone jack may well be so it could improve battery life on the OnePlus 6T.
Previous OnePlus handsets have had perfectly respectable battery life, but the 6T is better than ever, giving you solid day of use from a single charge – and often we found ourselves with a little extra in the tank as well.
One late night, when we put the phone on charge at 3am after taking it off charge at 9am the previous morning we still had 24% battery left.
That was likely the day we used the phone the least, but it shows you just how long the phone can last. The battery is 3700mAh, which is a big jump up from the 3300mAh power pack inside the OnePlus 6, and the difference is noticeable.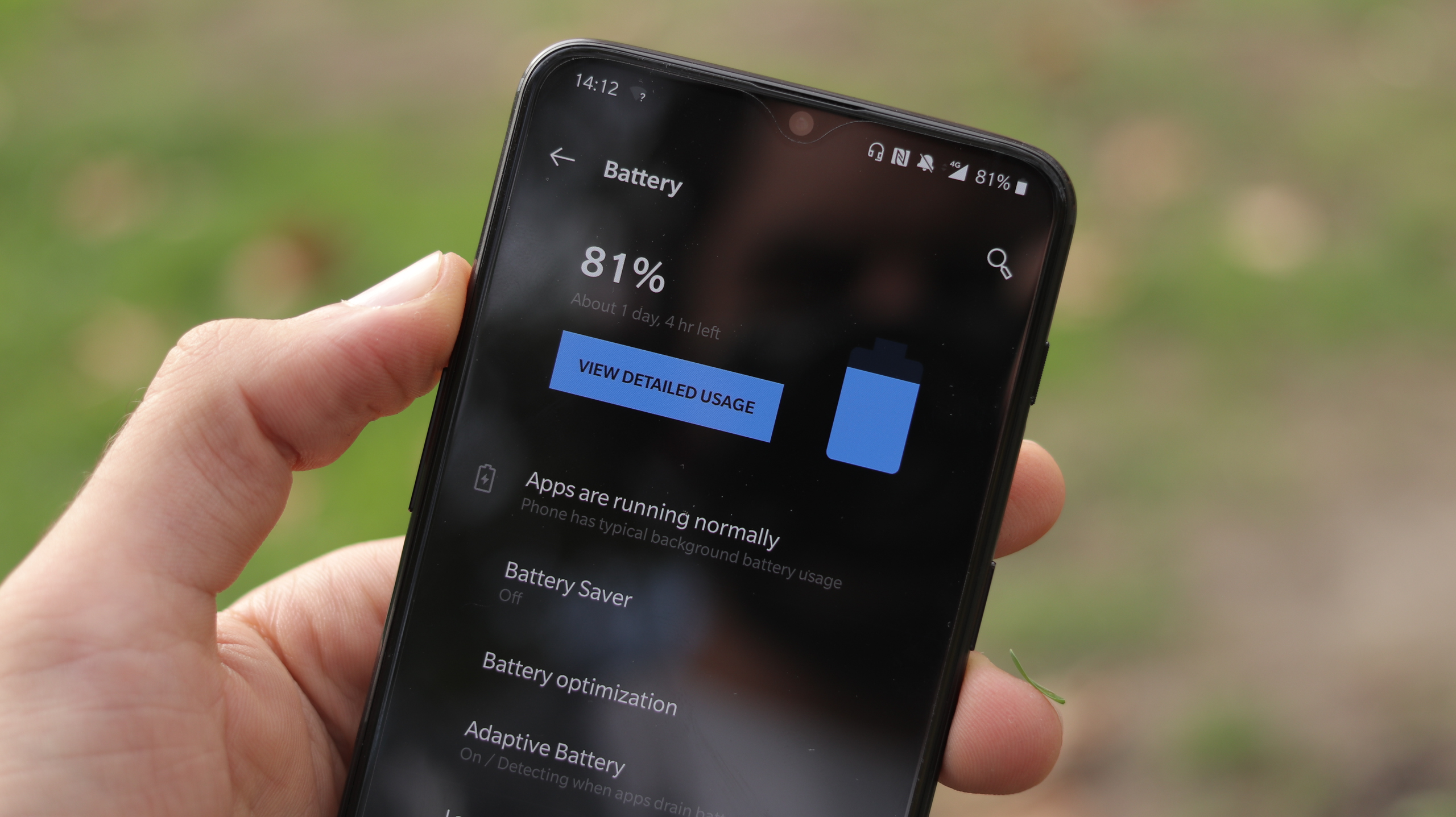 We ran our standard battery test, playing a 90-minute video in Full HD and at maximum brightness, and found the phone only lost 10% of its charge. The OnePlus 6 lost 15% of its battery in the same test.
There's no wireless charging on the OnePlus 6T – it's a feature the company continues to omit even as much of the competition embraces it, with the latest phones from Google, Huawei and Apple all sporting the feature.
It's an odd omission, but it's not likely something you'll miss unless you already use a wireless charger. There is fast-charging though, and that means you can quickly get some juice into your phone if you need it before you head out – and we'd rather have this than wireless charging on the 6T.
Camera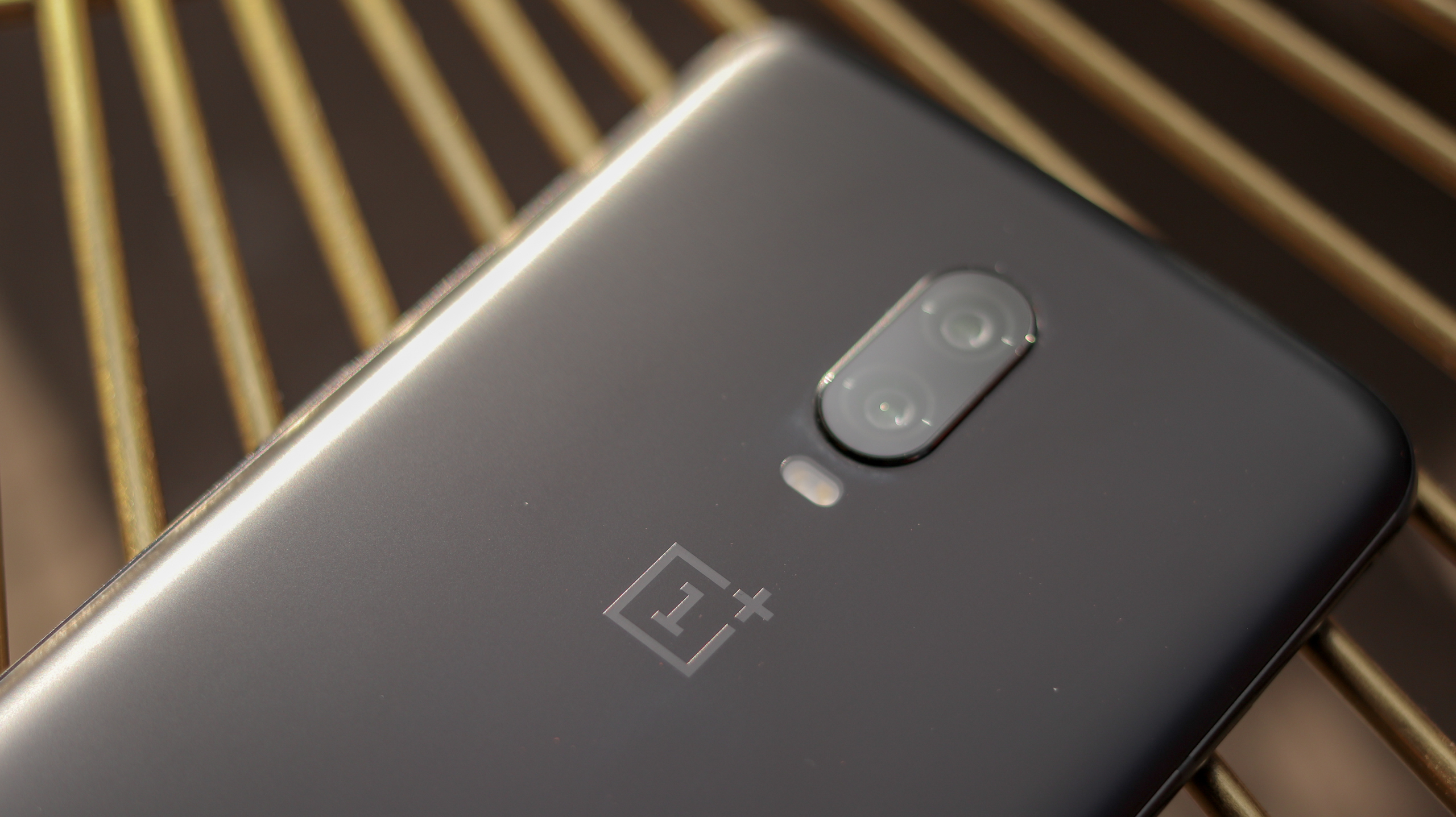 The camera on the OnePlus 6 was excellent given the price of the phone, and so too is the snapper on the OnePlus 6T. While OnePlus has stuck with the same hardware on the T update, the software is improved, notably with the addition of a new Nightscape long exposure mode.
The camera features a wide-angle lens paired with a 16MP sensor, as well as a secondary telephoto 20MP lens and sensor combination. Both lenses feature a f/1.7 aperture.
The shooting modes on the 6T are fairly predictable – there's automatic, portrait, manual and panorama. When it comes to video, slow motion and timelapse modes complement a simple enough automatic mode.
Within the shooting UI, OnePlus also gives you quick access to useful tools like Google Lens, flash, self-timer and aspect ratio control, direct from your viewfinder.
The settings are also nice and comprehensive. In addition to the usual options the OnePlus 6T can display one of three grids on the screen to help with composition, while there are also toggles for smile capture, auto HDR and auto night scene, in addition to more advanced Pro Mode tools, such as a histogram and an on-screen level to help you avoid titling horizons and buildings.
Given the price of the 6T, it can take some outstanding pictures. It undercuts the Pixel 3 and Mate 20 Pro – and of course the iPhone XS – in terms of price, but in certain situations it can go toe to toe with all three when it comes to image quality.
Before we get to the good, though, let's start with the bad: image quality from the OnePlus 6T suffers badly when you zoom in, especially in low light. Despite packing an optical zoom rather than a digital one, the OnePlus 6T actually fares worse at a 2x zoom than the single lens Pixel 3.
In fact, 8x zoom pictures were also worse than the OnePlus 6, which suggests the camera software needs a bit of refining rather than the hardware – so hopefully it's an issue that can be addressed with an update.
Other than this anomaly though, everything else about the camera has impressed us. Good light enables the 6T's camera to flex its extra pixels compared to much of the 12MP competition, capturing staggering amounts of detail reproducing tones beautifully – check out our leaf picture.
Skylines are also handled admirably, with the auto HDR feature putting more expensive phones, like the Razer Phone 2, to shame. You can see this in our shot of the building – the OnePlus 6T absolutely nails it.
Detail noticeably suffers as the sun starts to go down, but overall image quality remains solid if you're okay with your pictures softening a little.
The new AI-assisted Nightscape mode, clearly created to challenge the long-exposure night mode introduced on the Huawei P20 series, as well as the Night Sight mode announced for the Pixel 3, is good, but not as good as the competition's intelligent photography.
It brightens up images, sure, but it doesn't add stacks more detail, as Huawei and Google's night modes do. That brightening can actually be a bit over the top in relation to the actual lighting when taking the shot, to the point where shots can look unnaturally overexposed. It's a feature that's nice to have, and it's great that OnePlus is rolling out the update to the OnePlus 6, but hopefully it will get better down the line.
The bokeh effects are also imperfect – as are all bokeh effects that rely on software rather than a depth-sensing lens – but they're in line with what you'll get from competing handsets. The 6T was able to do a pretty good job of distinguishing a jaggedly outlined plant from its background, delivering similar results to the Pixel 3.
Selfies are also nice and sharp, especially in good lighting. With the front 16MP f/2 camera always metering the exposure based on the faces in the shot you can end up with some very bright, blown out backgrounds – HDR here doesn't work as well as on the front camera of the Pixels – but if it's nicely exposed faces you want, that's what you get – and the selfie bokeh mode works well too.
Video performance up to 4K is great, with the onboard stabilization working really well and focus being responsive, with particularly strong macro detail. 4K video is capped at 10 minutes, and things start to break down when you engage the 2x zoom, but stay wide and results are competitive, even in middling light.
Camera samples
Interface
You'll notice as soon as your boot up your OnePlus 6T that the interface looks quite different to stock Android. The 6T is running Android 9 Pie out of the box, with OnePlus' own OxygenOS UI overlaid.
It means the main apps look different, while OxygenOS adds a variety of custom features that you only get from OnePlus.
It's easy enough to get your head around, with everything working in a similar way to how it does on other Android devices, but there are a few quirks and things to note.
To access your app drawer, it's a simple swipe up from the bottom of the phone, which feels like a seamless way to open the menu, rather than a tap. It's a minor thing, but it's something we've always enjoyed about Oxygen OS.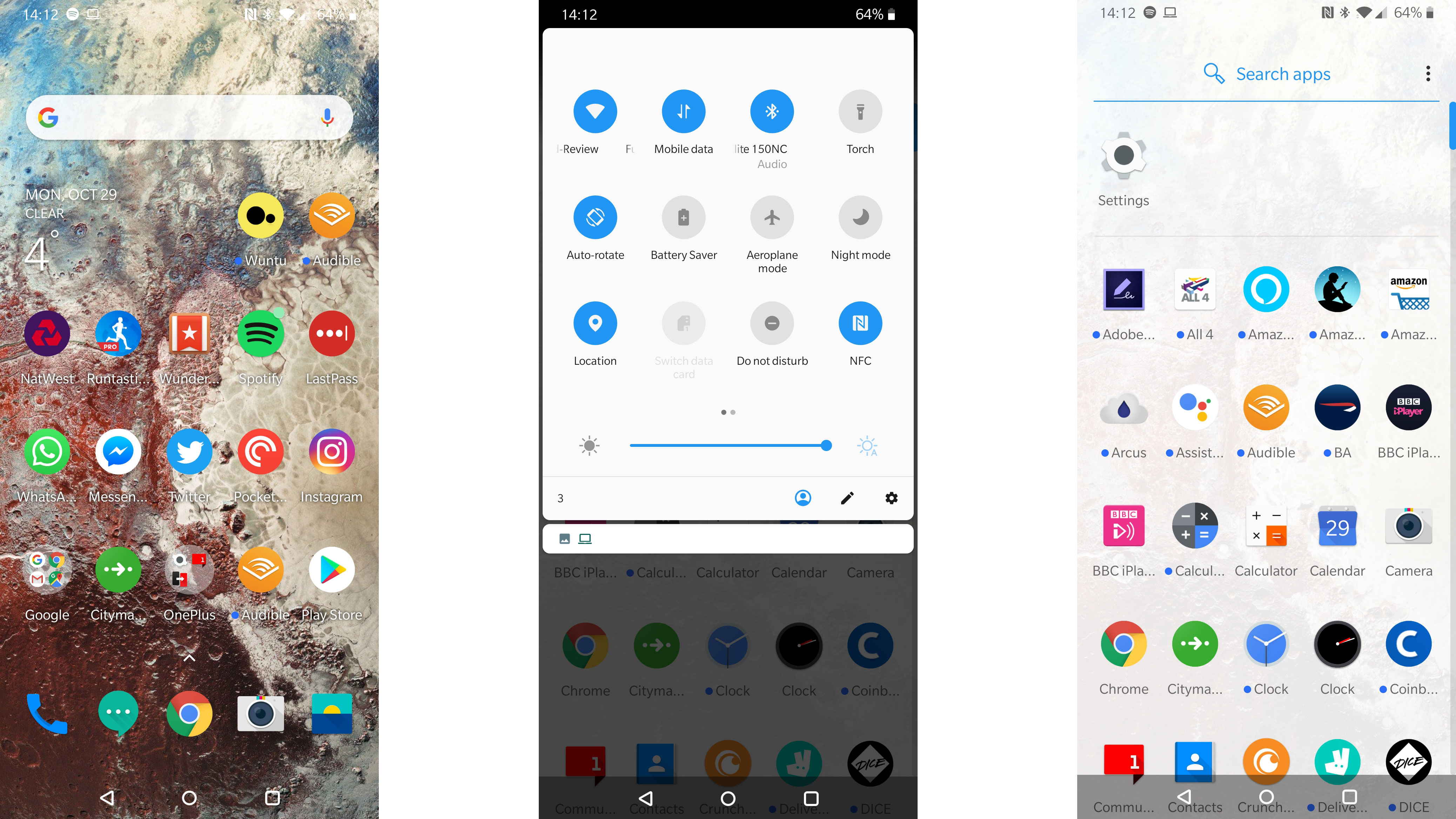 There isn't much bloatware on the OnePlus 6T, and apart from the core apps you'd expect from Google, such as YouTube, Gmail and a variety of others alongside apps for a calculator, calendar and more, you'll find it refreshingly clean.
If you're a big fan of the OnePlus brand there's an app called Community, which gives you quick and easy access to forums, and other OnePlus services and features. OnePlus claims apps boot up quicker on the 6T thanks to a feature called Smart Boost. This stores the data of your frequently used apps, making them a touch quicker to launch, but it's only between 5-20% faster, and we can't say we've noticed the difference in day to day use.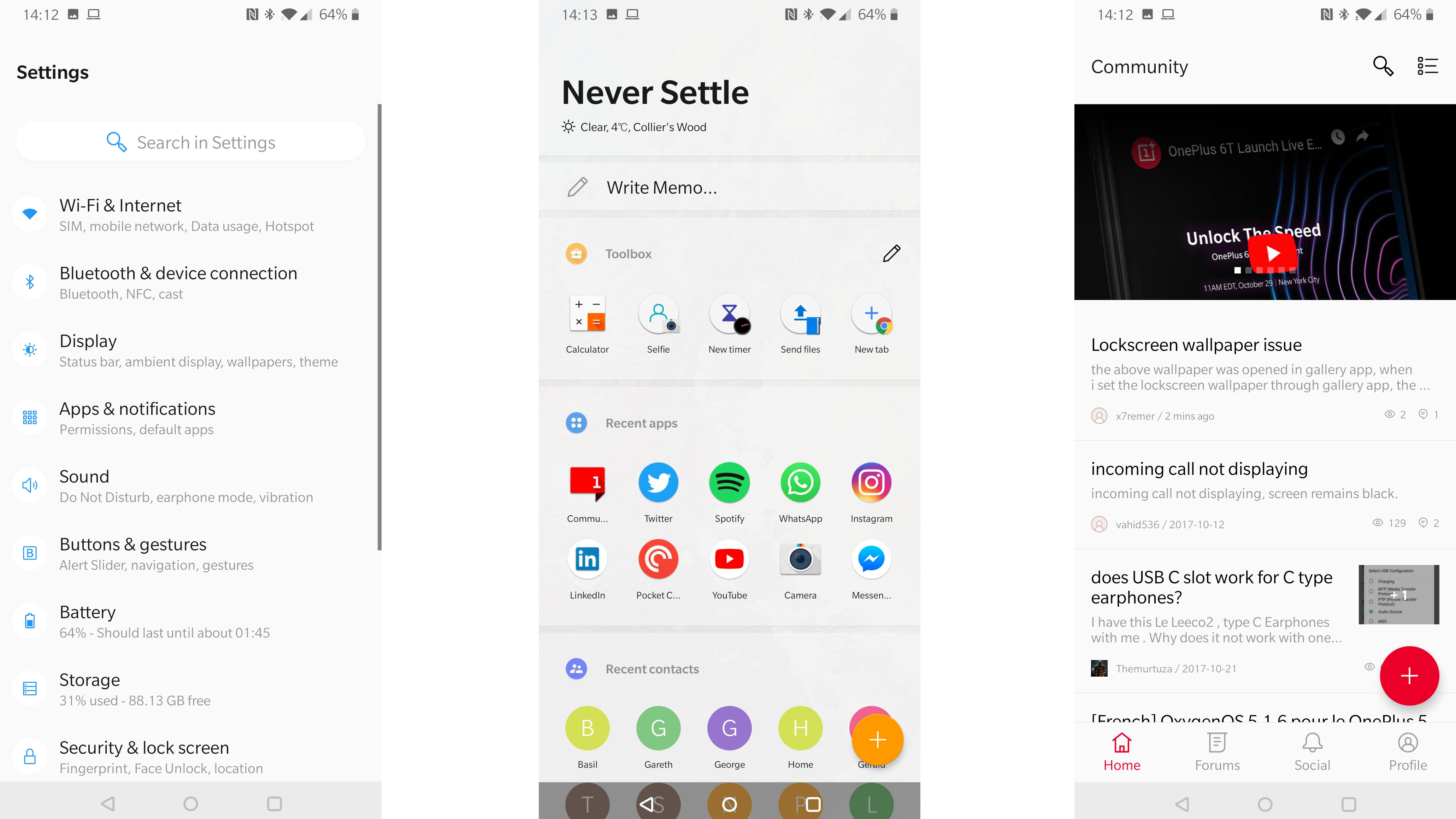 If you don't like the navigation bar along the bottom of the screen you can enable a feature called Navigation Gestures, which allows you to instead swipe along the bottom of the phone. It's not a feature everyone will want, and it took us a while to get used to this way of navigating the interface, but it will allow you to have more screen for your apps.
There are also a variety of gestures you can use that you won't find on other handsets – for example you can lock the phone by double tapping anywhere on the home screen, or tap the screen with three fingers at the same time to take a screenshot.
Again, these will take some getting used to, but once you get the hang of them they're an easy way to access different elements of the phone – and if you don't like the default set of gestures you can choose different ones in the Settings.
The interface of the OnePlus 6T just… works. We like the fact that it's easy to pick the phone up and go without having to use the extra features, but there are plenty of options if you want to delve deeper into particular settings.
Movies, music and gaming
For watching video on the OnePlus 6T you've got that big beautiful display which, while it can't compete with the best screens from the likes of Sony and Samsung, still makes for a great viewing experience.
You may need to turn up the brightness to be able to get the full experience, but we enjoyed watching video on this phone.
One of the big talking points about the OnePlus 6T is that this is the first OnePlus phone to do away with the 3.5mm headphone jack. That's a big deal for much of the OnePlus fan base, but we're not sure how much it's going to matter to the average user.
If you prefer to use wired headphones, OnePlus has included an easy to use 3.5mm-to-USB-C adapter in the box. You may feel put out by having to carry this around with you, but we found it worked well – and does mean you don't have to fork out for new headphones.
Alternatively, pairing Bluetooth headphones is straightforward, and we found the connection held up well, so in our opinion the loss of the headphone jack isn't that big of a deal – there's no getting away from the fact that some OnePlus fans will be disappointed though.
The speakers on the 6T are okay, but it feels like this is an area where OnePlus has taken the opportunity to save some money.
Audio quality is fine, but don't expect to get rich sound like you can on some other handsets like the HTC U12 – and the two speakers are on the bottom edge of the phone, which means it can be easy to cover them up.
Gaming on the OnePlus 6T is suitably impressive, with a large screen making for an immersive experience and the powerful processor inside ensuring smooth graphics and slick gameplay.
The 6T will be able to handle any games you want to throw at it, and the Gaming Mode from the OnePlus 6 has returned to lock the brightness level and restrict your notifications. There are some notable improvements for the OnePlus 6T.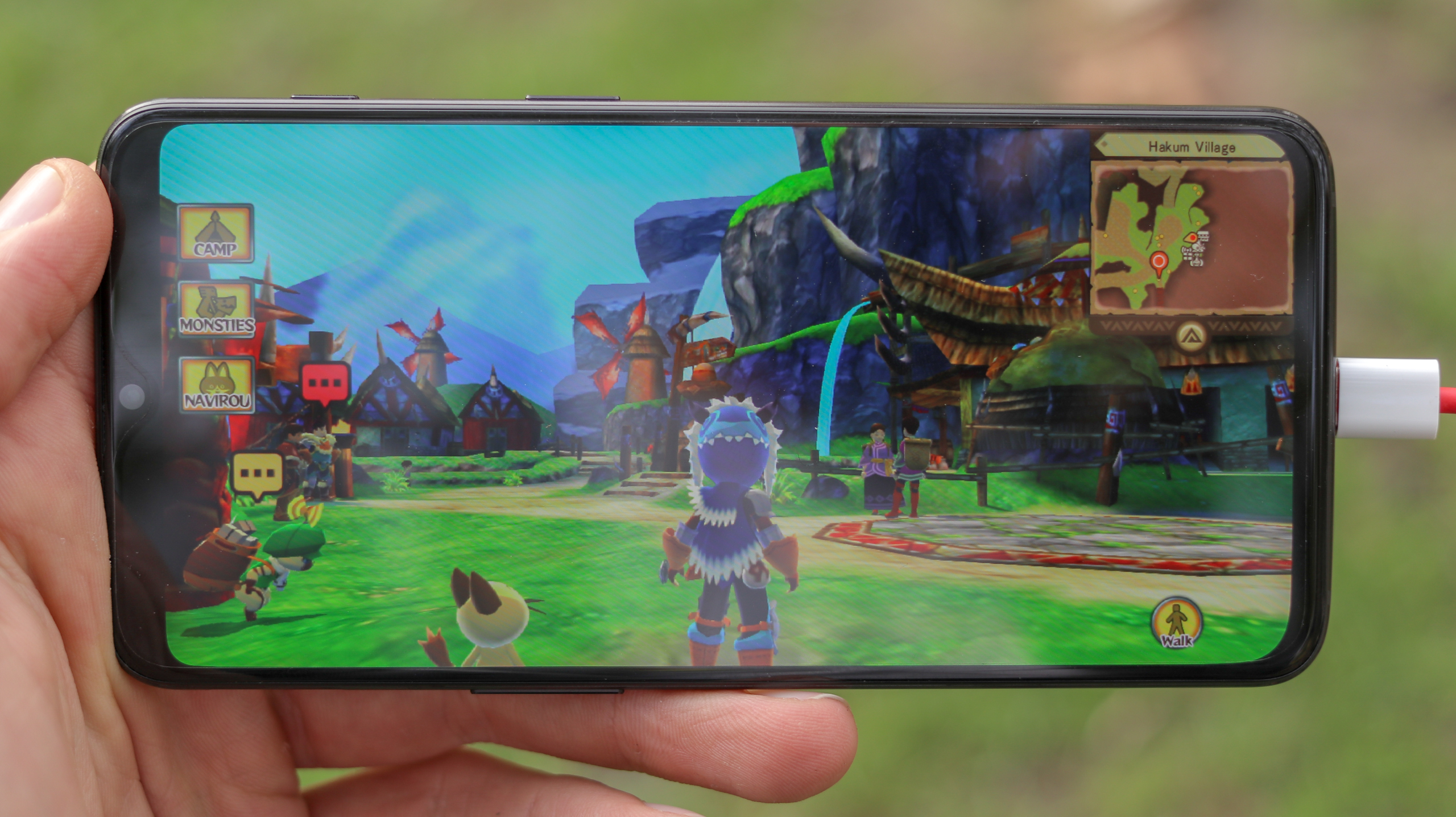 Your notifications will still appear when you're in Gaming Mode, but they become small floating options that are less intrusive, so you can keep on top of your notifications at the same time as enjoying your game.
There's plenty of room for your games and other media too, with the entry-level configuration of the OnePlus 6T offering 128GB of storage. That's more than enough for most people, but if you want even more you can opt for the 256GB model.
It's worth noting, however, that unlike on many other Android phones you can't expand the storage via microSD, so if you think you'll need more than 128GB you may want to opt for the larger phone.
Specs and performance
Powering the OnePlus 6T is the latest Qualcomm Snapdragon 845 chipset, and it's well capable of delivering the sort of performance you'd expect from a top-end phone in 2018.
Depending on what version of the phone you're buying, you'll get either 6GB or 8GB of RAM – you get 8GB in the 256GB model, while you can choose either 6GB or 8GB with the 128GB version. We've only tested the 8GB/128GB variant, but based on other OnePlus phones we've used we wouldn't expect a massive difference performance-wise between the three versions.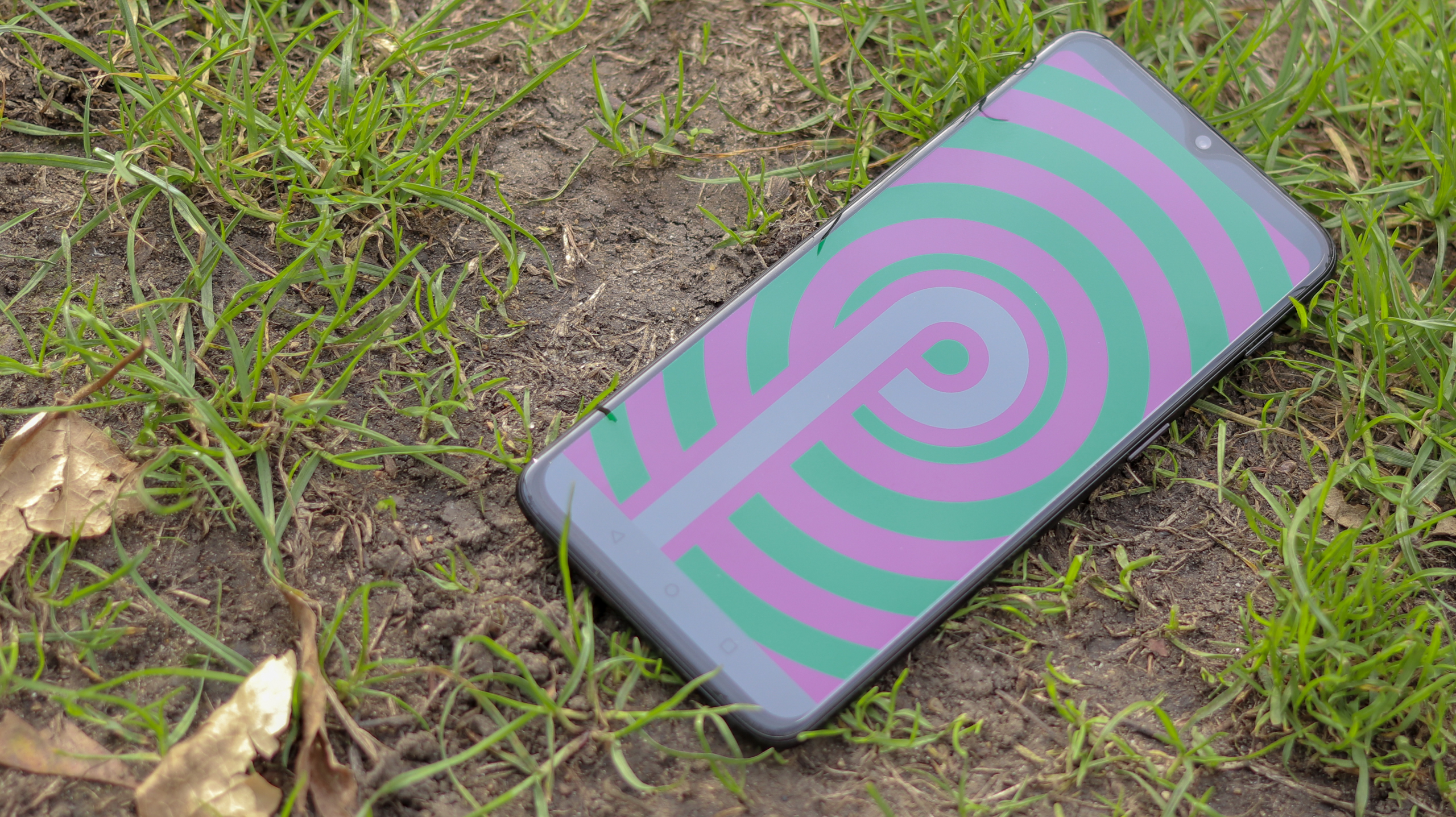 Whether it was gaming or multitasking between apps, the OnePlus 6T handled everything we asked of it with ease – it feels like the company has gotten better at optimizing its software for the processors being used. In terms of performance this is the most accomplished OnePlus handset yet, capable of holding its own against the very best the competition has to offer.
We ran Geekbench 4 on the phone and got a score of 8461. That's good, but not the best we've seen recently, with handsets like the Huawei Mate 20 and iPhone X breaking the 10,000 barrier on the benchmarking system.
What's interesting is that the phone actually scored lower than the OnePlus 6. That phone returned a score of 9100, so it's interesting that the 6T didn't manage something similar.
That said, we didn't notice any issues with performance in day to day use – if you want a phone with cutting-edge power then you'll need to look elsewhere, but if you just want enough power to comfortably play games and watch video you'll be just fine with the OnePlus 6T.
The OnePlus 6T is a good-looking and powerful smartphone that can compete with handsets from the larger and more established brands on the market.
And at a time when phones from the leading brands are coming with increasingly eye-watering price tags, it feels like good value – OnePlus has increased the price of this handset over the OnePlus 6, but it feels like a worthwhile upgrade considering it's still under £500 / $550.
We'll talk more about who we think this phone is made for below, but in short this is a handset that will appeal to anyone looking for a powerful Android handset that is a lot more affordable than the rest of the competition.
Who's this for?
First and foremost, the OnePlus 6T is for fans of OnePlus phones. Many of them will be turned off by the lack of a 3.5mm headphone jack if the reaction on social media is anything to go by, but this is still an accomplished OnePlus phone, and anyone who wants a clean - albeit not stock - and easy to use version of Android will be happy with this.
OnePlus phones aren't as cheap as they used to be, but this is still an affordable price for a smartphone when you consider that the iPhone XR – the cheapest of the three new iPhones – starts at $749 / £749 / AU$1,229, and the new Huawei Mate 20 Pro is £899, AU$1,599 (about $1,150). If you're after a phone with flagship specs this is still one of the most affordable options.
Should you buy it?
Yes, if you're looking for a more affordable flagship phone than most of the other manufacturers are offering.
That lower price looks particularly attractive this time around, and it means that, although it only has a Full HD+ resolution display and lacks a few features like wireless charging, the OnePlus 6T is a compelling alternative to a lot of other top-end phones.
It's difficult to find any real fault with this phone. If you want solid battery life, terrific power and cutting-edge features like the in-screen fingerprint scanner, the OnePlus 6T is made for you.
First reviewed: October 2018
Competition
Don't think the OnePlus 6T is built for you? Here are some of the alternatives handsets we think may suit you.
OnePlus 6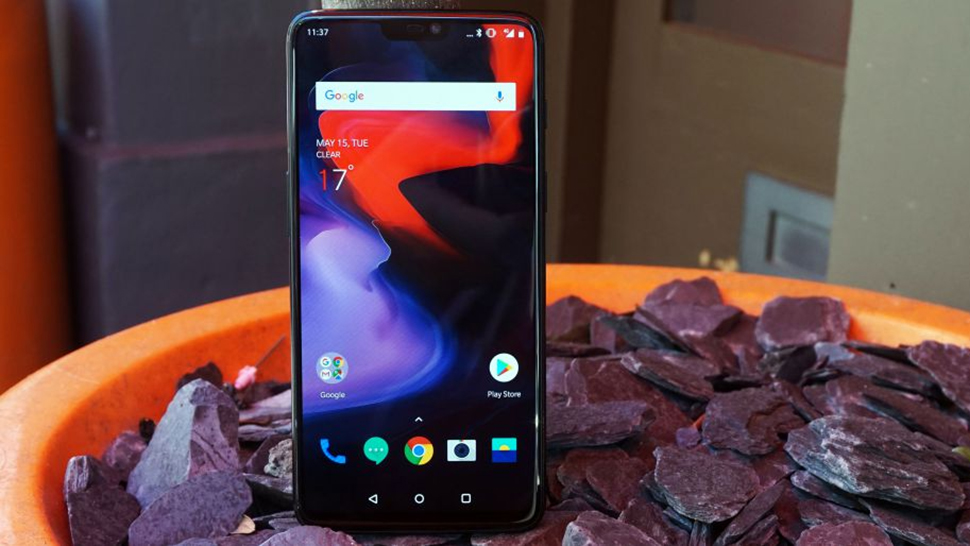 Now that the OnePlus 6T has been announced it'll be harder to find the OnePlus 6 on sale, but if you aren't fussed about having the 6T's in-screen fingerprint scanner and extended battery life you may be perfectly happy with the older and cheaper phone.
The premium design and large display are still there on the OnePlus 6, so if saving money is the most important thing for you then the slight downgrade in terms of features may not be a problem.
Samsung Galaxy S9 Plus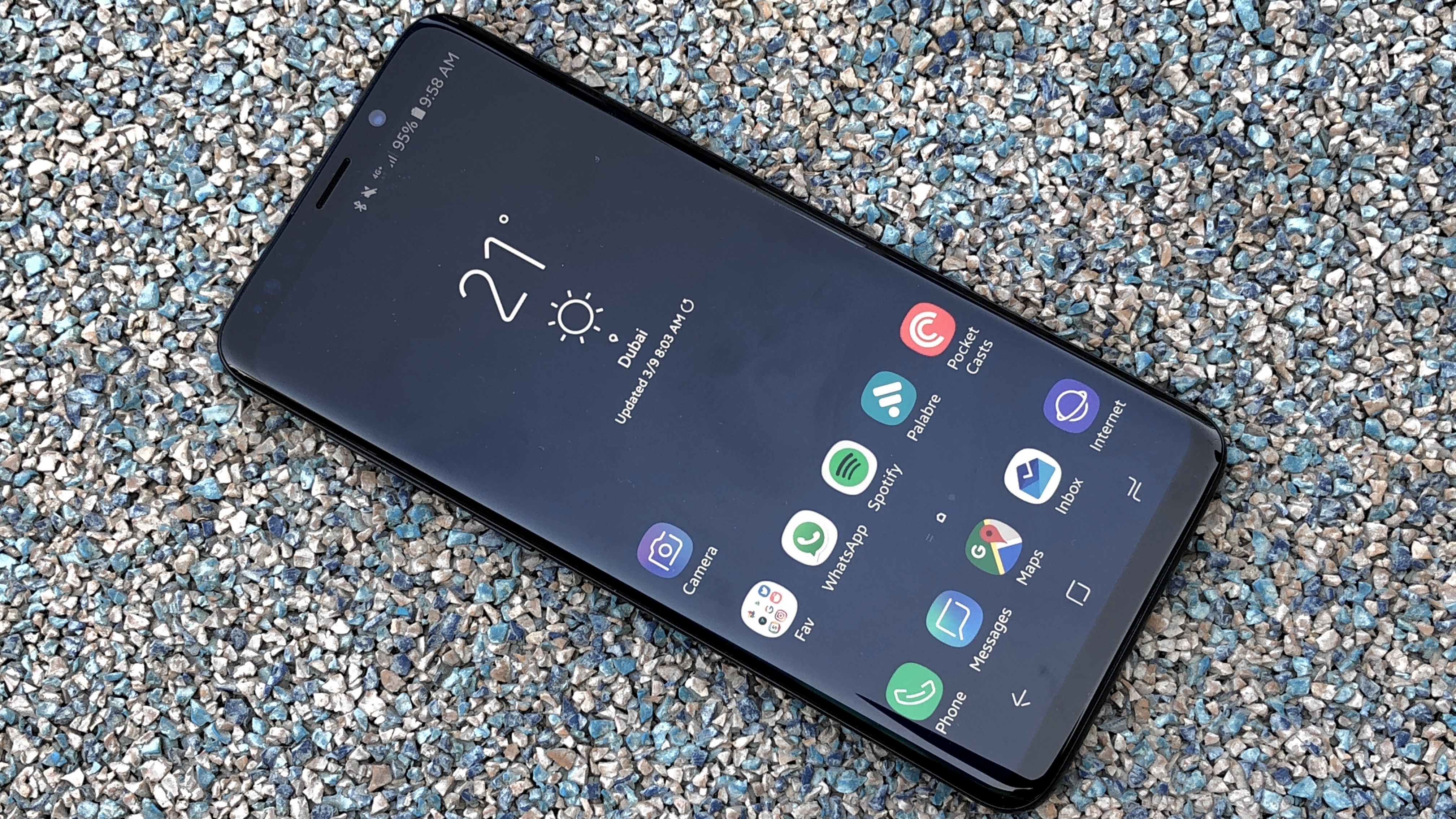 Samsung's top-end device for 2018 may not feature an in-screen fingerprint scanner, but it's an all-round powerful device that's set the standard for Android phones you can buy this year.
It has a powerful processor and a beautiful QHD screen that's a touch better than the display on the OnePlus 6T, plus now that it's been out for a while the price will be not much more than the 6T.
Google Pixel 3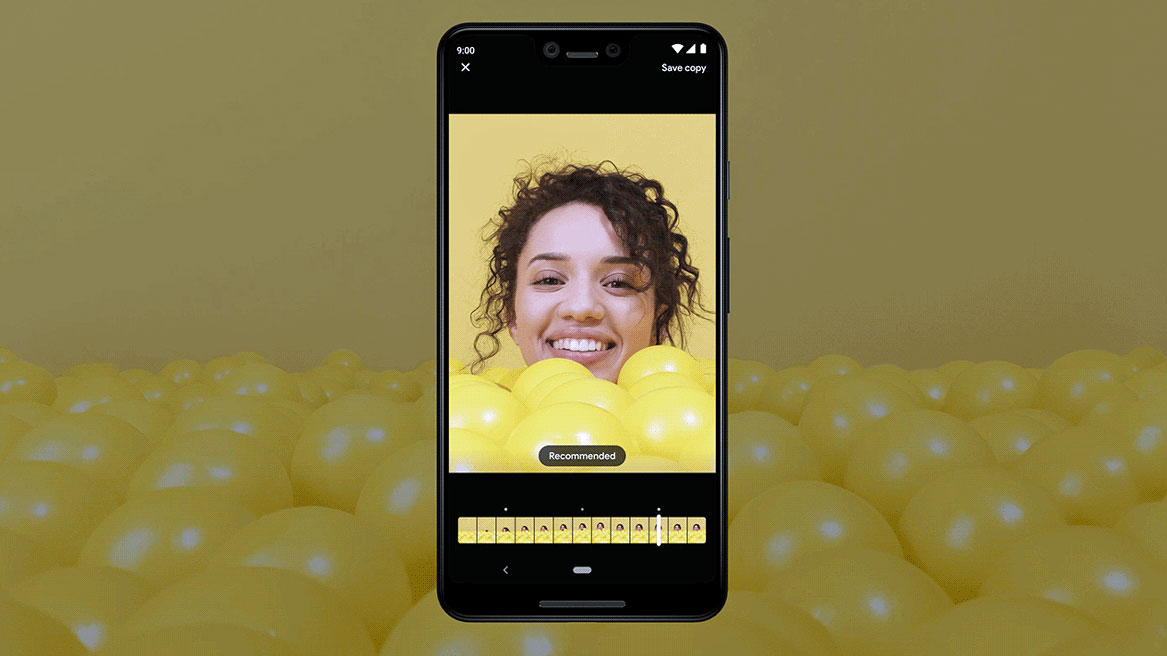 Google's latest phone isn't a big change to the Pixel mix, but it comes with a few extra features you don't get on the OnePlus 6T, including wireless charging and Android the way Google intended it to be.
The camera is a touch better on the Pixel 3 too, so opt for the Google device if you're looking for one of the best point-and-shoot camera phones on the market today – and if you don't mind paying more for it.
from TechRadar - Technology Reviews http://www.techradar.com/reviews/oneplus-6t-review