The Samsung Galaxy A7 is a phone that you might notice because of its looks, explore because of its display and buy because of its camera. That's the kind of balance that Samsung has tried to strike with their first triple camera phone.
From what we saw on paper, it looked like a phone that's made for everyone. By everyone we mean, it packs a decent set of hardware in a premium looking shell, with a camera you can get creative with.
At its price, the Galaxy A7 competes against the likes of the POCO F1, Honor Play, Nokia 7 Plus and Vivo V11 Pro. Among all the competing handsets, there's hardly any option that serves different consumer demands without any compromise. For instance, the Poco F1 offers raw power, but the Vivo V11 Pro shines in the design and display department. On the other hand, the Nokia 7 Plus offers the best software experience among all.
We took the Galaxy A7 out for a spin to find out if it is THE mid-range smartphone that can suffice all.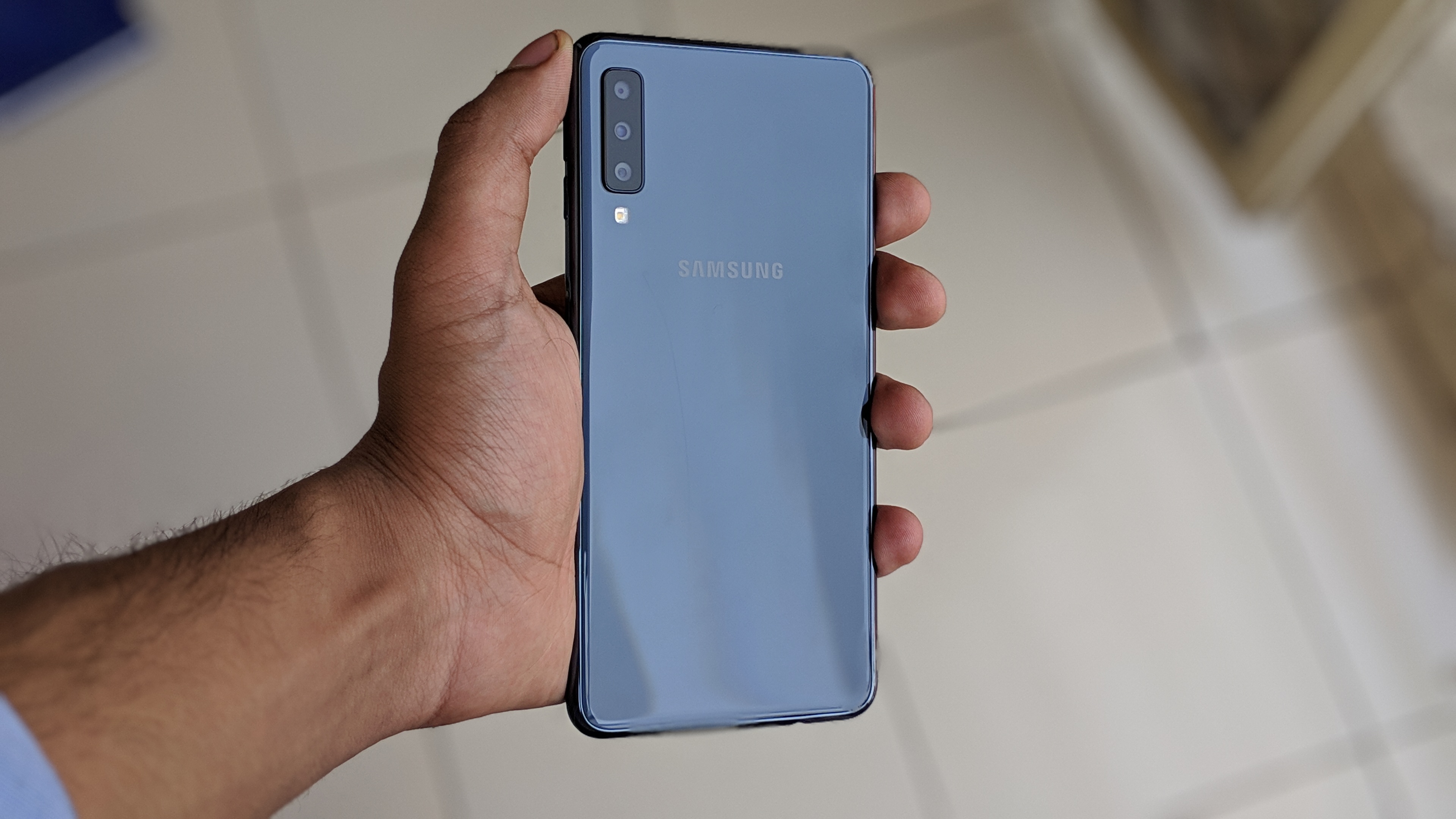 Key features
Three rear cameras having a 8 MP wide angle lens
6-inch FHD Super AMOLED display
Looks like a flagship, performs like a mid ranger
The Samsung Galaxy A7 (2018) is the first Samsung phone to boast of a triple camera setup, and the second one in India after the Huawei P20 Pro. Of the three cameras, the primary is a 24-megapixel sensor with an f/1.7 aperture, secondary is an 8MP sensor and ultra-wide lens with an f/2.4 aperture, and finally there's a 5MP depth sensor with a fixed-focus lens and f/2.2 aperture. The highlight here is the 8MP sensor as it has a 13mm 'ultra-wide' lens with a 120-degree field of view.
It also has a big 6-inch Super AMOLED full HD (1080p) display, that's the best in the league for multimedia consumption. Where the company also emphasizes on Widevine L1 certification, which enables users to stream content in HD.
Design
Metal and glass design
micro USB charging
Flat surface
From the very first look, it's easy to guess that the Galaxy A7 is a Samsung phone. The quality of material and the precision of finish is seen on flagship phones like the Galaxy Note 9. Similar to its predecessor, the Galaxy A7 (2018) comes in a glass and metal sandwich design, but without any curves on the sides. It gets a rich-looking reflective glass surface on the rear, that shifts shades in different light.
Since it's the back is all glass, it's given that it's a fingerprint magnet and prone to cracking when dropped with an impact. But I have an instance to share, it was my first day with the Galaxy A7 and I accidentally slipped it on a marble flooring from a height of about three feet. The sound gave me instant chills, but to my surprise it survived. Well, that doesn't qualify it to be called as a shatterproof phone, but I would still call it a sturdy and well built handset.
A sturdy body-colored XXXX rim surrounds the body. It has rounded corners and a curves to give it a pleasant in hand feel. Although, its big size makes it difficult to operate with one hand.
There's a welcome change in the design this time. After experimenting with the fingerprint sensor on their phones, Samsung finally put fingerprint into the power/lock key like Sony Xperia handsets. You don't have to make an extra effort to reach, as it falls right under the thumb while holding it with the right hand. The power button is still clickable, but you don't need to press it to unlock the phone.
The triple camera placement is very subtle. The setup resides on the top left corner with a LED flash below it. We must say that Samsung does a great job at keeping the handsets void of any unusual camera protrusion. Even on the Galaxy A7, there's a very tiny bump despite the three cameras.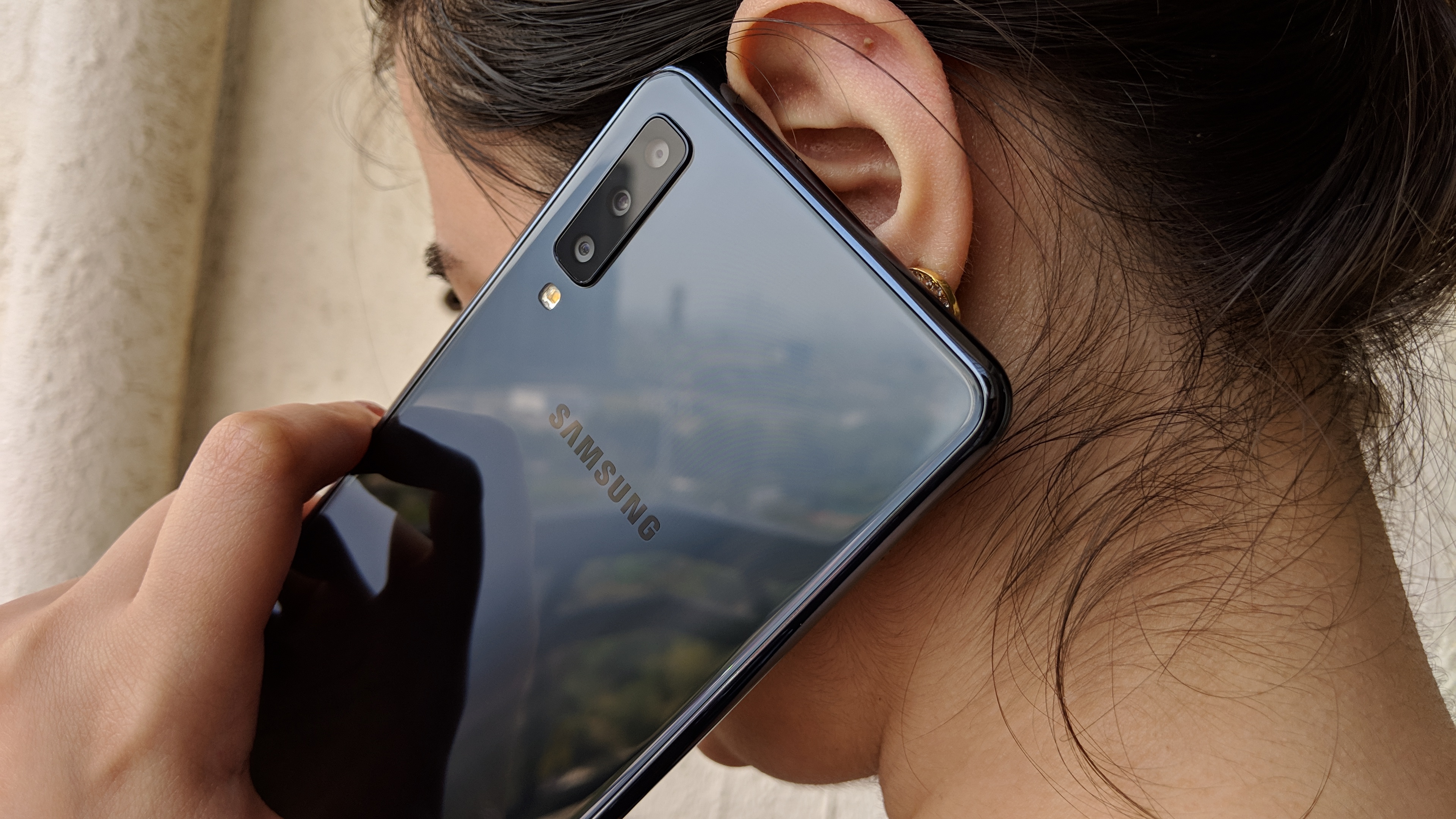 On the front, the Galaxy A7 looks like its siblings. There's no sign of a notch on top, instead there's a thick chin and a forehead where it resides the earpiece, front camera and an LED flash. So, don't expect a notch or even a nearly bezeless design. It looks more like the Pixel 2 XL from last year from the front.
The volume is placed above the power key/fingerprint sensor on the right side. The SIM and microSD card slot is on the left and the 3.5mm audio jack, loudspeaker and a micro USB port is at the bottom. In all honesty, a micro USB is one of the biggest letdown on the Galaxy A7. Especially, when OEMs like Nokia are putting a Type-C on phones priced below Rs 15,000.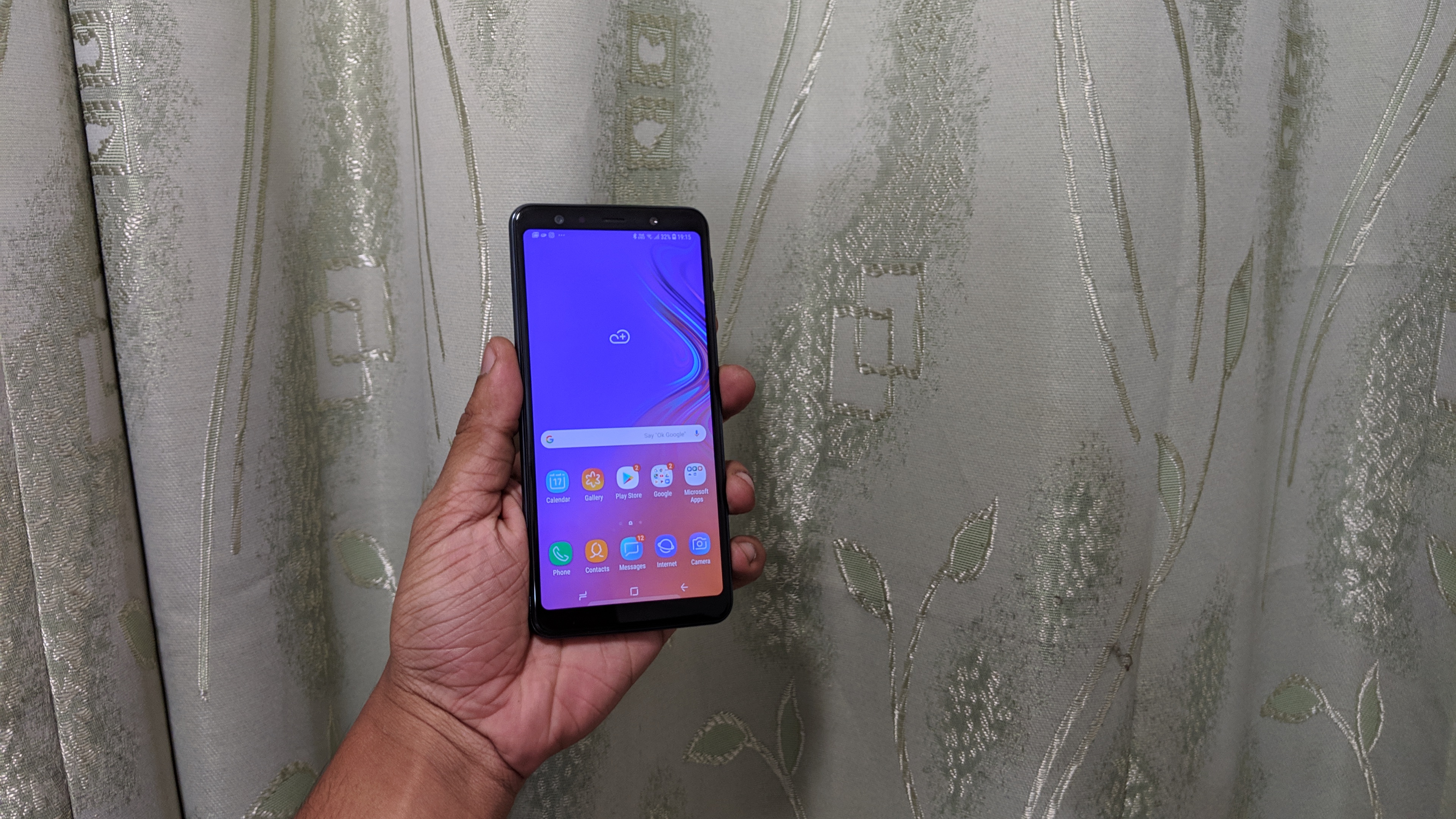 Display
6-inch 18.5:9 LCD screen, 1080 x 2220 pixels
No notch
The Samsung Galaxy A7 (2018) has a tall 6-inch 18.5:9 Super AMOLED panel with full HD (1080x2220p) resolution.
Like most Samsung displays, this one is punchy and vivid straight out of the box. AMOLED panels are naturally crisp and reproduce vivd color tones, and same is the case on the Galaxy A7. It is sharper than almost every other phone in its league and can be rated as the finest display among the competition.
The sheer size of the display makes the Galaxy A7 makes it a well-suited phone for gaming, video streaming and scrolling social media content.
Brightness levels are high, making it clearly visible under bright and sunny outdoors. It can also be viewed from extreme angles without any obstruction.
Battery life
3,300mAh battery
micro USB charging
No fast charge
The Samsung Galaxy A7 has a 3300mAh battery which doesn't seem unusual for a phone with a 6-inch display. However, Samsung's Experience UI is impressively well optimised for enhanced power efficiency. As an add on, the A7 packs many battery saving tricks up its sleeve.
In real-life usage, it offers a decent battery backup with around 8 hours on a regular work day for me with mixed usage. My usage primarily included around 1.5 hour of voice calls, frequent peeking into social media accounts and WhatsApp, and sometimes 2-3 rounds of PUBG Mobile.
It takes time to charge, clocking about 2 hours to completely charge from zero. On most occasions I used to charge it overnight and it lasted till 10:00PM without needing a charge. Stressing the battery with intensive tasks and operations might bring it down to 5-6 hours on full charge.
From our standard video playback drain test. 90 minutes of 1080p video playback at maximum brightness takes 14% off the battery.
The biggest downside of the phone is its dated micro USB port for charging. It's hard to understand why Samsung has refrained from upgrading to the USB Type-C on a phone of this range. Not just this, but it also lacks support for fast charging, which is again a bummer.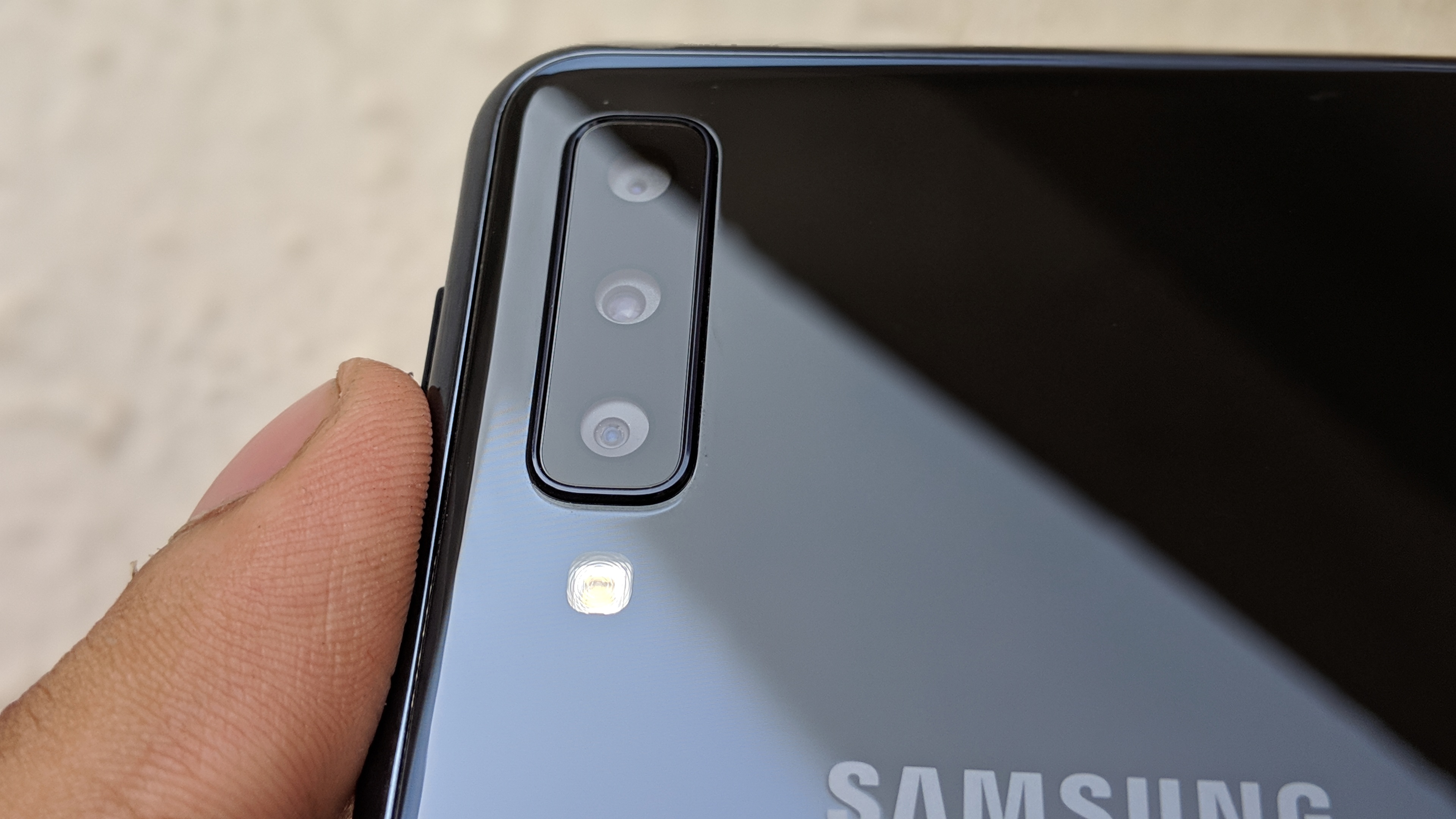 Camera
Triple camera
120-degree ultra wide lens
AI powered software
The Samsung Galaxy A7's camera seems like an all-round package on the surface. It includes three cameras on the rear and one on the front. The primary 24MP sensor (f/1.7, PDAF) relies on pixel binning for better details, the 5MP sensor is used as a depth sensor to fuel portrait mode, and the 8MP sensor (f/2.4, 13mm) for shooting in wide angle mode.
Opening the camera app, you'll tumble upon tons of modes and options to get creative with the camera. The good part is that they are placed neatly in Samsung's laggy camera UI. There's a list of modes on the top where you can scroll through options like beauty, live focus (portrait mode), scene optimiser, slow motion, hyperlapse and AR Emoji. Swiping left and right on the screen takes through the modes, while swiping up or down switches between the front and rear camera.
While the two main cameras do the usual stuff what majority of dual sensor do, the third (wide angle) lens allows 120-degree field of view for ultra wide shots. That's a welcome addition to the package and exactly what Samsung is touting here.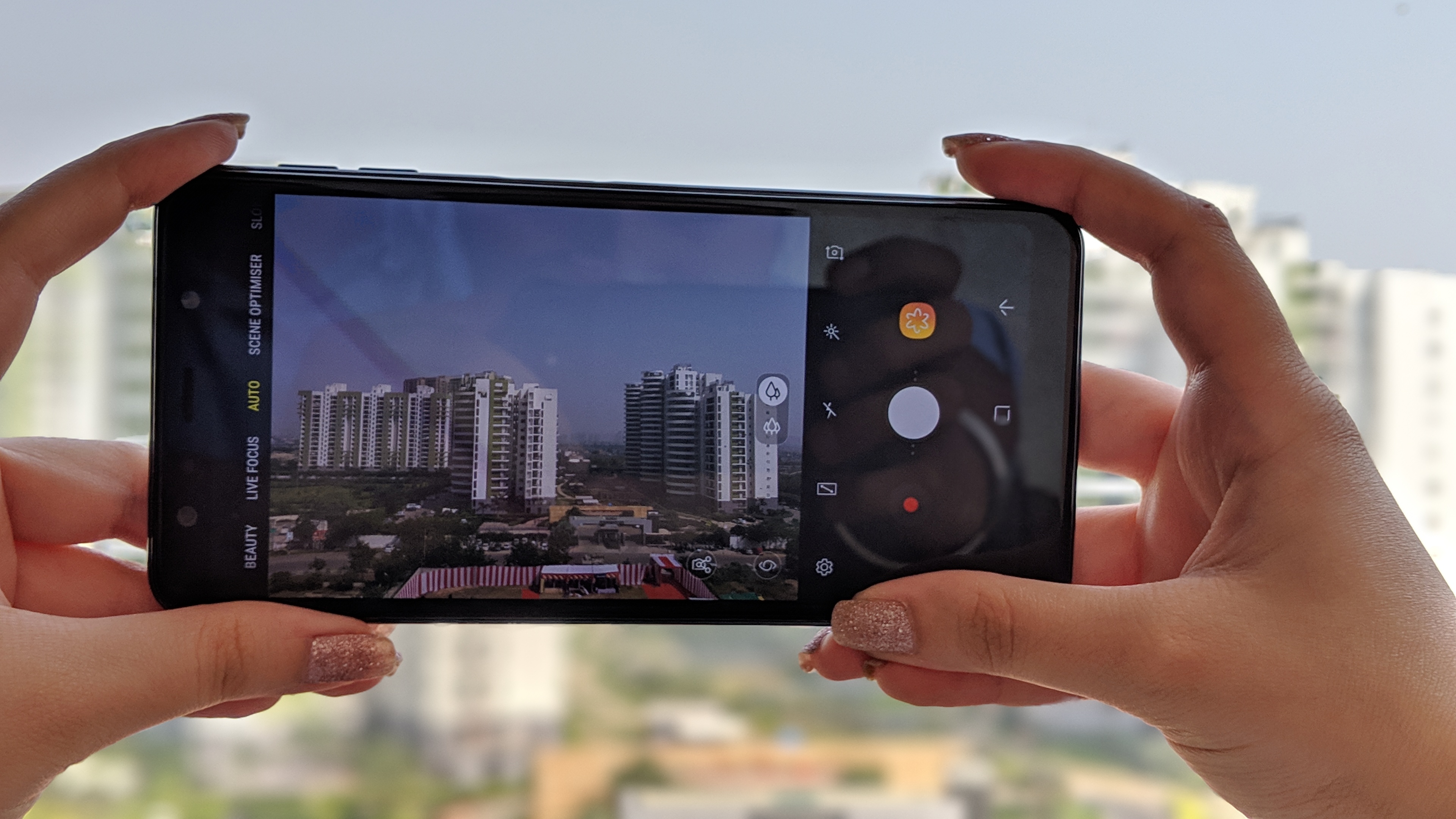 The main camera setup on the Galaxy A7 (2018) is quite similar to the setup we've seen on previously launched Galaxy A6. You can read about the main cameras in our Samsung Galaxy A6 (A6+) Review.
The highlight here is the ultra wide lens and that's where we're focusing in this review. The 8MP sensor is undoubtedly a huge addition to a regular camera setup. LG has been providing the wide angle lenses on their phones from quite sometime now, and that's what has been praised by many when it comes to LG smartphone cameras.
For those who don't know, the ultra-wide camera sensor uses a fixed focus lens, which means you cannot select and area to focus or add a blurry background. The images are evenly focused from one end to the other. It's not actually an issue until you are dealing with bright sunlight from the front or you are on low-light. That's because you cannot control exposure while taking the shot or even before clicking the picture.
Another limitation is the f/2.4 aperture, which restricts the wide angle sensor to allow enough light into the camera to get a clear shot in the dark. But that's where you need to use the main camera, which did a decent job in challenging light conditions, but of course, it won't be a wide shot.
The 120-degree field of view of the 8-megapixel ultra-wide sensor is great for capturing more of a scene without resorting to taking panoramas. The 8MP resolution means you can't zoom in on photos as you can on the images taken by the 24MP primary rear camera, but I personally never felt the need to do that with any of the ultra-wide samples I took.
There's an option to switch aspect ratios between 4:3 and 16:9 on the main screen, which comes handy while experimenting with wide shots.
However, the results from the wide angle camera are impressive. If you like getting creative with your shots, then you would love to play with the third lens.
I kept the LG G7 ThinQ as the benchmark to judge the wide angle performance, and it fared really well in terms of quality. Samsung's aggressive optimisation also enhances the images with color correction and noise reduction. It would be unfair to say that Samsung has put the third sensor as a gimmick for marketing. It's an actually useful option to have on your phone. Especially, if you want to fill your Instagram feed with GoPro like immersive looking pictures.
Camera samples
Software
Android 8.1 with Experience UI
Neat and fluid
The Samsung Galaxy A7 (2018) runs on Experience UI 9.5 based on Android 8.0 Oreo.
It has neat, natural-feeling transitions, is responsive and feels light. How the apps menu works is the main difference between this and the standard Android look. The app drawer is arranged into pages rather than a vertical scroll. You can even get rid of the app drawer entirely if you want.
Bixby Home is the main extra part of the interface. This is a feed of 'cards', showing updates from the apps installed on your Samsung Galaxy A7 (2018).
It seems fairly pointless unless you're among the 0.2% of people who haven't yet found ways to waste time on your phone. But it is also relatively inoffensive. Bixby Home sits to the left of your standard home screen, so doesn't get in the way.
There are numerous pre-installed apps, including a Samsung suite and Microsoft's office apps. Samsung Health is the one we tend to use quite a lot when reviewing Samsung phones. This is a fitness tracker app, like Google Fit or Fitbit, that also lets you log your food consumption and even caffeine intake.
On the lighter side, the UI supports themes, like most other interfaces. You have to dig around to find free ones, though.
There are a couple of really useful software apps and features like the Samsung Pay Mini for instant cashless/cardless payment at major POS terminals across the country. Also, you can transfer Apps and social media data to SD card as well. It supports up to 512GB of external memory, which means there's enough space to install apps and store data.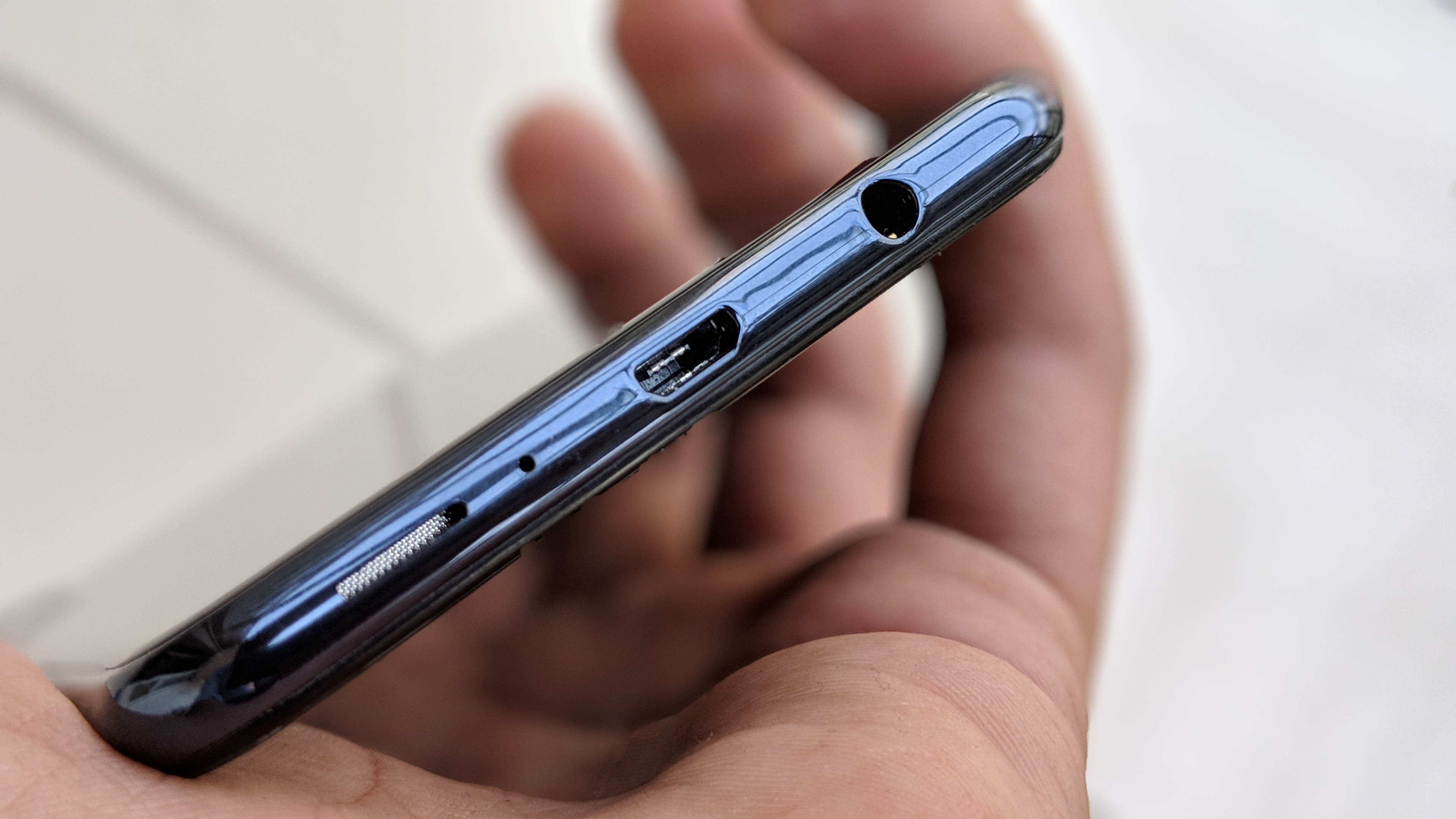 Music, Games and video
Display is great for video
Not the very best option for gaming
Reasonable quality, but mono, speaker
A big screen makes the Galaxy A7 (2018) a great choice for multimedia enthusiasts. For music, it has a decent loudspeaker to fill in a small room, and we're counting the 3.5mm jack as a plus for those who want to use their old pair of headphones. Sound quality is fair, but not stellar. There's just one driver on the bottom edge and no stereo sound.
The 6-inch AMOLED display is a treat for video consumption and playing games. Although it's not the best handset to play games on. You can try playing PUBG Mobile, but in our case we encountered lags and hitches even when playing at medium settings.
This is a great phone for video, as the screen is big and vibrant enough to make the idea of watching a whole movie on the thing feasible. Well, if you're traveling rather than sitting in your living room, anyway.
Having an option of a dedicated microSD card and a decent battery life also adds up to the fact that it's a worthy phone for multimedia consumption.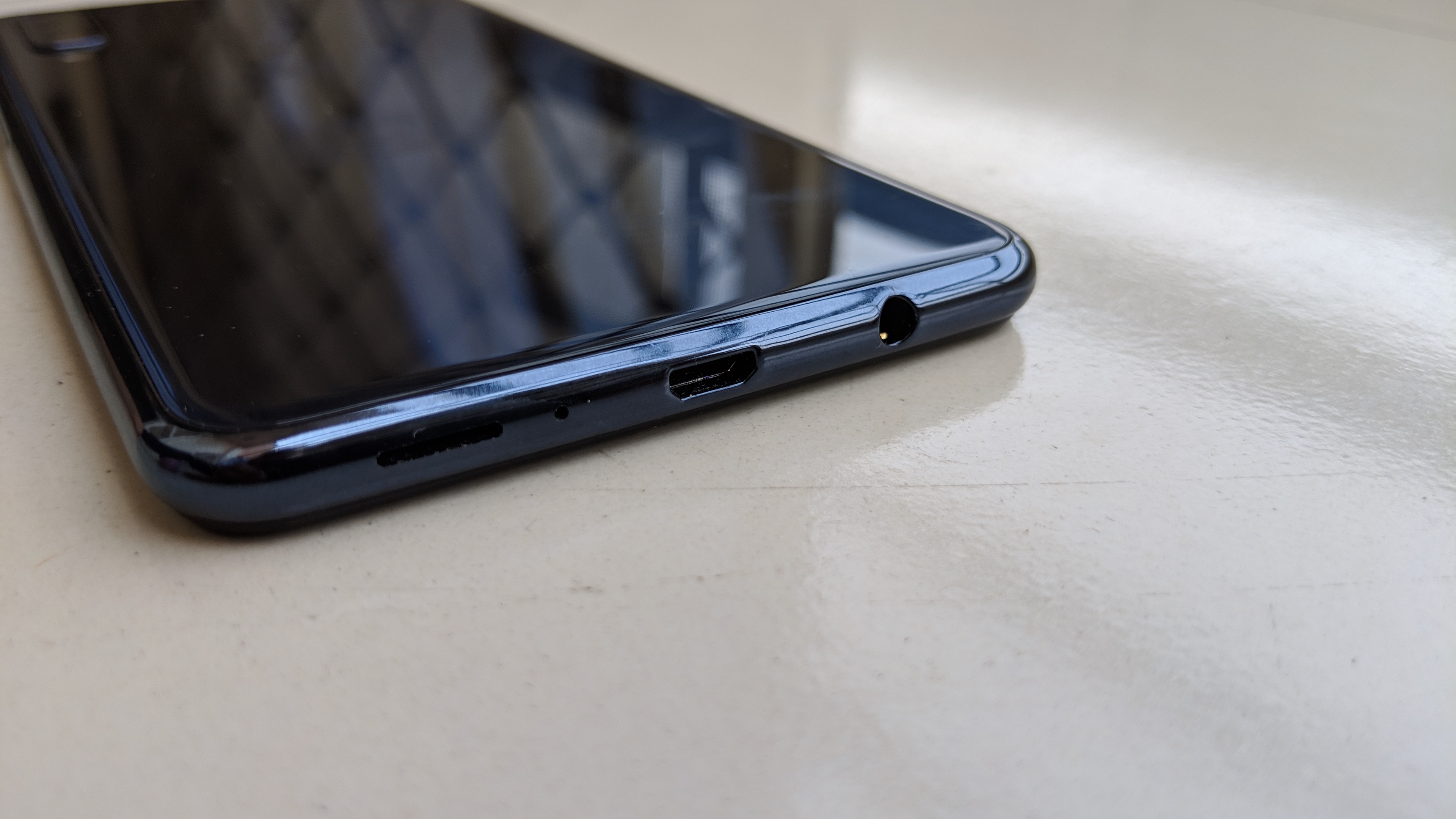 Performance
Exynos 7885 chipset
4GB/6GB of RAM
Sub-par performance
In basic day to day tasks, the Galaxy A7 performs fine, but it's not the best option if you multitask on your phone. The 4GB of RAM and Exynos 7885 inside the A7 are the same as the Galaxy A8. It has six standard low-power 1.6GHz cores, the Cortex-A53 kind you'll find in phones half the price or less. However, there are also two 2.2GHz Cortex-A73 cores, used when more power is needed.
The apps launch quickly, animations stutter occasionally, we also noticed temporary screen freeze while switching between the apps and opening or closing camera. Although it has a huge display, it's not the best phone to play PUBG Mobile in its range. If you are into hardcore gaming, this is just not for you. You can either go for Poco F1 or the Asus Zenfone 5Z. But that doesn't mean it cannot handle gaming at all. I played other titles like Modern Combat 5 and Asphalt 9, which ran smooth.
In a nutshell, the phone starts giving up as soon as you demand too much from it. The Exynos 7885 chipset represents fairly poor value for money at this level. It should really have a more powerful GPU.
Verdict
Out of the two variants of the Galaxy A7 (2017), we would recommend buying the 4GB variant if you're obsessed with its premium design, display and camera. It's a good proposition for the masses, especially the youth, who are active on social media platforms and consume content on the internet. The only trade-off is with the performance, which is a major issue if you are planning to use the phone for a couple of years.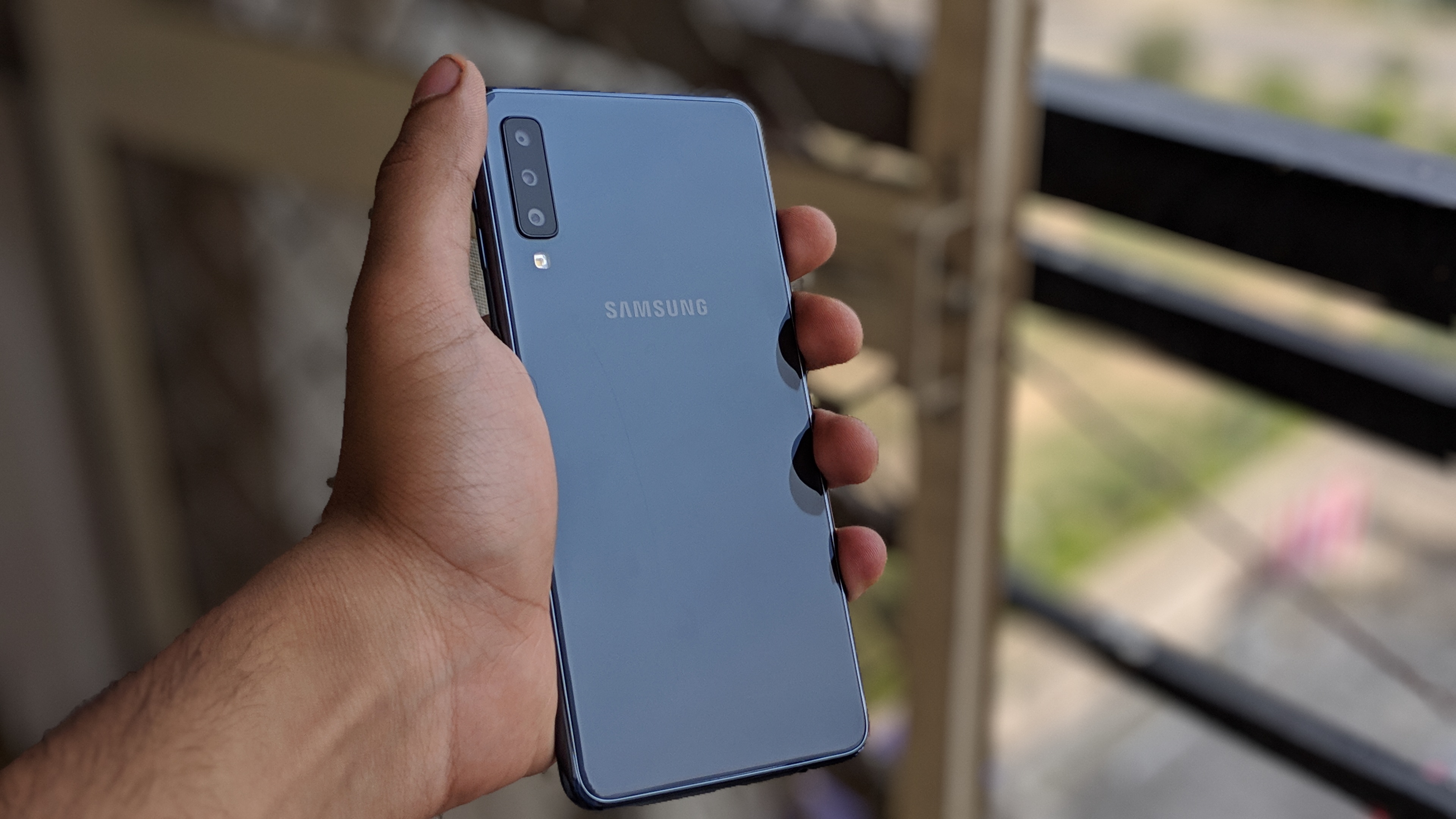 Who's this for?
Non-gamers should avoid. Anyone who's into watching TV series or any kind of video content will love it. Best for users looking for a good camera phone under Rs 25,000.
Should you buy it?
Yes, the 4GB RAM variant is one of the best multimedia phones under Rs 25,000 along with the Nokia 7 Plus. Under this price, it's the best camera that smartphone photographers can experiment with.
The only reason not to buy the Galaxy A7 (2018) is the lack of graphic prowess and sub-par gaming and multitasking capabilities. We have phones that offer the flagship Snapdragon 845 chipset at a similar price. It's the best chipset right now in the market for those who demand raw power and faster processing.
from TechRadar - Technology Reviews http://www.techradar.com/reviews/samsung-galaxy-a7-2018