Since its first product in the category, Samsung has tried to differentiate its Windows tablets from the vast majority to varying success. The firm's latest attempt appears to swim more with the tide than against it, but maintains some of that individual spirit that only ends up hurting it in the end.
This is the Samsung Galaxy Book 2, a 12-inch tablet that gets on trend in its industrial design but decidedly off trend on the inside. Getting in line from a design perspective may have been the best decision Samsung has ever made for a computing product, but adopting a Qualcomm Snapdragon 850 processor may have been its worst mistake.
Even with built-in LTE connectivity, we're left wondering whether the move to Qualcomm Snapdragon was … premature. But, hey, both the stylus and keyboard cover accessories are in the box, which can't be said of most Windows tablets.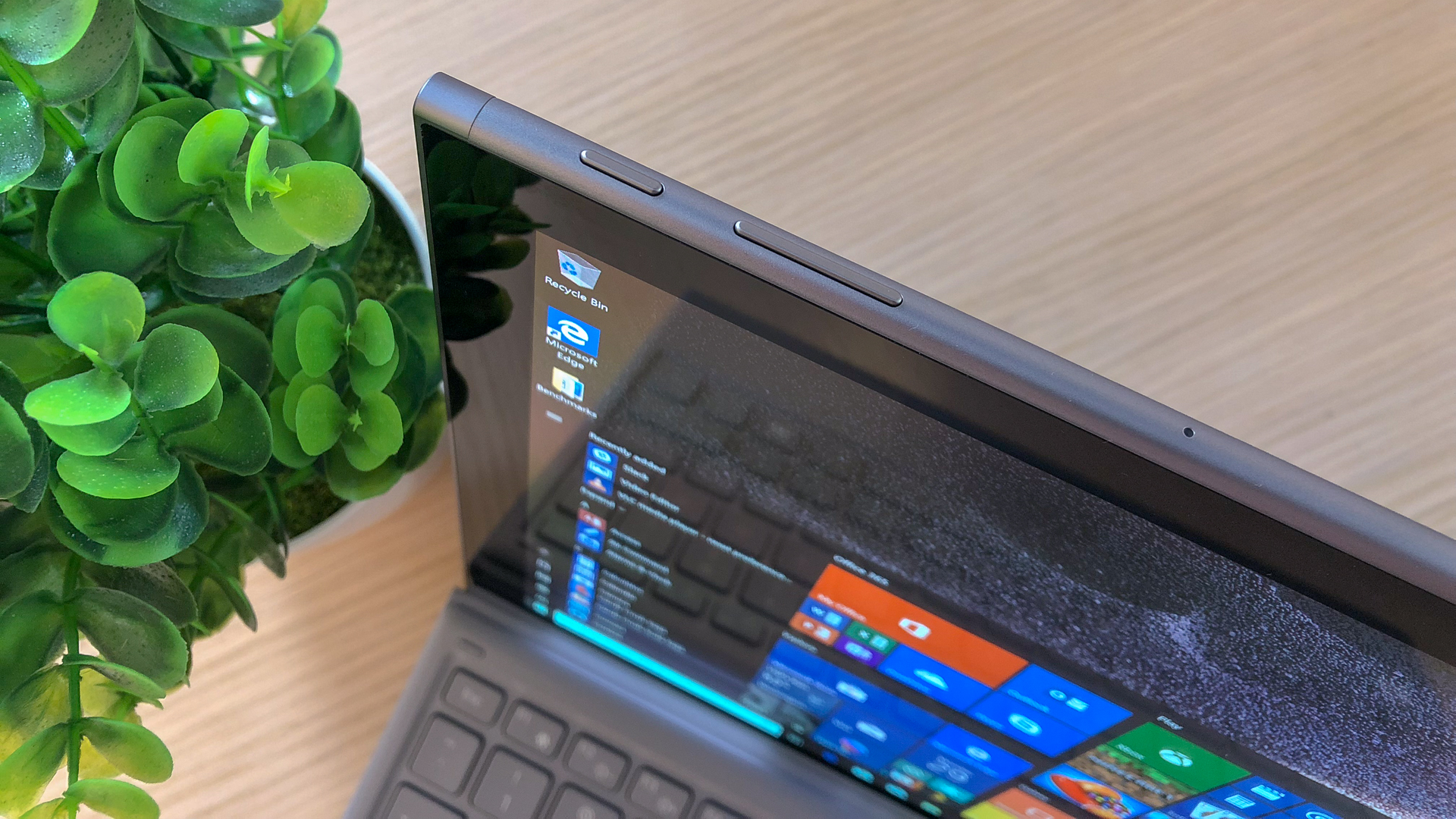 Price and availability
To get a Samsung Galaxy Book 2 replete with an S Pen stylus and keyboard, it will cost you $999 (about £757, AU$1,399) in the US when it launches on November 2nd on AT&T, Microsoft and Samsung's online stores. The tablet is also going straight to AT&T, Sprint and Verizon retail stores later this month.
This is the only configuration for Galaxy Book 2 at the moment, which nets you a Qualcomm Snapdragon 850 processor backed up by 4GB of memory and 128GB of solid-state storage. This all sits behind a 12-inch Super AMOLED display with a 2,160 x 1,440-pixel resolution.
As for connectivity and imaging, the tablet offers up two USB-C 3.1 ports (for both charging and data transfer), a microSD slot, a headphone jack, one 5-megapixel (MP) webcam up front and an 8MP camera around the back.
Comparatively speaking, Apple's 12.9-inch iPad Pro and Microsoft's 12.3-inch Surface Pro 6 call for $799 (£769, AU$1,199) and $899 (AU$1,349, about £690), respectively. Neither of these options include a stylus and keyboard cover, and therefore are already at a disadvantage from a price perspective.
Design and display
For years, Samsung tried to differentiate itself when it came to 2-in-1 tablet design, with mixed results. Now, the company appears to have responded to feedback (including in TechRadar reviews) by falling in line with a redesign that looks and feels like any other Windows slate – but this isn't a bad thing.
This new design doesn't necessarily make the Galaxy Book 2 that much more portable than previous editions, measuring 0.30 inches (7.62mm) and weighing 1.85 pounds (839g). But, it certainly makes the device way more versatile.
Rather than a keyboard case that doubles as stand, the new Galaxy Book 2 features a dedicated metal kickstand. This design allows for the Galaxy Book 2 to subsist better as a tablet on its own as well as perform better from an ergonomics standpoint when it's time to do some typing. The stand is plenty sturdy and flexible, achieving a nearly 180-degree angle when fully bent backward.
Of course, the tablet has also gained a magnetic keyboard cover that clips onto bottom bezel for two different typing angles. Naturally, the typing and tracking vastly improved over the first Galaxy Book, and it largely comes down to the typing angle. That said, the travel is plenty deep and each key resets with plenty of force, and the keys are well spaced.
Tracking on the included touchpad is just fine, with multi-touch gestures well supported, including the classic method of tracking with an index finger and clicking with your thumb. However, we wish the trackpad was just a smidgen wider and deeper, as it's a little tight – more so than on competing tablets.
Likewise to the keyboard, the stylus even connects to the tablet magnetically. Though, the magnets aren't terribly strong and its round shape makes poor contact with the flat sides of the tablet. We wouldn't be confident just throwing this tablet into a bag without first securing the stylus.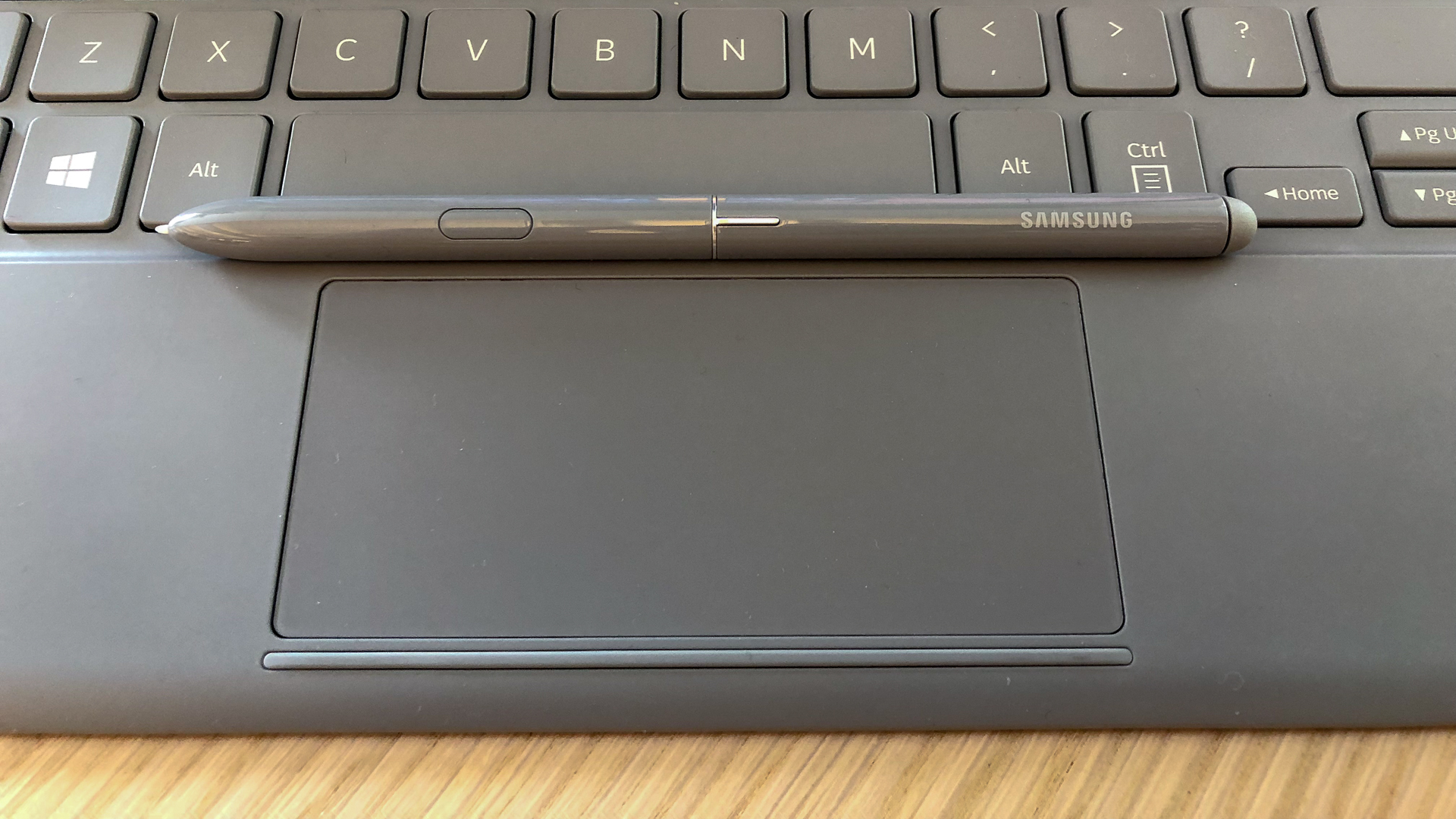 That said, the S Pen works brilliantly here, with strong pressure sensitivity and a real eraser button up top. The display also presents brilliant palm rejection – altogether making for a sublime inking experience.
The major ways in which the Galaxy Book 2 design differentiates itself from the category leader are with rounded edges as well a fingerprint sensor for secure login via Windows Hello. This is oddly placed around the rear of the tablet, but is still easy and intuitive enough to reach. As for speed and accuracy, it's plenty accurate but isn't quite as fast as competitors – like the Surface Pro 6's lightning fast infrared camera solution.
Surely, some will say that Samsung's move in this direction is unoriginal or uninspired, but perhaps this is simply the established mode for 2-in-1 tablets, much in the way that smartphones have all but homogenized in the past few years. With that, we're happy to see Samsung begin to swim with the tide here rather than against it.
Now, when looking at the 12-inch Super AMOLED display, all we can say is that it's absolutely a delight. The resolution is incredibly crisp, and competitively so when rivals are considered. Plus, the color reproduction appears to be as vibrant as ever on Samsung displays.
We can barely see the pixels within the display when up close and doodling using the S Pen, and its responsiveness to touch gestures as well as pen input is instantaneous.
Now, here comes the not-so-fun part. The rumors, sadly, were true: Qualcomm's Snapdragon 850 isn't the leap in power over the Snapdragon 835 that was sorely needed here. Our benchmark results may show a massive increase, but that doesn't translate as well to real-world use much less keep up with Intel and AMD's latest advances in mobile processing.
Also, and while this varies vastly on factors like screen resolution and brightness, we've seen largely the same battery life figures as before. All told, we were expecting a bit more than this with the Snapdragon 850 chipset being expressly designed for Windows 10, whereas the 835 was simply a phone or tablet chip repurposed for Microsoft's operating system.
While we only have one major performance test to go off of, our real-world time with the tablet doesn't exactly do the Galaxy Book 2 any favors, either. The 4GB of memory on offer, simply put, isn't enough to keep up with modern multitasking.
You're going to tear through that memory easily with more than a few web browser tabs open at once. Couple that with a streaming music player in the background and maybe a chat app, and you'll have tapped that memory as well as sent the ARM-based processor into a tizzy. If Samsung included a little more memory to be comparable with rivals, this might be a different discussion – but only slightly so.
For a similar price, the Intel processor within the Surface Pro 6 absolutely runs circles around the Snapdragon chip inside the Galaxy Book 2. Better yet, it's not that far off in terms of battery life, which is frequently touted as the key feature of Snapdragon processors.
We haven't even gotten into emulation yet, or running non-Windows Store apps within a virtualized desktop environment that otherwise wouldn't support those programs, which is required for a decent amount of popular Windows 10 software, like Google Chrome and many cloud-connected storage drive apps (that aren't Microsoft OneDrive).
Emulating apps creates an inherent overhead in available performance throughput, as some of that immediately gets dedicated to running that emulated environment in which these otherwise incompatible apps can function. That's not good when you're already at a performance disadvantage. So, this ultimately limits the Galaxy Book 2's use cases to some very basic ones (such as email and streaming media) that, frankly, could be served equally as well for less cash.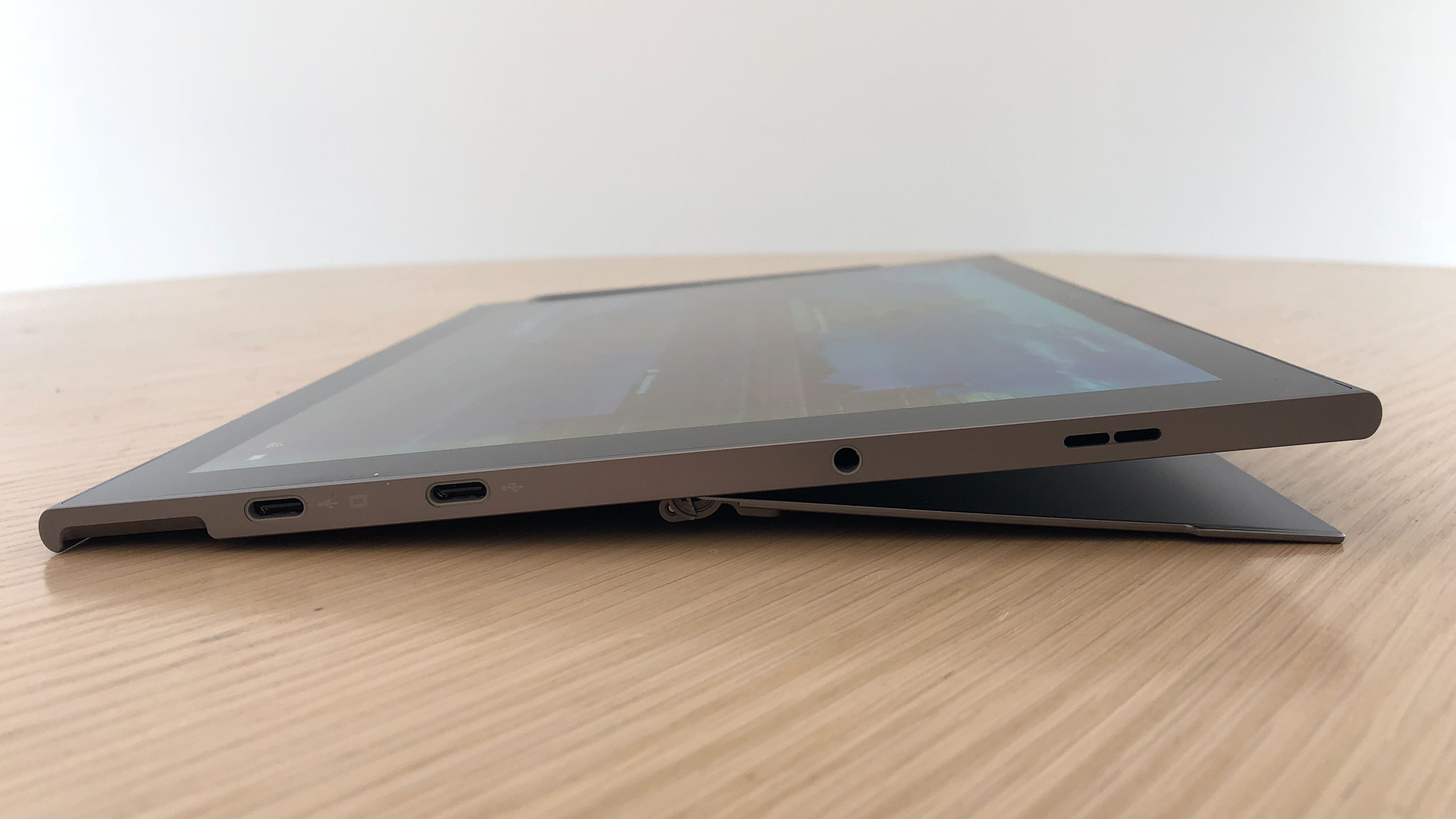 Battery life
While we were able to run only one test on the Galaxy Book 2 when it comes to battery life, it's not exactly promising considering both the promises of Samsung regarding its tablet and Qualcomm regarding its new processor. Samsung says that the Galaxy Book 2 can last up to 20 hours on a charge, while Qualcomm promises a 20% increase in battery life over its previous Windows 10 processor.
In our rather basic local video playback test, the Galaxy Book 2 didn't come close to either claim.
In fact, the 10 hours and 41 minutes that the tablet lasted is 10 minutes short of the widely-panned Asus NovaGo; though, the tablet's far sharper screen may be mostly to blame here. Either way, this is neither the increase in longevity we were hoping for nor does it come close to Samsung's claims, but still nevertheless lengthy compared to most Windows tablets.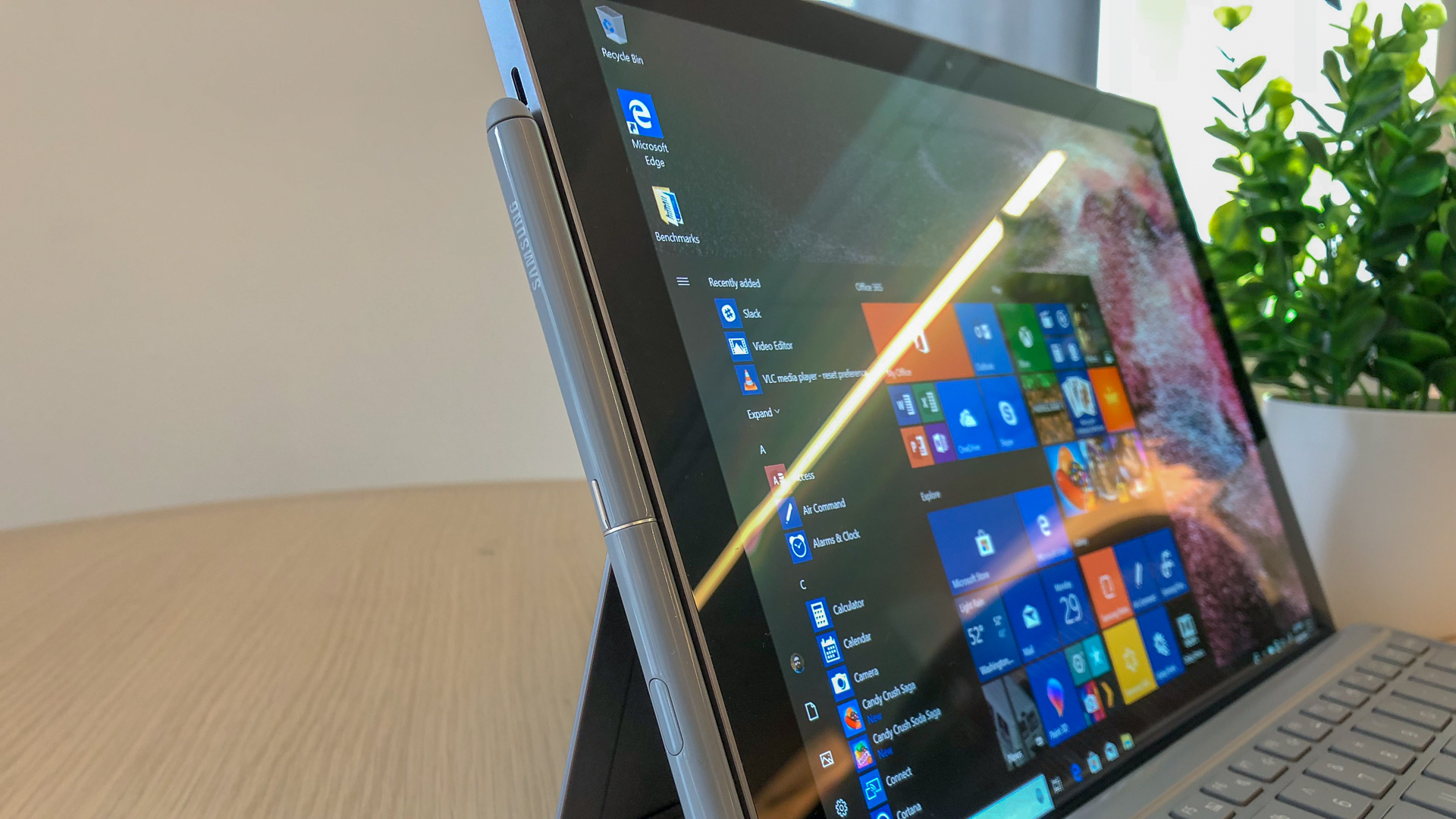 Software and features
Aside from the fingerprint sensor and ace stylus support, there isn't much more to speak of regarding software and features unique to the device. Like the Surface Pro 6, if its on Windows 10, then every other tablet has the same features and software.
In fact, the presence of an ARM-based processor actually might keep you from some features or apps you've grown accustomed to on other Windows 10 laptops or tablets.
However, there is Samsung Flow, which allows connectivity and management of nearby Samsung phones and tablets running Android. Though, this is basically a moot point with the new Your Phone app from Microsoft. The same goes for the included Samsung Notes and Gallery apps: Microsoft's OneNote and and Photos app simply manage those tasks better and more robustly.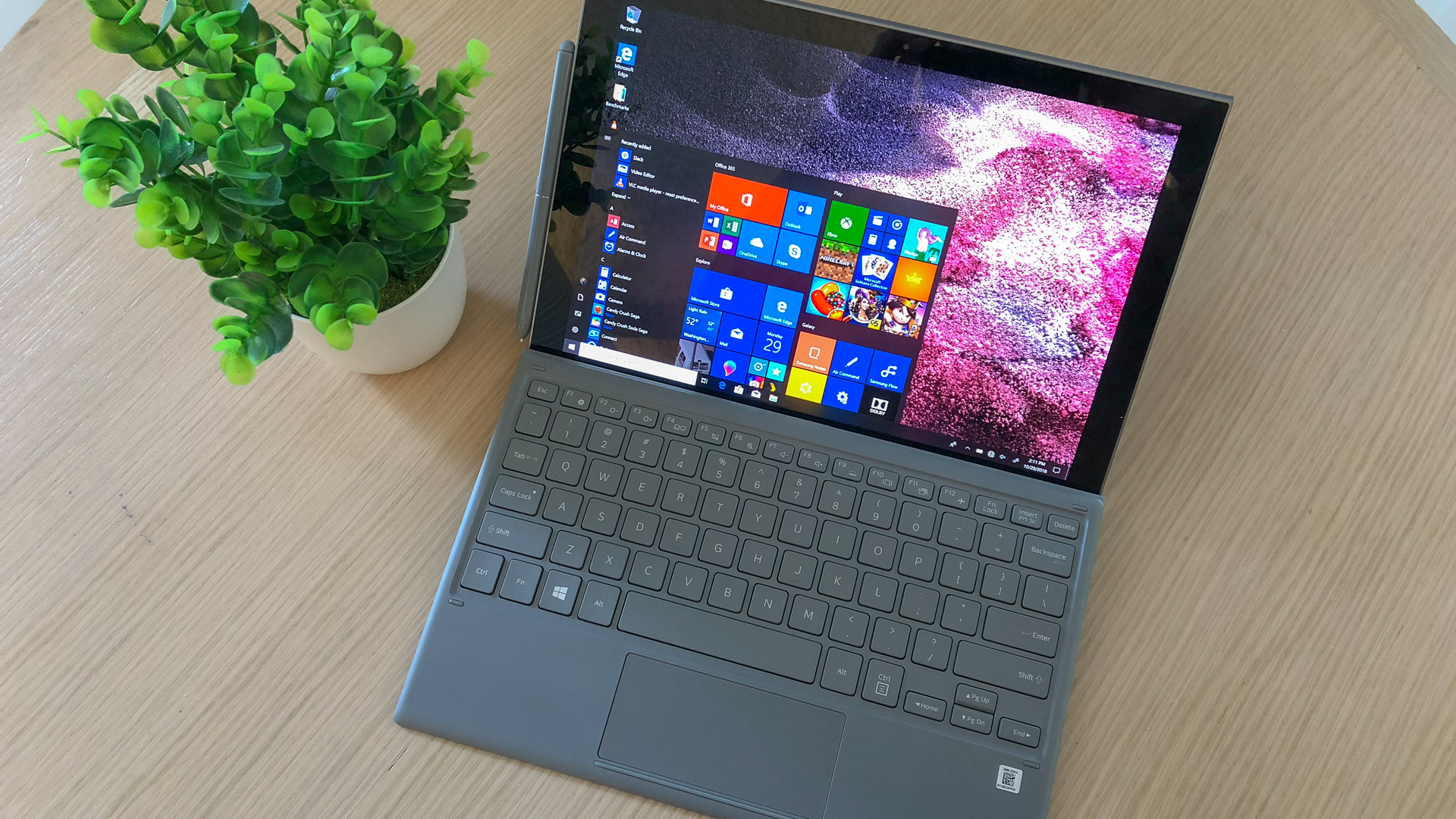 Final verdict
There are a lot of things going for the Samsung Galaxy Book 2, namely a fantastic new design that brings it more in line with the norm for the product category, some impressive battery life and accessories included in the box. However, this is yet another Windows tablet that's largely held back by its processor platform of choice – not to mention supporting hardware.
Simply put, this processor isn't powerful enough to support a power user's – the very people that would spend a thousand on a hybrid tablet – workload, much less with the paltry memory and storage on offer. Worse off is that users are bound to run into situations wherein the app they wish to use isn't supported or must be emulated to do so.
Emulation, which requires additional processing power to create a virtual environment in which an unsupported app can function, is not a solution when a device doesn't have the performance bandwidth to spare in the first place. What's especially disappointing is that this would potentially be a different review entirely if not for the processor choice.
Unless you're dead set on Samsung's line of Windows tablets, there are plenty of options out there that are more powerful, versatile and not that far behind in terms of battery life.
from TechRadar - Technology Reviews http://www.techradar.com/reviews/samsung-galaxy-book-2