The Samsung Notebook 7 Spin was one of the best 2-in-1 laptops last year, but for 2018, the firm behind it decided to go in a different direction. What was a 15.6-inch, value packed powerhouse of a hybrid laptop is now just 13.3 inches – and, while lacking power in the graphics department, is perhaps more sensible in size and scope.
However, the price of the Samsung Notebook 7 hasn't really budged since last year's version, and considering its smaller size and lower power, that stings a little. Still, while using the new Samsung Notebook 7 Spin over the course of a couple days, we've come to love this 2-in-1 laptop for what it is, not what it isn't.
No, this laptop isn't perfect. In fact, it cuts some corners in places where it shouldn't have to given its consistent price. But, in using it, we've realized we'd be fine if this were our main laptop, and that's decent enough praise for Samsung's first laptop of 2018.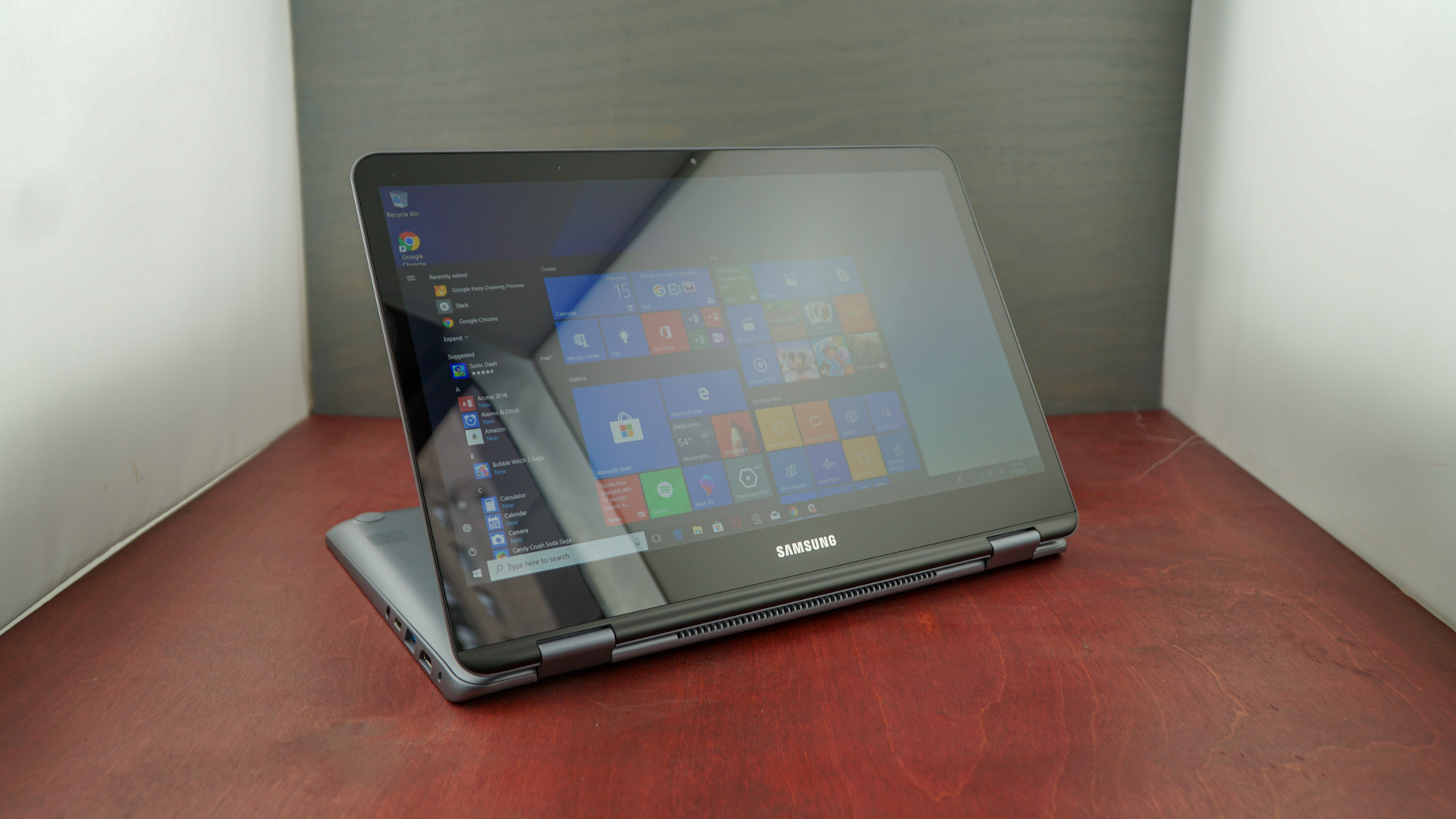 Price and availability
The 2018 Samsung Notebook 7 Spine comes in at $899 (about £650, AU$1,140) and with just one configuration – available in the US through Samsung directly or Best Buy. What you get inside of this year's model is what you see to the right in the spec sheet.
What that sheet doesn't account for is neither the fingerprint sensor embedded into the power button – nor the lack of a stylus. That's right, unlike the Samsung Notebook 9 Pen we saw at CES 2018 and the Samsung Notebook 9 Pro of last year, this laptop supports Samsung's Active Pen stylus, but doesn't include it in the price.
That's a major bummer, but it's not as if other device makers – even Microsoft, Apple and Google – haven't pulled that trick.
This Notebook 7 Spin's pricing props it just beneath the divide between mid-range and flagship laptops. However, at just $999 or £999, with Black Friday and Cyber Monday deals making it more affordable, the Samsung Notebook 7 still needs to provide a premium computing experience.
Comparatively, the entry-level Google Pixelbook starts at $999 (£999, about AU$1,500) for a similar hybrid experience that also does not include the stylus. However, for that extra cash, you're getting a lower-power processor but equally as much storage and memory behind a far sharper touchscreen.
Simultaneously, the more mainstream Lenovo Yoga 720 manages to undercut the Samsung Notebook 7 Spin by 50 bucks in the US for mostly the same hardware – down to the same CPU, display resolution, storage and RAM configuration. The model we tested, though, still has last year's Intel processor inside.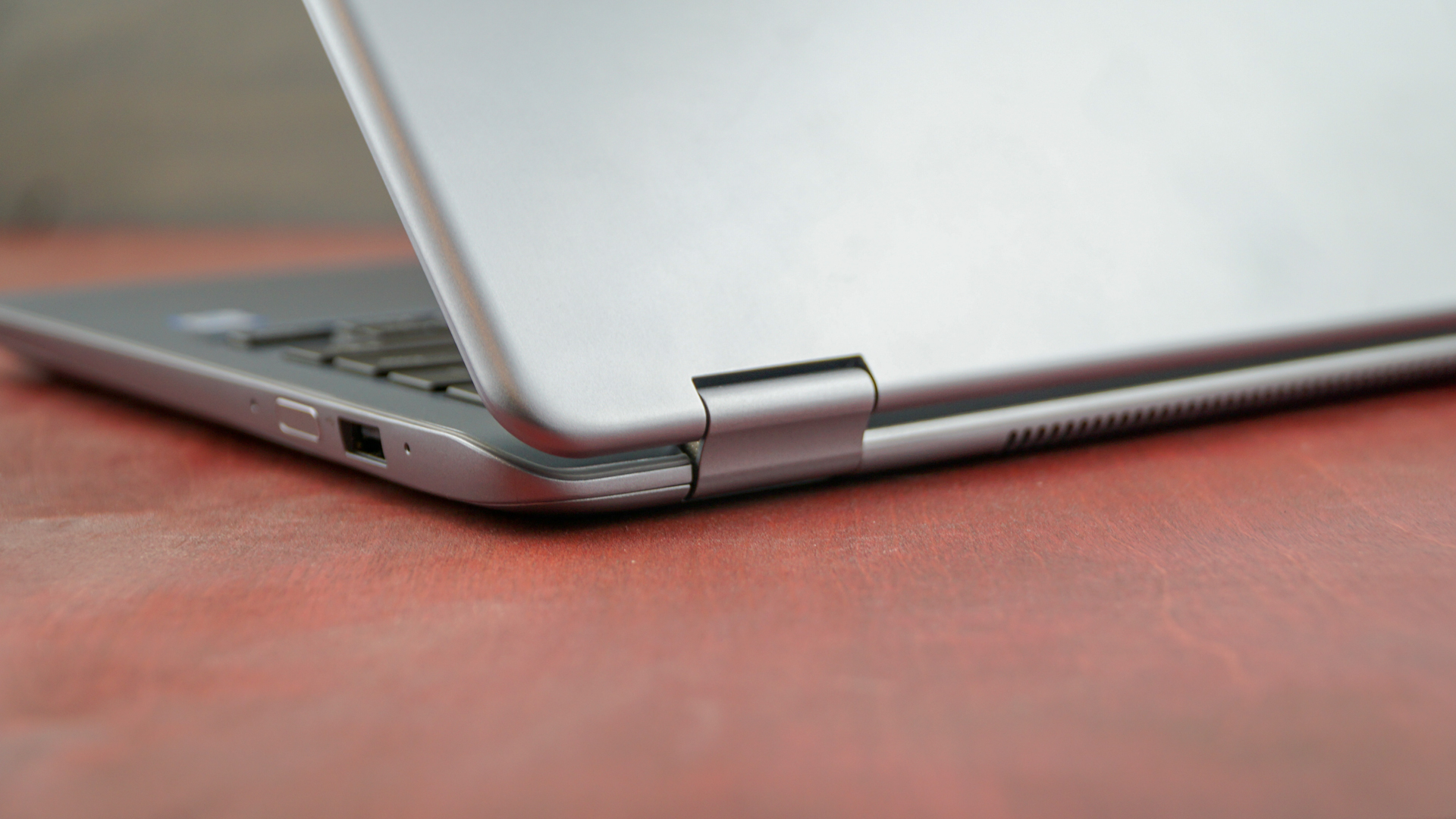 Design
In its styling, this year's Notebook 7 Spin is a far cry from last year's model. For one, the laptop measures just 13.3 inches diagonally rather than 15.6 inches. Secondly, its frame is comprised of a much darker, anodized gray aluminum and two sturdy hinges, rather than the single-hinge design and silver aluminum shell of last year.
Samsung made this laptop thin and light enough to fit in a backpack with little notice, but it won't be winning any awards in either category, and it doesn't seem to have ever intended to. This is a basic hybrid laptop for both performance and pleasure.
However, the Notebook 7 Spin being 18.5mm thick only invites more questions as to why a stylus wasn't embedded into the product, when far thinner Samsung laptops have already accomplished this.
That said, we're pretty much in love with Samsung's keyboards these days, and that love only grows with the Notebook 7 Spin. Keys are spaced well and evenly backlit, the caps are curved for ease of use, travel is deep enough at 1.5mm and feedback is plenty punchy. We've experienced little to no learning curve in using this keyboard, so users of Apple keyboards should feel right at home here.
The touchpad is just as delightful to use, which comes as no surprise given that it's a Microsoft Precision Touchpad underneath a glass coating. That said, there is a bit of keyboard flex that happens when pressing the touchpad to click – not a great look for a premium device.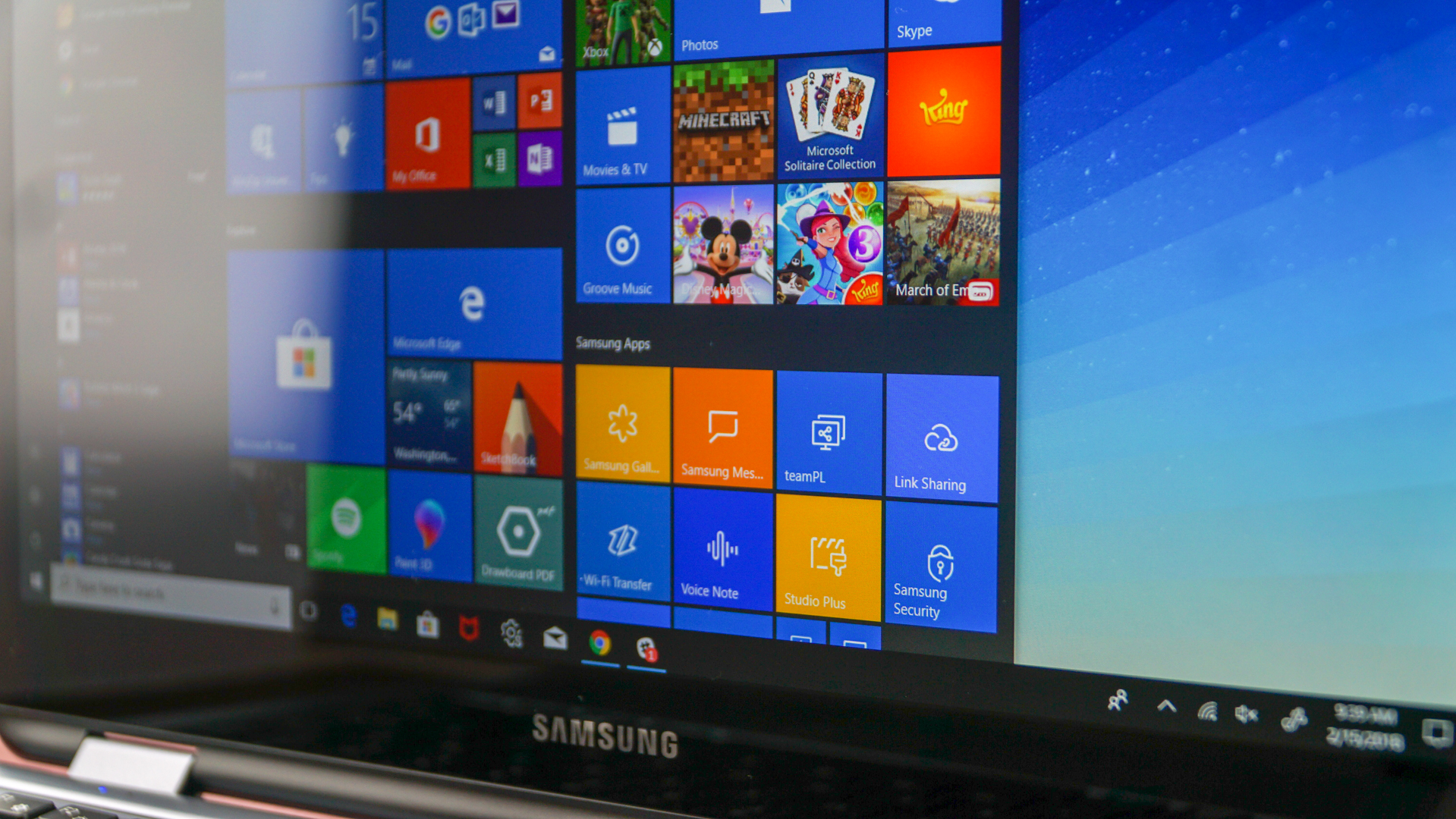 Display
Samsung is definitely a master of displays at this point, and the one on the Notebook 7 Spin is definitely no exception. However, there isn't exactly anything to write home about regarding the screen.
It produces a fine 1080p resolution and ace color reproduction, making movies a joy to watch on the 13.3-inch PLS panel. (PLS stands for Plane to Line Switching, Samsung's proprietary means of competing with IPS for wide viewing angles, but we see little difference.) The display responds quickly and accurately to touch, too, leaving nary but a trail behind our fingers as they trace along the display.
Oh, and the screen wobbles a little – but never changes position – under our touch. That's about where our astute observations end: this is a fine screen, but we'd expect a little more for the price. Even QHD resolution would have helped make it stand out a bit more.
As expected, the quad-core nature of the Intel processor within the Samsung Notebook 7 Spin helps it keep up with nearly everything but the most extreme computing tasks. This laptop will do just fine for the average user or general student, but won't be able to cope when it comes to video rendering and intense spreadsheet work.
That said, the Notebook 7 Spin was able to outclass both the Lenovo Yoga 720 and the Google Pixelbook in our benchmark tests. The former is no big surprise given its older processor, but we expected a little more from the best Chromebook ever made.
This goes to show how much of a leap the 8th generation of Intel Core processors has been for laptops that have adopted them – even when comparing a 7th-gen Core i7 Y series chip against an 8th-gen Core i5 U series CPU. In short, just about anything that the Pixelbook or Yoga 720 can do, the Notebook 7 Spin can do better.
But, for the general public, that difference isn't going to manifest itself. Also, don't expect to play many games on this laptop beyond the casual distraction. Whereas last year's model's Nvidia graphics could withstand somewhat more advanced games, this model will not.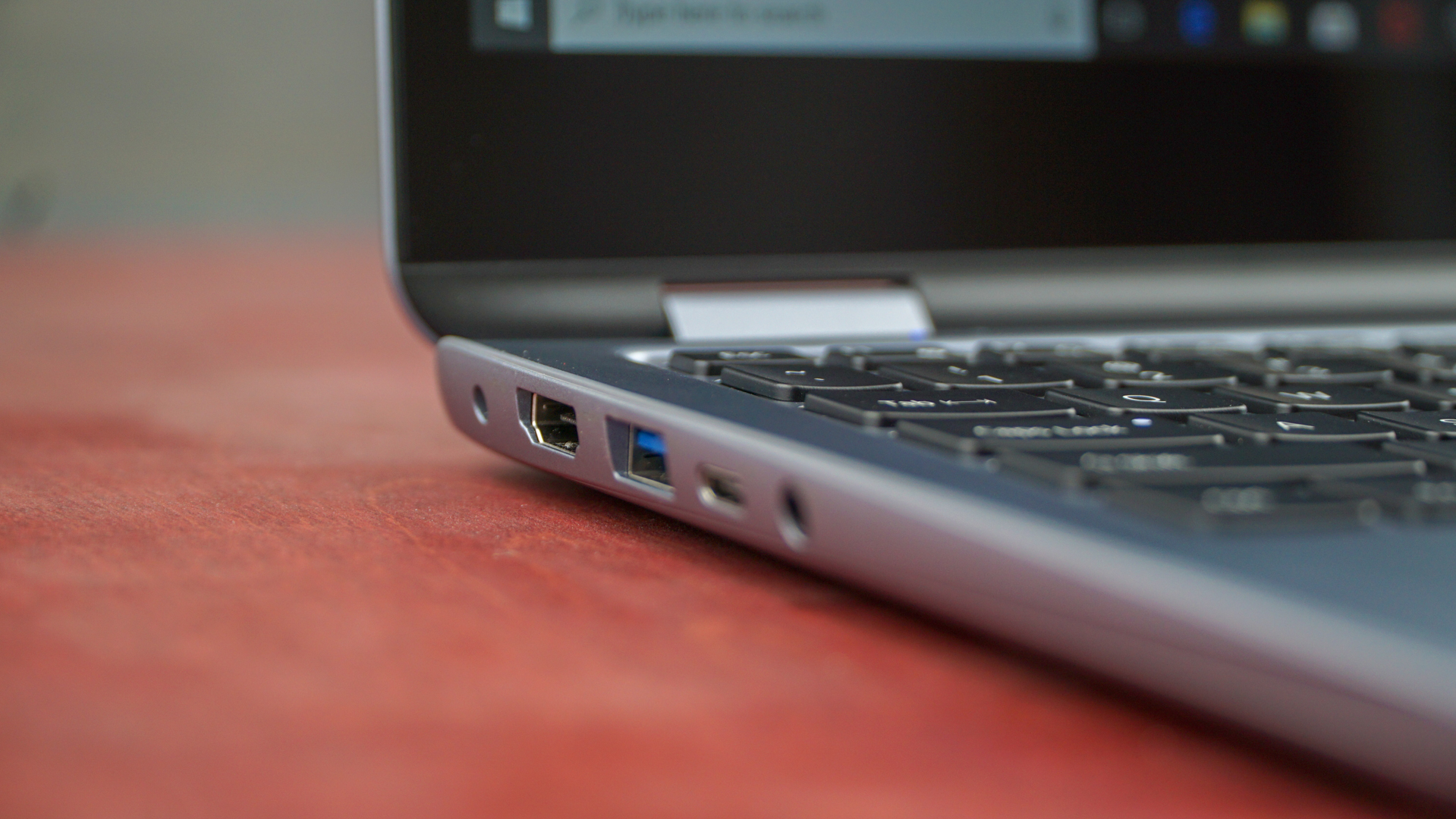 Battery life
Luckily, we've found the Notebook 7 Spin to display some rather wonderful battery life figures. Numbers like that translate to a laptop that will last you throughout any continental US or Australian flight and across most, if not all, of western Europe.
The Google Pixelbook actually beat out the Notebook 7 Spin by just short of an hour, and the Yoga 720 by mere minutes, so we'll call this one a draw. We chalk this up to the Pixelbook's Y-series processor dealing with a super sharp screen in Google's case – otherwise it would have lasted even longer than Samsung's laptop here.
All in all, this is a battery that you can rely on lasting throughout most trips without emergency charging sessions. That said, we would have loved to have seen fast charging on this laptop, but alas that was not to be.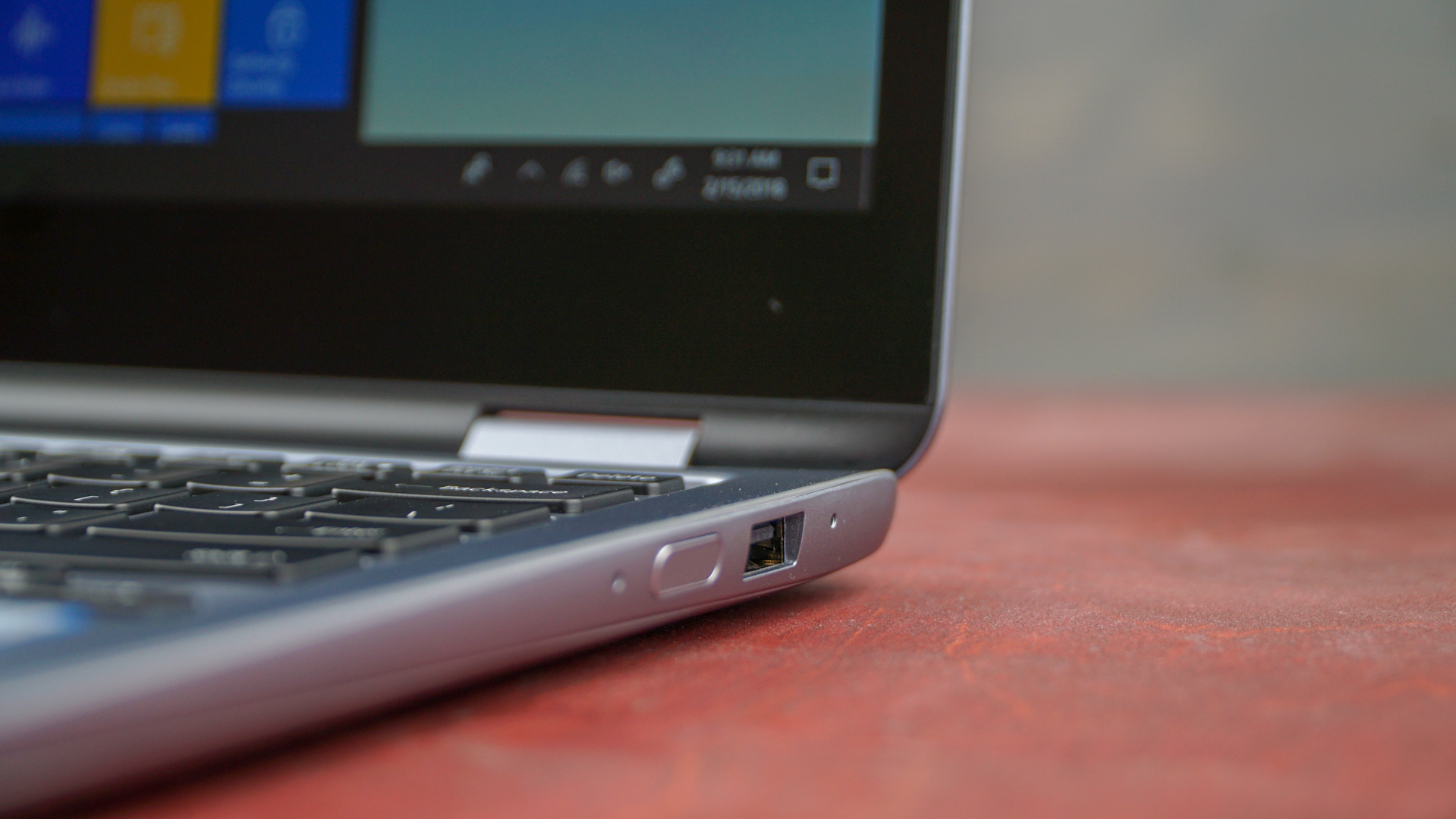 Features and software
The Samsung Notebook 7 Spin isn't spoilt for choice when it comes to features to discuss, but a few come to mind. Namely, this model comes with a fingerprint sensor embedded into the side-mounted power button on the laptop.
Setting up the sensor is made dead easy through Windows 10, and we've had no issues getting it to work on repeat uses. Logging in is that much faster through this method, so much so that we'd have trouble going back to lame old passwords.
As for software, Samsung puts up two honestly paltry apps: Voice Note and Studio Plus. The former is a voice recorder built into the operating system using the otherwise lame 480p webcam's far field microphone for better voice recording. We could see this coming in handy in meetings and classrooms, but beyond that doesn't bring much to the table.
The latter, Studio Plus, is a simplified way of creating your own videos featuring your media assets. Microsoft is already doing work in this area that's more integrated with Windows 10 than this app, so there's not much use for it.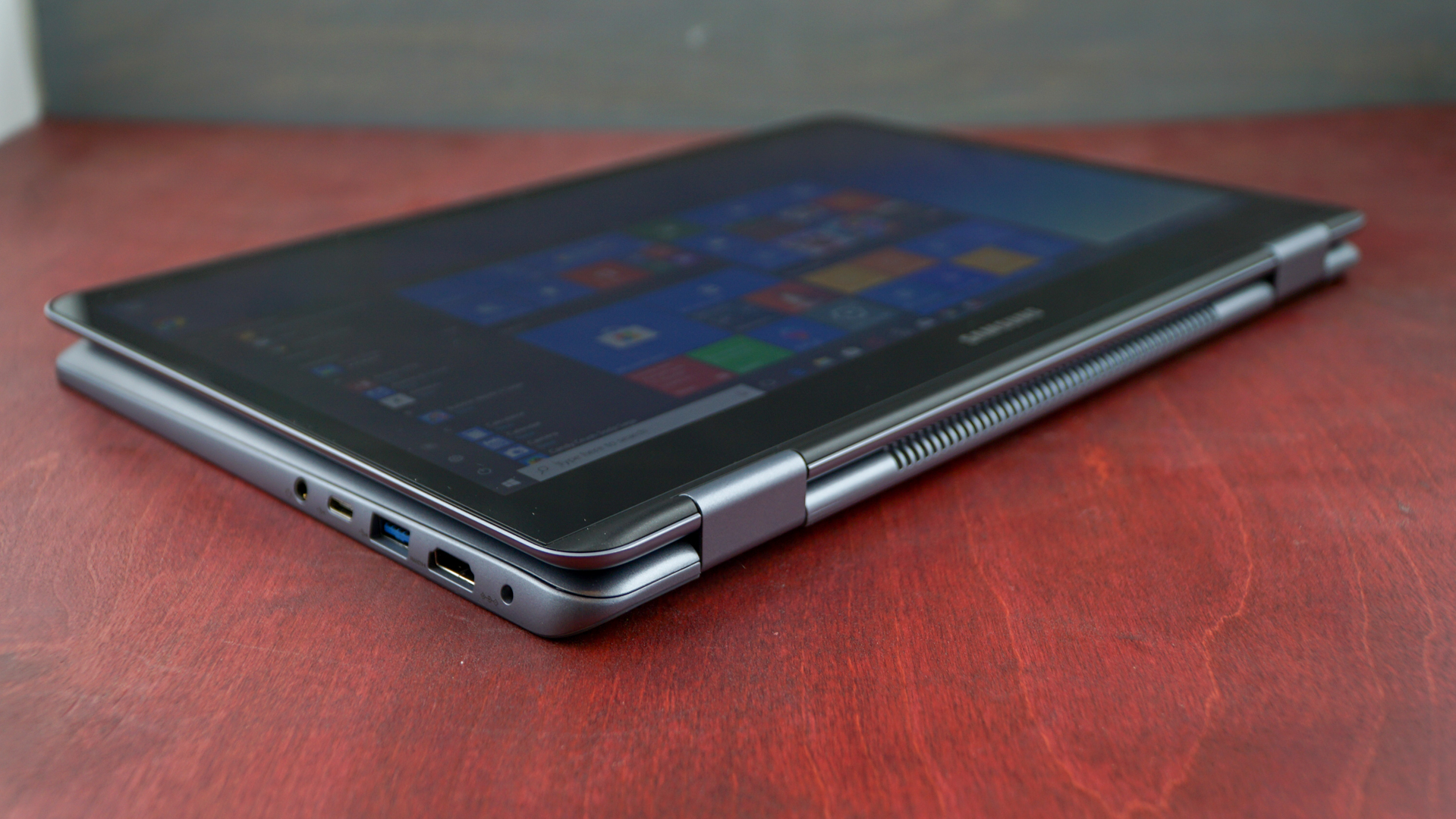 We liked
The keyboard on this laptop is one of its surprise marquee features, already coming in as one of the best we've used this year. We also appreciate the fingerprint sensor login using Windows Hello, and the battery life is top notch here.
We disliked
The fact that this laptop costs what it does and doesn't include a stylus in the box, much less inside the system, is an oversight. We also aren't fans of the fuzzy, 480p webcam, which has no place on a system of this caliber.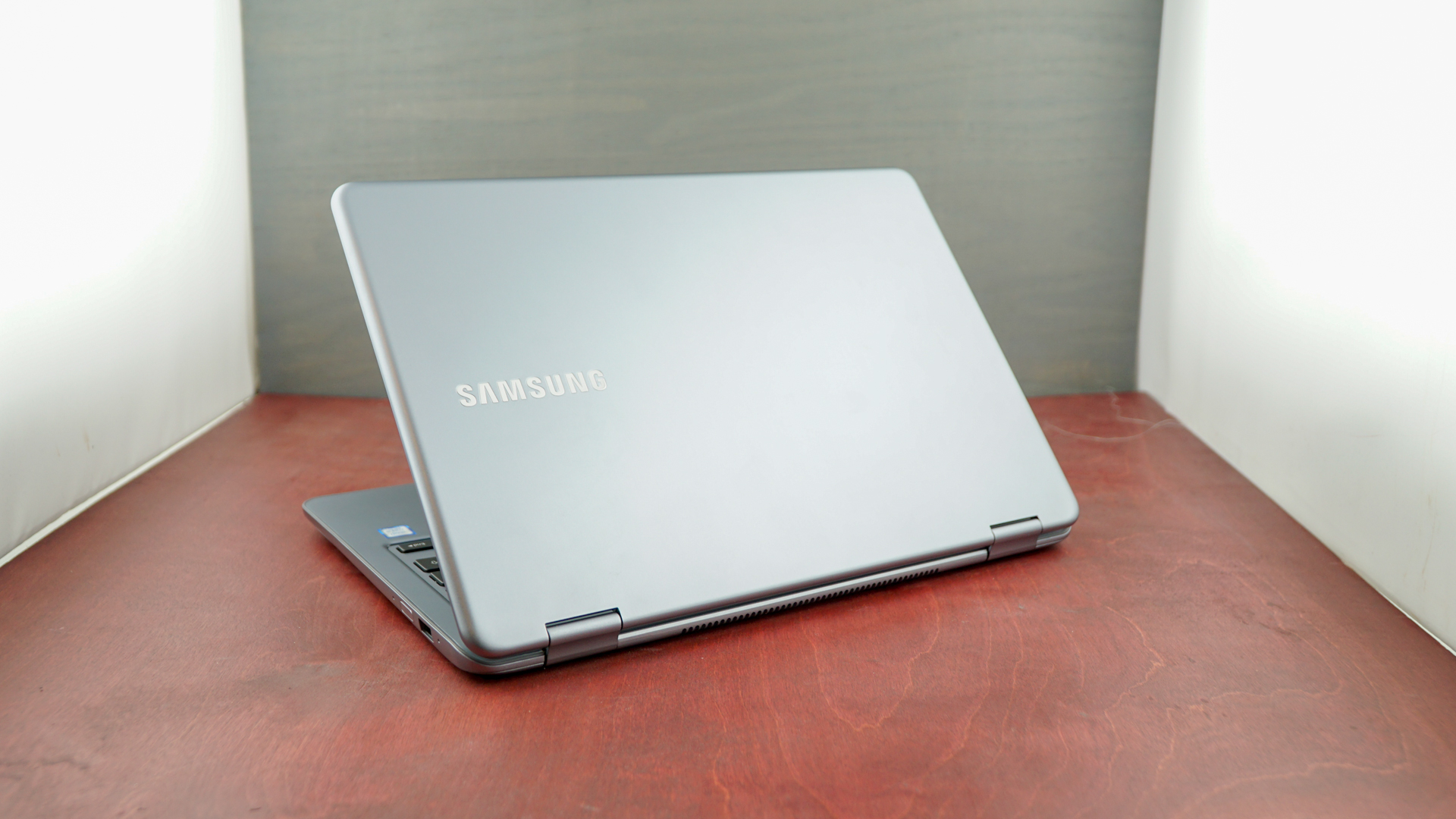 Final verdict
The fact that this laptop has changed so drastically year over year – in that it got smaller and has weaker graphics – and the price hasn't budged a bit is not lost on us. Not to mention that the sub-HD webcam remains, and that the supported stylus isn't included in the box much less the device itself.
However, the Samsung Notebook 7 Spin makes up for these shortcomings in presenting itself as an easily useful and usefully easy 2-in-1 laptop on a daily basis. The keyboard is a delight to type on, the screen is fantastic (but nothing revolutionary) and the laptop lasts nearly an entire working day on a single charge.
All told, we would be just fine if someone were to tell us that this is the only laptop we're allowed to use for a year. While that's not worthy of one of TechRadar's coveted editorial awards, we'd say that's fine praise for Samsung's first laptop of 2018.
from TechRadar - Technology Reviews http://www.techradar.com/reviews/pc-mac/laptops-portable-pcs/laptops-and-netbooks/samsung-notebook-7-spin-1328711/review