The Amazon Fire HD 10 is the best full-size tablet made by Amazon in 2017, and it's a sold, albeit unremarkable slate that doesn't cost a lot of money. Sure, it's no secret the tablet market is in decline. People don't need to buy a new tablet every couple of years, the way they buy a phone.
While Apple and Microsoft try to conjure fresh interest with a flurry of overpowered, wannabe laptop replacements, Amazon has chipped away at the other end of the price spectrum with a series of solid, unremarkable slates on which to binge watch TV shows.
Improvements have been gradual, but the 2017 version of Amazon's Fire HD 10 offers a high definition display, speedier performance, and hands-free, voice activated assistant, Alexa.
The greatest trick Amazon has pulled off here is managing to reduce the price. This year's Fire HD isn't just better than its predecessor, it's also cheaper, at just $150 or £150.
You can get plenty of diminutive tablets without breaking the bank, but it's harder to find big screen tablets with such a reasonable price tag.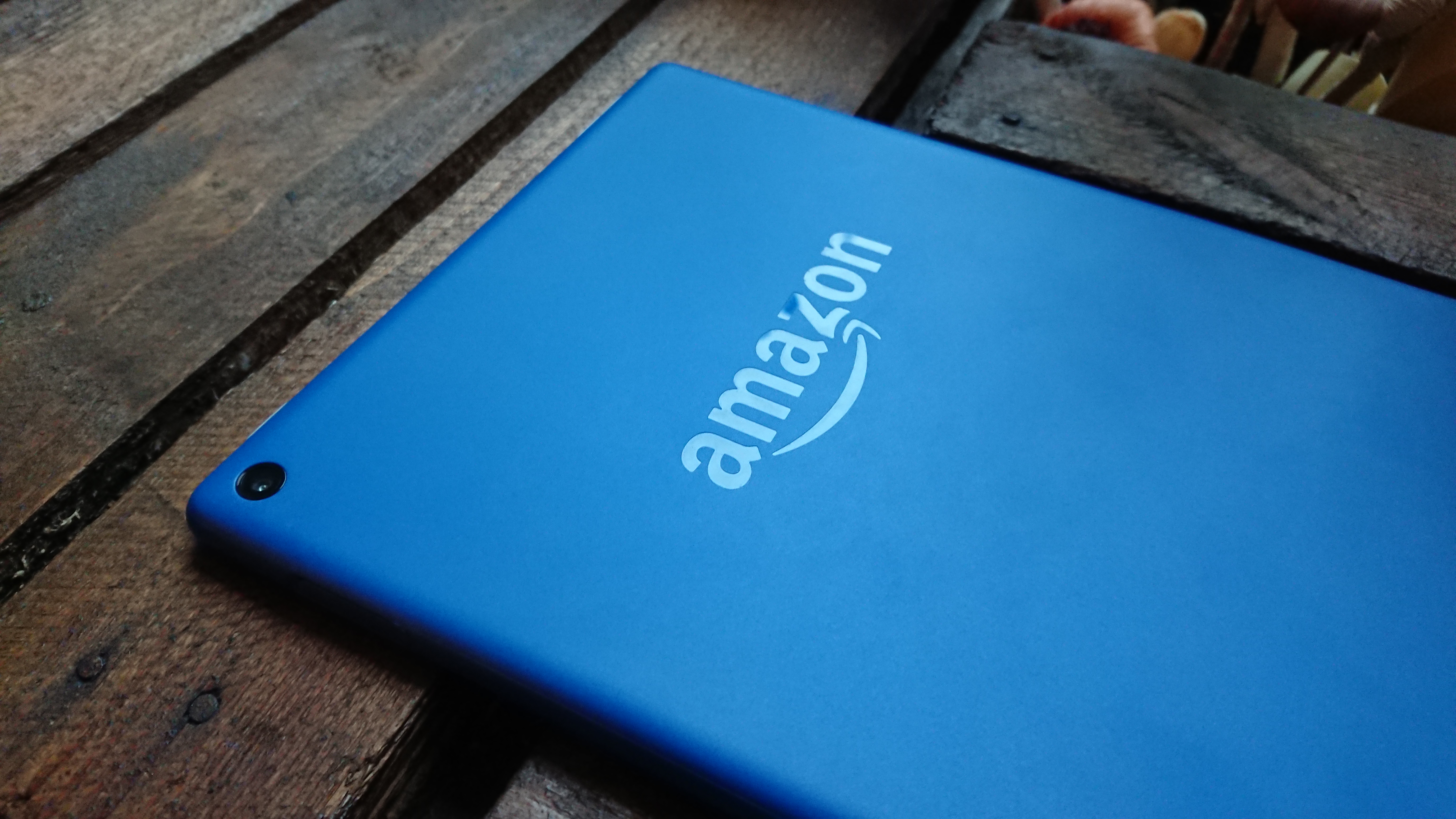 Amazon Fire HD 10 (2017) price and release date
Amazon Fire HD 10 costs $150/£150 (around AU$195)
Price does fluctuate around sales periods
You can pay $15/£10 extra to get rid of lock screen adverts
The Fire HD 10 normally starts at $150 or £150 for the model with special offers, which means that you get adverts for content on your lock screen. If that idea offends you, pay an extra $15 or £10 and you can get the Fire HD 10 (2017) lock screen ad-free.
It's worth noting that you can pay that money at any point in the future to turn them off. The 64GB version of the Amazon Fire HD 10 (2017) costs $190 or £180. Both versions come with a handy microSD card slot for cards of up to 256GB in size.
We didn't much care for the Amazon Fire HD 10 (2015), which cost $230 or £170 and had a terrible screen resolution, sluggish performance, and a plasticky design. The good news is that Amazon has shaved some money off the price for this year's Fire HD 10, and bumped the resolution and performance. The bad news is that it's still plastic.
With or without ads, the Amazon Fire HD 10 (2017) has no easy-to-recommend competitors at this price point. Sadly, it won't be released in Australia.
Talk to your tablet
Alexa hands-free functionality can be very useful
To get the best from this device you need Amazon Prime
The Amazon Echo was something of a surprise hit, and introduced many people to Alexa's charms. The ability to request songs, get a quick news update, or play a round of "Would You Rather?" is something that grows on you over time.
Whether you're excited by the prospect of Alexa on your tablet will depend on how you use it.
Using Alexa on the Fire HD 10 (2017) is just as easy as it is on the Echo, simply utter her name and then ask or command. You can search the internet, open apps, get a weather forecast, or simply use Alexa to pause the movie you're watching.
Since Alexa has a 10.1-inch display at her disposal, her spoken answers are supplemented by visuals. For example, the weather forecasts show the next few hours and days, while a quick check of what you have on for the day is accompanied by a calendar breakdown.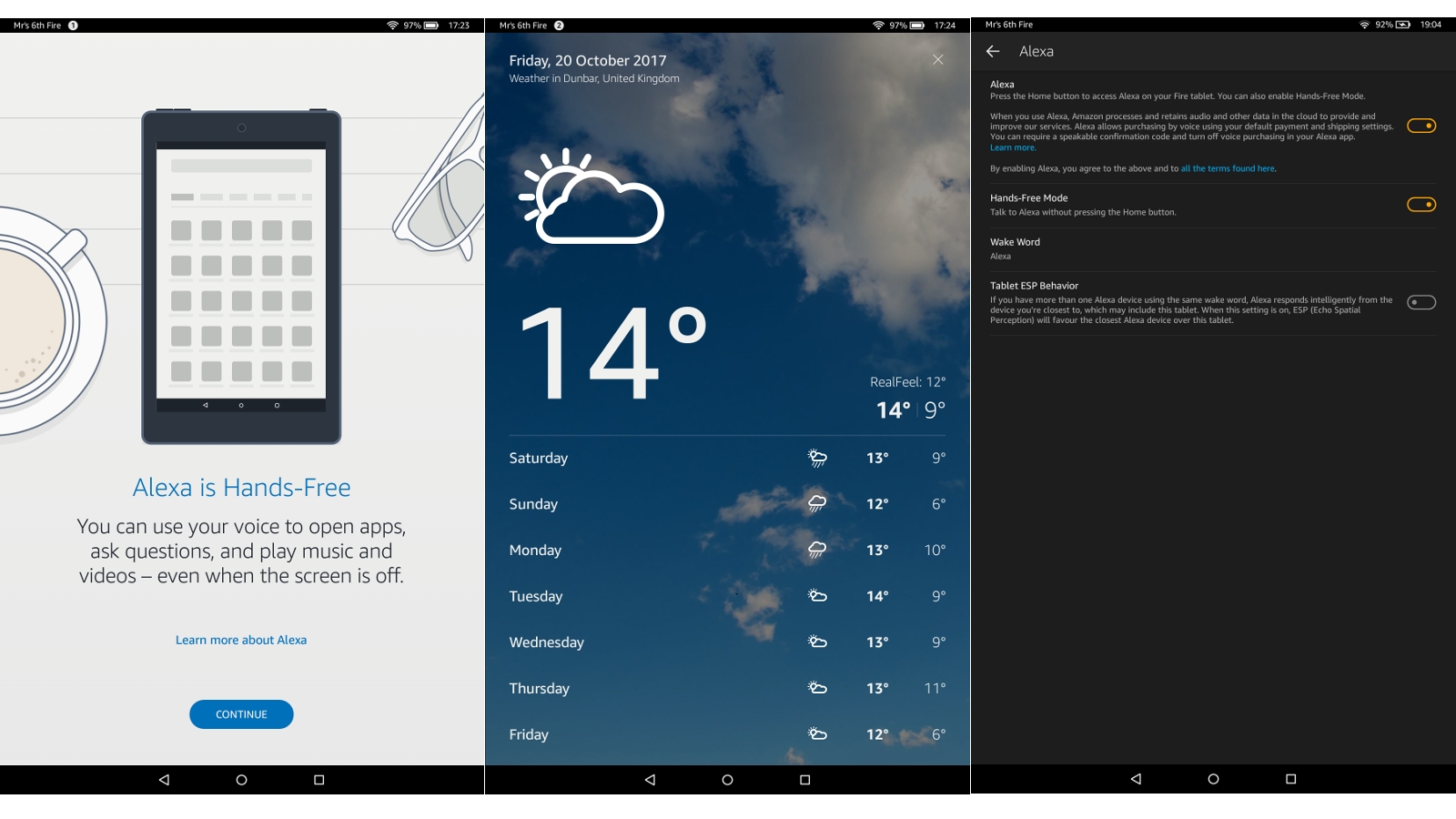 A lot of people still don't really use the voice assistants that live in their phones, so you might be wondering why the Fire HD 10 (2017) would be any different?
We found hands-free commands were much more useful for a tablet. Say you've propped the Fire HD 10 just out of reach and want to pause the movie action for a quick break - just tell Alexa.
If you're cooking up a storm in the kitchen and want to check a recipe - ask Alexa and get what you need without having to wash up first.
You can toggle the hands-free mode on and off, which is great if you're concerned about Alexa always listening. Maybe it's because we're used to Alexa with the Echo, but we found ourselves using it quite a lot on the Fire HD 10 (2017), more than we've ever used Siri on the iPad, for example.
It's a great feature for a budget tablet and it's getting better all the time thanks to a growing library of skills that offer fun games and integration with all sorts of services.
Design and display
Chunky plastic build
10.1-inch 1,920 x 1,200 display
Let's be honest – the Amazon Fire HD 10 (2017) is plain. Some might say plain ugly. It has a thick, plastic body that curves to meet the glass front, where you'll find big bezels around the screen.
It's 262 x 159 x 9.8mm and it weighs 500g. For a point of comparison, Apple's new iPad measures 240 x 169.5 x 7.5mm and weighs in at 469g.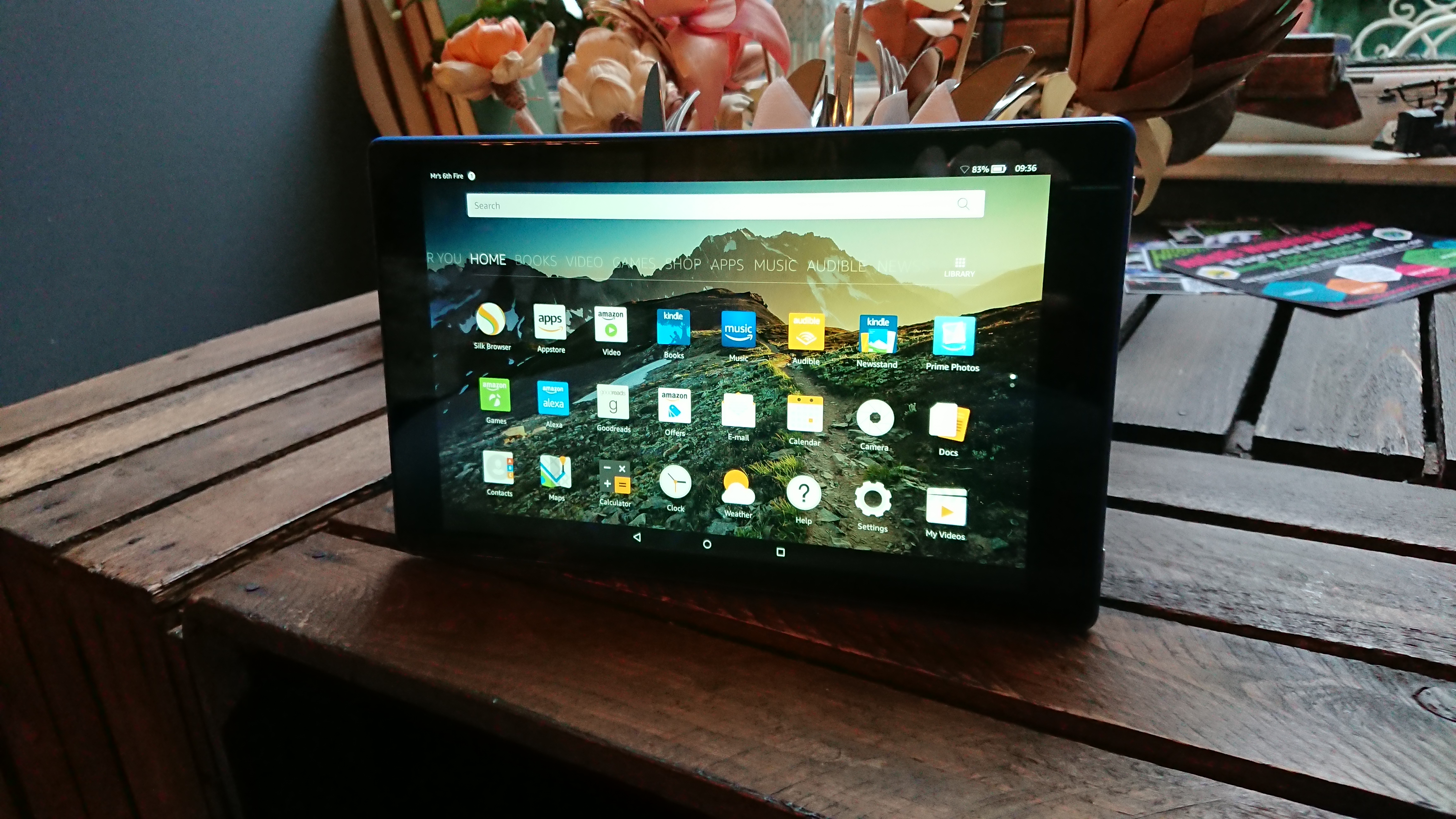 The Amazon Fire HD 10 (2017) feels sturdy and we found it quite comfortable to hold, though it's heavy enough that you'll want to invest in a stand or a case that can prop it up.
Because the edges are curved plastic, it slides easily, so trying to prop it against something is a challenge.
You'll find the main camera lens on the back, along with the Amazon logo. Holding it in landscape view, the metallic volume controls sit at the top with the power button at the bottom of the right spine.
In between, you'll find a micro USB port for charging, a microphone, and the 3.5mm headphone jack.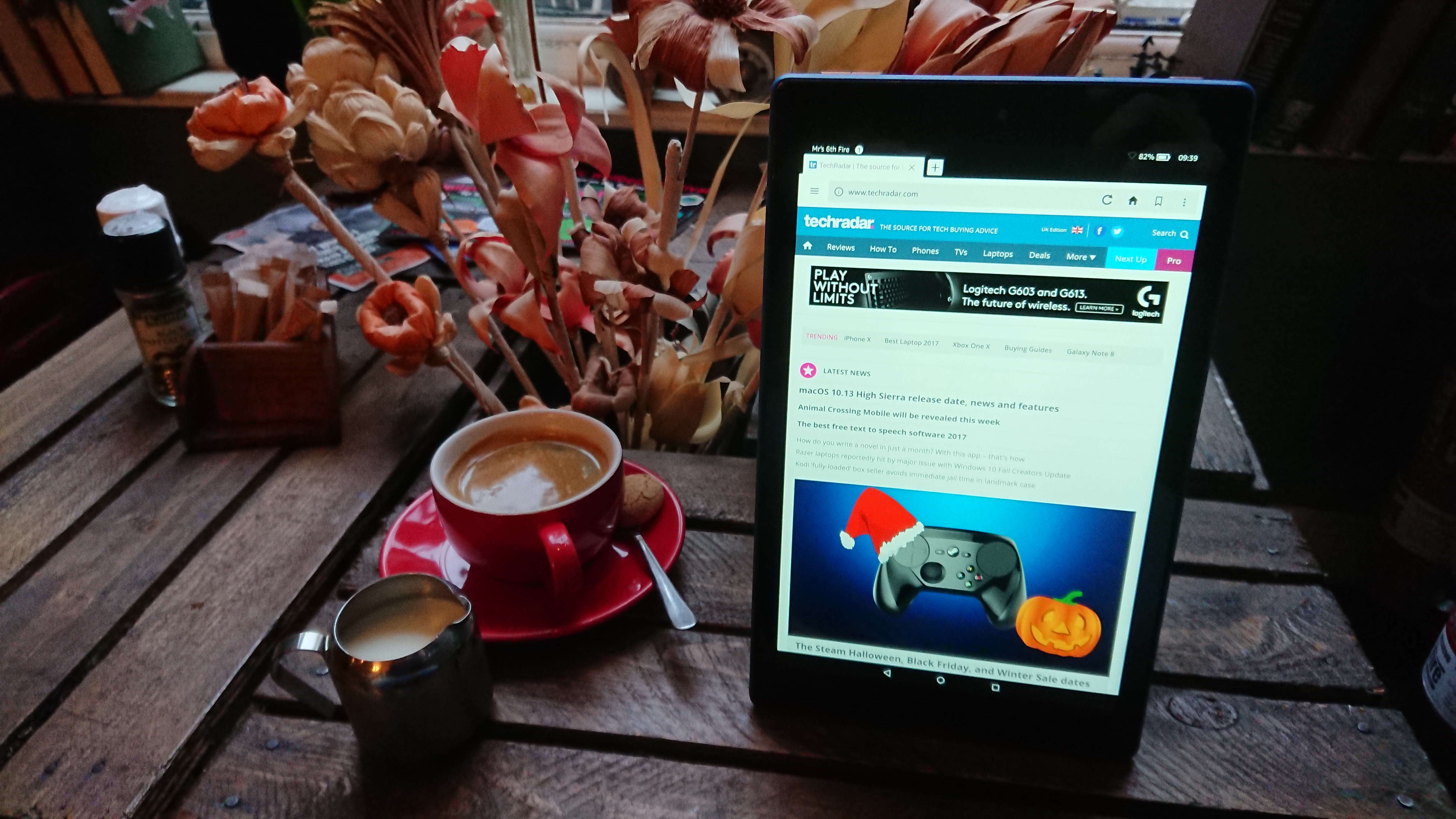 Up top there's the stereo speakers, one at each end of the top edge. On the bottom edge there's a small flap for access to the microSD card slot.
The Fire HD 10 (2017) comes in black and Amazon has also tried to spice things up with bright red and blue varieties, but you're not going to buy this tablet for the design.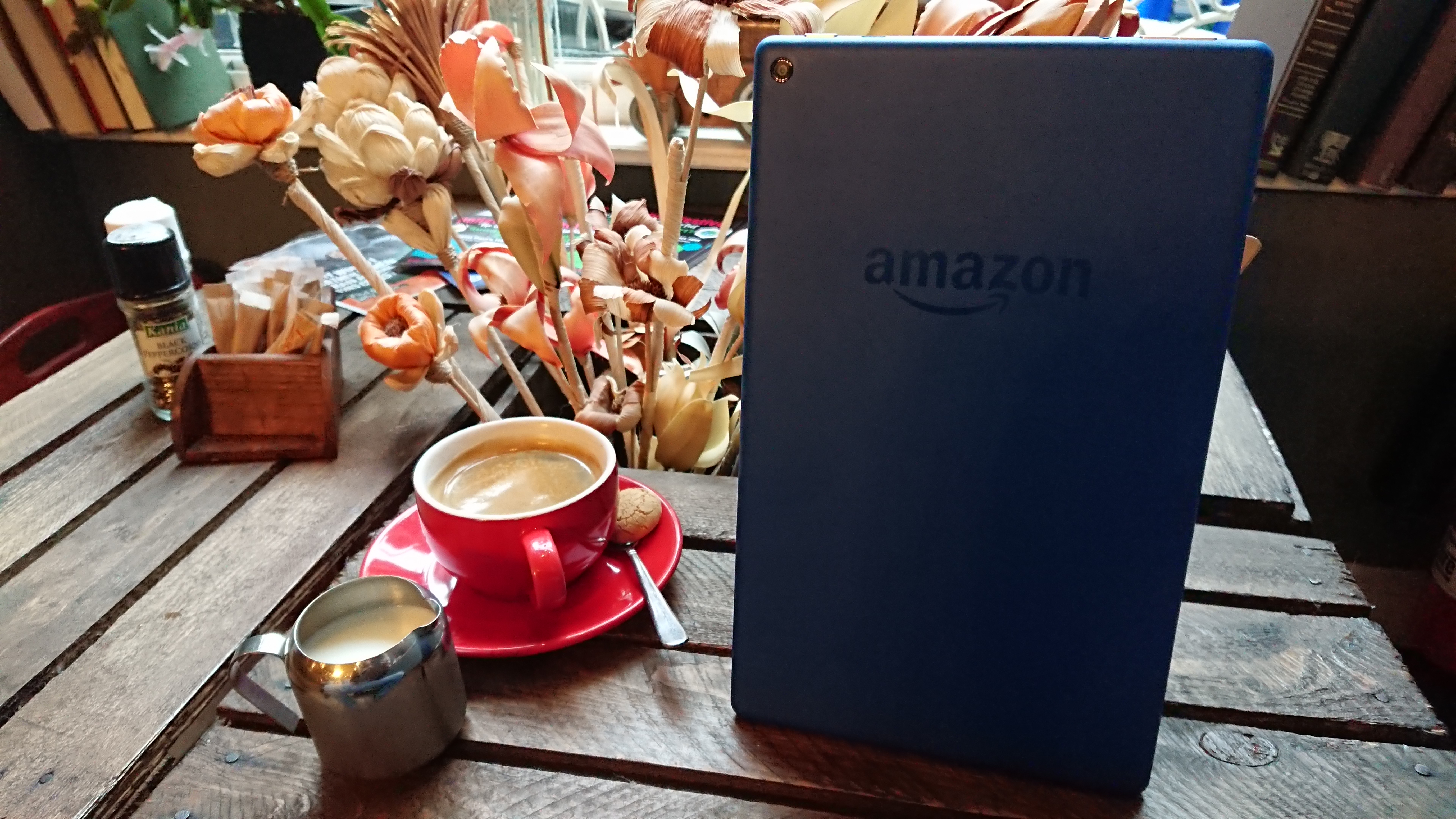 Since the screen has long been one of the big caveats of any Fire tablet recommendation, it's great to see Amazon address this in the Fire HD 10 (2017).
This is a 10.1-inch IPS LCD touchscreen with a resolution of 1,920 x 1,200 pixels. That gives it 224 pixels-per-inch (ppi). For comparison the new iPad has a 9.7-inch display that's only slightly sharper at 264ppi.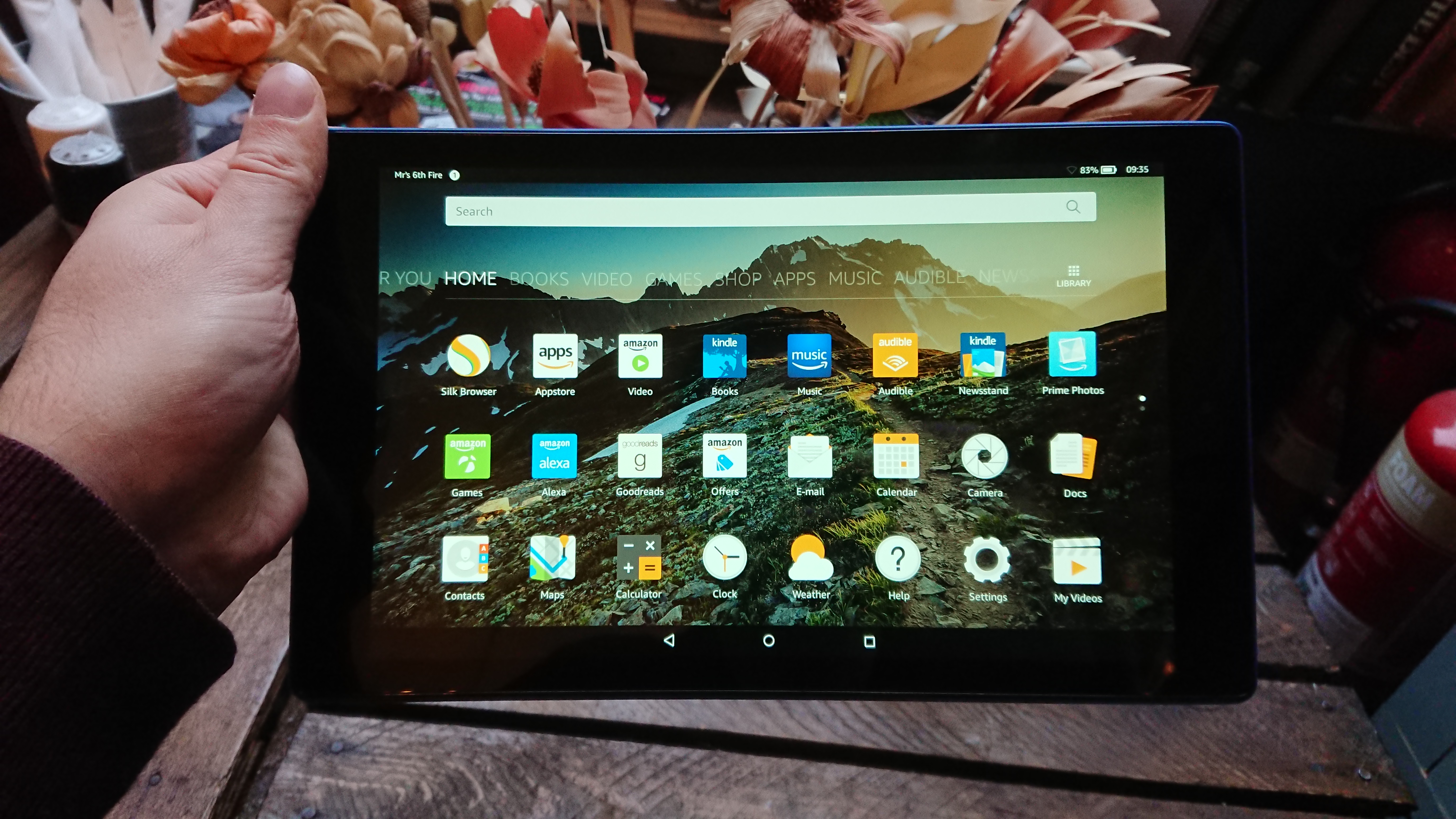 From browsing the web, to watching TV shows like Amazon's Startup, or playing games like Star Wars: Commander, we found the display was a pleasant surprise. It's sharp, bright, and vibrant. You don't tend to hold a tablet screen as close as you do your phone, so the display feels plenty sharp enough.
It is a bit reflective, the blacks are far from deep, and it's not going to work well in direct sunlight, but it's a major leap forward compared to the old Fire HD 10, which had a 1,280 x 800 resolution.
Battery life
Up to 10 hours of mixed use from a single charge
Takes five hours to full charge from zero
Amazon boasts that the Fire HD 10 (2017) offers impressive battery life of around 10 hours of mixed use. We found that to be accurate on the whole, though it obviously depends on precisely what you do.
After a day where we watched three TV episodes, browsed the web, and dipped in and out of a couple of games, there was plenty in the tank at bedtime. Playing 20 minutes of Star Wars: Commander claimed 4% of the battery life.
Our 90-minute HD video test, with the brightness and volume cranked up, took the battery from 100% down to 84%, so the Fire HD 10 only lost 16%. The Asus ZenPad 3S 10 lost 30% in the same test, while the new iPad lost just 15%, and Amazon's smaller Fire HD 8 (2017) lost 17%.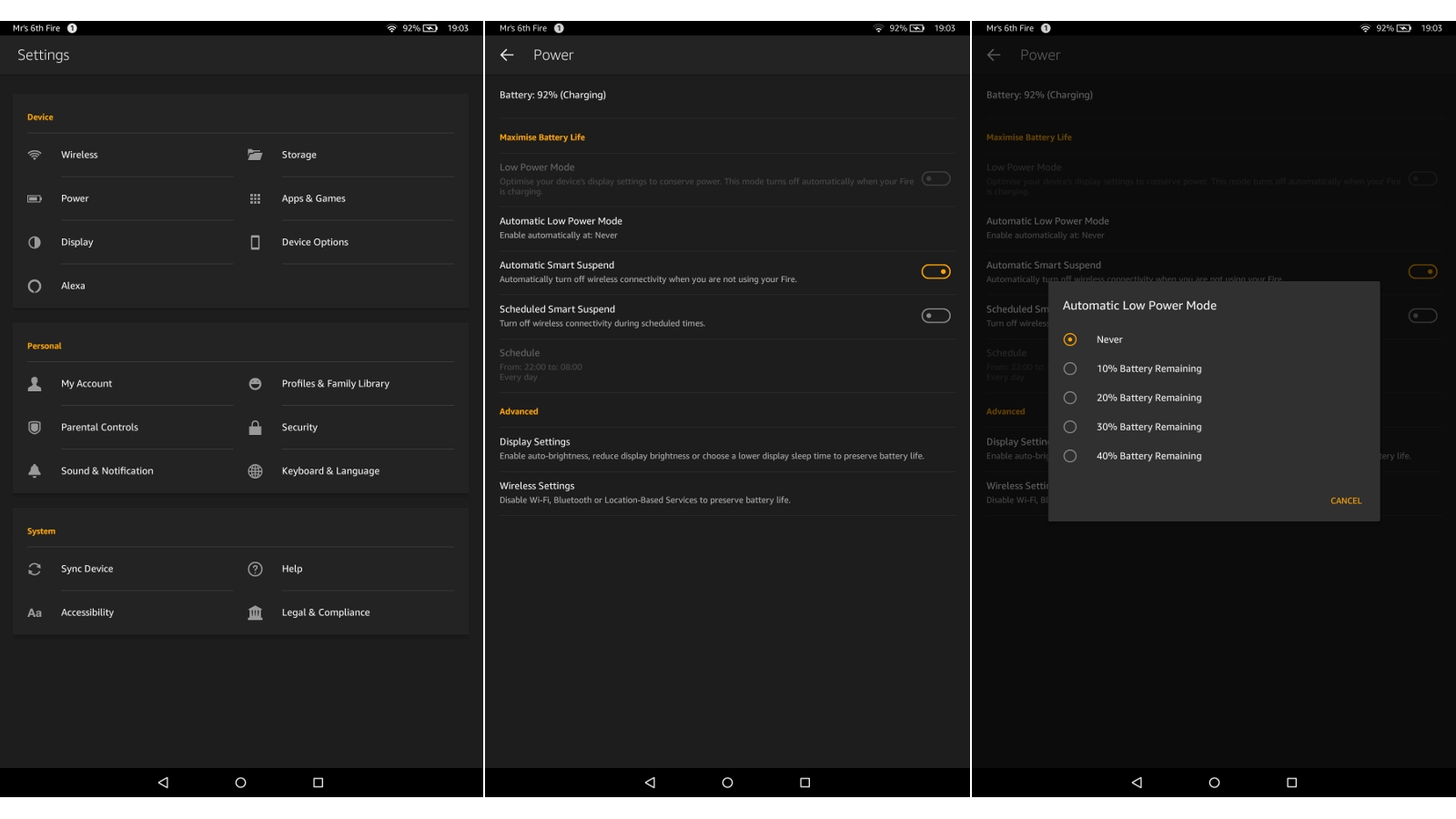 The Amazon Fire HD 10 has good battery life, considering it has to power that 10.1-inch display.
We were a great deal less impressed with the charging time. It charges via micro USB, which means you inevitably try to plug it in the wrong way every time and, to make matters worse, it takes five hours to fully charge from zero with the cable and adaptor provided. Use a different cable and adaptor and it can take even longer.
Camera
Extremely poor-quality cameras
VGA front-facing camera and 2MP main camera
We can see the point of a front-facing camera if you like to use your tablet for video chats, but the rear-facing camera on a tablet is superfluous for us.
Society has agreed that anyone taking photos on a tablet in public, especially at a busy event, should be shunned, and yet every tablet maker feels compelled to include one.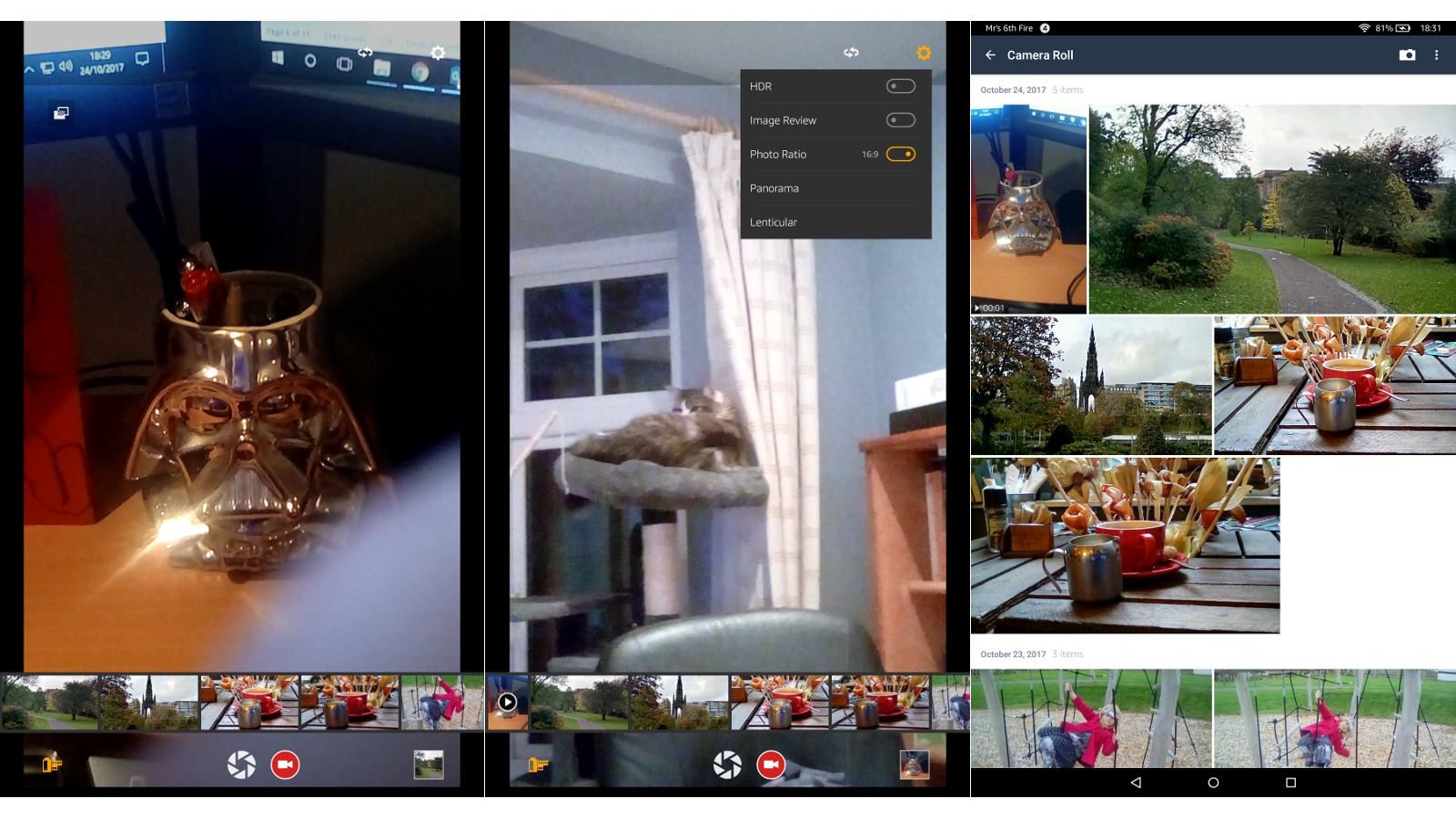 Amazon has really done the bare minimum here. There's a horrible VGA front-facing camera, which will serve you well for video chat if you want to hide your identity.
The main camera is rated at 2MP. In anything less than ideal lighting conditions it produces blotchy, grainy shots that we would have deleted ten years ago.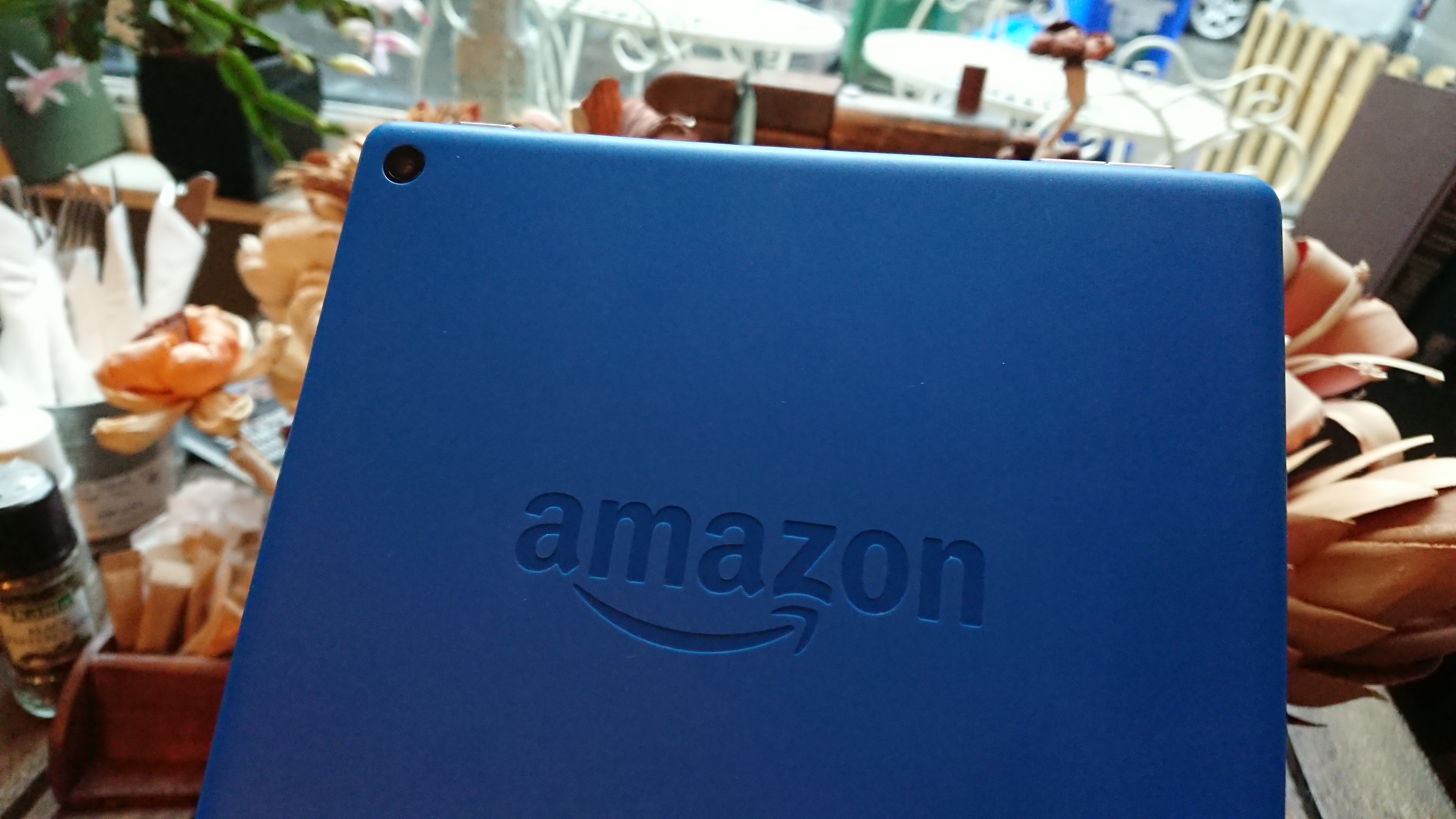 Surprisingly, it has an HDR mode, but you're in for a long wait if you want to use it. Tap the shutter, go off and make a cup of tea, and it might have processed the shot by the time you return. If you don't use a tripod or prop your Fire HD 10 somewhere securely, then you can expect horribly blurry results.
If you're going to do cameras this badly, why bother? Everyone understands it's cheap. We wish Amazon would just ditch the cameras altogether and drop the price a little further.
Camera samples
Interface and reliability
The Fire OS interface is easy to use
Major focus on Amazon content
Navigating around Amazon's Fire OS is a pretty slick experience. It's built to be a content showcase, so there are tabs for your movies, games, music, and so on.
There's also a "For you" tab that tries to combine everything you might want into a single page that includes recently used services alongside suggestions.
The downside is that Amazon's app store lacks a lot of games and apps that are available in the Play Store or in Apple's App Store. You won't find Microsoft's productivity app suite here. Google's apps are also missing, so there's no YouTube, Google Maps, Gmail or, worst of all, Chrome.
That means having to use the inferior Bing-search powered Silk web browser.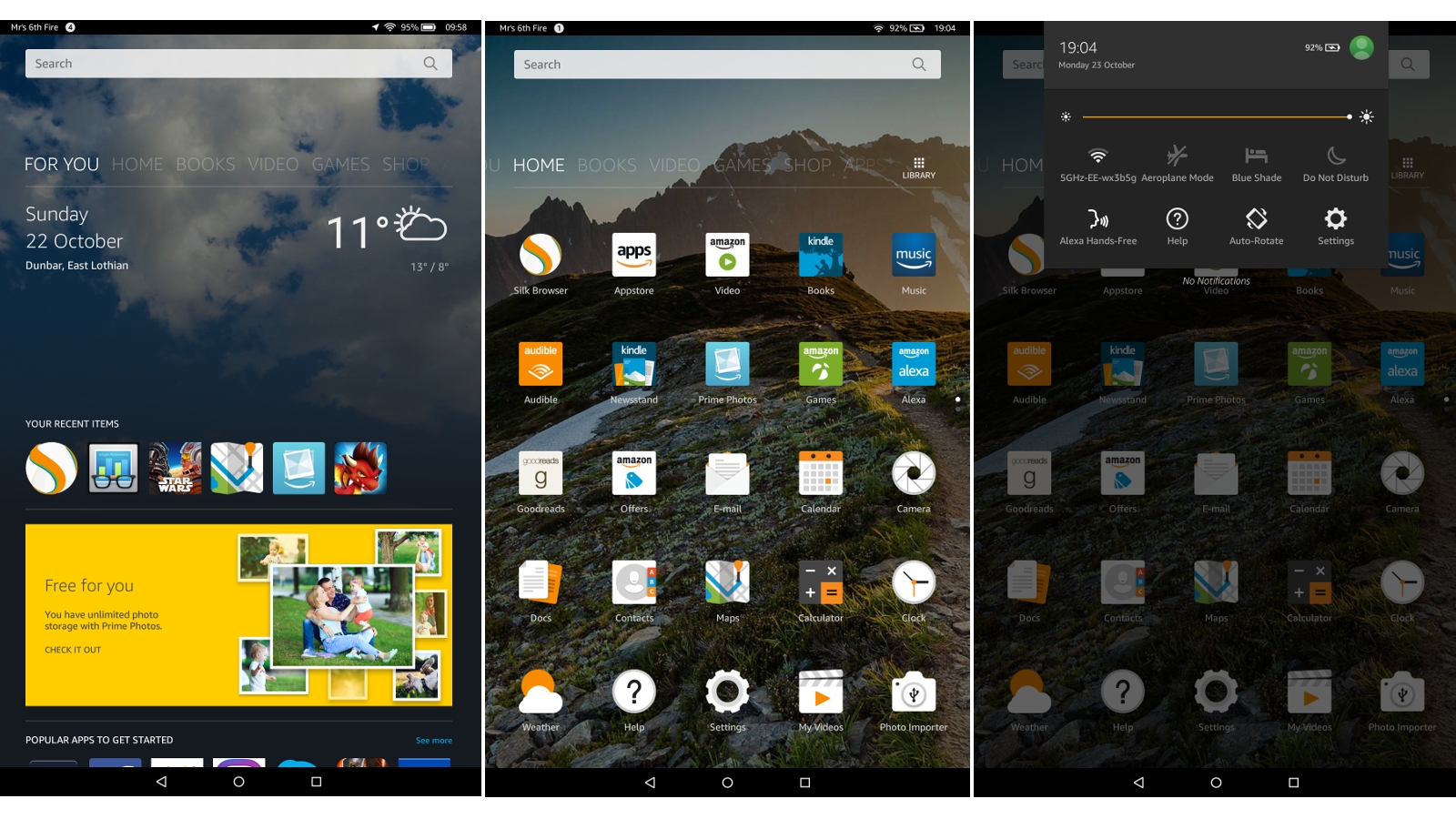 Everything works, but Google's software is far superior, so Android users will feel the absence. It's worth noting that you can get around this deficiency by sideloading a bunch of Google apps and services, but it requires just enough research and hassle to give the less technically confident pause.
We didn't have any issues with the interface. Fire OS feels like an old version of Android - in fact it's built on top of Android 5.0 Lollipop, which is three years old now. Apparently, Fire OS 6, which is based on Android 7.1 Nougat, is due very soon, so hopefully the Fire HD 10 (2017) will get the update.
Ultimately, the Amazon Fire HD 10 (2017) is unashamedly all about entertainment consumption, and the interface is entirely fit for that purpose.
Movies, music and gaming
Great size for watching movies or gaming
Dual-stereo Dolby Atmos speakers produce decent sound
Majority of games run without a hitch
If you have an Amazon Prime subscription then you get access to a wide library of movies, TV shows, books and music. You can always load up Netflix or other services, but you'll get a lot more from your Fire HD 10 if you dip into Amazon's ecosystem.
As we mentioned before, your content is divided into themed tabs for games, movies, music, and so on. It's very easy to find something to do on the Fire HD 10 (2017). Streaming from Amazon or Netflix is smooth at 1080p.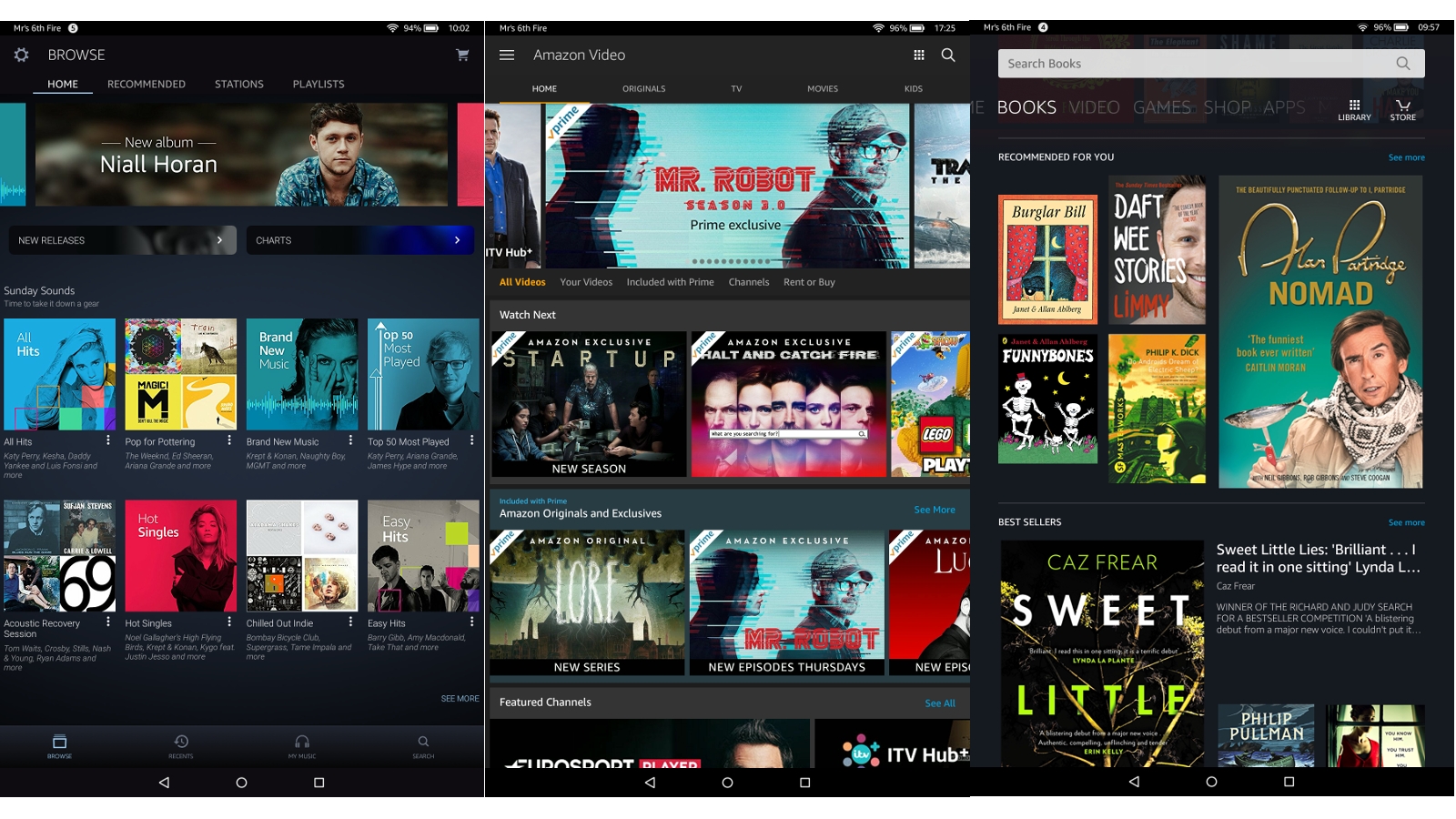 The combination of the 1080p screen and stereo speakers with Dolby Atmos makes this a great tablet for watching movies and TV shows. The picture quality is good and the speakers can put out an impressive volume. The speakers are good enough that you'll get by without headphones, but there is a 3.5mm headphone jack just in case.
Music doesn't sound too shabby through the Fire HD 10 either, but a tablet is never going to compete with a proper speaker. As an Alexa-powered music queue for Sonos speakers, the Fire HD 10 was perfect.
We played quite a few games on the Fire HD 10 and it coped admirably most of the time. Dipping in and out of Star Wars: Commander presented no problems, though it wasn't the speediest to load. More graphically demanding games, like Injustice: Gods Among Us stuttered in places and dropped a few frames.
Curled up on the couch, or in bed on a lazy Sunday morning, the Amazon Fire HD 10 is the perfect companion for reading, TV, or movies. It will also serve casual gamers perfectly well.
Performance and benchmarks
1.8GHz quad-core chipset and 2GB of RAM
Offers fast performance for a budget tablet
The Fire HD 10 has a MediaTek quad-core chipset inside backed up by 2GB of RAM. Amazon says it's 30% faster than its predecessor and it feels fast enough most of the time.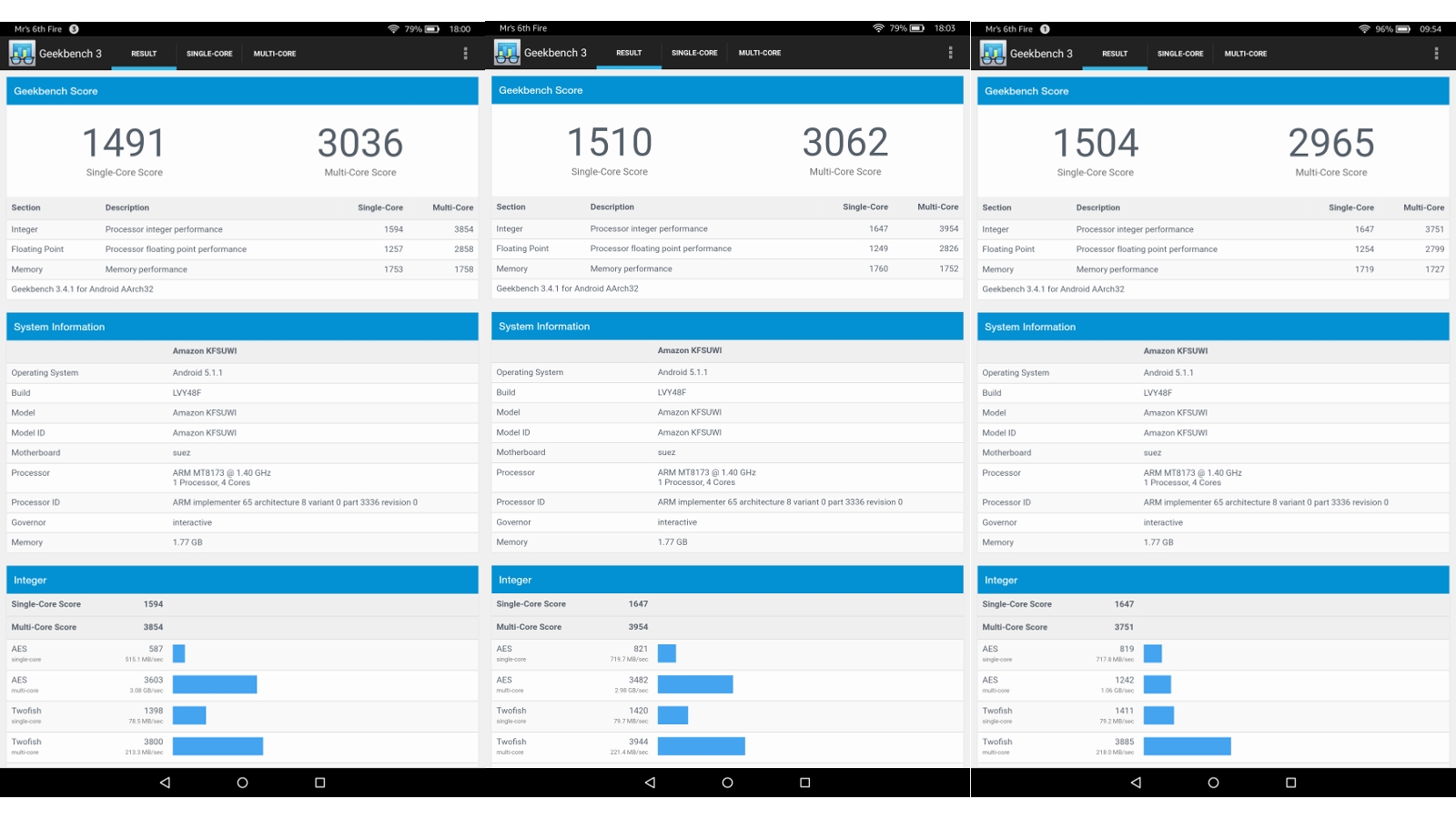 Navigation was smooth and we could jump in and out of apps and games without any major lag, though loading times weren't the fastest. We think the Fire HD 10 has enough power for most people, but as it ages and games and apps get more demanding it's going to feel slower.
We ran Geekbench 3 on the Amazon Fire HD 10 three times and got an average single core score of 1,501 and an average multi-core score of 3,021.
That's decent. The new iPad for comparison managed a multi-core score of 4,351, whereas Amazon's Fire HD 8 (2017) only got 1,887.
Verdict
If you have an Amazon Prime membership and you want a big screen tablet for watching movies and TV, reading, and a spot of gaming, the Fire HD 10 is a great option. If you also have a limited budget, then it's your best option.
We don't know of a better value package than this with a 10-inch screen. It does have obvious weaknesses, like the plastic design and useless cameras, but they're understandable in a tablet at this price.
Amazon has compromised too much with previous Fire tablets in the areas that really count – screen and performance – but that's not the case with the Fire HD 10 (2017).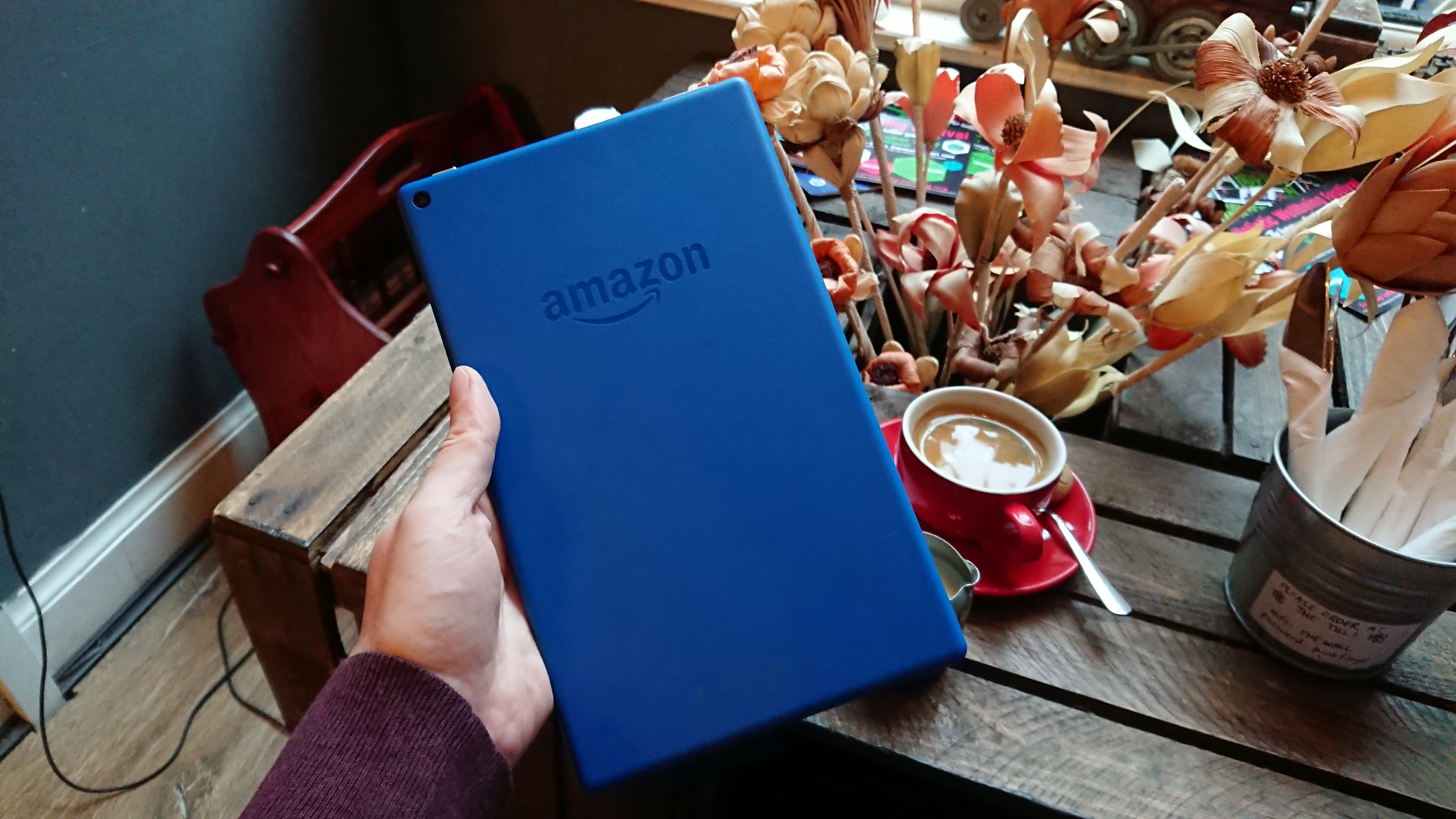 Who's this for?
Budget seekers and Prime members who need a new tablet should be all over this, but it's also designed to be a tablet for anyone.
Parents who don't want to spring for an iPad for the kids, people looking for an affordable gift that might suit granny, or anyone who wants a big screen tablet without spending too much should consider the Amazon Fire HD 10.
Should you buy it?
Yes, you should buy it. The Amazon Fire HD 10 offers important improvements over its predecessors and none of its flaws are deal breakers.
Good as the Fire HD 10 is, there are a few strong alternatives, such as the following three tablets.
New iPad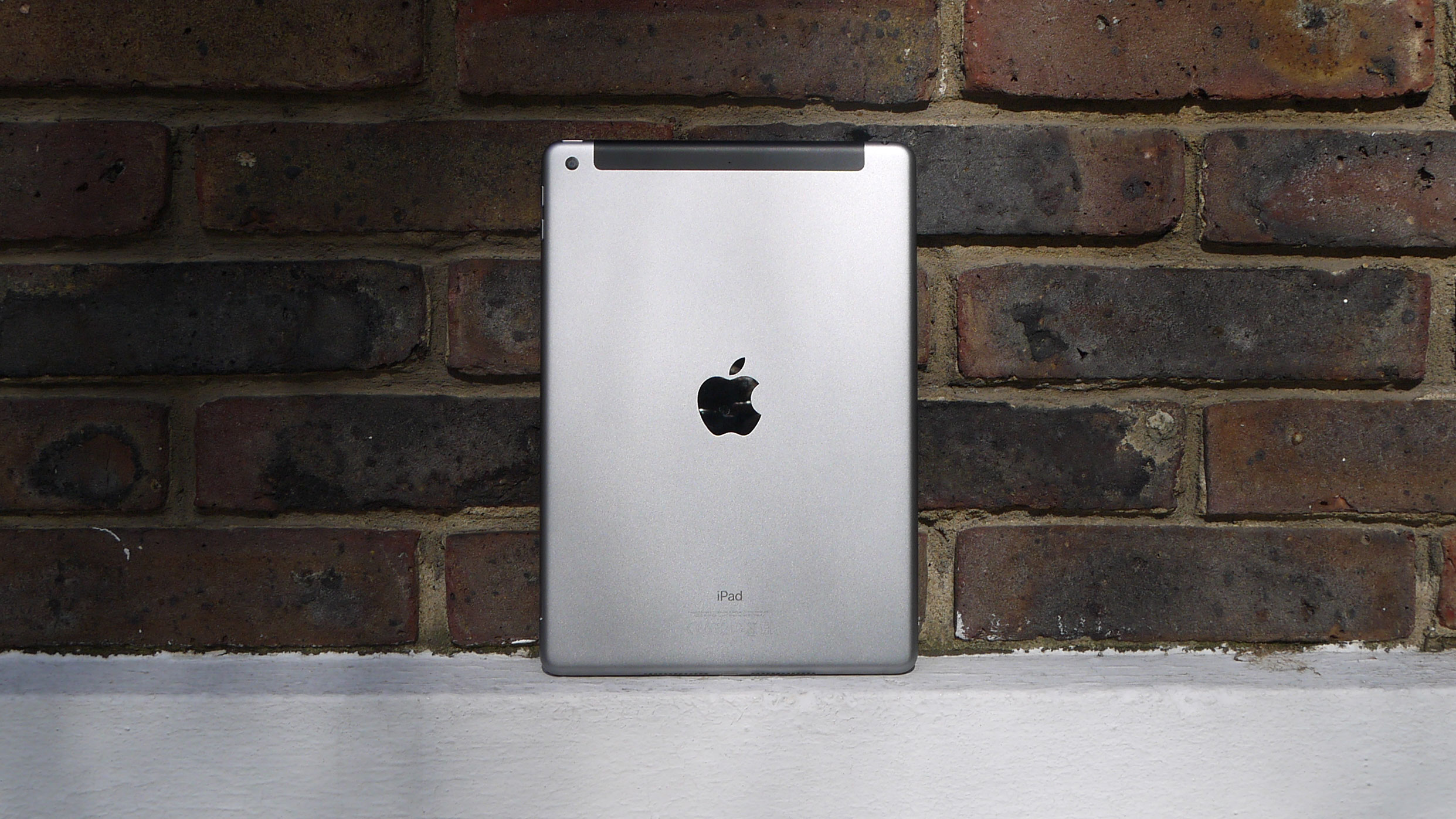 The leading tablet, assuming you don't want to spend too big, is Apple's new iPad. It has a sleek design, a lovely screen, and plenty of power under the hood. It also has great battery life, an endless supply of optimized games and apps, and it even has a decent camera.
The catch is the $329/£339/AU$469 price tag, which makes it more than twice as expensive as the Amazon Fire HD 10 (2017). It's definitely a better tablet, but you'll obviously need deeper pockets.
Asus ZenPad 3S 10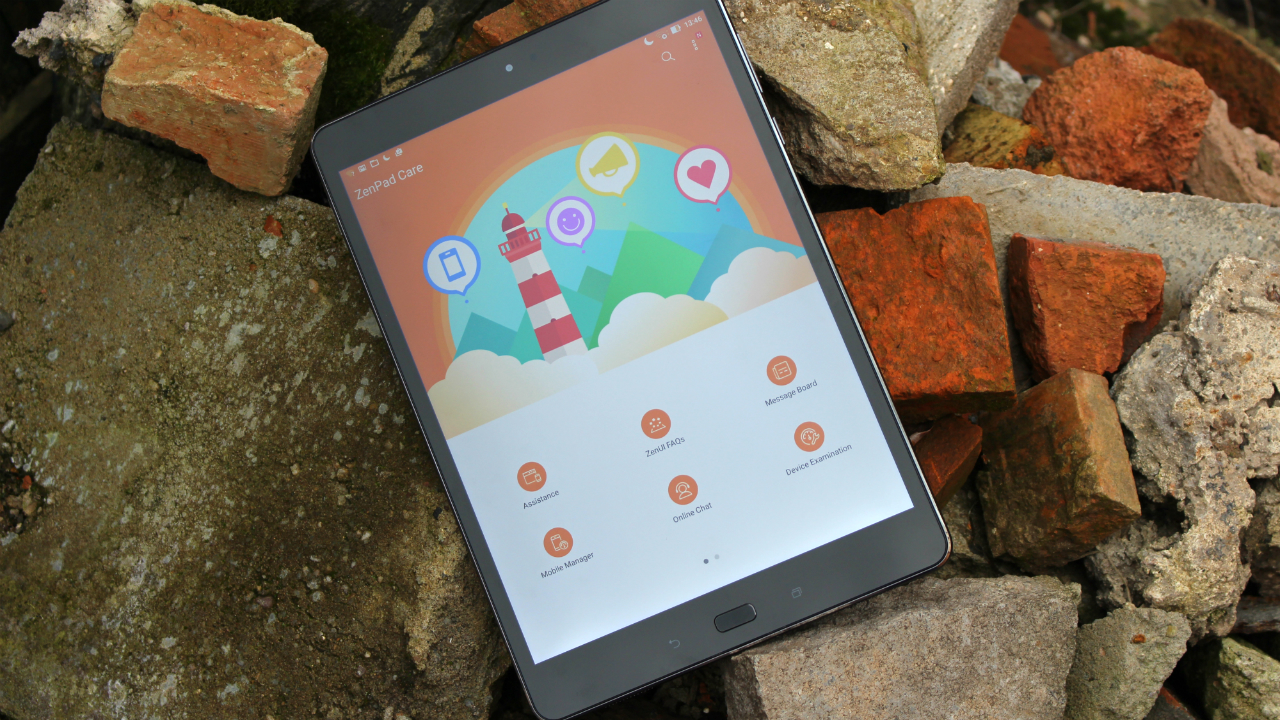 Another of our top picks right now is the Asus ZenPad 3S 10. It's also a lot more expensive than the Amazon Fire HD 10 (2017) at roughly $270/£270 (around AU$355), but you get a stunning 1,536 x 2,048 display and fast performance for your money. It also has Google's Play Store and the rest of Google's apps installed out of the box.
If you're not an Apple person and you're willing to spend a bit more for that extra quality, then the Asus ZenPad 3S 10 should make your shortlist.
Amazon Fire HD 8 (2017)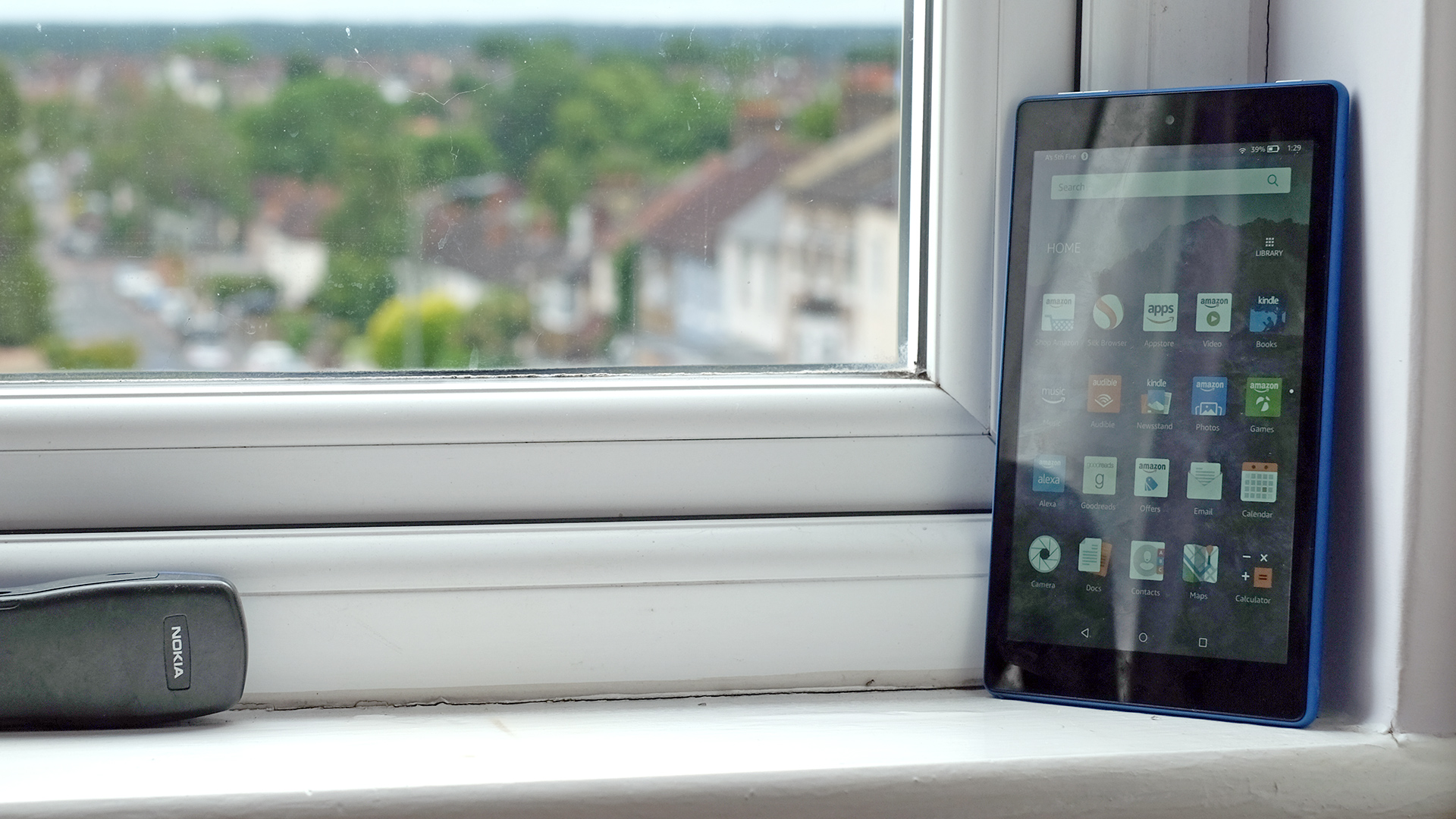 There are some seriously ropey budget tablets out there, so our last competitor is another Amazon entry. The Fire HD 8 (2017) only costs $80/£80 (around AU$105). The screen and performance can't match the Fire HD 10 (2017), but it's little more than half the price and it does boast the same good battery life and decent speakers.
If your budget is really tight, then you can save yourself a decent chunk of change by going for the Fire HD 10's smaller sibling. It's certainly worth considering.
First reviewed: October 2017
from TechRadar - Technology Reviews http://www.techradar.com/reviews/amazon-fire-hd-10-2017-review