When Amazon launched the first Kindle it felt revolutionary, and helped to propel the nascent ereader to the widespread reading tool it is now. But nowadays, innovating in the ereader market is a difficult task, and something Amazon has struggled with in successive iterations of the Kindle line-up. That's all changed, however, with the Kindle Oasis.
The launch of the Kindle Oasis (2017) marks 10 years since the release of the first ever Amazon ereader. Fittingly for a milestone product, the Oasis feels like one of the biggest steps forward for the Kindle in recent history – even a whole year after it was first released.
With a waterproof design, audiobook playback features and a notably larger screen, the all-new Kindle Oasis looks to be the best ereader the company has ever created.
But with that high price in mind, is it worth the money?
Amazon Kindle Oasis (2017) price and release date
The Kindle Oasis (2017) price starts at £229.99/$249.99/AU$389
You can buy it now from Amazon and other third-party retailers
The latest version of the Kindle Oasis is shipping now, and you can buy directly from Amazon or a variety of third-party retailers for around the same price. It was released back in 2017.
The 8GB version costs £229.99/$249.99/AU$389, and there's also a 32GB version that costs £259.99/$279.99 (with no Australian pricing available for this model).
If you want the top of the range model, which comes with free cellular connectivity so you can download books anywhere, that'll set you back £319.99/$349.99/AU$529.
It's not a cheap piece of kit considering you can pick up the cheapest version of the Kindle for only £59.99/$79.99 (about AU$105), but you get a lot more than with the most basic versions of the Kindle, and if you're planning to read a lot, you may find it worth the extra money.
Key features
Audible integration so you can listen to audiobooks over Bluetooth
No 3.5mm headphone jack or speakers though
Unlike its predecessor, the Kindle Oasis (2017) doesn't just do ebooks – it also works with Audible audiobook titles. If you use the audiobook service from Amazon you'll be able to listen to them on your Oasis with the use of Bluetooth headphones or a speaker.
There's no 3.5mm headphone jack, which means you won't be able to listen to audiobooks over wired headphones, and that will be disappointing for some people. But it's likely been sacrificed to allow for the waterproof design, so swings and roundabouts.
We'd have loved to have seen some speakers included within the Kindle Oasis itself, but if you have a pair of Bluetooth headphones you'll be able to listen while on the move in peace.
One nice touch is that if you own both the Audible and ebook version of a title, you can quickly switch between the two without losing your place.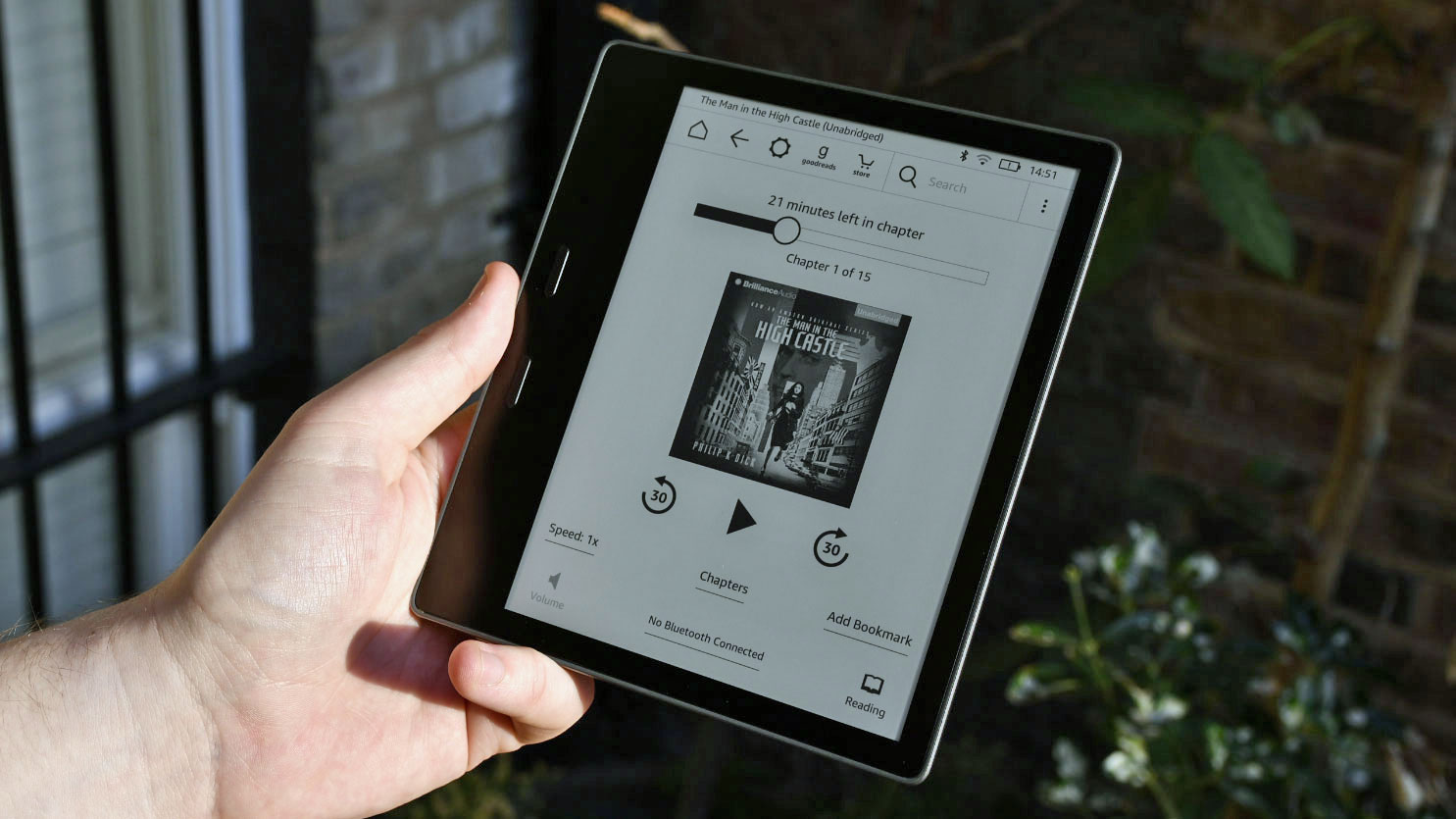 That means you'll be able to read physically on the screen, then switch over to the audiobook while you're on a walk and seamlessly switch back when you have a chance to read on the screen again.
Owning both audiobook and ebook versions of a title may sound like an expensive endeavour, but if you already own the ebook Amazon will sell you the audio version starting at £2.99 (about $4, AU$5). It's going to cost extra money, but if you're a serious reader who wants to make progress with a title anytime, anywhere with minimal interruptions you're likely to welcome this feature.
We found it worked well – you can just press on the Audiobook button at the bottom-right of the display to switch over to the audio edition; you may have to listen to a minute or so of audio you've already read within the ebook as it won't know the exact moment you stopped, but it makes it easy to pick up where you left off.
If you're also planning to use the Oasis for your audiobooks, it's likely you'll want the larger 32GB version to ensure you have enough room for all of your titles. The 8GB version will be enough for a ton of ebooks, but if you're planning to add a few audio titles that'll soon fill up.
Design
First time Amazon has released an all-metal Kindle, plus it's waterproof
Most comfortable to hold Kindle that you can buy right now
In perhaps the biggest departure in terms of design, the Kindle Oasis (2017) has an all-metal design, a first for the Kindle range. It's an aluminium material that doesn't feel slippery in the hand.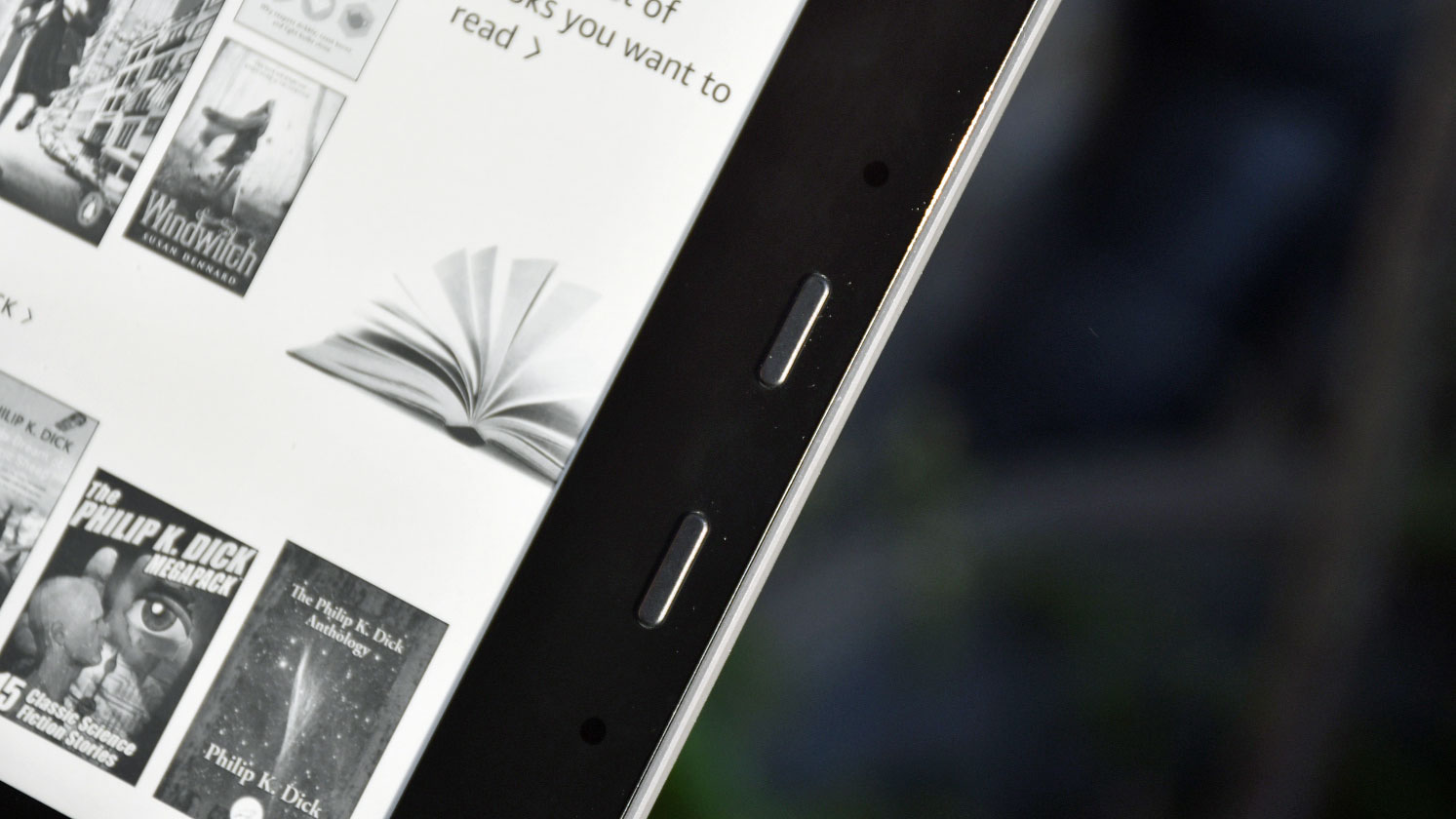 It's heavier than the last-generation Kindle Oasis at 194g, but it's still a comfortable weight in the hand, and weighs less than the Kindle Paperwhite. During our time reading with the device we never found it would get too heavy, and that's down to its unique design.
The design on the rear is similar to the previous Kindle Oasis, with one side thicker than the other, with the thicker side designed to sit in your hand to offer a good grip.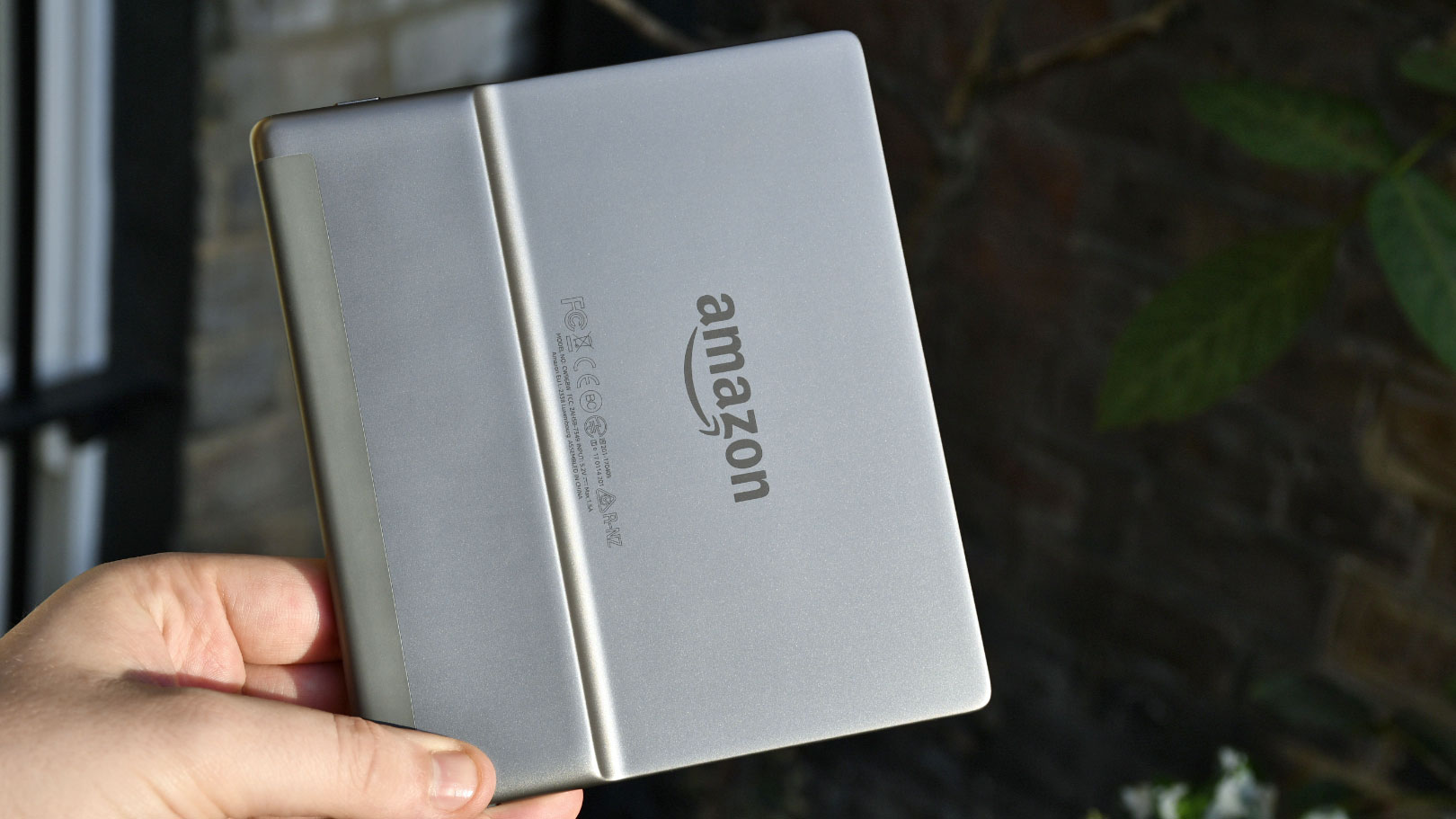 The primary reason for this thicker part is to house the battery, but this time there's no ugly case connector on the rear, and overall it looks superior to the original Oasis.
Color choice wise you'll have graphite (the one pictured throughout this review) but there's also a champagne gold version of the 32GB model if you want something a little more extravagant.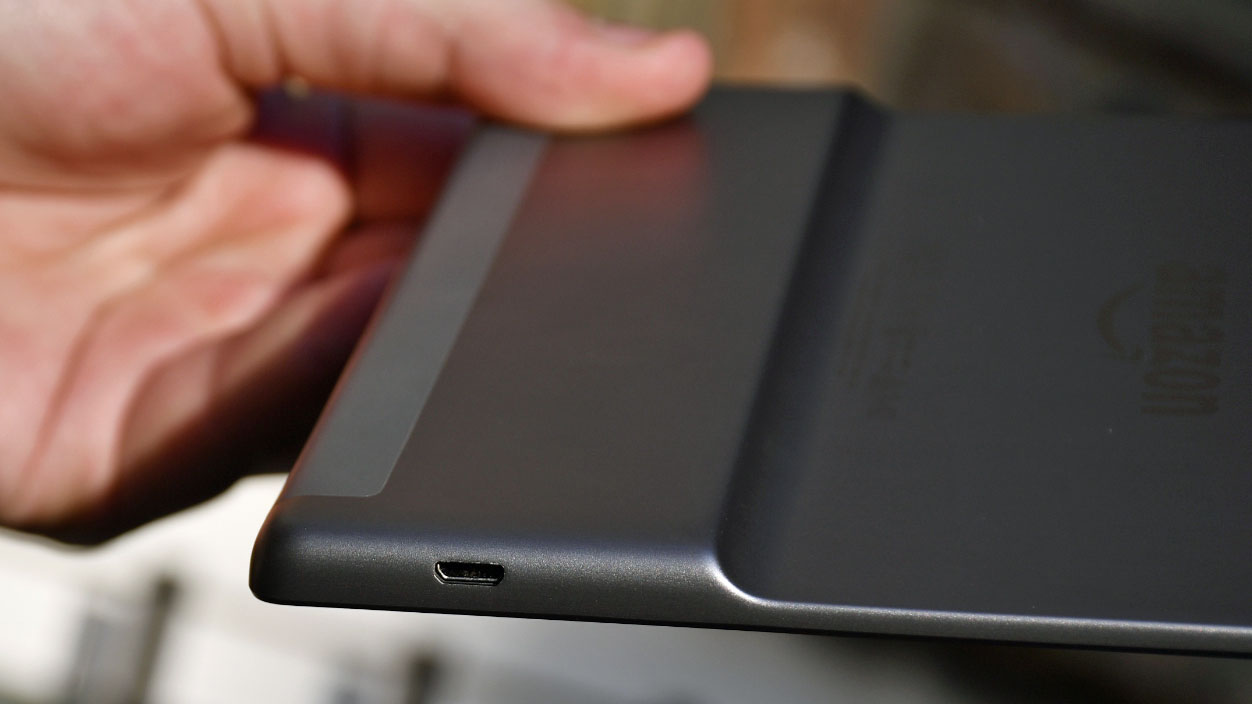 In fact, Amazon has taken the case mechanic of the original model away altogether. Instead you can buy covers to protect your Kindle, but there are no battery cases available for this model.
For cases you have the choice of water-safe fabric covers for £39.99 (about $50, AU$70) or more premium-feel leather options, available in Midnight (black), Saddle Tan or Merlot (dark-red), for £54.99/AU$84.95 (about $70).
We tried out the blue water-safe case during our full review and while it felt comfortable, we did find that it would get in the way a little while you were reading, and this may be an issue if you're planning to always use it.
The new Kindle Oasis is also waterproof, which is a first for the Kindle range. It can survive for up to an hour submerged up to two meters deep, which means it'll shrug off the odd dunk or splash, which is reassuring if you do a lot of reading in the bath, or by the pool on holiday.
Arguably the only negative in terms of the design is that if your Oasis has been sitting around on a table or in a bag for a while the metal can feel uncomfortably cold to the touch when you pick it up.
Apart from that though, this is the most comfortable experience we've had with an ereader, and that means it's easier to keep reading for longer.
Display
Features Carta E Ink 7-inch display with a high resolution
Brighter than other Kindles and offers a comfortable reading experience
Following on from a lot of the competition, Amazon has decided to include a bigger screen on the new Kindle Oasis.
It's a 7-inch Carta E Ink display compared to the 6-inch option we've seen on previous iterations. It doesn't sound like much on paper, but that extra bit of screen real estate makes it a look more comfortable to read both text and comics.
The screen resolution is still 300 pixels per inch, like all of the other Kindles (apart from the most basic version), but that's enough. It's clear and easy to read, and also displays images nicely if you're going to be reading comics, newspapers or just browsing cover art on the Amazon Store.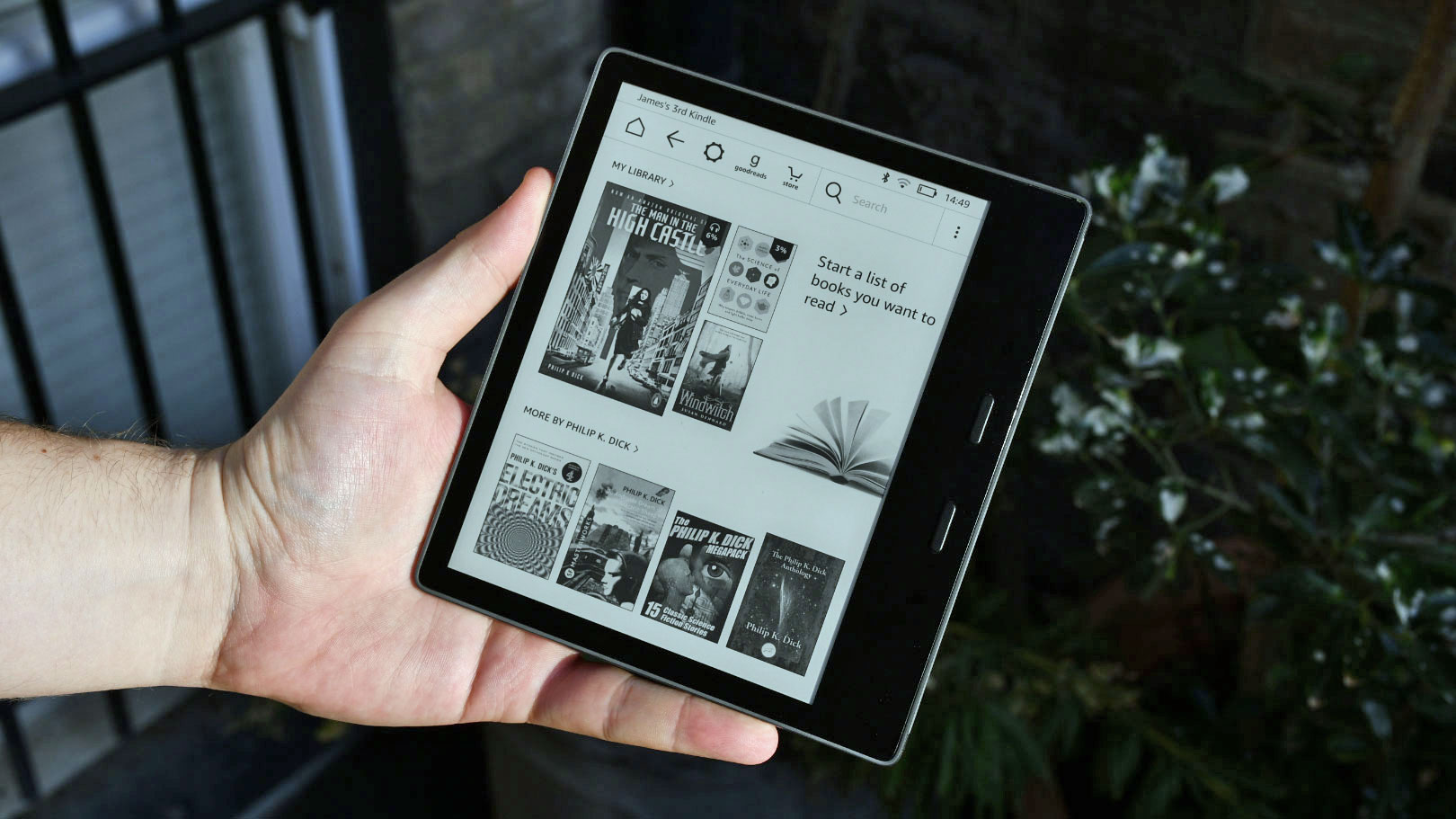 Viewing angles are strong on the Oasis making it easy to read however you're holding the device – while you'll mostly be reading it from face-on it means you can shuffle the device around in your hand without losing your place.
Amazon has put a few more LED lights inside this version of the Kindle, making it the brightest yet, and the backlighting technology here is genuinely phenomenal.
There's also an adaptive lighting sensor on the front of the device that will take into account your surroundings to either brighten or dim the display to make it easier to read. We found this useful when reading in different locations at different times of day, but it can easily be turned off if you don't need it.
You likely won't realize it's brighter than other recent versions of the Paperwhite and above, but if you've used an older device or an original Kindle you'll find the screen on the new Oasis much, much better.
It's easy to turn the brightness up and down in the menus, while if you want to read at night without keeping a partner awake you can invert the display to read white text on a black background.
Battery life
Amazon estimates it'll last for six weeks in standby mode
We found it would last for around a week with a few hours reading a day
Amazon has done something impressive here, extending the two-week battery life of the original Kindle Oasis to six weeks in the new model.
Last generation there were an extra four weeks of charge waiting inside the combined case/charger, but it meant you couldn't take your Oasis away for longer than a fortnight without packing your case too.
Now you get six-week battery life no strings (or cases) attached, and that's a really welcome improvement. Six weeks is well over the length of most people's holidays, and it also means you don't need to regularly charge your Kindle, even with intensive usage.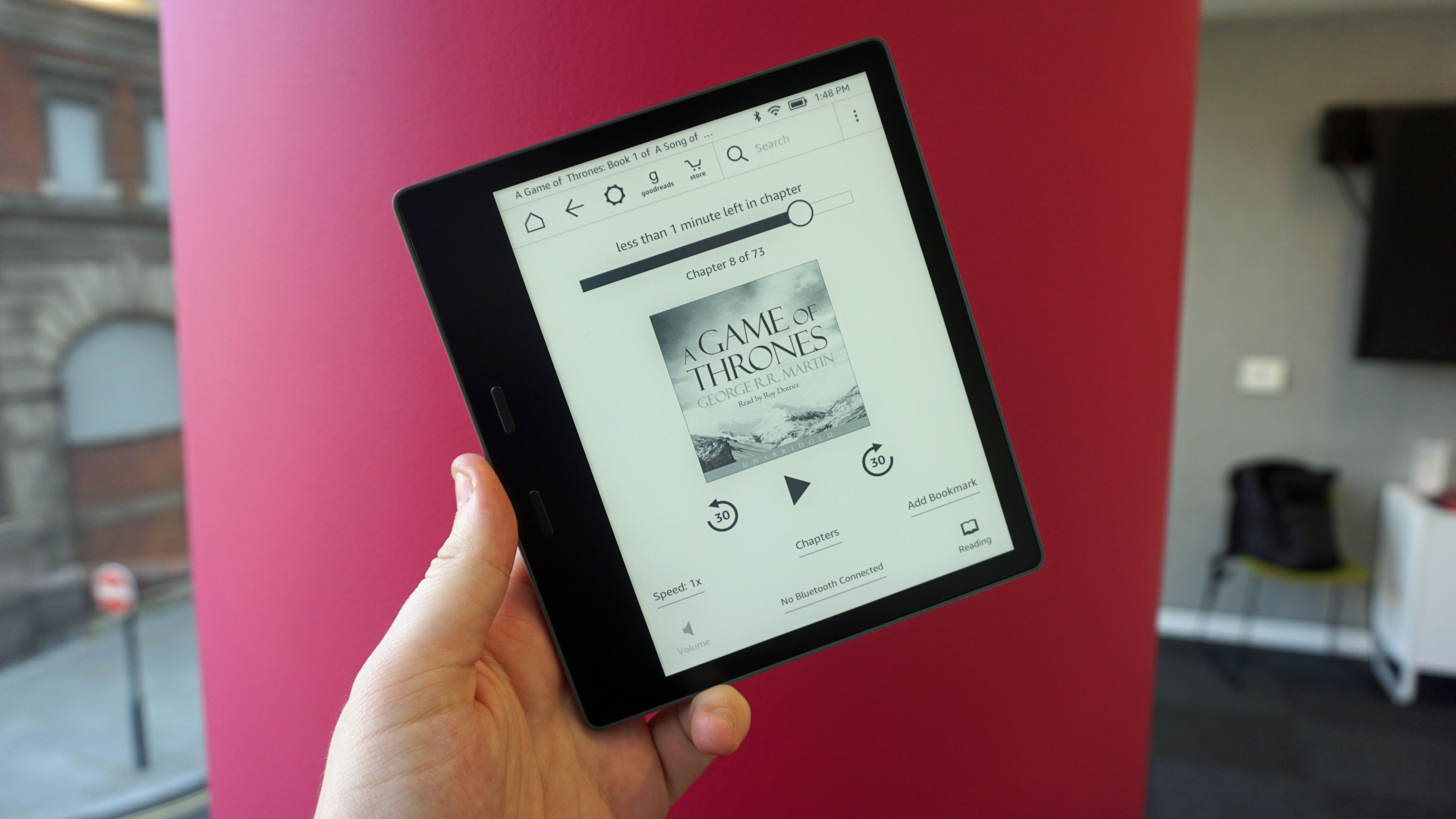 Amazon says that six-week figure is with brightness at zero, the Wi-Fi and mobile signal turned off and without reading, but it still means you can leave the device in your bag for long periods and not have to worry about recharging.
If you're going to be reading for a few hours a day, we found the battery would last for just over a full week, and that's quite good compared to a lot of the competition in the ereader space.
In the time we had to review the Oasis we weren't able to fully test that six-week claim, so instead we pushed it to its limits in terms of usage, and found that it would last for around a week with a couple of hours of reading a day, with connectivity on and brightness turned up to full.
To recharge the device you'll be using the micro USB slot on the bottom edge. There's no fast-charging or wireless charging tech here, but with a relatively small battery inside we found the Kindle would charge up quite quickly.
One thing to note is that Amazon doesn't supply a charging plug in the box, it just includes the cable, so you'll need to get one of those if you don't already have one,or you can charge it directly from your computer or laptop.
Software
Runs the latest of Amazon's own ereader software
Easy to use and comes with new features such as a dark mode for comfortable night time reading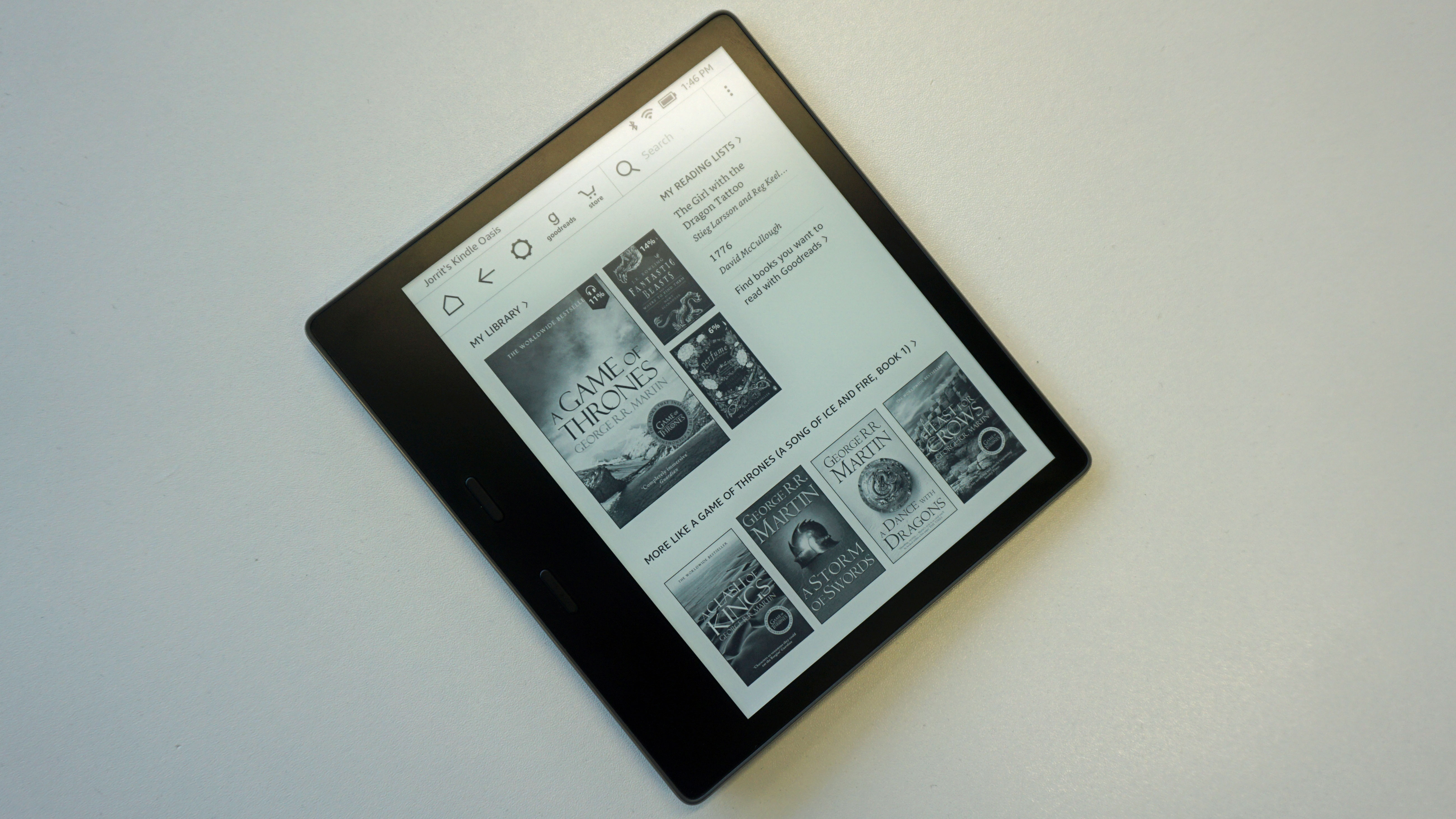 Navigating around the Kindle Oasis can be a little confusing if you've never used an Amazon ereader before, but it doesn't take long to pick up.
There are two buttons on the right-hand side that allow you to flip through the pages of the book you're reading, or you can just tap on the edges of the screen to turn the page.
All of the normal reading and navigation features are available on the new Kindle Oasis, but there are also a few new extras that may interest you.
We particularly like the aforementioned dark mode that allows you to swap any title you're reading to white text on a black screen. It means if you're reading at night you can do so without a bright light shining in your face, and without disturbing a partner.
There's a selection of font sizes, and you can bold up text or choose an entirely new font to make the reading experience as comfortable for you as possible.
If you're searching through a title for a particular reason, there are also search features that have been expanded for the Kindle Oasis to help you easily find quotes or references.
The software on the Kindle Oasis makes this one of the most comfortable reading experiences on the market, with lots of customization options as well as an easy-to-use interface that anyone can pick up quickly.
Amazon Store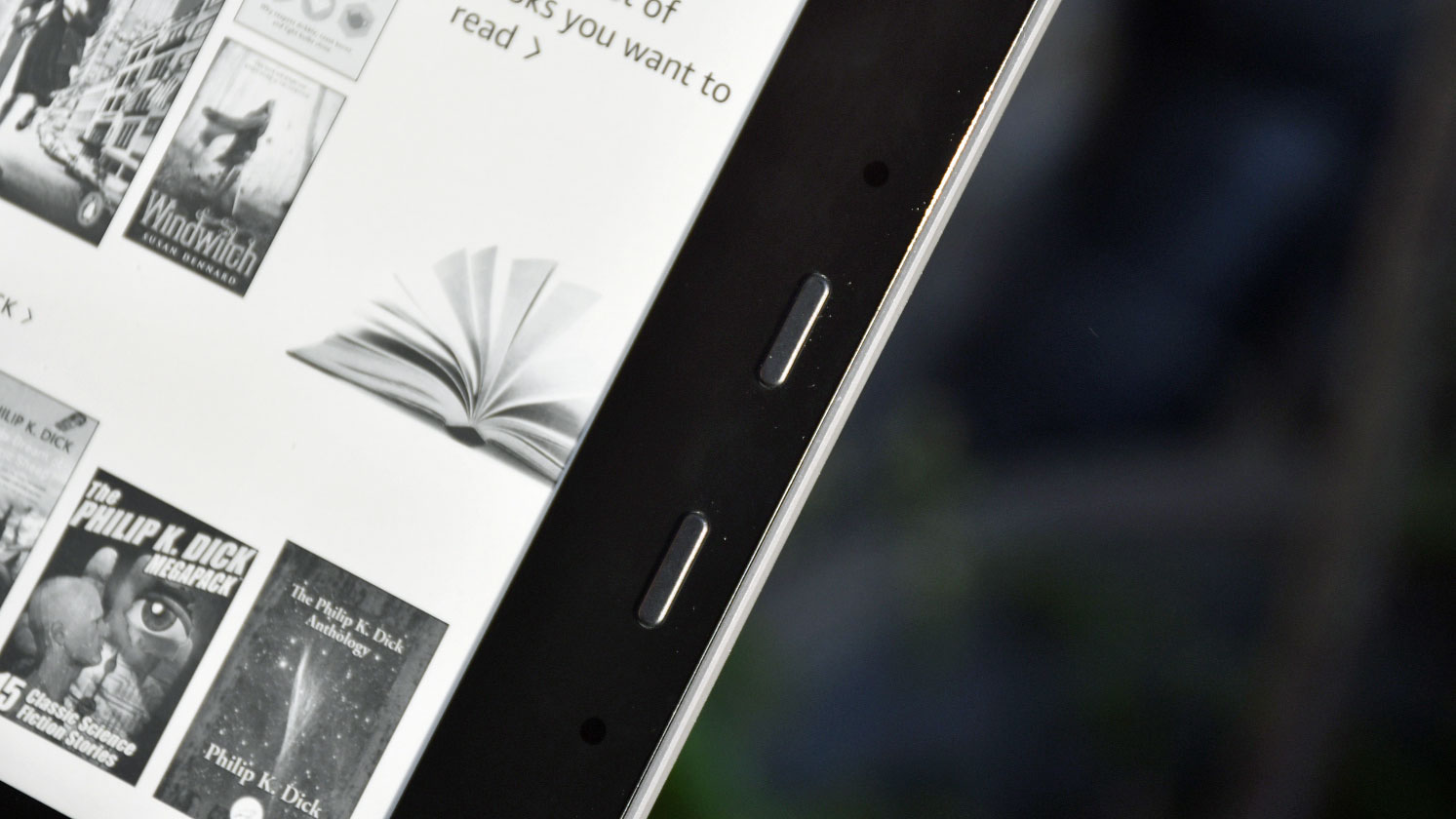 Amazon's Store is the best on the market right now, and it's one of the key features that makes it worthwhile buying a Kindle product over the rest of the competition. You'll have easy access to millions of books, with lots of deals available directly from Amazon.
If you're an Amazon Prime subscriber you'll have access to services such as Prime Reading, which offers a selection of free books, magazines, comics and newspapers every month.
You can also subscribe to Kindle Unlimited, which gives you access to a variety of books each month, but that'll cost extra on top of your normal Prime subscription.
If you're happy to pay full price for your books it's likely you'll be able to find most titles you're looking for on the store, while Amazon offers daily deals and a variety of other sales throughout the year.
Not every ebook has an Audible audiobook edition, but a lot of best-selling titles will, so you can purchase those and listen along too. If you're looking for any particular titles you can find out details by just searching the Amazon store on the Kindle.
Verdict
The newest version of the Kindle Oasis is the best ereader on the market right now, but it comes at a price.
Whether you need some of the top-end features offered here is down to personal preference, but if you're planning to read on your Kindle for a long time most days it may be worth the investment.
With audiobooks, a waterproof design and a great battery life, on top of the already-strong standard Kindle features, it's hard to fault the Kindle Oasis apart from that high price.
Who's it for?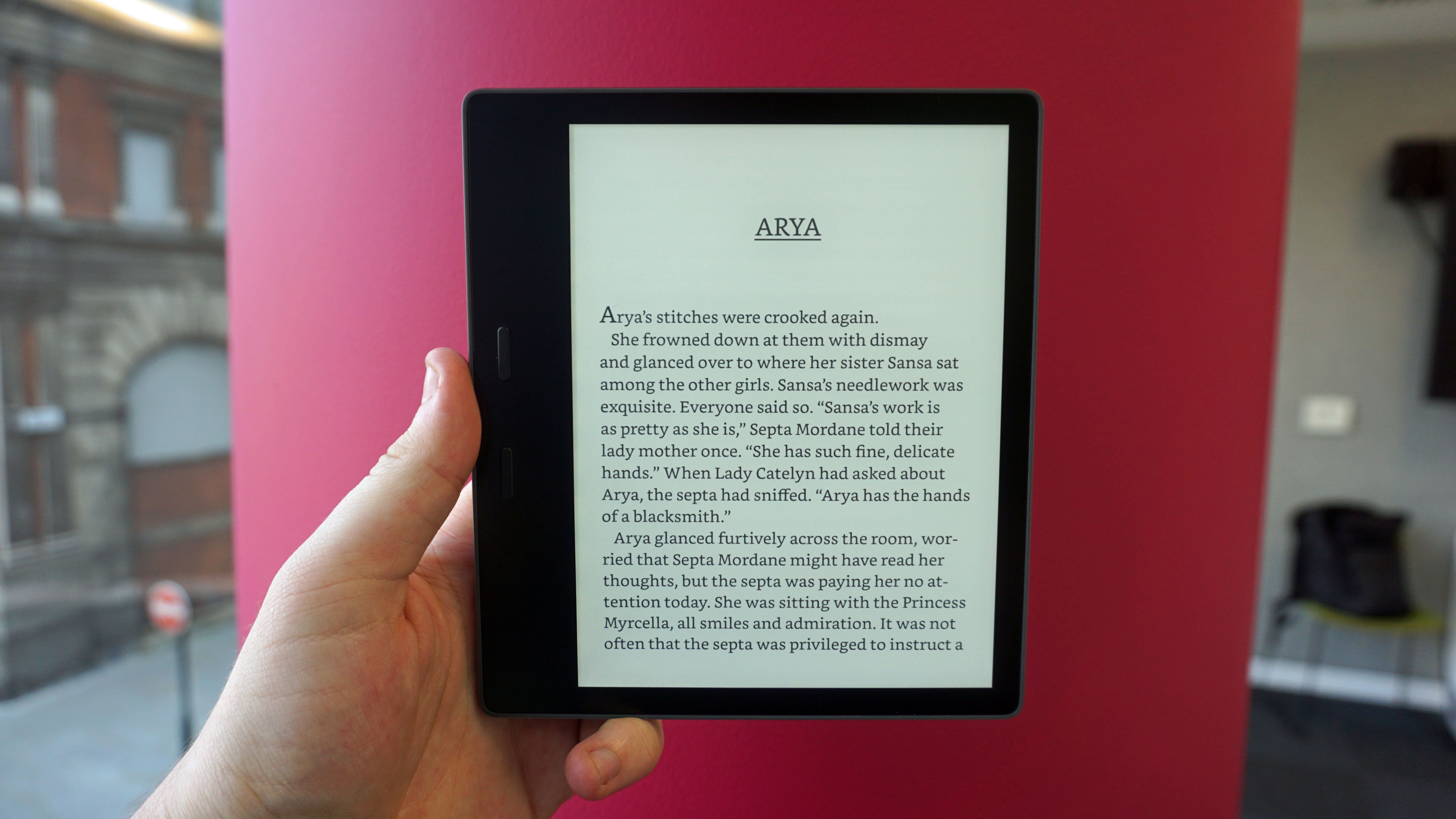 The Kindle Oasis is only for those who read lots of ebooks. If you're set to be reading a lot on a daily commute, we'd recommend getting this as your next ereader.
It's really useful to be able to listen to audiobooks while you're walking, and then swap over to the ebook when you board your train or bus and pick up where you left off.
You don't need the Oasis, though, if you're just planning to read the odd book – we'd only recommend this for true ebookworms.
Should you buy it?
We love the Kindle Oasis, as it's the best at what it sets out to do, but you always need to bear that price in mind, and it may not be the Kindle for you because of that.
Amazon also offers the Voyage, Paperwhite and basic Kindle at a range of price points, and one of those is likely to offer the exact features you're looking for.
But if a waterproof design, audiobooks and an attractive design appeal to you, the Kindle Oasis is the best option for you right now, and it makes a lot of sense to invest in one over some of the cheaper products.
Perhaps the number one thing to bear in mind is that the Kindle Oasis offers the most comfortable reading experience, and if that's what is important to you then you'll proably feel it's worth the extra money.
Competition
Don't think you'll want to buy the Kindle Oasis? Here are the other ereaders you should perhaps consider.
Amazon Kindle Paperwhite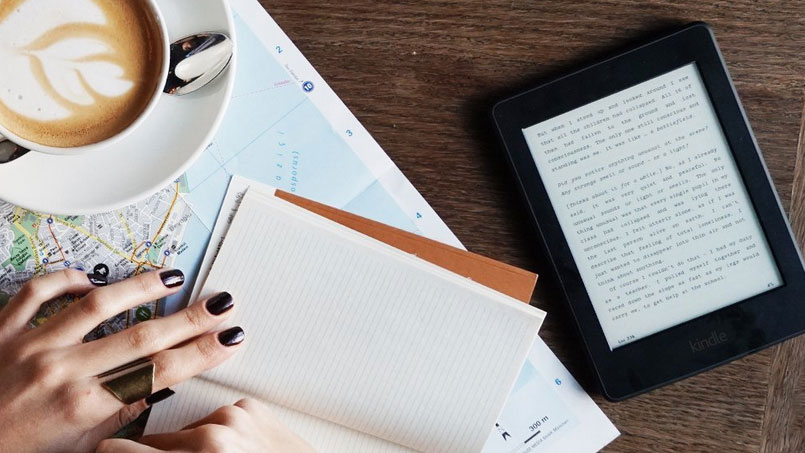 The biggest benefit of the Paperwhite is its lower price, but the design is nowhere near as premium as the Kindle Oasis. The display quality is similar, with a slightly less bright backlit 6-inch display that offers 300 pixels-per-inch, but there are thick bezels around the edges of the screen.
You also won't be able to listen to audiobooks with this, and you'll need to be careful if you're reading in the bath or by the pool as it's not waterproof, but if you're looking to save some money the Kindle Paperwhite is our favorite budget ereader.
Kobo Aura One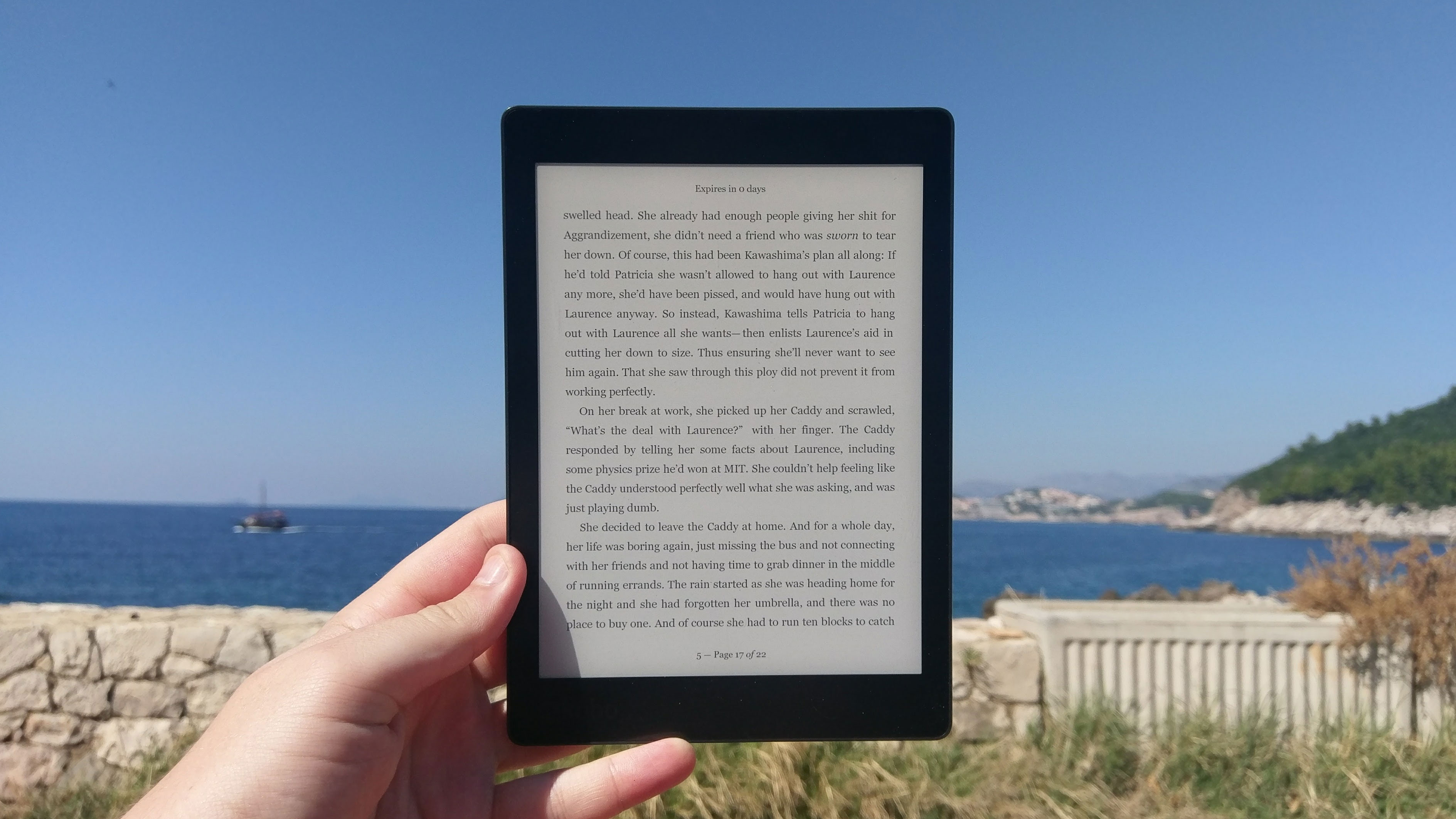 This Kobo comes with a huge and beautiful high-res screen that's similar to the Kindle Oasis and has a waterproof design too.
The Kobo Store has a limited more limited selection of books than the Kindle Store, but most bestselling books are available, so you shouldn't find this a problem if you're looking for big-name titles from the likes of George R R Martin or JK Rowling.
Amazon Kindle Voyage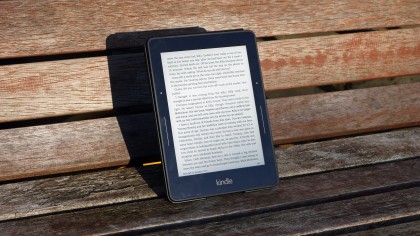 If neither of the ereaders above suit your needs you may want to look at the Kindle Voyage. A big benefit here is the adaptive front light, which means the brightness will automatically change depending on where you're reading.
You don't get that on the Kindle Paperwhite, and while it is on the Kindle Oasis the Voyage is just that bit cheaper if you don't mind the slightly smaller 6-inch display.
First reviewed: November 2017
from TechRadar - Technology Reviews http://www.techradar.com/reviews/amazon-kindle-oasis-2017-review