Over time, the best Ultrabooks keep getting lighter, thinner and more importantly, more powerful every single year, and the Asus ZenBook 3 is a great example. Who doesn't want a faster laptop that can handle everything you can throw at it? It's a compelling sales pitch made by the likes of the Apple MacBook Air and the Dell XPS 13.
And, while these thin and light laptops are certainly more expensive, we think it's worth not having your back yelling at you for hauling around a 15-inch behemoth wherever you go.
When you invest in a thin and light Ultrabook like the Asus ZenBook 3, you'll have to be ok with some sacrifices. For one, ports have a tendency to disappear and battery life is diminished. Both are true for the Asus ZenBook 3, but it almost doesn't matter – we still find ourselves staring at the beautiful screen after frantically checking our bags to make sure we didn't abandon it on a desk somewhere.
Price and availability
In the US, the ZenBook 3 starts at $1,599 (about £1,499, AU$1,598) with the specs we tested in this review. In Australia, the specifications are similar, save for memory. Instead of the same 16GB that ships elsewhere, the Australian model ships with 8GB, and you can find it for AU$1,995.
Even before any discounted pricing, the ZenBook 3 costs less than the Apple MacBook while also being more powerful – though it's almost twice the starting price of the Dell XPS 2017. Then, there's all the Black Friday and Cyber Monday deals that are surely going to feature the Asus ZenBook 3 – this beautiful Ultrabook is about to get even more appealing after we see some Black Friday laptop deals.
Design
In many ways, the Asus ZenBook 3 is very similar to the MacBook. It's insanely thin, has a full metal chassis and on the right side of the frame is a single USB-C port. That same port is used for charging, connecting external accessories and anything else you might otherwise need to connect. It's definitely frustrating. On the left side is a combo 3.5mm audio jack.
On the top-right corner of the touchpad is where you can find a fingerprint sensor for signing into the ZenBook 3 using Windows Hello. The placement is odd, and can get in the way when dragging your finger across the pad. It won't directly impact the touchpad's functionality, but it does break up the otherwise smooth surface and just feels out of place.
We recently took the ZenBook 3 along on a trip from Colorado to New York, replacing a MacBook Pro with TouchBar for the brief trip. On several occasions, we found ourselves opening our backpack and triple-checking to make sure the ZenBook 3 wasn't left behind.
At just 11.7mm thin, the ZenBook 3 is deceptively light. Looking at its size, and considering its metal housing, it's easy to expect it to have a reassuring weight to it. And, then you pick it up, and realize that, at only 2 pounds, it's one of the lightest laptops out there.
Mushy keyboard
Having used Apple's butterfly mechanism keyboards, we've become accustomed to being able to lightly press a key and have it quickly bounce back with minimal effort. For the ZenBook 3, Asus tried to mimic this same feel of the keyboard – only the end result is, for lack of a more elegant term, mushy.
The keys don't quickly spring back into place, nor do they have an equal level of resistance. In other words, the keys feel soft and lead to inaccurate typing before mastering the learning curve.
Dongle life
The Asus ZenBook 3 rocks just a single USB-C port, so doing something as simple as syncing and charging your device at the same time is impossible without a USB-C hub. Asus does sell plenty of accessories that will let you charge and connect multiple devices to your fancy ZenBook 3 simultaneously. Still, that's just another thing you have to buy and remember to carry around with you.
As USB-C continues to creep into numerous products we use on a daily basis, not being able to connect more than one item to a laptop at a time is still a limitation.
First reviewed September 2017
Intel's 7th generation i7 processor powered through anything we put the ZenBook 3 through during our testing. Multitasking was a non-issue, going between tabs and apps without any noticeable slowdown.
Fans, if they were needed, were quiet and not a distraction by any means.
Four Harmon Kardon speakers are found on the ZenBook 3. Two are on the top of the device, just above the keyboard, with the other two speakers found on the bottom of the housing. They aren't the loudest speakers, but they're more than enough to listen to music or watch the occasional YouTube video.
Our benchmarks put the Asus Zenbook 3 somewhere in the ballpark of the Dell XPS 13, and in some areas ahead of it. For instance, the Asus ZenBook 3 excelled in both single and multi-core GeekBench tests, but it fell short of the XPS 13 when it came to 3DMark.
Battery life
One of the concessions that's typically associated with a laptop of this size is battery life. Asus touts enough juice in the ZenBook 3's battery to get through 9 hours of use. However, our tests found that to be a bit of a stretch. Looping Guardians of the Galaxy at 50% brightness with all unnecessary features (Bluetooth, location, backlit keyboard, etc.) disabled, we ran our movie battery life test twice to confirm the ZenBook 3's score of almost 6 hours and 30 minutes.
What's more, the PCMark battery life test came back at just over three hours of heavy use. That's not good, by any measurement.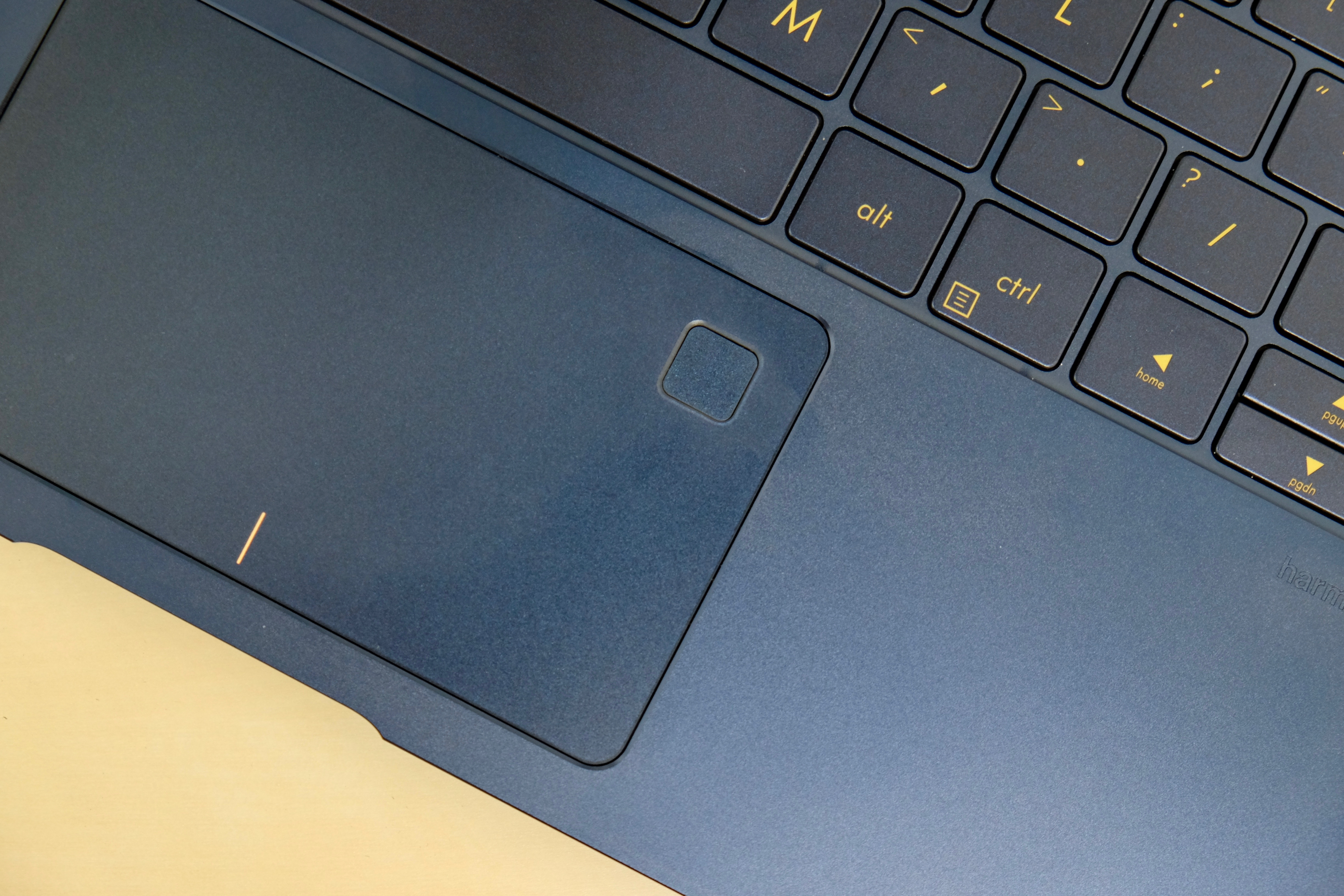 Reliable fingerprint sensor
Using Windows Hello to sign into a Windows 10 laptop is convenient and downright cool. Scanning your eyes or a fingerprint are popular implementations, with the ZenBook 3 having the latter.
Despite our complaints of the sensor's location on the Zenbook 3, we have to praise just how accurate, reliable and fast this fingerprint scanner is. After teaching the laptop to recognize our fingerprint, it was rare that we would ever even see a prompt telling us that our finger wasn't recognized.
Typically, after opening the lid and placing a finger on the sensor it was mere seconds until the device was unlocked and ready for use.
We liked
The ZenBook 3's display is bright and vivid, even though it's a 1080p screen. The lightweight and portable approach Asus took with its design is appreciated, especially for those who frequently travel and need a device to get work done on.
We disliked
We would like to see slightly better battery life from the ZenBook 3, but are thankful it comes with fast charging technology. The keyboard, on the other hand, needs to be beefed up.
Final verdict
Coming in between the MacBook and the XPS 13 in price, the Asus ZenBook 3 is a serious contender for anyone looking for an Ultrabook that can easily handle even some of the more intense tasks you can throw at it.
But, don't expect all day battery, and don't be surprised if you find yourself wanting to use an external keyboard.
All told, if you can look past the blemishes, the ZenBook 3 is a slick and powerful laptop that falls just short of some of the best.
from TechRadar - Technology Reviews http://www.techradar.com/reviews/pc-mac/laptops-portable-pcs/laptops-and-netbooks/asus-zenbook-3-1322498/review