Update: You can now buy the Fitbit Charge 3 that builds on the Fitbit Charge 2 and may be more suitable for you as the next fitness tracker from the company as it's capable of swim tracking and more.
The Fitbit Charge 2 arrived back in September 2016 and was the first upgrade to the popular Charge range since the Charge HR, which originally appeared early in 2015.
The Fitbit Charge 2 added a couple of new features to the smarts we'd seen before on the Charge HR, the Fitbit Alta and the Fitbit Blaze. And though there are newer Fitbits in the line-up, the Fitbit Ionic, Fitbit Versa and the Fitbit Alta HR, even now in 2018, it still adds up to an impressive-looking package.
That's a little less impressive now there's the Fitbit Charge 3 that sports swim tracking and a more refined design, but the Charge 2 has now dropped in price because of Fitbit's newer tracker.
Fitbit specializes in accessible and easy to use fitness trackers, rather than more complicated running and fitness technology. With exercise, sleep, heart rate tracking and much more, the Charge 2 looks like a well-specced wearable that won't break the bank.
Fitbit Charge 2 price and release date
The cheapest Charge 2 starts at $119.99 (£89.99, AU$164)
Price may drop even lower during sales periods like Black Friday
Leather straps are expensive at $69.95 (£59.99, AU$119.95)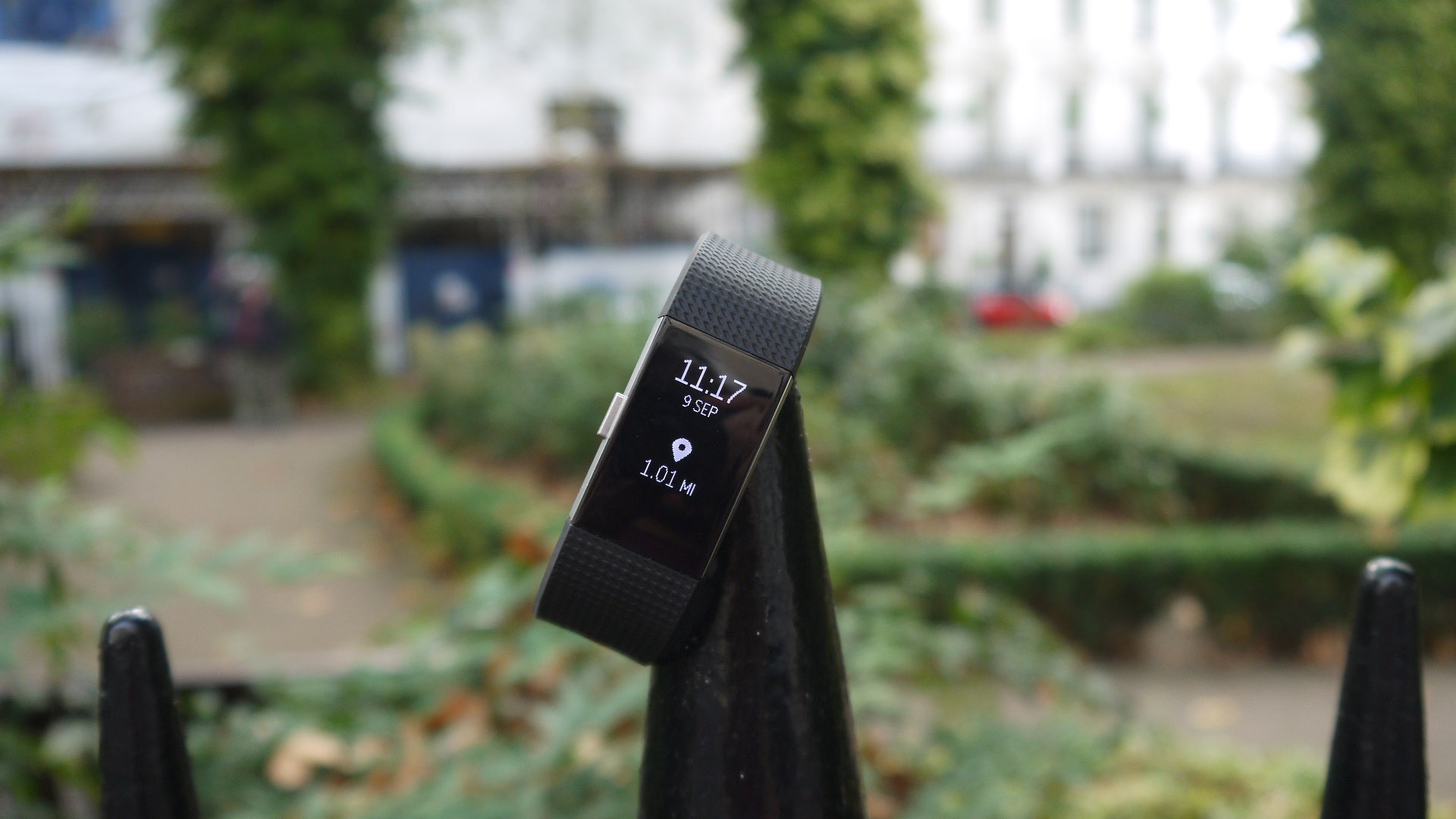 The original RRP for the Fitbit Charge 2 was set at $150 (£129.99, AU$250) with a plastic band and $179.95 (£149.99, AU$289.95) for the Special Edition versions, which have more premium-feel straps.
You can also buy leather straps separately in a light brown, indigo or pink, for $69.95 (£59.99, AU$119.95).
We've seen a variety of retailers drop the price further though with the price touching as low as $119 or £89 during sales periods. The price is also generally that low now as the Fitbit Charge 3 is now out and that starts at £129.99 / $149.95 / AU$229.95.
The Charge 2 is quite a bit more expensive than the Fitbit Flex 2, so it may be worth your while checking out that tracker too to see if you would be suited to the more affordable tracker.
Design
Larger screen full of extra details
Thicker band than before, so takes up more room on your wrist
Easy to swap bands, but each will need working-in to attach properly
Design-wise, the Fitbit Charge 2 is much the same as other Fitbit devices, and feels a little like the lovechild of the Charge HR and the Fitbit Surge.
There's a much larger screen here than on the Charge HR – but the device is a fair bit thicker too, so you may not be a fan if you liked the compactness of the last version.
That said, the screen is still relatively small and it's not colour, but it is an OLED display, so all the information the Charge 2 delivers is easy to read – plus it's a touchscreen, which is a first for the Charge range.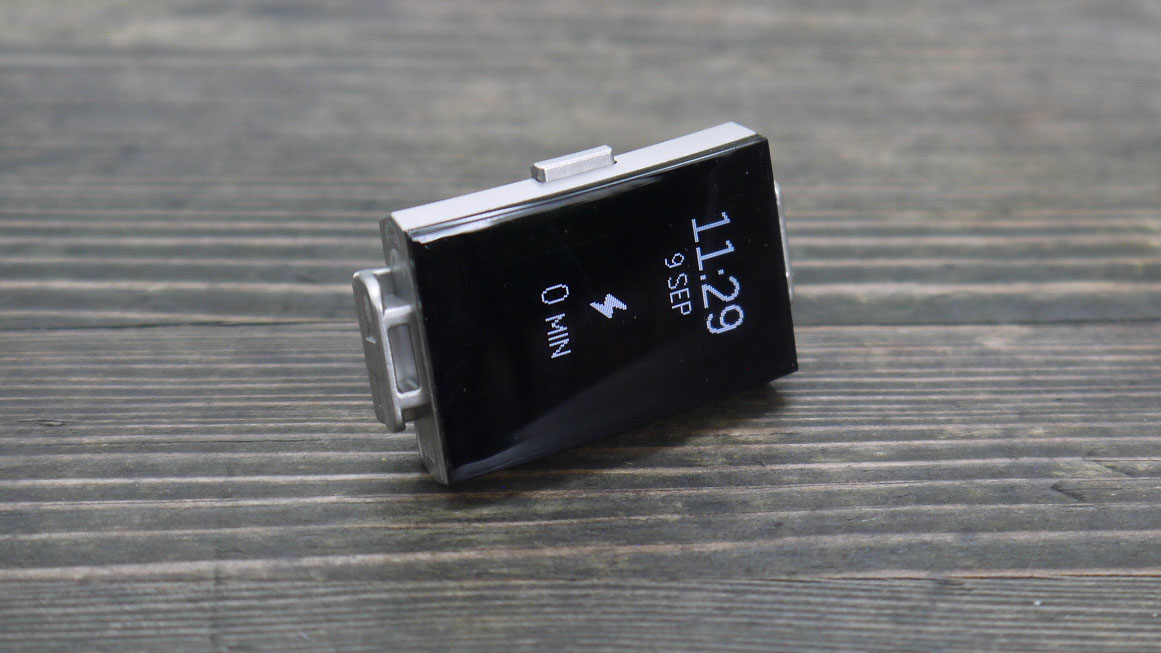 The touchscreen proved a little unresponsive at times during our review, but we never found it particularly frustrating – you just need to give it an extra tap sometimes.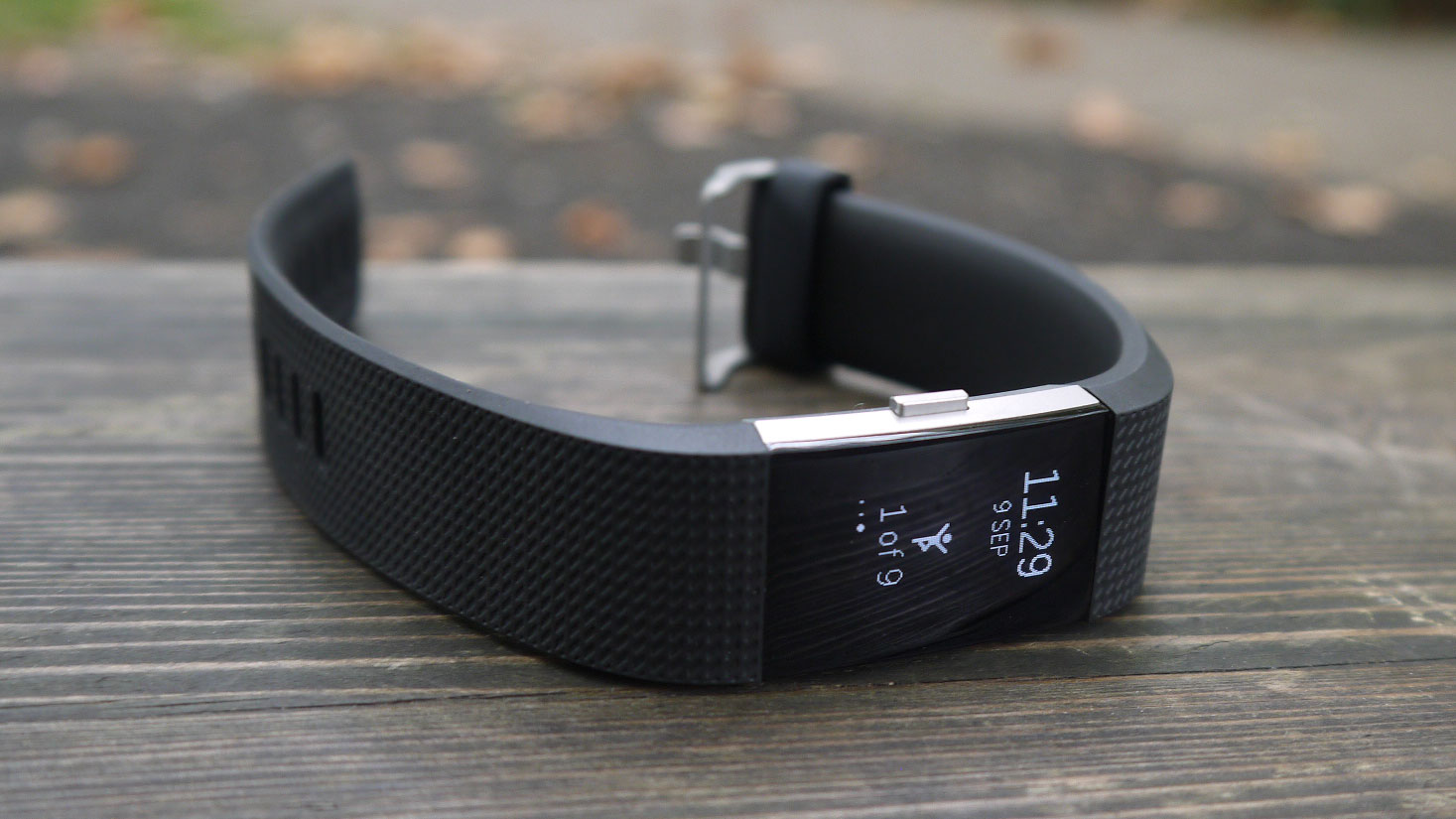 There's a button on the left-hand side of the tracker that you use to skip through the menu options, such as steps, time, heart rate and calories; you can hold this button down to activate certain features as well.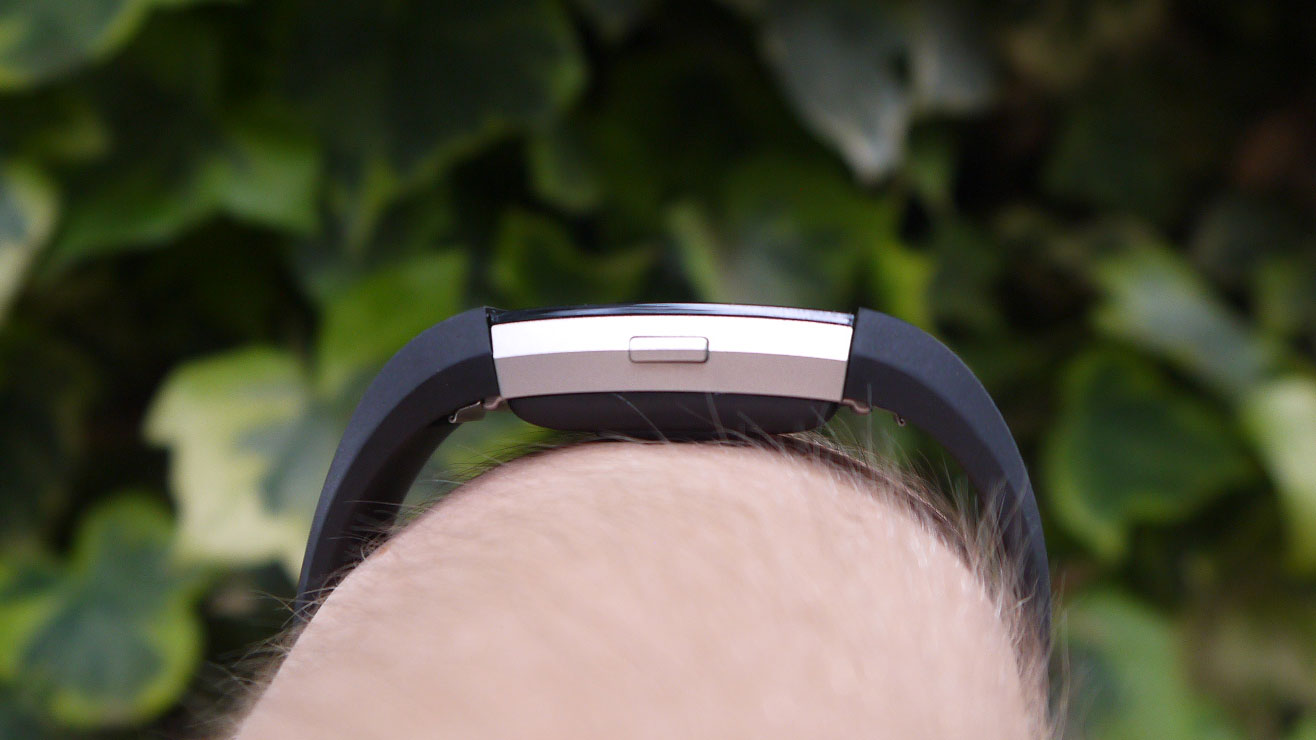 The Fitbit Charge 2 tracker itself is rather small, and comes with one two-section strap in the box. Each part of the strap can be detached by pulling it out of clips on either side of the tracker, if you want to swap-in a different one for a style change and there's a good range of accessories for the Charge 2 to choose from.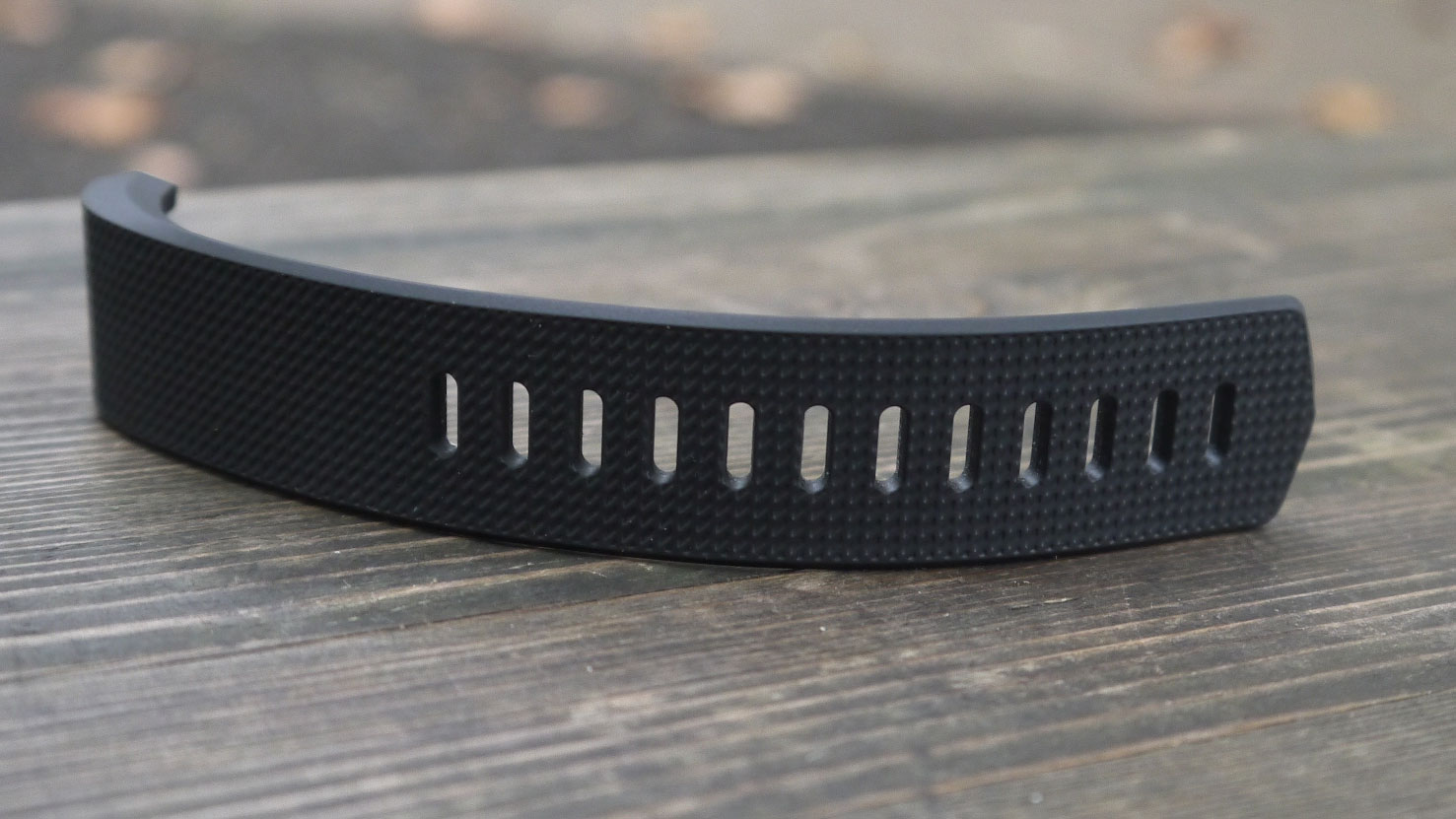 You can get the elastomer (basically rubber) strap in light blue, dark blue, black or purple. The two more premium options for the fashion-conscious among you are lavender/rose gold and black/gunmetal.
There are also more premium Luxe straps available which are made of real leather. The color choices are light pink, brown and indigo but each costs a hefty $69.95 (£59.99, AU$119.95).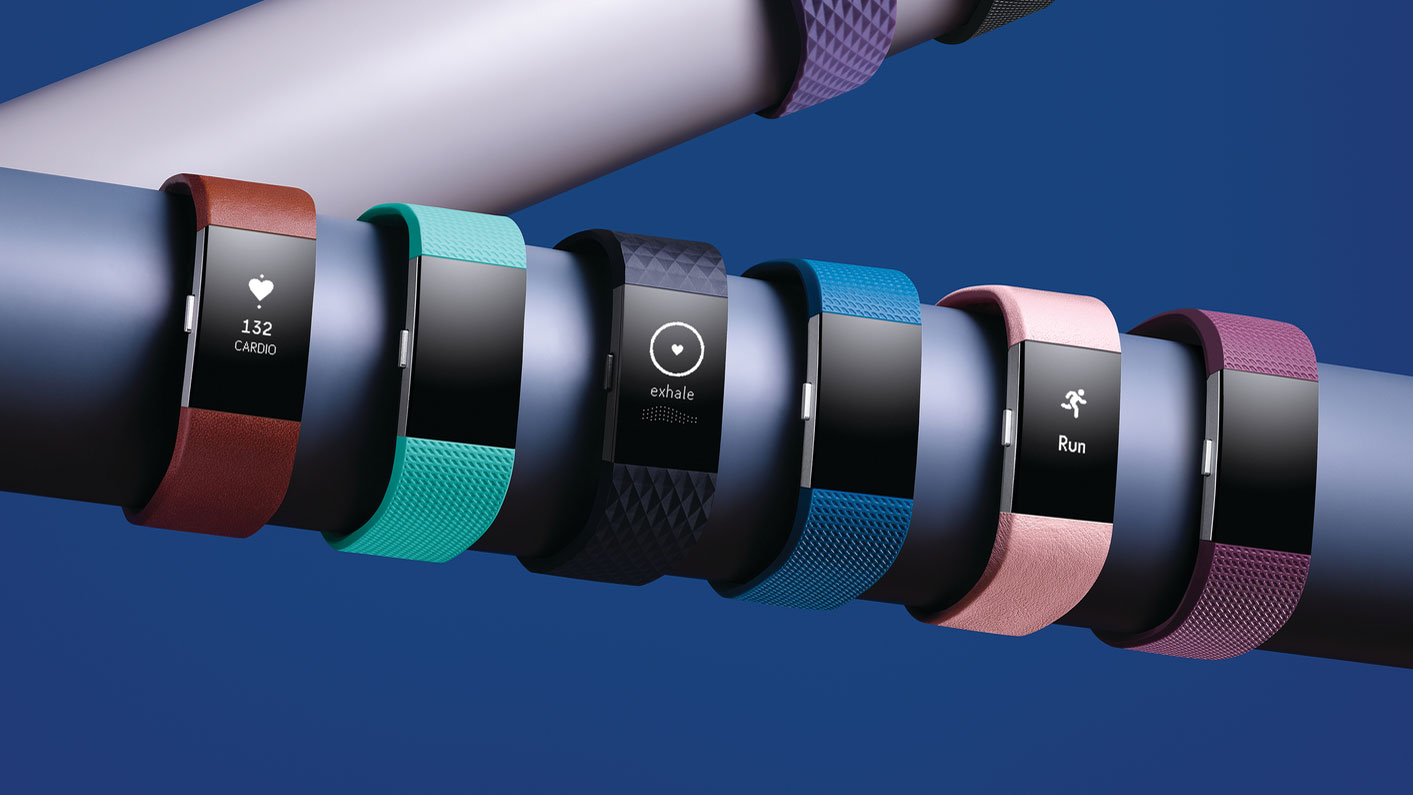 This level of customization is welcome, but we did find it a bit of a struggle to connect a band at first. Sometimes it would sit a little off of the tracker, but after a while it worked itself into the right position.
Fitbit has improved the materials used in its straps dramatically over the past five years. The original Charge launched with a strap that irritated a lot of people's skin, but this new version was comfortable throughout our review period.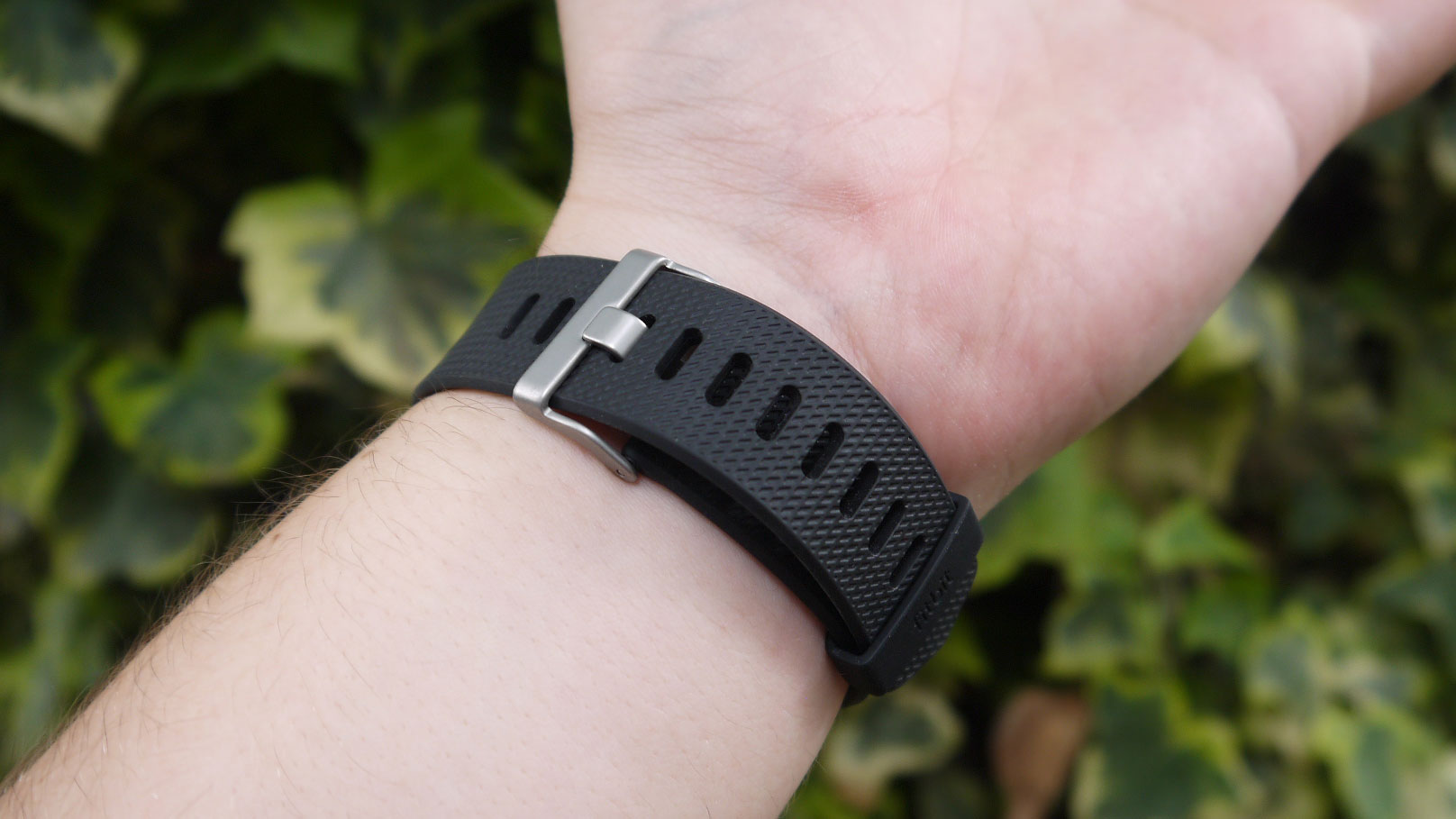 It felt comfortable, and compared to many other fitness trackers this is a lot easier to wear throughout the day.
We didn't always want to wear it to bed, as Fitbit suggests you'll want to, but it feels secure on your wrist and isn't going to become irritating; it's also comfortable to wear when you're typing at a desk, so you won't necessarily need to take it off when you're at work.
The Charge 2 isn't waterproof like the Fitbit Flex 2, but it is water-resistant, meaning it can handle a few splashes while you do the washing up, or sweat when you're exercising.
You won't be able to wear the Charge 2 in the shower or when swimming, though. It's nice to be able to wear a fitness tracker in the rain without worrying about it being damaged, but we'd have liked to see Fitbit make the Charge 2 fully waterproof.
Specs, performance and fitness
No GPS on board, but will use your phone's
Guided Breathing feature useful for relaxing
Now lets you pause and resume workouts
Always-on heart rate tracker
In terms of tracking tech, the FitBit Charge 2 monitors your step count throughout the day, but it also features some of the innovations seen on the Fitbit Blaze and Alta.
As standard the Charge 2 will set you a goal of 10,000 steps a day, but you can adjust that total in the app depending on your aims.
A key improvement over the original Charge is that the Charge 2 offers multi-sport tracking – you can track outdoor running, treadmill running, walking and weight training, as well as bike, elliptical trainer and interval workouts.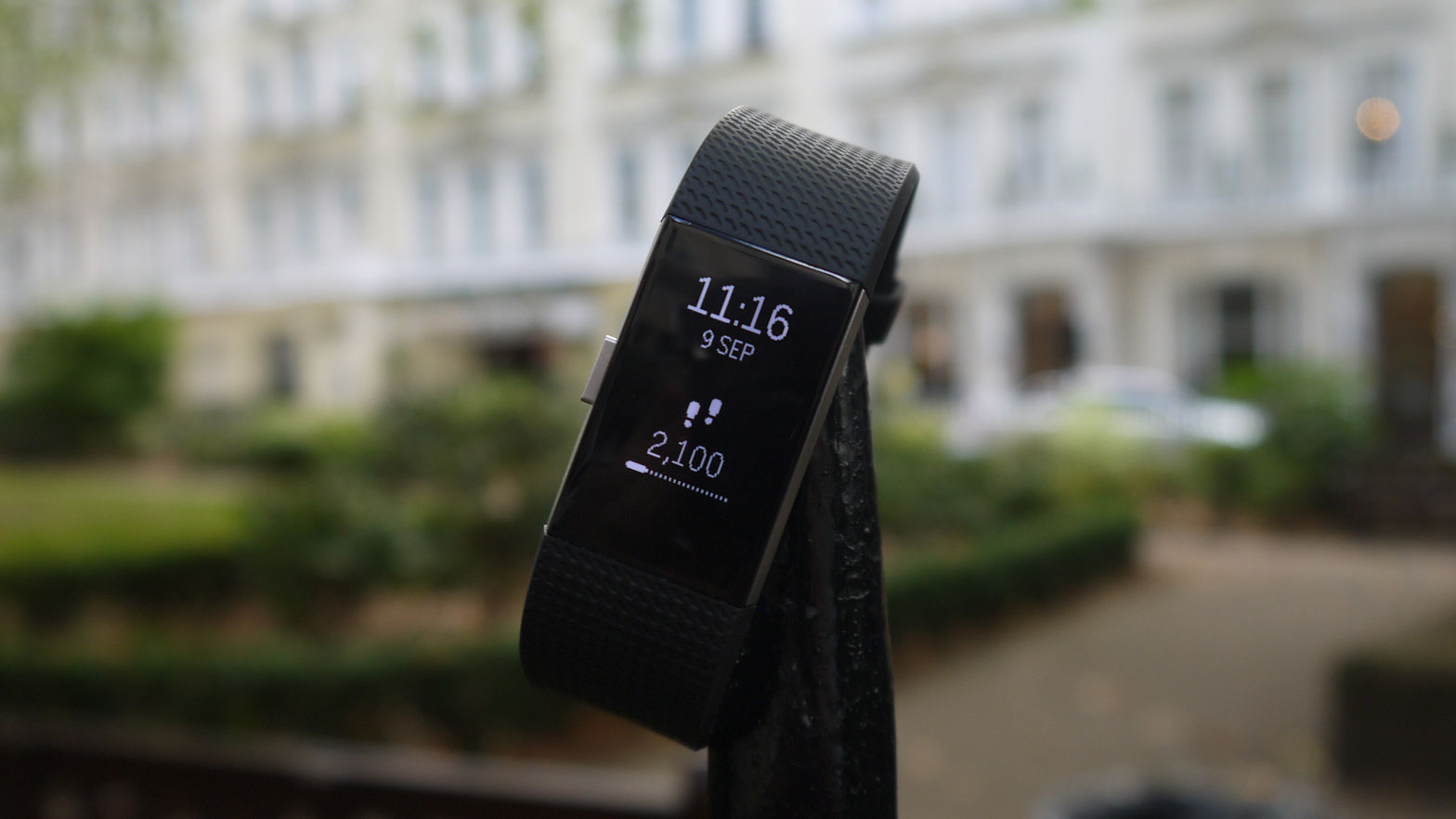 The Fitbit Charge 2 tracks your exercise automatically, so you don't have to start sessions manually – if you start running, for example, the Charge 2 detects this and begins monitoring. It also lets you start, then pause a workout without ending a session.
It means you don't always need to remember to press buttons when you're exercising – although if you're embarking on a specific workout we'd recommend setting up the tracker to ensure you're getting the exact readings you want.
For the sports-minded, this is a big reason to go for the Charge 2 over one of Fitbit's older devices.
Bear in mind that this isn't the best device on the market for running – there's no GPS tracking here, and if you want a dedicated device we'd recommend the Fitbit Surge, or a more expensive running watch.
The Fitbit Charge 2 will at least work with your phone's GPS to track the distance traveled – a feature both the original Charge and the Charge HR lack. It does mean you need to take your phone out for a run with you though.
A real highlight of the Charge 2 is the PurePulse heart rate tracking technology, which will constantly take a reading of your beat without you having to wear a chest strap.
Since it launched, Fitbit has patched in a new heart rate zone visualization feature, which allows you to see the heart rate zone (you guessed it) and adjust your efforts from there.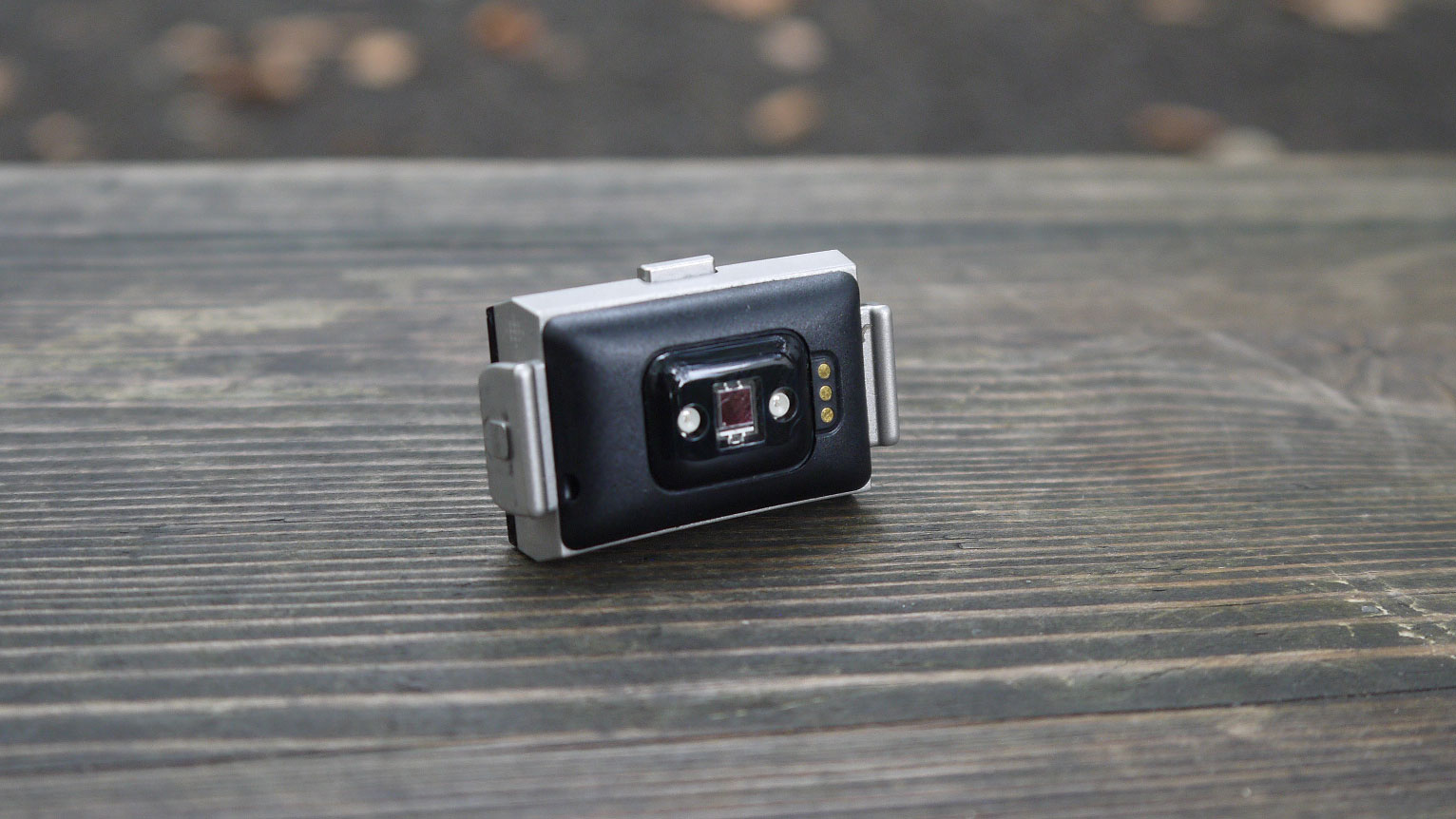 There's also a new Guided Breathing feature, which monitors your heart rate for 30 seconds and then sets you a breathing challenge to help improve your condition.
This is the first time Fitbit has offered this kind of feature, and we found that it would indeed calm down our heart rate when we wanted it to. It's interesting to see Fitbit focus on a feature that's not entirely exercise-focused, and it's a welcome addition.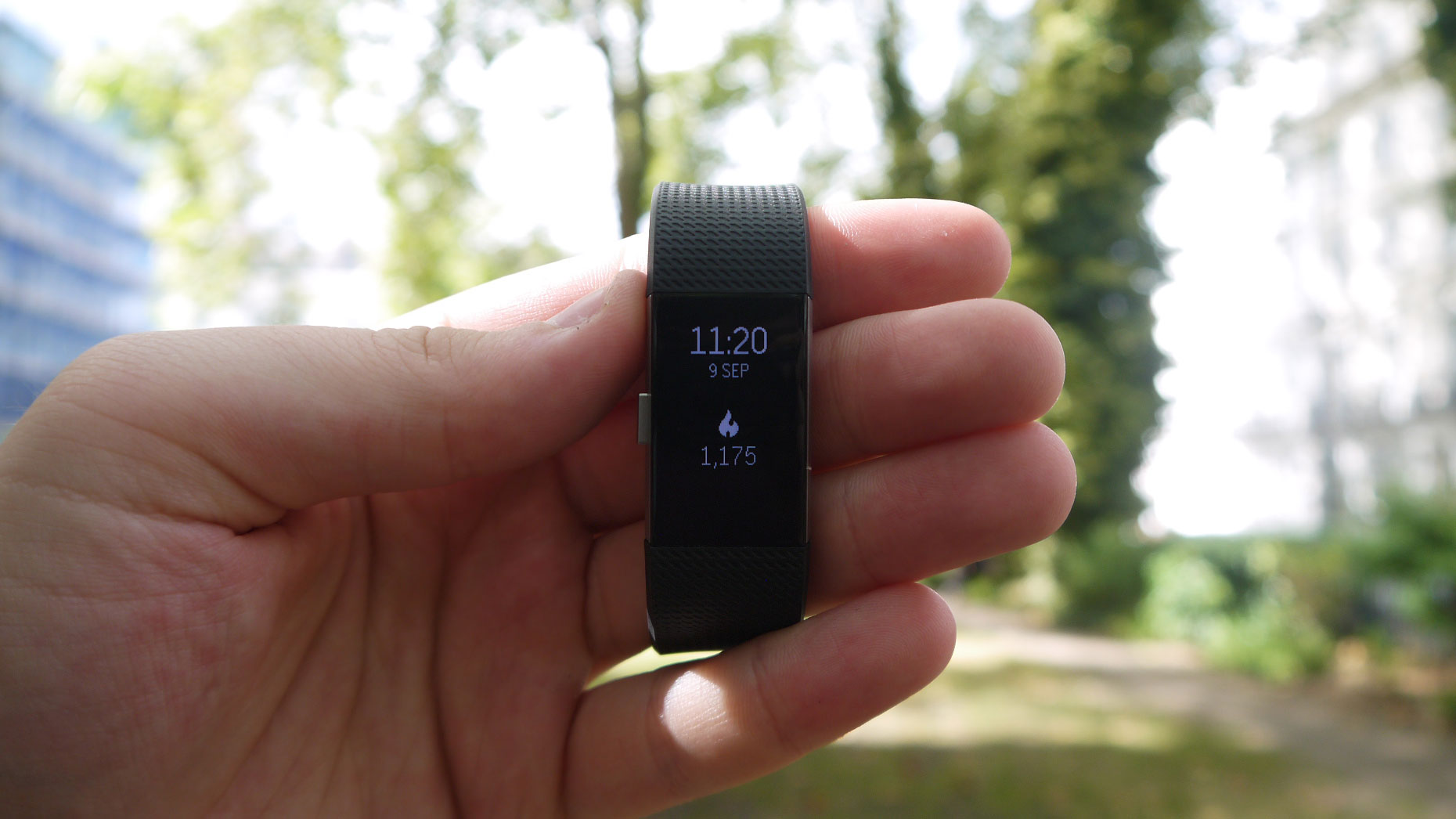 If you wear the Fitbit Charge 2 in bed it'll monitor your sleeping patterns. Like other Fitbit products, this feature is a little more temperamental.
We found the Charge 2 would record a bad night's sleep when we felt that we'd actually slept quite well; and given that the tracker can also be quite uncomfortable to wear when you're in bed we certainly wouldn't recommend buying it solely for the sleep tracking tech.
There's also a silent alarm mode, which vibrates the tracker on your wrist to gently wake you without disturbing anyone else close by. It's a nice idea – if you don't mind keeping the tracker on when you're in bed – although it may not prove all that useful if you're a heavy sleeper.
Compatibility
Limited phone notifications don't prove that useful
Works with a large variety of smartphones
Easy to set up and connect to your phone
The Fitbit Charge 2 works as a standalone fitness tracker, but you'll need to connect to your phone over Bluetooth to use GPS or receive notifications.
You can get calls, SMS and calendar notifications on your wrist via your phone, but they will be just that – notifications. You won't be able to reply without taking your phone out, as you could on an Android Wear smartwatch via voice commands or by tapping on the screen to send pre-loaded replies.
It's also a shame that Fitbit hasn't seen fit to expand the variety of notifications you can receive on the Fitbit Charge 2. If you buy an Android Wear smartwatch a good number of apps will be able to send notifications to it.
That said, if you're out for a run and feel your phone vibrating in your pocket it's useful to be able to see who's calling before stopping your run – and it's nice to have the peace of mind that you won't miss out on anything.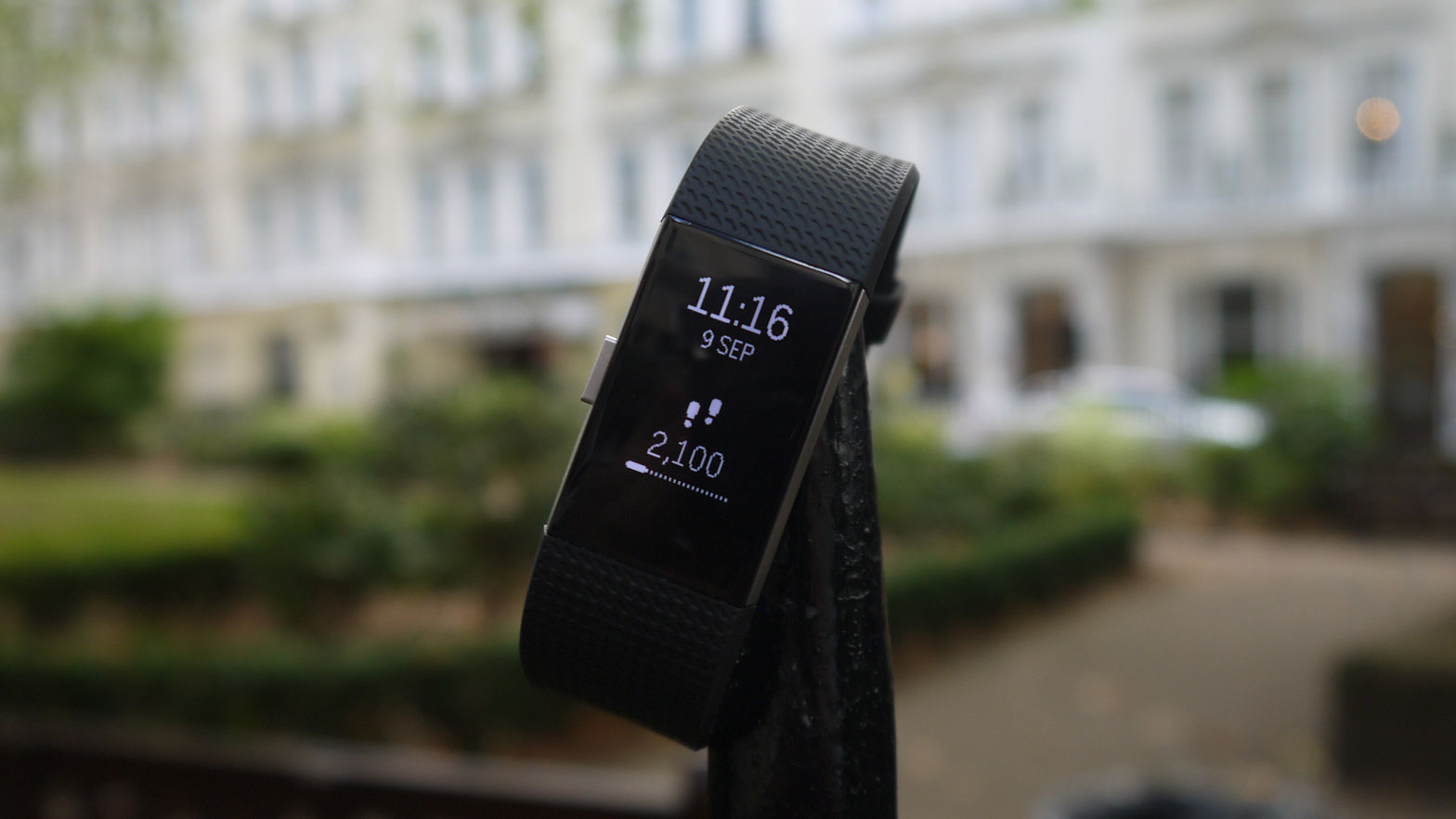 As long as you have an iPhone 4S or above, an Android phone running Android 4.3 or above, or a Windows 10 device, the Charge 2 will sync with your smartphone.
You can connect to your phone's GPS easily through the Fitbit app – but bear in mind that to be able to use the GPS feature on an Android phone you'll need to be running Android 5 Lollipop or newer.
You can check your device is compatible using the Fitbit device platform and searching for Fitbit Charge 2.
App
Simple to set up and use
In-depth details from all the features of your tracker
Free to download for Android, iOS and Windows 10 Mobile
The Fitbit Charge 2 connects to the Fitbit app on your smartphone, and it's one of the simplest fitness apps to use, and to get used to.
The app talks you through the process of setting up your Charge 2, and everything the app can do is explained in a useful tutorial as well.
Within the app you'll be able to see your fitness stats broken down by days. Initially you'll be shown the number of steps you've managed, your average resting heart rate, and whether you've moved enough each hour.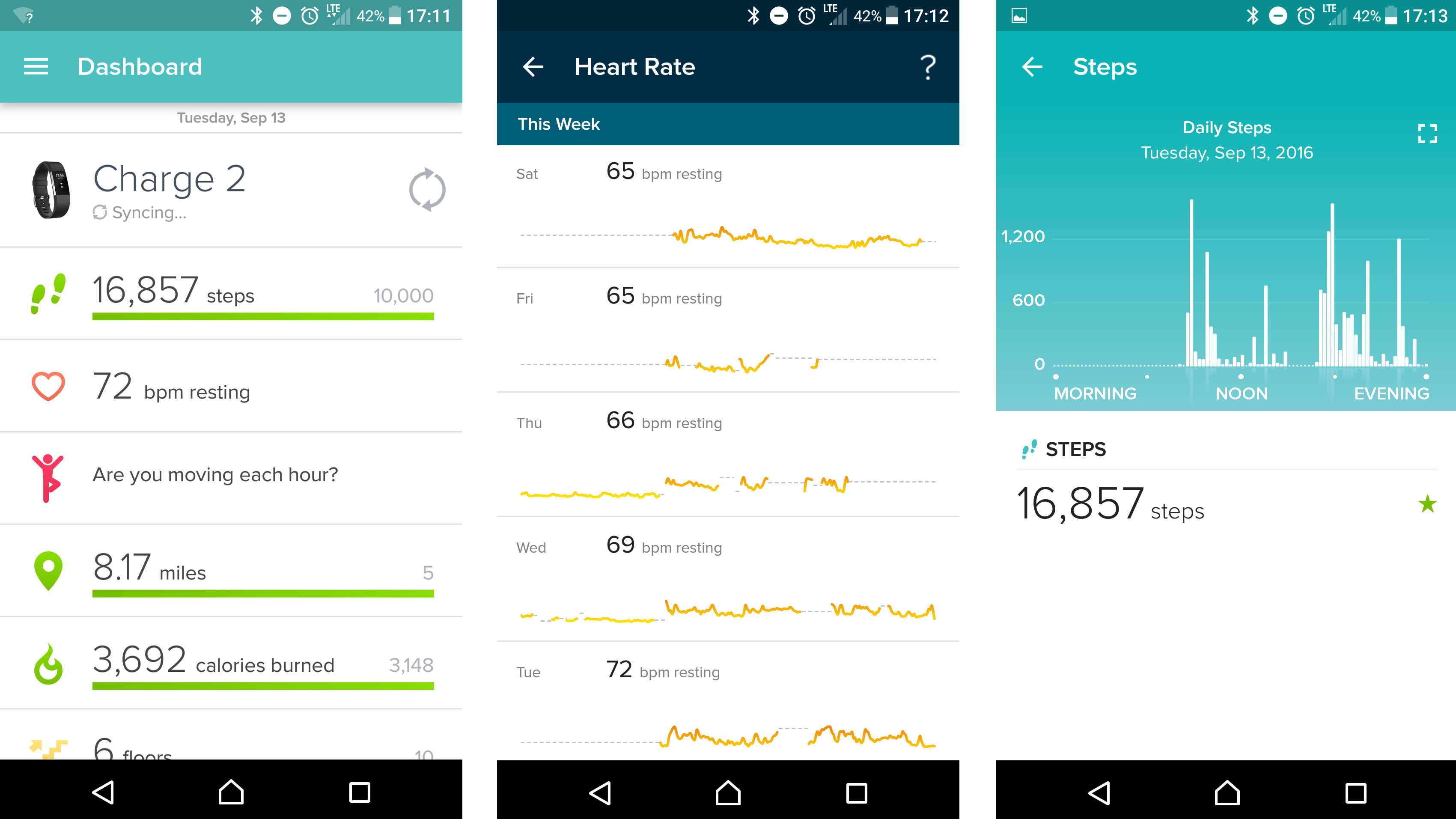 Other features include the distance you've traveled, estimates of your calories burned, and the number of floors you've walked up. Everything is presented simply and intuitively, and tapping on a section will reveal further stats.
You can, for example, see an hour by hour breakdown of your step count, which can be really useful to highlight the workouts you've been doing each day.
Exercises are in a separate section, and again you'll see a breakdown of what you've done. If you're an active person you might want to turn off Walk, as this will track and record all 15 minute-plus trips; conversely, if you want to include shorter bursts, such as five-minute walks, you can do that in the settings.
Another new addition to Fitbit's app skills is Fitbit Coach, a second app dedicated to more serious training. The app features 100s of workouts, each with its own set of guided video drills to help you shape up with everything from running-focussed sessions to HIIT.
Some of the session are accessible via the main Fitbit app and come free, though you will still need to download the Coach app to access the content. And the majority of the workouts are tucked away behind a premium pay wall.
Access to the premium app will still set you back £5.99 per month for £29.99 ($39.99, about AU$50) for the year.
Battery life
Should last you over four days
Difficult to recharge if you want to use sleep tracking
Recharges in less than two hours
Fitbit claims the Charge 2 will last you up to five days from a single charge. We found we didn't quite hit that mark, but we were using the device pretty intensively.
But if you're not constantly using the fitness-tracking, heart rate and breathing-tracking features you'll be able to get close to five days on a single charge.
On average we found that we got around three and a bit days of use from our fully-charged Charge 2; that's not too bad, as it means you'd only be recharging the device twice a week.
Fitbit has included its propriety charger in the box, but we'd prefer it if we could use a microUSB charger; being dependent on Fitbit's charger meant we couldn't charge the device when we got to work and realized we'd left our charger at home.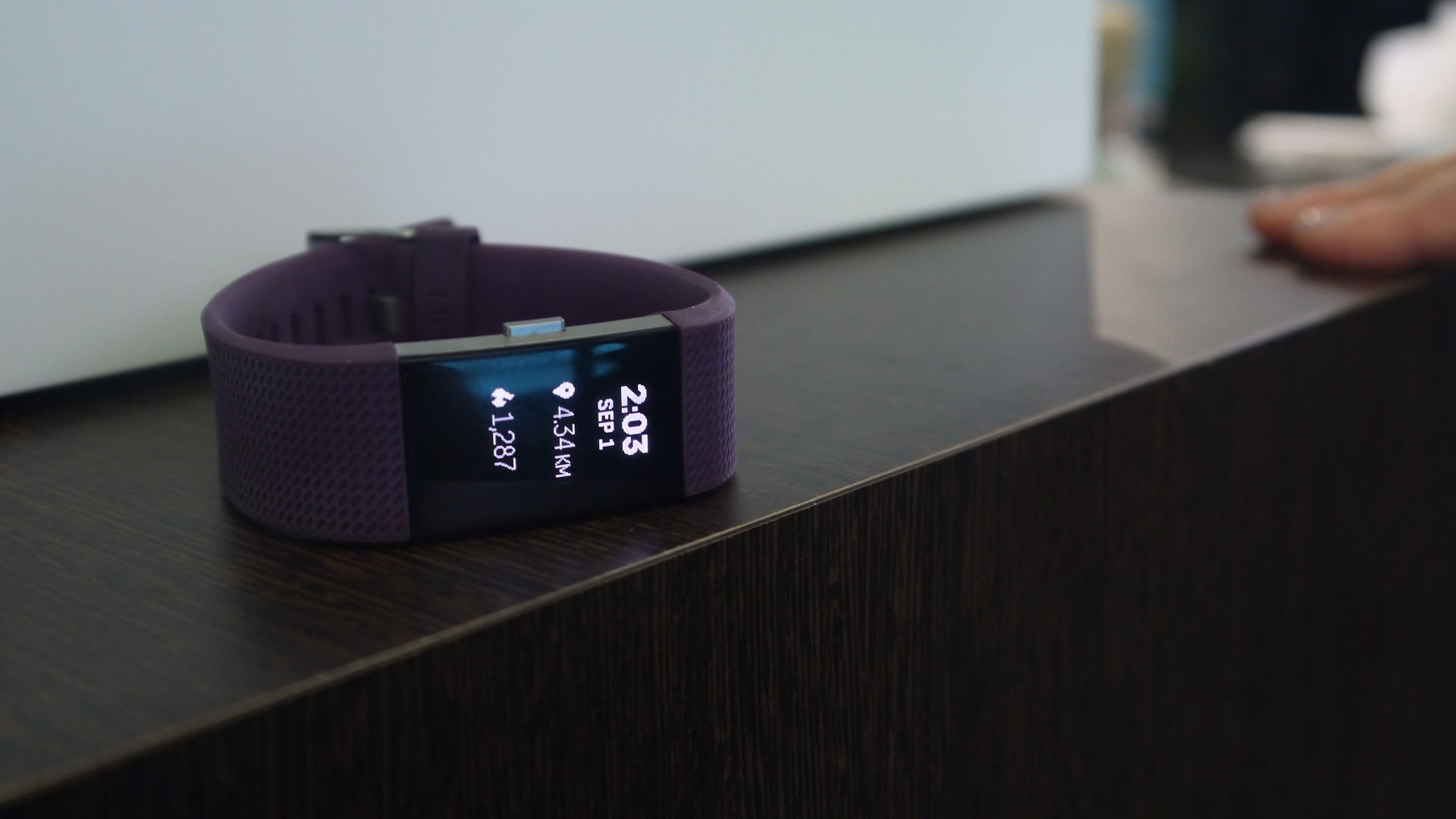 Another issue is finding a good time to charge the tracker. The obvious time to charge a wearable or phone is overnight, but if you want to wear the Charge 2 to bed to track your sleep then you won't be able to do that. At least it doesn't take long to charge the device – around two hours.
You'll also be notified when the battery is low, via both the Fitbit app and an email – we found the emails to be a little bothersome, but it's simple matter to disable those alerts.
Thankfully, Fitbit has issued an update that shows battery percentage on the device, so that a soon-to-deplete battery doesn't take you by surprise.
The Fitbit Charge 2 isn't a massive advance on the Fitbit Charge HR. The design has improved a bit, and the larger display is useful for running through your stats as well as for checking phone notifications, but those are things the Fitbit Blaze already offers, albeit for a higher price.
But if you're looking for a fitness tracker to monitor your heart rate throughout the day, and want multi-sport tracking features, then you'll want to consider the Fitbit Charge 2.
Who's this for?
If you're after a running watch you won't want the Fitbit Charge 2. But if you're after something to track your daily step count, and a bit of exercise every few days, this is one of the best choices money can buy.
The additional fitness features bring this Fitbit closer to being the best option for those who want to be able to wear the same tracker day in day out.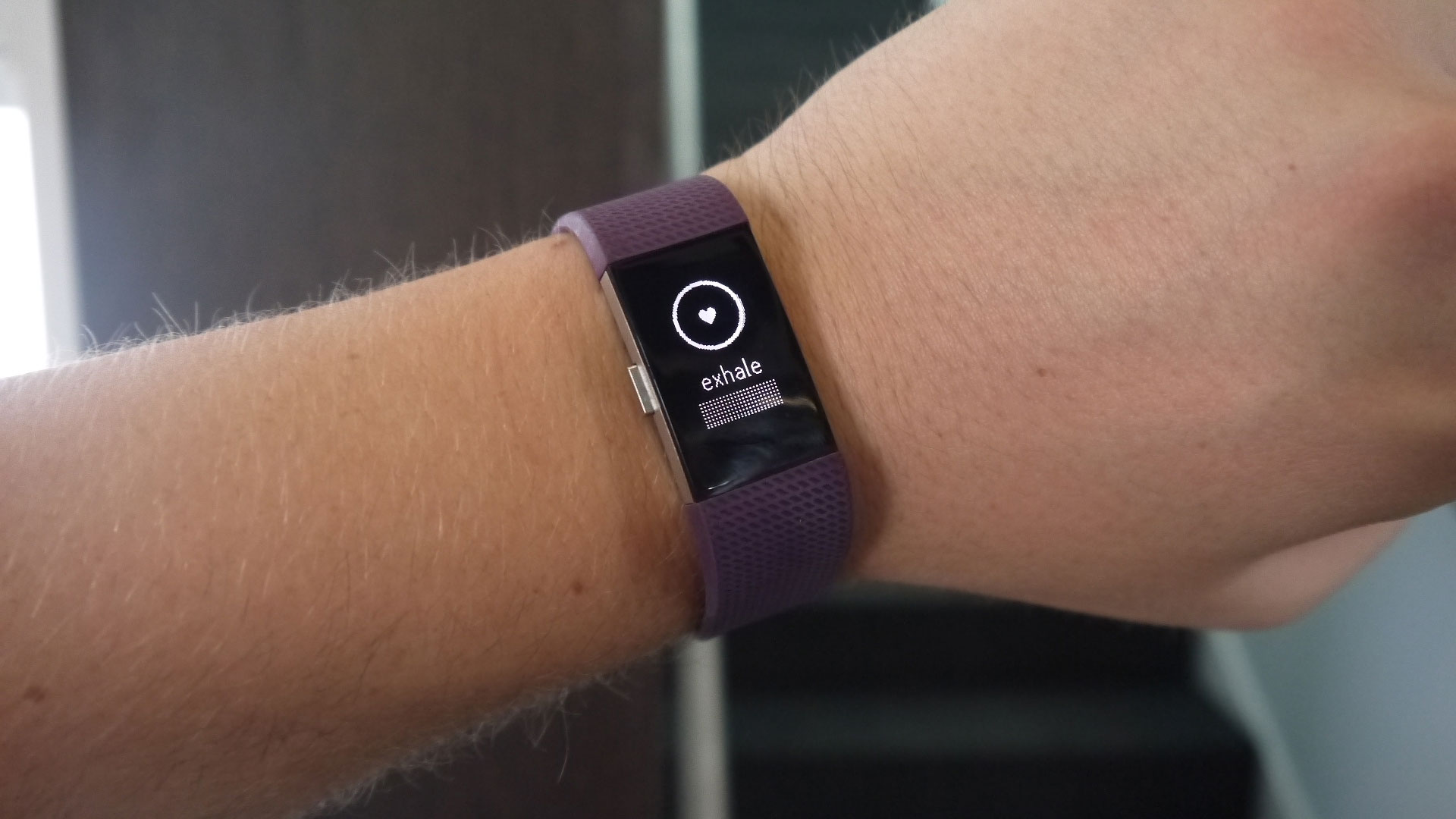 There's not all that much reason to update from the Fitbit Charge HR, but as a first Fitbit tracker, or a replacement for a less-substantial model, the Fitbit Charge 2 is well worth a look.
Should you buy it?
If you're after a fitness tracker, there's no good reason not to buy a Fitbit Charge 2. Fitbit offers a large variety of trackers though, and if you don't need a heart rate tracker we'd suggest going for the Fitbit Alta.
But if a heart rate tracker and multi-sport tracking are features you want in your next wearable, the Fitbit Charge 2 is a well-built and easy to use option.
First reviewed September 2016
If you're thinking about getting the Fitbit Charge 2, here are some other fitness trackers you should also be considering…
Fitbit Charge HR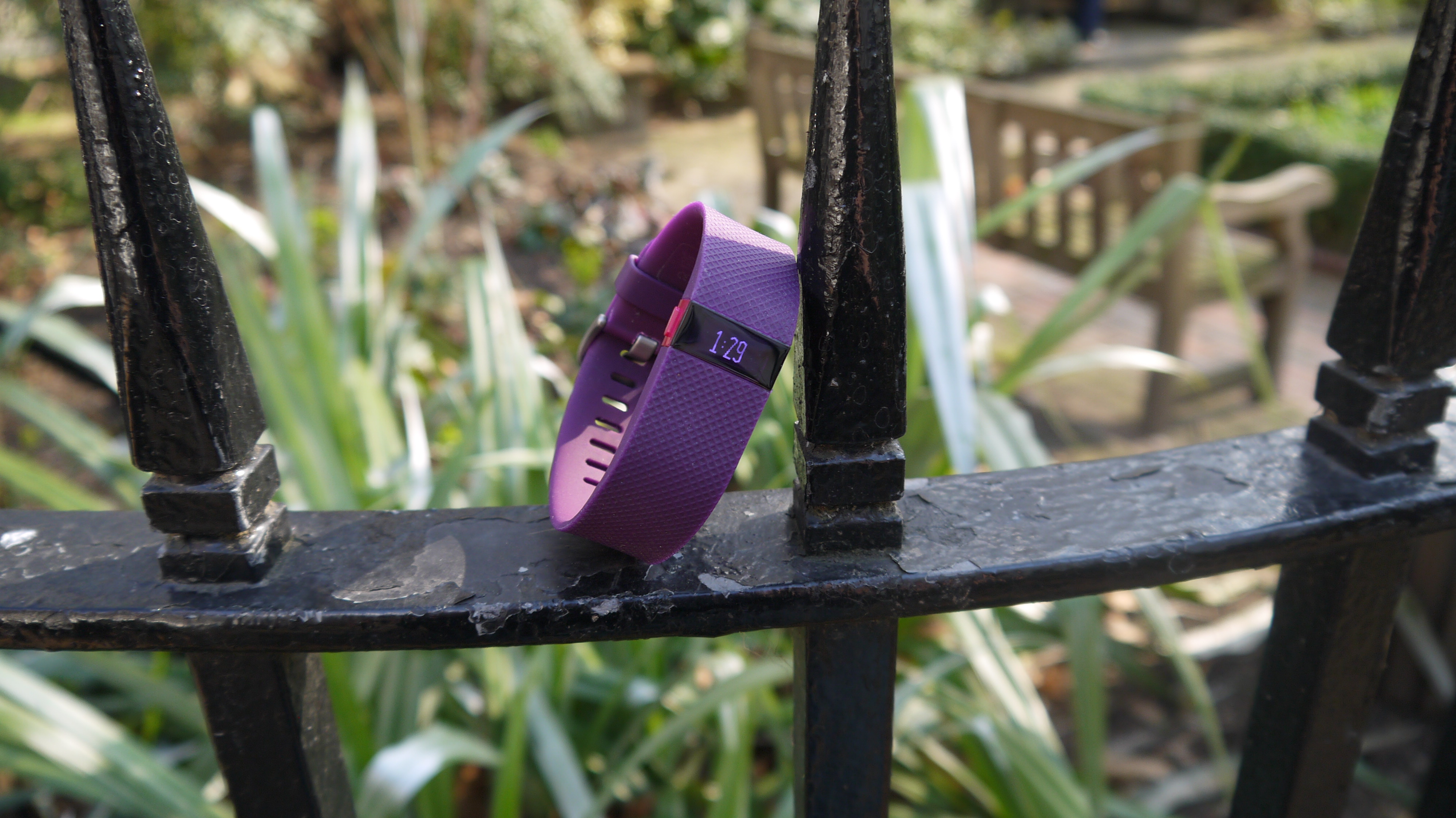 Fancy something a little cheaper than the Fitbit Charge 2? You can save a little by opting for the Fitbit Charge HR, but you'll miss out on quite a few features which the new version offers.
Plus be warned it can be difficult to find the cheaper Fitbit Charge HR now.
Samsung Gear Fit 2 and Fit 2 Pro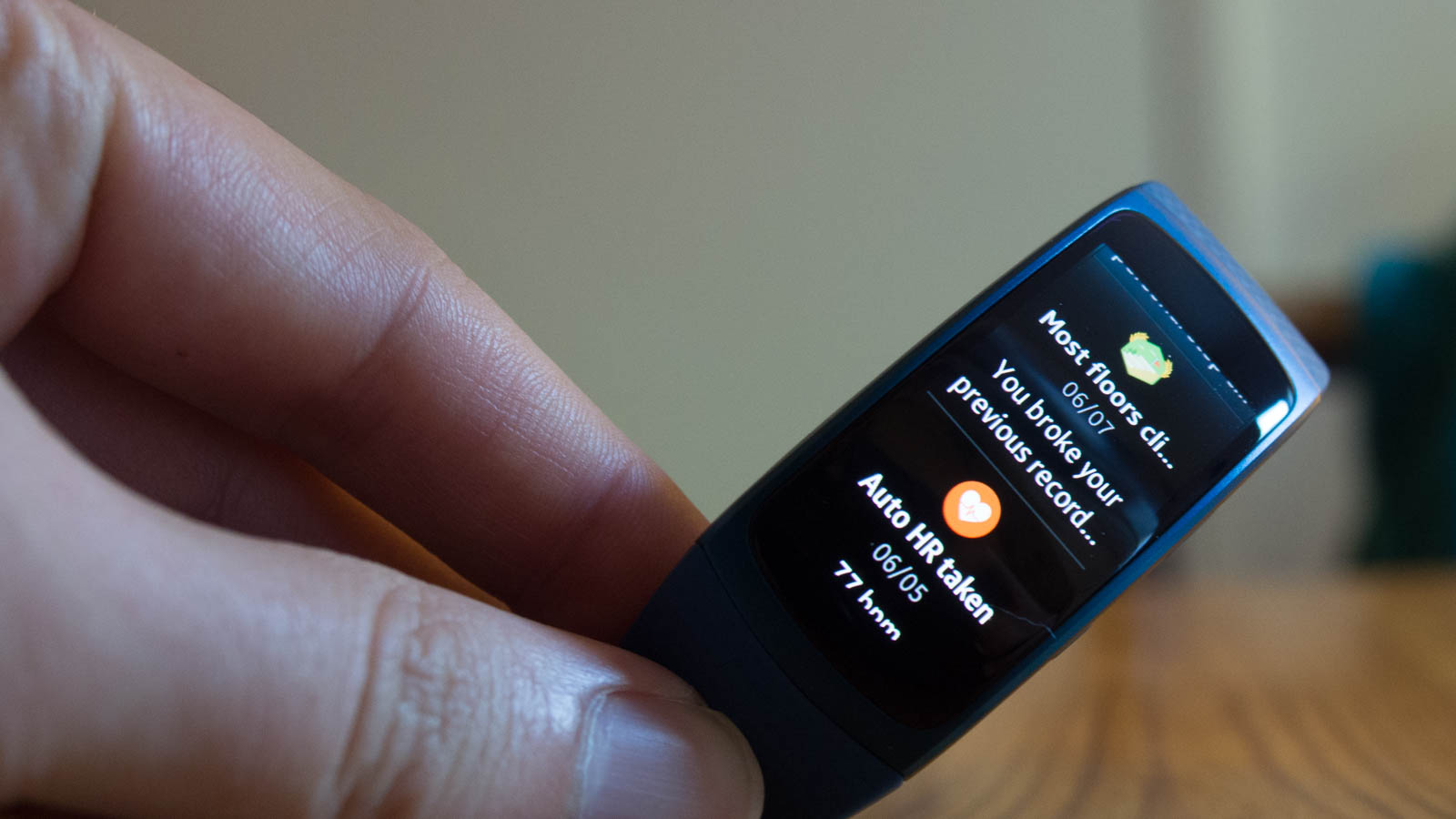 Samsung's Fitbit competitor is a very different-looking tracker to the Charge 2, and comes with a much bigger, color screen. It costs a little more than the Charge 2 – and it won't work with your iPhone – but it's a great alternative to the best new Fitbit. The upgraded Samsung Gear Fit 2 Pro carries similar features but has some added swimming skills and might be worth a look too if having the very latest tech is something you prefer.
Microsoft Band 2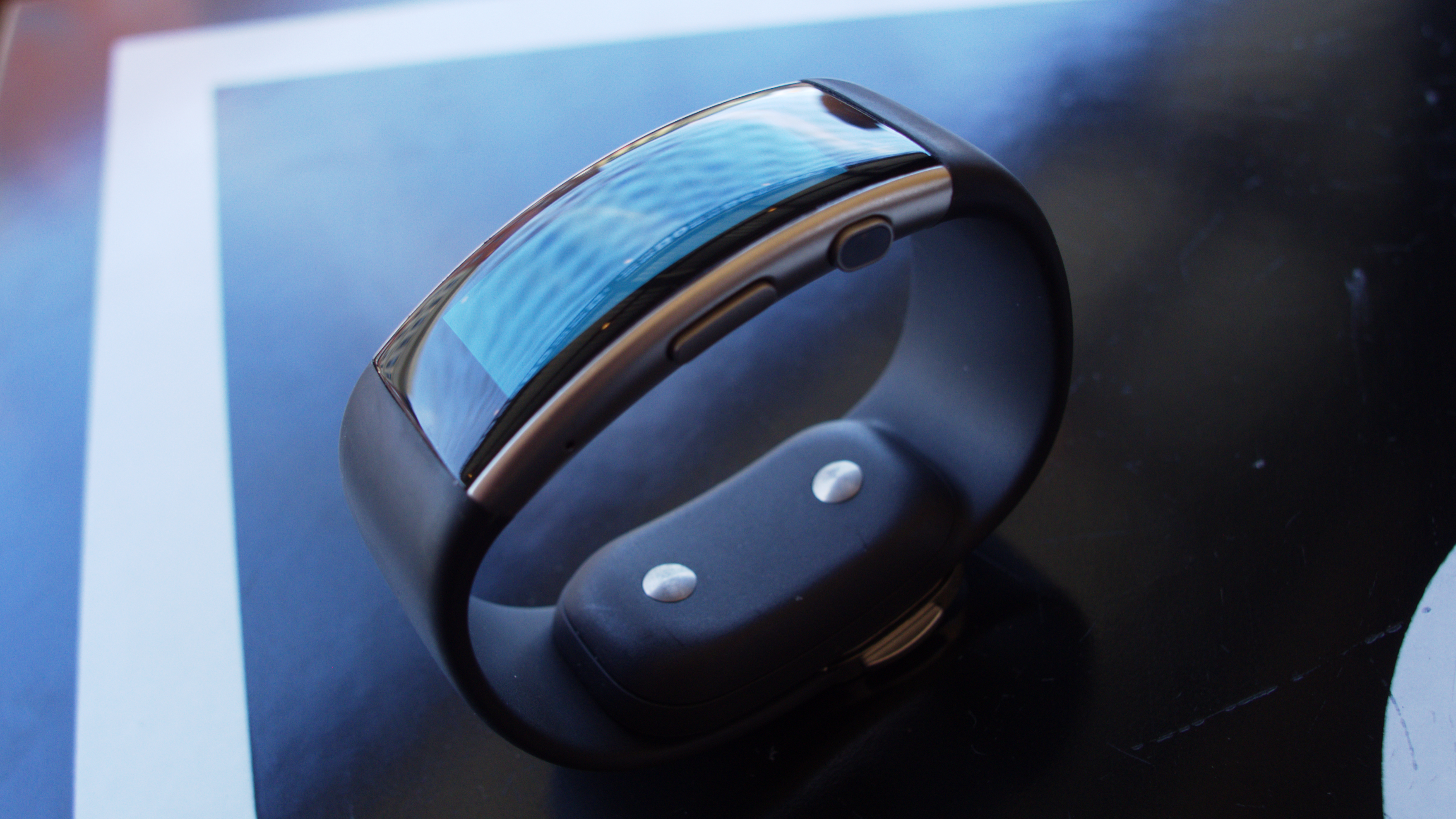 The Microsoft Band 2 is a lot more expensive than the Fitbit Charge 2 at $249 (£200, AU$380), but it's arguably a better-looking wearable than the Fitbit. The Band 2 is packed full of fitness sensors, which may make it a better choice if you want to cover all the activity bases.
Fitbit Alta HR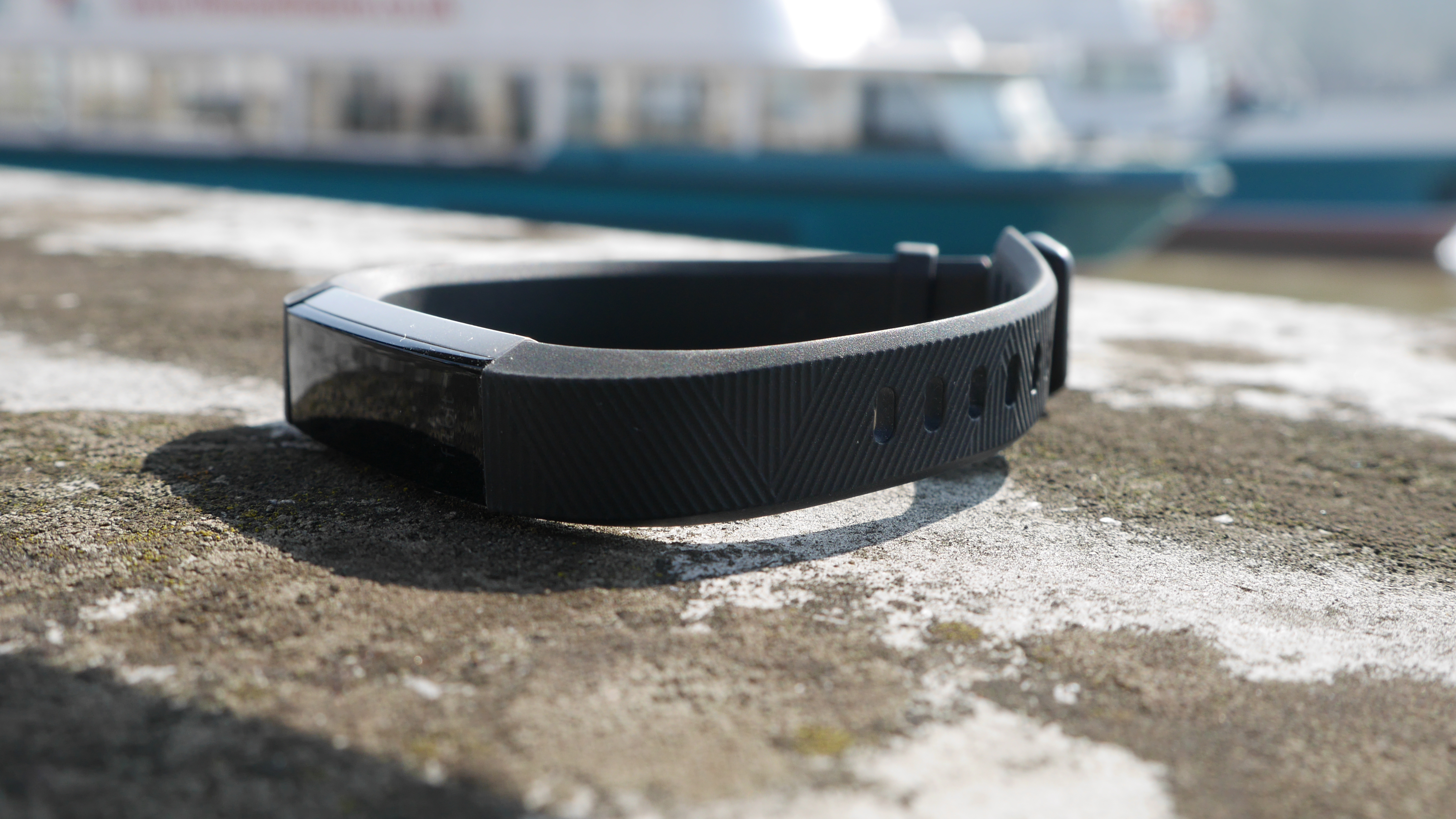 The Alta HR looks to fill that sweet spot between the basic trackers and more expensive smart fitness watches. As the name suggests, the super-slim Alta HR has a focus on heart-rate tracking (which is excellent), but also promises sleep stage tracking, automatic exercise recognition and a 7-day battery life.
There's basic smartphone notifications and occasional reminders to move. The Garmin device probably has the edge for gym rats, thanks to rep counting when strength training, while also boasting the advantage of the VO2 Max readings.
Best Fitbit to buy in 2018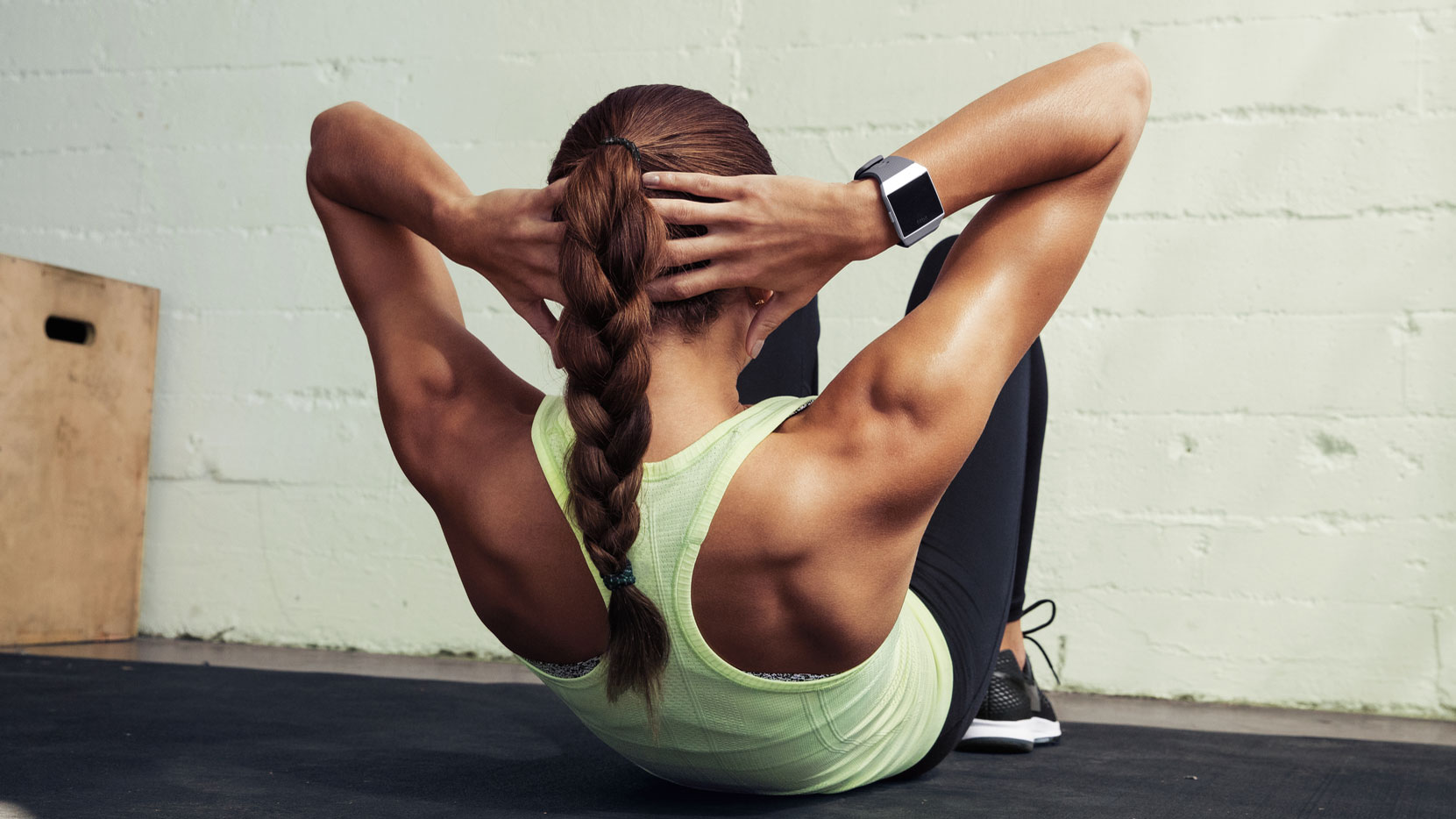 Want a Fitbit but not sure if the Charge 2 is the right one for you? We've tested and rated the whole range and put them into one handy guide to help you find the right Fitbit fitness tracker for you.
from TechRadar - Technology Reviews http://www.techradar.com/reviews/fitbit-charge-2-review