Fitbit's best-selling range of products has been sorely missing an update for some time. The range started with the Fitbit Charge all the way back in October 2014, but soon after that the Charge was dropped in favor of the heart-rate tracking Fitbit Charge HR.
The Fitbit Charge 2 came two years ago back in August 2016, but now finally we have the brand new Charge 3, which takes everything that Fitbit fans have loved about the Charge line in the past and improves on much of it.
Fitbit seems to be leaning toward its new smartwatch expertise with the Charge 3, but this isn't a smartwatch. Instead it's a fitness band that brings some of the smart notifications and extra features we've seen on the Fitbit Versa and Ionic to your wrist.
Below you can watch our hands on Fitbit Charge 3 video review to see the fitness tracker in action.
Fitbit Charge 3 price and release date
The Fitbit Charge 3 is now on sale, having seen a two-month wait from its official 'launch' back in August.
That's just for the normal version of the tracker though – the Special Edition version won't be launching until later in the year. Amazon has it listed as October 29, so you may be waiting until around the end of the month.
Pricing-wise, the Charge 3 is set at £129.99 / $149.95 / AU$229.95, which is a touch cheaper than the original list price of the Fitbit Charge 2. The Special Edition version of the tracker costs £149.99 / $169.95 / AU$269.95.
That Special Edition of the tracker will come with Fitbit Pay on board – for some reason it's not a feature on the normal version of the tracker – and comes with some different bands. You've got the choice of the woven material in purple or the perforated white sport band if you opt for the special edition.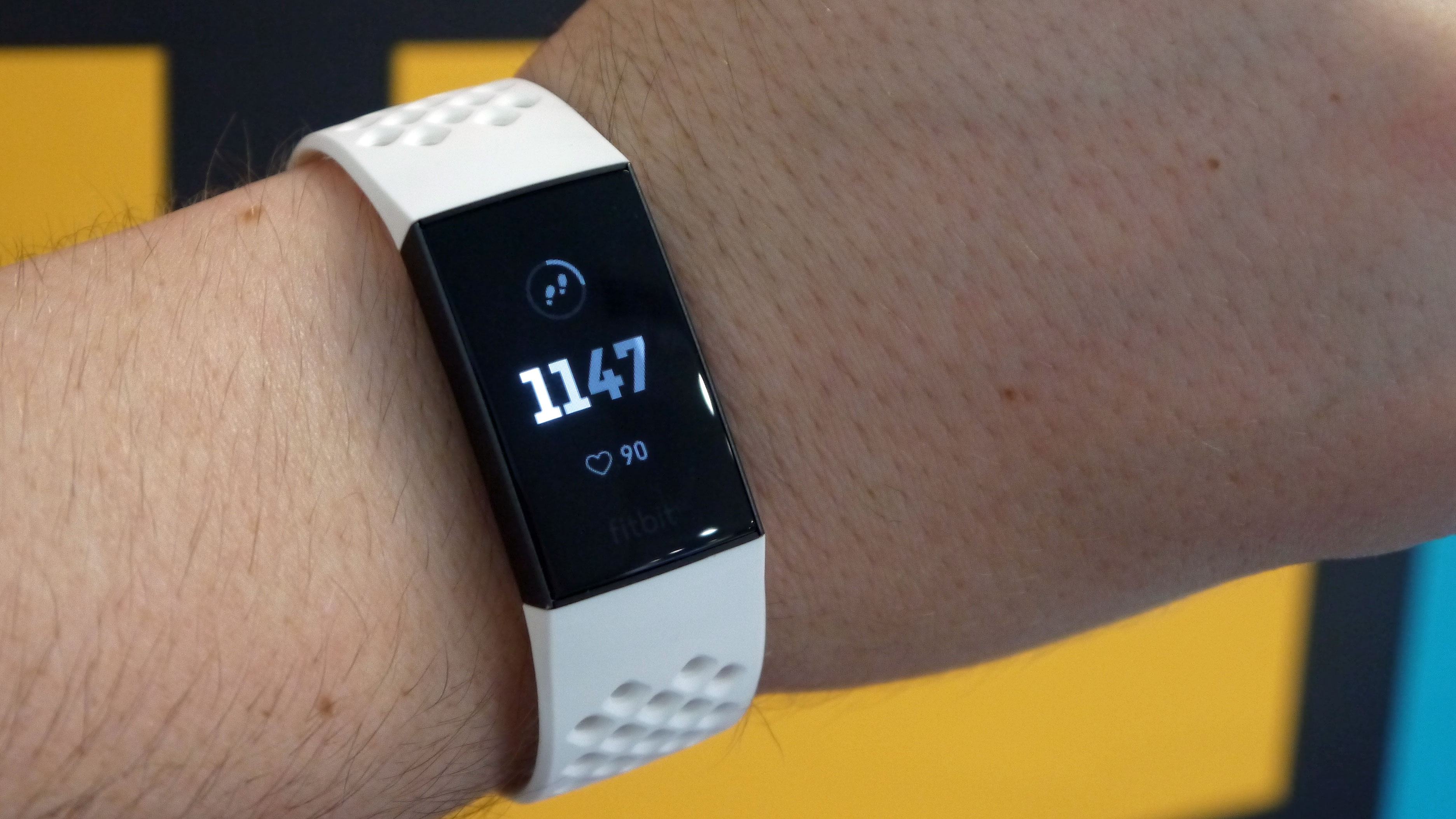 If you buy the special edition version of the tracker you'll also get a spare black silicone band to swap out when you want a more generic look for your Charge 3. Considering it's only £20 or $20 (AU$40 more in Australia) more, that's quite impressive, as normal sports bands cost £24.95 / $34.95 / AU$50 each if you buy them separately.
You can also get woven material bands for £29.99 / $34.95 / AU$49.95, while extra leather bands made by Horween may look even more premium but come at a high cost of £59.99 / $49.95 / AU$69.95.
Design and display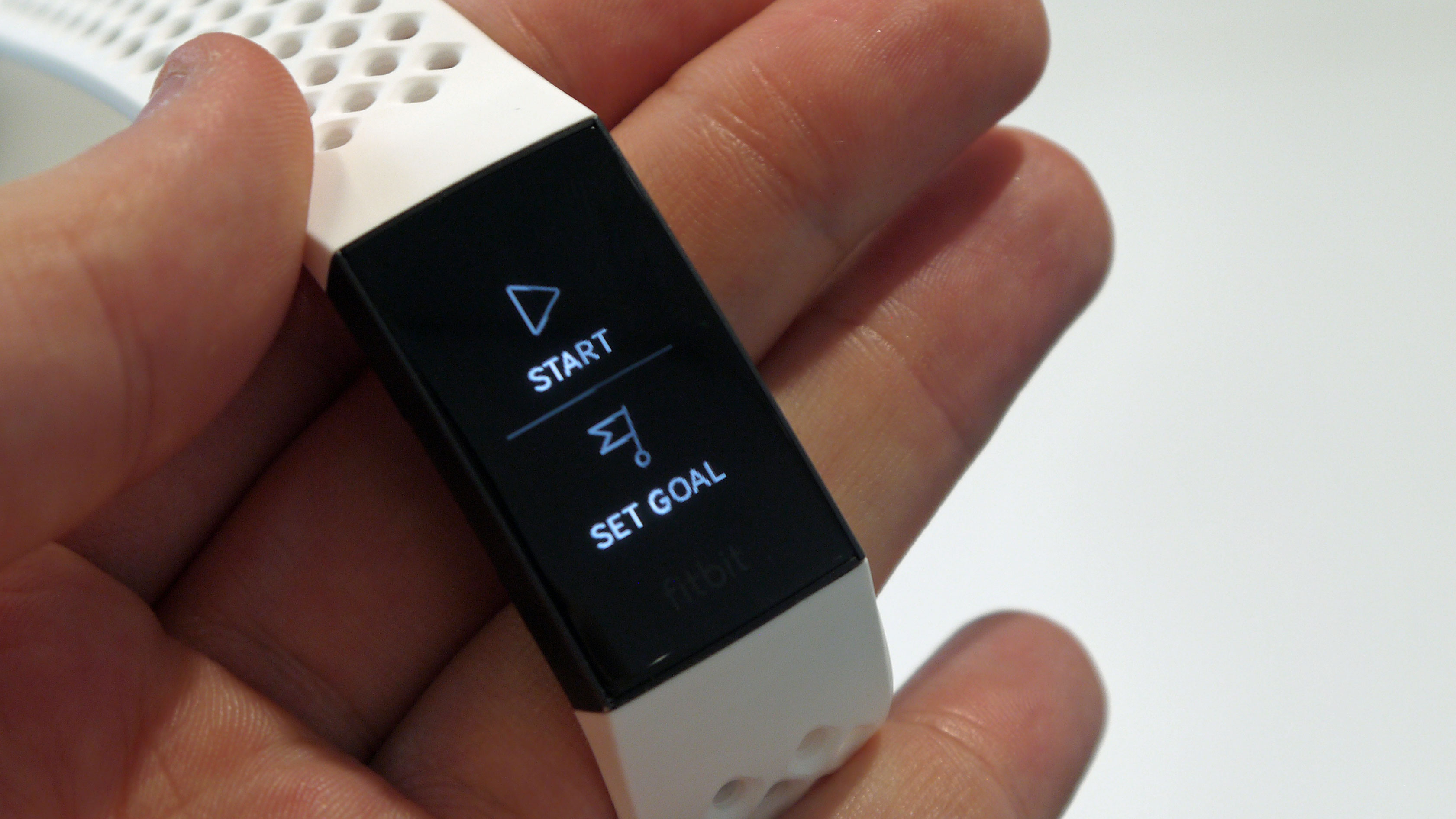 You can see a lot of the design language from the Fitbit Charge 2 transferring over into the Charge 3, but there have been some significant changes here to make it look more premium and sit more comfortably on your wrist.
We've only worn the tracker for around half an hour, but at no stage did we find it an uncomfortable experience and that bodes well considering you'll be wearing this throughout the whole day.
It's a lot thinner than the Charge 2, so it sits closer to your wrist and has softer angles so it doesn't have a big bump over the top of your wrist. This should help the heart-rate tracking tech's accuracy, and while we don't yet know the exact dimensions or weight, it's a very light fitness tracker.
We especially noticed that when wearing the lighter woven band. This won't be as light as the Xiaomi Mi Band 3, but it won't weigh down your wrist like an Apple Watch or Garmin tracker either.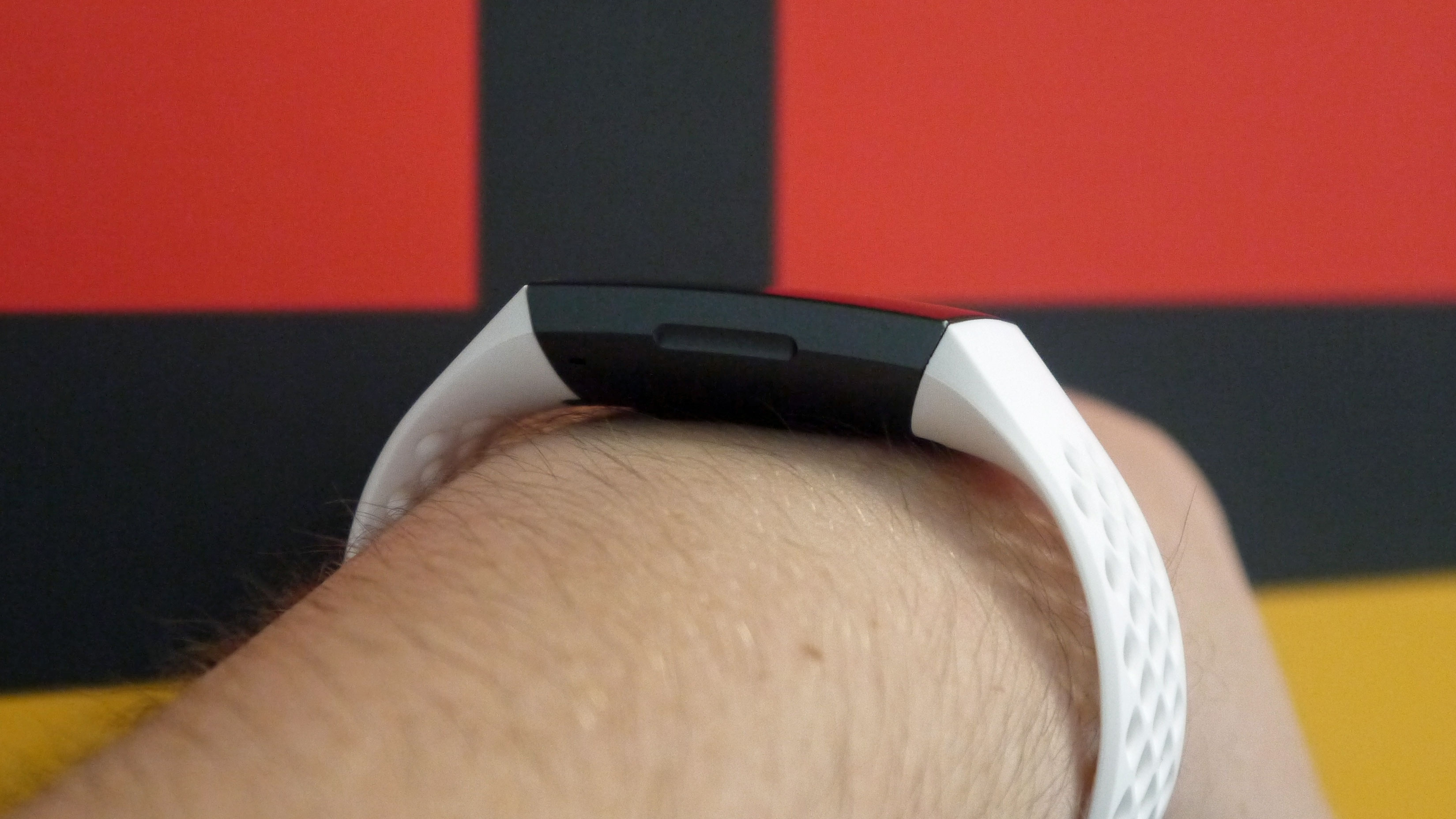 Unlike the Charge 2, this comes with a premium-feel aluminum body – the last version used stainless steel – which looks good on your wrist, doesn't feel uncomfortable on your skin and comes in the color choices of charcoal black or rose gold.
We'd expect Fitbit to launch some more colors in the future as this is quite a limited selection, but there's no guarantee of that.
One thing to note is how there aren't any pressable buttons on the Charge 3. That's because this one has a full touchscreen rather than the tap-to-cycle screen we saw on the Charge 2.
You'll do most of your navigating around its features with your finger on the display, but there's also an inductive button on the left side of the tracker.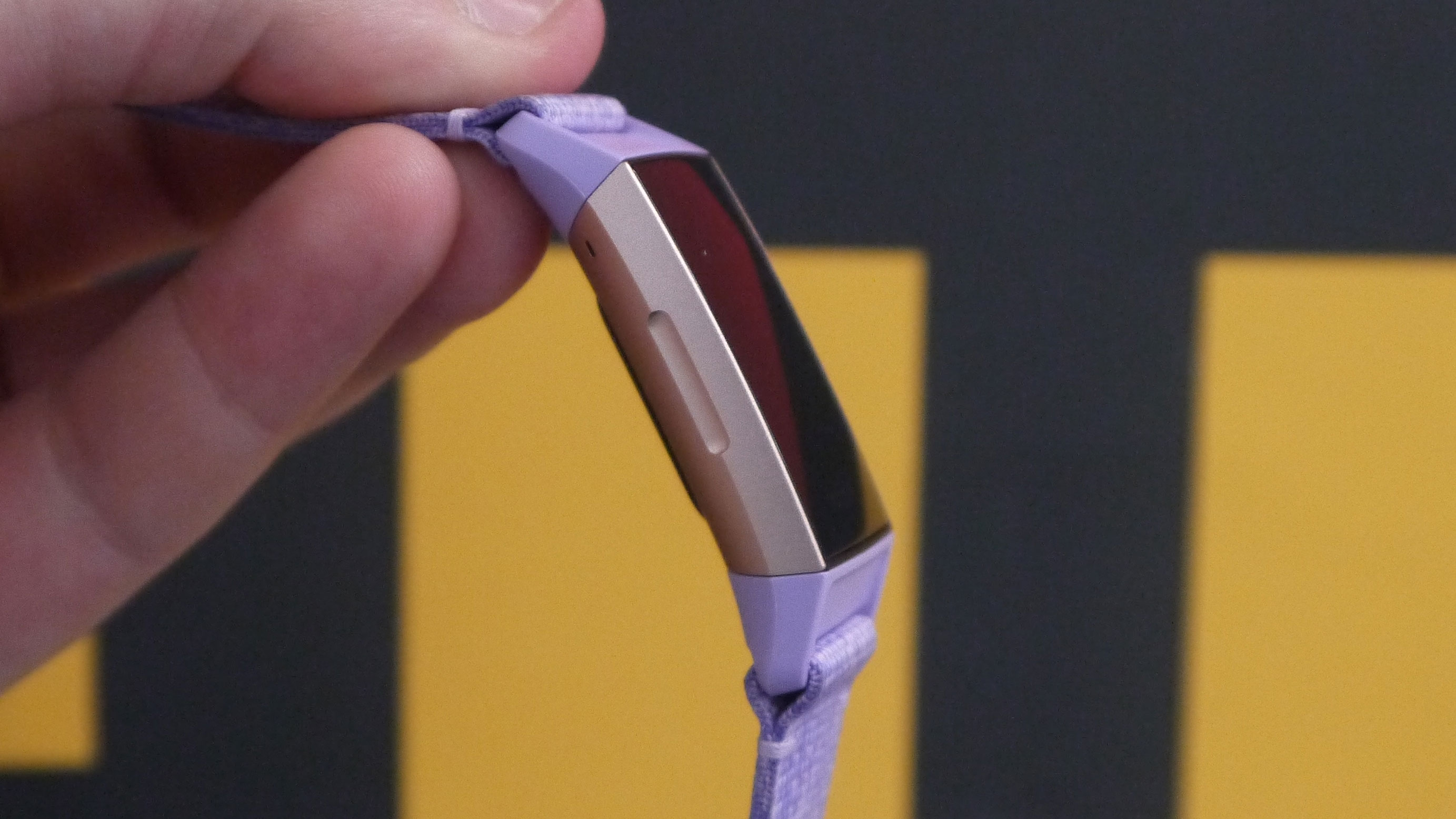 You can use this to wake the device, with a tactile vibration letting you know it's working, plus you'll also use it as a back button.
In our testing we did get a little confused by the functionality here, but we think once you've used it for a while you'll probably get used to navigating the tracker. Wait for our verdict on that feature in our full review.
We don't yet have any exact specs for the screen on the Charge 3 – Fitbit doesn't often share these ahead of launch – but it's noticeably larger and easy to navigate through the limited menus.
It's 40% larger than the display on the Charge 2, comes with Gorilla Glass 3 protection and the company claims it's easier to read in sunlight, although we haven't had time to test that out yet.
You may be disappointed to learn it's still black and white, which is a bit of shame. Fitbit has improved the resolution of the greyscale in the display though, so it should look a bit better than the Charge 2 did.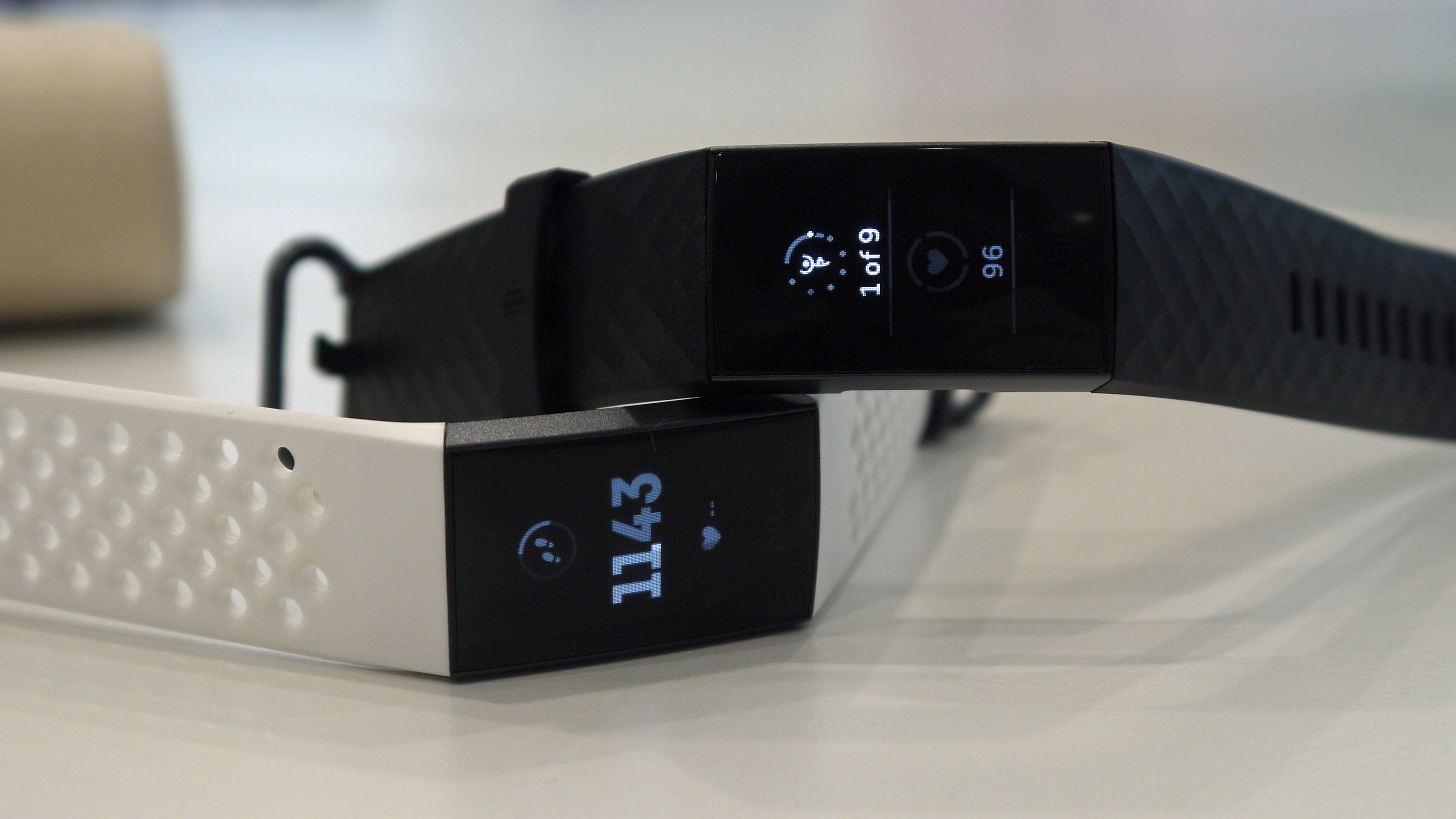 With trackers like the Garmin Vivofit 4 managing to include color displays for a much lower price, we're a bit disappointed to see Fitbit stuck in the black and white era here.
The tracker is fully waterproof up to 50 meters though, so you'll be able to comfortably take this swimming or in the shower without having to worry about whether it will survive.
Below you can see all of the color and band variations you'll be able to buy the Fitbit Charge 3 with too.
Fitness features
All of the top-end fitness features on the Fitbit Charge 2 are back here for the Charge 3, so you'll have the 24/7 heart rate tracking, workouts, guided breathing, and much more.
The biggest upgrade is the swim tracking you'll get on the device. It doesn't seem to be as robust as on some dedicated swim tracking watches, but it will tell you the duration of your dip in the pool when you look down at your wrist mid-way through your strokes.
Other stats, such as your length time and pace, can be found in the Fitbit app when you get out of the pool.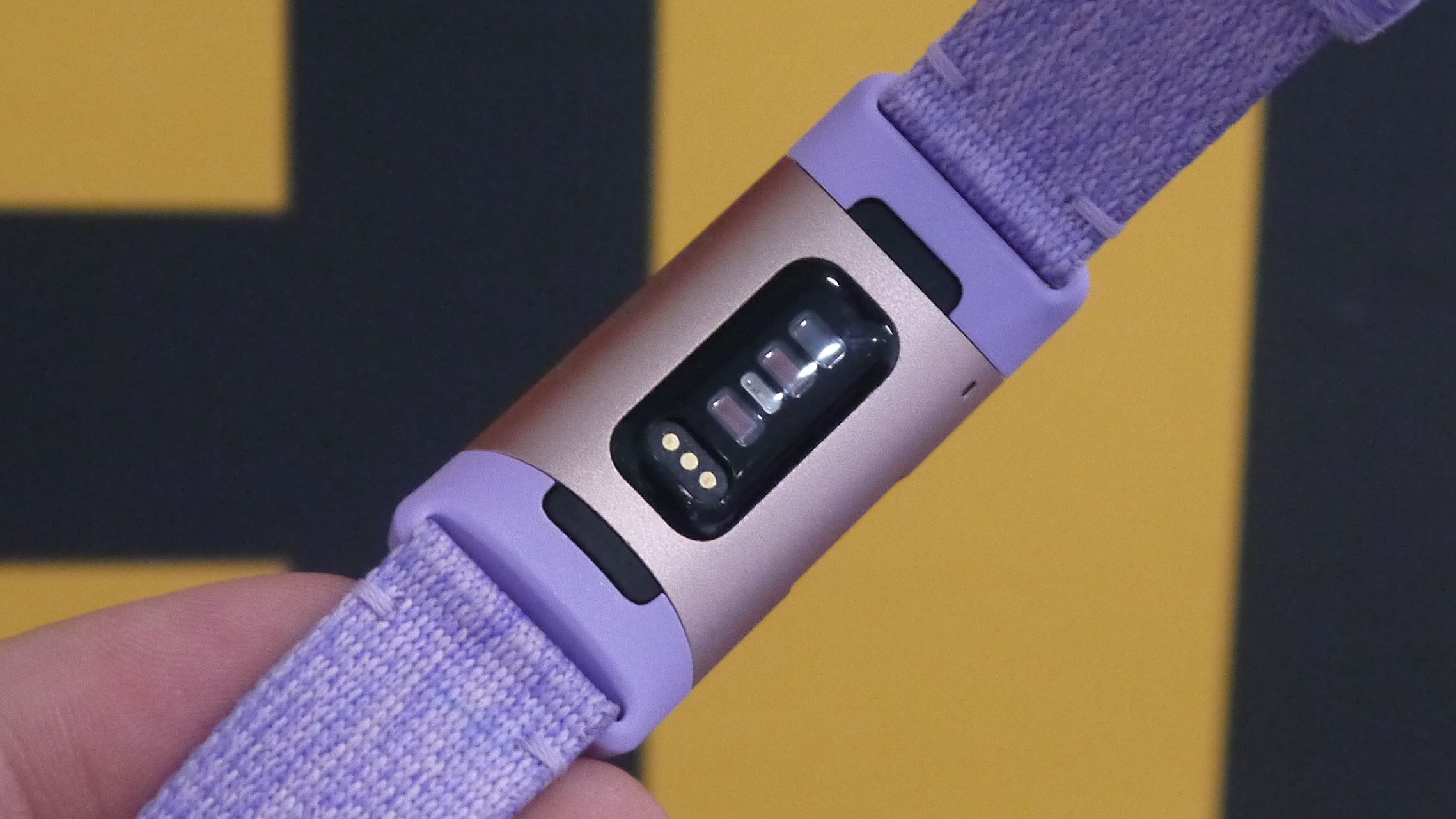 All workouts are now improved - there are now 15 different sports – as you can set your goal directly from your wrist.
Want to work out for 30 minutes exactly? You can set that as a target and get cycling. Want to burn 500 calories running today? You can set that up and get buzzed on your wrist when you're done.
Runners may be disappointed to learn there isn't any dedicated GPS on this tracker. It's a shame considering far cheaper products on the market are capable of tracking your location without your phone, but the Charge 3 does have Connected GPS, so you'll be able to keep an accurate eye on your distance if you're willing to carry your phone with you.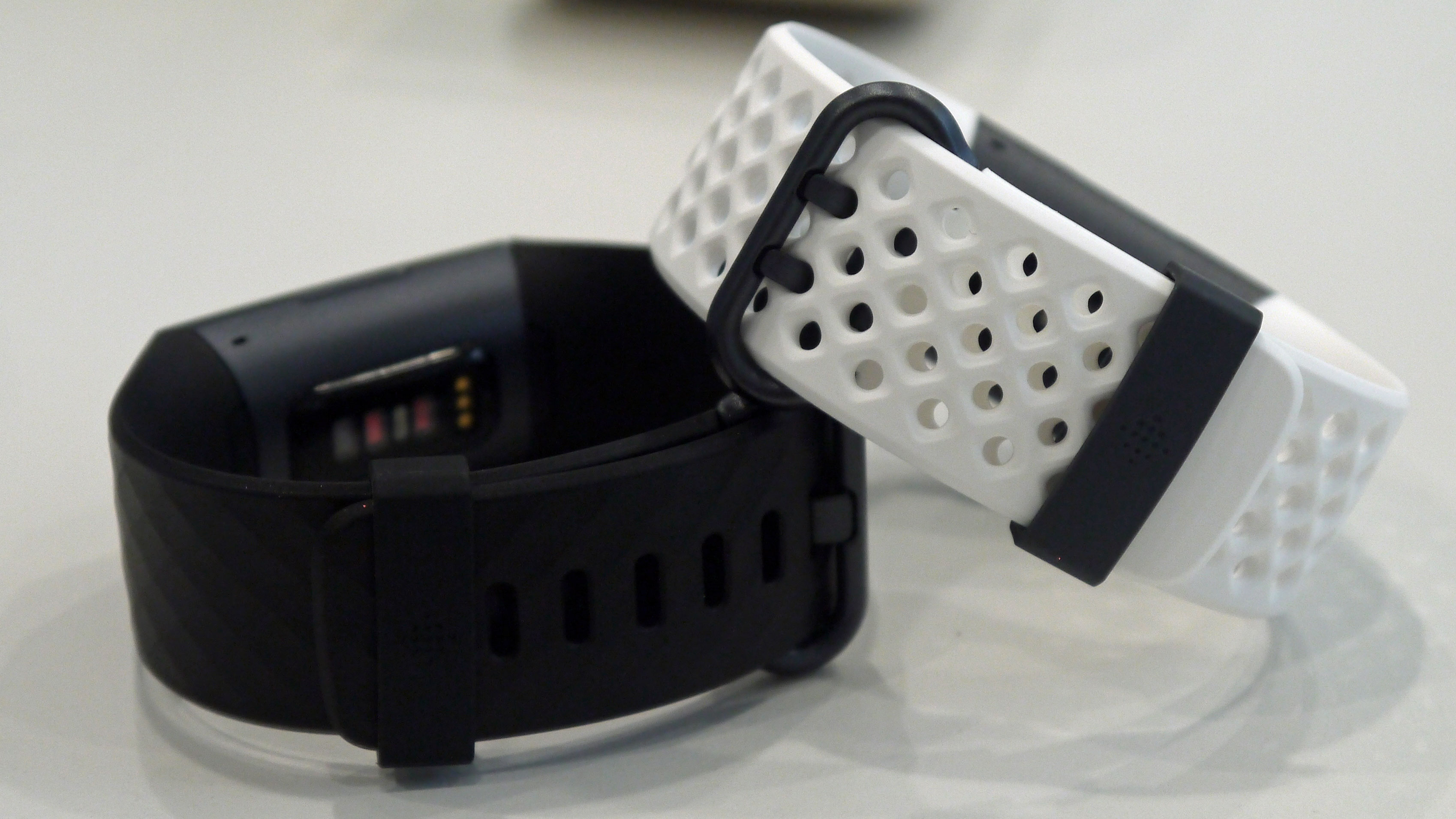 Female health tracking is now on the wrist too, so you'll be able to use the Fitbit Charge 3 to track your next period. Ovulation tracking is also set to come to the Fitbit app later in the year, but you won't be able to see this on the tracker.
Sleep tracking makes a return here too. It will be able to provide a picture of your night with details on REM, light and deep sleep.
Plus Fitbit is working on a new tool called Sleep Score that will be able to use the SpO2 sensor in this tracker to keep an eye on your breathing as well as using the heart-rate tracker to provide even more insight into your sleep.
Smart features
The Charge 3 is the closest Fitbit has come to merging its smartwatches with the more basic fitness devices it's best known for.
This device will be able to provide you with better smart notifications from all of the third-party apps on your phone than the Charge 2, which is only capable of alerting you to phone calls and a few other things.
You aren't able to download apps to this like you can with the Ionic or Versa, but there are a few features on board, including alarms, timers and weather. Later in the year you'll also be able to accept or reject calls from the device too, plus a calendar and the Fitbit Leaderboard are coming to the Charge 3 soon as well.
If you're using an Android phone, you'll also soon be able to do quick replies to your messages. Essentially this allows you to reply to instant messages and the like with a number of basic responses, such as to say you're running late.
Fitbit estimates the battery life for the Charge 3 will mean it lasts for seven days rather than the quoted time of five on the Charge 2. We'll be sure to put this claim through its paces during our full review.
Early verdict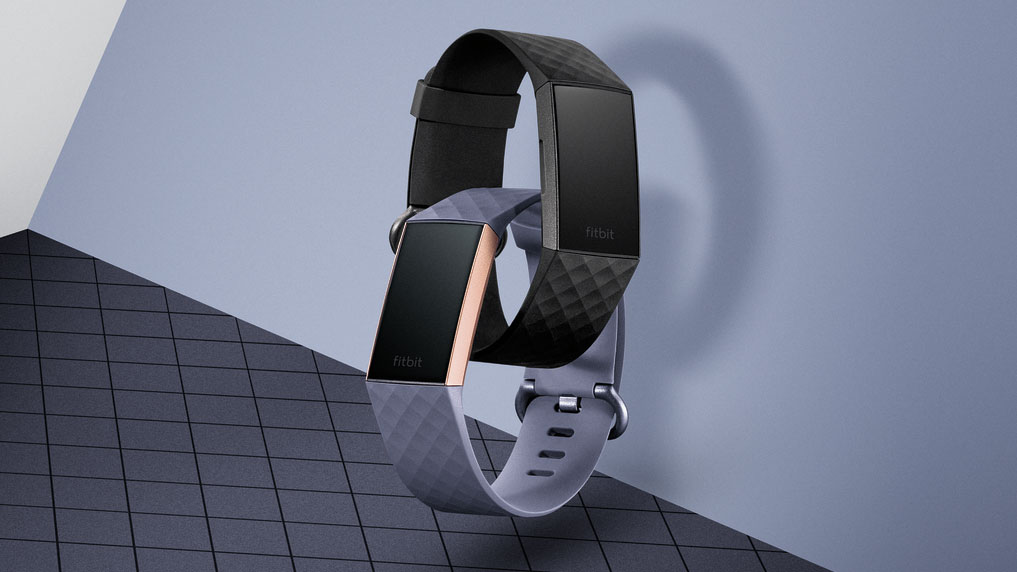 There are many improvements on the Fitbit Charge 3, resulting in this looking to be one of the best fitness bands on the market, with a premium design, lots of strap choices, improved fitness tracking and the added benefit of notifications on your wrist.
Given the lack of GPS, we think the Charge 3 won't be the device for those who want top-end tracking, but it could be the perfect activity band for the everyday workout and to wear as part smartwatch, part fitness partner.
from TechRadar - Technology Reviews http://www.techradar.com/reviews/fitbit-charge-3-review