In 2018, traditional wireless routers and range extenders are pretty much things of the past, thanks to devices like the Eero Home Wifi and the Samsung Connect Home. The best wireless mesh routers are the way of the future. It shouldn't be too surprising, then, that the smart-home obsessed Google would want a piece of the action, creating its own wireless mesh router with the Google Wifi.
And, it paid off in a major way – the Google Wifi isn't only the best wireless mesh router out there, but it's arguably the best wireless router, period. With the Google Wifi, the tech behemoth has created a mesh system that not only has more mesh units than the competition, but it's less expensive than devices like the Netgear Orbi, too. This value is compounded with the simple setup and network management through a smartphone app. Trust us – after using the Google Wifi, you won't want to even look at another wireless router.
Price and availability
Google really doesn't ask for much, especially when you consider what's on offer. Google Wifi will cost $299 (£329, AU$499) for a set of three units – that's one primary 'WiFi Point' (the one you hook up to the modem or gateway) and two secondary WiFi points.
In the UK, Google Wifi comes with a two unit set costing £229.
A single Google Wifi unit can be had for $129 (£129, AU$199). Google promises that three Wifi Points can cover up to 4,500 square feet (418 square meters) in a home.
If you're in Australia, you'll be happy to know that Google Wifi is now available. You can pick up the 1-pack for AU$199 and the 3-pack for AU$499.
Google offers insane value – with more units for less money than any other competitor, like the Netgear Orbi, with other wireless mesh routers coming in at at least $400 (about £320, AU$520) for the same amount of Wi-Fi points. And, that's before Black Friday and Cyber Monday – the deals are just going to get better from here.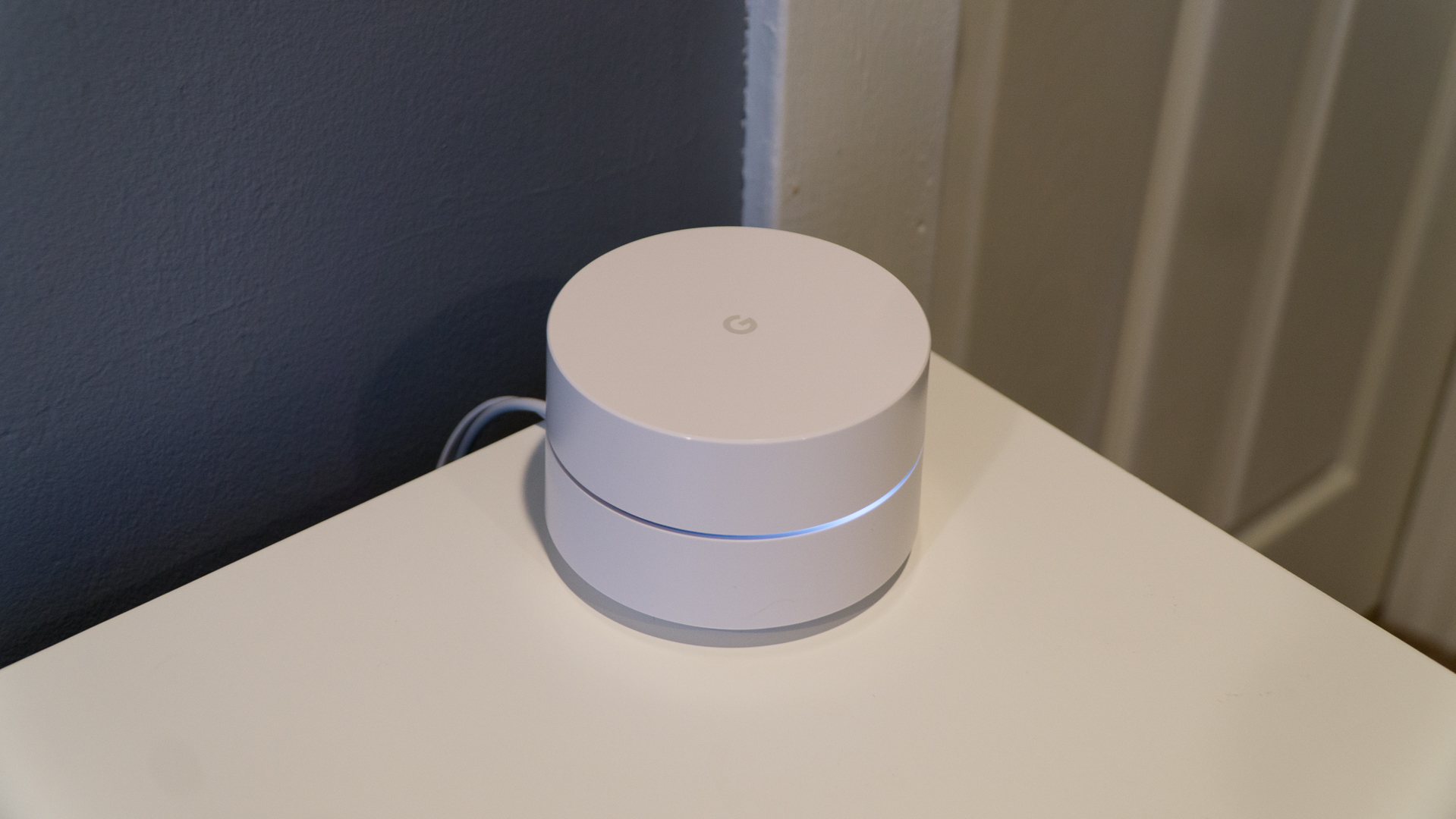 Design and setup
Google doesn't just have an advantage in pricing on its hands, but it also has the best designed Wifi units and the easiest setup of any offering. Each Google Wifi unit, a tiny, unassuming cylinder with a simple white LED band in its center, is capable of the same functionality.
This means that any Google Wifi unit can function as the core 'router' of the system, while the others can spread wired internet (which is beamed to the unit wirelessly) with their included Ethernet ports as well as wireless internet. All three units are powered through USB-C.
Setup is just as smooth as Google's hardware design – using a free iOS or Android App to oversee the process. While we won't belabor you with the entire procedure, the Google Wifi App configures your Wi-Fi network by first scanning the QR code on the Wifi points connected to your modem or gateway and power.
From there, the app tells you to name your network and set a password, then pair the additional Wifi Points and label them in the app for reference. Again, it takes seconds for the "router" to recognize the Wifi Points and for them to begin broadcasting.
But, you're not going to get the same depth of access as even Netgear Orbi provides, so no band switching for you. However, Google Wifi handles this in the background automatically.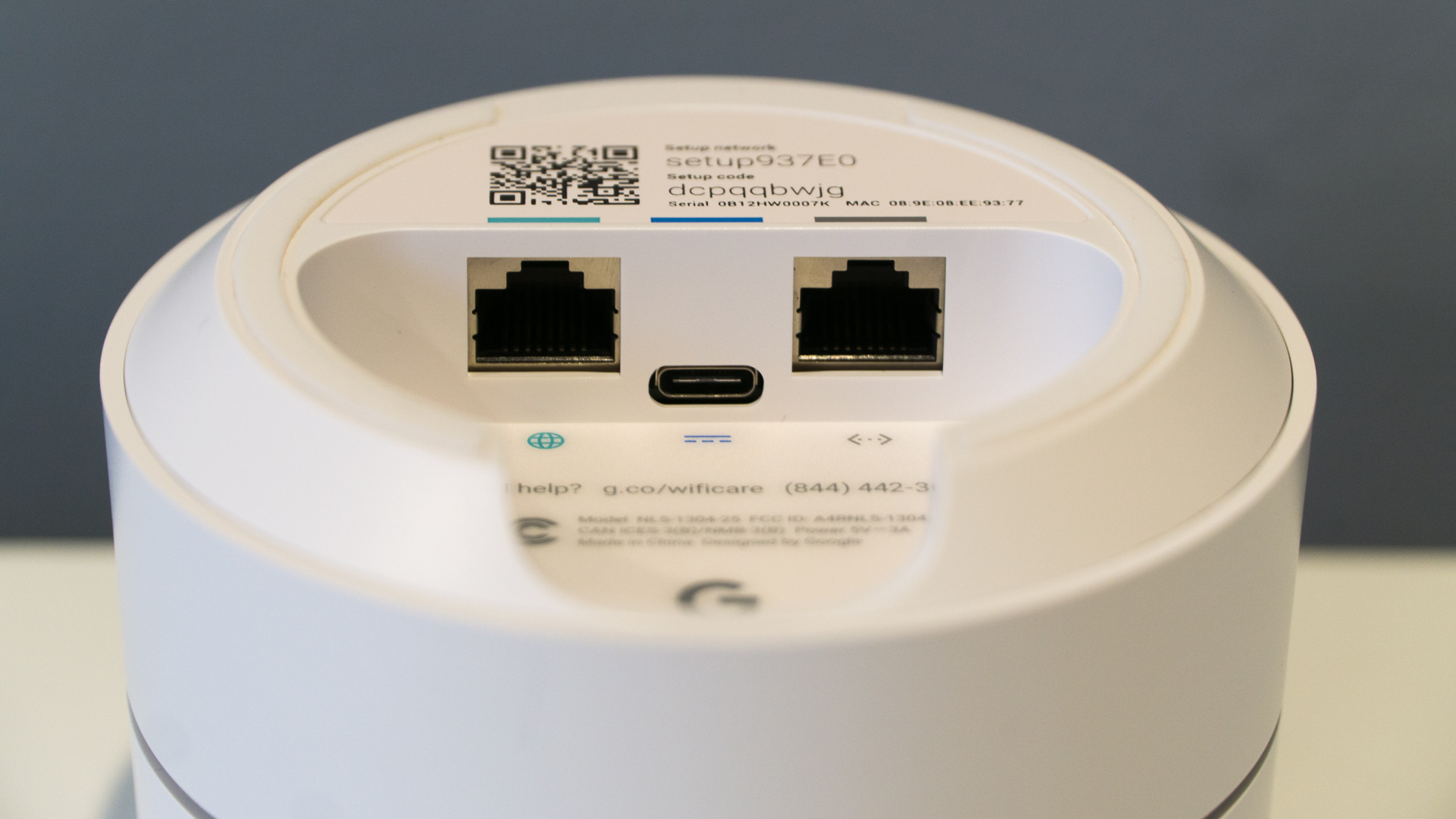 However, the Google Wifi app features more useful settings, like constant monitoring of your network, its points and the devices connected to it. The app has an included internet speed test, like Ookla's a mesh test that measures the health of your Points' connections, along with a Wi-Fi test that measures your connection strength from within the network.
This is the most complete and elegant suite of controls we've seen from a Wi-Fi mesh system so far, in spite of its lack of dropdown boxes and toggles.
You can also prioritize bandwidth to one device for a time, control smart home devices and pause internet access to certain devices in a family setting – all from within this app.
And, now Google has expanded Google Wi-Fi's Network Check feature to test multiple devices, so that you can spot potential bottlenecks in your network, and rearrange your Google Wifi access points in order to optimize network performance.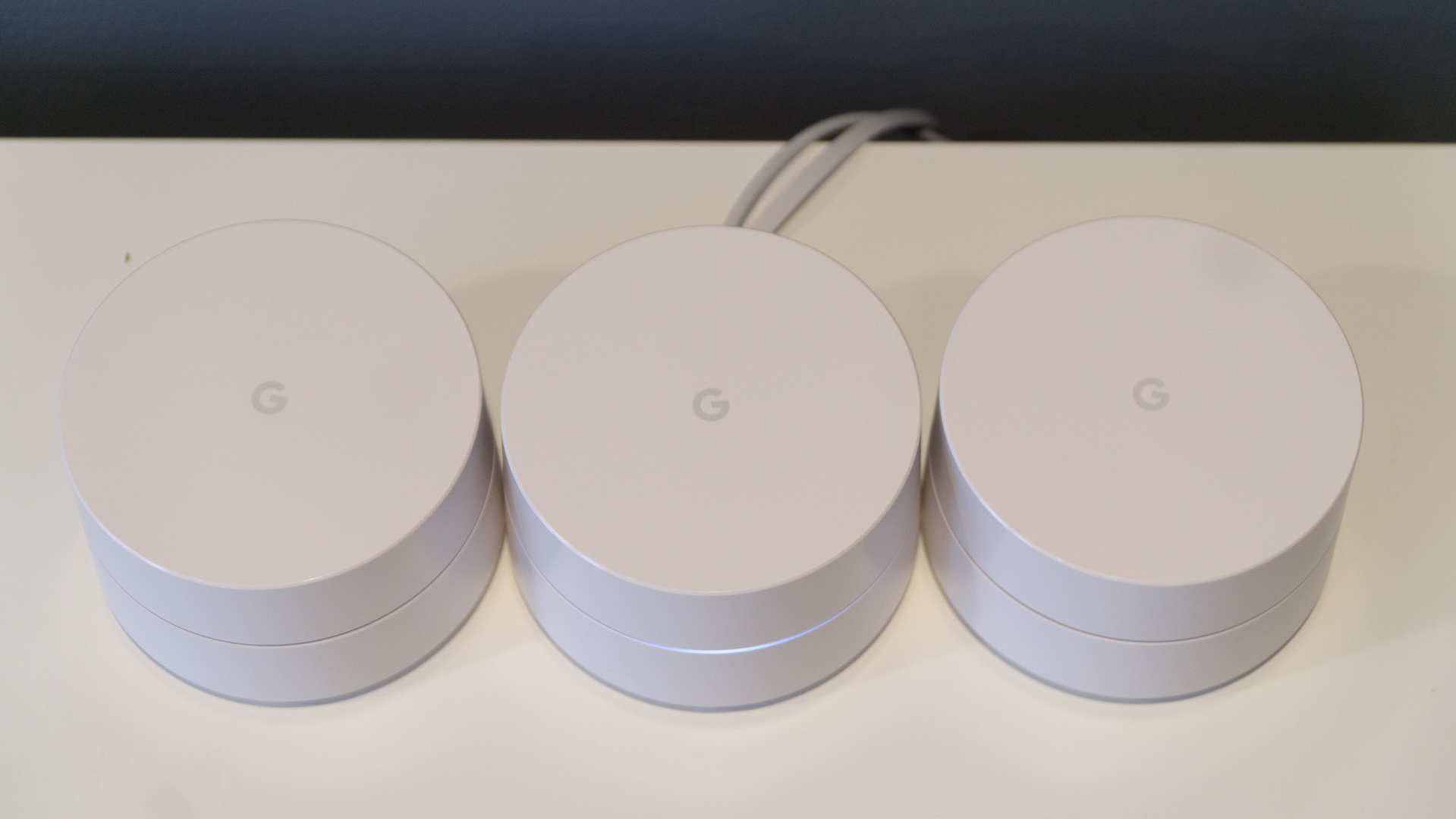 Performance
We've seen just as impressive, if not better, performance from the Google Wifi system as we have Netgear Orbi. Google Wifi draws the absolute most from our 100Mbps Wi-Fi service that we've seen any router able to, but can do so from every room of our, albeit small, house.
We've been able to stream 4K video through Netflix to our Roku Premiere in the basement as well as being able to play Overwatch in the office where the modem is located without issue. Wi-Fi mesh systems like the Google Wifi aren't focused so much on throughput as they are coverage, but this product delivers regardless.
The traffic prioritization feature can ensure that your gaming session is getting more of that crucial bandwidth than the other devices in your house that are Facebooking and streaming HD video.
Plus, the network can automatically repair itself should one or more of the Wifi Points be accidentally unplugged or otherwise lose power.
While we know that Google Wifi operates its mesh system over existing Wi-Fi bands (2.4GHz and 5GHz) over the 802.11s mesh protocol rather than Netgear Orbi's tri-band system that communicates over a second 5GHz Wi-Fi band, we haven't found a terrible difference between either's performance. We do see slightly faster download speeds in MB/s on the 2.4GHz band from the Orbi over the Google Wifi, but that could also be an anomaly.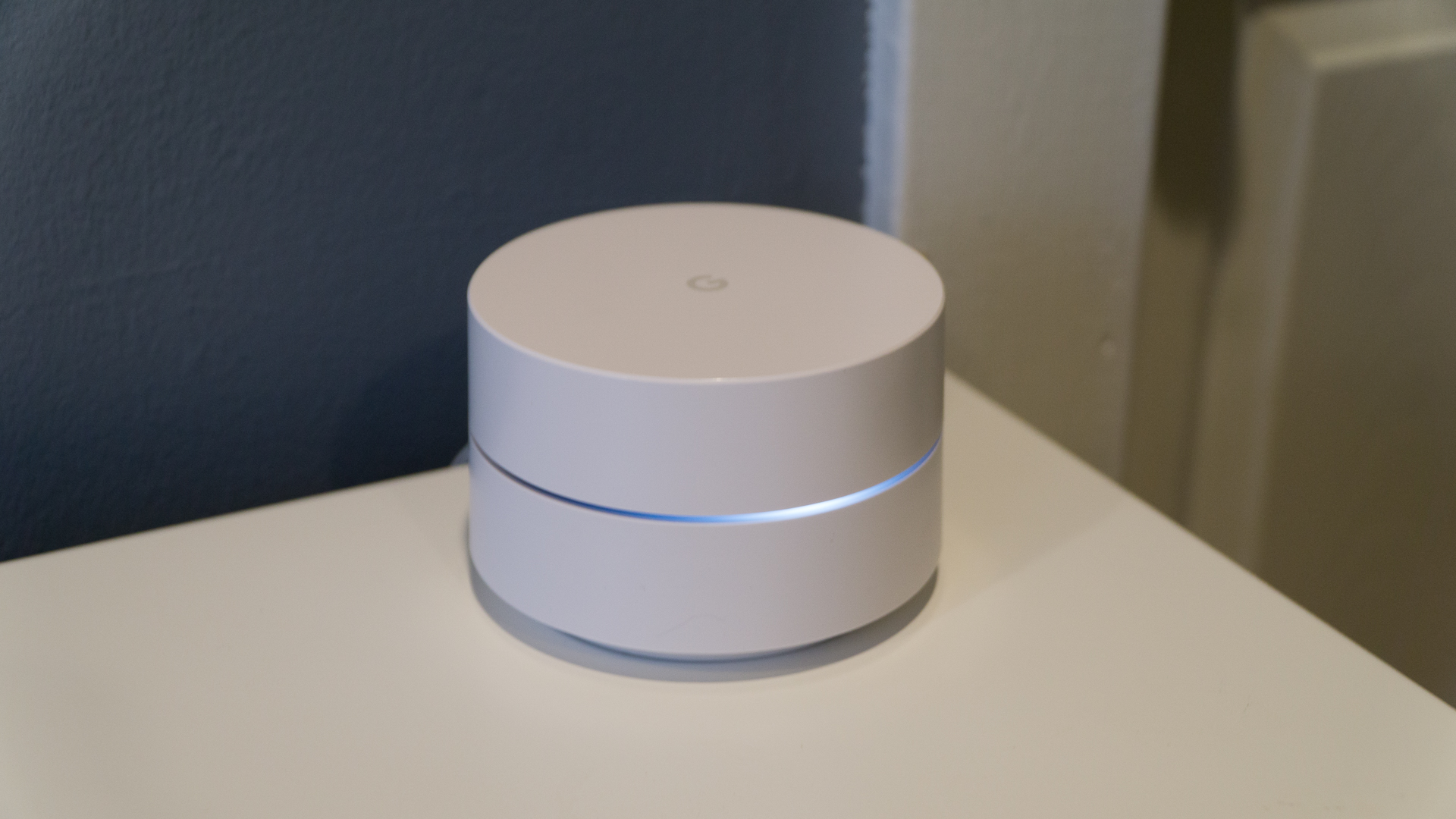 Where the Google Wifi really excels above other is simply its price to coverage ratio. You can get equal amounts of coverage in pure square footage from competing systems with fewer units, but the versatility having more units gives you just in terms of eliminating dead spots can't be ignored.
We liked
Google Wifi is incredibly easy to setup and manage on a day-to-day basis despite its lack of some finer control. The fact that the system includes three units for less than some competitors charge for two or fewer is also a huge benefit. Finally, these units look even better in terms of design than systems like Netgear Orbi, and are much easier to hide in plain sight.
We disliked
While there isn't much to gripe about regarding Google Wifi, some might like finer control over Wi-Fi settings, like controlling which bands are broadcast and when. Also, as it uses AC1200 technology, Google Wifi isn't capable of the AC3000 or even AC2200 throughput that Netgear Orbi and Linksys Velop are, respectively, which might turn off those paying big for super-fast internet speeds.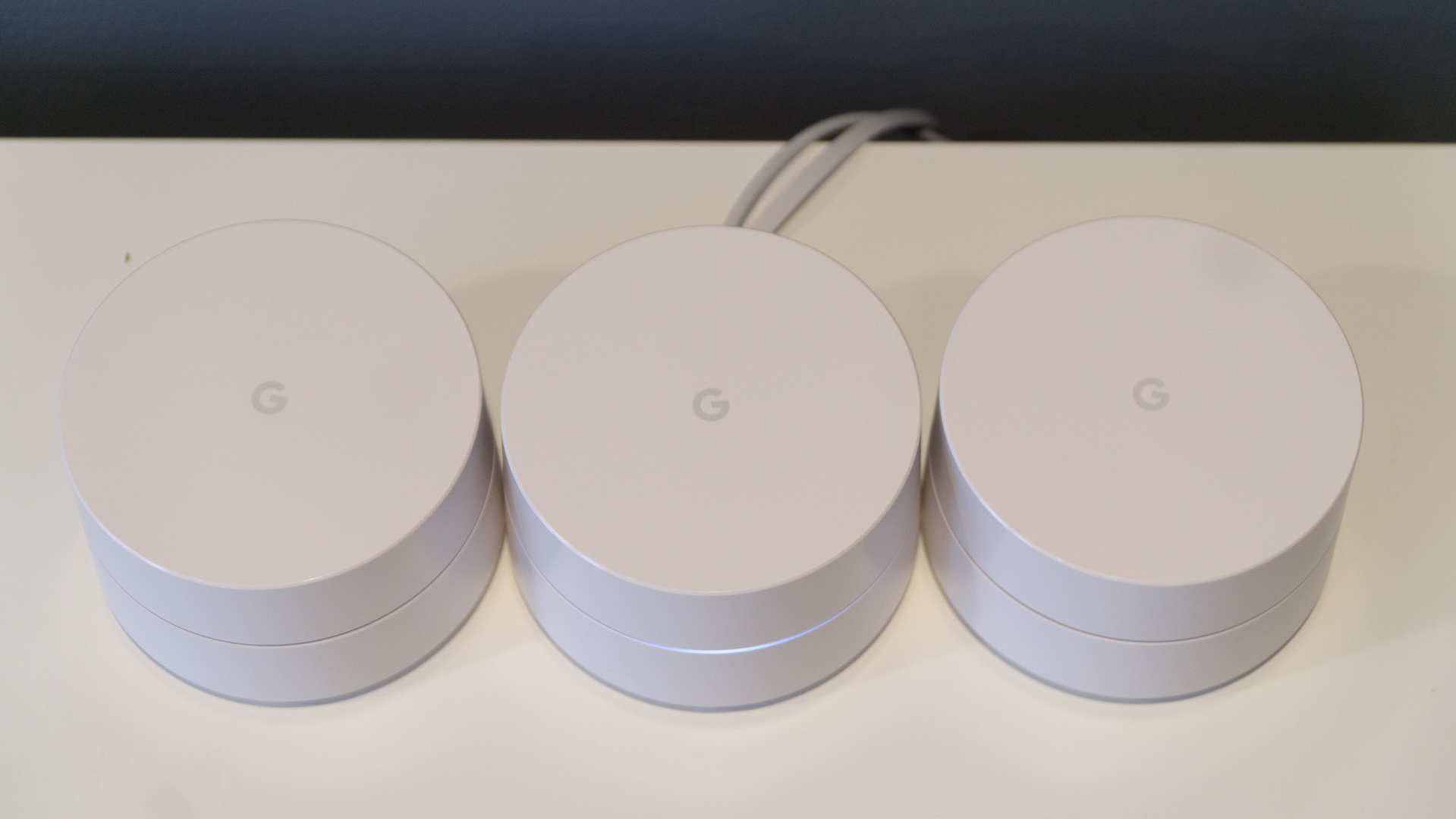 Final verdict
Google Wifi is the easiest router that we've ever set up, period. And, that's considering the two extra devices required to complete it. For a relatively affordable price, Google offers more units than most competitors and the best setup and management app by far.
For all the finer hardware controls it lacks, Google considered every toggle and test it could present in an easily understandable way through its app. (There's even bandwidth priority control.) Couple that with a hardware design that's easier to hide in plain sight than any we've seen yet, and you're looking at one of the best Wi-Fi systems that money can buy today.
First reviewed April 2017.
from TechRadar - Technology Reviews http://www.techradar.com/reviews/google-wifi