Buy a VPN service and you'll probably expect access to some carefully managed network of high-powered servers, smartly linked via highly secure protocols to block all unauthorized access to your traffic.
Hola isn't like that at all.
The Israeli company describes its offering as a "community powered (Peer-to-Peer) VPN". You'll get to choose a destination country from a list of 33 options, but your traffic is routed through other user's computers, rather than Hola's own network.
This gives all kinds of scope for performance issues, but there are some possible benefits. For example, as your traffic will always be taking different routes, depending on the available systems, it should make it more difficult for the service to be detected and blocked.
Hola's browser extensions are entirely free for non-commercial use, too, with no bandwidth or data caps, which isn't something you'll get elsewhere.
One obvious concern about the free edition is that although you get to use the bandwidth of other Hola nodes, they can also use yours. But Hola points out that its demands are low, with the average daily traffic being "less than a 20 second YouTube clip".
Additionally, Hola only uses a system as a peer if it's completely idle and not running on battery power, ensuring it shouldn't make any noticeable difference to the operation of your device.
There's still scope for problems with Hola Free. If your system becomes the exit node for another Hola user who's hacking, sending spam or downloading something illegal, for instance, your IP address may be recorded as the offender.
Uncomfortable with that? Then you might want to upgrade to Hola VPN Plus (the product formerly known as Hola Premium.) The service supports Windows, Mac, iOS and Android devices, and can be set up to run on routers, gaming consoles, smart TVs and more. VPN Plus allows you to connect up to ten of these devices simultaneously, and as you're a paying customer, no-one else will be able to use your bandwidth.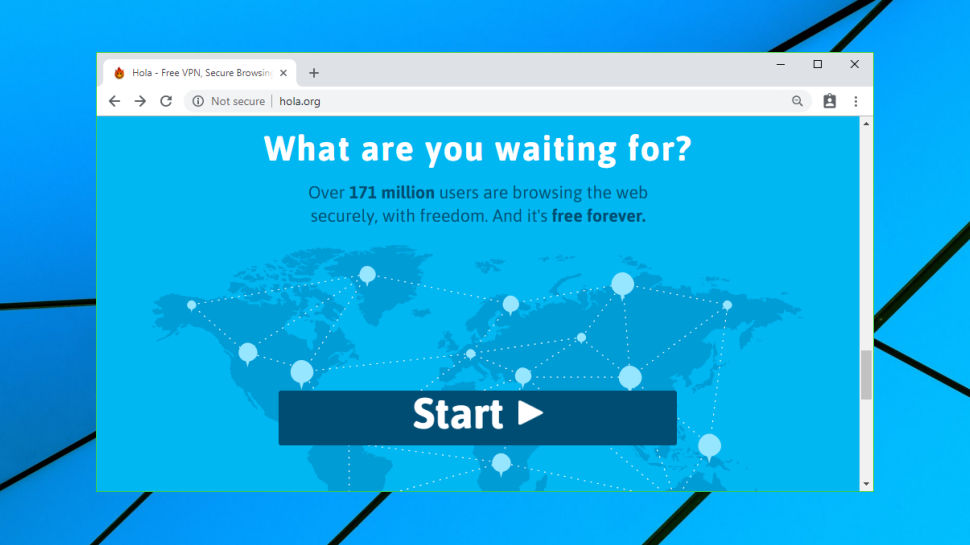 Plans and pricing
Hola VPN Plus is available in four subscription lengths: monthly, yearly, two years and three years.
The monthly plan is more expensive than most at a chunky $11.95 (£9.19).
Pay for a year up-front, though, and this drops to $6.99 (£5.38). The two-year plan costs $3.99 (£3.07), and if you're confident enough to take the three-year option, this falls even further to $2.99 (£2.30).
Although this is cheaper than most of the competition, there are one or two providers around who offer even better deals. Private Internet Access asks just $2.91 (£2.24) for its two-year plan, for instance, and that gets you a full-strength VPN with a real network behind it, rather than Hola's more basic user-powered system.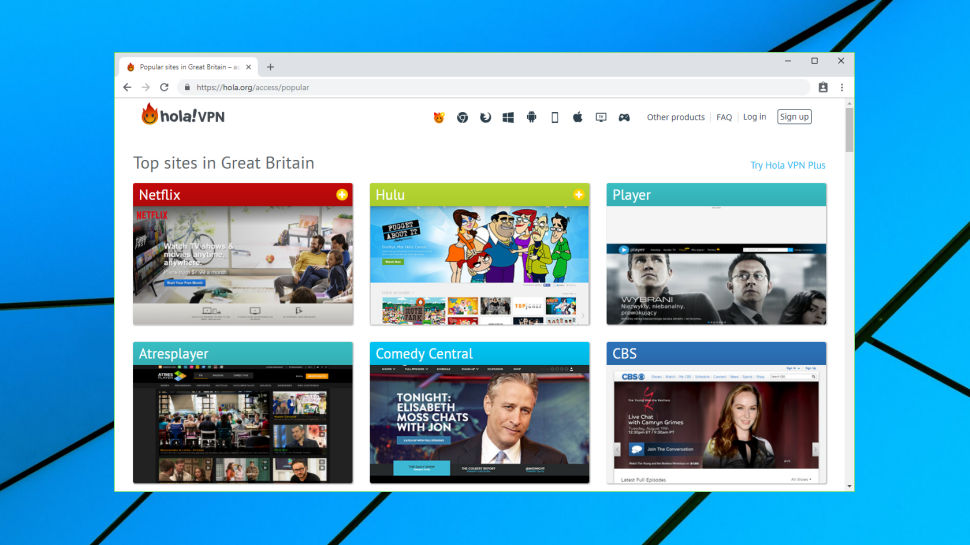 Privacy and logging
The Hola website sells the service largely on giving you "the freedom to browse the web without censorship", the ability to access websites you wouldn't be able to view normally. This automatically gives you a little extra privacy, by replacing your IP address, but you don't get very much more.
While other VPNs boast about the industrial-strength encryption used to protect your connection, for instance, Hola keeps very quiet. Here's a vague sentence from its FAQ, for instance:
"Depending on the proxy rule you choose, Hola will also encrypt some or all of your traffic, making you even more secure from outside sniffing."
It might encrypt 'some' traffic? So, what type of encryption is used? There's maybe a clue as to Hola's privacy level in its Windows 10 manual setup page, where the website recommends you connect with PPTP, such an old and insecure protocol that most VPNs don't support it at all.
Logging is another common privacy concern. Most VPNs route your traffic through their own servers and network, providing at least the possibility that they can log what you're doing. Hola's model of routing data through its users might seem a better way to protect your privacy, but it's not quite that simple.
Here's an interesting section from Hola's security and privacy FAQ.
"Hola regularly monitors the consumer network for... misuse or security breaches... architecture modifications allow Hola to see the origin of each request, thus if a cyber criminal were to use the Hola network, [his] information may be passed on to the authorities... Some VPN networks don't see both ends of the connection, and are therefore much more attractive for these uses."
The company is pointing out that it can monitor activity on the network in a way that isn't always possible with regular VPNs.
Hola's privacy policy further reveals that the company collects a staggering amount of information about your activities while using the service.
Just about every other VPN in the world claims not to log your browsing history, for instance, but not Hola. The policy explains that it may log your "browser type, web pages you visit, time spent on those pages, access times and dates." So that'll be just about everything, then.
Hola keeps all the usual personal information you provide during signup, too: IP address, name, email address, payment details, and more. And if you sign up with Facebook or some other third-party account, it also gets public profile data such as your home town, birth date, friends list and so on.
If you're just using Hola to access geoblocked YouTube clips, then having a record of this stored somewhere might not matter very much. But if anonymity is your top priority then Hola probably isn't the service for you.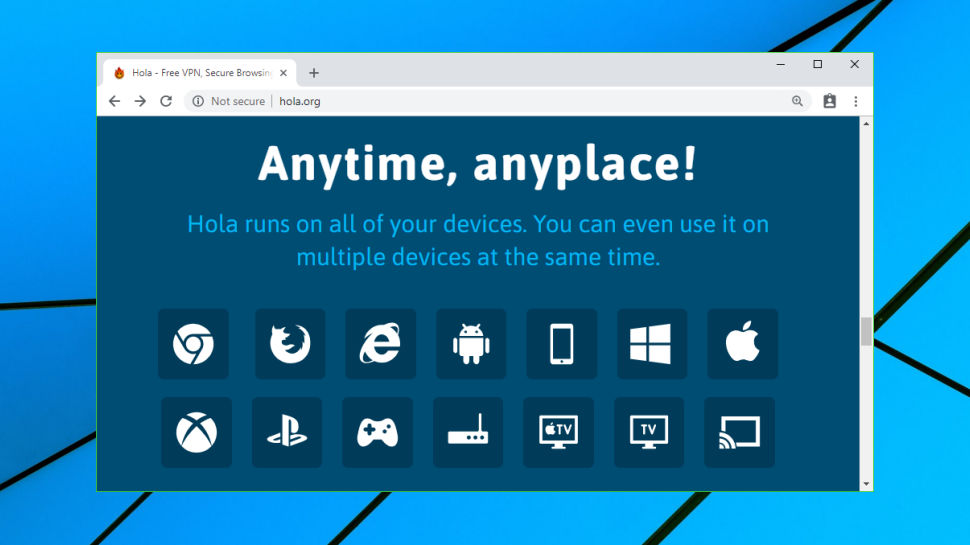 Apps
Hola's Chromium-based Windows app opened with a simple location picker, allowing us to connect to the US, the UK, or the full list of 33 countries. There's no information on server load or ping times, and no Favorites system.
The app doesn't use desktop notifications to tell you when you've connected or disconnected. The system tray icon updates to show the flag of your current connection, though, and if you open the app window you're also able to view your new IP address.
If you're hoping for any smart configuration options, you'll be quickly disappointed. There's no automatic connection feature, no control over protocols, nothing at all.
This total absence of features does at least make HolaVPN Plus easy to use. It also delivered on its basic functions, assigning us a new IP address and routing all our system traffic through its own connection.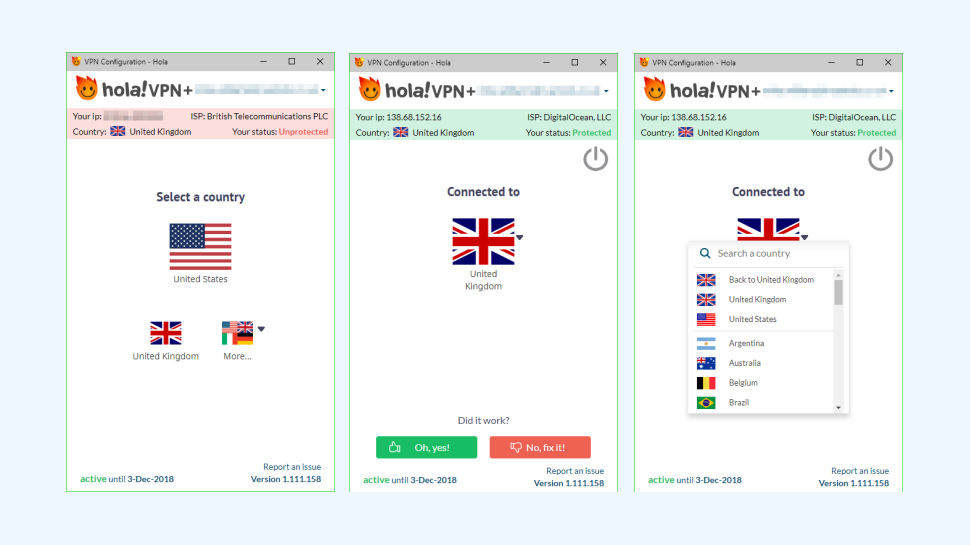 The mobile apps work a little differently. Android's Hola VPN Proxy Plus acts as a launcher for your installed apps, and allows you to specify the location you'd like them to use. You could launch Chrome with a US location, for instance, optionally changing your mobile device GPS location to match.
There are no other bonus extras or features of any kind, though. Hola's apps deliver the very basics, but that's about it.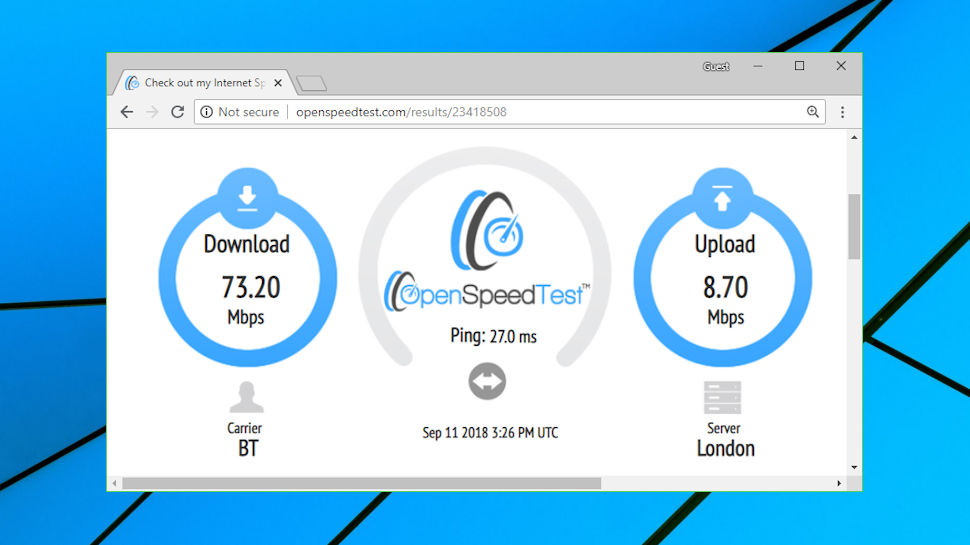 Performance
Hola's user-based traffic routing means you could run into all kinds of performance issues, but that doesn't mean it's always slow. We checked the download speeds of our nearest UK location with SpeedTest and Fast.com, and the 58-62Mbps results were better than some regular VPNs. (Keep in mind that Hola isn't applying the same industrial-strength encryption as most other VPNs, though, so that automatically gives it a speed advantage.)
European results weren't exactly consistent - France alone gave us anything from 35-60Mbps - but even the slowest speeds were good enough for most situations.
Connecting to the US saw our top speed drop to around 40Mbps, while the lowest figure we recorded was a miserable 9Mbps. Average performance was closer to the high end of the range than the bottom, though, and we were able to stream HD video without interruptions.
The story stayed much the same as we headed further afield, with for instance Mexico averaging 14Mbps and Singapore giving us 12Mbps. It can't compete with the top VPNs, but if you're only after basic browsing or video streaming, there's enough speed here to get by.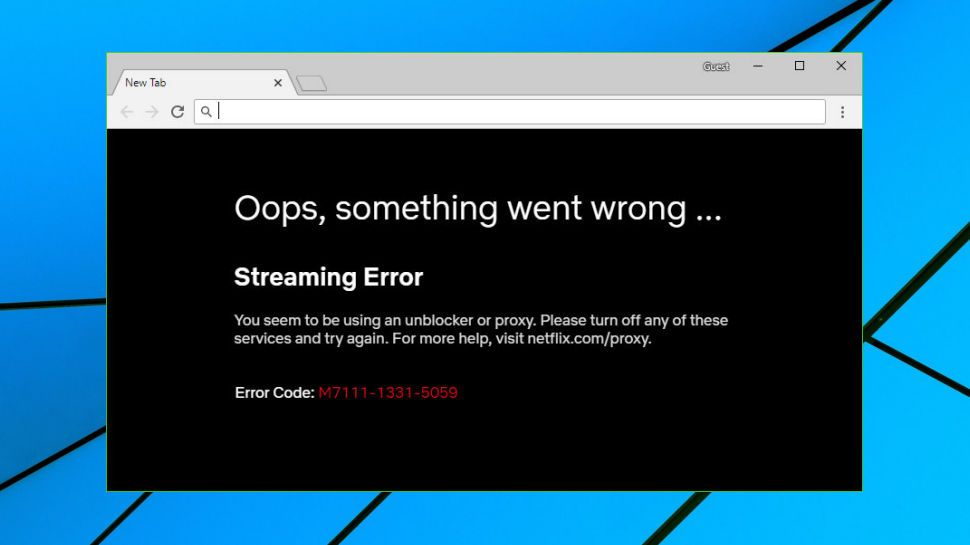 Netflix
It's not the fastest VPN, or the most feature-packed, or privacy-conscious, but Hola does at least promise it allows you to 'access any website.' Is that really true, though?
We logged into the UK server, tried accessing BBC iPlayer, and, sure enough, the service failed to spot what we were doing and allowed us to stream content.
The US server was just as effective, giving us instant access to US-only Netflix and YouTube content.
The website claims it can give you access to many other popular streaming, news, social media and other websites, too, even if they're blocked in your current location. These include everything from MTV and Hulu to Pandora and PirateBay (the full list is here.)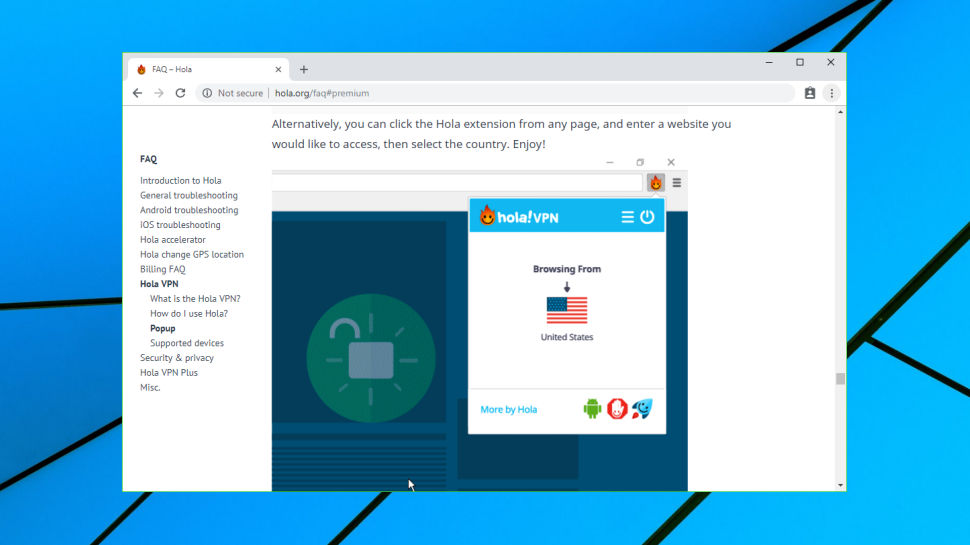 Support
Hola's support site is probably the simplest we've seen from any VPN provider, effectively a very long web page with a tree-based navigator in a left-hand sidebar.
The company somehow still manages to squeeze in more topics and answers than you would expect, but they're generally very basic and lacking in depth. The advice they gave was sometimes a little odd, too, for example telling Windows users to launch Task Manager by clicking Start > Control Panel > System and Security > Administrative Tools > System Configuration > Startup > Task Manager. (Pressing Ctrl+Left Shift+Esc or right-clicking the taskbar and choosing Task Manager would be considerably easier.)
If you can't find the answers you need in the FAQ, the Premium Support page gives you a form you can fill in to ask for help, or you can send a message via email. This can't compete with the live chat you'll get from top providers like ExpressVPN, but that's perhaps where Hola's lack of functionality wins out: with so few features, there's really very little to go wrong.
Final verdict
If you're looking for a reliable way to unblock websites, Hola's free account is hard to beat. But the commercial service can't do much else, has minimal encryption and lots of logging, and you can get some quality full-strength VPNs for a very similar price.
from TechRadar - Technology Reviews http://www.techradar.com/reviews/pc-mac/software/utilities/hola-premium-1325589/review