Update: There's now a newer smartwatch from Huawei called the Watch GT, but it doesn't run Wear OS software like the Huawei Watch 2. You may find mentions of Android Wear in this review, but the company has since updated the watch with the latest Wear OS software instead.
Smartwatches need more features. At least that's what Huawei told us at CES 2017, and it's now made good on its word with the arrival of the Huawei Watch 2.
The Huawei Watch 2 ups the ante with more connectivity options, Android Wear 2.0 (now renamed Wear OS) and a sporty new look, but with a smaller display and chunkier build this latest smartwatch feels like it's trying to do too much, and it doesn't excel in every area.
So can a smartwatch have too many features for its own good?
Huawei Watch 2 price and release date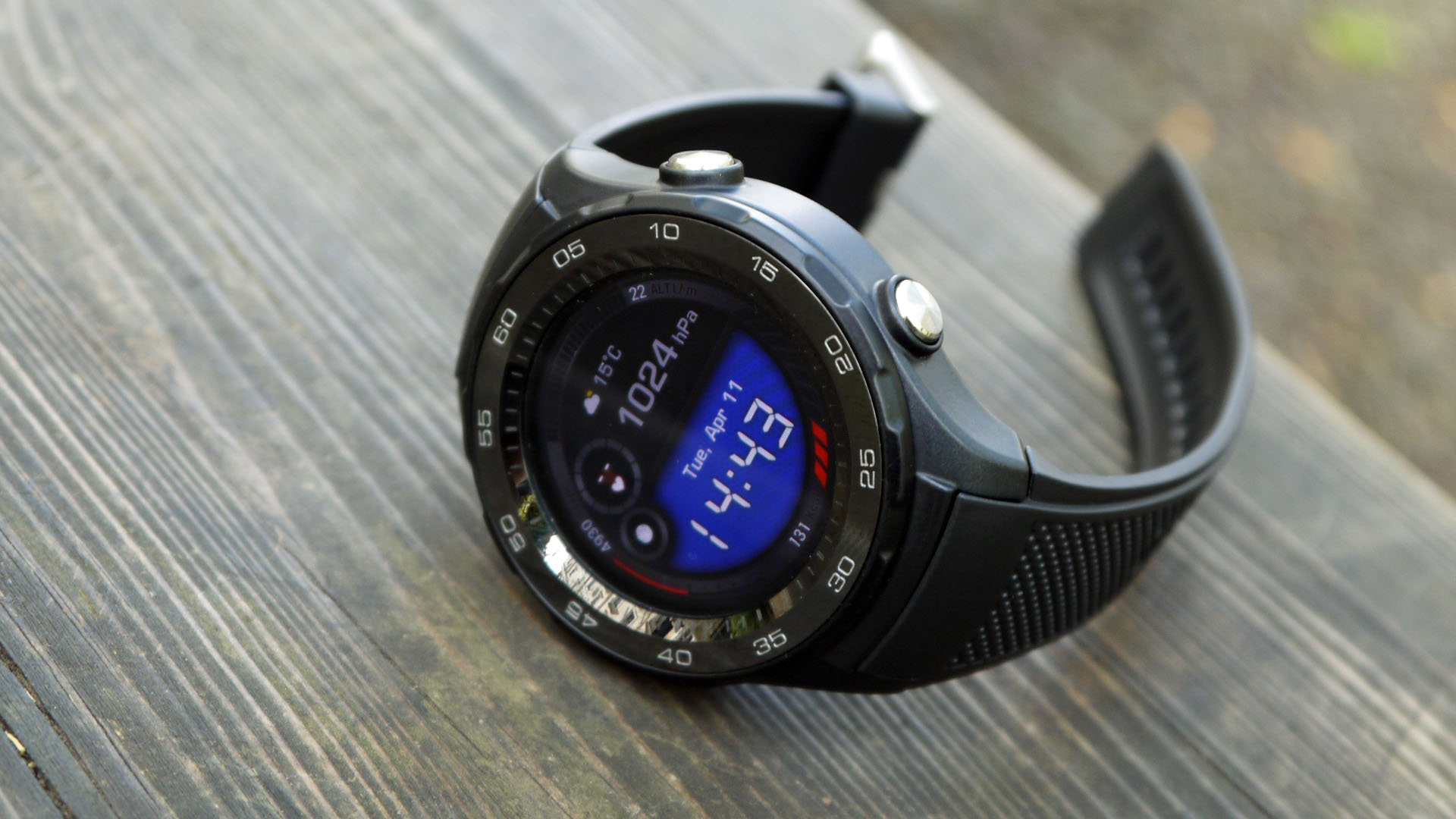 Launched at £329 ($299, AU$450)
There's also a 4G model at £379 (AU$599, around $400)
The price has dropped around the world though, so it'll be cheaper
The Huawei Watch 2 was released back in the first half of 2017 at £329 ($299, around AU$395) for the non-4G version, while those looking at the 4G model had to part with £379 (AU$599, around $400).
The price in the US has been as low as $179.99 and in the UK we've seen it touch the £190 mark (or £210 for the 4G model) so you should be able to find a better deal than the launch price.
Huawei hasn't released the 4G watch in the US either. The launch price made the Huawei Watch 2 one of the more expensive Wear OS watches from the smartphone manufacturers, although it is on a par with the 4G-enabled LG Watch Sport, and it has dropped in price more heavily.
Design
Sporty, rugged and chunky design
Two hardware buttons, but no rotating crown or bezel
Comfortable and lightweight, but will be too big for some
The original Huawei Watch had a premium metal finish which looked smart on the wrist, but it's all-change with the Huawei Watch 2.
Instead of premium appeal, Huawei has opted for a rugged, sporty finish on the Watch 2 with a chunky plastic body and sizable bezel surrounding the watch face.
It's not particularly eye-catching, and it's unlikely to win any style awards – but it is at least functional. The Huawei Watch 2 has a strong health and fitness angle, and its design means it will survive the rigors of a workout, training session or race.
To that end the silicon strap is sweat-proof, and it can be easily removed, with handy pegs on the underside of the strap making it easy to detach from the watch.
While it uses a standard 20mm strap size, the design means you'll be limited to Huawei Watch 2-specific straps if you fancy changing the look and material.
At 48.9 x 45 x 12.6mm the Watch 2 is a sizable presence on the wrist – it's comfortably bigger than its predecessor even though it has a smaller display. Compare it to the LG Watch Sport, though, and the Huawei actually comes out on top with a slimmer frame.
While it may be big, at 57g the Huawei Watch 2 is surprisingly light considering the GPS, NFC, Wi-Fi, Bluetooth and 4G SIM crammed inside. The flat rear to the watch case means it sits comfortably on the arm, with the built-in heart rate monitor almost flush to the metal cover.
You get two buttons on the right side of the watch, with the one at the 2 o'clock position your main navigation key for bringing up the app list and returning to the clock face. The second, at 4 o'clock, is a programmable key which you can assign to the app you want it to launch.
It's set to launch Workout by default, but for those less actively minded Android Pay is a useful shortcut to have attached to this button for quick contactless payments.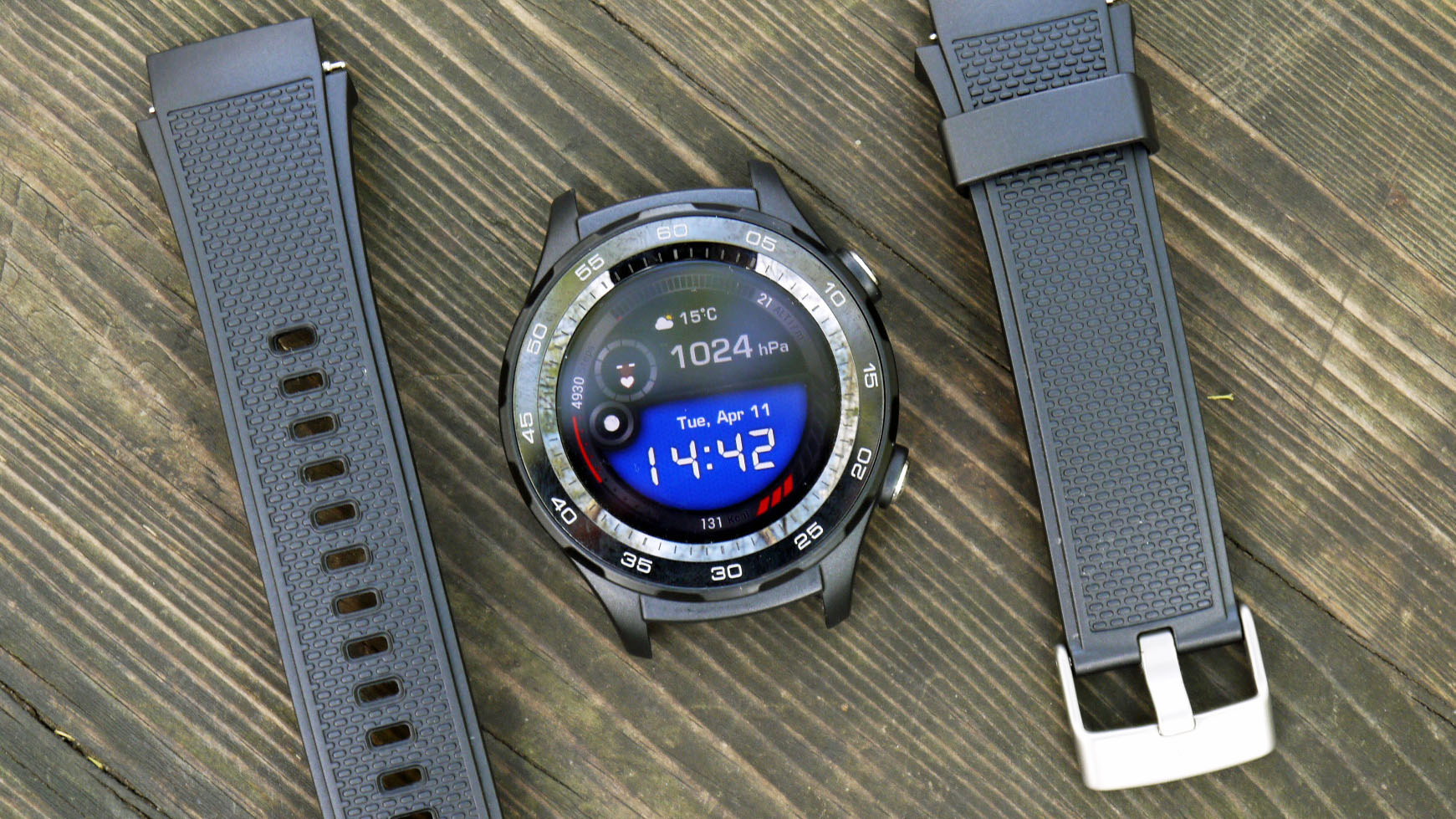 A missing feature we're disappointed by is the lack of a rotating crown or bezel. With the Huawei Watch 2 launching with Android Wear 2.0 – an OS which has been developed to play nicely with a rotating input – it feels like Huawei has missed a trick on its latest smartwatch.
Huawei is far from alone though, as Tag Heuer, Mont Blanc, Misfit and LG have also all chosen not to incorporate a spinning bezel or crown into the new Android Wear 2.0 watches as well. Take a look at the Apple Watch 3 and Samsung Gear S3 though – neither of which run Android Wear – and you'll find a rotating crown and spinning bezel respectively.
For those looking for something more professional-looking there's always the Huawei Watch 2 Classic, but even though it has fewer features the Classic is the same size, heavier and more expensive.
Display
1.2-inch, 390 x 390 display
A little too small for some on-screen tasks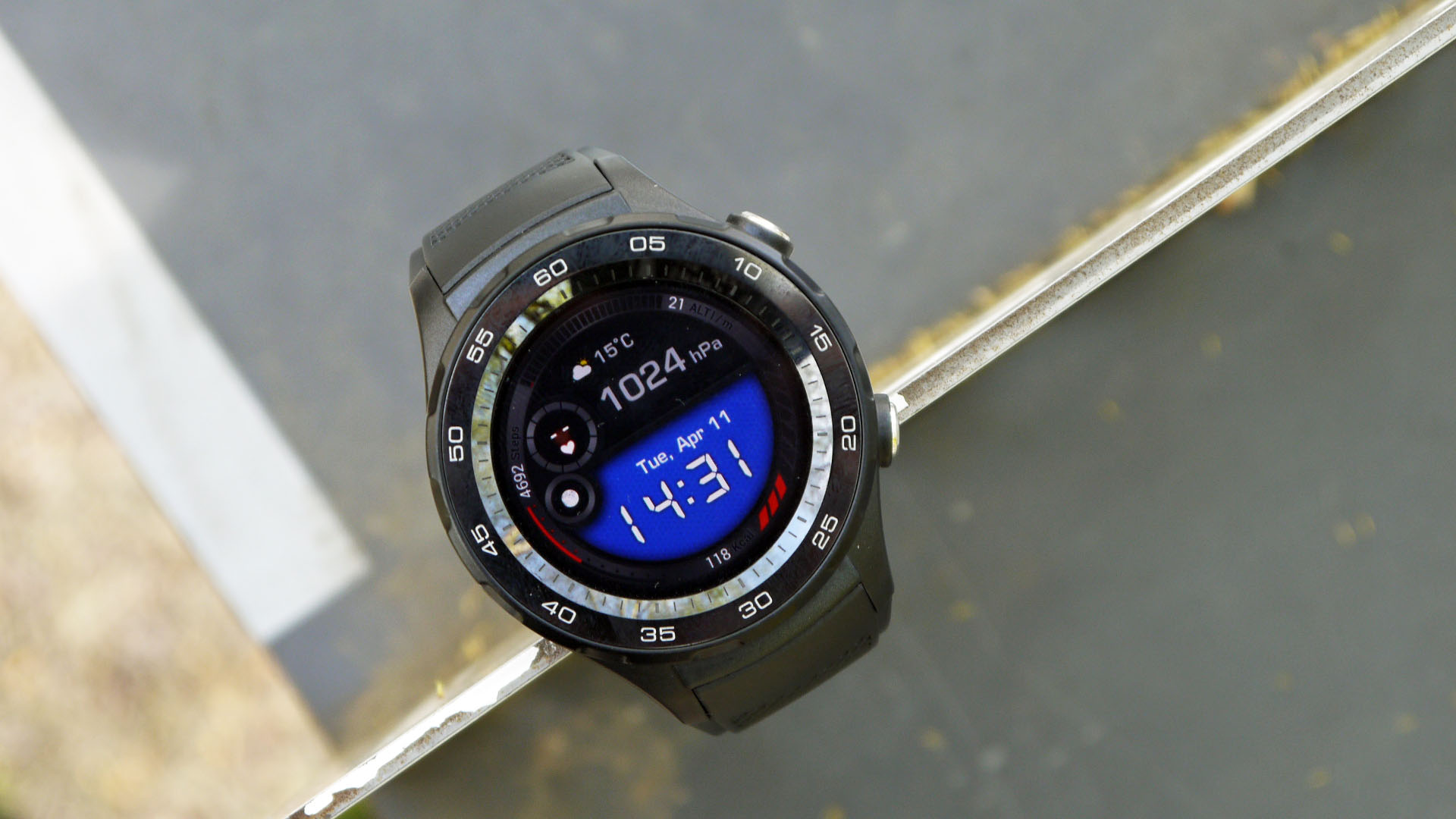 We're disappointed by the display on the Huawei Watch 2. At 1.2 inches it's small, and feels even smaller when you try to use the on-screen keyboard or some of the more complex apps.
The resolution, at 390 x 390, also isn't the highest definition we've seen on smartwatches, and while it boasts a higher pixel density than the original Huawei Watch the latter was larger at 1.4 inches, giving you more space on screen.
The display is bright enough to read everything, and is generally responsive to the touch, but it's not a standout feature that really gets you engaged with the watch.
Specs and interface
Sluggish performance
Useful security PIN feature
On-watch app store
The Huawei Watch 2 packs a Snapdragon Wear 2100 chipset which has been specifically made for wearables, along with 768MB of RAM.
In short, it's not enough. The Huawei Watch 2 feels sluggish, with slow transitions between watch faces and menus.
The main issue here though is the lag in opening apps. You can program the lower physical key on the right of the watch to launch a specific app – a handy shortcut if there's one feature you frequently use, as it saves you from navigating the still slightly clunky Android Wear 2.0 menu.
We say Android Wear 2.0 (and we keep refering to it as that throughout this review) but you'll find it's now running the rebranded version of that software that's called Wear OS.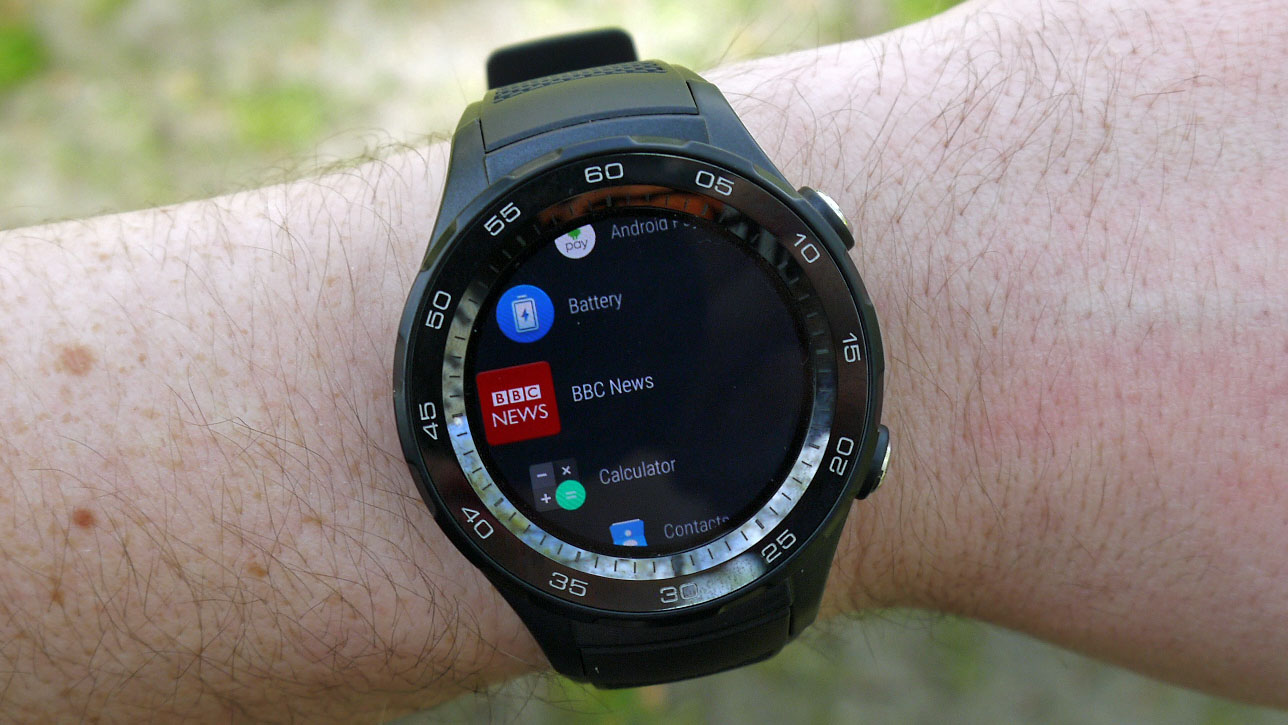 This hardware key is set to the Workout fitness app by default, but we chose to change this to Android Pay as we're suckers for convenient contactless payments… trouble is, on the Huawei Watch 2 it's not always that convenient.
There's a noticeable delay between you pressing the button and Android Pay loading up on screen, and this becomes troublesome if you're in a queue of people trying to pay for a coffee or get through barriers at a train statio – morning commuters are unforgiving, and the Huawei Watch 2's stuttering performance will win you no friends.
This issue can in theory be overcome with a little bit of pre-planning – so you'd hit the button in advance of reaching the payment point – but this didn't always solve our problems.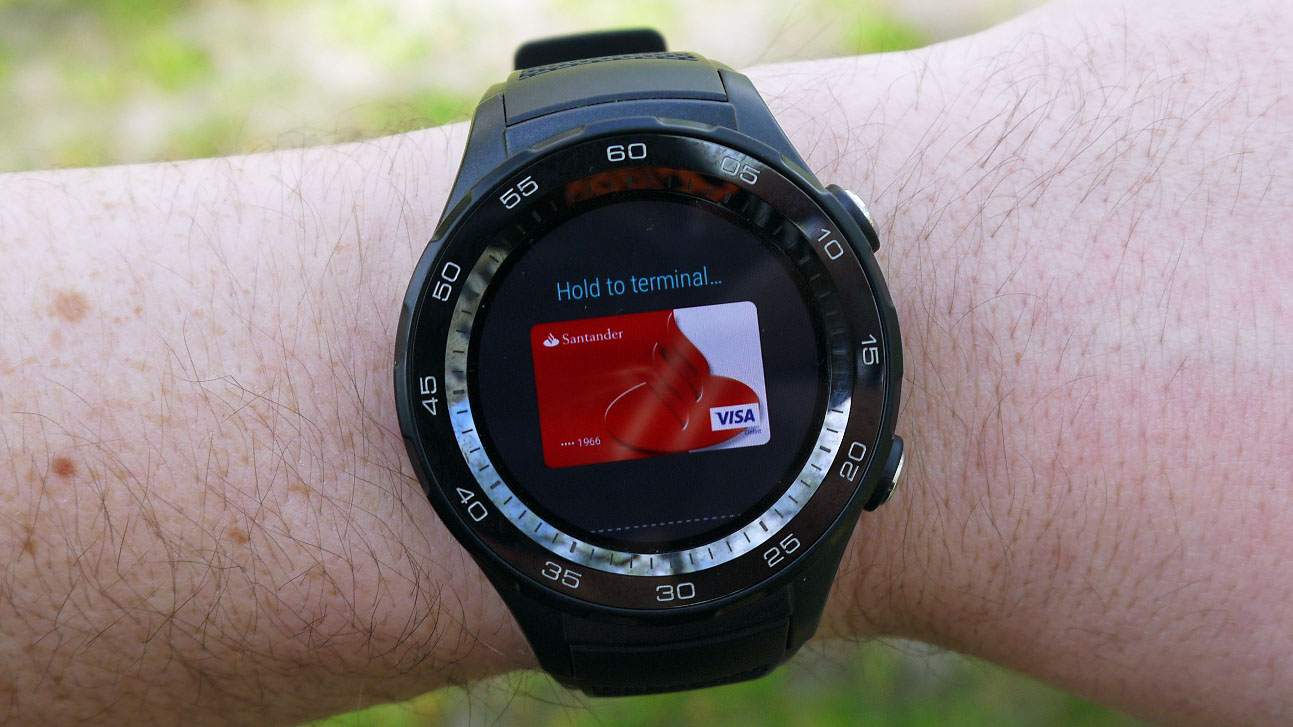 On several occasions Android Pay refused to work at all. We haven't experienced the same issue with our phone or contactless bank card, and the fact the Huawei Watch 2 refused to play ball on a number of occasions during our review period does raise some questions.
Hopefully this intermittent bug can be ironed out with a software update, but coupled with the less-than-slick operation it makes for a frustrating experience.
The fact there's no rotating bezel (as on the Samsung Gear S3) or rotating crown (as on the LG Watch Sport) makes scrolling through things like menus a little trickier, as your finger spends most of the time covering the screen.
Considering that Google has designed Android Wear 2.0 to play nicely with these rotating elements it's a shame Huawei hasn't included something on the Watch 2.
The watch still includes Android Wear 2.0 features, but the software has since been renamed Wear OS. That's in an attempt from Google to make it clear watches running the software work with both iPhones and Google devices.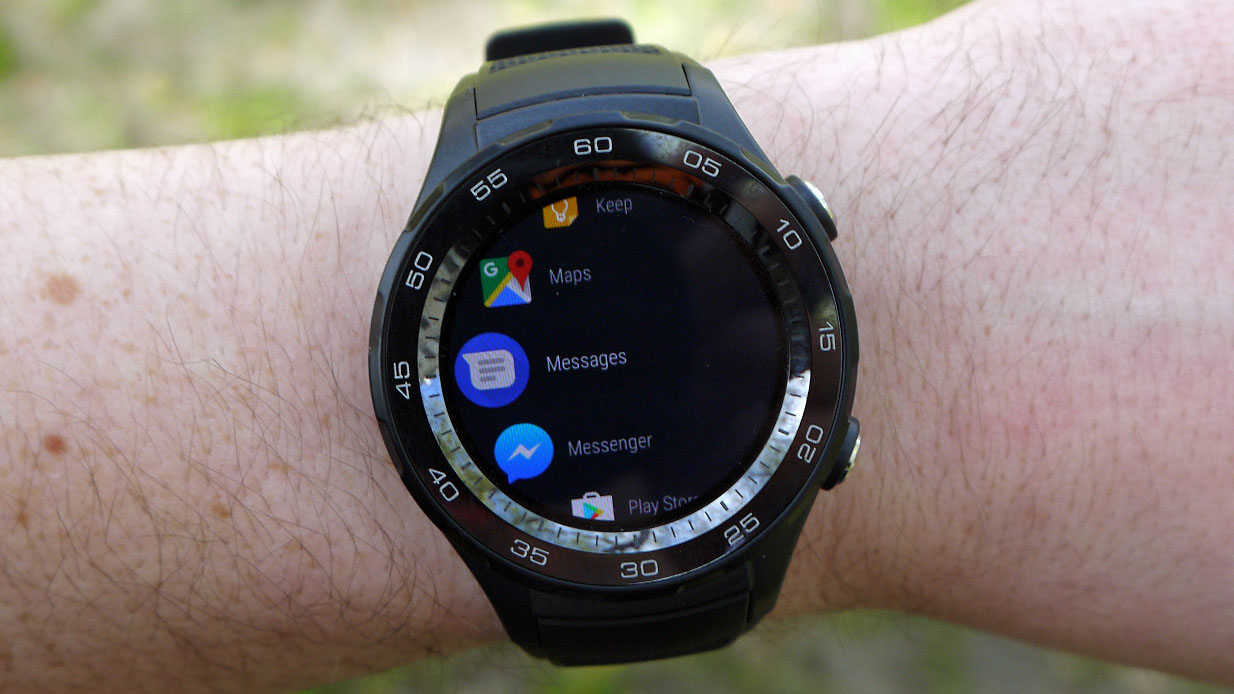 It's good to see Google's latest operating system in action on another smartwatch though, and its self-locking mode when you remove your device from your wrist is useful. It means that if someone was to steal your watch they'd need your PIN to use it, so they couldn't go on a spending spree with Android Pay – assuming it actually worked, that is.
Another big feature of the Android Wear 2.0 update was the dedicated app store on the watch itself. This means you can download apps directly to the watch, without the need to go to your smartphone and download it on there first.
Big hitters such as Spotify, Uber, WhatsApp and Facebook Messenger feature in the watch-based Play Store, but as with all Android Wear devices there's still a limited number of apps to choose from.
As with other interactions, navigating the Play Store is tricky on the small screen of the Huawei Watch 2, which again makes us wish for a larger display and physical rotating input.
There's 4GB of storage on the Watch 2, allowing you to download a number of applications.
Annoyingly there's no obvious way to check how much space you have left, although we managed to comfortably download 10 apps onto the Huawei Watch 2 from the Play Store – on top of the pre-loaded offerings – without issue.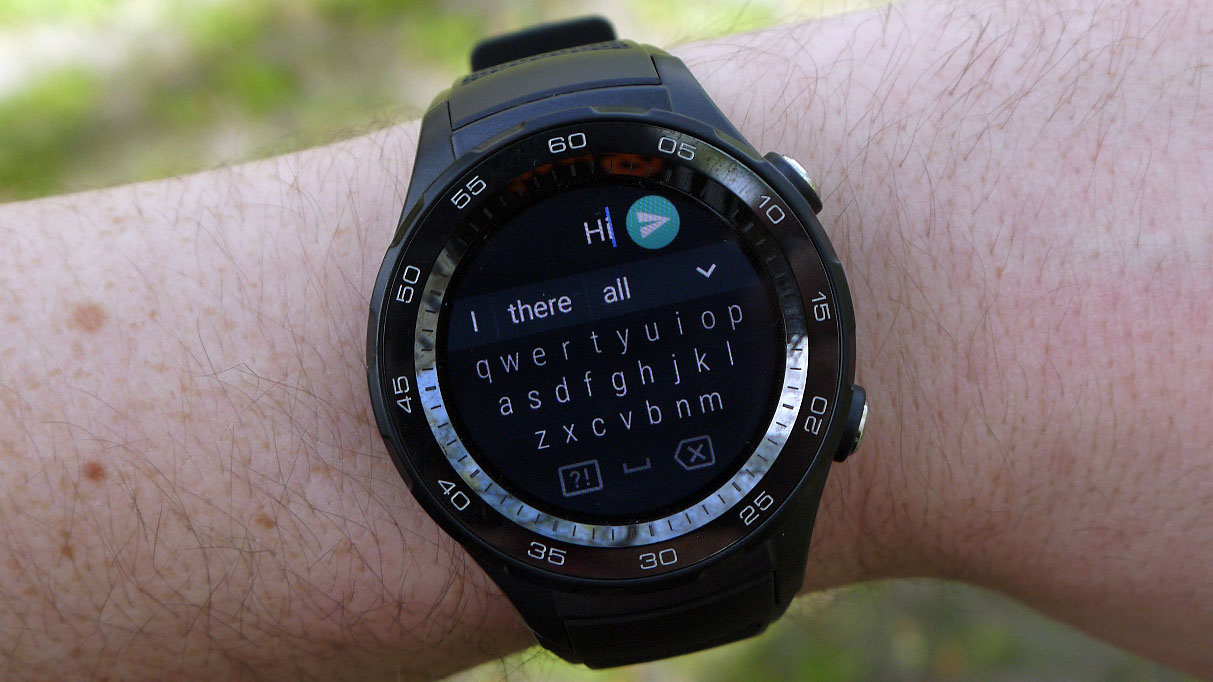 4G features
Make/receive calls, send messages, using web without phone
Second SIM contract required
Limited use-cases for the price you pay
The Huawei Watch 2 functions perfectly well without a SIM card, using either your smartphone's internet connection or that of a local Wi-Fi network to provide you with your news, Ubers, music and more.
It's for the rare occasions when you're 1) not with your phone and 2) not around a Wi-Fi network that the Huawei Watch 2 comes into its own.
In these situations most smartwatches are far less useful, but the Huawei Watch 2 is here to help, with a nanoSIM slot hiding behind one of the straps (you'll have to remove the strap to access the port) providing you with that all-important connection.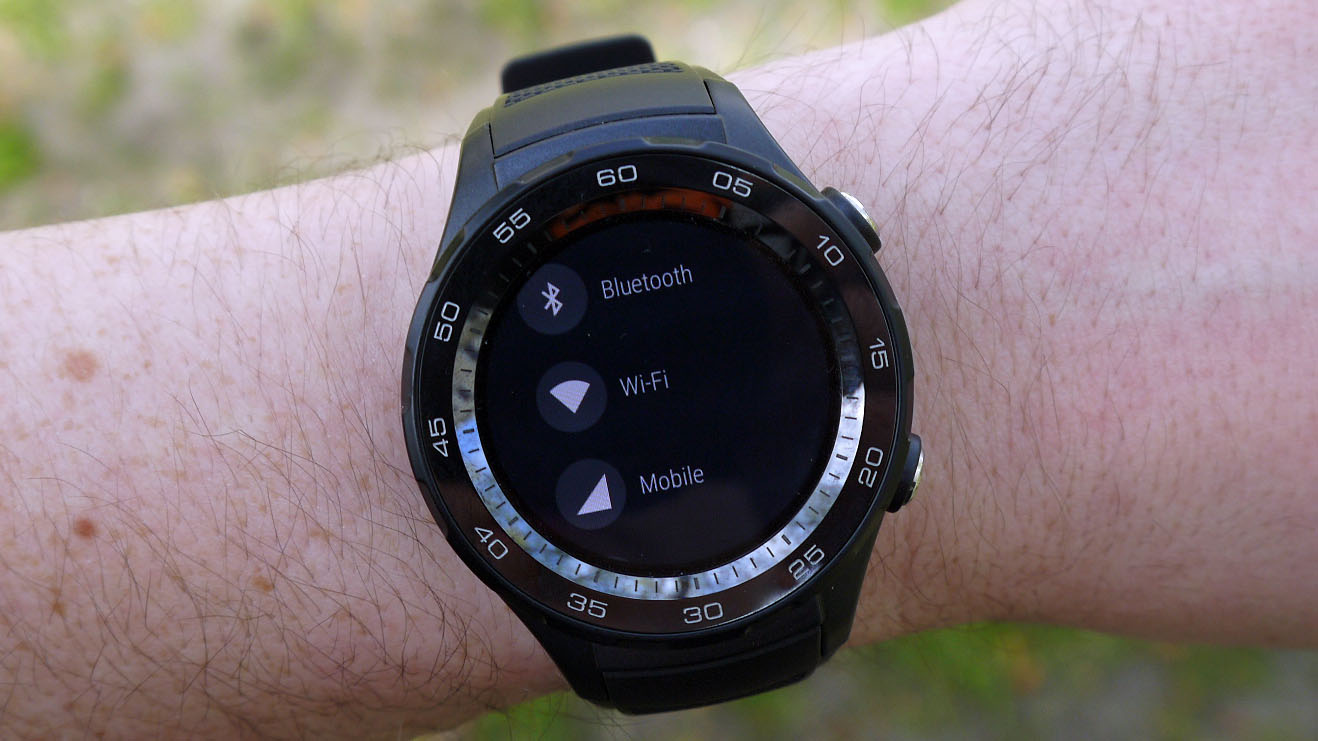 This can be useful if you're into fitness and outdoor activities where you wouldn't want to take your phone with you. The SIM card allows you to make and receive calls, send and receive text messages and mess around with all your web-dependent apps.
Thing is, a second SIM means a second payment plan for those in the UK (remember, the 4G variant isn't coming to the US), which will likely put many people off – especially if they're never that far from their phone. You'll also have a second number for your watch, which isn't particularly convenient for anyone trying to get in contact with you.
Make a call when you're connected via Bluetooth to your phone, though, and your calls will use your main number, rather than the secondary one linked to the SIM in the Huawei Watch 2.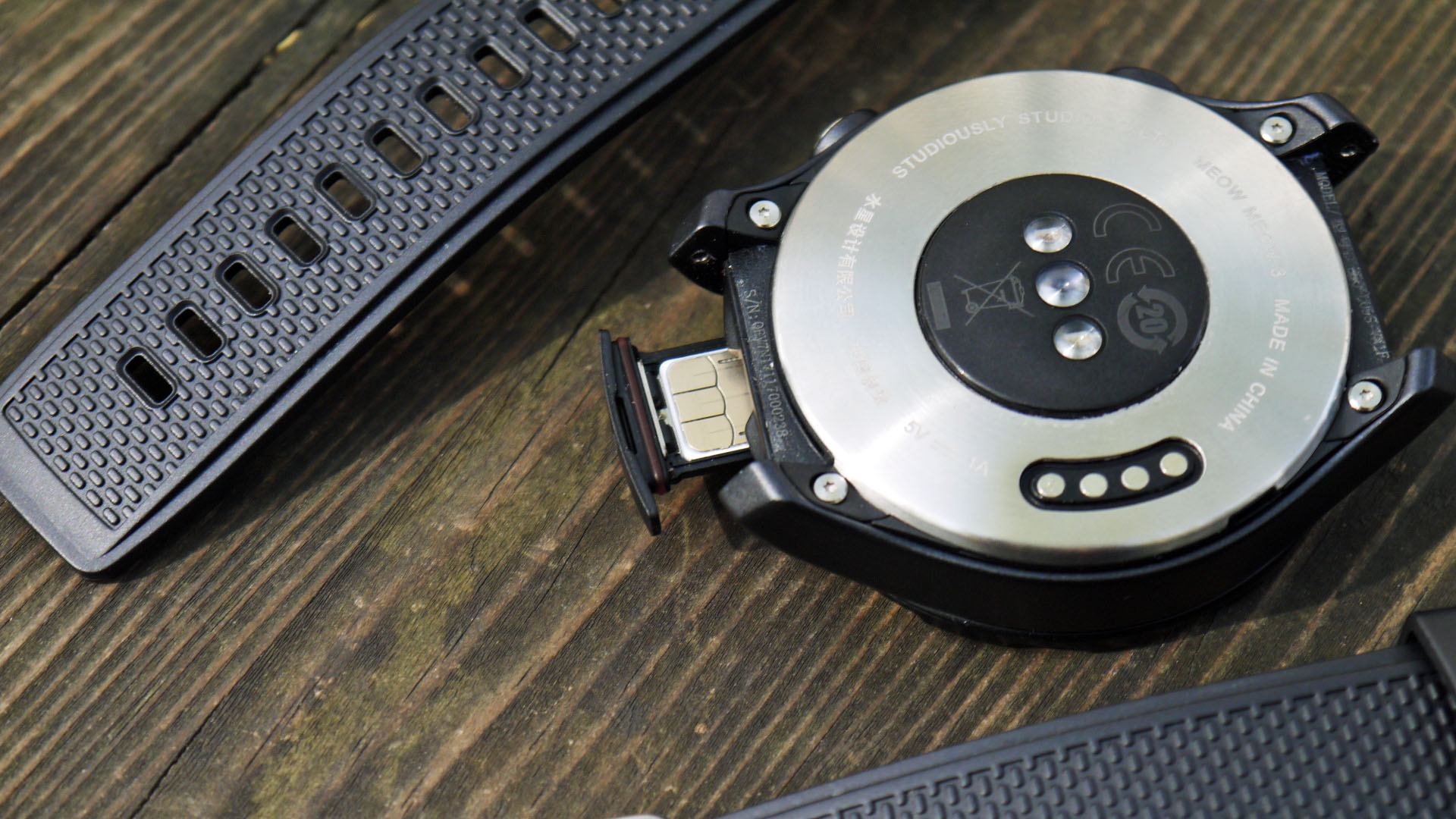 Compatibility
Works with any Android phone running Android 4.3 and up
Lesser functionality with iPhones running iOS 9 and up
The Huawei Watch 2 works with all Android smartphones running Android 4.3 and above, with the full compliment of features available to you whether it's a budget phone or premium flagship in your pocket.
It's not just the Android Army that can use the Huawei Watch 2, though, with the Wear OS app also available on iPhone. You'll also need an iPhone 5 or newer running at least iOS 9.
Notifications don't have as many actions, which means you'll find yourself unable to respond to things such as WhatsApp messages, and you'll find some apps won't play ball.
There's no iMessage support, while email and calendar syncing can prove tricky. In short, an Apple Watch will likely cover your needs better than the Huawei Watch 2.
Fitness
Heart rate monitor and GPS included
Hourly reminders to move if you sit still too long
Workout app pre-installed
One of the key draws of the Huawei Watch 2 is its fitness capabilities. The wealth of features, such as GPS, Bluetooth, 4G and a heart rate monitor, means it's able to track a range of activities and workouts.
The fact that the programmable button on the side of the Watch 2 is set to launch the Workout app by default is indicative of Huawei's ambition, and coupled with a rugged, sweat-proof design there's no confusion as to what's going on here.
Fire up the Workout app and you can then select which activity you're about to do: run, fat burn, cardio, walk, cycle, treadmill or 'other'.
Start a workout and the Huawei Watch 2 will monitor your heart rate, workout intensity, duration, distance, steps, calories burned and location – depending on the type of exercise you're doing.
At the end of your workout you get a run-down of stats, giving you a clear, concise overview of your session. You can also view all your previous sessions in the Workout app, making it easy to keep on top of your training plans.
There aren't any advanced features, coaching tips or deep statistical analysis, which means serious athletes will want to seek out a more detailed wearable – the Garmin Forerunner 920XT is a good place to start.
You don't have to use Huawei's Workout app though, with a number of fitness applications available on the Play Store including Google Fit, Runtastic and RunKeeper.
For those looking for a more casual workout, the Huawei Watch 2 can monitor your steps and set a daily goal to give you some motivation to get up and move.
It will also vibrate on your wrist if it detects that you've been sitting still for an hour, offering up a stretch on screen to get your muscles moving and blood pumping.
It's a simple, low-effort workout, but it did prompt us to get up and move about more, rather than staying planted in front of our computer all day.
Battery life
Maximum of two-day battery life without a SIM
Just over a day of life with SIM card
Clunky cradle makes charging more of a hassle than it should be
Without a SIM card, the Huawei Watch 2 can last two days on a single charge. Pop a SIM card in, however, and its thirst for a mobile connection cuts that usage to just over a day, which means nightly charges are a must.
The Huawei Watch 2 comes with a slightly fiddly charging cradle, which needs to be lined up with the pogo pins on the rear of the watch – it's not as slick as the wireless Moto 360 dock or the magnetic Apple Watch charger.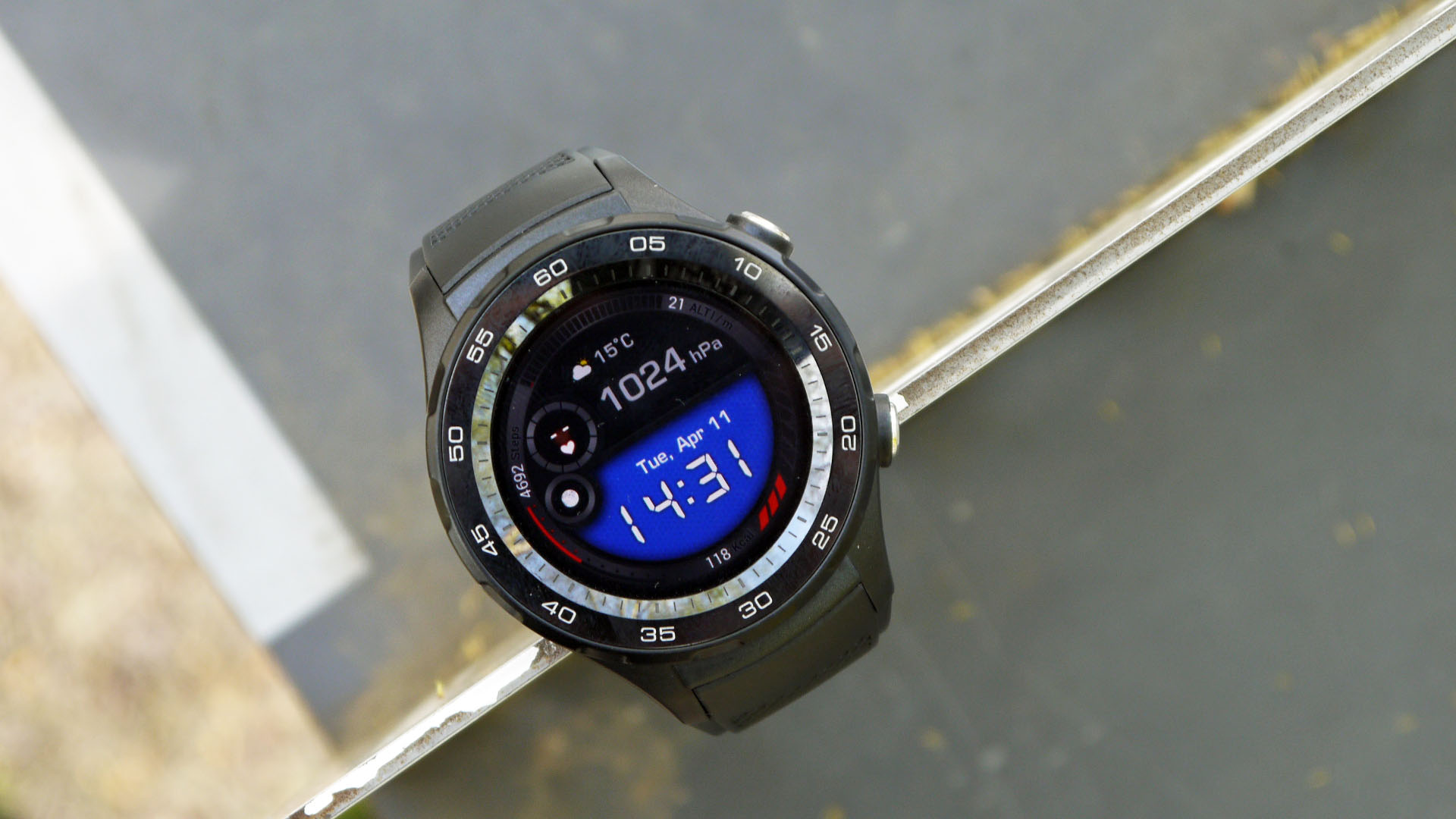 It also means that if you forget your charger it's unlikely that you'll be able to borrow one from someone else, as you would if your phone needed a top-up – unless of course you're in the company of a fellow Watch 2 wearer.
You can download games on the Huawei Watch 2, but given its small screen we say it's not worth bothering – and gaming will also run the battery down quicker, with an evening top up required if you push things too hard.
If you really want to extend the battery life you can put the Huawei Watch 2 into 'watch mode', which can give you up to 18 days from a single charge – although, as the name suggests, it'll function only as a watch.
Verdict
The Huawei Watch 2 comes packed full of features, and for that we give it a hearty round of applause. Huawei has done a fine job cramming a lot of tech into a device which doesn't look out of place on your wrist.
It's not the most eye-catching design, but it also doesn't look like you've got a crude computing device slapped on your forearm.
But while the feature set is impressive, the delivery is less so. The small screen makes it difficult to navigate the more complex applications, while the sub-par performance becomes irksome after a while – especially if you're trying to quickly pay for your morning coffee with the watch and it takes longer to load Android Pay than it would take you to grab your card from your bag or pocket.
The 4G compatibility is a nice addition for those who want maximum connectivity, but for those who are rarely without their smartphone it's a needless additional cost, with more money required up front and a second SIM contract to pay for to keep it online.
Huawei has tried to cover all possible use-cases with the Huawei Watch 2, and while it does hit most of them it doesn't do so in a way that's overly user-friendly.
If anything, it strengthens the case for specialized smartwatches targeted at particular customer bases, rather than a one-device-fits-all approach.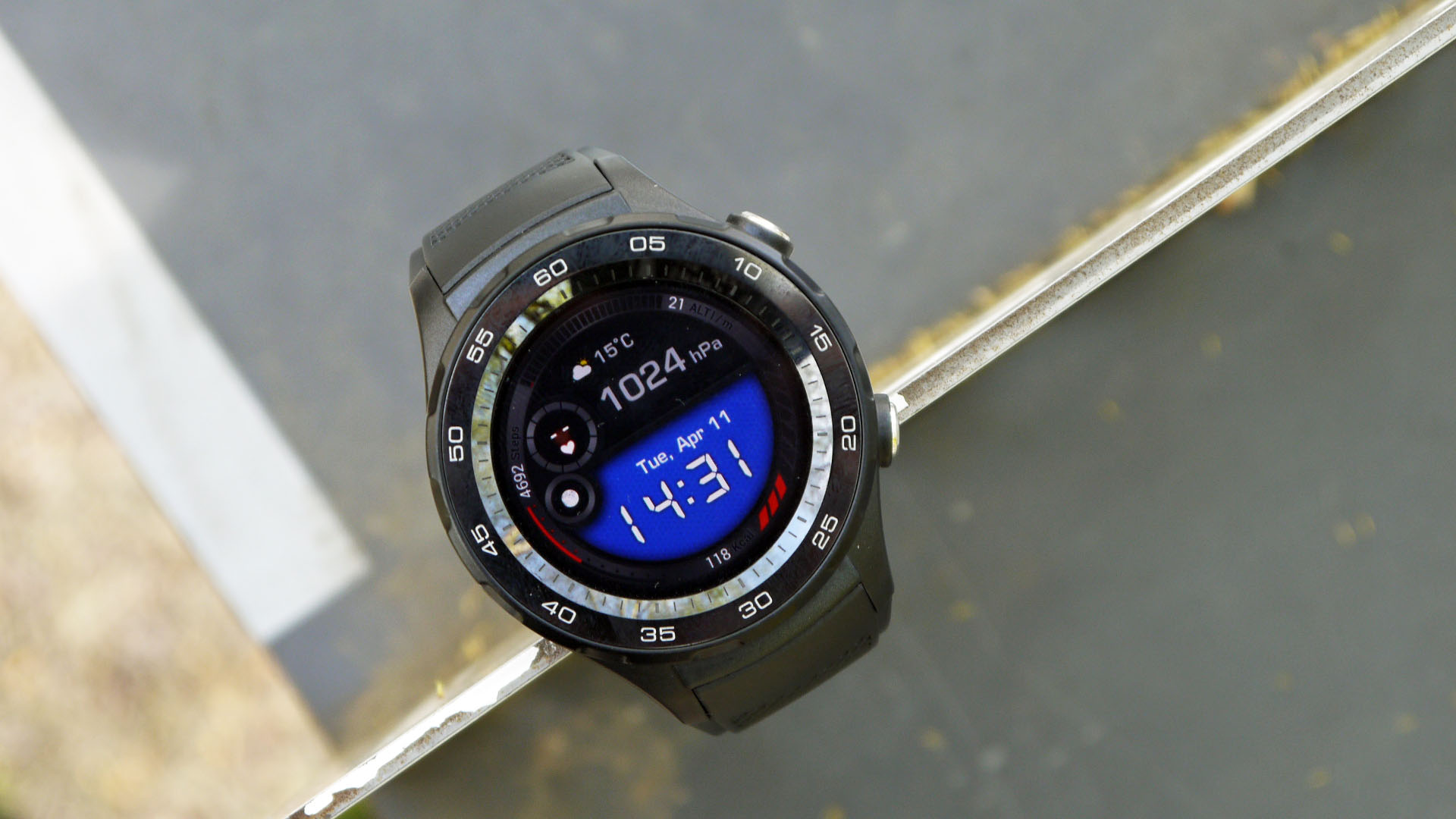 Who's it for?
The Huawei Watch 2 is aimed at the fitness crowd, and specifically those who want to stay connected when they're away from their handset.
It's a smaller market than the original Huawei Watch appealed to, and those wanting to dip their toes in the smartwatch waters for the first time are better off looking elsewhere.
It'll also appeal to those looking for a feature-packed smartwatch – and few can match the Huawei Watch 2 when it comes to a straight spec-sheet blowout.
Should I buy it?
If you're a fan of the Huawei Watch 2's rugged looks, and the wide array of features and fitness options it packs into its modest frame, then it won't let you down – assuming you have the money lying around not doing anything else.
Smartwatches are, for most of us, a luxury rather than a necessity, and if you're questioning whether or not you really want to spend this much on a device which does less than the phone you carry around every day then you'll probably want to steer clear of the Huawei Watch 2.
The competition
There are a number of competitors for the Huawei Watch 2 to contend with, and we've pulled together three of them below to show you what it's up against.
LG Watch Sport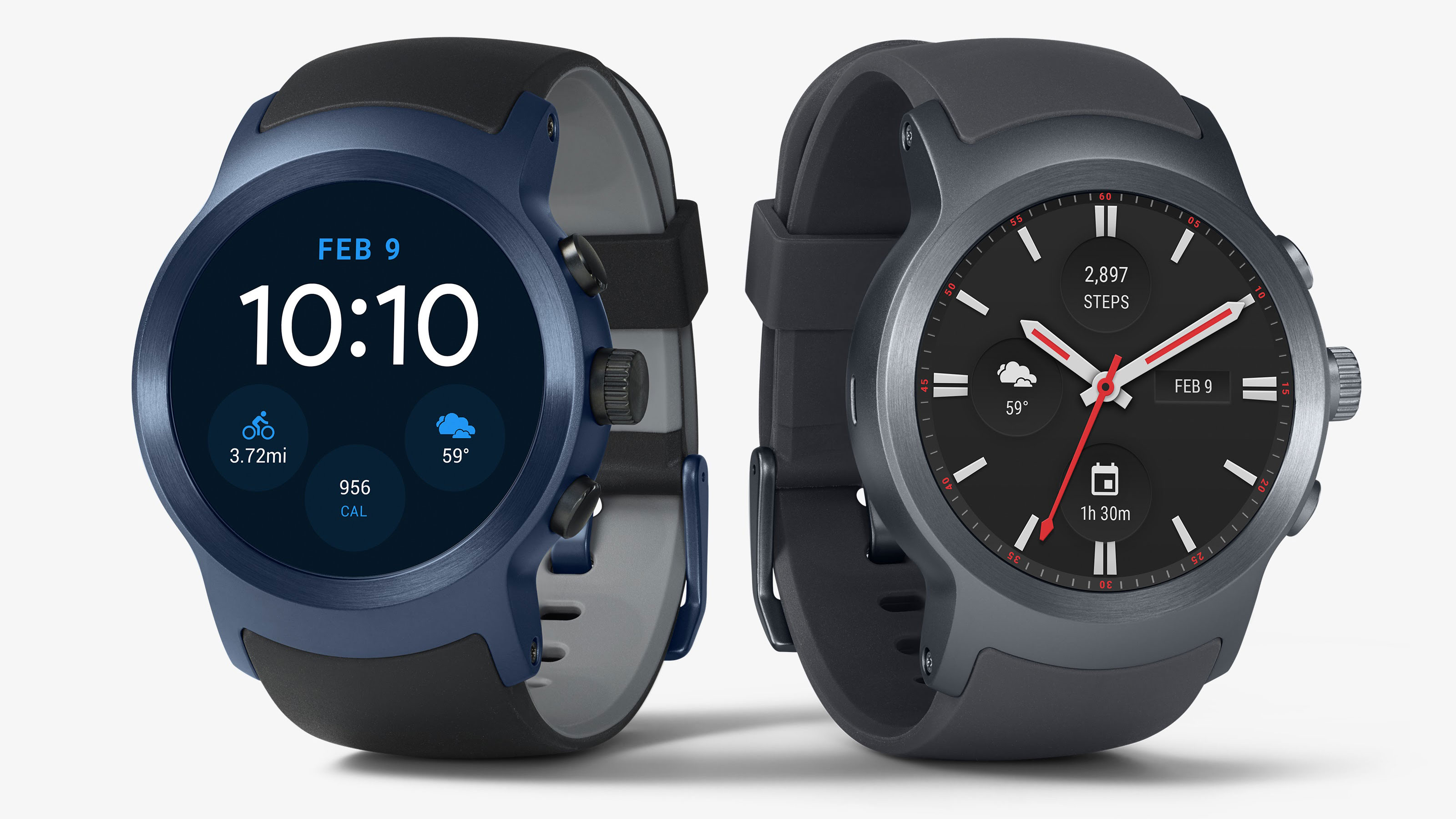 The biggest rival to the Huawei Watch 2 is the LG Watch Sport. In terms of design, feature set and price the two are very, very similar.
The Watch Sport also boasts a SIM card slot, heart rate monitor and NFC, as well as all the other features you'd expect, along with Android Wear 2.0.
On screen there's little to choose between the two, and your decision will likely come down to which design you like the best.
The LG Watch Sport does have one advantage though – a rotating crown which makes scrolling through menus much easier.
Samsung Gear S3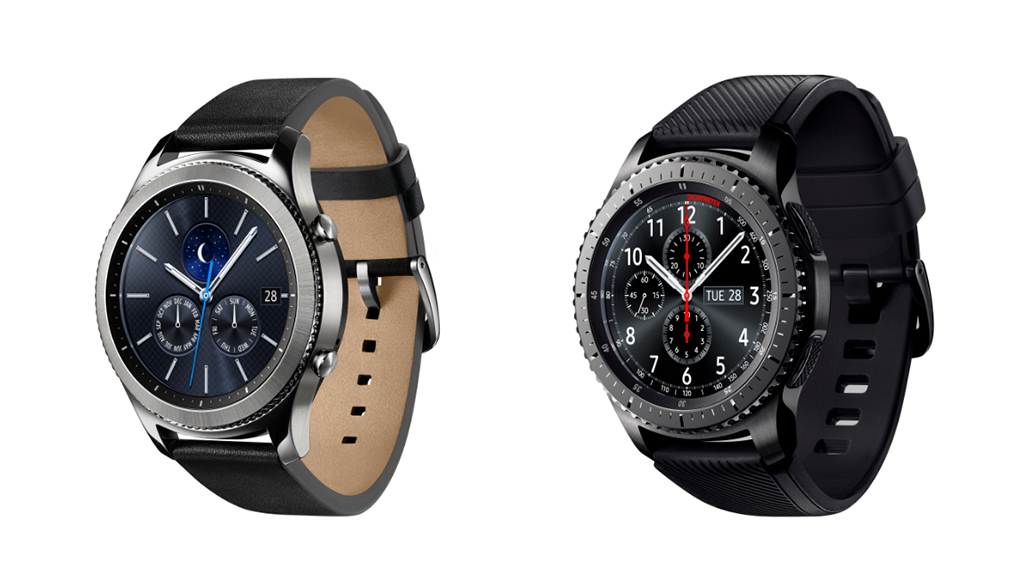 Samsung's response to the wearable revolution isn't to follow other Android phone manufacturers down the Android Wear route, but rather to use its own operating system on its smartwatches.
The result? The Samsung Gear S3, a fine-looking smartwatch with a decent spec sheet to match.
The issue here is the lack of apps, with developers required to code for Samsung's own operating system separately to Apple's watchOS and Google's Android Wear; the number is growing, but there's still some way to go.
Apple Watch 3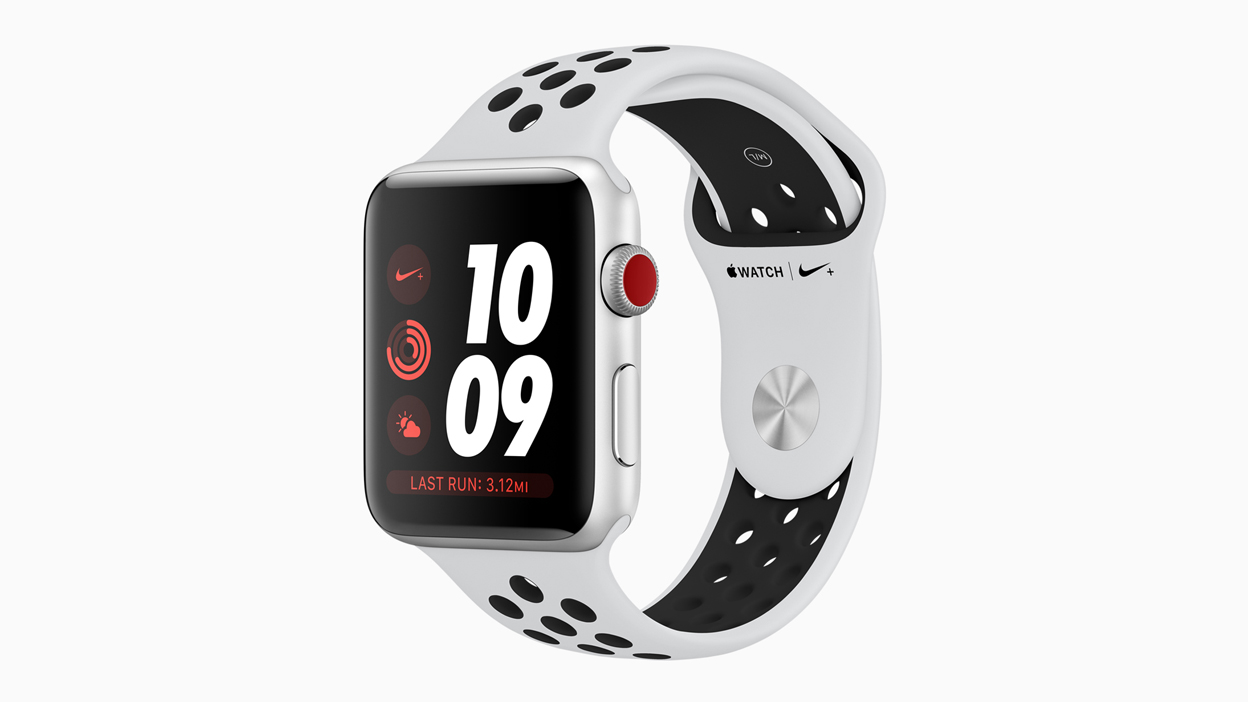 Apple has upped the competition since the Huawei Watch 2 landed, as it's launched the Apple Watch 3, which is currently sitting at the top of our best smartwatches list.
Its starting price of £329/$329/AU$459 is similar to the Huawei Watch 2's launch price, though the latter can now be found for much less.
If you have an iPhone though then the Apple Watch 3 could be worth the extra, as it sports decent fitness tracking with GPS, a heart rate monitor and water resistance, good battery life (by smartwatch standards), smooth performance and a premium design.
Like the Huawei Watch 2 it also comes in an LTE flavor if you need phone-free connectivity.
First reviewed: April 2017
from TechRadar - Technology Reviews http://www.techradar.com/reviews/huawei-watch-2