Hybrids are becoming a great alternative to smartwatches for people who want a step tracker and some notifications on their wrist without a bright flashing screen or a plastic fitness tracker strapped to them at all times.
If that sounds like you, the Kronaby watch may be right up your street, as it offers a beautiful design and connected features such as notifications, as well as long battery life, but with no annoyance of a flashing screen.
Smartwatches are useful pieces of kit, but hybrids are a great alternative for the fashion-conscious, and with over 40 designs available the Kronaby range should have something for almost everyone.
Kronaby price and release date
Variety of prices starting at £275 / $350 / AU$469
Certain models cost more than others, but only design differences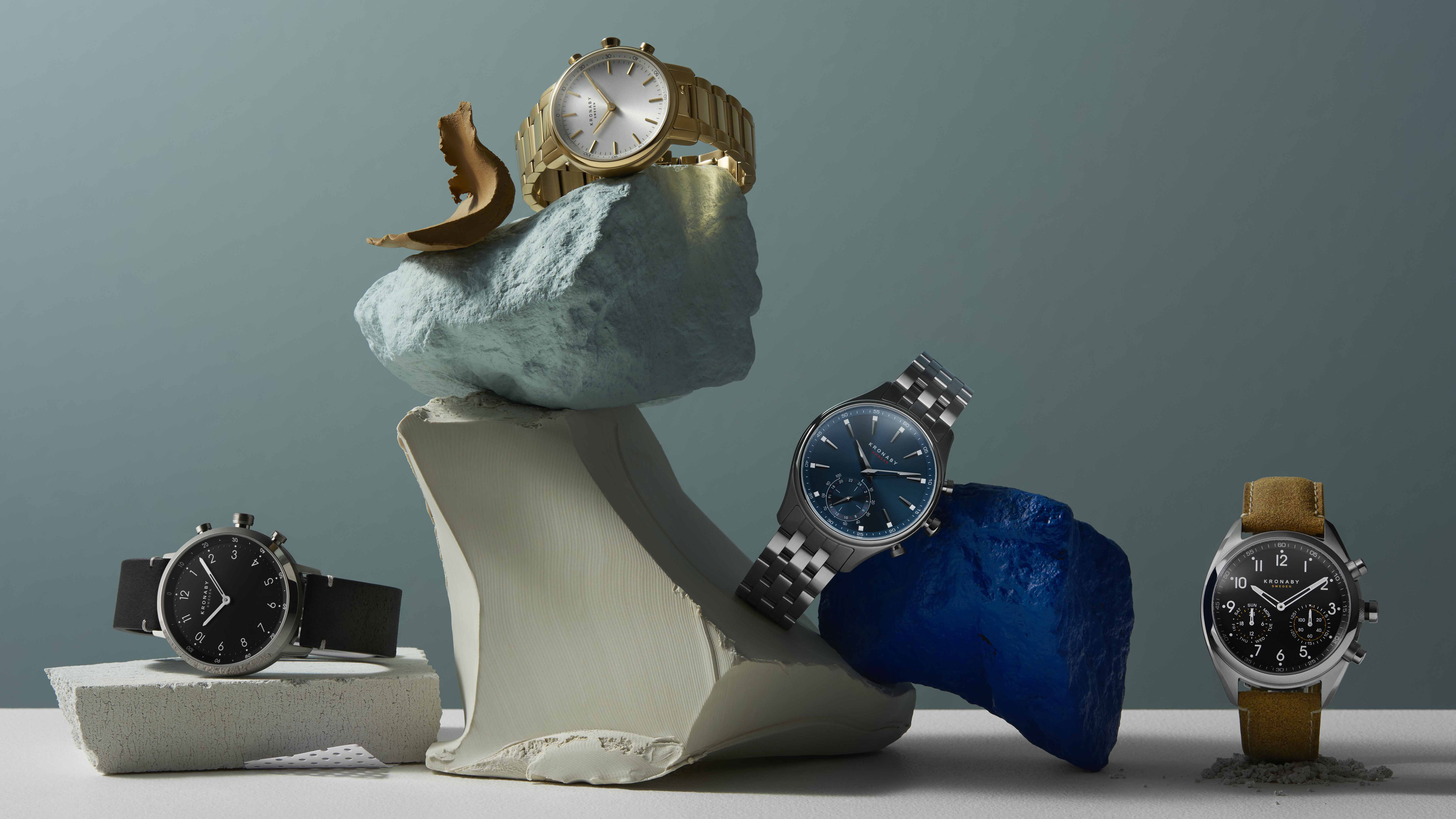 The Kronaby's price may at first seem high, but considering how much money you can spend on other Swedish-made watches you'll realize this is more sat in the mid-range of wristwear.
Prices for the watch start at £275 / $350 / AU$469 for the cheapest model with the prices rising to £615 / $795 / AU$999 for the most expensive. The photos used in this review show the Sekel Steel 43mm with a black watch face, which costs £445 / $595 / AU$779.
We've seen the watch a touch cheaper on third-party retailers such as Amazon, so you may be able to find each model for a little less.
This watch was released in early 2017, but we've since seen the company add in further designs so there are now over 50 options. Nothing has been confirmed yet but in future we expect the company to just introduce ever more designs rather than overhauling the experience entirely.
In late 2018, the company announced a new series of watches in the 41mm size. That's a new size for the range, and it sits alongside watches that are 43mm or 38mm giving a good middle ground for anyone who finds the other options too big or too small.
Design
Lots of different design options, may take you a while to decide
Three buttons on the side of the watch but otherwise very minimal design
This is a difficult watch to specifically review in terms of design as there are so many different choices within the Kronaby collection of hybrid watches. The collection is known as Kronaby and that makes up 45 different options split into four families.
The family name refers to the style of watch face you're looking at; so there's Sekel, which is what you can see pictured throughout this review and that's the one with the most style options.
The gallery below also shows you the three other choices, including Apex, which has a more tactical look with big numbers and lots visually going on within the watch face. Then there's Nord, which sports a simpler, cleaner design, while Carat looks like a traditional high-end watch.
Within those families there are a variety of watch face colors, strap materials and strap colors. For example, the Carat range has options in both gold and rose gold, but there are at least four different watch face colors as well as the selection of metal and leather straps.
Your best bet is to head to the Kronaby website to check you like one of the designs and, perhaps more importantly, check how much your favorite design is set to cost you.
The watch we've tested comes with a large main watch face that is, obviously, designed to communicate the time, but there are some other hidden features when you press the three buttons on the edge of the watch.
One of these buttons is disguised as a crown, but there's not much functionality in twisting it. Instead you'll need to press it down.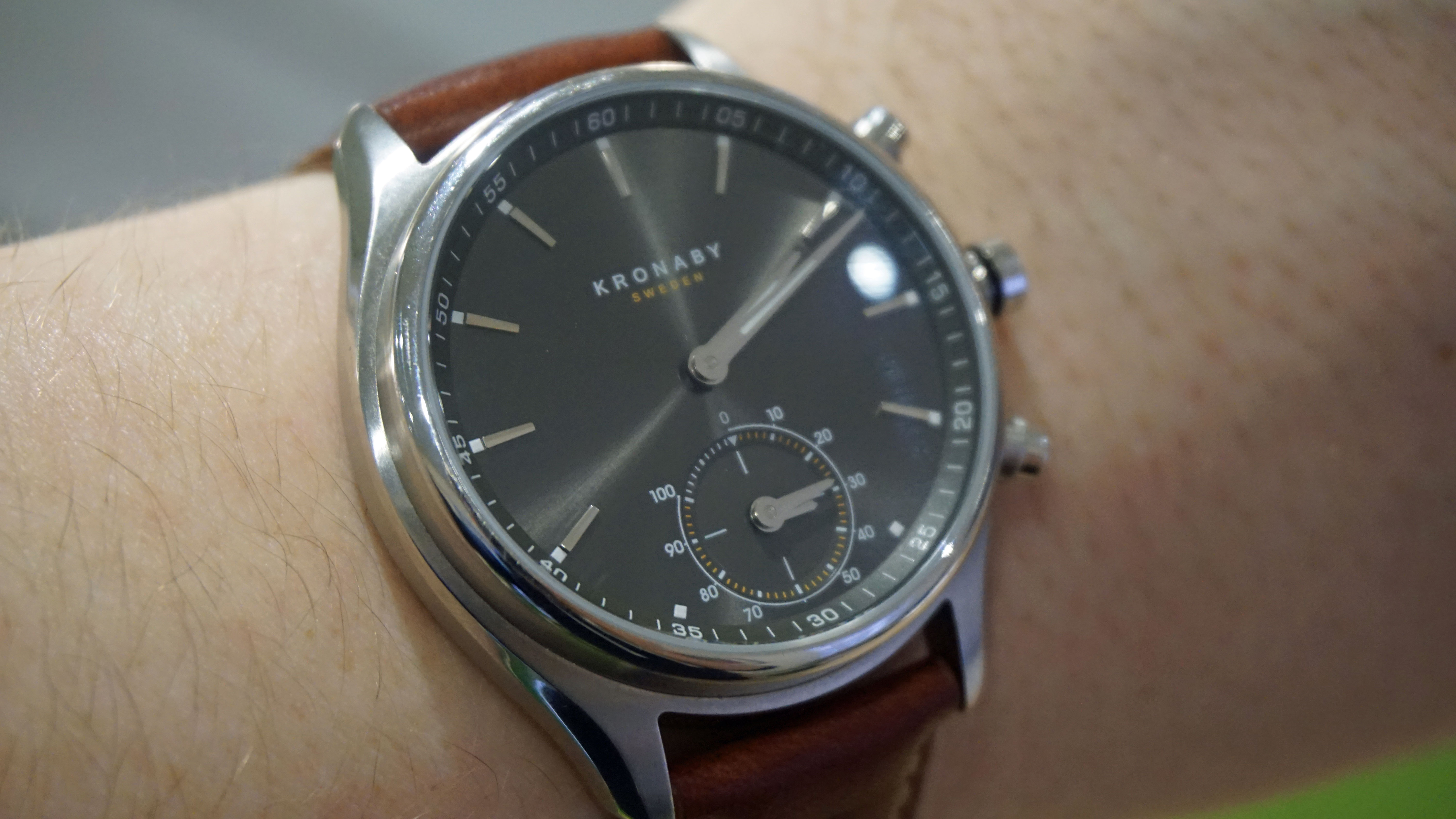 The crown and the other two buttons can be used to turn on a variety of different features. We dive into that in the interface section on the next page, but the buttons feel tactile and like they will survive thousands of presses.
Inside the watch we've used, there's also a subdial that will show you certain stats. For example, we had this dial set up to show us our step count for the day. That way at a glance we could see how close we were to our 10,000 step target.
That's useful but isn't on all watches in the range, and you won't get that if you opt for one of the smaller 38mm options. That's a shame for anyone who wants a smaller watch. It's also missing from some 41mm variants, but not all of the them.
The watch is thick in order to house all of the tech, but it doesn't feel too heavy on the wrist and the design feels premium in the steel version we used. Again, we haven't used all of the watches so can't guarantee that's the case for each one, but going by the pictures we suspect they'll all look similarly high-end.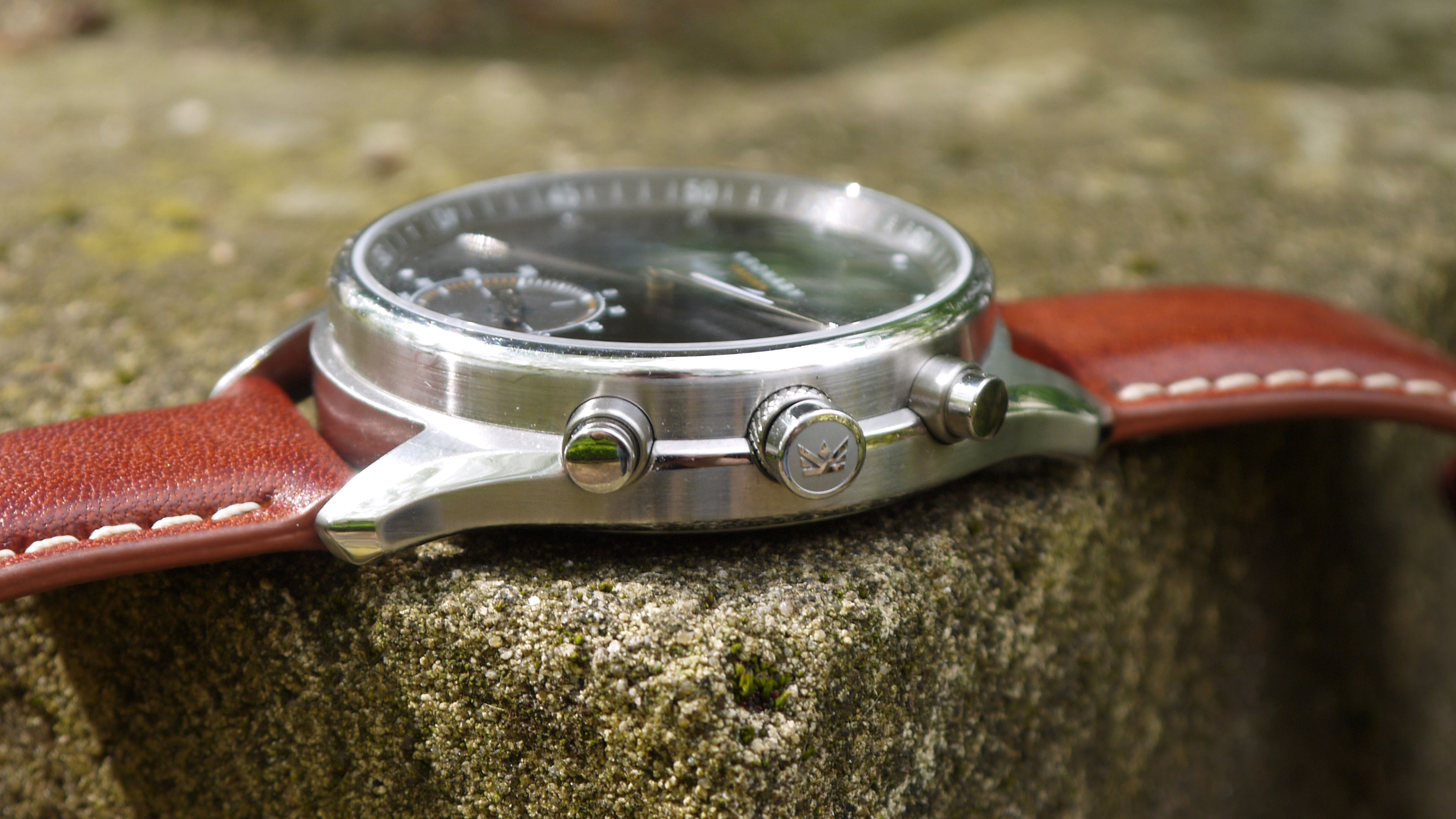 As for the strap, we used the brown leather one. We found over a month or so of use the strap loosened and became a lot more comfortable than it was at first, we also found that it felt secure on the wrist at all times.
You can switch it out with other watch straps though, as this is designed much like a traditional watch, so once you know the size of your watch you can feel free to switch these out for the strap style you most want to wear.
Fitness
Limited fitness features as it only tracks your step count
There's no heart rate tracker or GPS here
As it's a hybrid watch, Kronaby has included a couple of different fitness features in here to try and ensure you don't have to wear a fitness tracker on your other wrist. That said, there's not much here that's going to get you particularly fit.
There's no heart rate tracker, GPS or top-end features you'd expect on products like the Samsung Gear Sport or Apple Watch 3.
In fact, the Kronaby just tracks your daily step count. If you find the watch comfortable enough to wear jogging, it'll record your step count when you're pounding the pavement but there's no breakdown of data to show you the distance you've covered or where you can improve.
This is more just a simple pedometer, designed to give you a look at how many steps you've got left to take on the way to your daily goal. If you set up the sub dial on the watch to your step count it'll give you a percentage on how close you are to hitting your goal, which you can set within the app.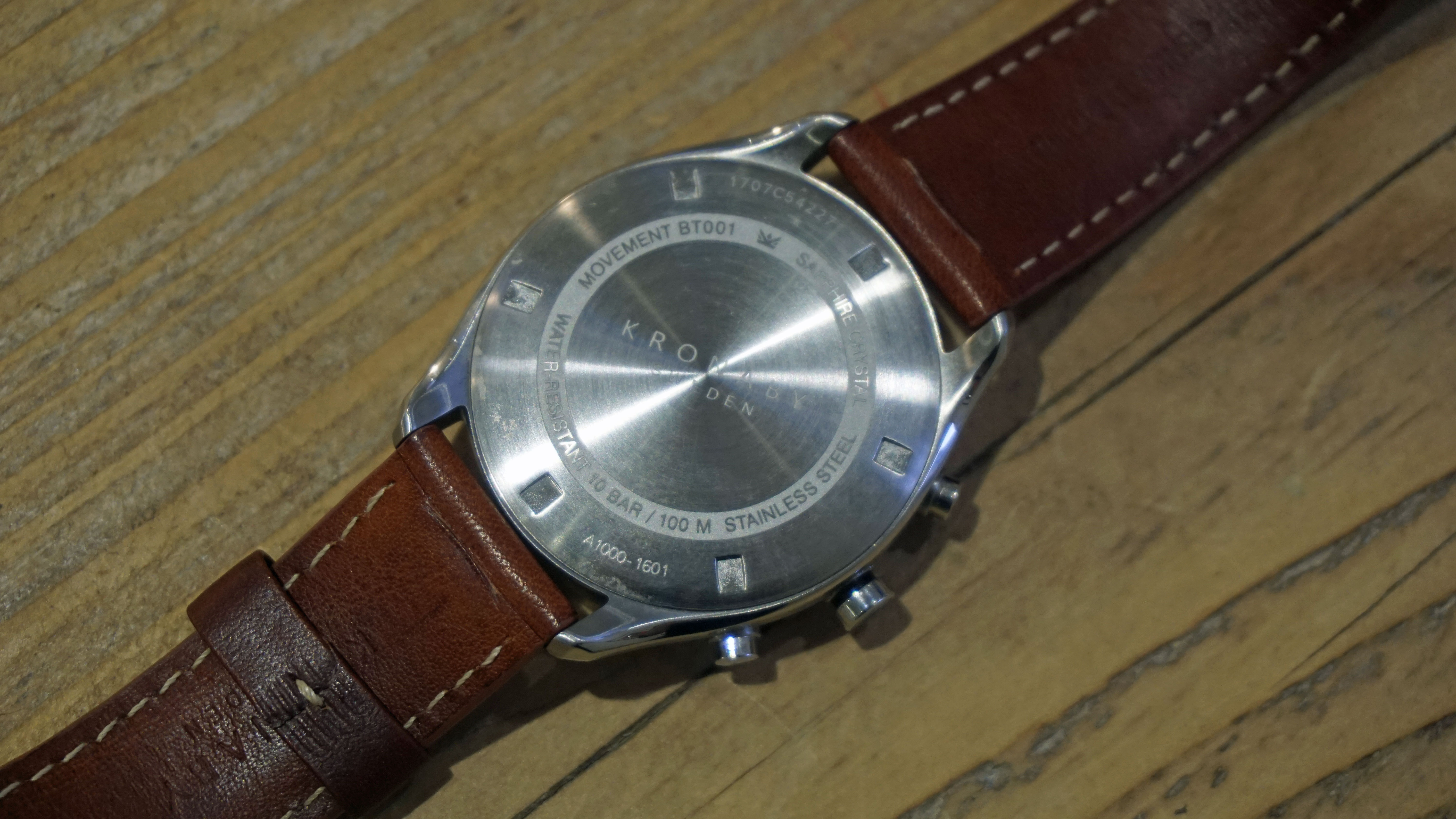 If you walk a lot and you want your goal to be 15,000 steps a day, you can set that up and when it points on the watch to 50% you'll know you've walked 7,500 steps in that day.
It's nice not being limited to the standard 10,000 steps, and we did find it to be as accurate as other hybrid watches for monitoring our daily steps.
There's no sleep tracking here, and that's probably a good thing as the Kronaby isn't the kind of device you really want to wear to bed. It's not comfortable for wearing when you're trying to sleep, so you'll need to get a separate sleep tracker to get data on your naps.
Basically the Kronaby is a step tracker and that's just an added bonus here rather than it being the main focus of the watch. This is much more about fashion and style rather than encouraging you to get up off the sofa and into your trainers.
Battery life
The battery on the Kronaby watch will last you up to two years
May be shorter if you get lots of notifications, but uses watch battery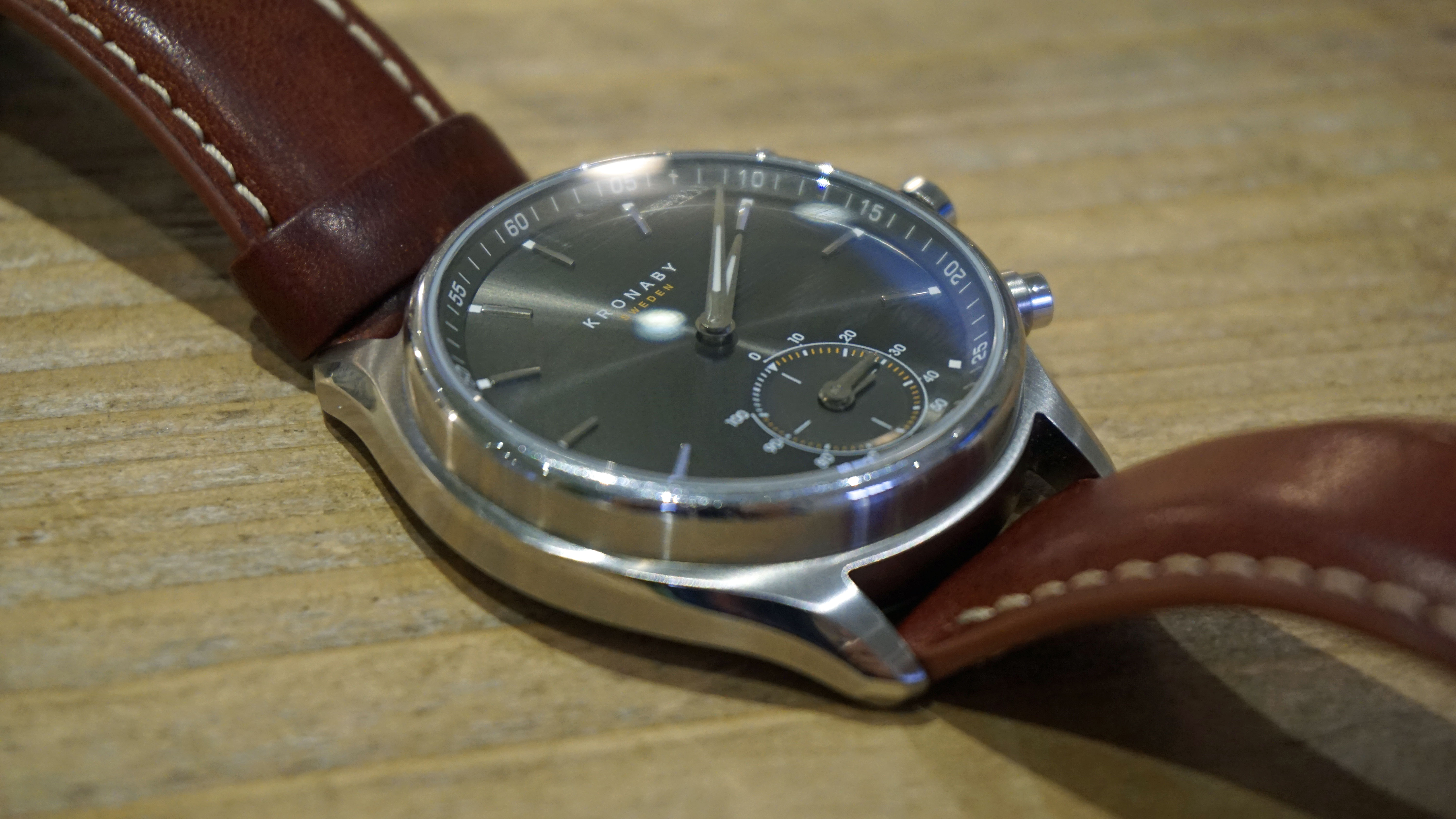 If you've used a smartwatch before, you'll likely know how frustrating it can be to have to remember to charge up your watch alongside your phone every night. That's not the case here with the Kronaby hybrid watch.
Like a lot of hybrid watches you can buy right now, it features a long-life battery inside. The Kronaby's battery can last up to two years depending on how you use it.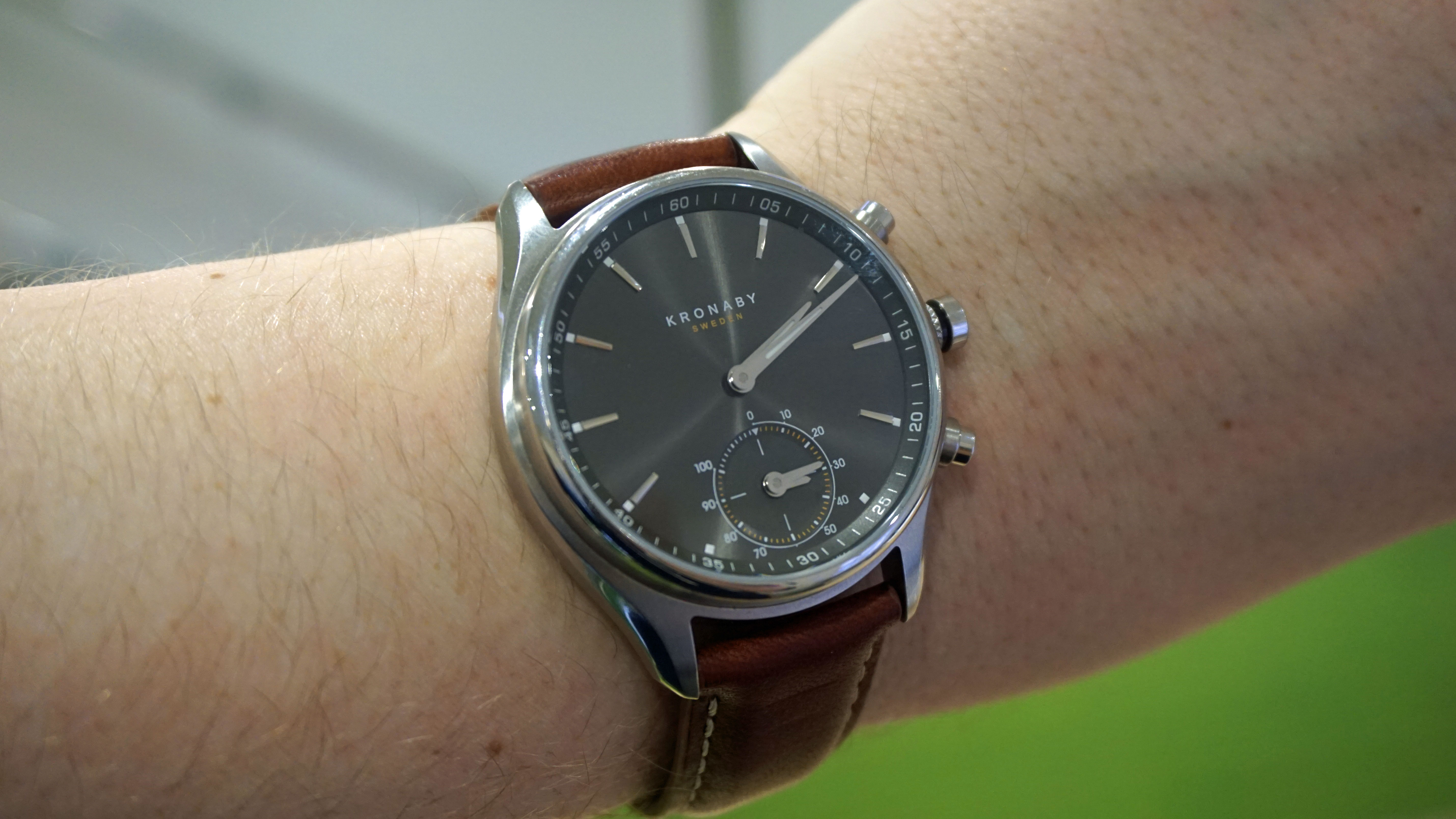 If you're getting notifications throughout the day regularly, it's likely you'll find the battery life will be a bit shorter than that estimate but we can't imagine the battery would need replacing within the first year of use.
Some hybrid watches and fitness trackers with replaceable batteries only last six months, so this is impressive.
Perhaps the only annoyance with the battery here is you'll need to take this to a jewellers to replace the battery inside. That won't be expensive though, so it's perfect if you're looking for a watch with a long life.
Interface and app
You interact with the two buttons and crown on the side of the watch
App will work with iPhone and Android devices to setup your watch
You can download the app for your iPhone or Android handset then connect up your watch quite easily. Your phone will need to be running iOS 9 or Android 5 software or above to be able to connect up to the watch.
The app is how you can ensure the time is accurate, look at your step count and setup the connected functionality of the watch. You can decide what you want the sub dial to show you or the three buttons on the right hand side of the watch to be able to do.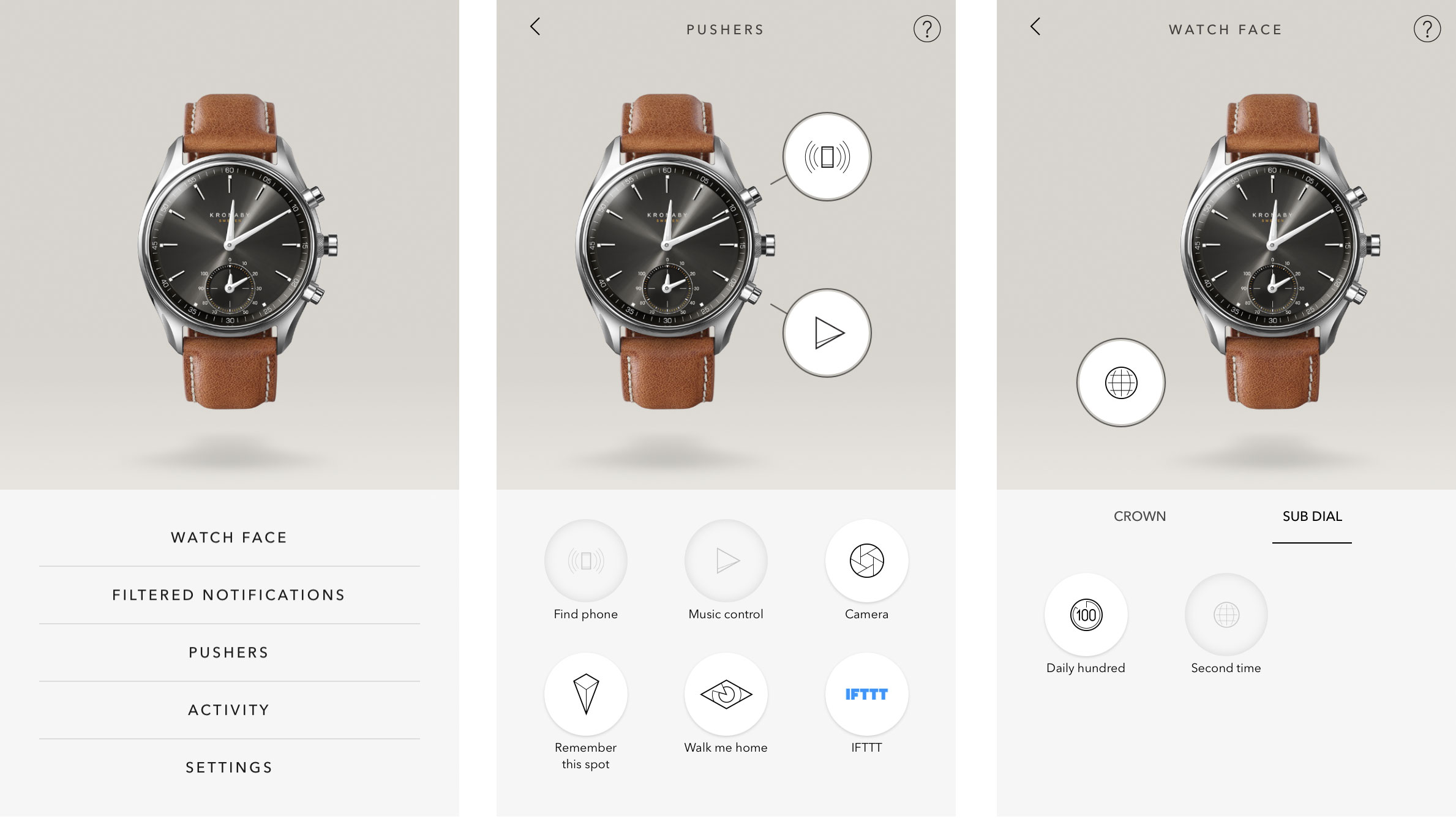 Under the term 'Watch Face' you'll be able to change what happens when you press the main crown button. Your options are you can display your step count, the date, a second time zone, the timer or a stopwatch.
Once you've put this in place within the app, you can then use the feature whenever you press the main crown button on your watch. For example, if you want to see your step count you'll press down the crown and it'll display the steps you've done with the two hands pointing to signify them.
You can also decide in here what you want the smaller sub dial to show at all times, but you only have the choice of a second timezone or the daily step count so there's not much personalization here.
This all works really well and the watch reacts quickly, but you'll have to remember what functionality you've set up here. If you often change what each button does, you may find yourself getting a little confused.
Next up is notifications, where you decide what you want vibrations from the watch to mean.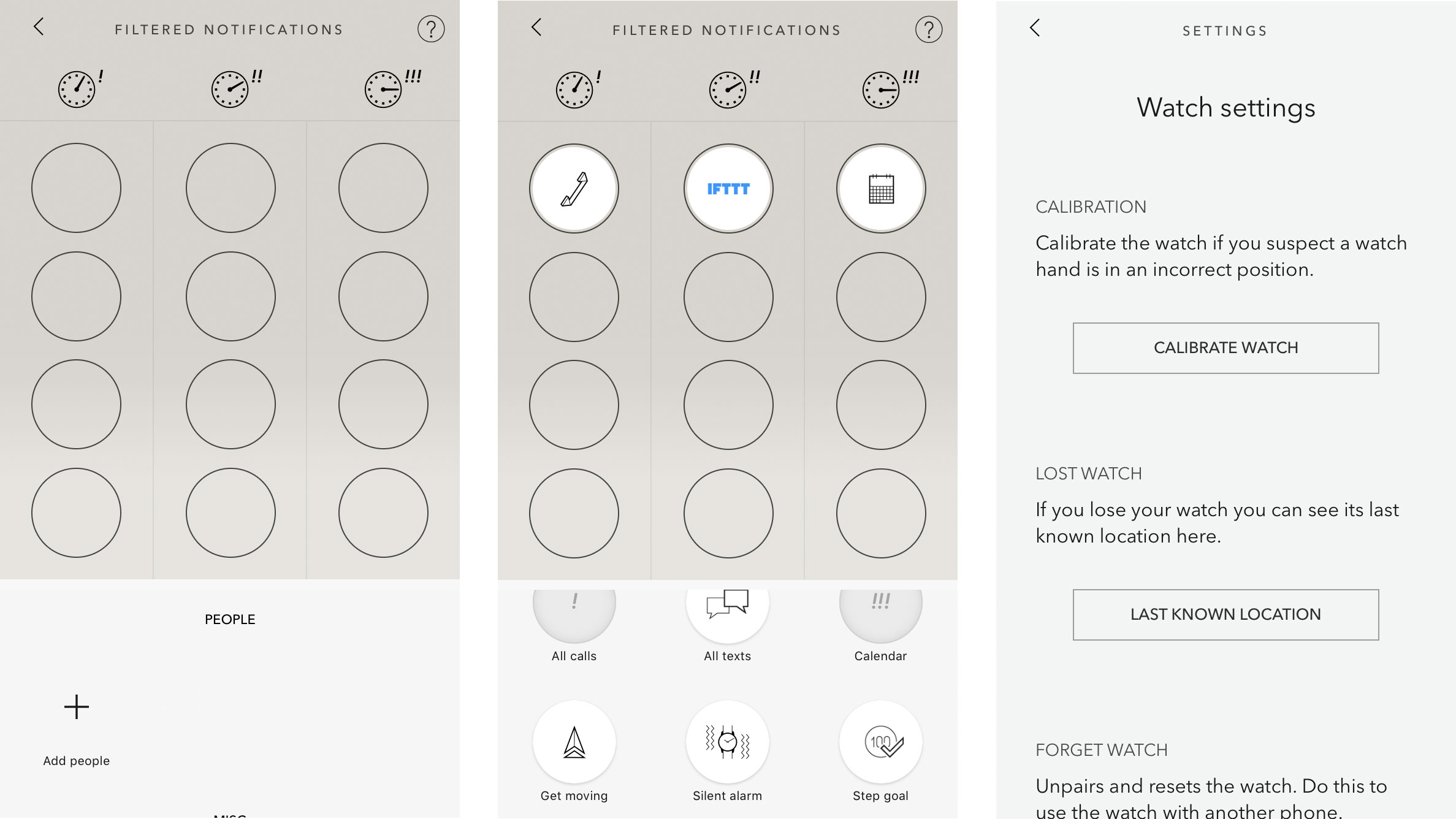 There are lots of choices here with either one, two or three buzzes as your main options. You can put here that you want all calls to vibrate three times, or you can add specific people so your loved ones give you different vibrations and you know it's an urgent call that you need to pick up.
As well as calls, you can add in texts, calendar notifications, alarms, step goals and more here too. The vibrations themselves are quite strong so you won't miss phone calls or other notifications when it's on your wrist, but the watch won't make a noise.
Then the last thing you can personalize is what you want the two pusher buttons below and above the crown to be able to do. Here you can add features such as find my phone (where you can set off an alarm on your device for when you've lost it) or music control, so you can pause your tracks by pressing one button on your wrist.
Other options include a way to boot up the camera quickly, remember a spot (for when you've parked your car), a way to walk you home or even integration with IFTTT.
We've not yet been able to experiment with the IFTTT functionality, but our understanding is you can set up a recipe so you press a button and you can have some smart home features work.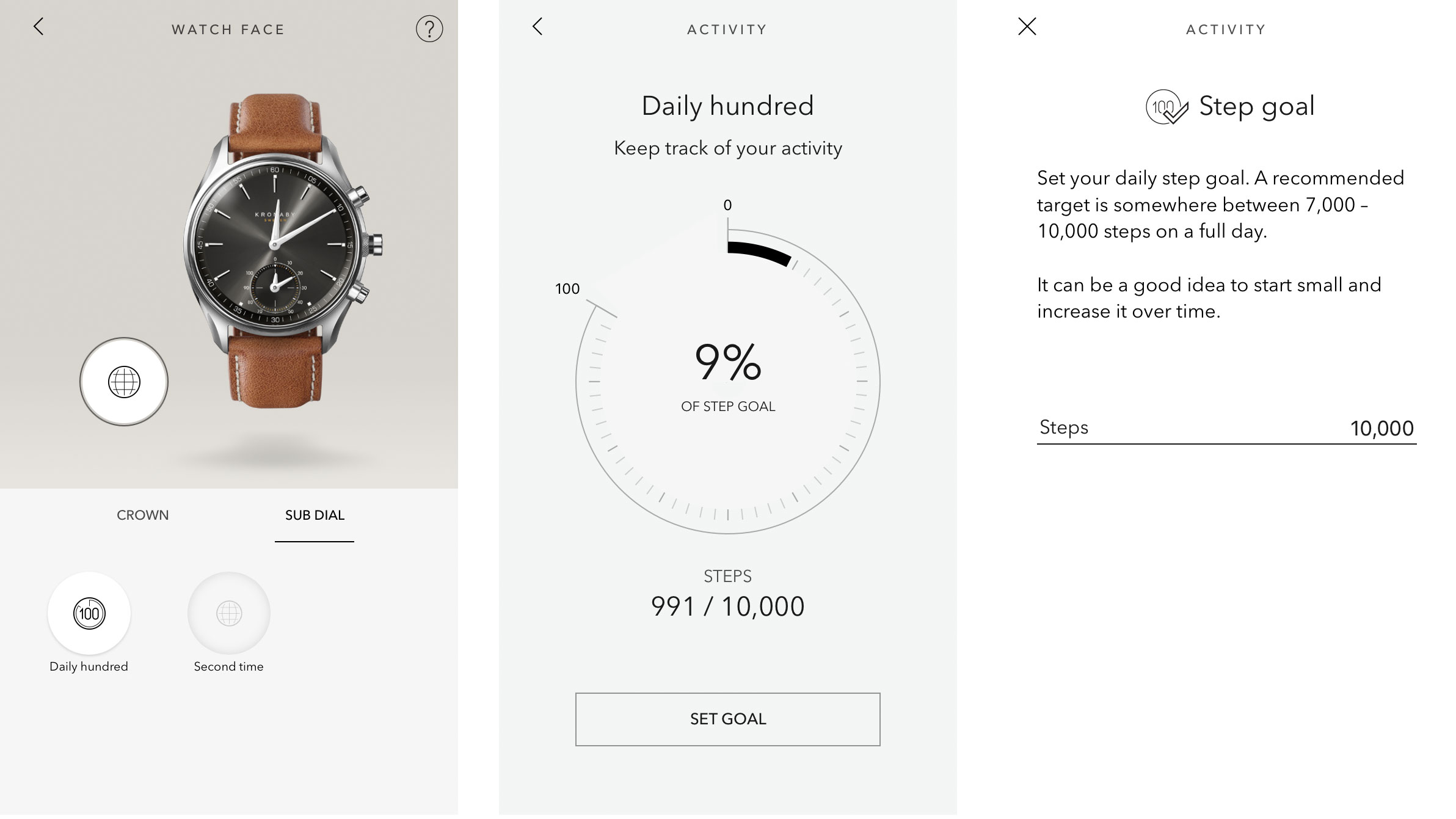 For example, you can press the button when you get home to turn on your lights with a suitable recipe within the app.
The functionality here is good for a hybrid, with lots more options than your average hybrid watch. Being able to control your music is interesting enough, but the integration with IFTTT adds a whole lot more versatility.
The Kronaby is limited in scope, but that's partly the point of this hybrid, which wants to distil some of the best bits of the smartwatch experience.
Those best features are then mixed with beautiful design from a Swedish watch-maker that can rival some of the mid-range legacy fashion brands when it comes to high-quality timepieces.
Style is much more important than functionality here, but that's not always a problem. This is just a much more fashion-led product than the tech powerhouse you may expect when you read the word smartwatch.
Who's this for?
Don't buy this watch if you're looking for a super connected notification and fitness hub that you can wear on your wrist.
Instead of what the Samsung Gear Sport and Apple Watch 3 do, this is looking to give you the design and style of a normal high-end watch and combine it with a few features that may matter to you.
The outstanding battery life, top-end design and useful notifications show the Kronaby watch is built for those who prefer a simple experience that can tell the time and just a little bit more.
This is also for you if you want those things without anyone else knowing. Fitness trackers aren't always the most fashionable items you can put on your wrist, thanks to plastic and basic designs, so there's a simple satisfaction in knowing you're tracking your steps and getting notifications while sporting a stylish, subtle wearable.
Should you buy it?
If you want those things laid out above, this does it all remarkably well. That said, while it may not cost as much as some of the high-end watches from big, established names, we have seen lower prices on just as well-built products.
For example, Fossil's range of hybrid watches can feel and look just as good as this watch but in some cases cost under £100. The Fossil Q Commuter does almost everything this does, but only costs £159 / $155 / AU$279, so it's hard to argue that the price is justified here.
But if you like the design of the Kronaby and you're willing to pay that extra for it, you'll likely enjoy what it offers.
There's a lot to love about this watch including the great battery life, interesting functionality and once again that design, so if you like what you see we'd recommend it as an upgrade to your existing hybrid or your first foray into the world of smart wristwear.
First reviewed: May 2018
from TechRadar - Technology Reviews http://www.techradar.com/reviews/kronaby