Did you know the 2017 Surface Pro isn't the newest Surface on the block? Check out our hands-on coverage of the Surface Pro 6
While it's not the newest Surface on the block, the 2017 Microsoft Surface Pro is still a wonderful tablet that doubles as one of the best 2-in-1 laptops. Thanks to some great design decisions by Microsoft, this is a premium 2-in-1 device that's an excellent showcase for everything Windows 10 can do.
Immediately upon removing the Microsoft Surface Pro from its box, you'll realize that Windows 10 makes the Surface Pro 2017 better than the original trilogy of professional tablets that shipped with Windows 8.1. However, as a successor to the wildly successful Surface Pro 4, does it succeed?
That's what we were asking ourselves when the Surface Pro was unveiled by Microsoft in Shanghai. And, ever since, we've answered with an overwhelming 'yes'. The 2017 Surface Pro may not look all that different from its predecessor, but it really is a beast of its own. Other than making a handful of necessary compromises to the formula we all know and love, it's not all that surprising that we're so in love with the Surface Pro 2017.
The Surface Pro 2017 doesn't just bring better battery life to the table, but its design embodies what the best Windows tablets can do. Its chassis looks familiar, but the Microsoft Surface Pro improves the formula with very few trade offs. This approach has been continued by Microsoft with the Surface Pro 6, which has a beautiful black design. We're excited about what Microsoft will bring with future Surface devices.
Starting with where you can buy it and for how much, let's get up close and personal, analyzing why the Surface Pro has once again been treated to our 'Recommended' seal of approval.
Pricing and availability
Consistent with its predecessors, the refreshed Surface Pro costs $799 (£799, AU$1,199) to start, but it's price escalates from there. For that entry-level price, you're fetching yourself a Kaby Lake Intel Core m3 CPU paired with 4GB of RAM and 128GB of SSD storage.
If your workload is anything like ours, those specs won't really cut it, so your best bet is to run with a Surface Pro configuration featuring an Intel Core i5 or i7 chips with more memory and storage. Currently, the Surface Pro maxes out at $2,699 (£2,699, AU$3,999) for an Intel Core i7 CPU paired with a 1TB SSD and 16GB of RAM.
Stacked up against some of the Surface Pro's competition, like the latest 10.5-inch iPad Pro, Apple kicks things off at $649 (£619, AU$979) for a tablet with Apple's A10X processor and 64GB of SSD space. Meanwhile the most heavily equipped version retails for $949 (£889, AU$1,429) with 512GB of storage and the same processor.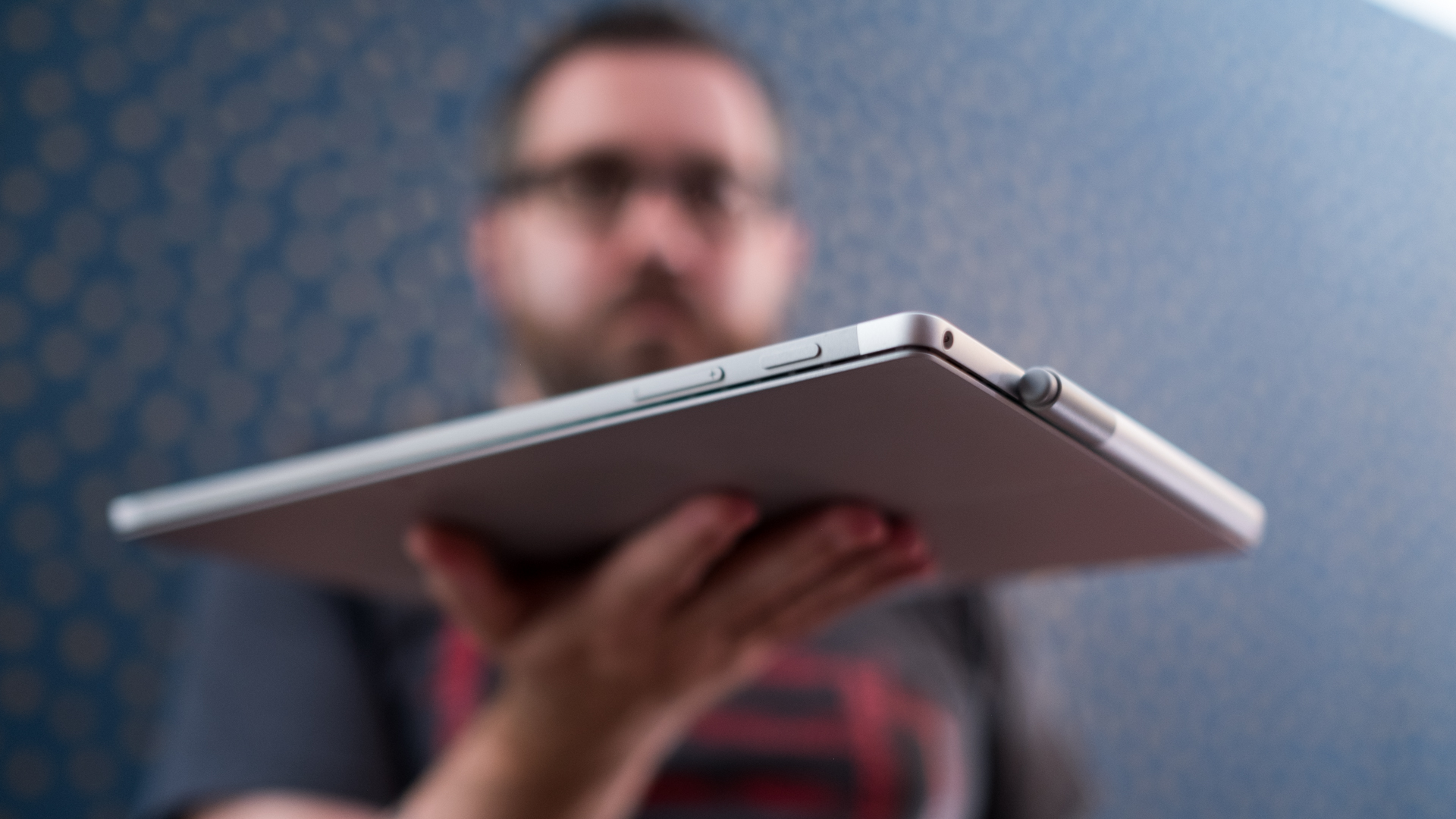 Then, the Samsung Galaxy Book starts at $629 (£649) for the 10.6-inch version with a 64GB SSD and 4GB of RAM powered by an Intel Core m3 processor and caps out at $729 in the US only for twice as much storage. Only the starting version of the 10.6-inch is available in the UK, and the Galaxy Book has yet to launch altogether in Australia.
The 12-inch version has models that call for $1,129 (£1,099) and $1,329 (£1,269), each with an Intel Core i5 chip and housing 4GB RAM/128GB SSD and 8GB RAM/256GB SSD, respectively. What's more, all these models come with Samsung's S Pen.
When you consider that the new Surface Pro box no longer includes the Surface Pen and still doesn't include the keyboard, the Samsung solution suddenly looks like a much better value than both the Surface Pro and always-accessory-challenged iPad Pro. It's too bad, then, that its performance isn't mind-blowing and neither is its design.
Still, while Microsoft pulling the Surface Pen out of the box appears to indicate that the Surface Pro 2017 costs more to produce than its predecessor, a unit purchased with both the Pen and Type Cover would surpass the price of a comparable Galaxy Book by only $100. Still, we'd like to see them included in the initial purchase price. Luckily, there should be some Black Friday and Cyber Monday deals and bundles that should save you a couple bucks on the Surface Pro 2017.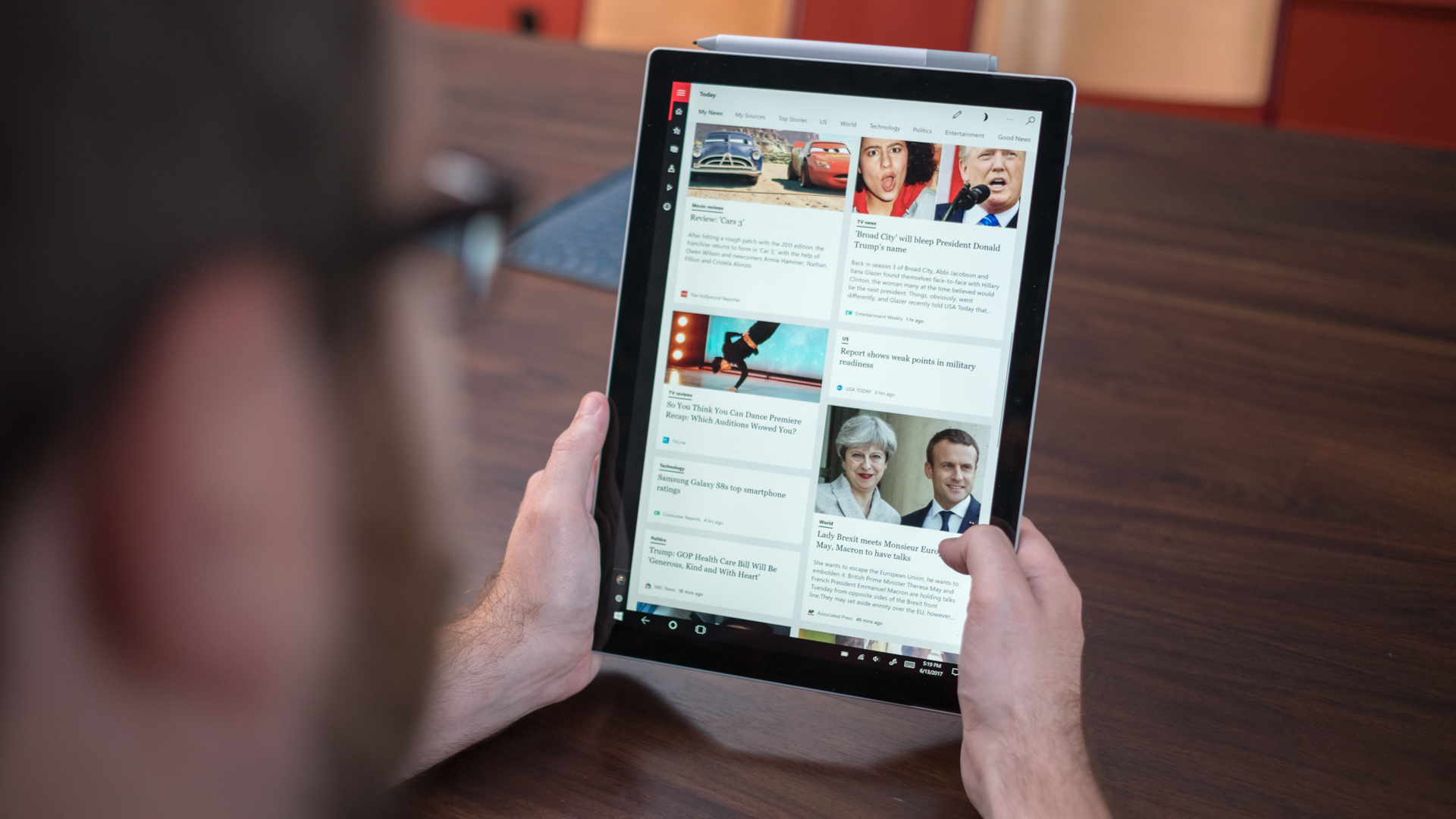 Design
At first glance, the new Surface Pro looks just like the last, the Surface Pro 4. It even has the same, admittedly gorgeous, 12.3-inch PixelSense touchscreen with a 2,736 x 1,824-pixel resolution.
But, a keen eye will notice key differences. For one, the magnesium-aluminum alloy frame is rounded at the edges more dramatically than before.
If you've been using a Surface Pro 4 frequently before picking this one up, your fingers will tell the difference before your eyes do.
Another key change comes in the hinge, which has been improved through drawing inspiration from the Surface Studio. The hinge now bends back even further than before to a new "Studio mode" that makes for a narrower, 165-degree angle at which to draw than before.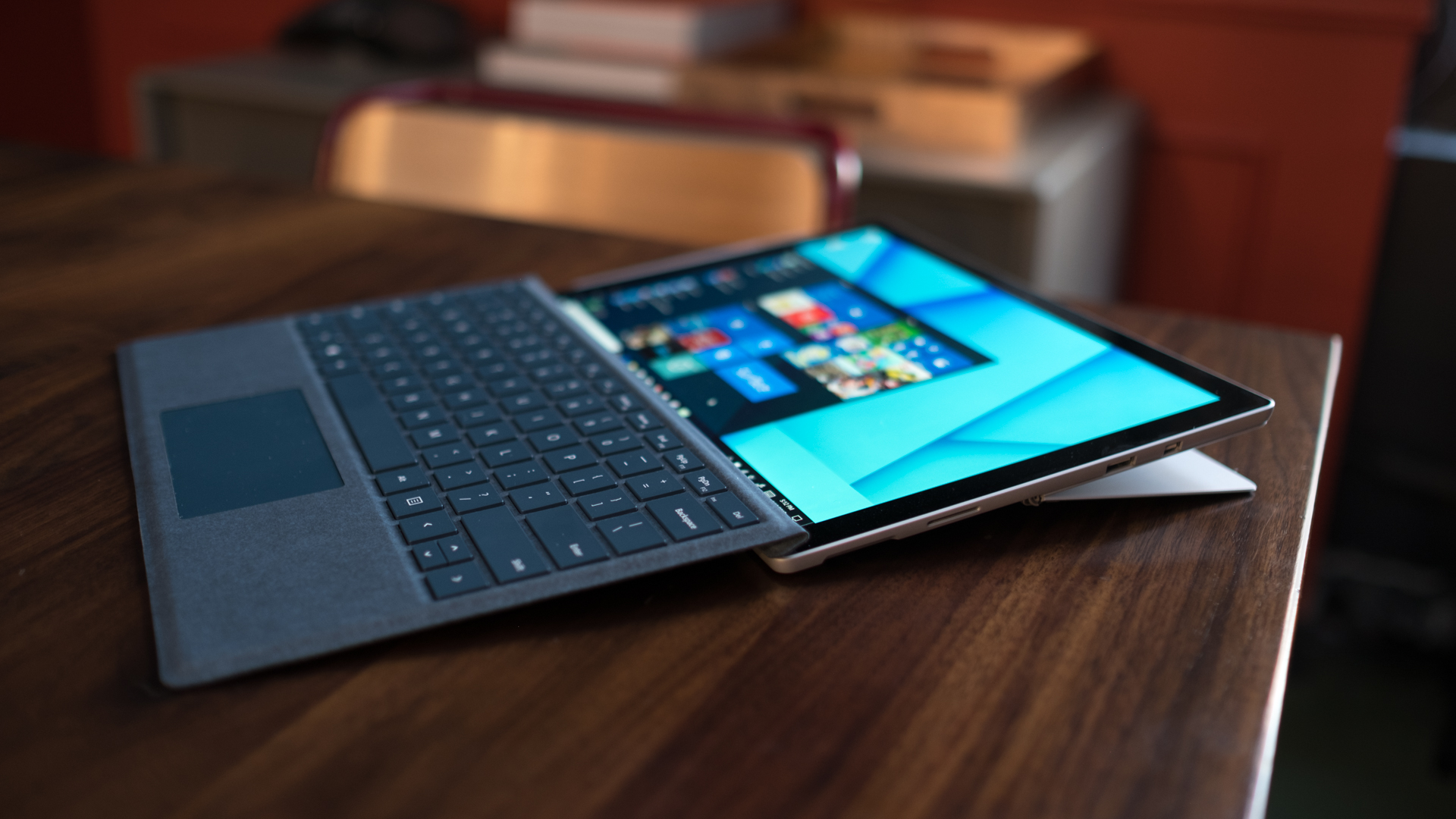 To that end, the hinge looks markedly different, clearly incorporating new parts to make this more dramatic angle possible, but operates in exactly the same way.
That's not even to mention that Microsoft improved thermal design, allowing it to make the Core i5 version, as well as the expected Core m3 version, fanless devices.
The new Alcantara Type Cover is a marked improvement in comfort over the previous generation, and largely worth the slight uptick in asking price over the microfiber cloth version. The keys feel like they're deeper set and come back from a press with more force than ever, and the material looks like it will stand the test of time. Now, if only a black (or purple) version would arrive already.
At the end of the day, the Surface Pro 2017 measures at the same 0.33 inches (8.4mm) of thickness as its predecessor, with its 1.73 lbs (786g) of heft also staying the same. When you consider that Microsoft managed this while still upping battery life by up to 20%, it's quite impressive, indeed.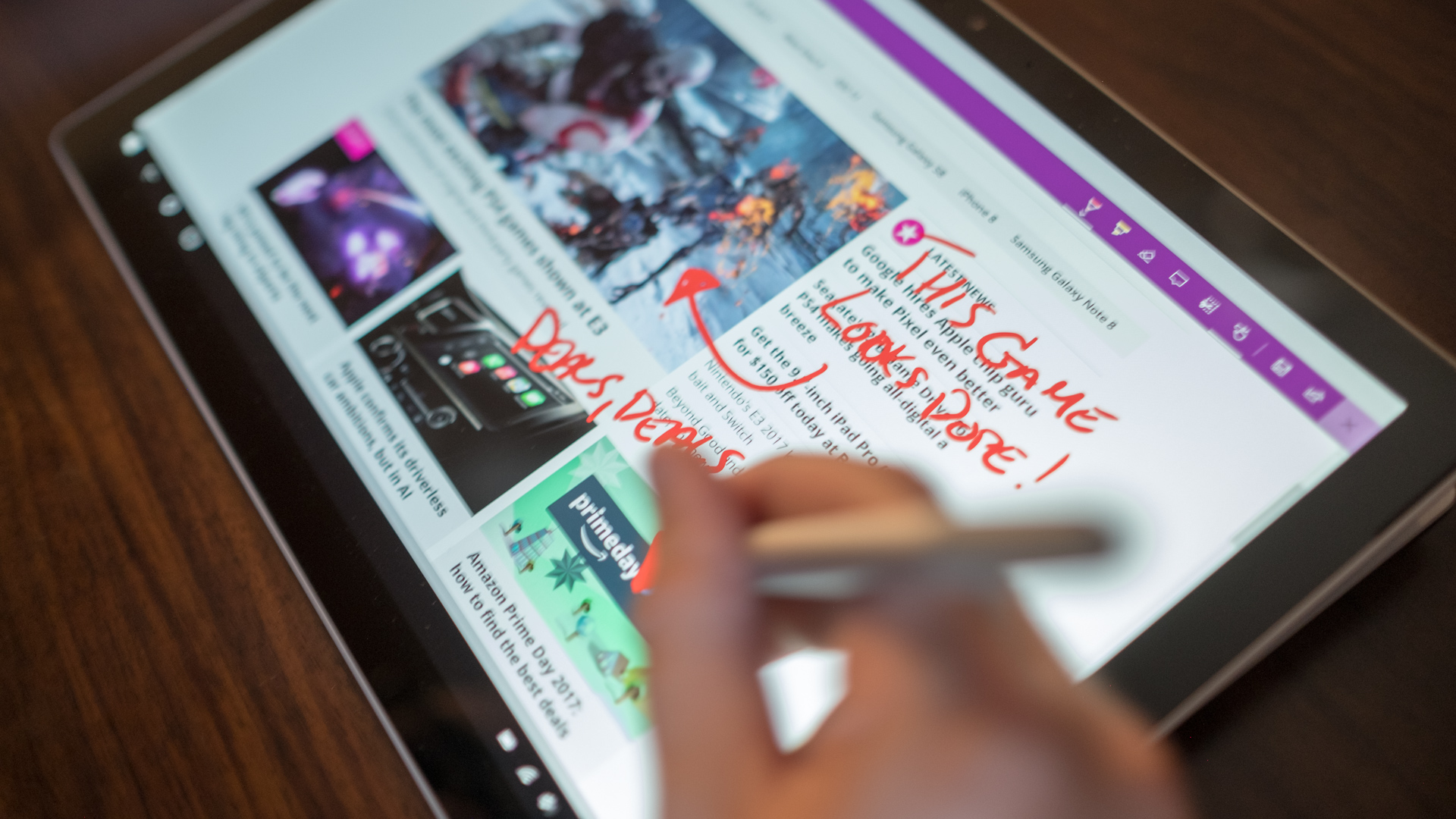 Surface Pen gets a big boost
Why Microsoft opted not to call this the Surface Pro 5 is beyond us, as you can now see the firm changed practically every facet of the product. The Surface Pen got some of the most meticulous and belabored treatment.
For one, Microsoft upped the pressure sensitivity of its pen to 4,096 levels of detectable pressure, meaning creators have more control over the width and intensity of their lines in illustrations or designs than before. Perhaps more importantly, the Pen now sports a much lower latency, meaning that the tip of your Pen has a far lower chance of "leading" the ink on the PixelSense display.
Finally, the Pen also supports tilt detection now, though only through the new Surface Pro – the other current Surface devices will get the support for this feature through a firmware update.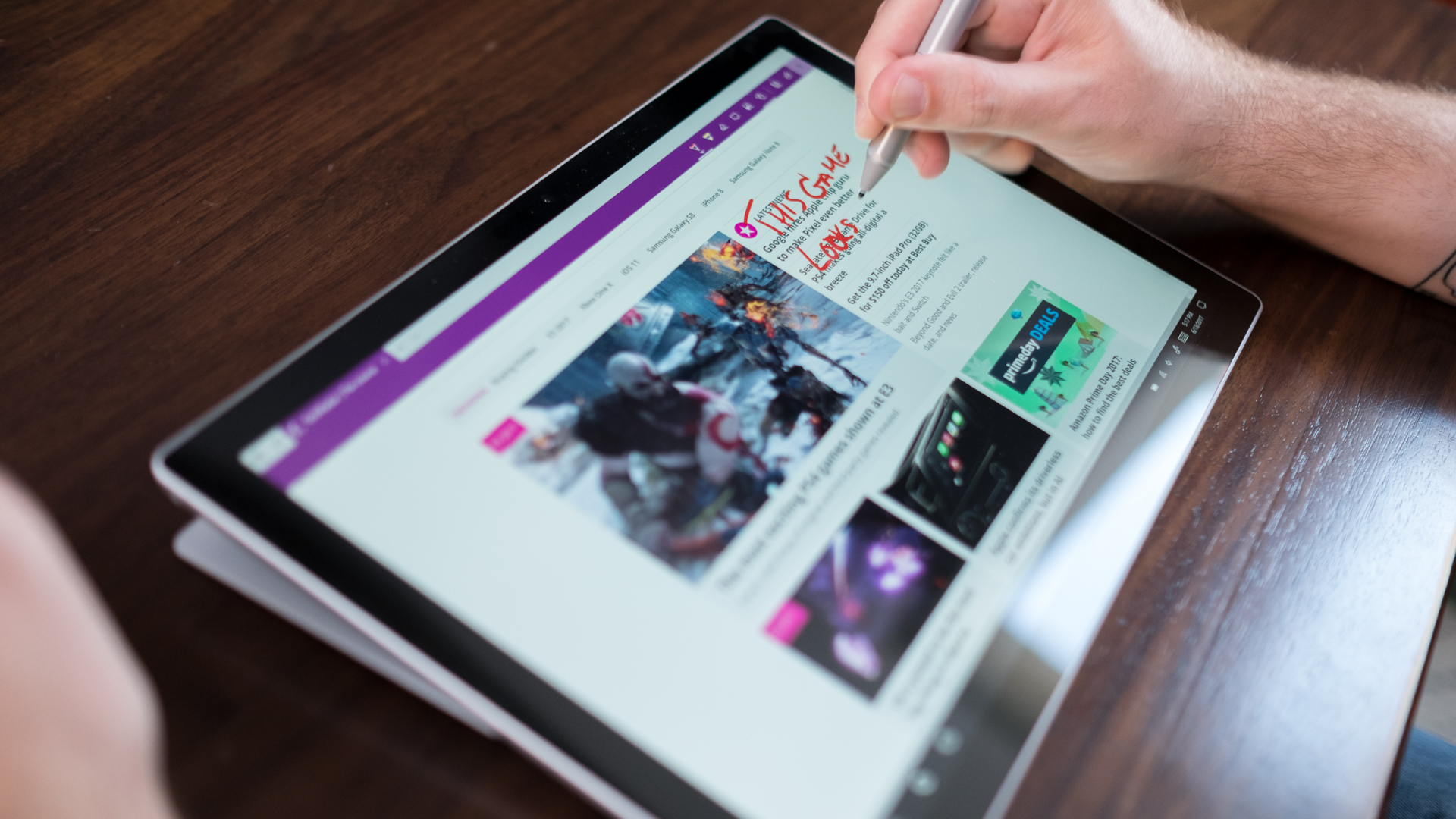 This feature will, again – short of some nifty navigation controls in some apps – largely matter most to true creators that would be concerned about representing tilt and direction of the strokes in their work.
To top it all off, the Pen also comes in new, slick colors platinum, black, cobalt blue and burgundy, designed naturally to match to the available colors of new Type Covers.
There's no debating that both the new Surface Pen and Type Cover have earned their slight price hikes, but we remain disappointed in the lack of any bundling to save committed customers a bit of money for fully buying in on Microsoft's products on day one.
First reviewed June 2017
Unsurprisingly, the new Surface Pro performs admirably for every task in this editor's workload, including web browsing with several tabs at a time while word processing, plus download and uploading lots of media files. Not to mention it works just fine for basic photo editing through Lightroom.
As for gaming, again, anything beyond Hearthstone is going to result in a poor experience. Luckily, touch-friendly games, like Hearthstone, are just delightful to play on the sharp and colorful, 12.3-inch display.
Of course, with media creation being the primary purpose of this device, the 3:2 screen will make for larger black boxes than either you're used to or are far too familiar with when viewing 16:9 and 21:9 videos and films.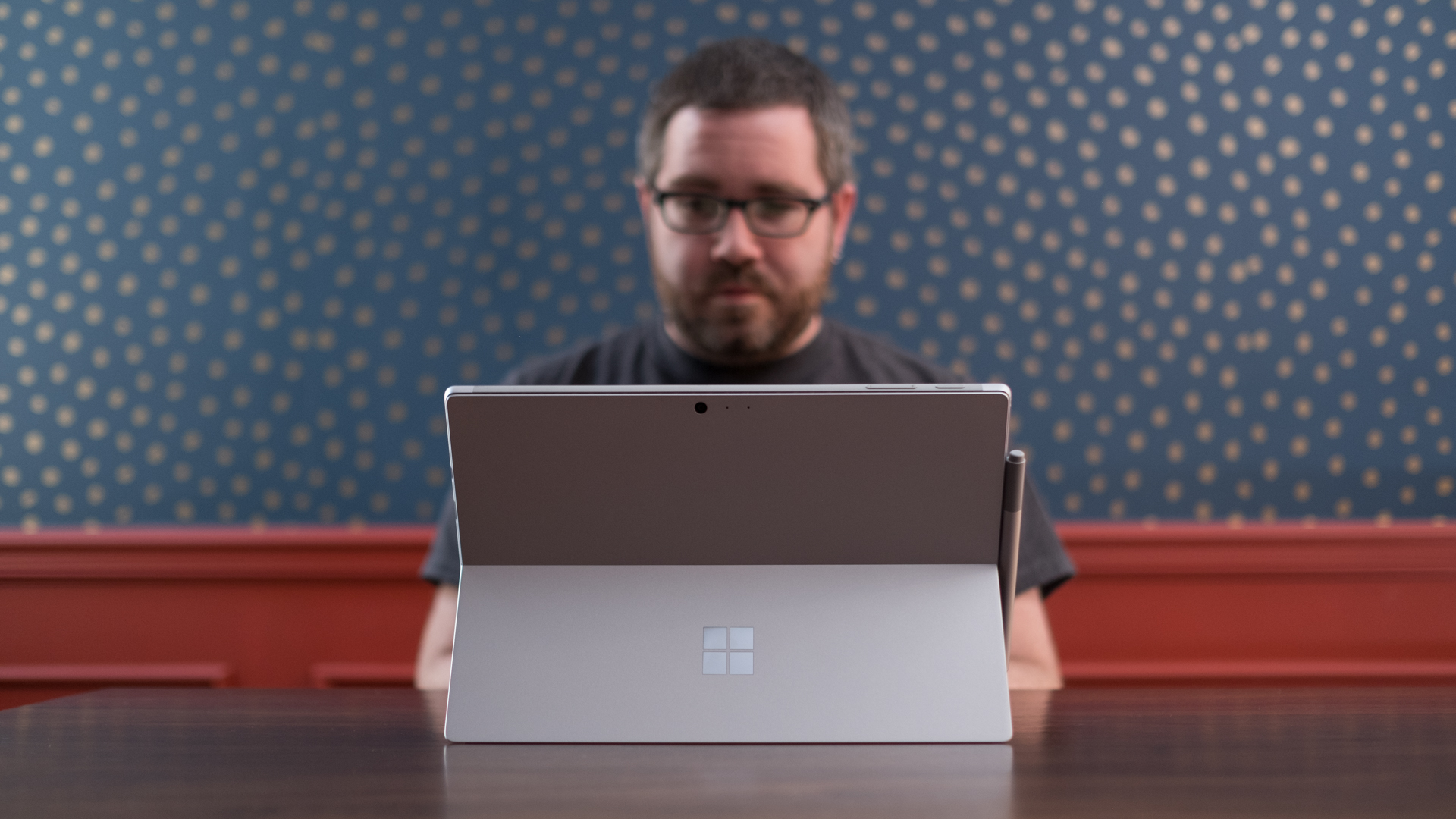 On the benchmarks, the new Surface Pro contends with the latest iPad Pro on Geekbench 4, one of the few tests that can measure both systems. The Surface Pro's average multi-core processor score of 9,296 is within a hair of the iPad Pro's 9,290-point ranking.
Mind, that this is the Surface Pro containing a 2.4GHz Intel Core i7 processor, the strongest version of the chip that it can be configured with, starting the cost at $1,599 (£1,549, AU$2,449). Meanwhile, the iPad Pro remains just as powerful regardless of which configuration or model you choose. (Oh, and we'll just say the Galaxy Book reviewed doesn't compare to this configuration.)
That said, the processor inside the Surface Pro powers a more deliberately open PC experience with an operating system that allows users to install apps from multiple sources and dig into system files deeper than even will.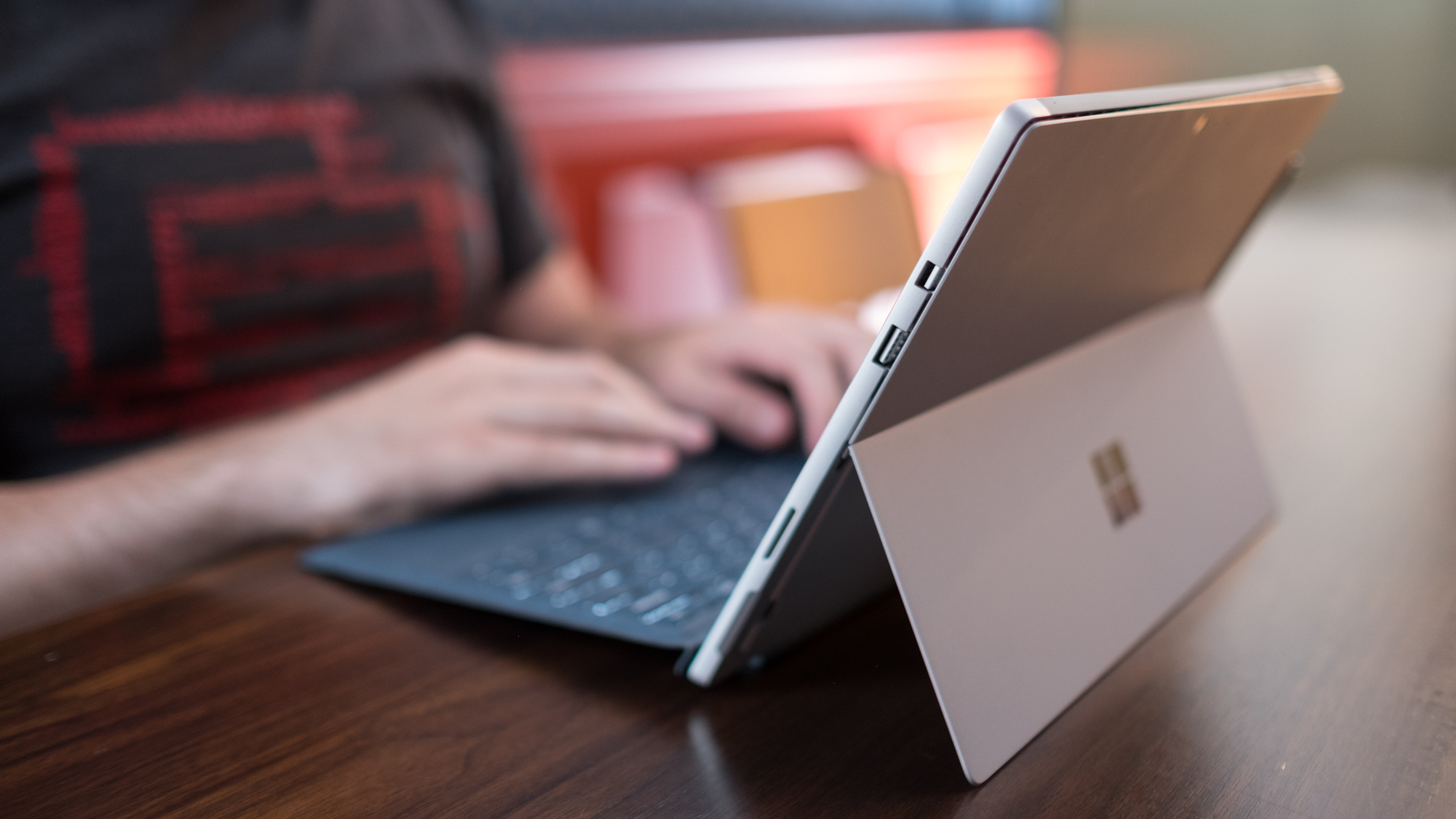 Battery life
One area in which Microsoft has improved year-over-year where the competing MacBook and iPad Pro refreshes have not is longevity. This year, The firm managed to shrink its motherboard design, allowing for a 20% larger battery inside.
Coupled with power consumption optimizations the 7th generation (Kaby Lake) Intel processor design brings, Microsoft promises up to 13 hours and 30 minutes of local video playback from the new Surface Pro. That's a lofty claim.
Of course, we're not surprised to see its claim not come anywhere close to being true in our testing, as has been the case with its previous products much less all of its rivals.
However, based on our tests of the previous model's battery, we no doubt see a marked improvement.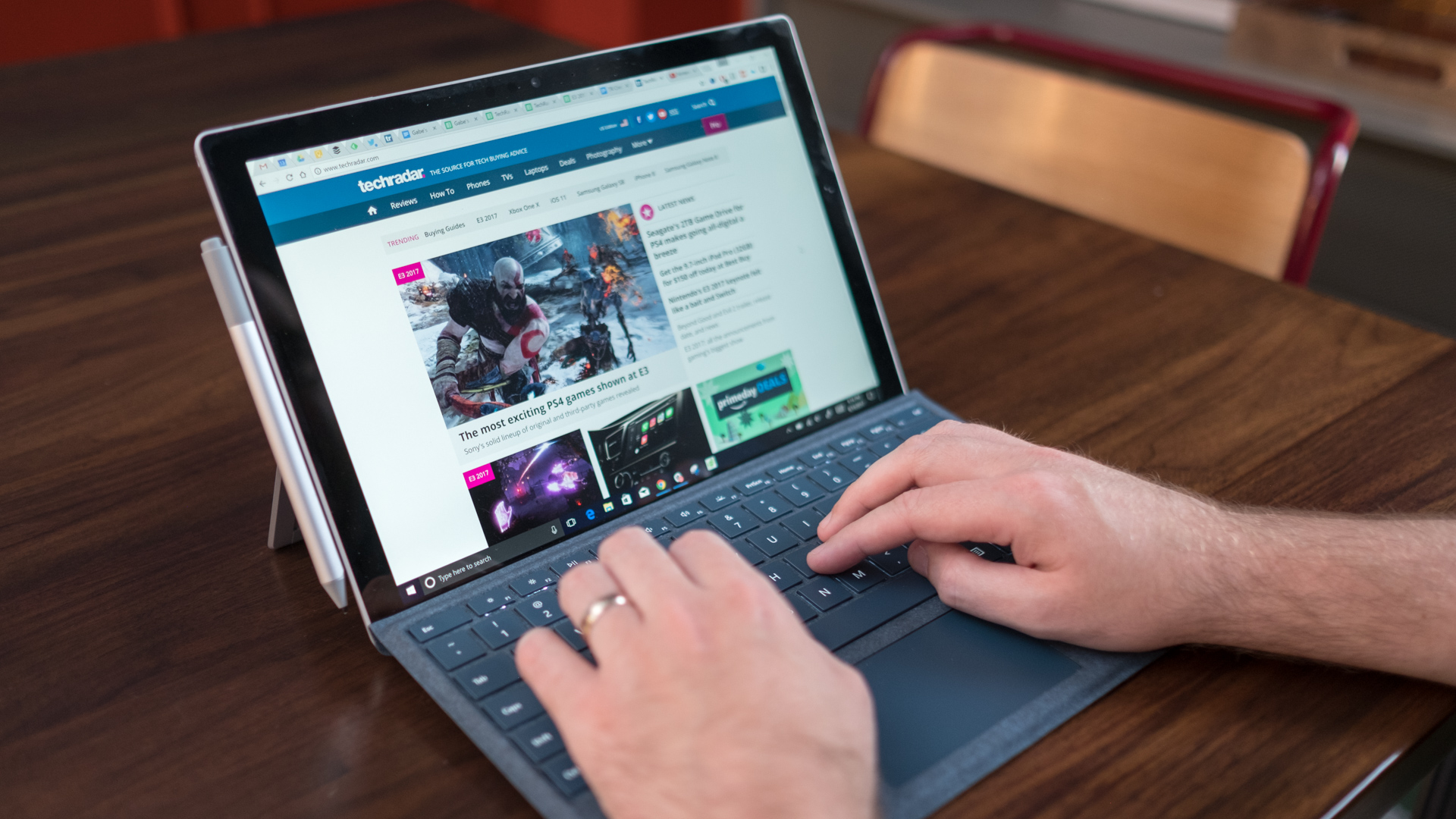 PCMark 8 Battery Life and TechRadar Movie Test results came in 24% and 32% longer than the previous model at 4 hours and 3 minutes, and 6 hours and 58 minutes, respectively. The iPad Pro was rated for between 6 and 7 hours of use, while the Galaxy Book lasted a longer 7 hours and 32 minutes playing back local video but nearly an hour shorter in the more intense PCMark 8 test.
While the numbers are far below Microsoft's promise either way, the point is that we're seeing a sizable improvement based on our own results, and that's enough for us to commend Microsoft's designers and engineers for making it happen.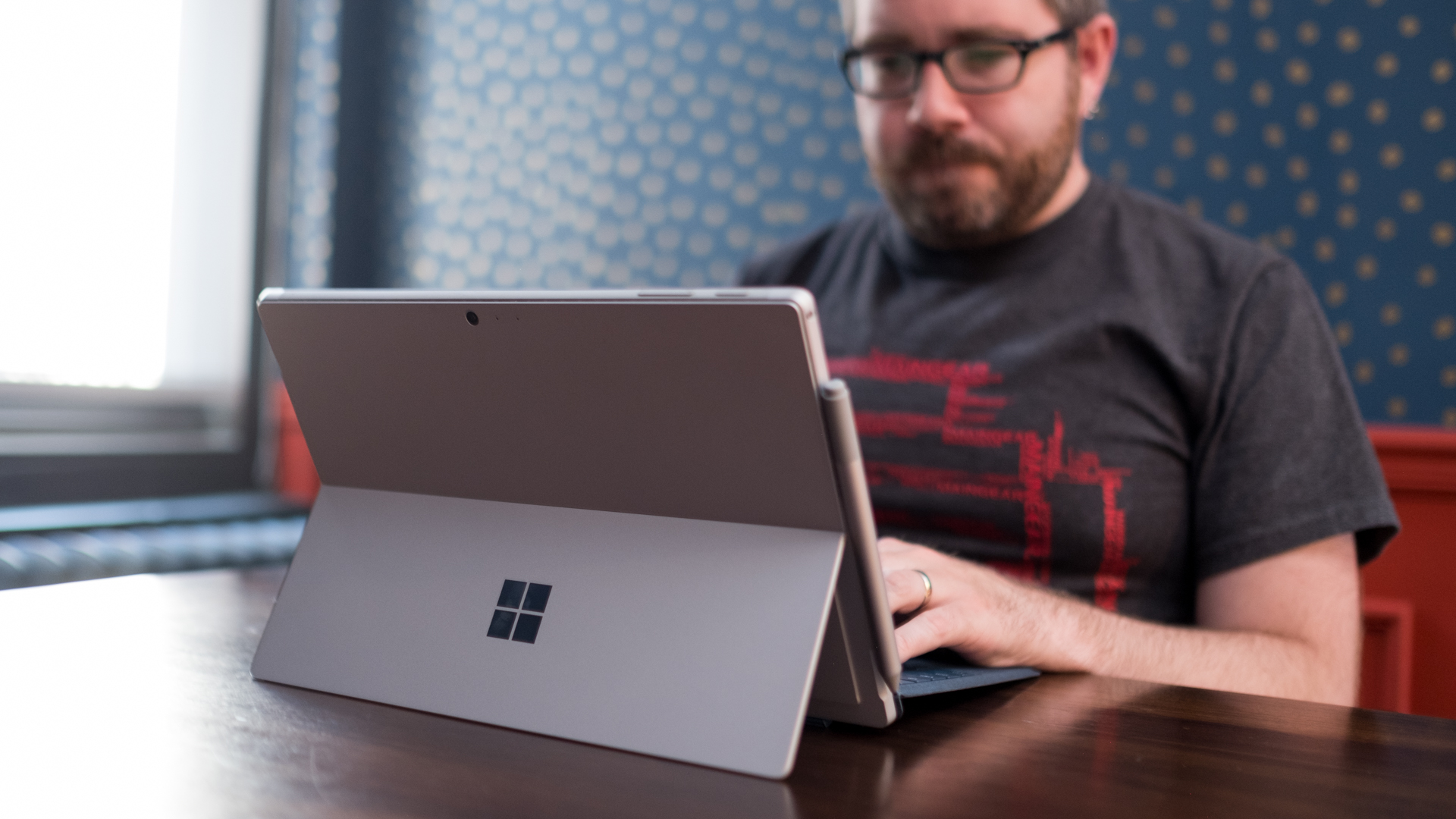 We liked
Microsoft has improved just about every facet of the Surface Pro 4's design while addressing complaints of battery life and even issues some might not have even noticed – like a hinge that could have titled even further. Frankly, with this much improvement inside and out, we're surprised that Microsoft has refrained from calling this the Surface Pro 5.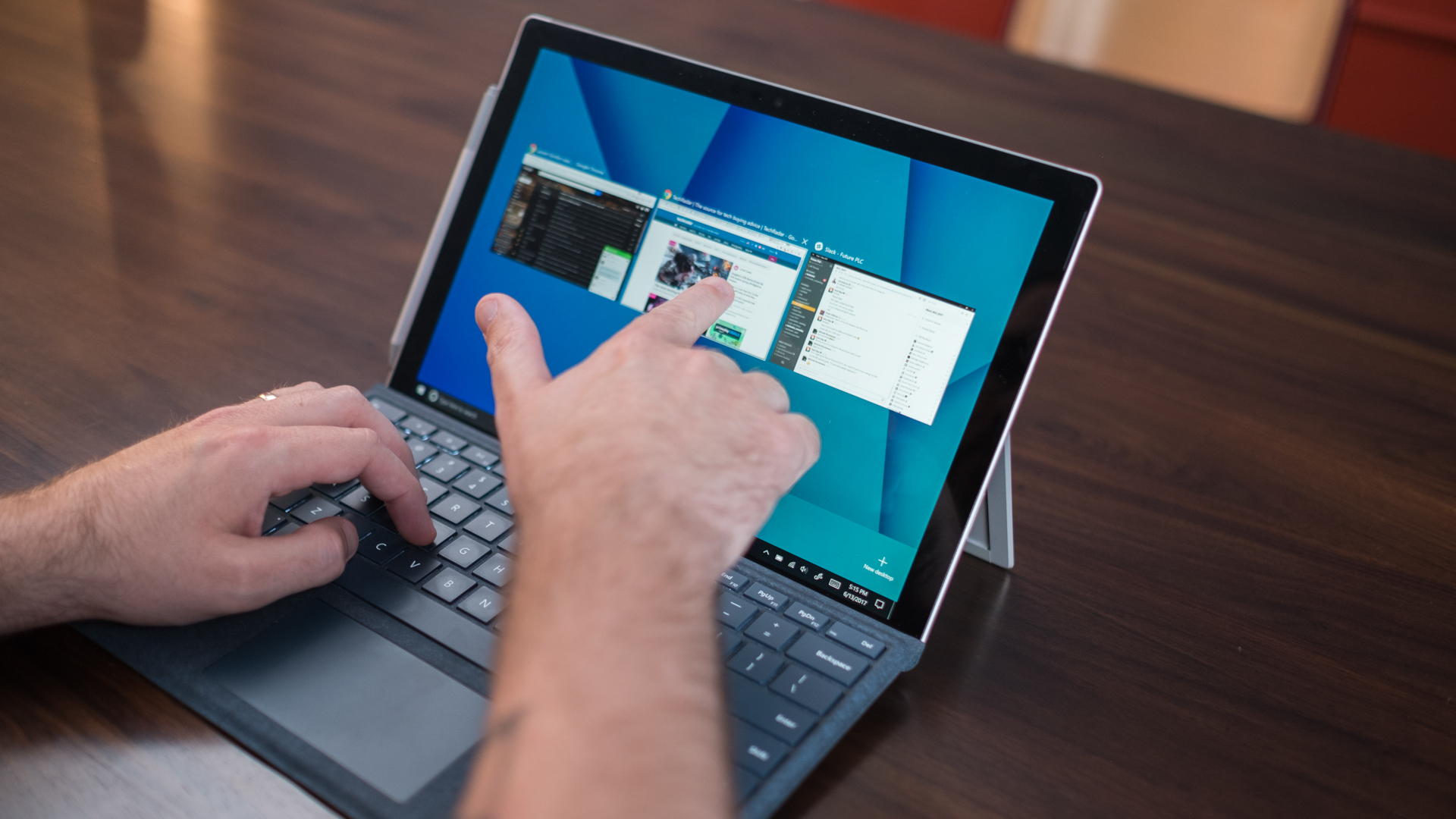 We disliked
Vastly improved or not, taking away the Surface Pen from the package is a tough sell. Not providing any sort of bundling incentive for any of the Surface Pro accessories is now a bigger issue than just refusing to include the Type Cover, and Microsoft is only making it more difficult for newcomers to jump that fence.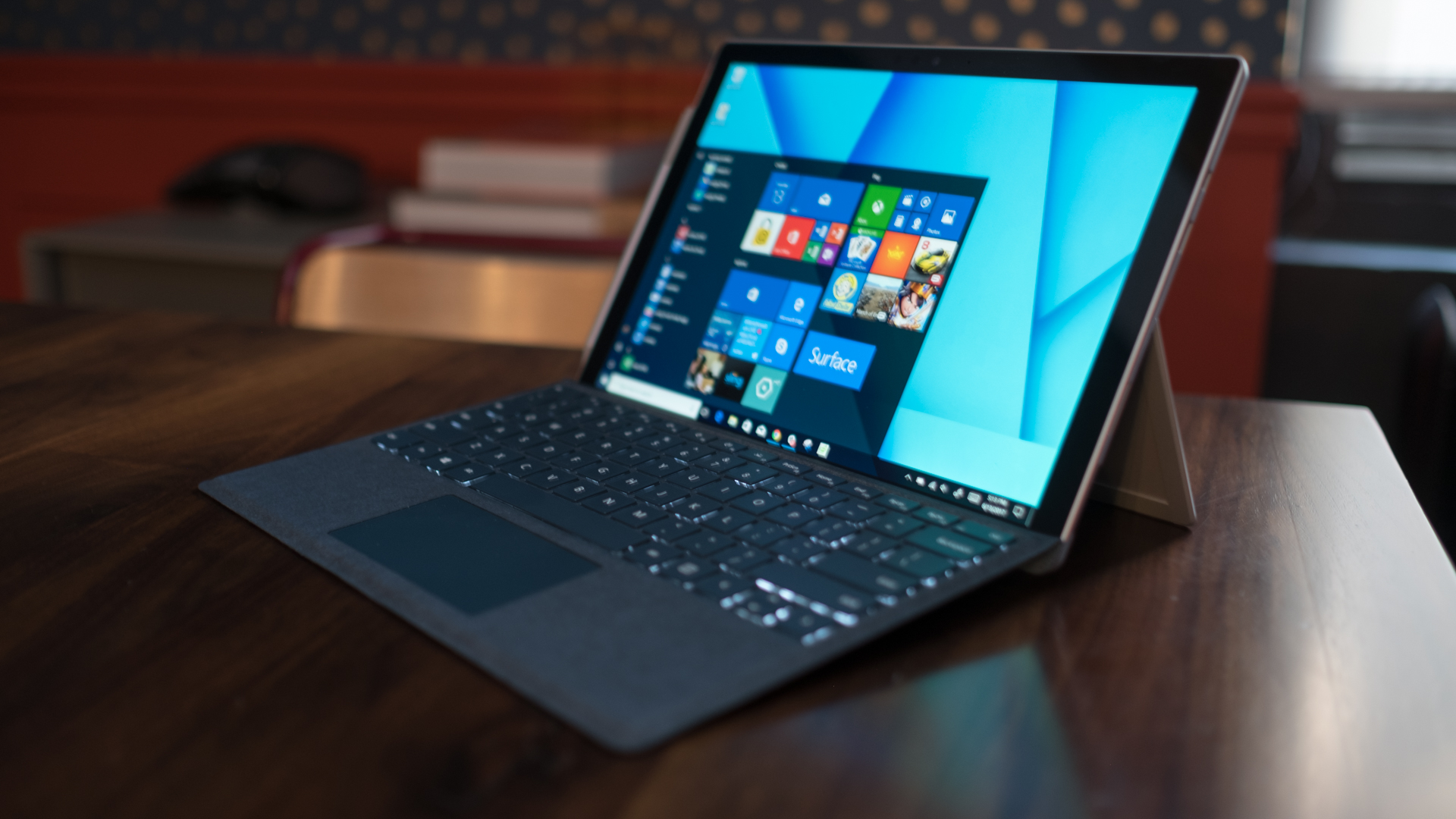 Final verdict
While it should come as no surprise, to just the extent of how deeply improved this Surface Pro is over the previous model and how it maintains its lead over competing 2-in-1 laptops or tablets is worth reiterating. From the accessories designed to make Surface Pro feel like an even more worthy laptop-and-tablet replacement to its improved battery life, every one of our concerns have been addressed.
That said, Microsoft has again stumbled on the Surface Pro's value proposition by pulling out parts of the deal. Microsoft didn't manage to make its case any stronger with the Surface Pro, but rather weaker by removing the new Surface Pen from every box. Again, it's not very consumer-friendly and only makes arriving at the decision to buy more difficult for would-be Surface owners.
In short, if you're willing to pay a bit more for the latest accessories than even before, the new Surface Pro remains the ultimate 2-in-1 laptop and productivity tablet. So much so that, despite Microsoft's decision to pull the Surface Pen from the box, it remains worthy of our Recommended award.
from TechRadar - Technology Reviews http://www.techradar.com/reviews/microsoft-surface-pro