Sage Business Accounting is a cloud-based accounting and invoice management tool specifically designed for small businesses. It is offered by the British multinational enterprise software company, Sage Group plc, more commonly known as Sage. The platform offers accounting, expense and compliance management. This also includes invoices, estimates, quotations and statements.
Everything is easily accessible from the aesthetically pleasing dashboard. The solution can also manage your taxes in accordance with available transaction data.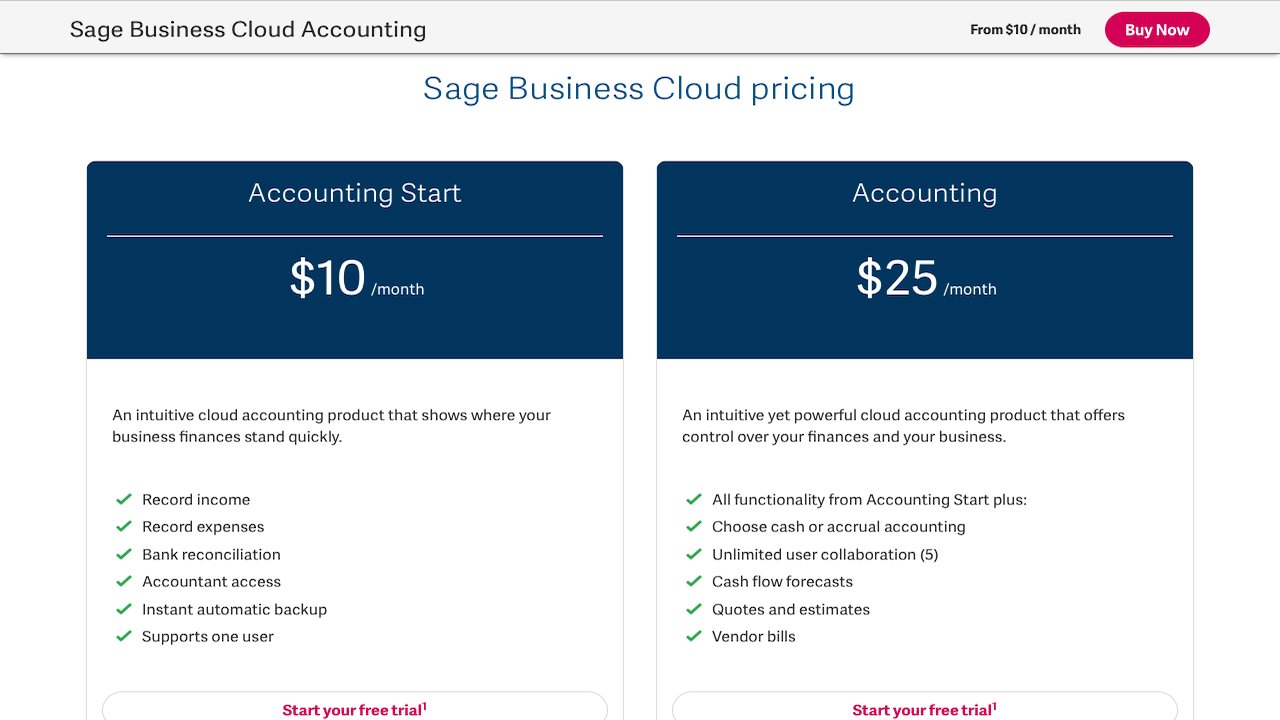 Pricing
Sage offer two pricing tiers. Both offer a 14-day free trial.
'Accounting Start' is $10 (£7.67) per month. This includes bank reconciliation, accountant access, automatic backup, one user support, record income and expenses.
The 'Accounting' tier starts at $25 (£19.16) per month. This has all 'Accounting Start' has to offer plus unlimited user collaboration, cash flow forecasts, quotes, estimates, vendor bills, cash and accrual accounting.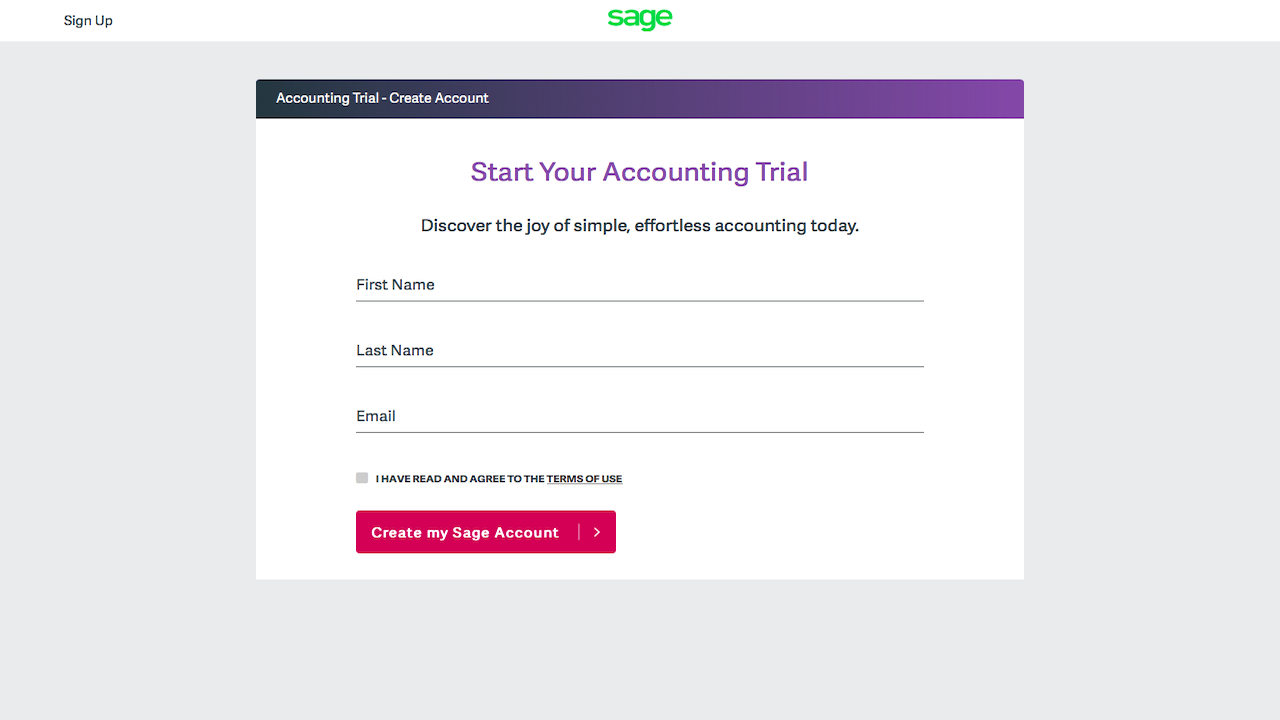 Setup
The setup process for Sage accounting is very straightforward and takes only a matter of minutes. You just fill in your name and email address. Then you enter your business details such as company name and address. After this you enter tax details such as your tax year, retention period and the date you wish the platform to begin accounting. Once this has been completed the dashboard is displayed.
You can then go to 'Settings' and choose to personalize your account. You can also access invoice and business preferences along with your financial settings. Subscribers can link credit cards to their account to. The 'Opening Balances' section can be used to enter your bank and general ledger numbers.
Sage is cloud-based so it will work on any operating system. Setting up is so simple even new users should have no trouble. However, if you find yourself at a loss, Sage has a rather extensive Knowledge base: support is available through live chat, email and a ticket system. We sent a query through the ticket system and received a response less than four hours later.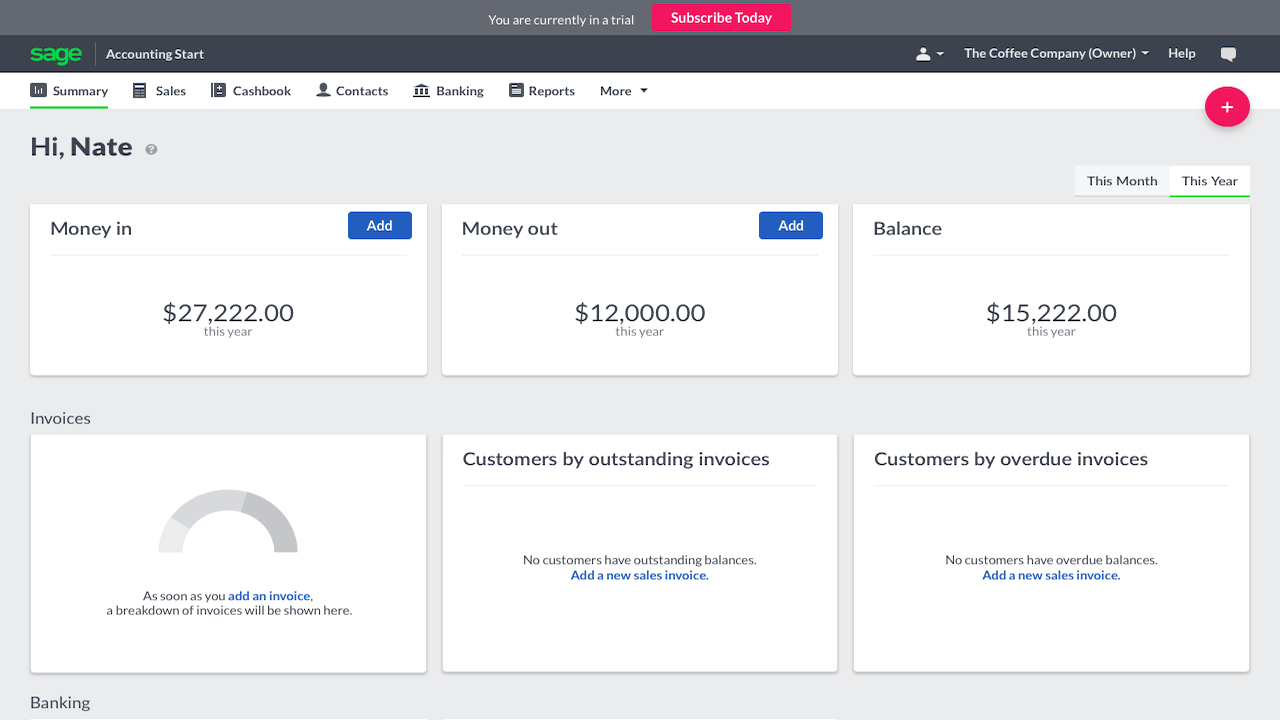 Interface
The dashboard is laid out in a simple to use manner. On the summary screen you can view money in, out, balance, invoices, outstanding invoices and banking. These can be displayed by month or year. Along the top of the screen are tabs for summary, sales, cashbook, contacts, banking and reports. There is also a 'More' tab where you can access journals and settings.
On the top right of the page you can view your profile and help. Everything is very easy to navigate. When it comes to adding new reports or invoices, the process is simple and straightforward. Even connecting your bank accounts is done in a matter of minutes and with little fuss.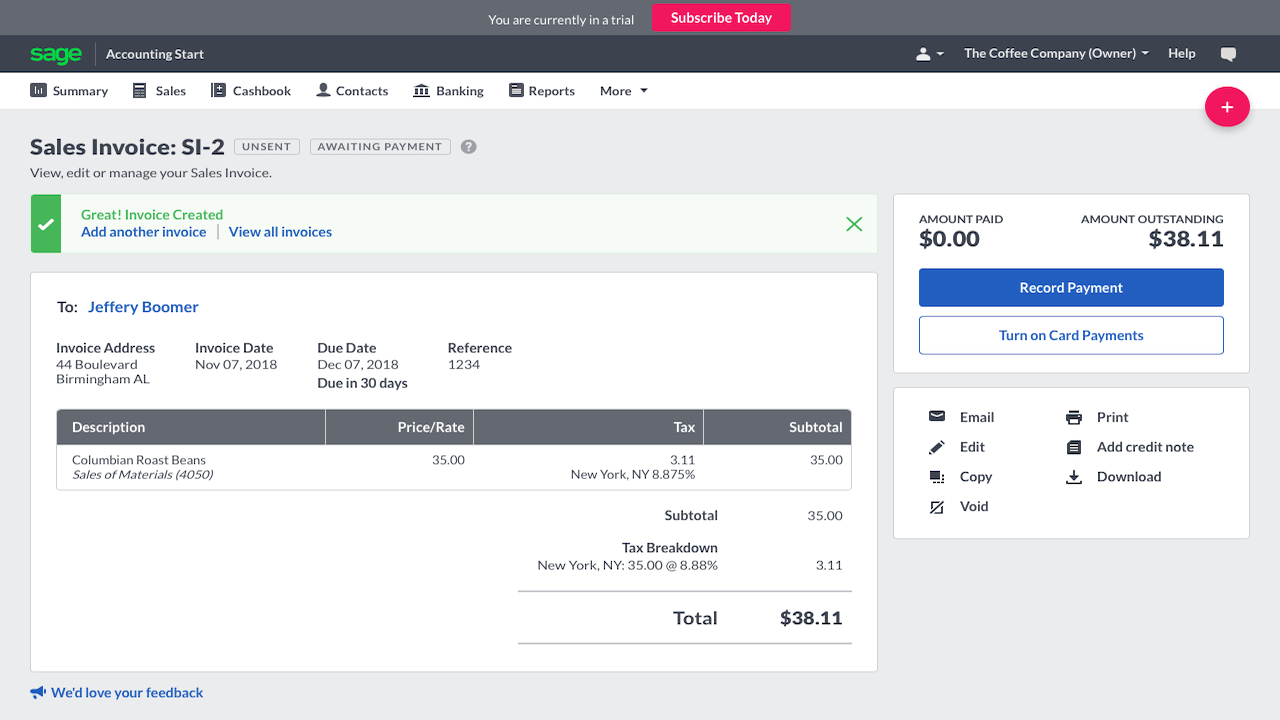 Sales
Sage Business Cloud Accounting has a comprehensive sales section. You can see all, outstanding, overdue, paid and draft sales. The 'Settings' cog is on the left-hand side of the page. This allows you to add/remove columns on the display page.
You can also raise invoices from this section. Invoices are simply laid out- there is just one standard available. For users who want more of a variety, FreshBooks may be the better choice for you. You just fill in customer name, invoice number, product description, price and tax. Once the invoice has been paid, you can record and turn on card payments. From here, you can also print, email, edit, copy, download, void or add a credit note to your invoice.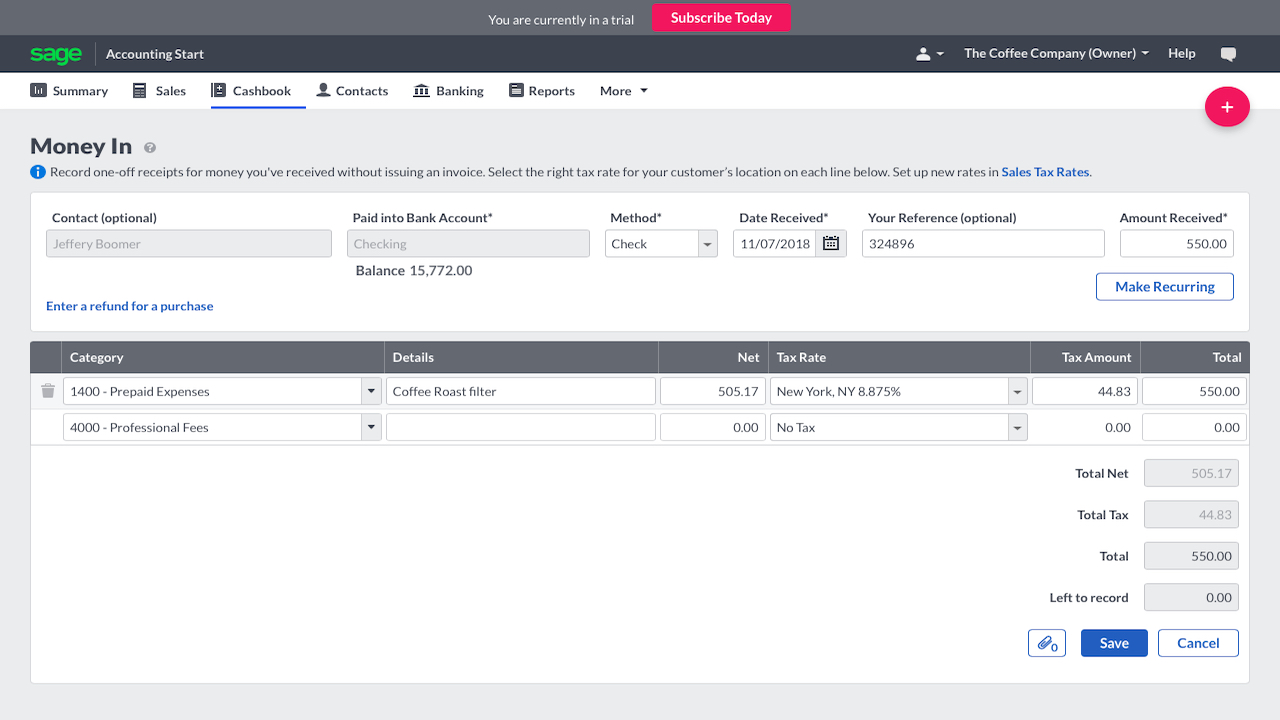 Cashbook
This is where you record all the money that comes in and out of your business. Sage makes this a very easy feature to use. On the main screen in the 'Cashbook' tab all accounts, checking and cash are shown across the top. Transactions are displayed on the main page under 'All Accounts'. These are sorted under date, name, references, paid from bank account, money in, out and repeat payments. You can view transactions from all dates or sort them by month, quarter and year. Use the tab on the right-hand side of the screen to input new entries. Just fill in customer details, bank account, payment type, date received, reference number and amount received or paid out along with category types, details, net, tax rate and tax amount.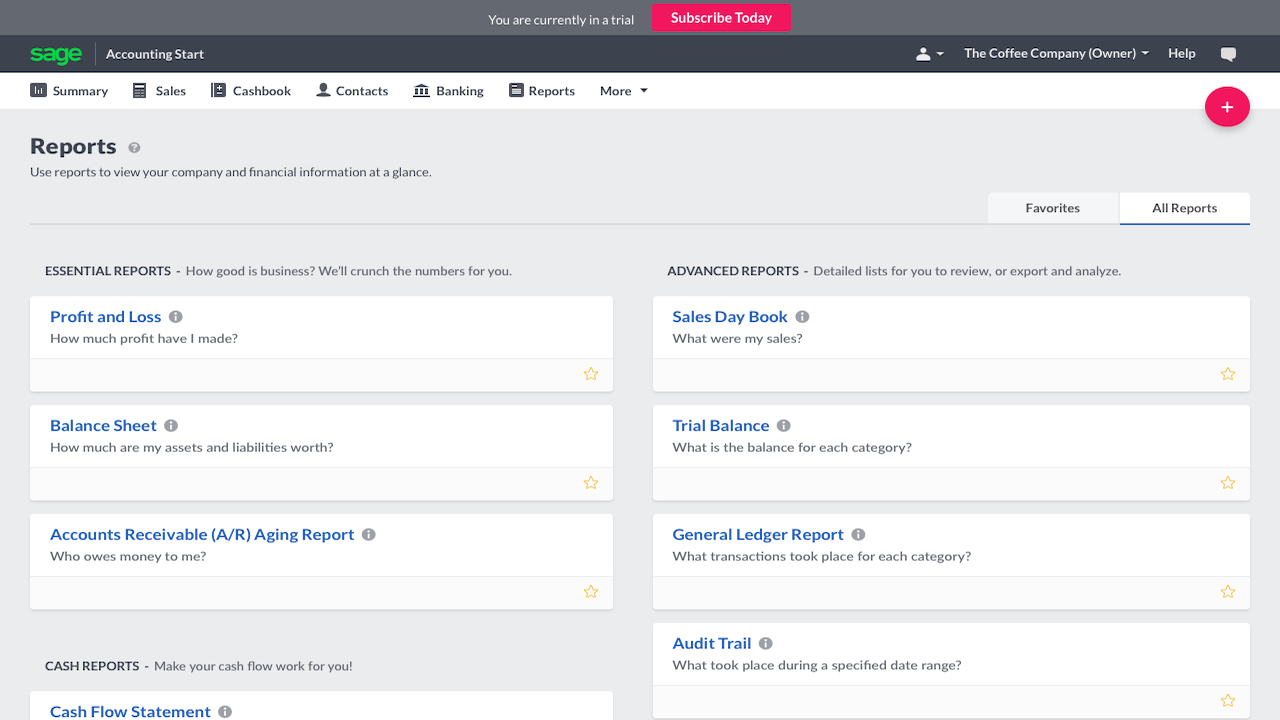 Reports
Sage has a large variety of reports. These are listed under 'All reports' or you can add certain reports to your 'Favorites' tabs. You can create accounts receivable aging report, balance sheet, profit and loss under 'Essential Reports'. Users can access display sales day book, trial balance, general ledger report, audit trail and chart accounts in 'Advanced Reports'. Tax and data reports can be run from here too.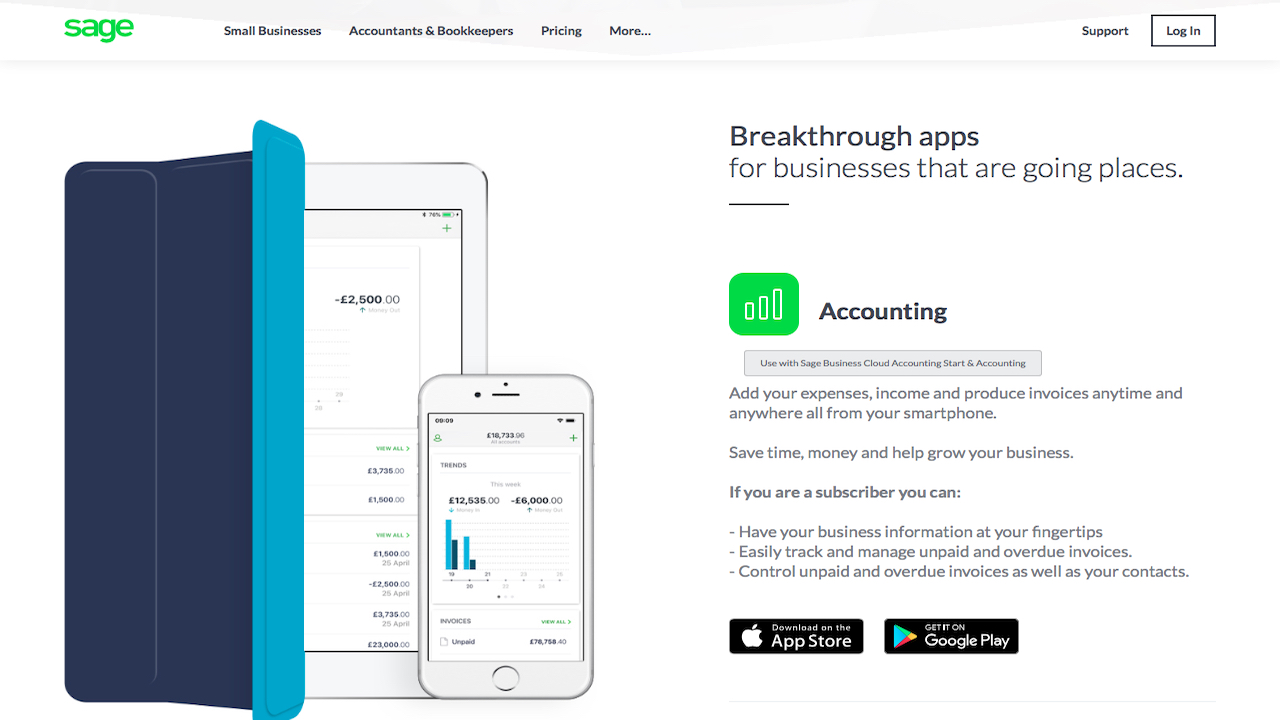 Mobile apps
Subscribers of Sage Business Cloud Accounting can download the app available on iOS and Android. You can track unpaid and overdue invoices along with add expenses, income and upload statements. The app can also display graphs of your company's performance. All your business data is updated in real-time across your devices. You can also access your dashboard on the app.
Final verdict
Sage has an excellent reputation in the business accounting software area and it does not disappoint with this cloud-based solution for small businesses.
You can choose from a huge variety of features which range from sales to reports. It is simple to use and easy to navigate. Setup takes only a few minutes with you being guided through the whole process.
Despite the incredible number of accounting options Sage offers there's never any sense of being overwhelmed with data. The dashboard doesn't overload information users with information- it only displays information vital to your company.
from TechRadar - Technology Reviews http://www.techradar.com/reviews/sage-business-cloud-accounting