The Samsung Galaxy Tab S4 is the best, albeit the only, Android tablet you can buy today with true 2-in-1 features that deliver tablet and laptop-like mobility.
Unfortunately, while it's here to compete with Apple's best iPad at productivity, it doesn't get the job done and costs just as much.
It's Samsung's take on the iPad Pro 10.5, one with a similar 10.5-inch display, S Pen stylus, 64GB of storage, and 4GB of RAM – all at $650 (£599). Only, Samsung includes the S Pen for a better value (Apple Pencil is separate and expensive) and it allows for expandable microSD storage. So far, so good, Samsung.
The other selling point here is the built-in Dex software, which mimics a desktop interface and has second-screen capabilities.
You no longer need additional bulky hardware to switch over to this laptop-like mode, complete with re-sizable windows, task bar and system tray.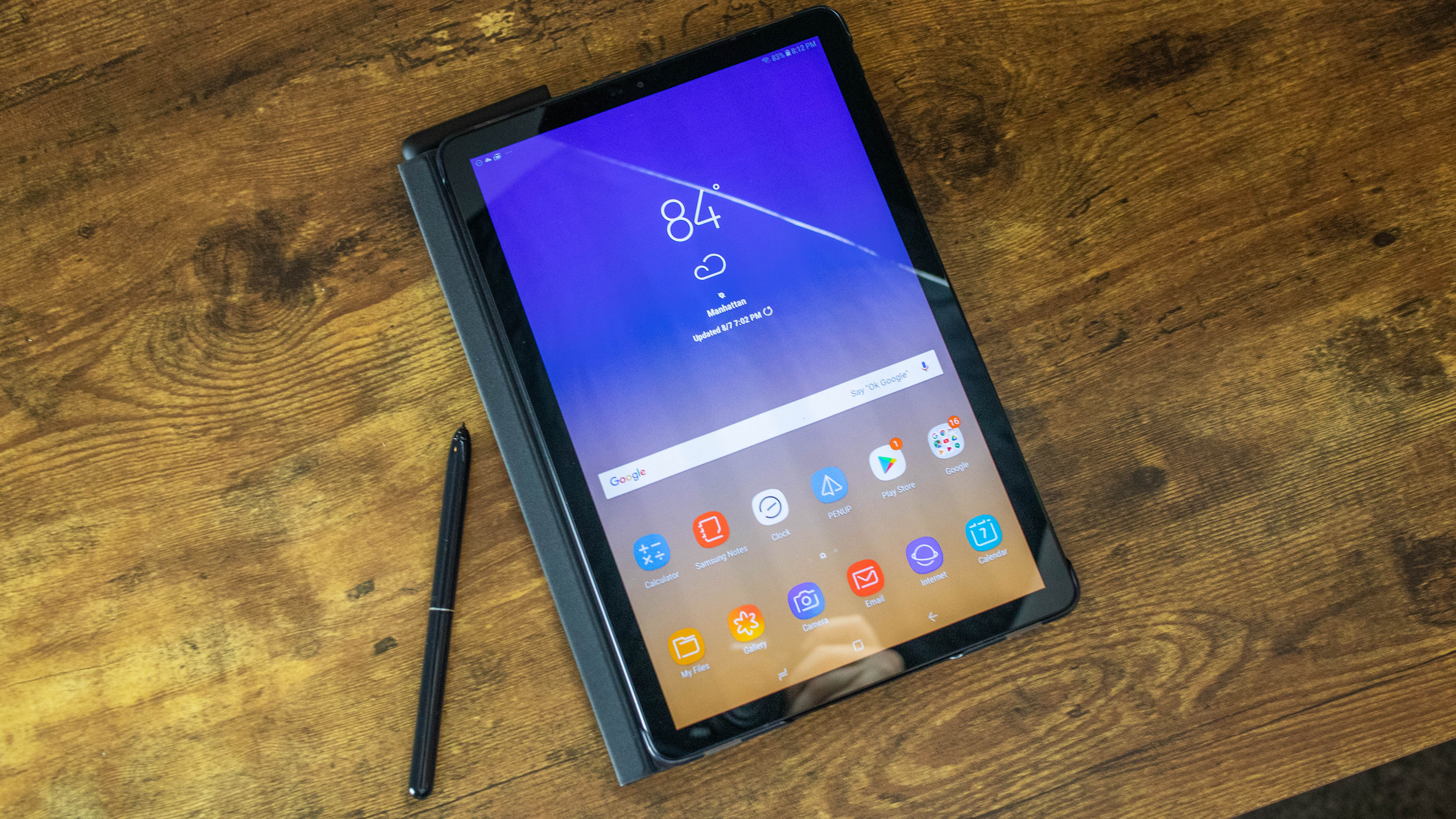 Dex feels like much-needed 2-in-1 progress on Android, but a 2-in-1 work-in-progress next to Windows and Chromebook laptops.
This user interface isn't as touch-friendly, and there's no track pad on the optional Tab S4 keyboard cover that we found most problematic. You need to bring a Bluetooth mouse and your own keyboard to get any work done.
Good news. The specs lie a little bit: it actually doesn't matter that the tablet is underpowered on paper with an early 2017 chipset that's easily outpaced by Apple's laptop-rivaling chip speeds. We're more concerned with the fact that the price of the tablet increased to match the iPad Pro.
The truth is our biggest issue with all tablets has little to do with stagnant specs and hardware performance. It's that they're always confined by restrictive mobile-first apps and interfaces. Samsung Dex tries to make good on that 2-in-1 promise with a real system dock so you can quickly switch between apps like on a laptop.
And the Tab S4 does introduce a lot of good ideas that move tablets in the right direction, toward a more productivity-friendly interface. But that doesn't make it a good buy next to the Microsoft Surface Go or one of the best Chromebooks at such a high price.
Samsung Galaxy Tab S4 release date and price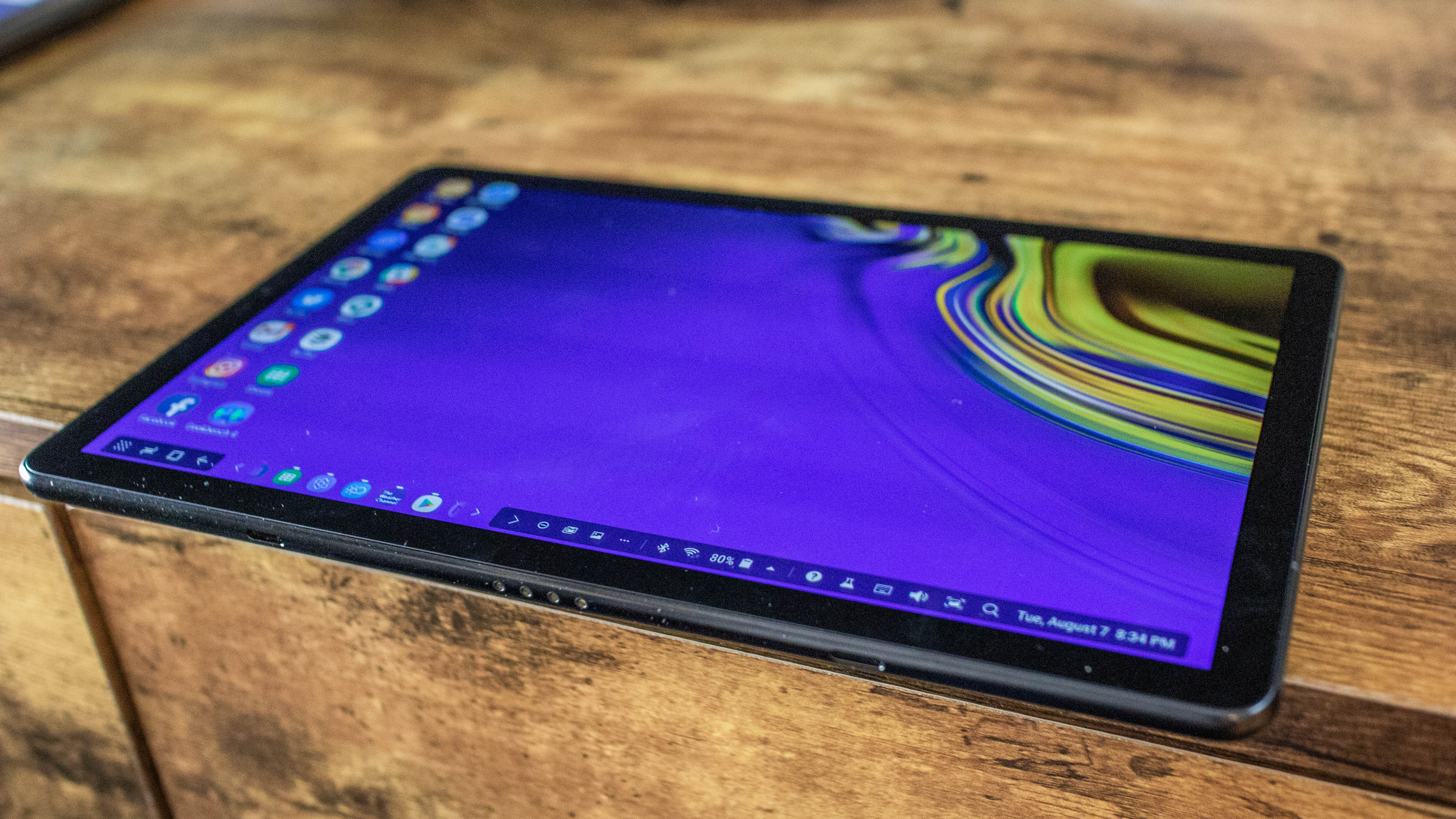 You can buy the Samsung Galaxy Tab S4 in the US, UK and Australia with the Wi-Fi edition being available from a variety of retailers and the LTE edition on sale from carriers and networks.
In the US you can buy the LTE version from Verizon now with Sprint and US Cellular selling the Tab S4 in the third-quarter of this year.
The Tab S4 with a Wi-Fi connection costs $649.99 (£599, AU$959) through Amazon, Best Buy, and the Samsung Store. The LTE version costs $729.99 (£649, AU$1,179).
Samsung Dex, Android and apps
Samsung's best and worst new feature is built-in Dex mode, which transforms the normal Android look into a desktop-like interface.
This means apps are left-aligned (like on a Windows PC), clicking on an app opens re-sizable windows, and there's an app dock and system tray at the bottom to flip between open apps and configure all sorts of quick settings.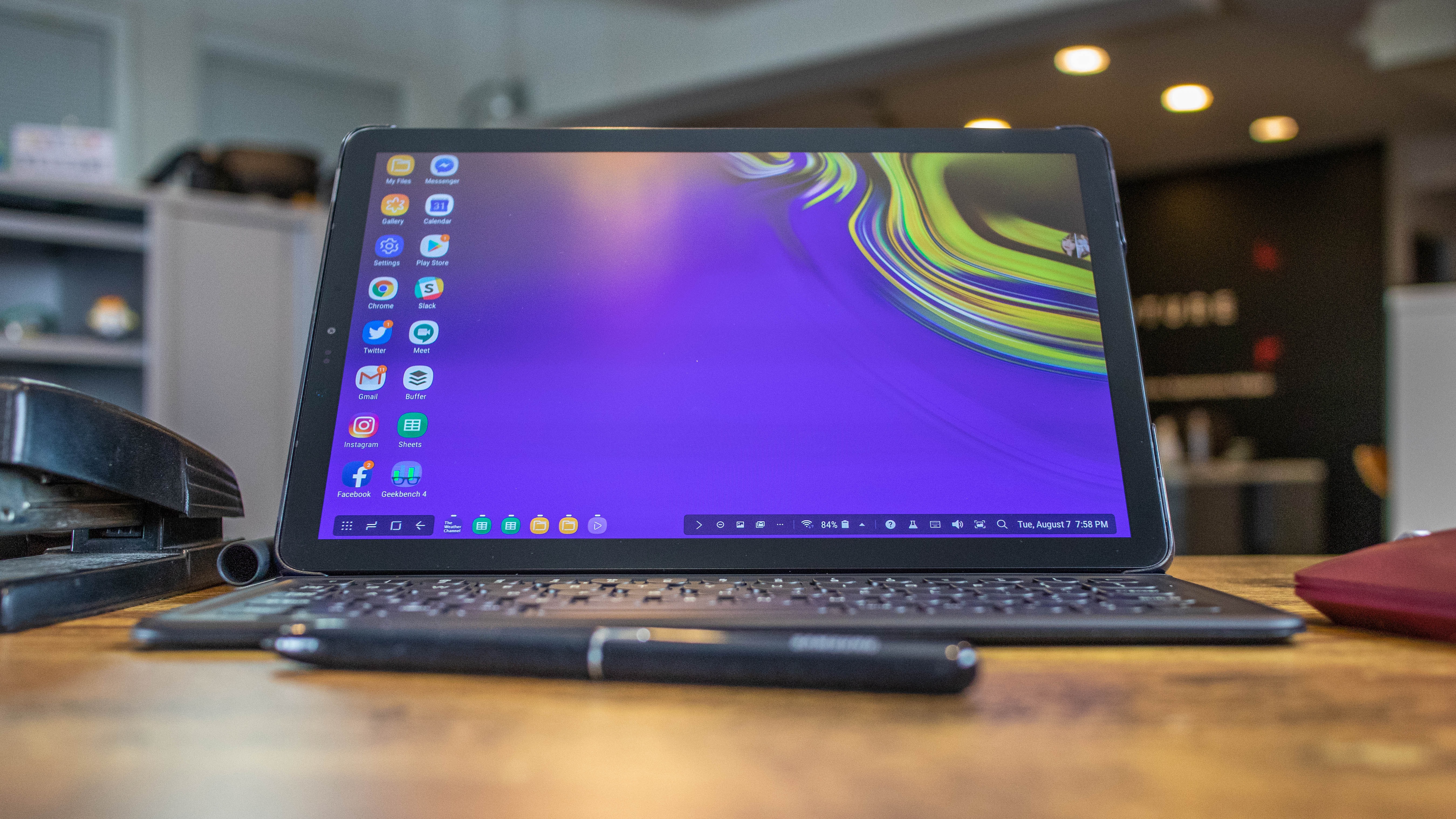 All of this should function okay on the 10.5-inch display, but resizing app windows doesn't work every time like it should, and we even had trouble closing apps. Touch detection is a bit off, which makes something as simple as tapping the X button in the top right corner a chore.
There's almost a need for the S Pen or a Bluetooth mouse to properly operate Dex mode, or a reason to learn the unintuitive keyboard shortcuts to resize windows. But then you realize that too many apps shut down randomly, including Google Docs.
Samsung's core software works fine, but apps as popular (and as standard) as ones from Google should work without crashing. Google Docs crashed 27 times while we wrote this review on the Tab S4.
Hangouts Meet is the worst offender. We've taken video meetings in which we're sideways to everyone else whenever the Tab S4 is in landscape mode and docked on the Book Cover Keyboard. Turning the tablet in order to right ourselves up seemed like the simplest fix, but it turns everyone else sideways on the screen. This is far from productivity software.
Connecting a Bluetooth mouse does help clear things up, but it's not ideal on a commute or a tight space. Interestingly, the mouse works on both normal Android and in Dex mode.
It's just that we're fans of the idea of Dex mode and surfing the web with its Desktop-mode-first Chrome setting. We didn't feel as productive as we should have due to these design flaws.
S Pen and Book Keyboard Cover
The Tab S4 in tablet mode is actually a fine experience for a standalone Android tablet. It's the moment it docks with an optional Samsung Book Keyboard Cover that things get messy when the the setup looked so promising.
It's like a Transformer that goes from a robot form to a neat-looking sports car that sputters along.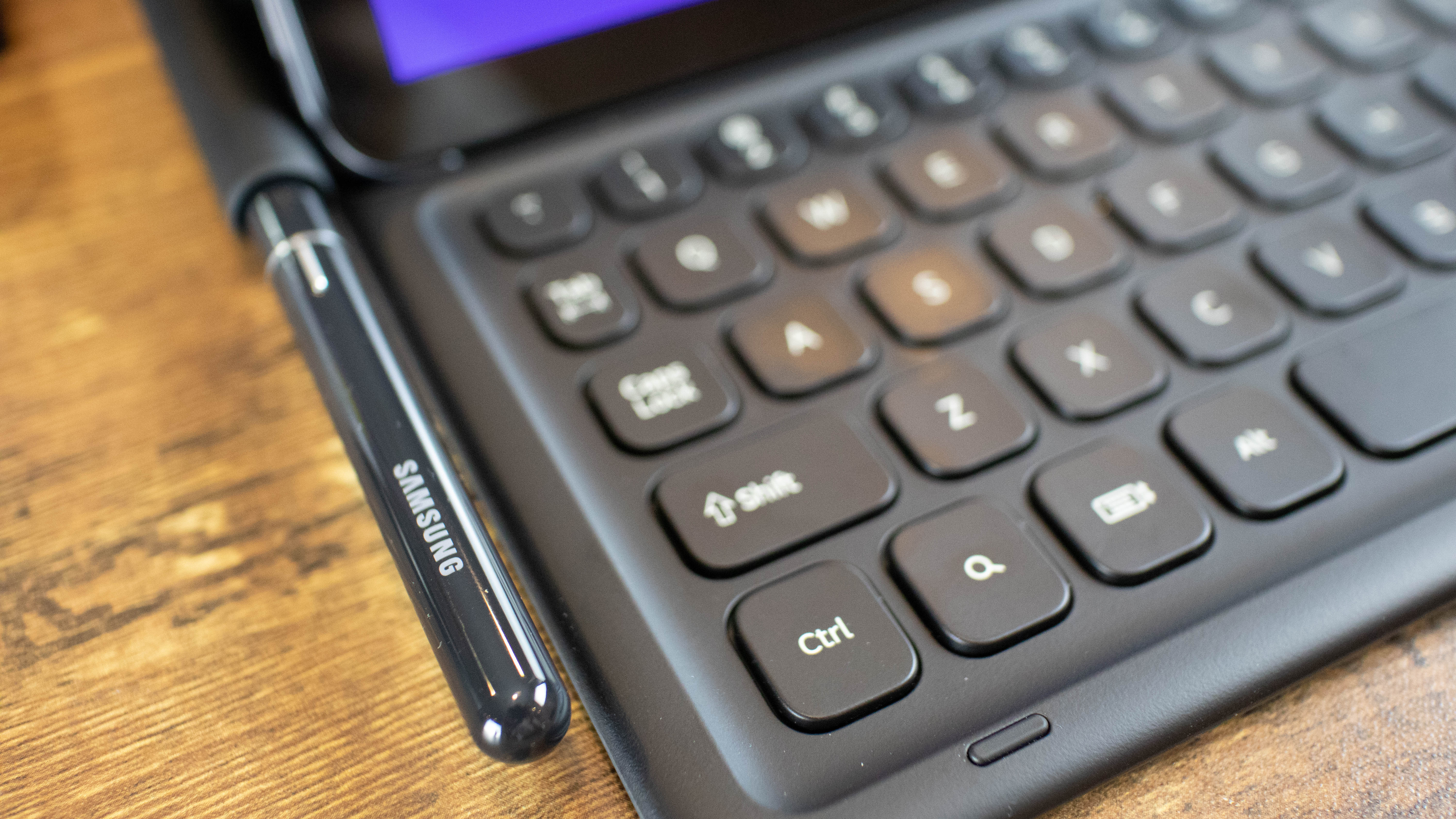 The keyboard layout is cramped, it isn't backlit, and it contains unnecessary keys. Flanking the space bar is a dedicated key for changing the keyboard language and another for triggering the on-screen keyboard.
The amount of times we've hit the on-screen keyboard while typing the last sentence is two. And there's are a lot of sentences here. The key gets in the way a lot when you're drafting an in-depth review.
The Book Keyboard Cover amounts to learning a new keyboard layout for Android, different from a Mac and different from Windows keyboard. It's a separate purchase, too. You're paying to be infuriated.
Bringing your own Bluetooth keyboard to the Dex system defeats the purpose of the built-in software, and while a mouse can help you avoid the touchscreen hit detection issues, we'd like to have seen a keyboard trackpad instead.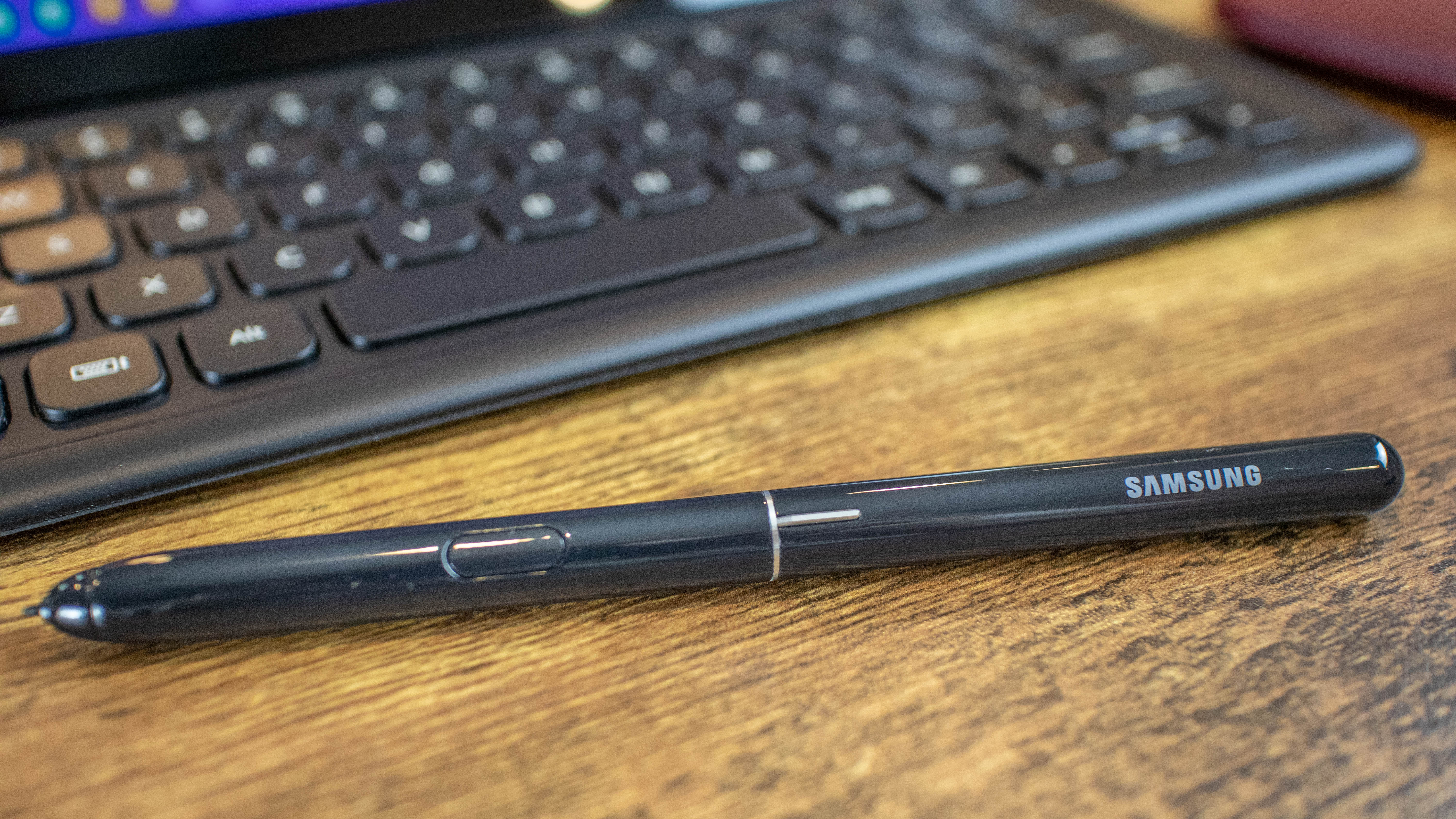 Samsung includes a tablet-appropriate S Pen (larger than the Note smartphone S Pen), and this one is more rounded and feels more natural to hold than last year's Tab S3 pen.
There's a tiny metal protrusion in the middle of the stylus to prevent it from rolling away. There's also a stylus holster that clips onto Samsung's keyboard and it requires no charging whatsoever to use.
This contrasts really well with the Apple Pencil, which does require charging, has no holster on the iPad keyboard, and rolls away each and every time we set it on a table.
S Pen functionality is typical of a Samsung tablet or Note phone. You can draw, jot down notes, annotate screenshots, translate text, and new this year (on the tablet at least) is the ability to send Live Messages.
Sadly, the Air Commands (shortcuts to use these features) don't work in Dex mode.
Design and display
Samsung upgraded this year's Android tablet with a 10.5-inch Super AMOLED display, erasing a noticeable amount of needless bezel to mimic the iPad Pro 10.5 screen.
Apple did a new size, so Samsung did too. Just like Apple set the price and Samsung followed, down to the penny.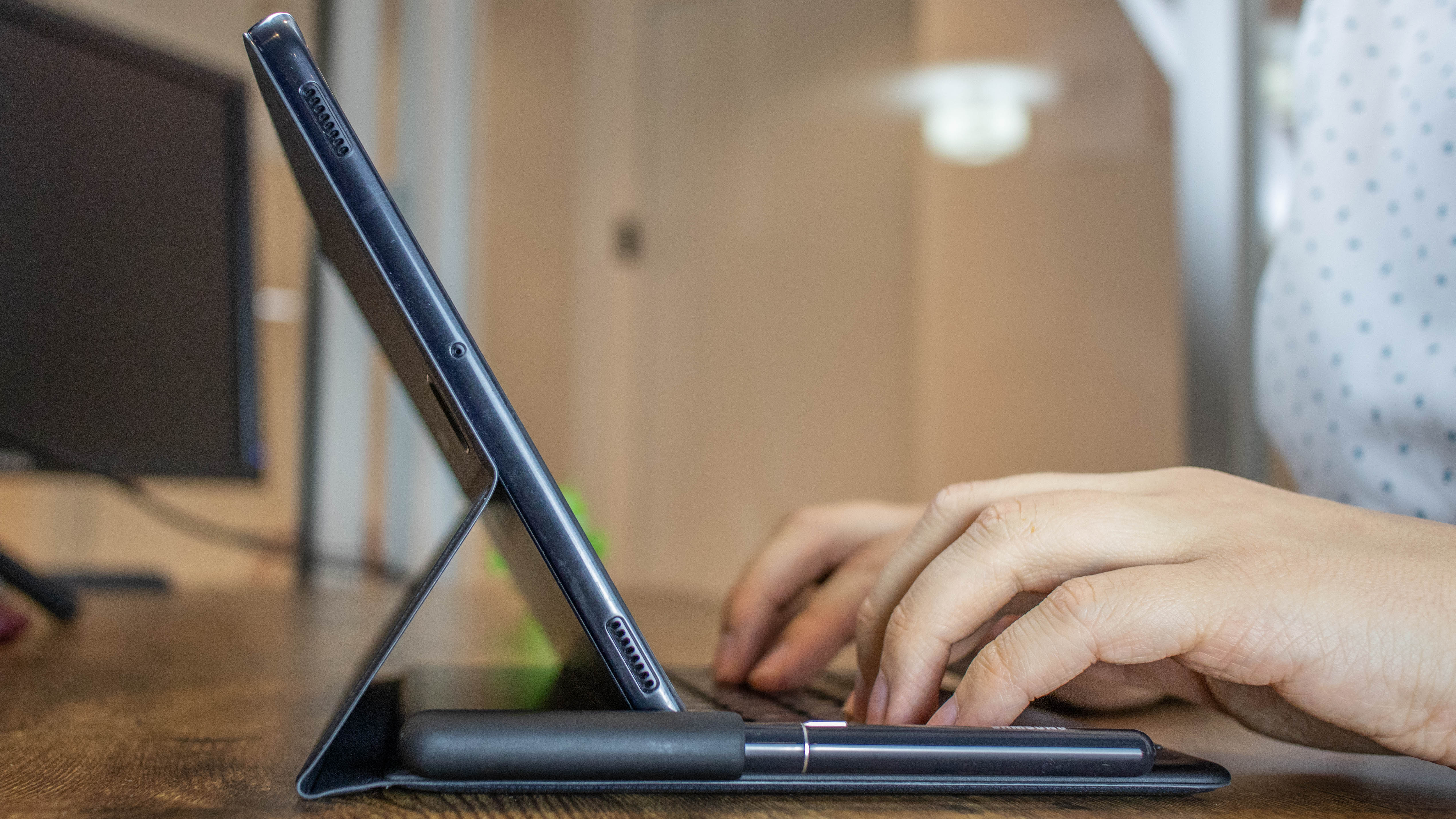 This is actually a bigger change for Tab users because the jump from a 9.7-inch to a 10.5-inch screen means Samsung eliminated the physical home and capacitive buttons on front, as one does these days in an increasingly edge-to-edge screen world.
The on-screen buttons work great, just like they do on the Galaxy S9 and S9 Plus, and the HDR display is punchy and bright.
The iris scanner that replaces the fingerprint sensor works fine if you're in front of the tablet at a good angle.
We had trouble unlocking it to read on the couch and in bed, but you're not opening up the tablet multiple times a day at all sorts of angles like you would on a phone. There's a lot more forgiveness for Face Unlock here.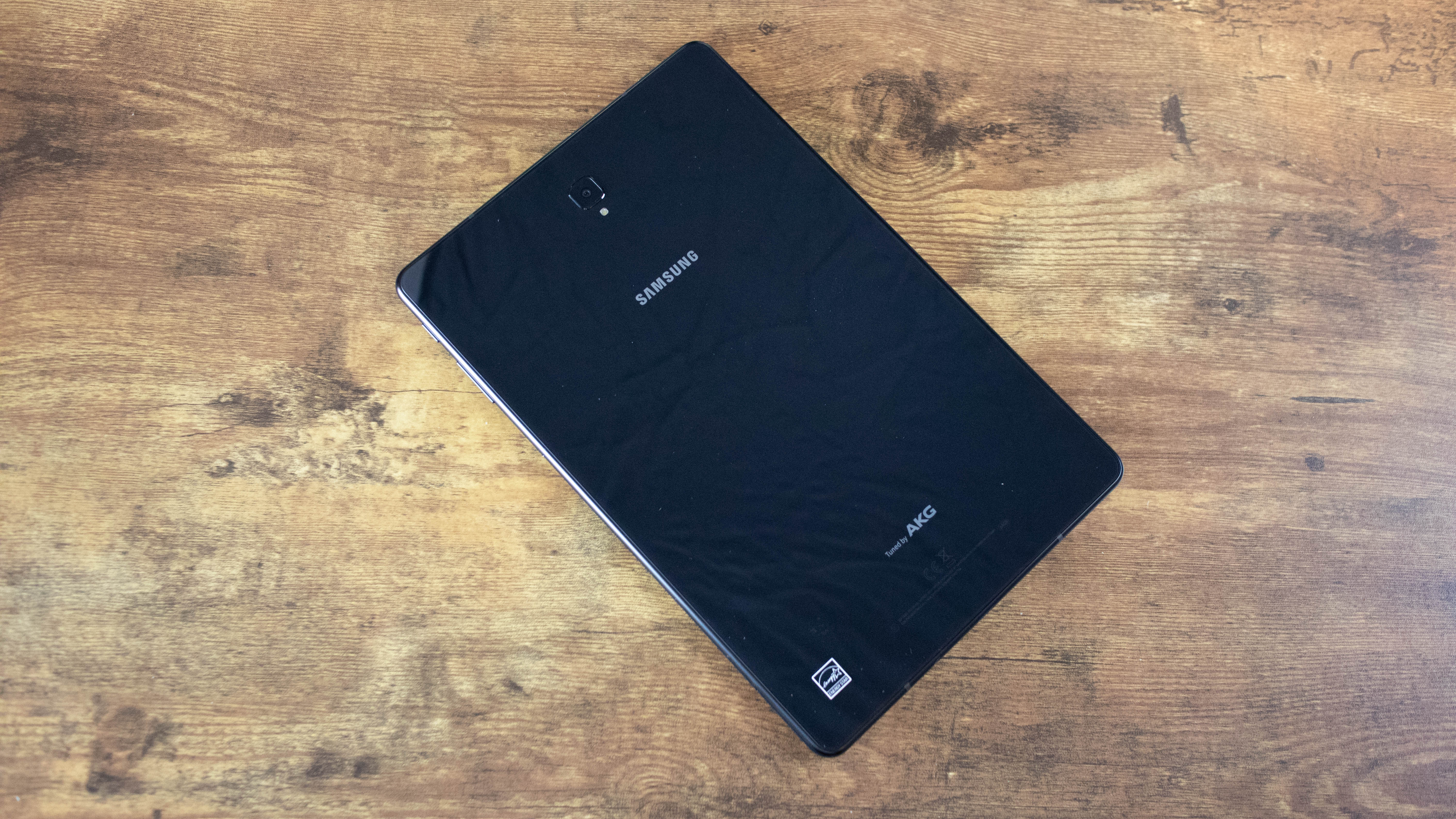 It remains easy to hold this glass-and-metal Galaxy Tab S4, even with slightly bigger dimensions than the Tab S3. And because the glass back is fragile and prone to smudges, you'll want to buy a grippable Tab S4 keyboard case.
Just make sure it's compatible with the great-sounding AKG-tuned quad speakers and headphone jack (it still exists) found along the metal frame.
Samsung's new Daily Board software means that while the Tab S4 is an Android 2-in-1 tablet by day, it can turn into a photo gallery - and information-filled nightlight - by night.
It displays the weather, time, and calendar at launch, along with a slideshow of your photos. Sadly, we found photos are currently limited to on-device pictures and it doesn't connect into something useful like Google Photos.
This means we had 50 images of the Android 9 Pie logo at various sizes rotating in our sleep. We woke up hungry for Pie.
Battery life, specs and verdict
You'll experience problems using the Tab S4 software and keyboard, but you'll have plenty of time to work through them because the battery life is stellar.
Its 7,300mAh battery capacity is a step up over the 6,000mAh battery we got in the Tab S3, and in this way it's better than an iPad.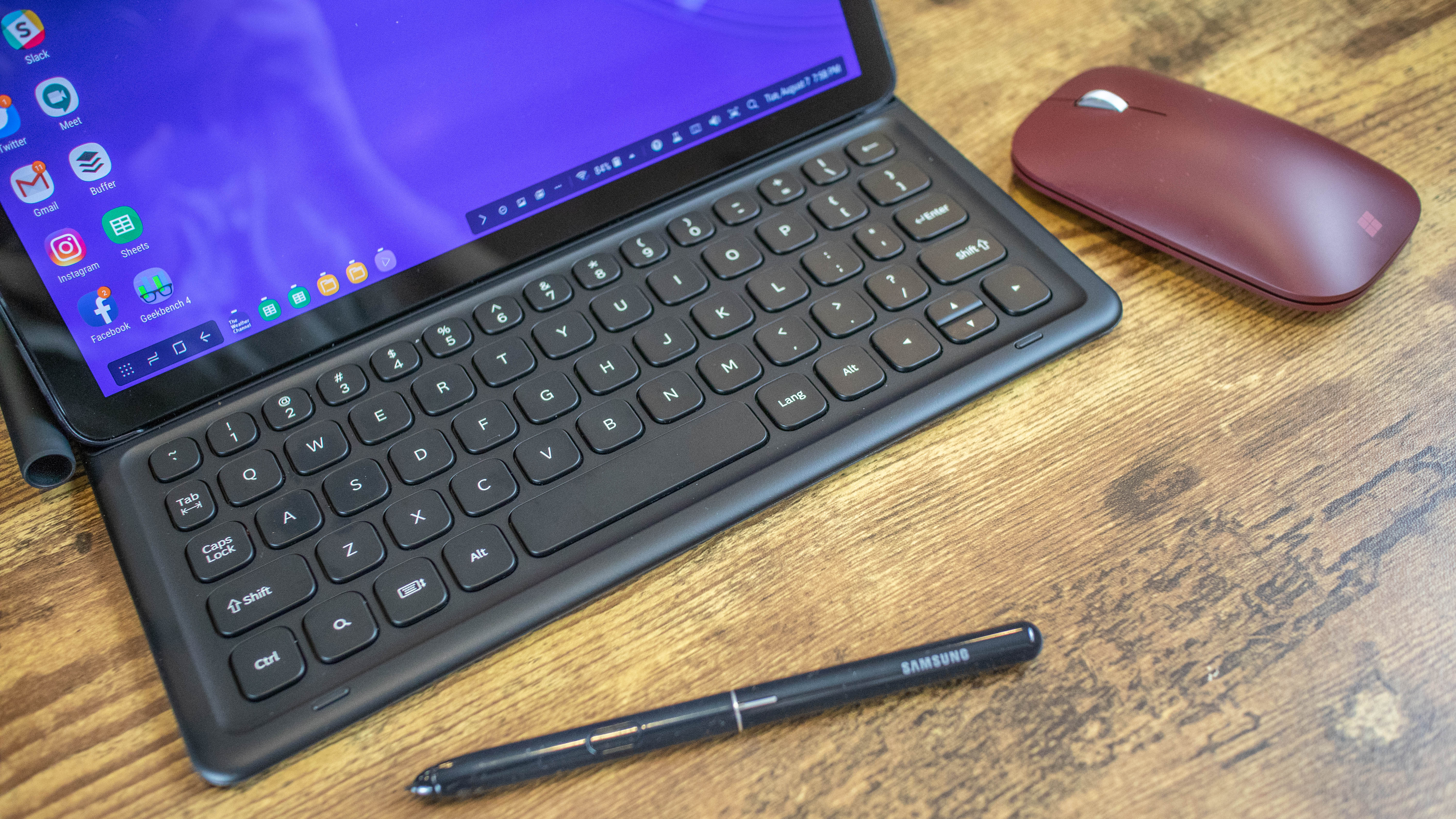 Simply look at our on-screen battery test. We were able to run a 90-minute looped HD video and only experience a 12% drop in battery life (from 100% to 88%).
That's a minor improvement over the Tab S3 (87%), the bigger capacity means there's more love to give from this big battery.
The Tab S4 supports Fast Charging, and our tests shows that it recovers 18% of its battery life (from 0%) in just 30 minutes. That's a lower percentage than the S3, but again, keep in mind that this is a much bigger battery.
So fast charging is confirmed and you'll have a full all-day battery in 3 hours and 16 minutes from a fully depleted Tab S4. No surprise, that's faster than iPad charge times, and Samsung includes the fast charging equipment in the box.
Like we said at the top of this Tab S4 review, the specs are a lie. We actually don't care that it has the Qualcomm Snapdragon 835 chipset, first introduced by the Galaxy S8 and Galaxy S8 Plus.
The same goes for the 4GB of RAM. Samsung has always held back on the specs for its tablet, while Apple adds extra performance over the iPhone. The performance here is okay.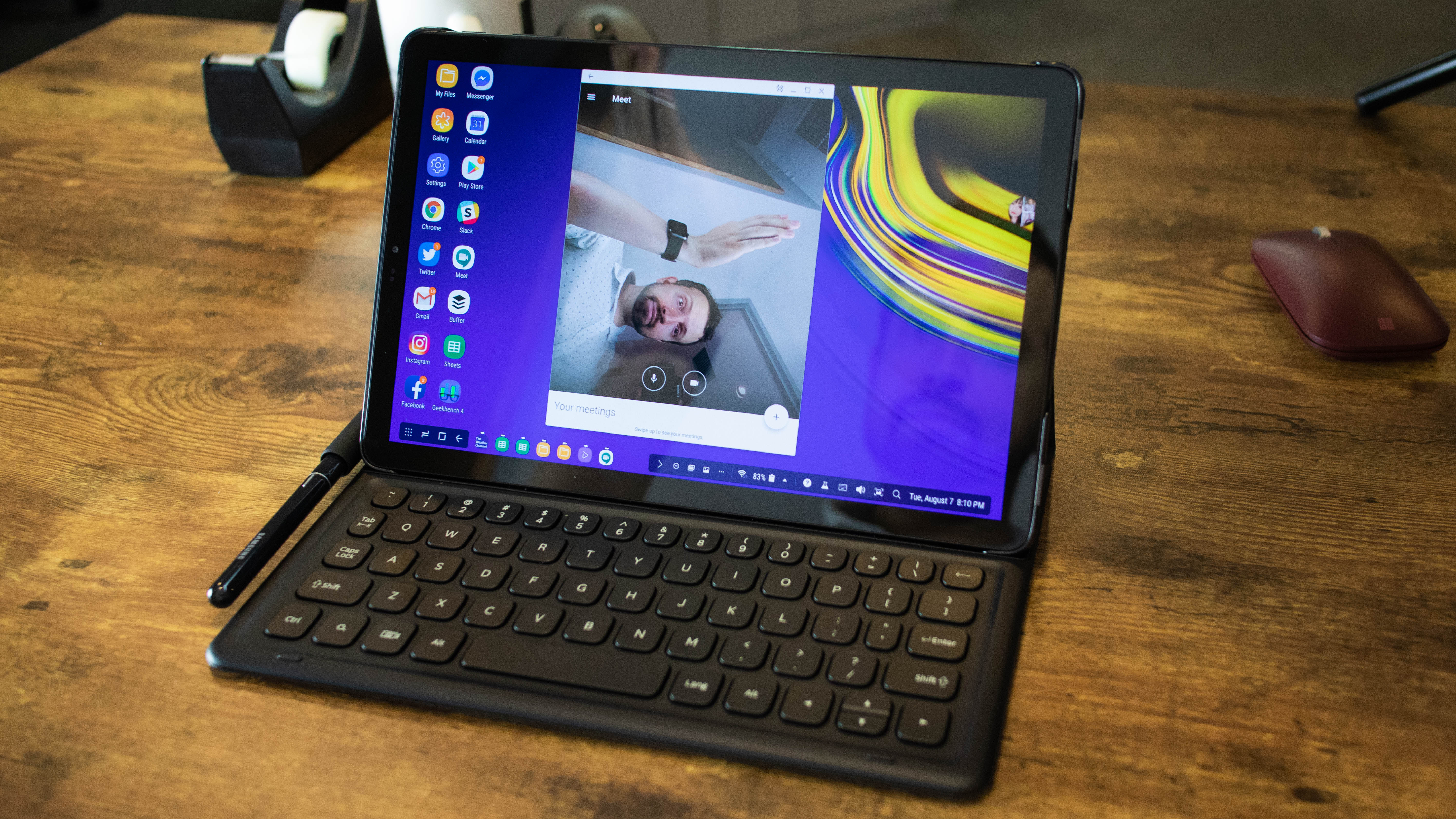 The same applies for the front and back cameras. It doesn't matter, mostly because your tablet camera usage is or should be limited. Society will shun you for taking photos with a tablet - and rightly so.
There's a 13MP camera on the back and an 8MP on the front. The rear camera records video in 4K and the front is at 1080p.
That's fine for video conferencing, as long as the software allows for screen rotation. Google Hangouts Meet didn't give us what we wanted with sideways video calls, but Skype (included along with other Microsoft software) worked fine.
You're never going to convince you entire organization to switch from Hangouts to Skype, though.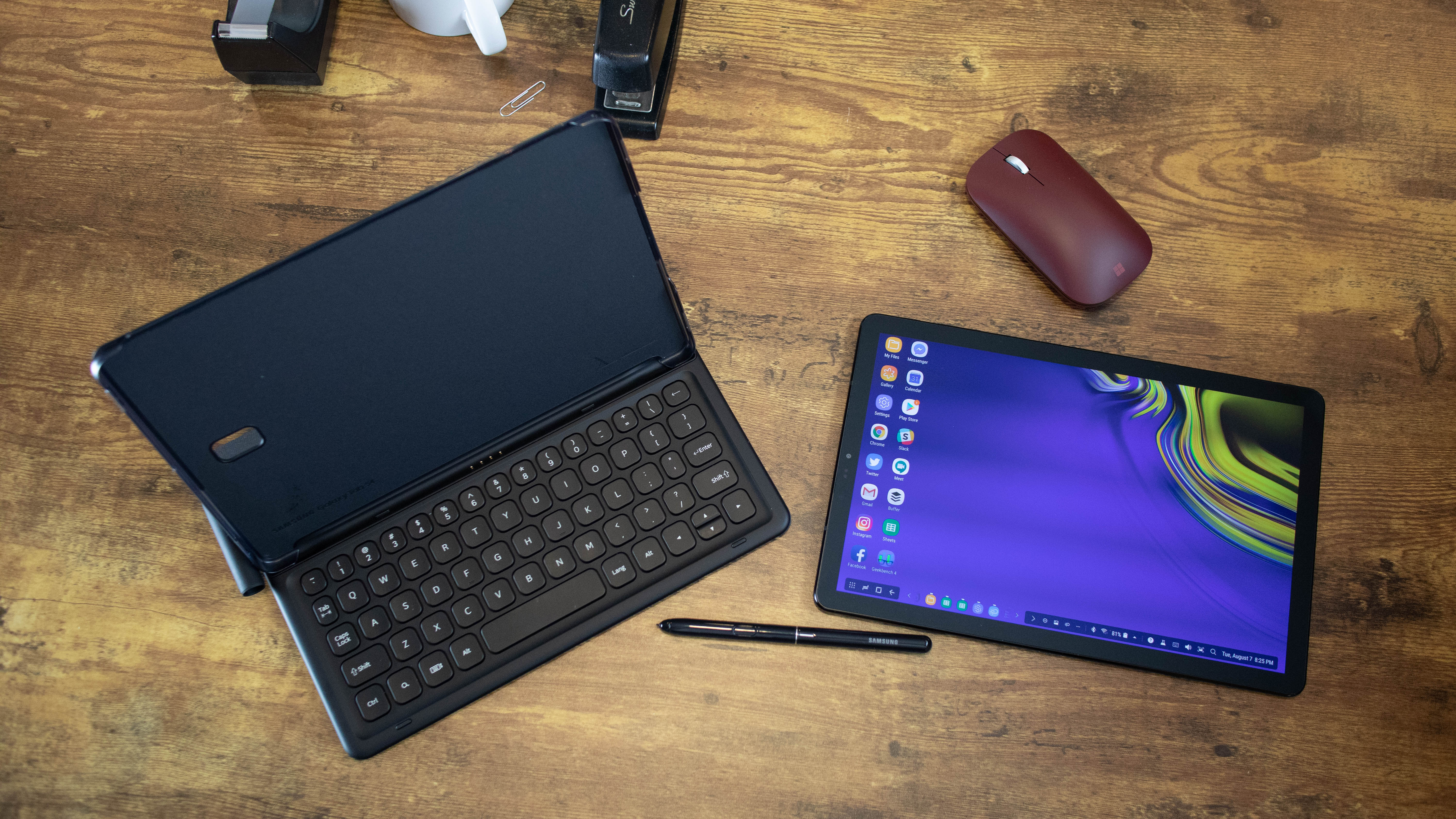 Verdict
The Samsung Galaxy Tab S4 is an upgrade over the Galaxy Tab S3 with an expanded 10.5-inch screen size and longer battery life, but it comes at a higher price and with a lofty promise to do so much more.
We really liked the idea behind Samsung Dex for its desktop interface when we first got the tablet in for review. Then we tried the non-touch-friendly UI and went hands on with the optional keyboard for several days.
None of it lends itself to productivity. The keyboard cover is cramped, there's no touchpad, and it has unnecessary keys that will mess with your muscle memory, whether you're a Windows user or a Mac user.
As much as we like re-sizable app windows and a heaven-sent app dock and mouse support (the iPad really needs these things), the software, including Google software, isn't optimized for this tablet.
Dex is where we want to see Android tablets head in 2018 and 2019. In fact, Apple should be taking notes when it jumps from iOS 12 to iOS 13. That doesn't mean you should buy the Tab S4, however.
Samsung needs craft a touch-friendly interface, design a more intuitive keyboard, and product test Google's software next time, especially if it's going to run up against the cheaper Microsoft Surface Go and its superior backlit keyboard.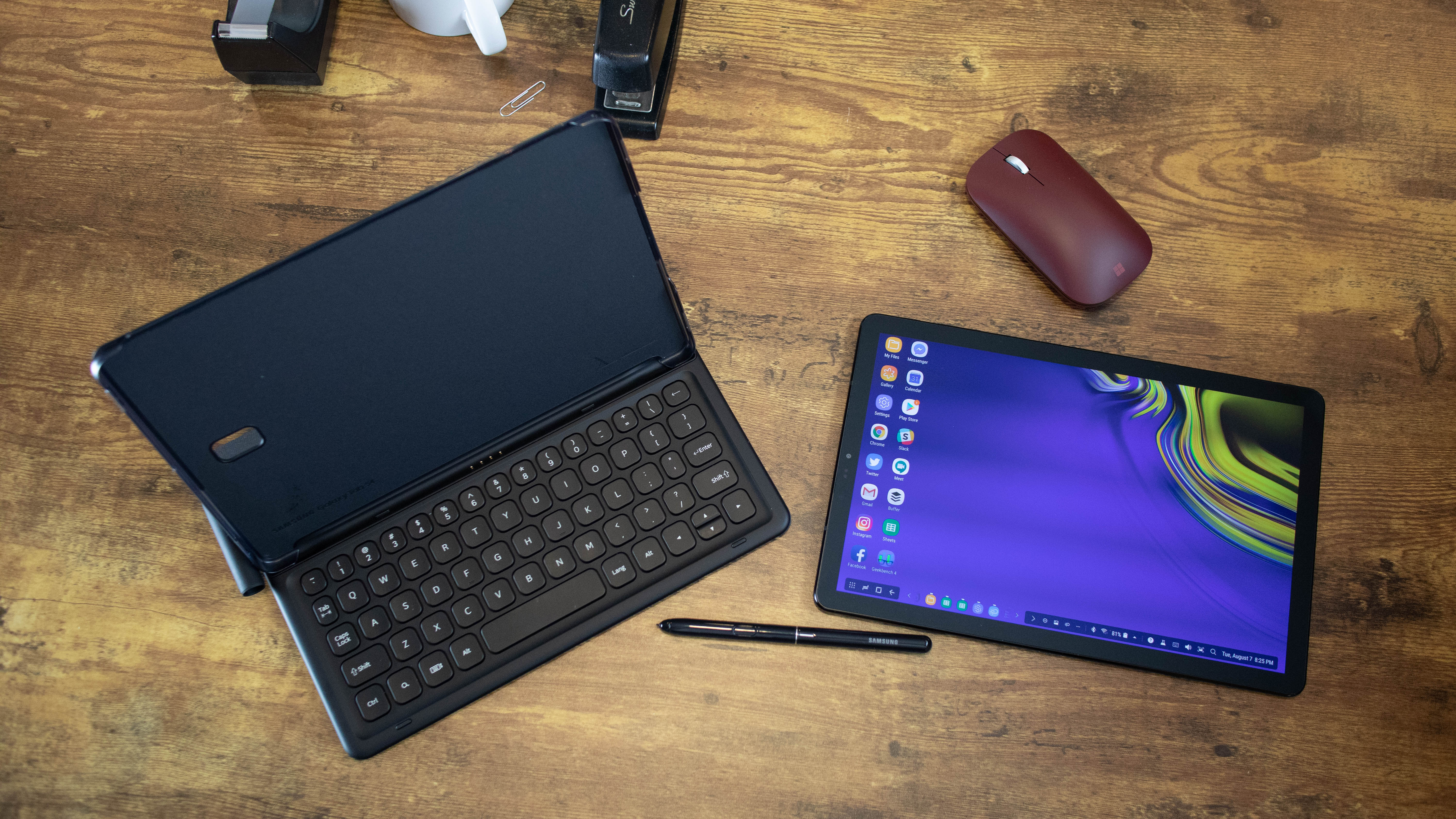 Who's it for?
Someone with patience and hope. The Samsung Galaxy Tab S4 can be a great device with a lot of keyboard re-learning and understanding that the software is extremely rough at launch.
Updates may resolve some of the issues here, but there are better 2-in-1 options at cheaper prices. You have to be hellbent on running Android to pass up a rival tablet with iOS 12 or Windows 10.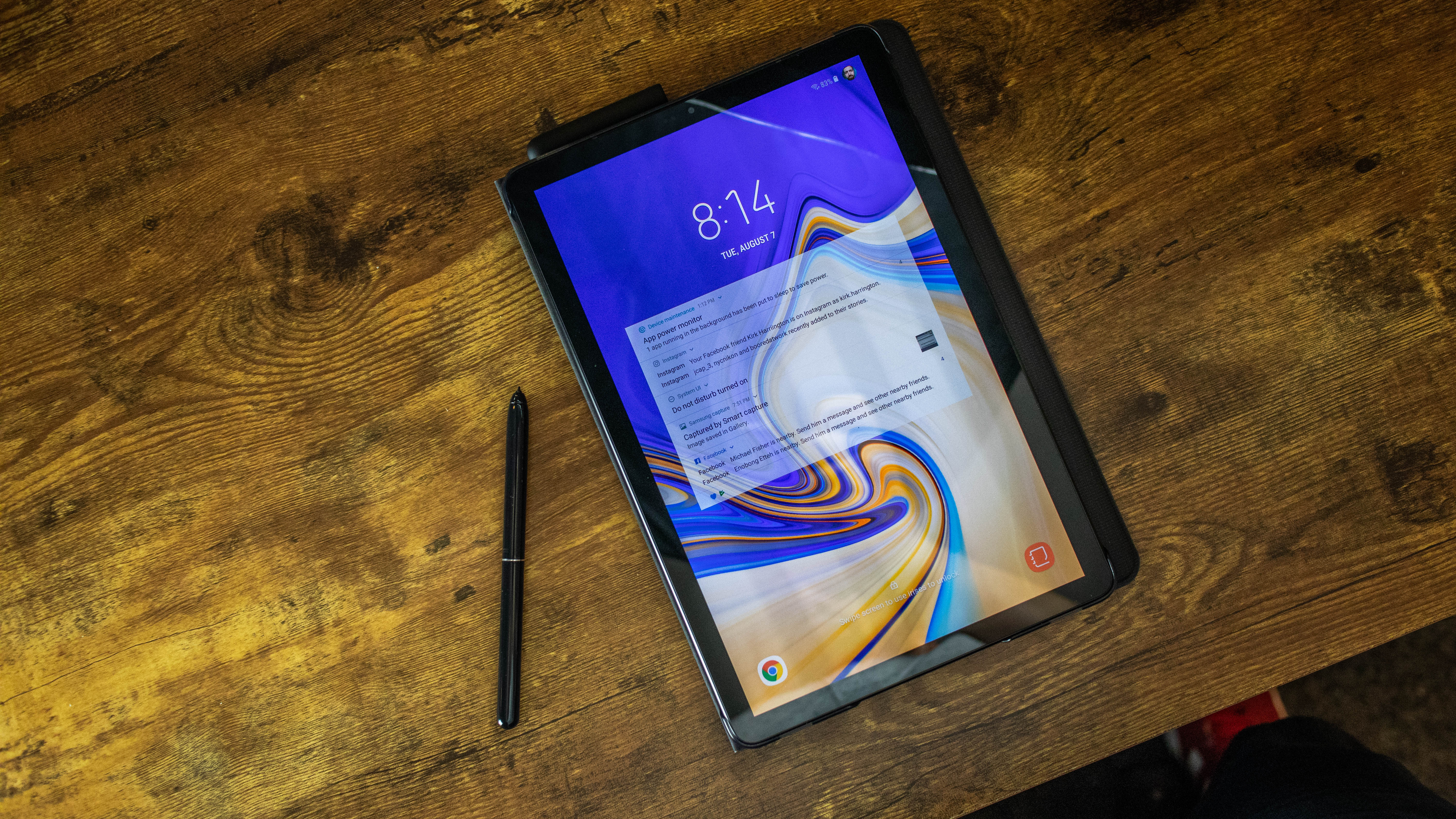 Should I buy it?
There several fixes Samsung needs to make before we can recommend this tablet to everyone. The window resizing and closing needs to be easier and Google software needs to stop crashing in Dex mode.
Samsung can't do much about the keyboard with unnecessary buttons. You should look into the Microsoft Surface Go or one of the best Chromebook for 2-in-1 productivity, or one of the best iPads for a strictly mobile-based solution.
The Samsung Galaxy Tab S4 falls in between and falls through the cracks.
First reviewed: August 2018
from TechRadar - Technology Reviews http://www.techradar.com/reviews/samsung-galaxy-tab-s4-review