Update: There's still no sign of the Samsung Gear Fit 3, but the Gear Fit 2 Pro is now cheaper than ever and remains a solid option, even against newer competition.
How do you follow up the Samsung Gear Fit 2, a wearable that was one of the best fitness trackers around? If you're Samsung you bring out the Samsung Gear Fit 2 Pro, and take some very tiny steps forward.
So what's so "pro" about Samsung's latest fitness tracker? Not much, really. The battery is the same size. The processor, screen size and general design features haven't changed and you'll still be treated to built-in GPS to track your runs and walks, too.
What is different? Well the Gear Fit 2 Pro features pre-installed fitness-centric apps, such as MapMyRun, Speedo Go, UA Record and Endomondo. The main benefit being that you can get moving just a bit faster.
And Samsung has doubled-down on the original's IP68 rating to add MIL-STD-810G certification, which means this wearable is more durable. It's more swim-friendly, too, with the ability to withstand 5ATM of water pressure.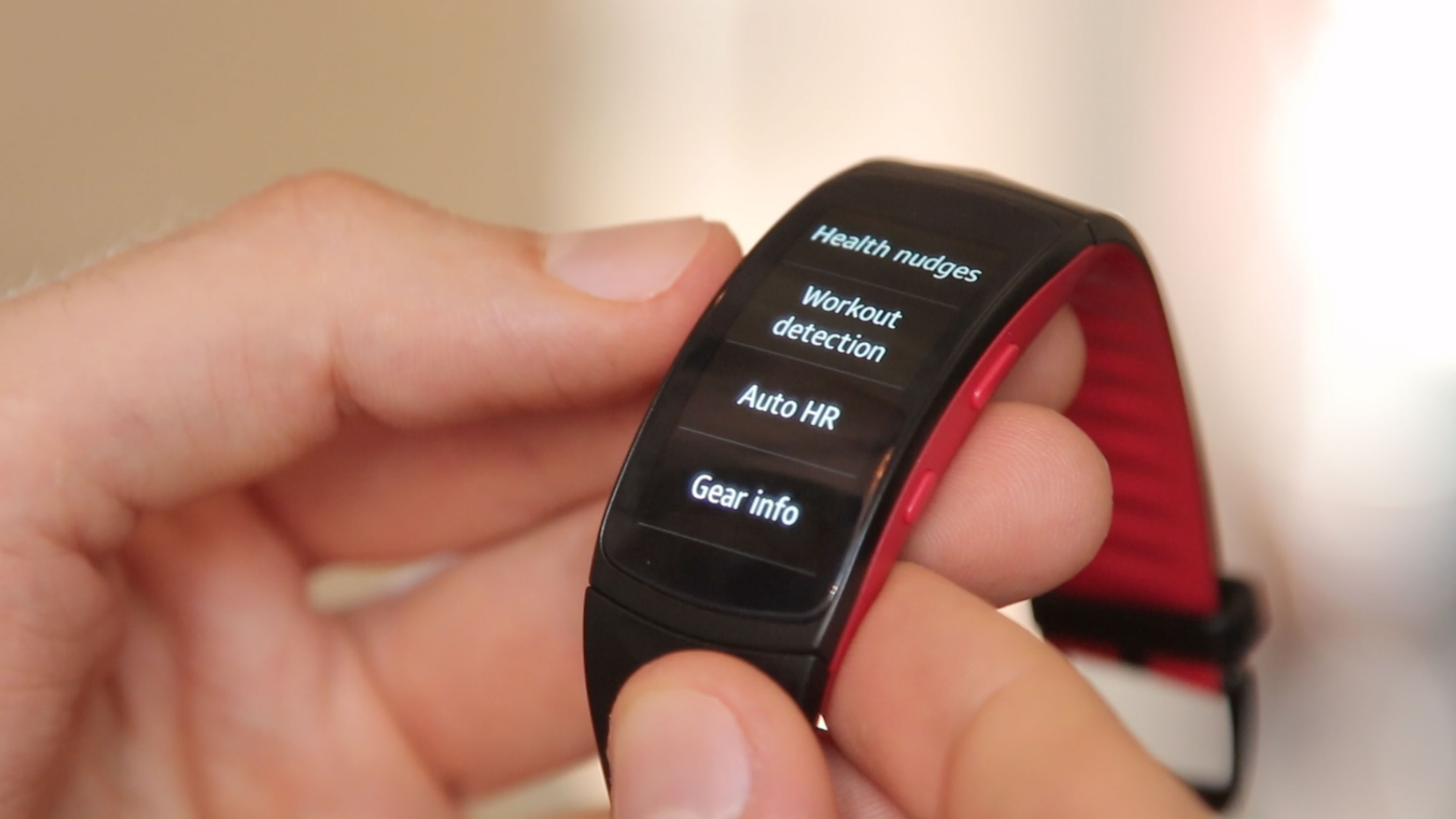 For most, the main draw for this wearable is that Spotify's sought-after offline mode works here, meaning it can act as a standalone music player that pumps tunes to your wireless headphones. Indeed, this is an awesome perk.
Unfortunately, not all that has changed is for the best. In fact, many of the tweaks simply highlight longstanding issues. The pre-installed apps, for instance, seem like a time-saver given the nightmare that setting up and navigating through Samsung's Galaxy app store is. But two things: Spotify, which offers arguably the coolest feature here, isn't pre-installed. Second, you'll also need to download most of these apps onto your phone to even get started. So for those hoping for a ready-to-go device out of the box, this change is meaningless.
Next is its price. The Fit 2 Pro launched at $199, that's $20 more than the original Fit 2 at launch. This doesn't seem like an egregious price hike, but it's dead simple to find the previous year's Samsung Gear Fit 2 for around half the price and the Gear Fit 2 Pro's new features, of which there are very few, aren't worth nearly double the money.
Of course, the Gear Fit 2 Pro has now dropped in price too (more on that below), but it's still more expensive than the Gear Fit 2.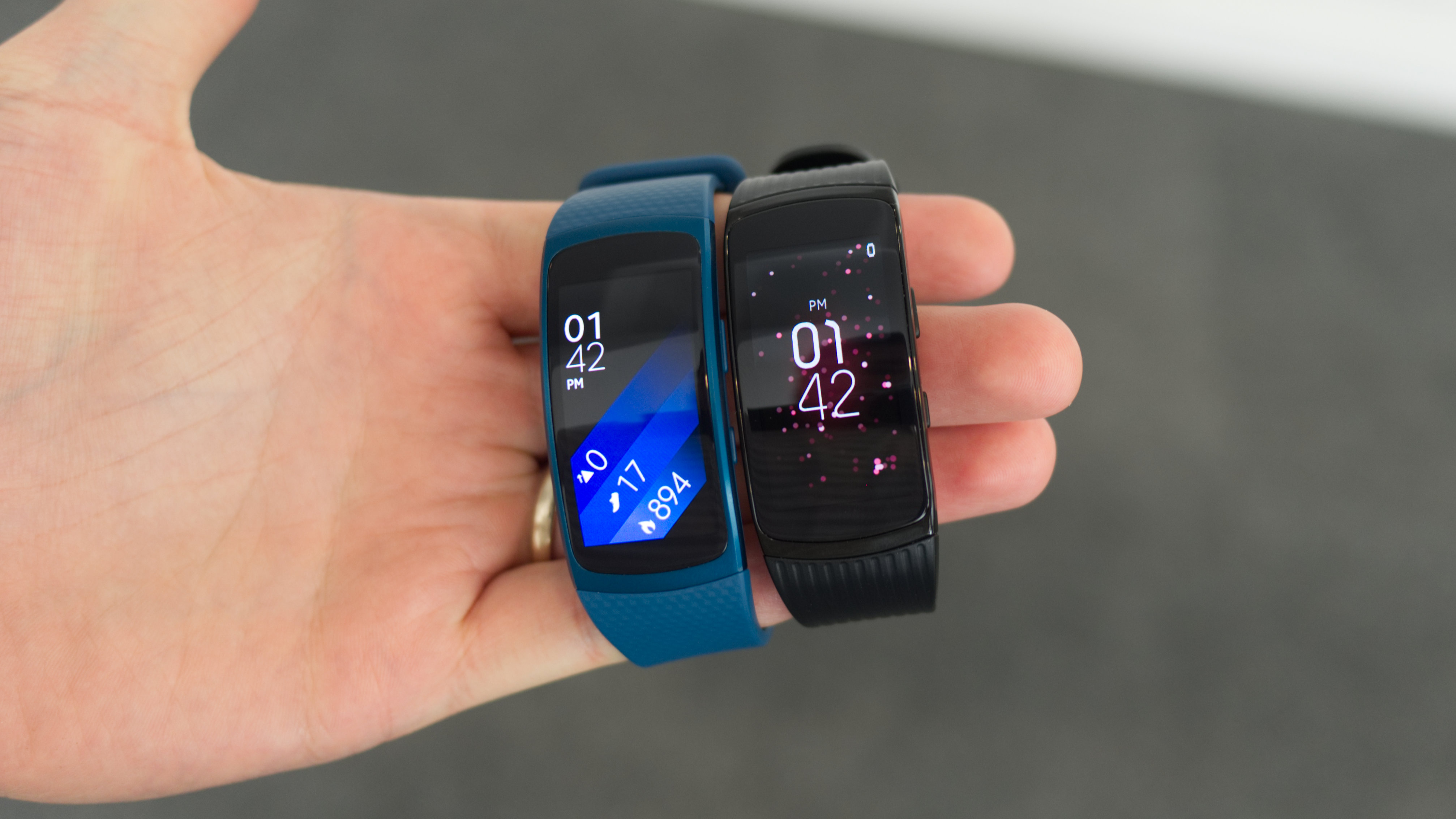 After testing out the Gear Fit 2 Pro, I'm not confident that the changes made turn this into the best choice if you're jumping in for the first time. In fact, not only are there too few reasons to incentivize those who own the original Gear Fit 2 to upgrade, it makes the previous year's wearable even easier to recommend because of its lower price.
Sometimes, a total overhaul just isn't necessary. But as it turns out, a bit more of an overhaul would have gone a long way in making the Gear Fit 2 Pro worth it.
Samsung Gear Fit 2 Pro price and availability
On sale now in the US and UK, not in Australia
Launched at around $199/£209
Can be found from around $130/£150
The Samsung Gear Fit 2 Pro launched across several regions for $199 (£209, about AU$370).
However, it has since dropped in price and you can now find it for around $130/£150, putting it roughly in line with the newer Fitbit Charge 3.
For perspective, the Samsung Gear Fit 2 launched in 2016 for $179 and can now be found for around $100/£100, though isn't as widely available any more.
Design
Traditional strap clasp is a good improvement
Absolutely nothing has changed, but that's not so bad
The Samsung Gear Fit 2 was – and still is – one of the best-looking fitness trackers around, and this model reiterates the same statement.
Around the front is a curved Super AMOLED that shines brighter and with far more detail than you'll find in the average wearable. The interface is oriented vertically, meaning all of the metrics can easily be read without tweaking your head to the side, like we saw with the otherwise fantastic Microsoft Band 2.
As far as controls are concerned, the screen offers touch functionality, but its two buttons on the side control the Gear Fit 2 Pro's main interface features: one for waking the wearable and jumping into the main app menu, and the other, which is designated as the "go back" button. To put it to sleep, simply place your hand over the screen.
The biggest physical difference here is that Samsung has introduced a standard watch strap clasp instead of a latch strap. It's a subtle change, but a big one for those who stick with tradition. Thankfully, this strap is also compatible with the original model, though it isn't available for purchase separately.
Flipped over on its back, this wearable rocks the same hardware, including a heart rate sensor and a few pins to charge when rested on the included USB-powered charger.
Speaking of the charger, charging the Gear Fit 2 Pro is a breeze thanks to its fail-proof magnetic charging mechanism. No matter which way you align the device, it'll start charging without any fuss. This is how you make proprietary chargers work in the favor of the user.
Performance
Now compatible with iOS
Built-in GPS is brilliant
Setup couldn't be more clunky
Just as much of this wearable's design has gone unchanged, the same can be said of its user interface and general performance.
As such, the Gear Fit 2 Pro is a solid performer in various use cases, whether you're a fitness enthusiast, the occasional jogger or simply someone who fancies wearing a competent fitness tracker.
Compared to most of the devices in our list of best fitness trackers, the Samsung Gear Fit 2 Pro (and again – it's predecessor, too) are among the smartest options available.
Once connected to your phone, you'll receive and send texts, accept or deny calls and be able to easily control your music through the device's native music player. More on the latter, this Wi-Fi and Bluetooth-connected wearable can stream Spotify wirelessly and connect to any set of Bluetooth headphones or speaker.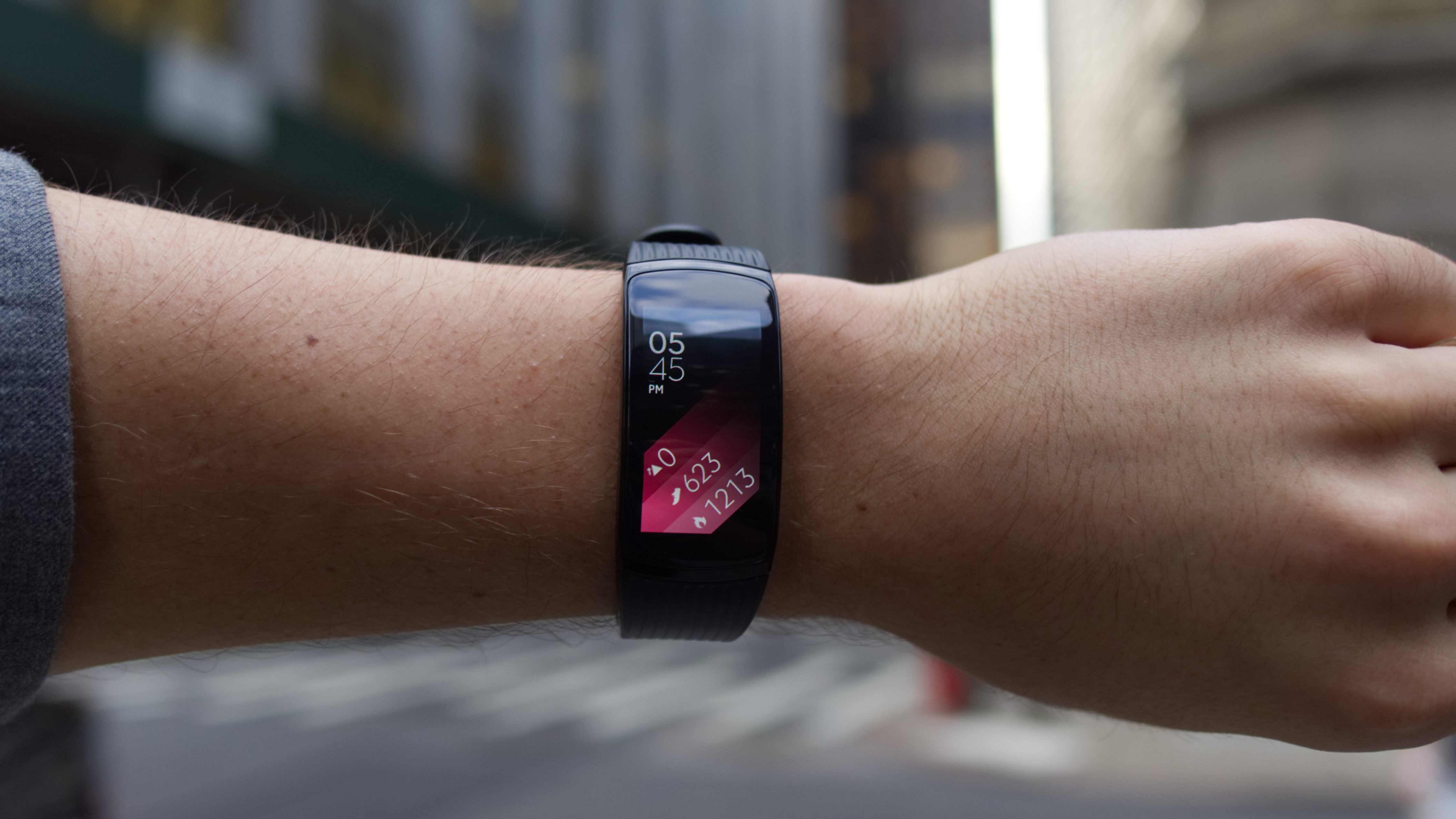 The offline Spotify functionality worked flawlessly during our testing, though I accidentally downloaded the wrong version of Spotify from Samsung's Galaxy app store. The "wrong" version, also known as the "right" version for the original Gear Fit 2, is now called "Spotify Old". This is obviously confusing for users, but also just not a good look for both Samsung and the streaming giant.
If you want the full experience offered by this Samsung wearable, which enables much of what we discuss in this review, you'll need to download the Samsung Gear app on Android and iOS. Not just that, you'll also need to download an additional Gear Fit applet as well as Samsung Health to get the most out of your fitness metrics. This is obviously a lot of steps and it's a shame that Samsung hasn't streamlined this process in the slightest.
As this device's knack is fitness, you'll likely be putting it to task on the go. But no matter what you use it for, you'll find plenty of reasons to enjoy having it on your wrist. Despite the winding road of setting up the device, being able to load music files onto the 4GB of onboard storage is a nice perk in case you don't want to use your data plan on the go.
Battery life
Will last somewhere between two to three days with limited usage
If you have high usage expect this to last on average a day
Just like the previous device in the Gear Fit 2 family, you'll be looking at an average battery life expectancy of two to three days before needing a refill. Even if you barely use this wearable's workout functions, some of them automatically trigger once you start moving, though you can adjust this in the settings if you want to preserve battery life.
On the flip side, if you take advantage of every feature and are training for, say, a marathon, asking for more out of the wearable will shift the battery life down to about nine to ten hours – the target that Samsung aimed for with GPS firing on all cylinders.
The Gear Fit 2 Pro comes with a charger, though it lacks an power adapter for fast charging. Plugged into a USB 3.0 port, it takes around 90 minutes to charge fully. That said, if you have some phone chargers laying around, you'll be waiting far less time: only about an hour.
Fitness
Can auto-detect several workouts
Even more swim-friendly thanks to Water Lock feature
Suits fitness enthusiasts and casual weekend warriors
The experience provided by this wearable scales well between serving hardcore fitness folk and more passive health groups because it gives users the freedom to manually begin exercises, set goals and pilfer through well-presented metrics, or simply just let the software automatically detect what it is you're doing so you don't have to do the work.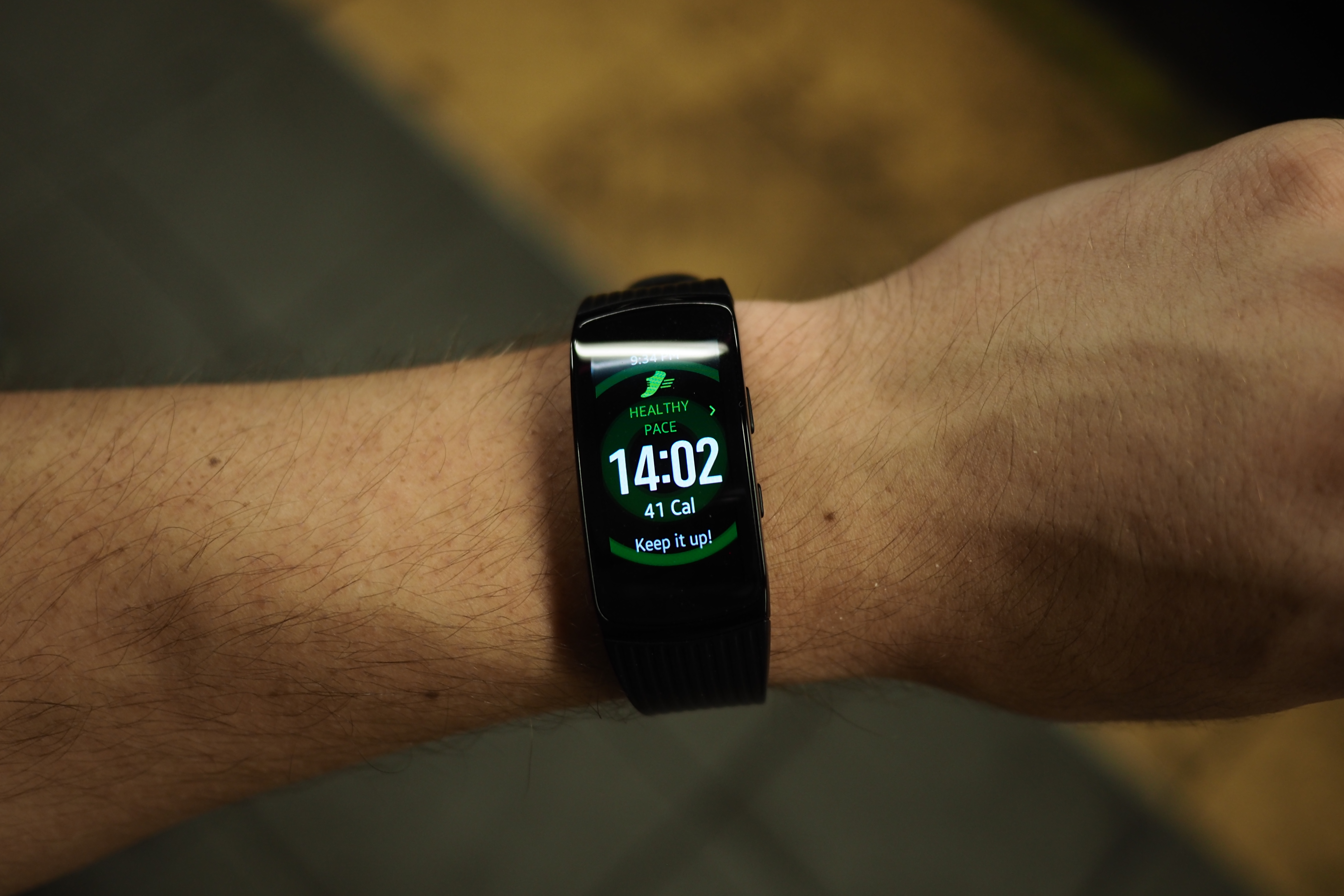 No shame, I put myself in the latter grouping. If a wearable has the capability to begin tracking without any input, then why would I waste precious calories on toggling with it rather than reaching for the remote? Kidding aside, whether you prefer granular control over the tracker or to put it on auto-pilot, the Gear Fit 2 Pro does a commendable job at tracking and displaying your stats on the touch-friendly interface. Not just that, if you're performing well, this wearable showers you in accolades, which is always a nice feeling.
In terms of customizing the interface blades, we'll call them, this wearable makes it simple to personalize. Care about counting calories, checking your heart rate and monitoring the amount of water you've had in a day? You can limit the wearable to show you only these things. Of course, there are more options to add, with some of the pre-installed apps like UA Record offering their own view of your fitness. You'll always get more detail viewing metrics on your phone, but Samsung handles navigation wonderfully given this device's small, but color-packed display.
As I stated earlier, I like for the wearable to do the driving, so to speak, if it can. And while auto-tracking with the Gear Fit 2 Pro during a walk, I really enjoyed the gentle nudge of encouragement it provided after each ten minutes of continued activity. And should you take a pause to catch your breath or while you wait for the light to turn in your favor, Samsung's latest automatically pauses the tracking, taking about three seconds to activate and then disable to continue tracking. This is something to keep in mind if recording every second of your workout is crucial.
One of my favorite features in the Gear Fit 2 family is its built-in GPS function. Unlike some devices, this one detects signal almost immediately, it's reliable and although it's a drain on the battery, seeing your journey charted on a colorful map on the screen is undeniably satisfying.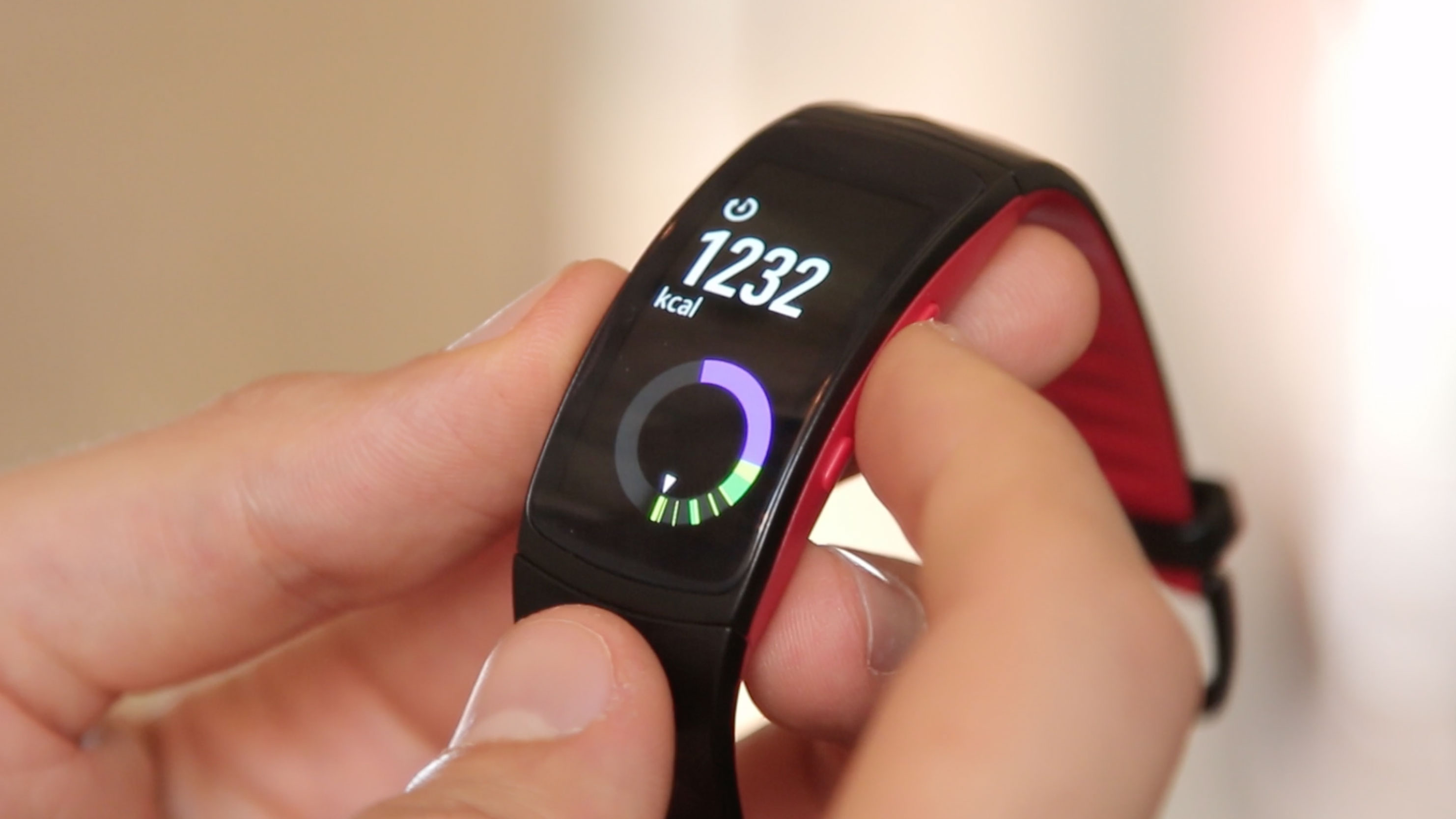 Although you'll need to download many of the fitness apps on your phone, the Pro's enhanced water resistance is free to take advantage of once you take it out of the box. The pre-installed Speedo On app might be rather basic in execution, though it makes tracking your swims simple and works to introduce a brand new feature called "water lock".
This isn't as fancy as the Apple Watch 2's hardware feature that spurts water out of its speaker. This one just turns off touch functionality, thereby locking the screen from being turned on by the force of the water rushing against it. To turn it off, you'll need to press and hold the main button for three seconds.
Verdict
The main goal of the Samsung Gear Fit 2 Pro is to make working out easy and fun, even if it's in a pool. By and large, it succeeds, though so did its predecessor for the most part.
For most, the new model's enhanced durability for the elements won't be reason enough to broaden their fitness expeditions, though it does add some peace of mind. The fact that fitness apps are displayed front and center on the Gear Fit 2 Pro's app screen provide more of a nudge to start burning calories than before, though this wearable's painstaking setup and sync process might deter those who are looking for a device that's ready to go out of the box.
Aside from the Gear Fit 2 Pro's addition of the stellar offline Spotify support, most of its so-called improvements don't make this a tempting purchase. That's because they only act to call out a low-point somewhere in the platform that hasn't been remedied.
Who's it for?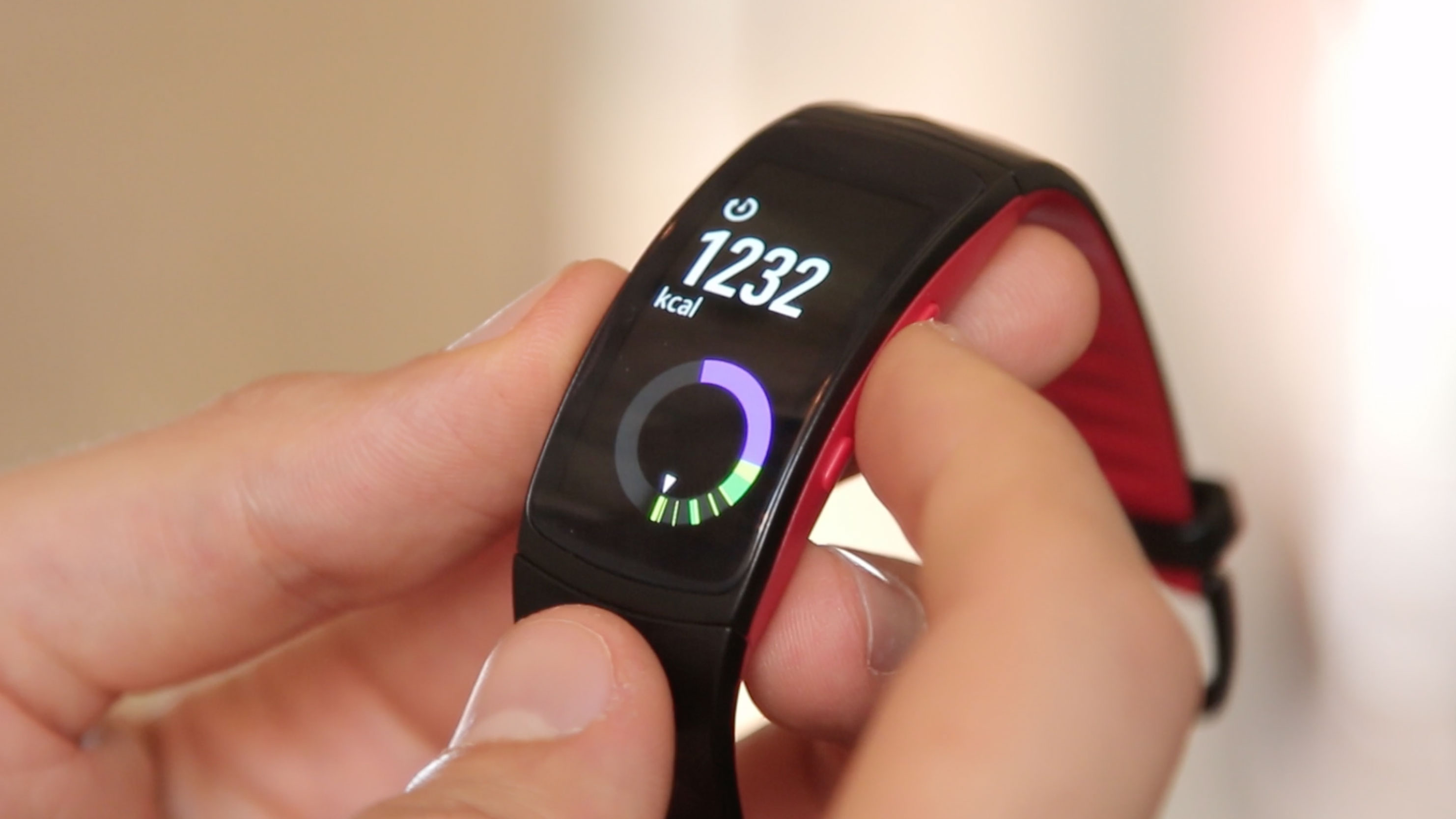 Decent fitness trackers are simple to come by, though ones that are equipped to handle the rigors of rapid breaststroking in the pool are far and few between. While Samsung's latest definitely doesn't shake up the previous year's formula all that much, it's a very solid option for those who want to do some aquatic exercising.
Moreover, this device's offline Spotify support keeps things fresh when you're on the go sans smartphone.
This wearable isn't the best value for those who already own the Gear Fit 2, but worth looking into if other waterproof options, like the Apple Watch 4 or the Samsung Galaxy Watch are too expensive or haven't worked to your liking.
Should you buy it?
Issues with this wearable's value aside, this is still a good product and easy enough to recommend from the outside looking in. It has a beautiful screen, buttery smooth touch interface and a surprisingly decent app selection. But this comes with a big disclaimer: that you can get 90% of what Samsung's new smart wearable offers in the much cheaper Gear Fit 2.
It's disappointing, though understandable why this iteration is so similar to its predecessor. The wearables market as a whole is no longer an arms race, with many of its major players, like Jawbone, Pebble and TomTom dropping out. With one of the best wearables around, there was less of an impetus to shuffle the formula.
But not only do we deserve better, Samsung's Gear Fit line was on a sharply positive trajectory through the years, though now it seems to have plateaued.
Even if the Gear Fit 2 and Gear Fit 2 Pro had launched side by side, their few differences would act to confuse the public, as they do today, though the price gap wouldn't put Samsung's new device in such a fragile position at launch.
Given that the previous year's Gear Fit 2 is considerably cheaper and fits the bill for most, it's tough to recommend the Gear Fit 2 Pro outright.
First reviewed: October 2017
from TechRadar - Technology Reviews http://www.techradar.com/reviews/samsung-gear-fit-2-pro