Update: You can still buy the Samsung Gear S3, but it's a similar price to the more recently unveiled Samsung Gear Sport and Samsung Galaxy Watch. We'd recommend looking at the reviews for the Galaxy Watch and Gear Sport before deciding to buy the Gear S3 at a similar price.
The Samsung Gear S3 is a watch that went big in a bid to match the success of the Apple Watch 2 (and subsequently the Apple Watch 3 and 4) - and we mean that literally.
This is a huge timepiece that offers all the features you'd expect from a smartwatch, including GPS, a heart rate monitor, water resistance, NFC, activity tracking, an altimeter and in some cases even LTE.
It pairs them with a great screen, a long-lasting battery and - similar to Apple - a high price, all wrapped up in either a sporty 'Frontier' finish or a smarter 'Classic' look.
That price, and the fact that the Gear S3 runs Tizen rather than Wear OS (and has far fewer apps as a result), could hold it back. That's especially since there are watches on the market like the LG Watch Sport, Fitbit Ionic and the Huawei Watch 2.
These feature-packed watches can even match the high-resolution, circular OLED screen of the Gear S3, and not all of them are as chunky on the wrist.
So what's Samsung doing here? Is there really space for a third smartwatch operating system? Especially when it's on a device that charges a premium?
One of the key selling points is the fact the Gear S3 is compatible with the latest Samsung phones, but also with most other Android phones running version 4.4 of the OS or later, as long as they have at least 1.5GB of RAM.
After launch, the company also announced support for iOS devices, from the iPhone 5 onwards, as long as they're running at least iOS 9 software. The chances are that your current phone will work with the Samsung Gear S3, and, crucially, that you won't be locked in to a particular smartphone operating system or brand down the line.
There's also now the more recent Samsung Gear Sport watch that has a smaller design, but is otherwise very similar to the Gear S3. On top of that, the company has even replaced the Gear S3 with the Samsung Galaxy Watch.
When it comes to using the Gear S3 with non-Galaxy phones, for the purpose of this review we tested it with the Sony Xperia XZ and it performed just fine (apart from needing to install a million Samsung-specific apps to make it work. Come on, do we really need the Samsung timer app just to count how many minutes until food is cooked?)
So the Gear S3 has the right credentials, but is that enough? Or, with a number of functionally similar rivals on the market, is it too little too late for one of the biggest brands in phones, trying to convince us that we all need another smart device?
Samsung Gear S3 price and release date
Out now in both Classic and Frontier flavors
Originally cost $349/£349 (around AU$475)
Now a bit cheaper, but worth considering the Gear Sport or Galaxy Watch
The Gear S3 started life at $349/£349/AU$399, which is expensive for a smart timepiece. We've now seen the price drop to around $280 / £250, which isn't a huge discount considering it has since been replaced by the Gear Sport and Galaxy Watch.
We'd recommend looking at both the Gear Sport and Galaxy Watch before deciding to buy the Gear S3 as the price is similar but this is an older device.
You can also get the TUMI-designed Frontier Gear S3 in the US, with a strap that comes in a "signature Earl Grey colorway and is constructed from an Italian canvas, which features a stainless-steel buckle and stitched edge detailing, is durable enough to resist water, dust, or rough conditions you may encounter on your adventures."
Design
Big and heavy but well-made
Useful rotating bezel and buttons
At 59g the Gear S3 Classic might not sound heavy, but it certainly feels it. And that makes sense when you consider that the Apple Watch 3 weighs anywhere between 26.7g and 52.8g and the Samsung Gear S2 is even lighter at 42g.
It's big on the wrist too, but it's undeniably a high-quality and well put together watch, with some of that weight likely coming from the 1.3-inch screen and the metal frame around it. It's also built to last, with IP68 certification for dust and water resistance.
Samsung has also put some thought into how you should operate the Gear S3, giving you a rotating bezel and two buttons that you can use as well as the dinky touchscreen.
The bezel is the main method of navigation, and one of the standout features of Samsung's recent smartwatches.
It's essentially a dial that you can twist left or right to scroll through screens and lists, or select apps. Weirdly, there's no confirm key though, so to actually launch an app once you've highlighted it you'll have to tap the screen, which is odd when so many of your interactions with the Gear S3 are button-based.
It's not the most fluid way of doing things - although you can set up the Gear S3 to be able to open an app if you hover the dot over the software you fancy.
Of the two actual buttons, both of which are on the side, one takes you to the home screen and your apps, while the other is a back button, and while remembering which is which can take a while, over time you'll get the hang of them.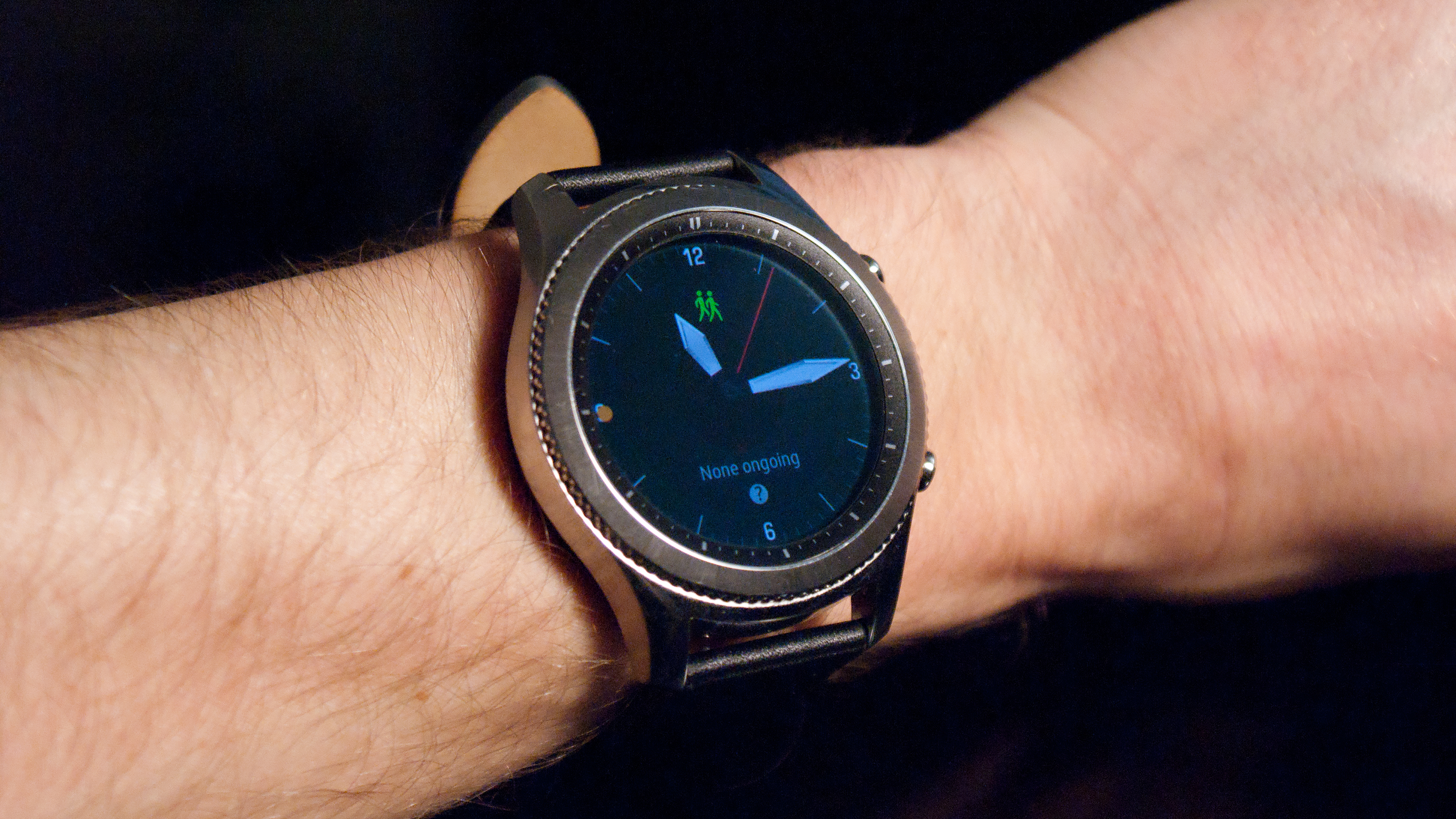 Flip the Gear S3 over and you'll find the heart rate monitor, which can track your heart beats throughout the day.
This makes it far more viable as a fitness tracker than some smartwatches, and makes it especially appealing to anyone who wants to monitor changes in their resting heart rate.
The Samsung Gear S3 Classic comes with a leather strap in the box. The leather is decent quality, but quite stiff at first, so you'll need to wear it in before it becomes nice and flexible.
The strap connects via a standard 22mm pin, which is a double-edged sword, as although it means there are plenty of alternative strap options, it also makes them a pain to switch over.
That won't be a problem for everyone, but it will be if you're planning to use the Gear S3 as a fitness tracker, since you'll probably have to stick with a sportier, sweat-resistant strap, somewhat ruining the 'Classic' look. You'll also need to invest in a new strap.
If you are looking for something that's as much fitness tracker as smartwatch, you might be better off just buying the Samsung Gear S3 Frontier, as this comes with a slightly more rugged design and a rubberized strap as standard.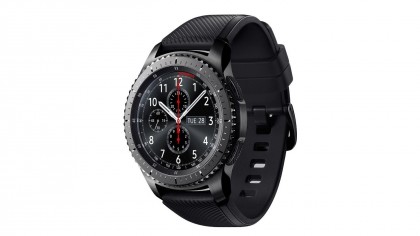 It's slightly heavier, weighing in at 62g, but apart from the look and strap of the device there aren't many other differences to the Gear S3 Classic. You can even use the same straps as the Gear S3 Classic if you ever want to go for a slightly more formal look.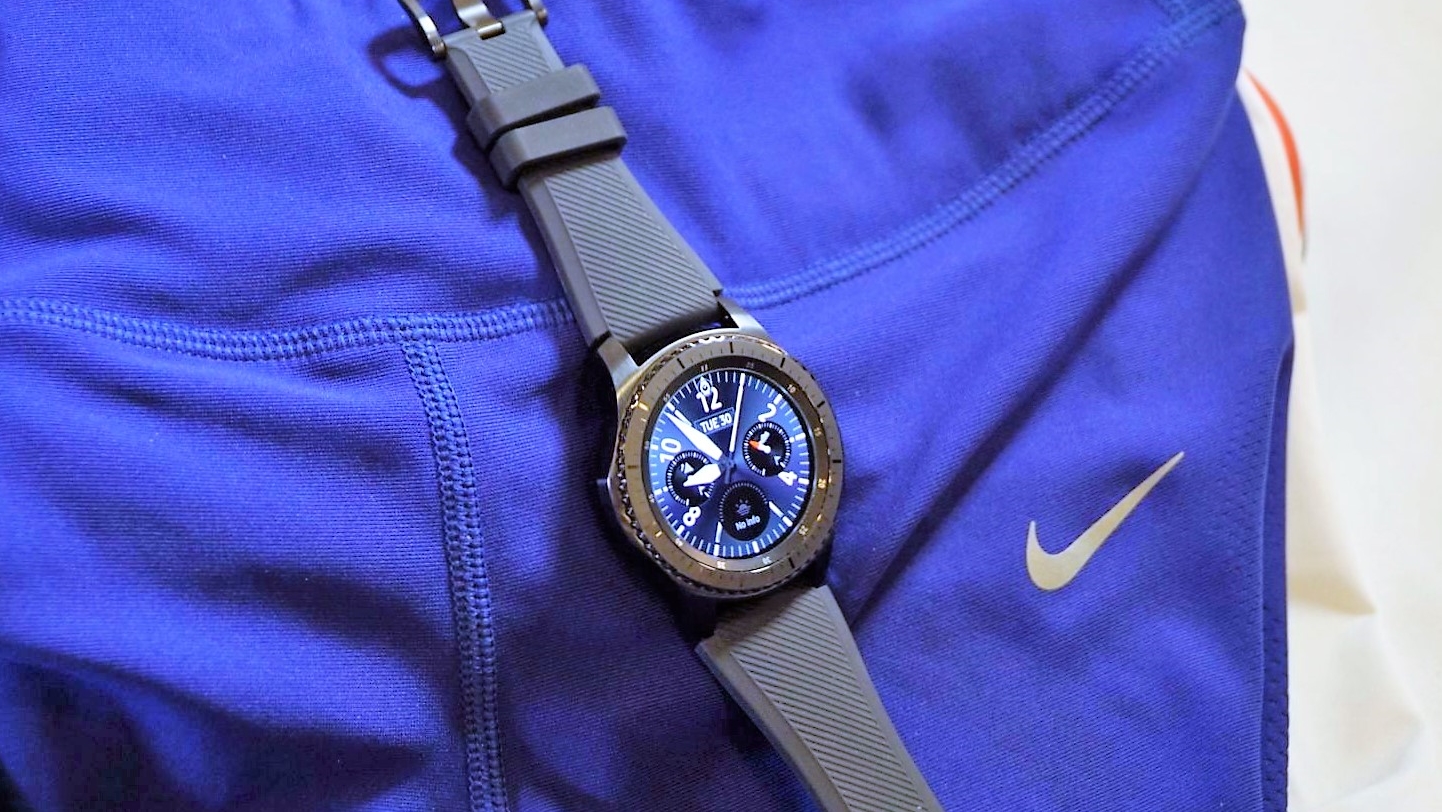 In the US you'll also be able to buy an LTE version of the Gear S3 Frontier, and soon of the Gear S3 Classic as well, but mobile data isn't available on either in the UK currently.
Screen
Brilliant 1.3-inch Super AMOLED screen
Always On Display is handy but harsh on the battery
The 1.3-inch 360 x 360 Super AMOLED screen on the Samsung Gear S3 is, unsurprisingly, one of the best on the market. Samsung consistently makes some of the best smartphone screens, and it's using exactly the same technology here, for bright, clear visuals.
Samsung is also hyping up the fact that the Gear S3 uses an Always On Display, the same used in the Galaxy S8 smartphone range. This optionally keeps the screen partially lit up at all times, so you can always see the time, but as you might expect, it's not kind on the battery.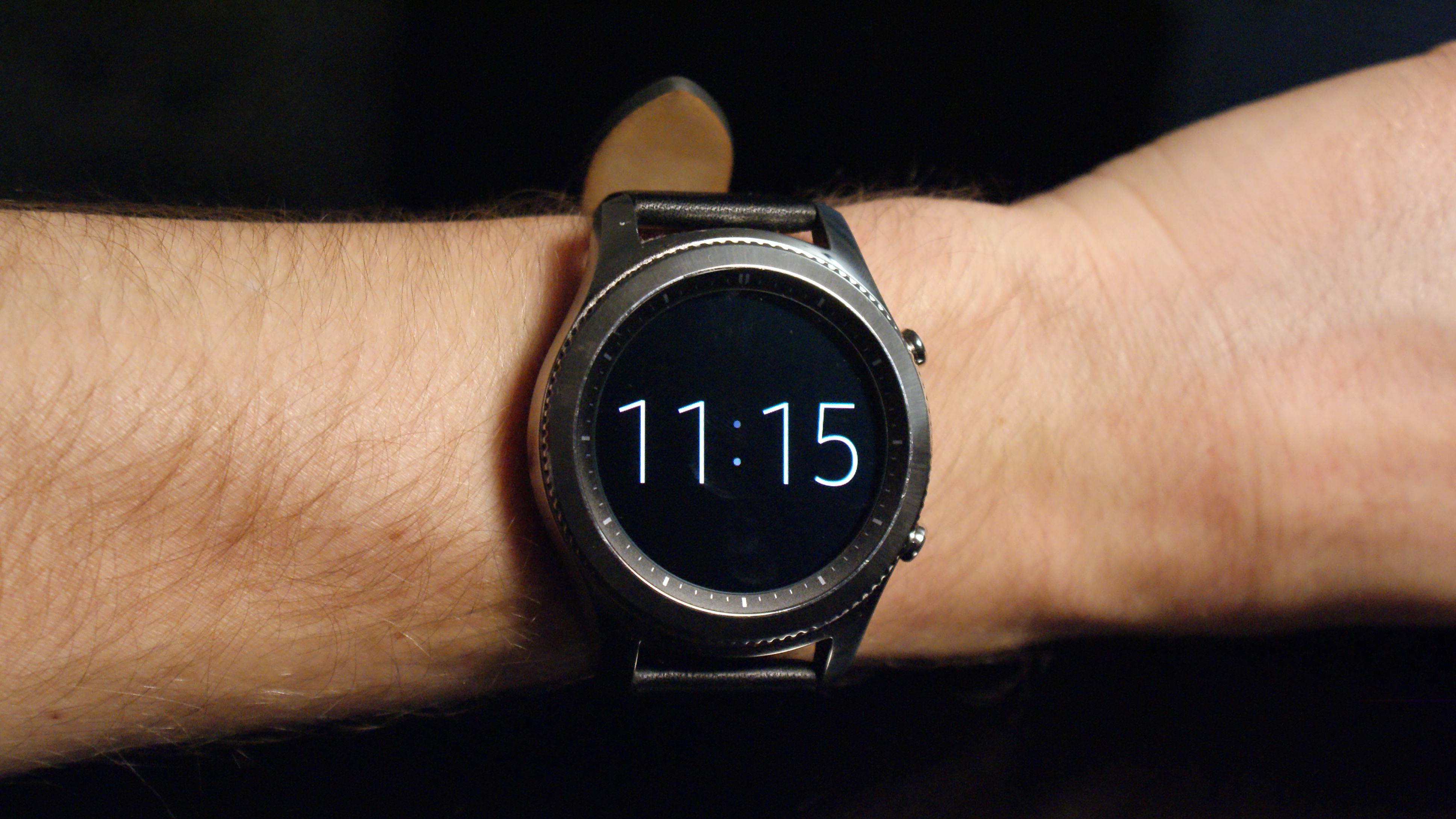 Still, you'll want the screen on as much as possible, because it's beautifully bright and vivid. The circular design is also great aesthetically, though makes reading text at the bottom of the screen trickier than on a square smartwatch face.
It's not that tough to read really, but it looks a bit messy. It would also be good if there was an automatic 'do not disturb' (DND) mode here, which you could turn on when you're in bed or the cinema, so you're not constantly flashing like the world's smallest lighthouse with every slight movement.
The main thing to note about the Samsung Gear S3 is just how few apps it has on board. It's an odd situation where one of the world's biggest manufacturers can't seem to keep the biggest brands on board.
There are some apps starting to filter through. Spotify brought offline playlist syncing to the Gear S3 (and S2, while we're here) which means you can finally leave the phone at home when going out running with tunes.
But some apps are still confusing. such as Nike+ running. This was a big feature when the Gear S2 was launched in 2015, with a strong fitness angle and this dedicated app to connect you with your running buddies and remove the need to spend a lot of cash on a great new running watch.
There is an alternative for runners in Pear, a free app that offers audio coaching, heart rate tracking, distance, pace and calories. But this is still a big gap in the S3's portfolio.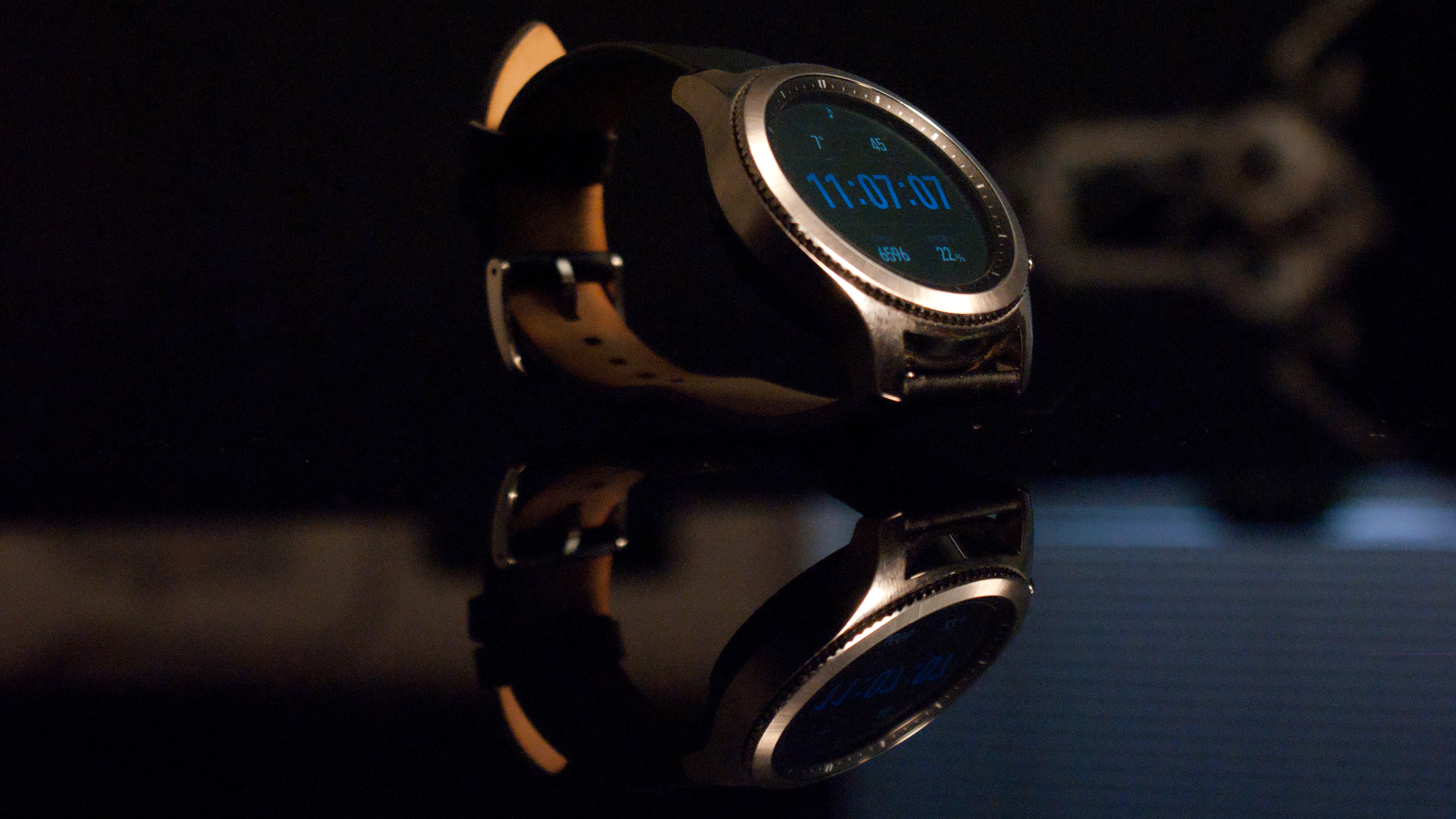 But that app suddenly disappeared with the Gear S2, and has shown no signs of popping up again now the new-and-improved model is out on shop floors. In fact, apart from its own apps and a few random games, the Samsung Gear S3 is comparatively understocked.
New apps have filtered through. For example, Under Armour's food-tracking MyFitnessPal and Under Armour Record are now onboard for offline GPS tracking, as are Nest smarthome and Uber.
It's odd for such a big brand to lack an app ecosystem, but presumably because the S3 runs Tizen, Samsung's own operating system, developers need to re-code their own apps just to support another kind of device.
Not only that, but to download these apps you have to head to Samsung's own app portal, rather than being able nab them from the Google Play Store. So there are some considerable barriers here.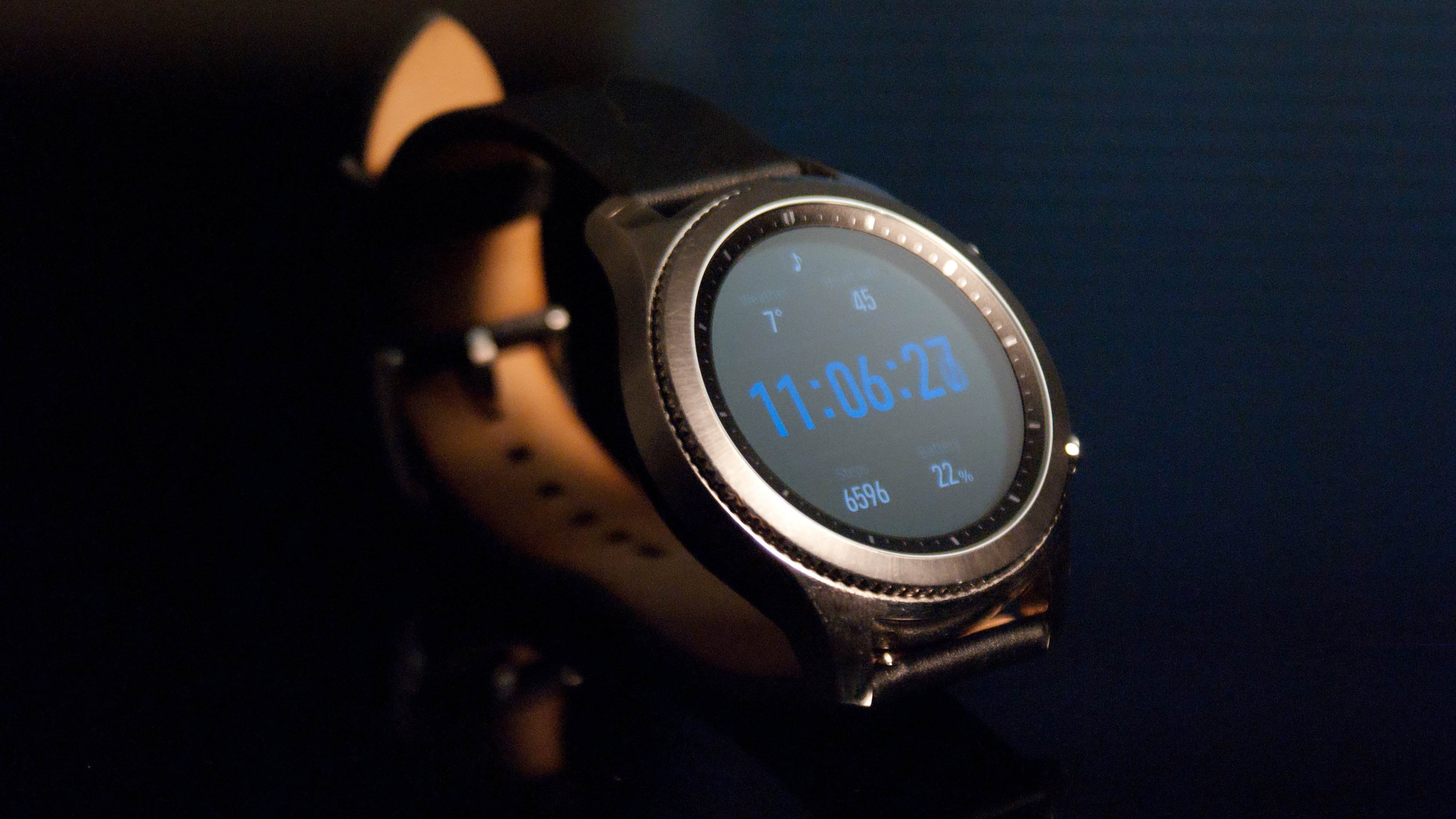 With Wear OS (previously Android Wear) devices, if you download an app that's got an watch-compatible app embedded it will automatically install on your smartwatch as well. With Samsung, you'll need to download that app from its own portal - which is less well-stocked and harder to navigate.
It just shows how dependent Samsung really is on Google - the South Korean brand could never use its Tizen operating system on phones instead of Android, as there would be so few apps available that the Galaxy range would wither and die like Windows Phone devices.
Connections
Samsung does know how to get its technical options right, and that's exemplified in the way the Gear S3 manages to seamlessly jump between Wi-Fi and Bluetooth to stay connected and provide information to your wrist.
While some apps won't work without the phone (WhatsApp, for instance) most of the information coming in can draw updates from your Wi-Fi connection. What's great is this doesn't need to be set up manually, with the Gear S3 taking the data from your phone and connecting to your home Wi-Fi automatically.
It's not flawless - it seems that the S3 can take a while to work out if there's a connection when you use the watch in new places - but on the whole the new Gear smartwatch seems to know where it is pretty well.
The issue comes when the watch randomly loses connection. You can be sitting there, phone in pocket and watch on the wrist, and go to change the music on your wrist - only to find the Gear S3 is in 'connected remotely' mode, meaning you're getting information from Wi-Fi and not from the phone.
The only way to solve this is to go into your Bluetooth menu and force them to talk to each other again, like some sort of electronic marriage counsellor. It'll link back up pretty quickly, but it's another rough edge for a high-end device.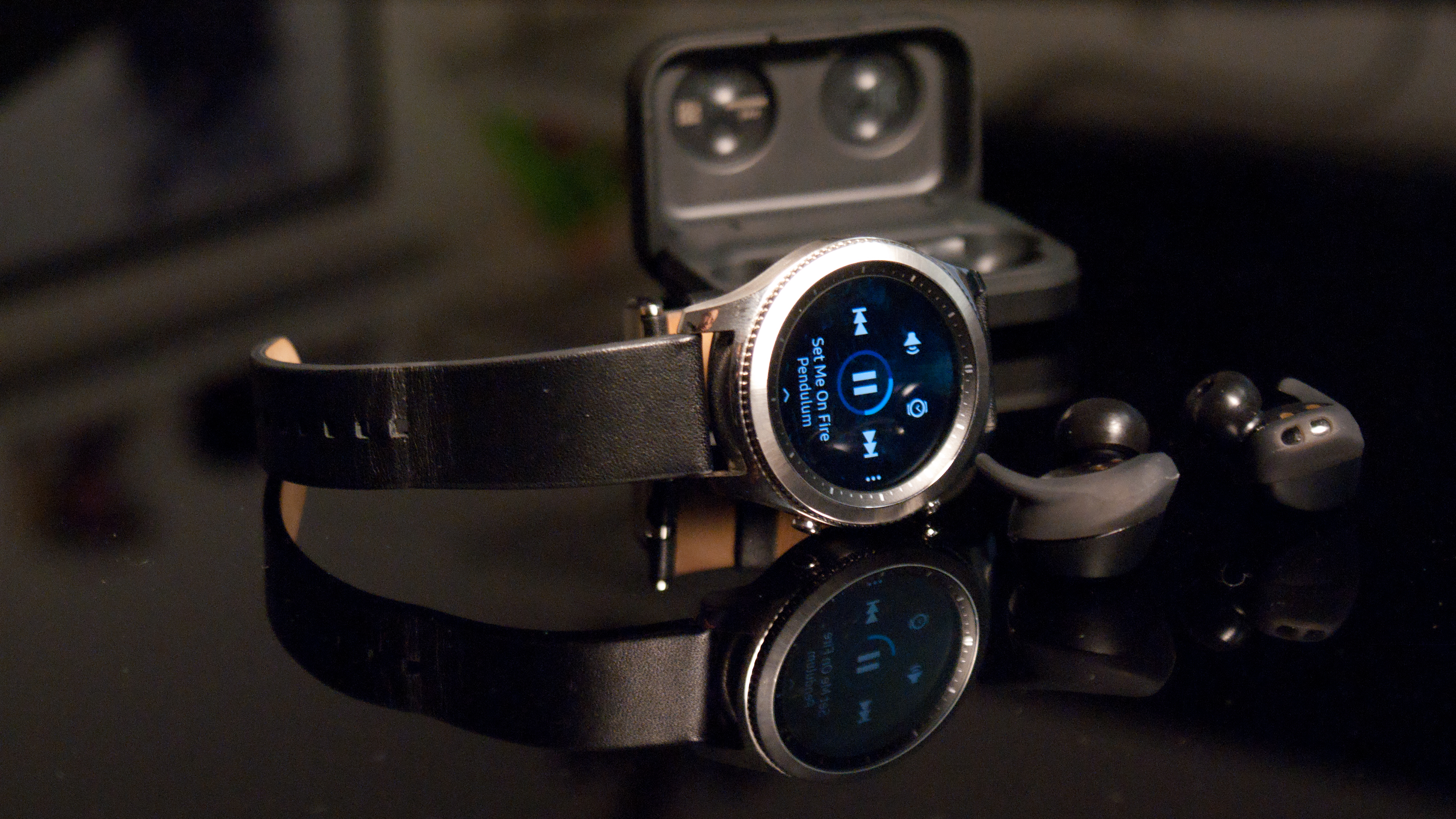 The music playback is one of the top features of the Samsung Gear S3, for a number of reasons. Firstly, it's a seamless experience - if you're streaming music on your phone, you'll be able to switch tracks and see what's playing, with album art in the background, without a problem. The bezel rotation flicks through tracks (although we wish it was volume) and it's all rather seamless.
If you've transferred MP3s to the device (which has 4GB built in) you can listen to music from the watch itself, either streaming over Bluetooth audio or the internal speaker, which is surprisingly loud for such a small device. It's never going to replace a proper speaker, and it's rather tinny, but it's not a bad experience.
Transferring music (and other media, like photos) is a really seamless experience, and kudos to Samsung for making it so simple from the app. We just wish Spotify would work in the same way so we could ditch the phone at times.
The bezel interaction is one of the better things about this watch, in theory. We add this caveat as it's a smooth way to interact with the device, a circular slide through menus and options.
It's a little on the stiff side though, so you can't move with a single digit easily, and that feels a little irritating. But on the whole it's a nice way to slide through the interface (although it's rather easy to slide right past the option you were looking for).
The variety of watch faces on offer is already far greater than Apple's, and the quality seems rather high too - so that's a great way to customise the watch as you want. However, we're still waiting for some truly awesome options to appear and make this into a sleeker device.
With the lack of apps available for the Samsung Gear S3, its abilities in the fitness space come to the fore. And the good news: it's fully-featured in that department.
There's GPS on board for solid run tracking, an accelerometer for counting repetitions of cross-fit activities, smart integration with Samsung's S Health platform and a few other nuggets to get you feeling more active throughout the day.
The daily move nudges are the best we've ever seen on a smartwatch. The animations to get you moving each hour are neat, showing little snoozing shoes and highlighting that you're being sedentary rather than just telling you to move irrationally.
There are also little tips embedded to help you get the most out of your daily routine: for instance, if you're not moving a lot, the Gear S3 will entice you to do some stretches and guide you through the process, counting as you go using the accelerometer, which feels far more interactive than just being told to stand up.
However, that's the end of the decent tracking. If you head into the fitness app you're greeted with all manner of options to get you active, from running to lunges to cycling to crunches.
Trying the bodyweight options, the accuracy was thoroughly mixed. Squats were perfect, with each on tracked properly. However lunges, crunches and star jumps were all just utterly, utterly useless, with nothing being checked off properly, so the workout was redundant.
Compare that to a fitness tracker like the Moov Now, and you'll see how poorly this performs. It's perfectly possible to count how many star jumps one is doing, but Samsung's watch doesn't.
When it comes to the run accuracy, that was middling too. Over the long run distance, things were OK - only 0.1 miles out over a 32 mile distance, which gave us high confidence in the Gear S3 as a running watch.
But SO MANY times the run was erratic and inaccurate, with things like a random mile adding onto the distance for no reason or suddenly failing to track me for a short time.
This wasn't regular, but combined with no way of knowing at the start if you've got a GPS lock (we assume in the same way as the Apple Watch, where it'll fill in the data with the accelerometer until it gets a GPS lock) it's hard to trust this watch as a proper running tracker.
The screen is large and bright though, so seeing what you're doing isn't too hard. The 'lift to wake' accuracy is strong, with every flick of the wrist showing the time, distance or pace instantly.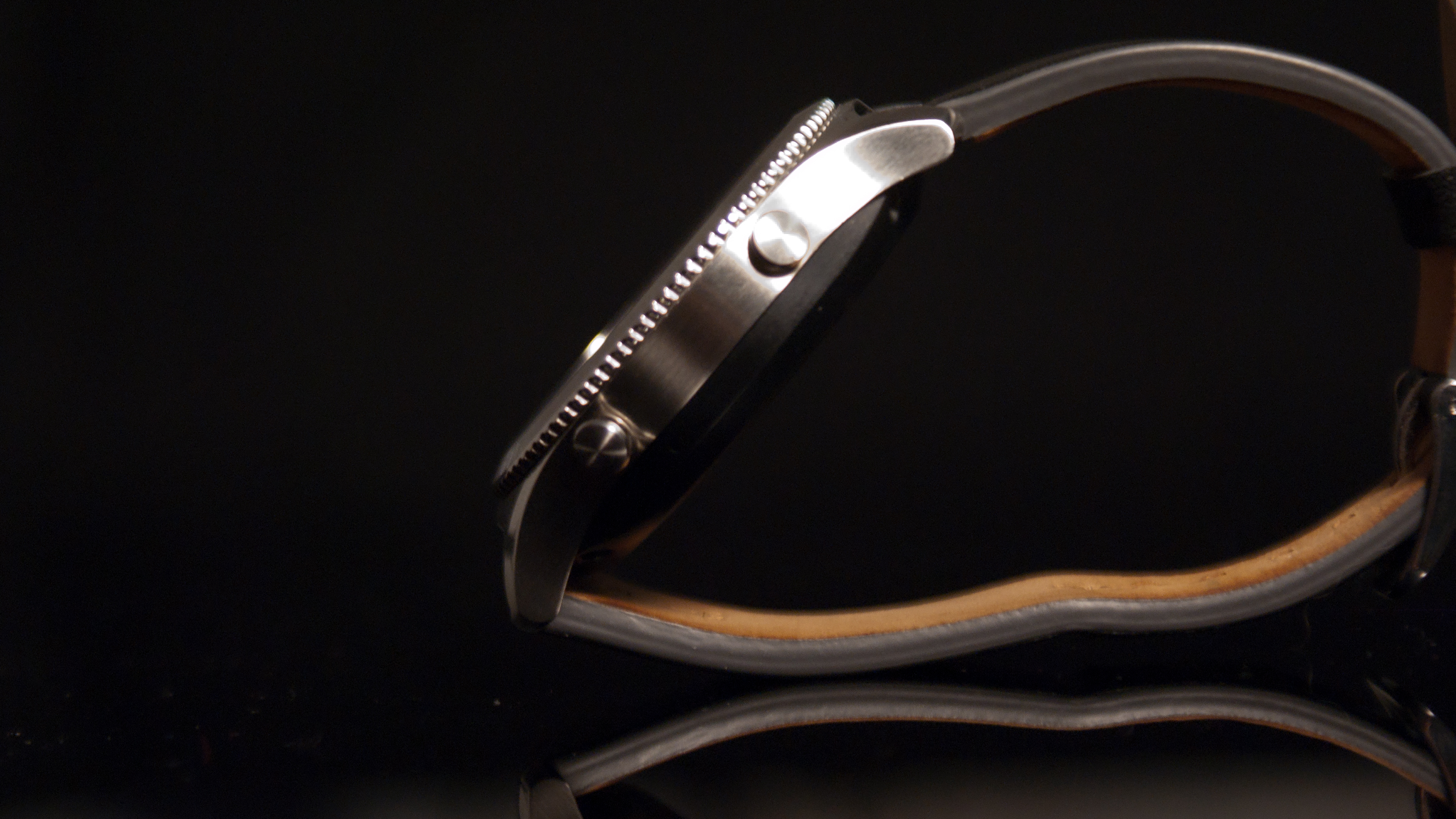 However, it'll sometimes take a second to update the screen with the current information, so you'll look down and panic that you've only done a couple of miles before it suddenly bounces up to four, and you can breathe a (very rapid) sigh of relief.
You can tap to change what's on the screen pretty well, but you can't choose the order of what's being shown, so you'll have to make do with what's there and learn how many times you'll need to swipe to see your heart rate data or distance.
And there are training programs designed to help you increase speed or endurance... but we could not work these out.
There were constant commands to slow down or speed up, but with no easy way to track your fitness levels it was hard to see how accurate and useful these could be, or to get explanation on how they worked.
One of the good ways to see how fit you are is through the heart rate monitor - and we feel bad for criticising Apple's version now, given how bad Samsung's is.
It's the embodiment of stupidity on a wrist, with so many false readings falling out. Even being used on a 'good arm', which should have more blood flow and a good contact zone for checking, saw random results fall out.
At no point did we have a heart rate of 240+ beats per minute. We might be dead if that was the case.
Over time, the heart rate accuracy will snap back into place, but it's not dependable in any way, so you'll need to connect a chest strap instead.
Given the lack of decent running apps though it's hard to recommend this as a running watch, despite the pleasant interface when scrutinising said run on the S Health app of your smartphone.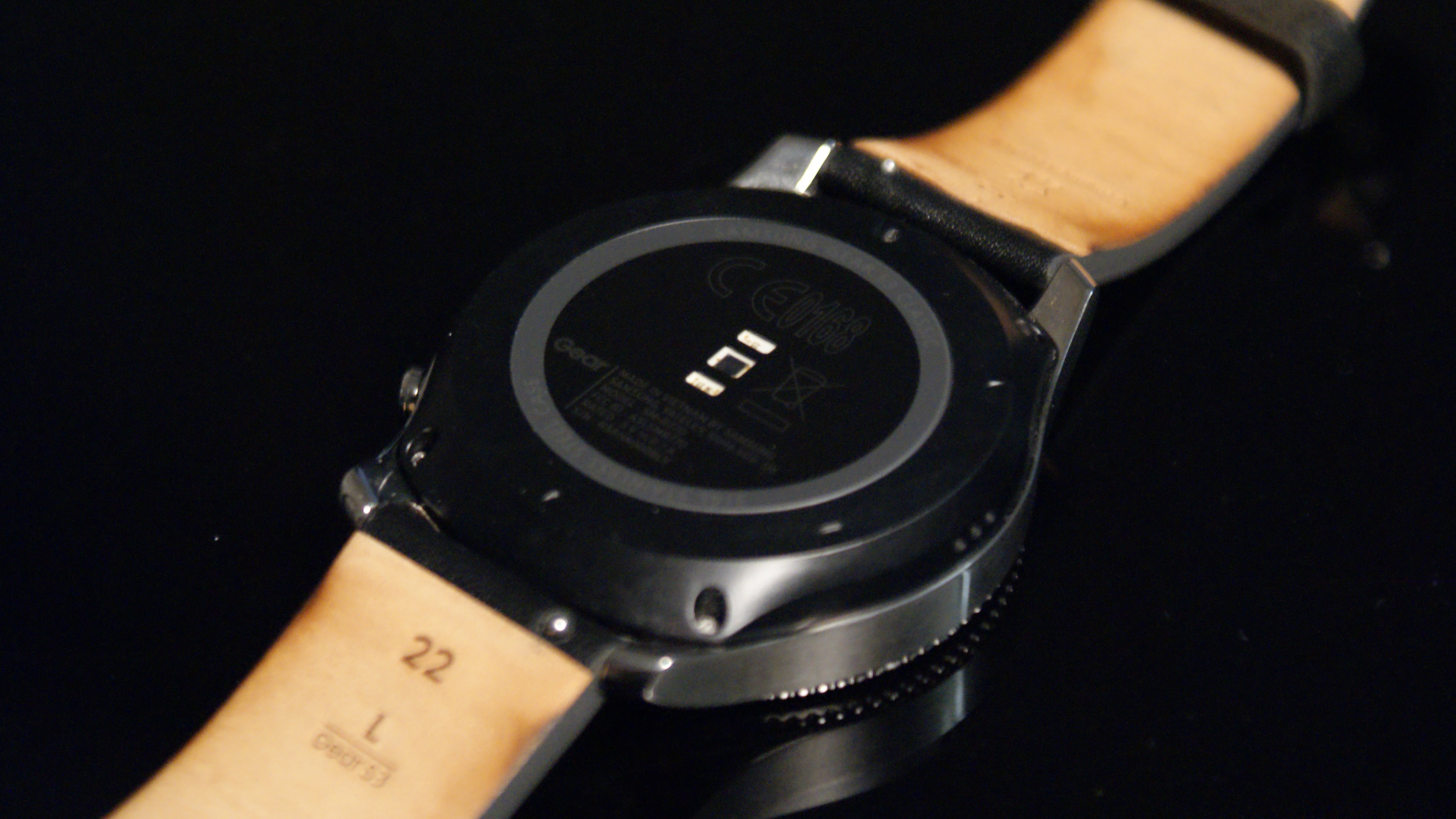 (One great thing Samsung does: letting you download your GPX file so you can plug that into online sources. It's not an easy way to do things, but at least your data isn't locked away like it is on Apple's timepiece.).
The Samsung Gear S3 has another key feature that we like: automatic workout detection. If you're running, cycling, walking or doing something dynamic (like weights or just the general housework) it'll begin to monitor you after 10 minutes, and estimate your calorie burn.
It's a really nice feature and works flawlessly - except for the fact the watch through, time and again, that we were cycling when driving at over 50 miles per hour.
Not just once, but multiple times. What kind of repetitive motion was it seeing that, combined with the insane speeds, told it that cycling was the obvious activity happening?
This data does help build a good picture of your day though, and we love the overall calorie counter each day.
The accuracy is up for debate (during the long 32 mile run, the Samsung Gear S3 gave a reading that was WAY in excess of the other watches, despite having the same data) but being able to see how your sleep, sedentary periods of the day, active sessions and even walks to work all add up feels like a really rounded way of checking out how active you are.
The sleep tracking isn't bad either - although it's the most 'generous' tracker we've ever seen. Where other options constantly point out that we need to be more restful in our snoozing, the Gear S3 delights in telling us that we were motionless for most of the night.
As we're asleep it's hard to tell which is telling the truth, but Samsung's watch does seem more forgiving.
One annoying bug that keeps coming up: it'll split up sleep sessions randomly in the night. Over a two week test, there were three instances where, upon waking, we were told that we'd only got an hour or two's sleep, where a deeper look at the stats in the S Health app showed for some reason the watch had just given up tracking for some reason.
That, or we're sleepwalking terribly suddenly.
Battery life
The battery shoved into the Samsung Gear S3 is 380mAh, which should last for a decent amount of time. And in truth you'll easily get a couple of day's use out of this watch, and far more if you don't do anything with the GPS tracking or fire it up regularly.
Well, 'far' more is a bit of an overstatement - you'll get closer to three days' use on a single charge, but for a large touchscreen like this it's not a bad result at all. It's also very quick to charge considering it's wireless, just being dropped into the dock and suddenly fired up.
It shows that Apple is being rather tight with its charger offerings: Samsung's plastic dock is robust but doesn't feel expensive, and there's no reason Apple couldn't have offered the same thing for the high price of the Apple Watch.
If you're down to no charge left on the watch, there's no speedy juicing on offer though - you'll need to wait a couple of hours to get it close to the maximum, and the 'time remaining' counter isn't too impressive either -it'll bounce around rather erratically.
In terms of how well it lasts when running, the long test showed that the Samsung Gear S3 is one of the better performers when it comes to power management on the go.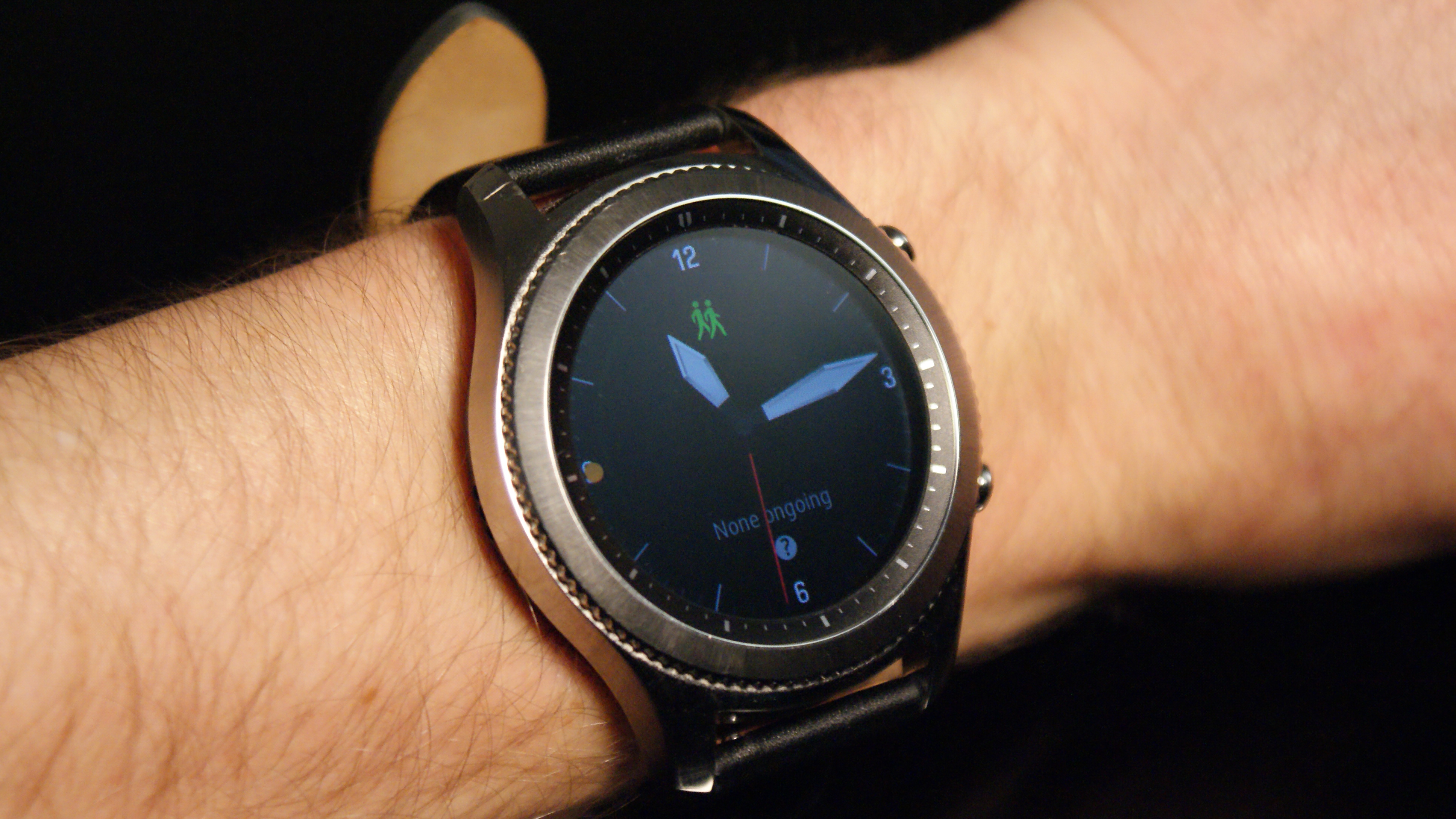 It'll track your heart rate and your speed / distance for four hours and only have lost 50% of the battery, which is far better than Apple's option.
However, leave the Always On Display running and stream music over Bluetooth when you're going for a jog, and you can actually drop nearly 50% of the battery life in under an hour or two - the Gear S3 does not like everything running at once.
We ran every day with the Gear S3 strapped to the wrist, and found that if you're working out for about an hour a day it'll still get to 48 hours without needing to be juiced back up as long as you're careful.
It's also nice that there's a low-power mode: switch it on and the Gear S3 will show you limited information in monochrome, which really extends the life of your watch.
There's even a 'I'm nearly out of juice' mode for when things are dangerously low, but that's pretty much useless as we could NOT work out how to make the time show up, despite still being turned on.
Since we've initially reviewed the Samsung Gear S3, the company has updated the software and says the battery life will be improved. We've yet to test this, but we hope to do so for a future update to this review.
We're disappointed with the Samsung Gear S3 - and that's down to one thing: a severe lack of apps. We've seen how smartphones have exploded into life thanks to the crazy things app developers can do with them, but the Gear S3 relies almost solely on its inbuilt apps or ones that Samsung has commissioned to add new smartwatch features.
There are a few trickling through, but it's hard to say with confidence that this is a thriving ecosystem.
While we do understand why this watch is so expensive when you check out the spec list, it's hard to say that Samsung's optimised things for the better.
Who's it for?
We've got a friend who owns the Samsung Gear S2, and rather likes it. When quizzed about the lack of apps, he just shrugged and said it was more for the notifications that he loved it the most - which seems like a waste of money.
However, if you've got a Samsung phone and like the idea of a large device on your wrist - and have a decent chunk of change to spend on it - the Gear S3 would be a good buy for you.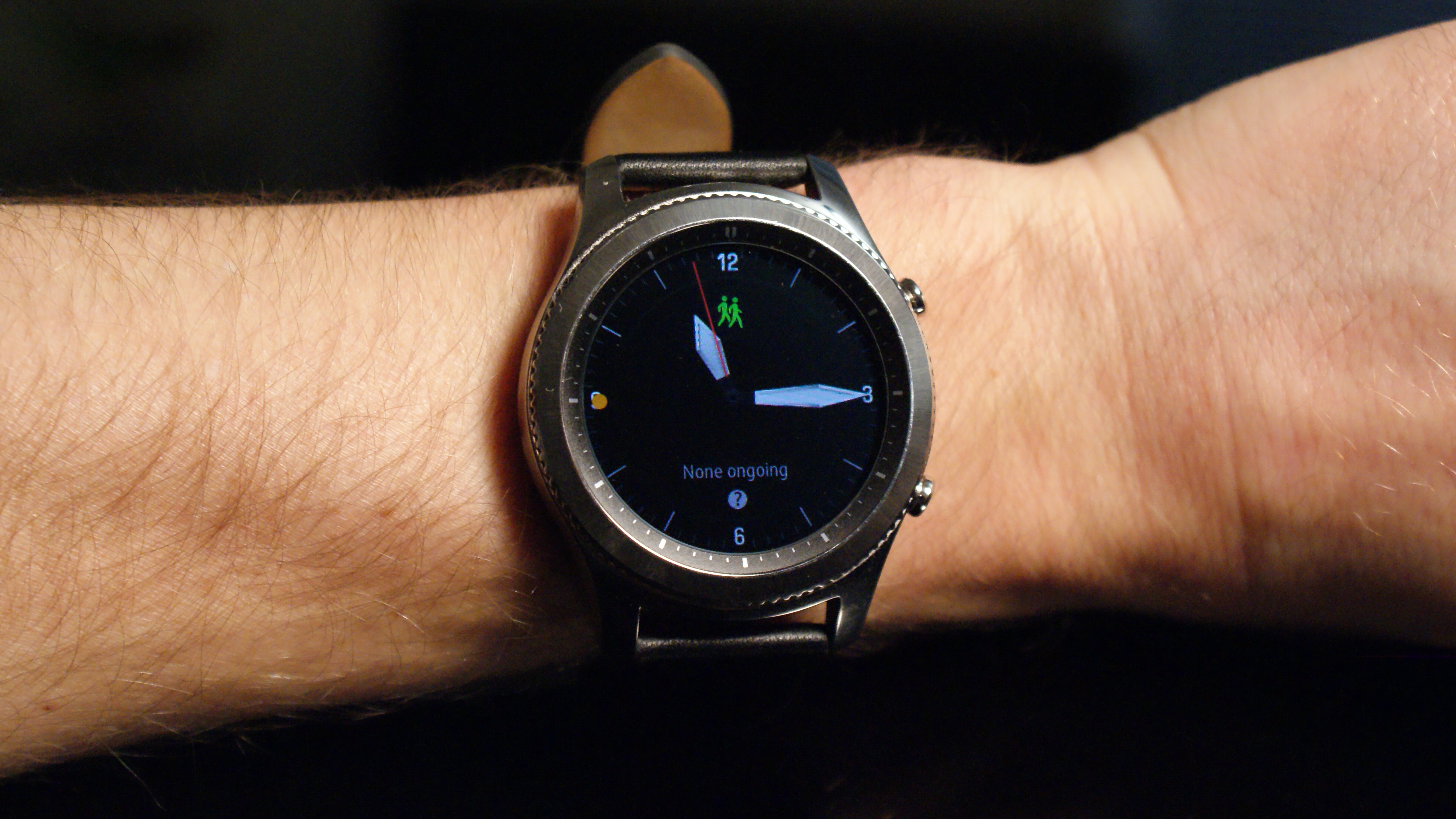 There are a few foibles within, but most of them can be accepted after a while, and you'll begin to enjoy the breadth of things you can do with it.
This review hasn't touched on Samsung Pay which is now available for Gear S3 owners in the UK, but we're reliably informed, by those who've had it available in their territory for a while, that it works very well as an alternative payment method, and it's far more convenient.
Being waterproof and packing GPS will open the door to new activities, and using the rotating bezel to slide through the interface is a neat touch, despite taking a little while to get used to.
Should I buy it?
It's hard to recommend this watch as a good buy, simply for the lack of things you can do with it. Even the inbuilt functions aren't perfect, with the sleep tracking, activity tracking and dynamic workouts all having some form of slip during our review.
The screen is large and beautiful to look at, but that's less of a concern on a smartwatch compared to your phone, which you'll look at four billion times per day, and while you can pump on the Always On Display, it absolutely sucks the life out of the battery.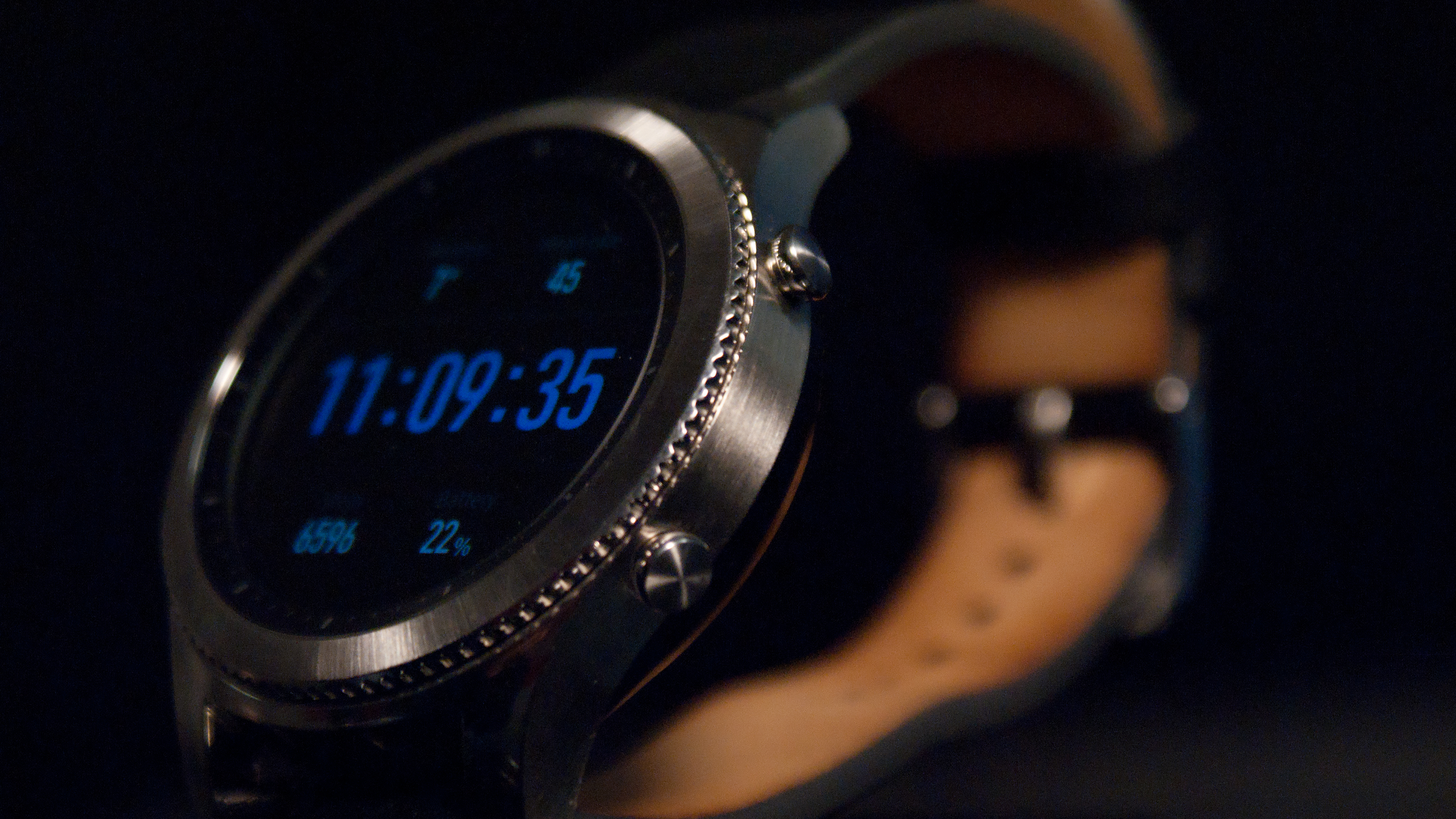 And there's the cost: this thing is SO expensive that it's hard to justify. Yes, it's the same price as an Apple Watch, but at least that has a mildly-thriving app ecosystem, where Samsung still feels like it's finding its feet with this device.
Verdict
The Samsung Gear S3 is effectively the fourth smartwatch from the brand, and each iteration adds in something cool - and having GPS makes a big difference to what we want to do with this watch.
The running tracking is decent enough, although a long way from perfect, and the over-sized nature means it won't appeal to a lot of watch-wearers. The battery life is good, the music playback options strong... and while it does suffer from a severe lack of third party apps, it's hard to say they'd add a huge amount to the ecosystem anyway.
That said, having a few basic games and Uber / Under Armour as your main app is not enough to sell this watch to anyone.
There are some 'companion' functions it can offer with apps from the Google Play Store, but disconnect the Gear S3 from your phone and it's game over.
In short, the Samsung Gear S3 is a brilliant smartwatch in many ways - it just suffers from the fact that nobody really needs a smartwatch. It does things that Samsung has dreamed up because it suddenly had a screen on your wrist, but doesn't do some of them very well.
There's also now the Samsung Gear Sport to consider, which has effectively replaced the Gear S3 and does offer some extra features.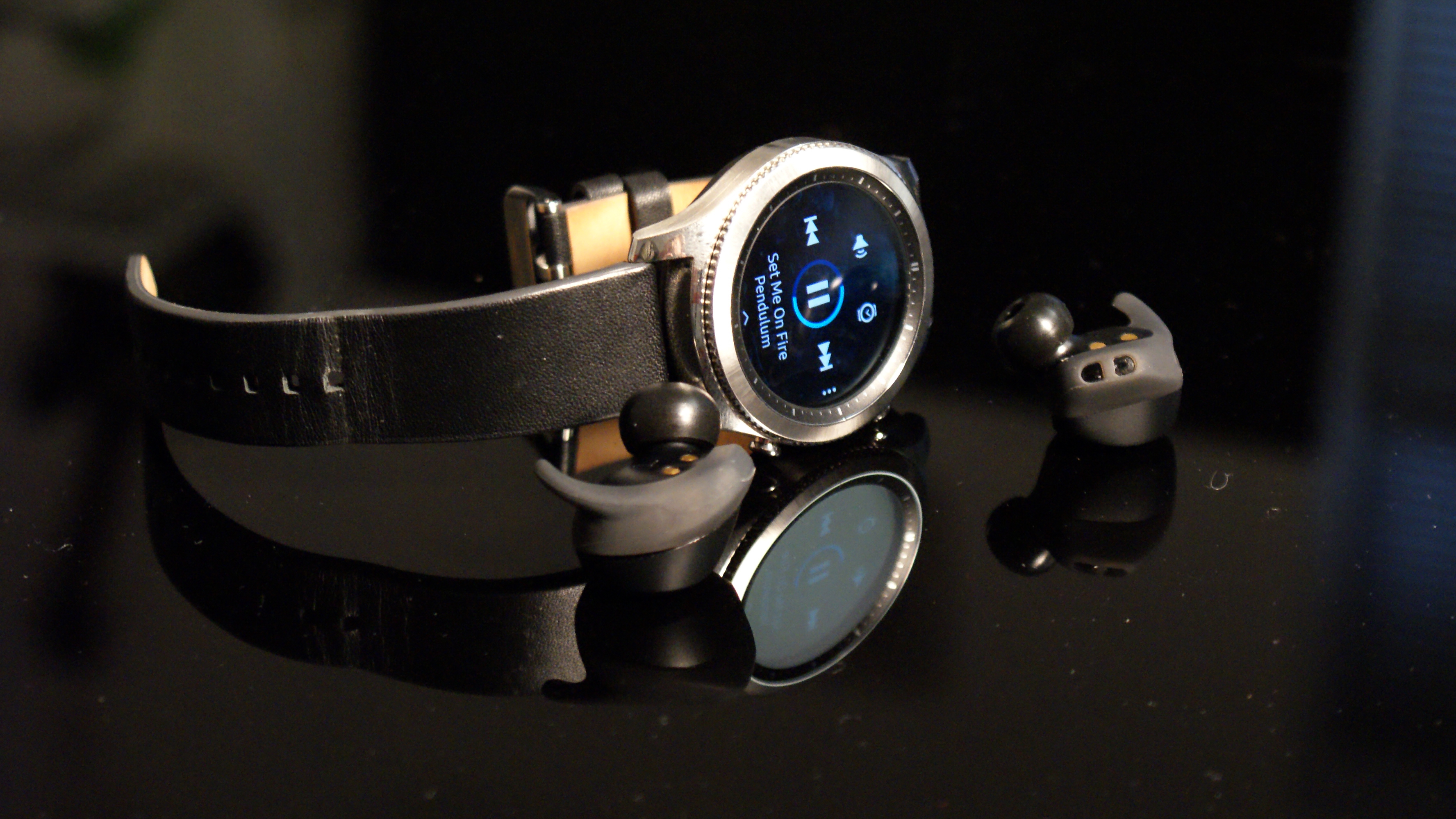 If you want just notifications, then the Gear S3 will work for you really well - but you'll be paying an awful lot for the privilege.
It's actually only really competent at dealing with your music, and things like not being able set the bezel to control your music volume when the screen is off feel like missed opportunities.
If it sounds like we're struggling to give a solid verdict to the Samsung Gear S3, that's because we really are. There are loads of functions on here we like to see, from GPS to sleep tracking to multi-day battery life to clear screens to good music playback... but they're just, well, there, and don't do anything spectacular.
For this price, a smartwatch needs to be have a genuinely excellent USP to be considered a must-buy product.
That said, it's easily the match of, and in some areas outstrips, the Apple Watch - if you're an Android user (or possibly even iPhone) looking for a smartwatch and can stand the current lack of apps, this is probably the choice for you.
First reviewed: September 2016
from TechRadar - Technology Reviews http://www.techradar.com/reviews/wearables/samsung-gear-s3-classic-1327492/review