Hard drive manufacturer Western Digital is pretty familiar with storage gear aimed specifically at pro photographers. Over the last few years, it has focused on this niche with a line of devices that make transferring and backing up photos while in the field faster and easier – chief among them is its two previous Wi-Fi equipped My Passport Wireless hard drives.
Now, WD has added a third product to this stack with the WD My Passport Wireless SSD, with its main draw lying in the additional durability and speed that is inherent to solid state drives.
Now, to be sure, this speed and reliability boost comes at a steep price, but when you consider the built-in SD card reader and the Wireless SSD's ability to keep your other devices charged while out and about, it's still a cost worth paying – especially with Black Friday and Cyber Monday looming around the corner.
Pricing and availability
WD's My Passport Wireless SSD is available in capacities of 250GB, 500GB, 1TB and 2TB with prices ranging from $230 / £220 / AU$429 for the 250GB model to $800 / £700 / AU$1,399 for the 2TB version, with Black Friday PC components deals likely reducing the cost a bit.
There is a two-year warranty from the manufacturer and also a 30-day money back guarantee in select markets.
Design & key features
Like its hard drive-equipped siblings, the My Passport Wireless SSD has been built for life on the go: it comes packing a built-in SD card reader, 802.11ac Wi-Fi connectivity and an internal Li-Ion battery that gives you up to 10 hours of continuous wireless use.
While the device isn't weather- or dust-proof, it does come with a removable drop-resistant rubber bumper, giving it a rugged look and a non-slip surface to improve grip. Moreover, all the ports and buttons are flush with the exterior, and in combination with the thickness of the bumper, that should help protect the drive from the elements and accidental scrapes.
On the 'top' edge of the My Passport Wireless SSD is a power button, a 10-pin micro-B USB 3.0 port, and a USB 2.0 socket that's On-The-Go (OTG) compatible. There's also a second switch on the top which powers up the battery indicator and inititates SD card transfers, and also works as the WPS switch for the initial Wi-Fi setup. The only other physical feature on the drive is the SD card slot, which lives around the corner from those USB ports, and there's also battery, Wi-Fi and power indicator lights on the front face.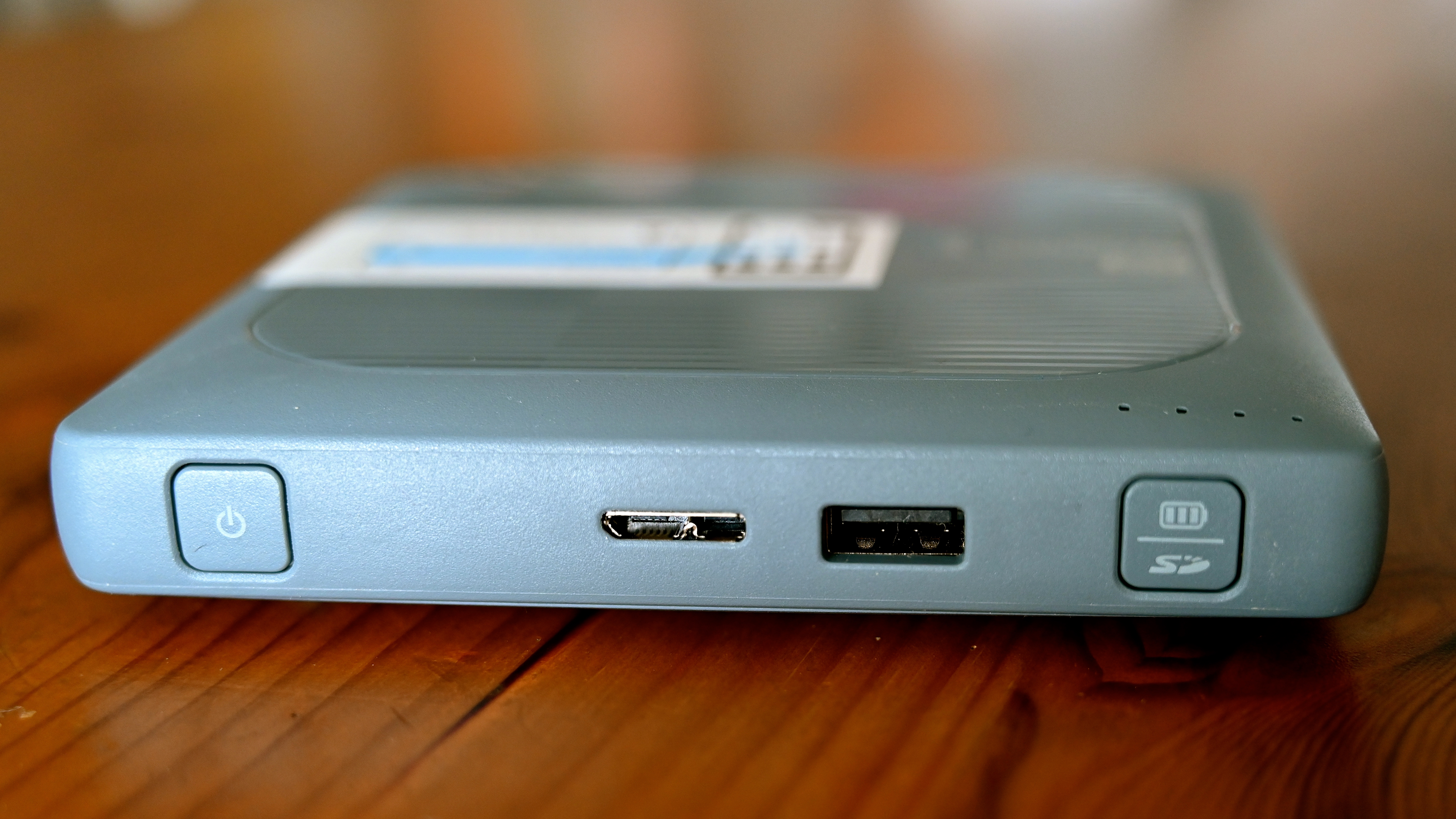 It weighs 359g (0.79 pounds) without the bumper, but dress it up in its rugged jacket and you'll be carrying 461g (1.02 pounds) in the bag.
Setup
Setting up the My Passport Wireless SSD is a breeze.
To start, you just connect via Wi-Fi using the details printed on a sticker on the drive's top, then login via a web browser on PC or Mac, or the WD My Cloud app on a mobile device. The latter's available for both iOS and Android and works on both phones and tablets.
For access via a computer and web browser, you log onto the My Cloud dashboard by entering either http://MyPassport/ or http://192.168.60.1 on Windows 10, 8.1 and 7 machines, or either http://MyPassport.local/ or http://192.168.60.1 on macOS.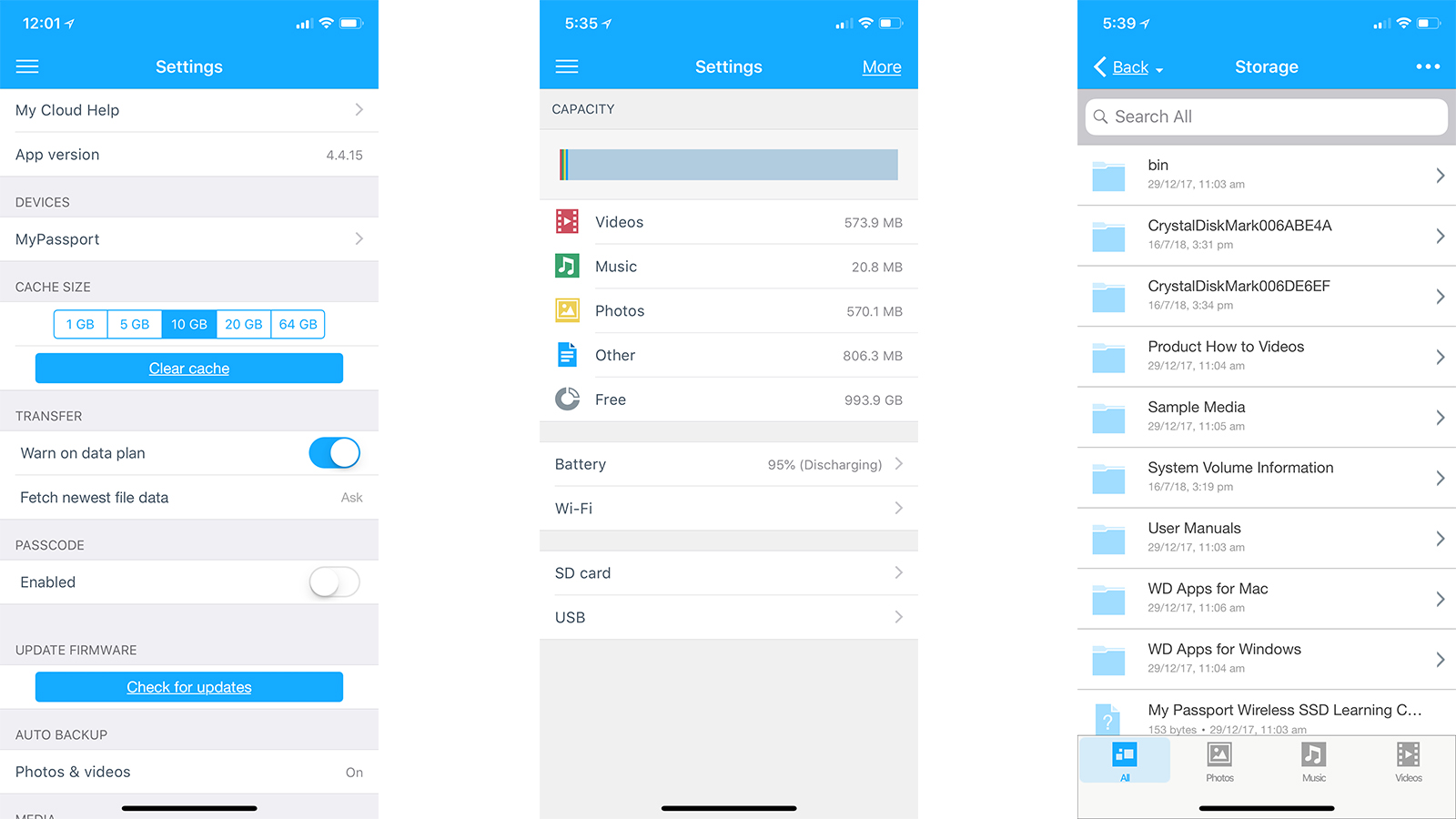 Keep in mind that when you switch the drive on to connect to its Wi-Fi access point, you'll find two networks being broadcast – one at 5GHz and the other at 2.4GHz. You can use either to set up and connect to the drive, but 5GHz is the better choice because of the extra speed it can offer.
On both the web interface and the My Cloud app, the setup experience is straightforward, and although the drive is already configured for immediate use out of the box, there's a range of optional advanced features you can turn on or off by digging into the settings.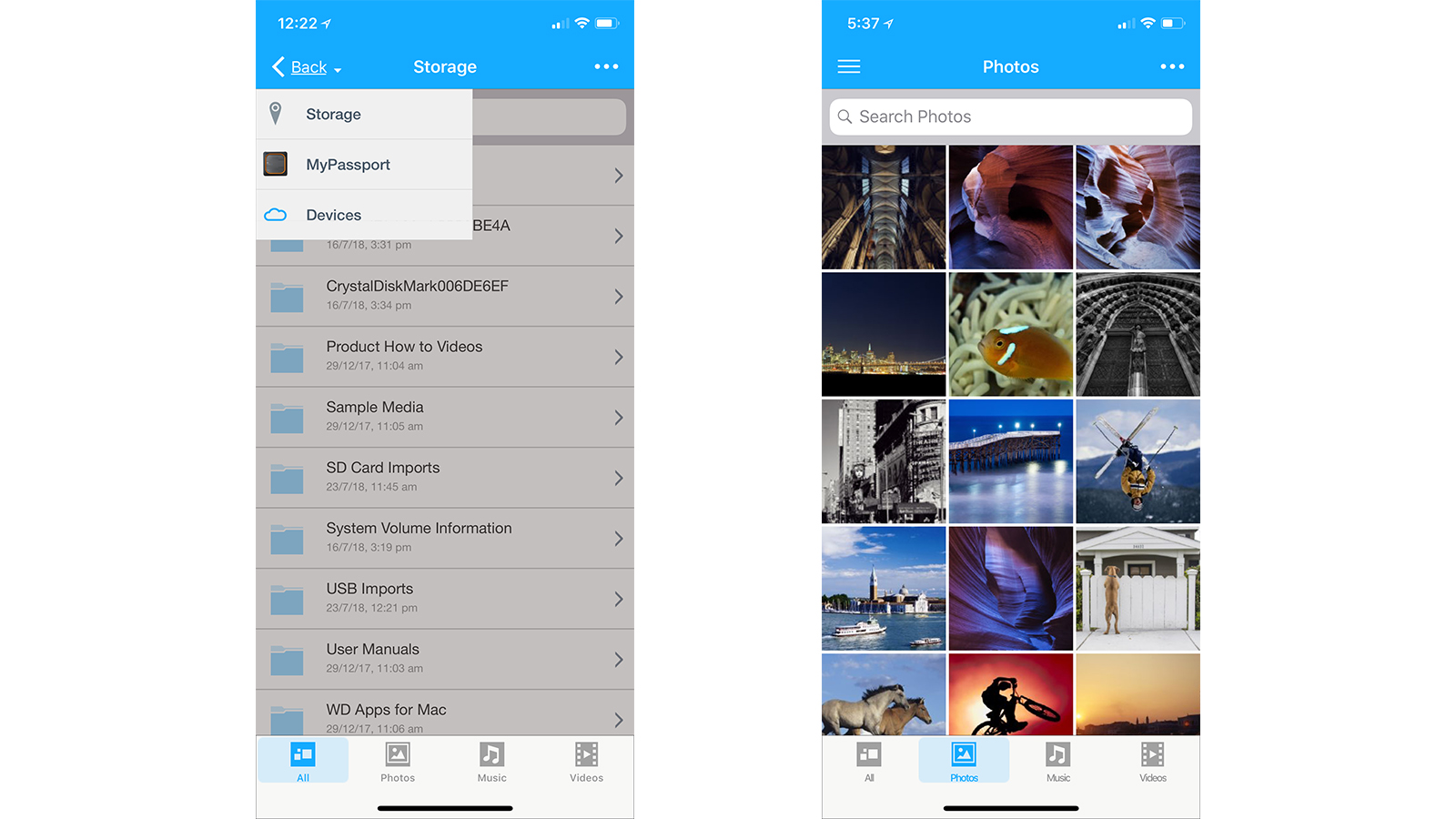 One of those configuration options is to automatically start backups as soon as either an SD card or external USB card reader has been plugged into the drive. If you don't enable this option, you can still manually initiate on-demand backups by pressing the transfer switch on the top edge of the drive.
Other configuration options are geared towards entertainment, such as streaming music or movies and other media media (up to 4K resolution) directly from the drive. For the true media obsessive, you can install the Plex Media Server app, which gives you a Netflix-like interface for stream videos stored on the Passport directly to your smartphone or tablet (or PC or Mac), meaning you're not consuming precious space on the latter with large media files.
Once your setup is complete, you'll be presented with a dashboard that sums up everything in a single view.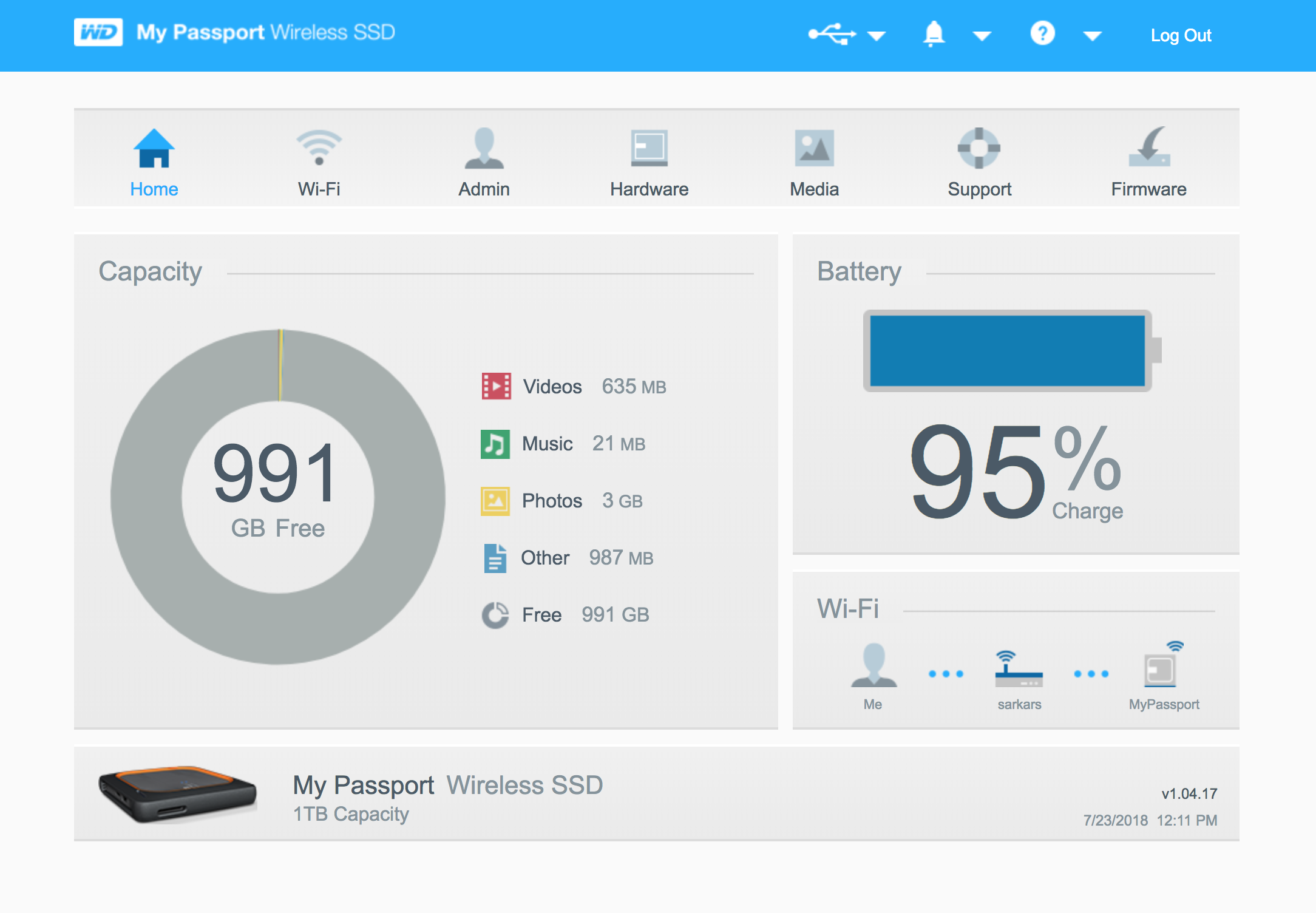 Storage features
The combination of both wired and wireless tech in this drive means there's a lot of ways to get things onto – or off – its internal storage. There's also a wide variety of things you can do with those files once they're on there.
At its core, the Wireless SSD offers the travelling photographer a way to backup and browse through photos. The quickest and simplest way to get those on the drive is to plug your SD card directly to the drive's built-in reader, then press the transfer button and they'll be copied across into a dedicated 'SD Card Imports' folder. It's that simple. To indicate how the transfer is progressing, WD's put the device's four battery-status lights on double duty. These blink in sequence, moving from one light to two, three and then four as the job progresses. Once all four lights are lit up and have stopped blinking, all your files have been transferred from your SD card.
Once you've got the images from your camera's SD card transferred, you can view them on your smartphone or tablet via the My Cloud app, without needing to go anywhere near a computer.
There's also the option to transfer photos wirelessly from your camera — although only a small number of cameras actually support this at present. That's because most cameras with built-in Wi-Fi are generally designed to work with phones and tablets, and only rarely with dedicated storage drives. To get support for the latter, you'll need to own one of the handful of high-end pro DSLRs from Canon or Nikon which have built-in FTP support, or a camera which is compatible with a wireless file transmitter attachment.
Using wireless tethering with a supported camera means shots will automatically be backed up you shoot, with full-resolution JPEGs and RAWs sent to the My Passport Wireless SSD — and WD promises that it won't affect the camera's buffer. Unfortunately we didn't have a compatible camera or a wireless transmitter to test this particular feature, but setup instructions are available for both Canon and Nikon users on the My Cloud learning center.
The My Cloud app for smartphones and tablets is also feature-packed. It's easy to navigate and all image files (RAW and JPEG) on the drive can be easily viewed in nested folders on the My Cloud app. Thumbnails of image files are visible when you open a folder, and tapping on a file will open a full-screen version, along with the option to save the file locally on your mobile device. You can also optionally link cloud services from other providers to the WD My Cloud app, then browse through the contents on that service or copy files to or from the My Passport. If you have a Google Drive or Dropbox account, just tap 'Manage device/services' on the My Cloud app and add whichever services you use.
For wired access to files from a PC or Mac, all you need to do is plug the provided cable into your laptop or desktop's USB port — ideally, a USB 3.0 or faster one in order to be able to take full advantage of those SSD transfer speeds.
You can access files on the drive wirelessly on a computer as well — when you're on the drive's Wi-Fi network, it shows up as an SMB file share — however when it comes to transferring those files, you may want to keep in mind it's a rather slow process over wireless. You'll be better off using the provided USB 3.0 cable to access files directly on a PC or Mac.
As we mentioned earlier, the Wireless SSD also offers a secondary USB 2.0 port that's On-the-Go compliant. It's basically intended to be used in the same way as the SD Card slot, letting you plug in an external drive (like, say, a USB thumb drive or a CompactFlash memory card reader) and then press the transfer button to dump the contents of that drive onto the WD's internal SSD storage.
Being USB 2.0 only though, transferring from external storage devices is slow – 2.0 transfer speeds max out at about 33MB/s, which is less than 10% of the speed the onboard SSD supports.
Multimedia & other features
You can also store music and video files on the drive. The My Cloud app has a built-in player for both forms of media, so you can listen to music while out on a shoot without chewing up cellular data or eating into your phone's onboard storage with music files.
If you've captured video, you can theoretically watch it directly on your handheld device using the My Cloud app's built-in media player by just tapping on the file you want to watch. (We say "theoretically" because we hit some snags with 4K footage — more on that in the Performance section.)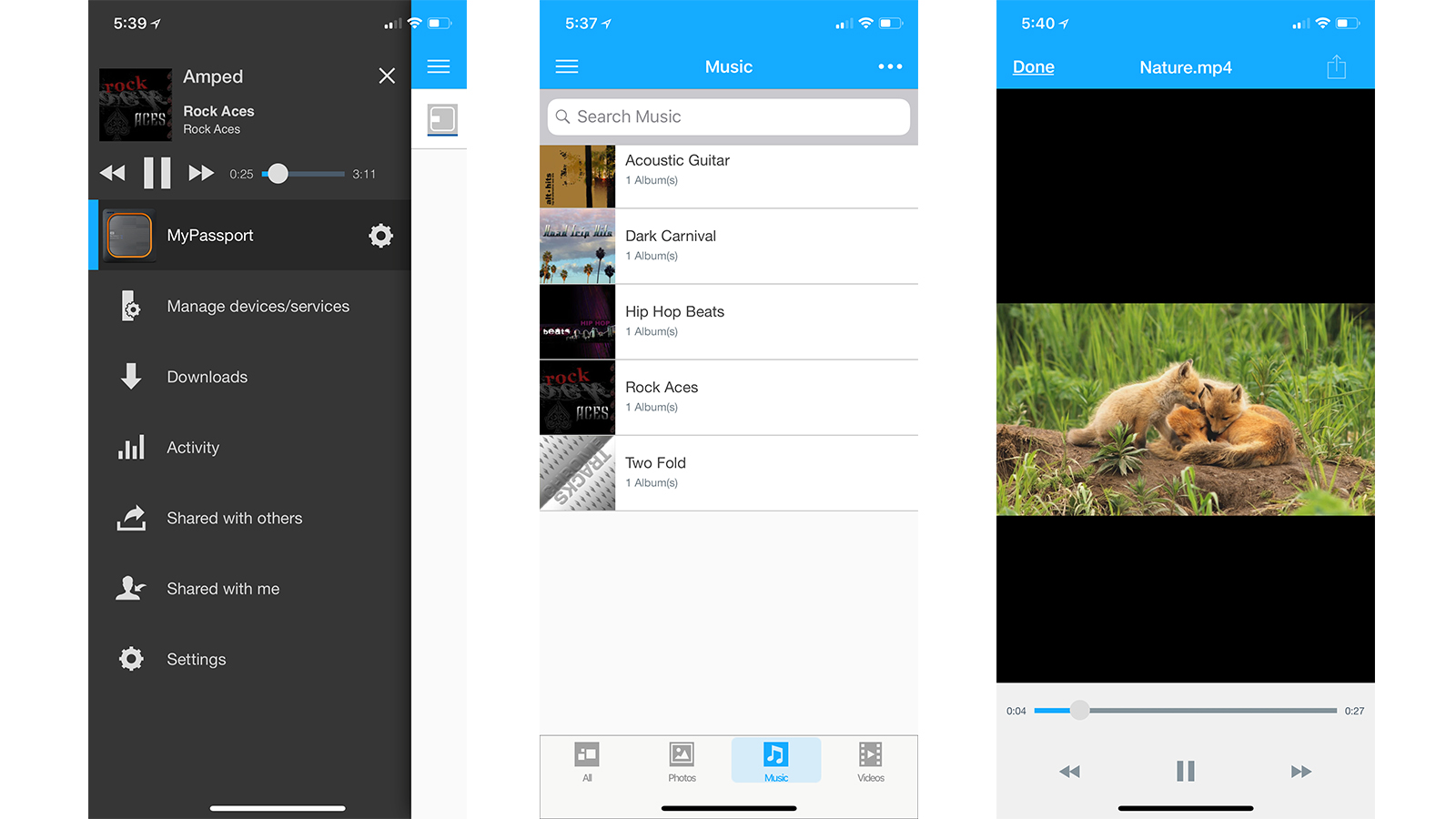 Those features make the drive a more-than-capable media server and its pre-installed Twonky server will also let you stream files to any DLNA-capable player. That means that, as long as your media files are saved within certain preset folders, you can watch videos via most smart TVs, or on a video app like VLC on your computer, or any media-streaming box.
If you're after more media options, you can optionally install Plex Media Server — it's found in the web dashboard under the Media tab — which will scan for more files stored in other folders you've created and create a Netflix-like interface for browsing and viewing them. However, installing Plex does automatically disable the Twonky server, as there's not enough horsepower to run both simultaneously.
The WD My Passport Wireless SSD is more than just a portable storage solution: it will even charge your devices via that aforementioned USB On-The-Go (OTG) port. That port is capable of supplying up to 1.5A of power output to recharge other gear like smartphones and action cameras. With a 6,700mAh battery powering the drive, there's honestly plenty to spare if your devices need a little more juice while you're out on a shoot.
While it's perhaps a little bulky compared to other portable SSDs, the device is hard to fault from a hardware-design perspective. Our only major gripe is that WD's stuck with the older-style USB micro-B socket to deliver power and data to the drive. You get a USB Type-A to 10-pin micro-B cable in the box, which is fine if you want to plug the Wireless SSD in to an older desktop or laptop that has the standard USB-A sockets. On newer computers though, like the latest MacBook Pros and many Windows Ultrabooks, you've only got USB-C sockets, meaning you'll will need to use a separately-purchased adapter cable, or an external dock or hub if you want a wired connection to the WD drive. With USB-C becoming the defacto standard for connecting digital devices, it would have been nice to see WD to upgrade the Wireless SSD's onboard socket to USB-C, instead of just leaving users with USB-C-only laptops in the lurch.
Performance
While the older mechanical hard drives used in Western Digital's other wireless drives are decent performers, this SSD version leaves them for dead, at least when it comes to wired transfers, with a roughly threefold speed increase when transferring files to and from a PC or Mac via USB.
In our tests, we clocked a top read speed of 390.1MB/s and 385.5MB/s for writes. While that doesn't make this the fastest portable SSD money can buy – we've had other USB SSDs, like Samsung's Portable T5, hit 500MB/s – it's a big boost over the 130MB/s you'll see from the fastest mechanical hard drives.
If you're shooting lots of big photos in RAW, or filming video in 4K, getting those files back onto your editing rig should be substantially quicker, but there's also enough speed here that you could, in theory, work on those files directly from the WD's internal SSD.
Over wireless, we saw maximum transfer speeds of about 17.5MB/s for reads and 14.8MB/s for writes – that was tested from a distance of 3m using a 2017 MacBook Pro with 2x2 802.11ac. Obviously, the number and size of files you're looking to transfer will have an impact on that (transferring lots of smaller images tends to slow down overall speeds), and those speeds are slow enough that if you're actually editing images of videos, you'll definitely want to plug the drive in via USB 3.0.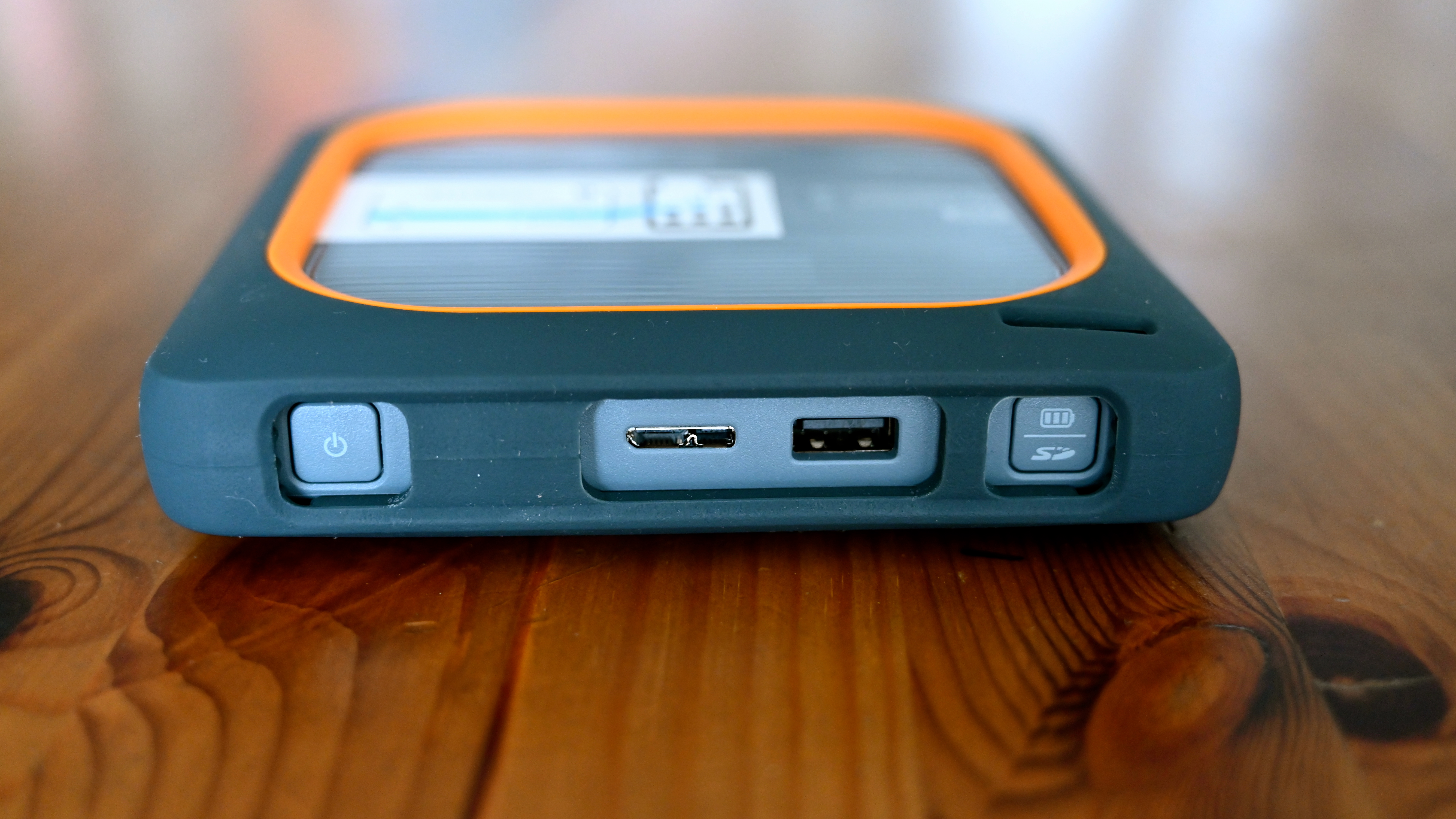 When it came to grabbing the contents of an SD Card using the onboard card reader, we found transfer speeds to be a little erratic. Transferring 8.9GB of mixed camera files – including 4K video footage alongside RAW and JPEG stills – came close to WD's claimed top SD speed of 65MB/s, taking just 2 minutes and 32 seconds on our first try (or about 58.6MB/s). However, on the second go, the exact same files took almost double that at 4 minutes and 59 seconds (29.8MB/s). Splitting up that 8.9GB of content into an image set and a video set did result in more consistent speeds when we repeated tests, but ultimately took longer than even that second, slower combined test. Moving 5.6GB of 4K videos took 2 minutes and 26 seconds (38.4MB/s), while 3.3GB of RAW and JPEG files were transferred in 3 minutes and 32 seconds (15.5MB/s) – both well below that aforementioned 65MB/s max speed.
SD transfers didn't always complete smoothly either. For example, after inserting an SD card, you've generally got to wait 10-15 seconds for it be mounted, with the WD's drive-indicator light blinking while that's underway, before then turning a solid blue. On occasion, however, we found that the status light just kept blinking endlessly, until we ultimately just had to pull the card out and try again. Additionally, if after inserting a card you jump the gun and press the Wireless SSD's transfer button too early, you'll find either few or no files have been copied to the WD's internal drive.
Using the mobile apps, it's easy and relatively quick to browse through your files and folders, or stream multimedia content. We did however encounter some hiccups (literally) when trying to stream recorded 4K drone footage on the iOS version of the My Cloud app. Using the app's built-in player, these 4K videos paused due to buffering practically every second and a half — if you're shooting 4K video and want to preview it, then, you'll need to do it via a wired USB connection. On our phone over Wi-Fi, only a short, 10-second 4K video played smoothly.
Wireless SSD vs Wireless HDD
As we mentioned earlier, the My Passport Wireless SSD isn't the first Wi-Fi enabled portable storage device WD has in its repertoire. The My Passport Wireless Pro is an hard drive model that was launched back in 2016 and is practically identical to this SSD unit in all but three main areas – durability, transfer speeds and price.
The Wireless SSD should provide greater durability simply because its storage is solid-state, meaning that unlike the Wireless Pro's mechanical hard drive, there are no easily-broken moving parts — so in theory at least, it'll be able to take more bumps, scrapes and daily jostling around in a camera bag.
When it comes to wired transfer speeds, the older Wireless Pro hit 83.5MB/s over USB in our tests, while this newer Wireless SSD hit top speeds of 390MB/s. That's a huge speed boost, but not the fastest we've seen from external SSDs, the best of which can hit 500MB/s or faster.
Moreover, that speed comes at a super-exorbitant price. By way of comparison, a 2TB hard-drive based Wireless Pro will set you back $179 / £179 / AU$299, while the 2TB Wireless SSD takes the meaning of the word 'premium' to a whole new level, sitting at $800 / £700 / AU$1,399 – or more than four times the price.
Verdict
The Western Digital My Passport Wireless SSD is a versatile device: not only does it make light work of image and video transfers while filming in the field, it's also a source of power for your handheld devices if they happen to run out of juice.
With the addition of built-in Wi-Fi, you can check your images immediately on your phone or tablet and upload to social media if you want, or use it like a wireless NAS box by sharing the onboard storage with your computer, phone or tablet.
It is, however, disappointing to see only a non-standard 10-pin micro-B USB 3.0 port on the drive for connecting to PC. A USB-C port would have been preferred, and the use of an older port style means you're stuck using the included USB micro-B to USB-A cable for PC transfers. That also makes connecting the Wireless SSD to newer USB-C laptops a pain.
The other downside also involves USB – that On-the-Go port is USB 2.0 only, meaning transfers from external USB 3.0 drives will generally be throttled significantly.
If you can live with those caveats, need the extra robustness and speed that solid-state storage offers – and, more importantly, are prepared to pay through the nose for it – this one's a neat alternative to WD's existing wireless hard drives.
from TechRadar - Technology Reviews http://www.techradar.com/reviews/wd-my-passport-wireless-ssd